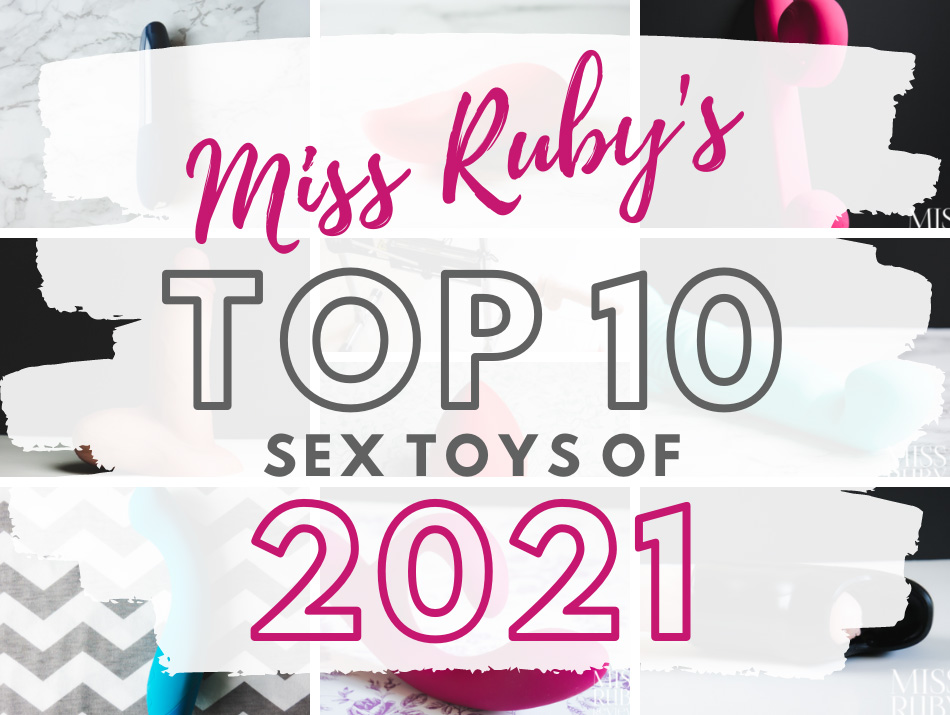 Hello, dear readers! Happy Holidays and Happy New Year!
This has been my 7th year running Miss Ruby Reviews! I'm so amazed that it's been going so long… what started as a small idea I had in Dec. 2014 has grown into such a massive undertaking over the years. It's been such a pleasure to continue to provide you all with insights into the highs and lows of sex toys.
In 2021, I wrote 28 reviews and 1 essay and launched 2 giveaways.
I also changed things up by trying out a few new things:
It was a busy year on my little corner of the internet!
Behind the scenes, things were tough for me! I've been battling with some health issues this year, plus anxiety and depression (certainly made worse by the pandemic). All of these have been improving over the last few months, and I am very grateful that I can start 2022 on healthier footing.
2021 was tough for a lot of people. 2021 didn't end up being as amazing as we'd all hoped for. Let's hope 2022 is our year.
Okay, onto what you're really here for — the top 10 sex toys of 2021!
Of all the toys I reviewed in 2021, which were my favourite?
---
#10. Blush Noje V1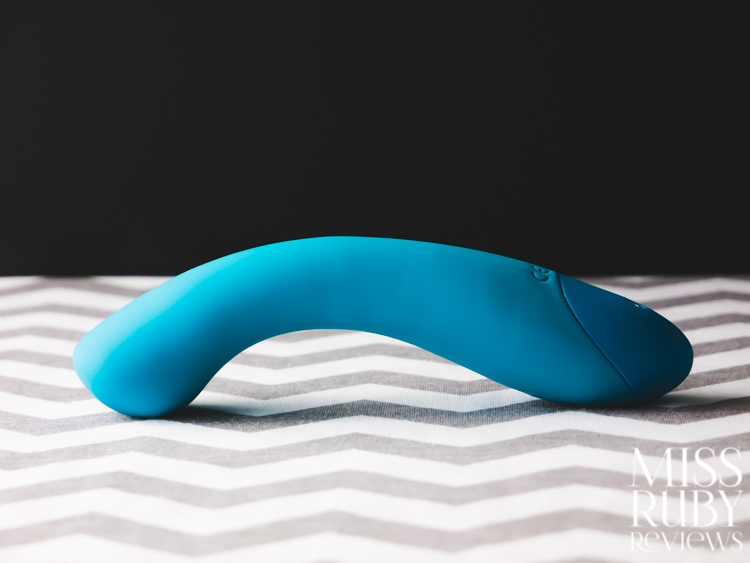 The Blush Noje V1 made my list this year because of one simple thing: its shape. That hooked and curved shape is amazing for G-spot stimulation.
This toy is totally rigid; the body doesn't flex and the surface is rock hard. This is perfect. The G-spot needs firm, unrelenting pressure, and the Blush Noje V1 gives me that. The hooked shaft also does a lot of the positioning work for you; it wraps around your pubic bone and finds the G-spot. When I thrust this toy, the G-spot can't hide and it gets worked/milked very thoroughly… it feels gloriously delicious, even without vibration mode turned on. It's seriously a major workout for my G-spot.
Better yet, it's only $39, making it a great option for those on a budget.
---
#9. We-Vibe Tango X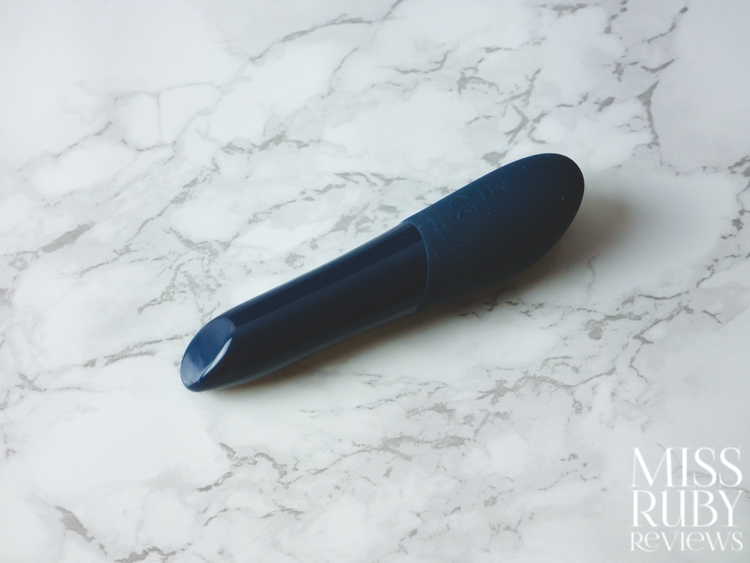 The We-Vibe Tango X is the We-Vibe Tango's newer, fancier model. We-Vibe has taken its original, famous design and improved its noise levels, battery, and grip design.
I'm satisfied that the Tango X will reign supreme from now on. if you don't have a Tango, the Tango X will be an important staple for your bedroom. It feels fantastic, and I found that orgasms come quickly with this toy. The Tango remains the best luxury bullet vibrator on the market. Whew!
---
#8. SnailVibe Sliding Dual Vibrator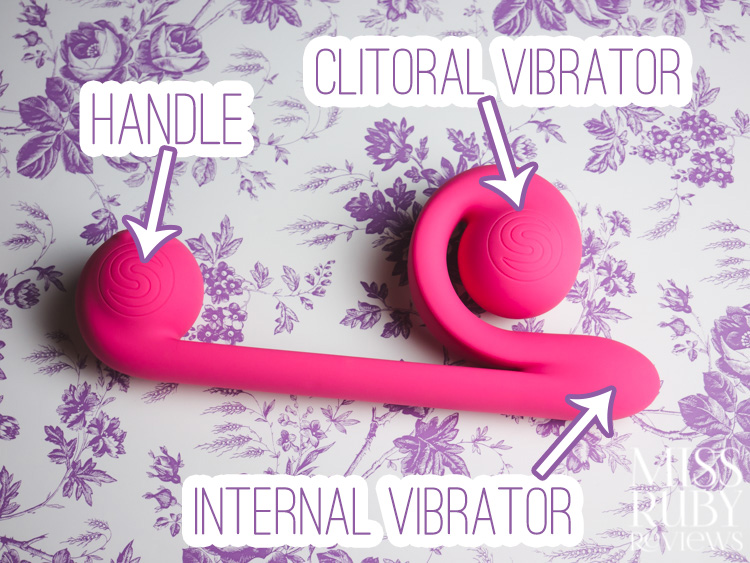 It's not every day that a sex toy is named after a shelled gastropod! I had to try this one out because it was so…weird.
As you insert this vaginally, the vibrating ball on top (which presses against your clitoris) stays in place. The deeper you insert it, the more the flexible spiral unfurls, but the clitoral ball/motor stays in place.
The SnailVibe may look odd, but it gets the job done. Your clitoris stays stimulated whether the SnailVibe is thrust deeply or shallow, which is very rare for a dual stimulating vibrator. The motors are also good — the clitoral motor (in particular) is VERY strong and rumbly.
---
#7. Funejoy Clitoral Sucking Egg Vibrator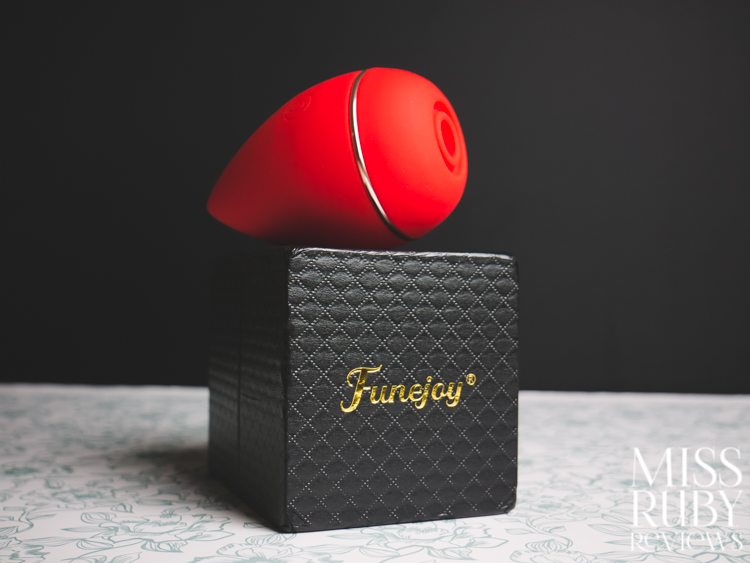 The Funejoy Clitoral Sucking Egg Vibrator is a surprisingly good sex toy, especially considering the low price. For only $25 USD, you're getting a VERY STRONG pressure wave sex toy (one that sucks your clitoris with air!). The pleasure buildup is very quick, quicker than some (much more expensive) other suction-based toys I've tried. Its secret, I think is the addition of vibrations on top of the suction. It's a great recipe.
---
#6. We-Vibe Touch X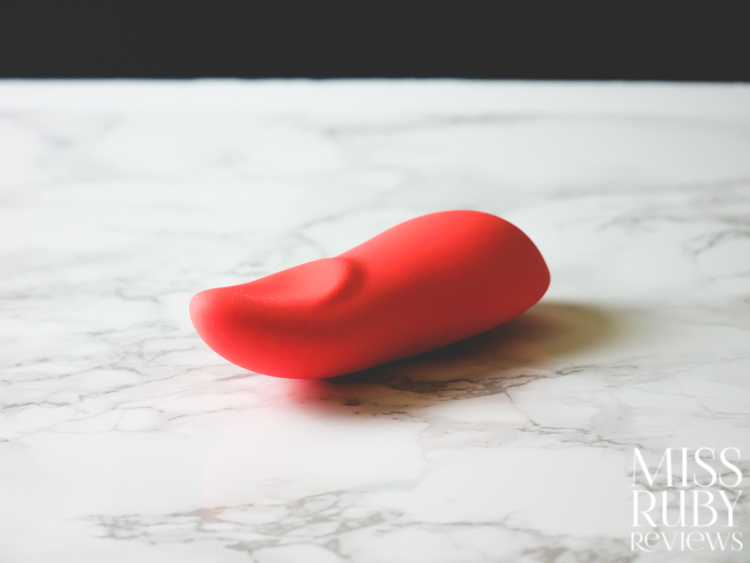 The We-Vibe Touch X is the second generation version of the popular We-Vibe Touch (which I reviewed here). The older version was getting pretty ancient in the sex toy world (10 years!). I was just thrilled to see this model come out!
Orgasms from the We-Vibe Touch X are a joy.  I can hold the vibrator still or move it in circles.. either way, orgasms are easy to reach. The pleasure can be pinpoint (if I use the tippy tip) or broader (if I use the spoon-like scoop). The rumbles travel deep. The orgasms are gripping. Need I say more?
I have zero qualms with recommending this purchase — go buy it!
---
#5. Velvet Thruster Teddy GS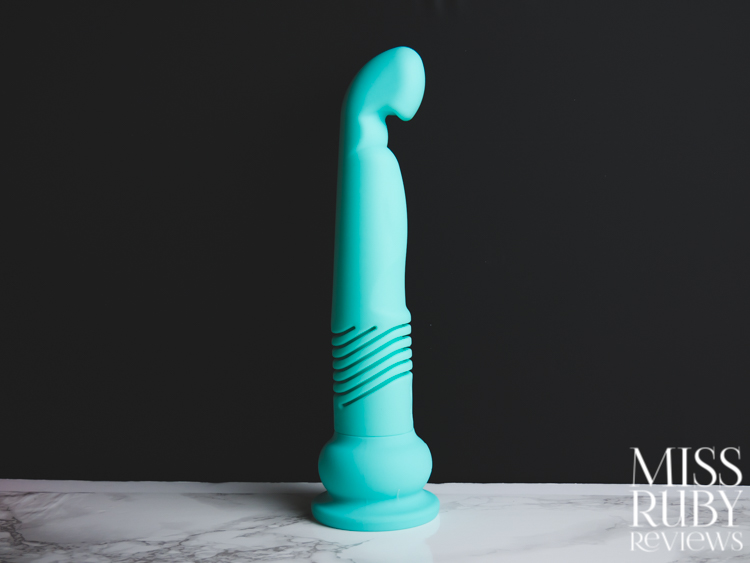 The Velvet Thruster Teddy GS is a small, portable sex machine that focuses on G-spot pleasure. It can thrust up to 128 strokes per minute. I don't know about you, but that takes a LOT of the hard work out of using a dildo, freeing up your hands for other activities. And look at that hooked tip! While many G-spot dildos have some sort of curve to them, what impressed me is that this is basically a 90° angle. This hooked shaft means serious business.
This is a good-quality, bodysafe, and pleasurable toy, and definitely one to seriously consider.
---
#4. Arcwave Ion Pleasure Air Stroker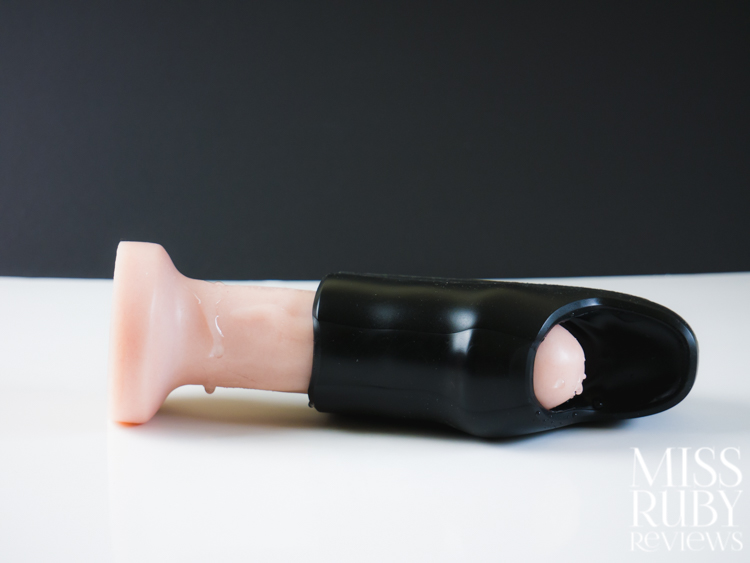 The Arcwave Ion Pleasure Air Stroker isn't just a penis stroker, nor is it a conventional vibrating penis sleeve. Instead, it uses pulsating airwaves to stimulate pleasure receptors in the frenulum (that extra sensitive area on the underside of the penis).
This has become one of my partner's all-time favourites, and it really does give slow-building, powerful orgasms. It's pricey, yes, but it's also silicone, durable, rechargeable, and aesthetically discreet.
---
#3. We-Vibe Nova 2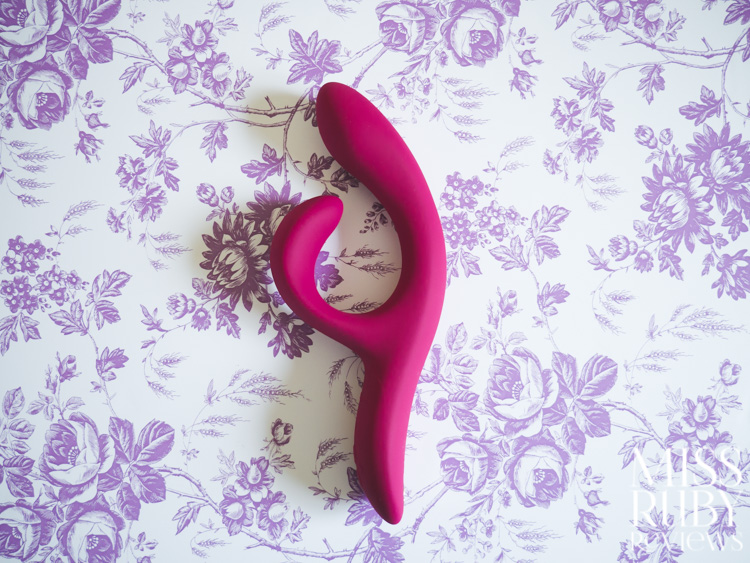 We-Vibe massively improved the original We-Vibe Nova. The We-Vibe Nova 2 is remarkable and a must-buy if you're into dual stimulation. Unlike the vast majority of rabbits on the market, the flexible arms make it suitable for a wide range of bodies; there's a good chance this will work for your body too. It's also strong, rumbly, quiet, waterproof, rechargeable, and dual-density! Just fantastic!
---
#2. Hismith HS06-APP Sex Machine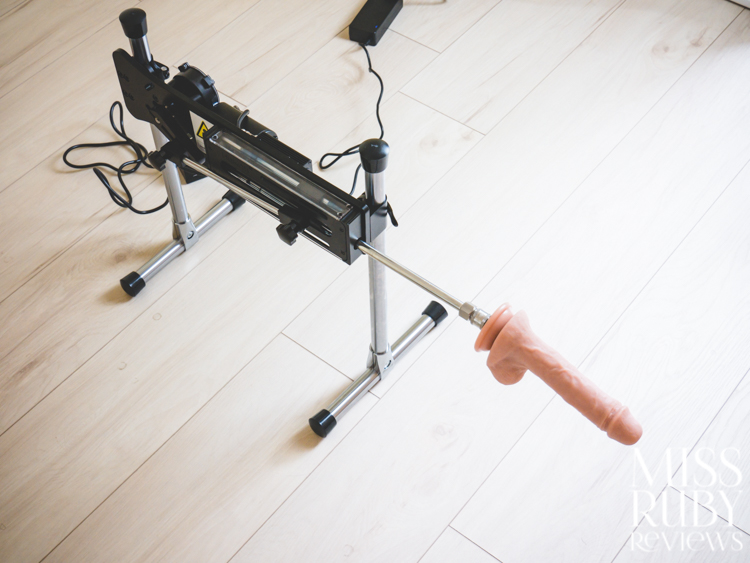 The Hismith HS06-APP Sex Machine is a powerhouse of a sex machine system. It's expensive, yes, but it's a buy-it-once-then-you-have-it-forever kind of thing. This will give you years of enjoyment.
One of the best things about this particular model is its customization — you can change the height, angle, stroke length, speed, patterns, attachments, bluetooth… this machine has got it all.
If you can afford it, this is an amazing find and that's why it snags my #2 spot this year. And it delivers 276 strokes per minute. Need I say more?
---
#1. RealDoll RealCock2 James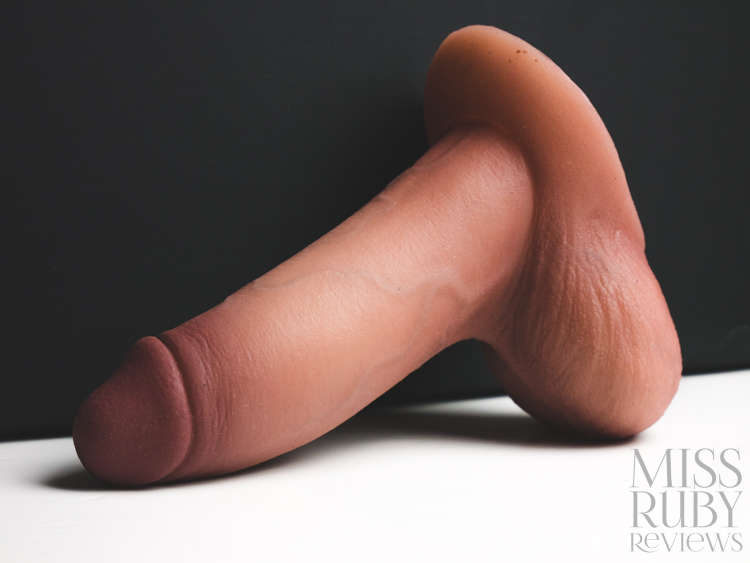 The RealDoll RealCock2 James is an incredible dildo and it had to snag my #1 spot this year. Aesthetically, it's gorgeous. It features touches of realism that other brands don't offer (notably the floating testicles, silicone painted shading, and movable shaft). I love the detail and I love how this feels inside me. I also love how versatile it is with its Vac-U-Lock capabilities — I can strap it to the wall or a sex machine to bring it to life. It's expensive, yes, but there's a lot of justification for the price tag – this is top of the line and about as realistic as you get!
---
Thanks so much everyone! See you in the New Year!