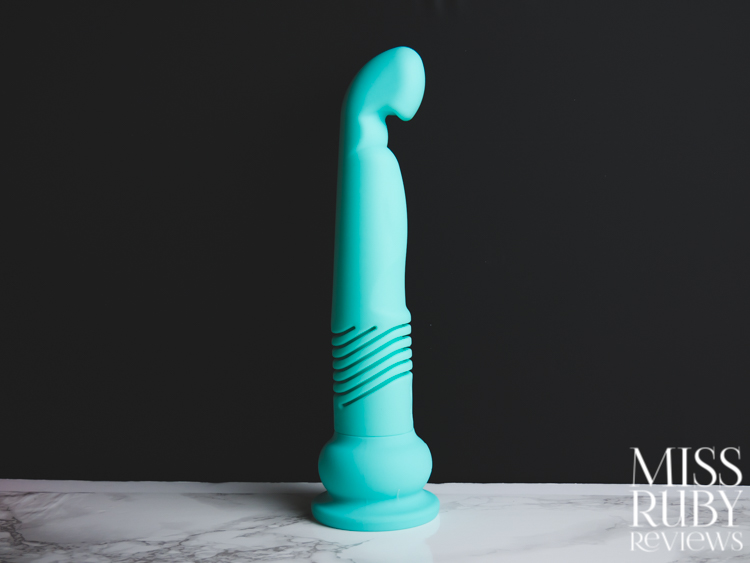 YESSS. A new model by one of my favourite self-thruster brands! Read on for my Velvet Thruster Teddy GS review!

Design | Accessibility | How to Use | Packaging | Material and Care | My Experience | Overall
Design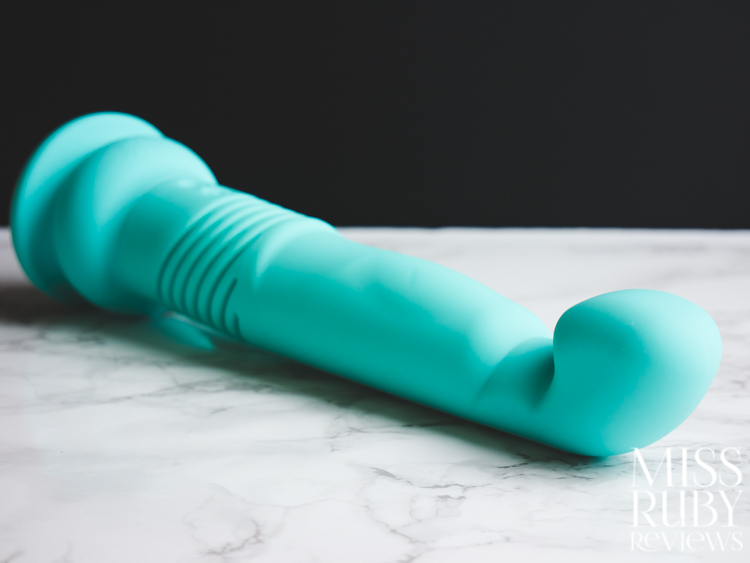 Essentially, the Velvet Thruster Teddy GS is a small, portable sex machine that focuses on G-spot pleasure. Though it may look like an ordinary dildo at first, it has the ability to thrust up to 128 strokes per minute. I don't know about you, but that takes a LOT of the hard work out of using a dildo, freeing up your hands for other activities.
And just look at that hooked tip! The end of the Velvet Thruster Teddy GS's shaft hooks suddenly, kind of like a finger doing the come-hither motion. This is specifically for the G-spot, which typically requires strong upward pressure to stimulate. While many G-spot dildos have some sort of curve to them, what impressed me is that this is basically a 90° angle. This hooked shaft means serious business.
The shaft also features a subtle bulge in the middle portion — this gives you some extra G-spot stretching when the hooked tip is deep inside during a full thrust.
Below the shaft, there is the expanding plunger-like section. This gives the Velvet Thruster Teddy GS its forward thrust ability.
Lastly, at the very end, the shaft balloons out (making it anal safe), and finishes with a suction cup for truly hands-free play.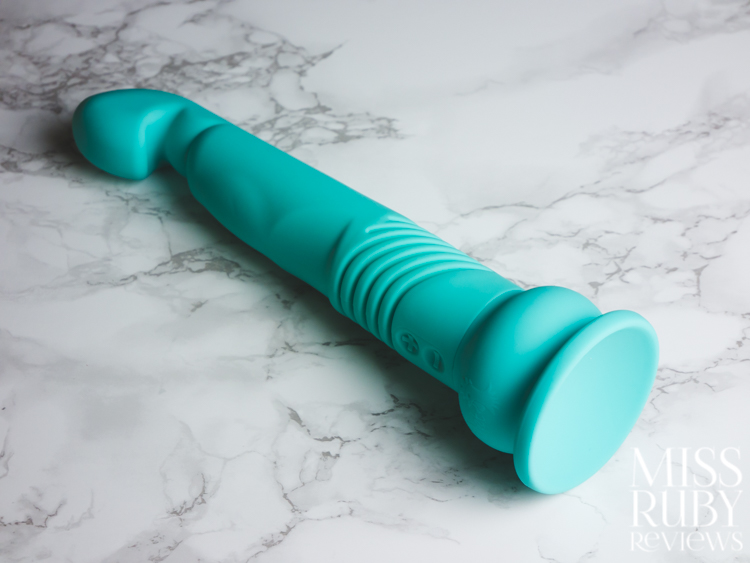 The Velvet Thruster Teddy GS is about 10″ long (about 5.5″ of that is insertable) and 1.5″ wide, giving you some pleasant girth. Like the original model, it's comfortable to hold and incredibly lightweight, making this a practical option.
The Velvet Thruster Teddy GS is not a realistic toy (I'd say it's one of Velvet Thruster's least realistic models to date). I got mine in Mint Green, which is a lovely, vivid aqua. It also comes in Lilac Zen (a pastel purple), Red (a bright, cherry red) and Black.
SPEED
The Velvet Thruster Teddy GS can thrust up to 128x/minute. It also has a deep level of thrust (2.3 inches in forward movement). I grabbed a quick video of the movement below:
Accessibility
This section is to help folks determine if they might have any issues using/accessing the Velvet Thruster Teddy GS.
Size: The Velvet Thruster Teddy GS is large for a self-thrusting dildo. By my measurements, it's approx 10″ long (retracted), 12″ long (extended), and 1.5″ wide at the shaft. Though obviously smaller than a full-size sex machine, there are smaller portable options available (like the Fun Factory Stronic line).
Weight: It weighs about 400 grams.
Buttons: There are 3 control buttons (power, +, and –). The power button is located above the charging flap. The (+) and (–) buttons are located on the opposite side, also near the base. The buttons don't require much pressure to press down and make a soft click noise. The buttons are circular (9mm diameter) and concave.  The (+) and (–) buttons are spaced 2mm apart.
Handle buzz: Because this isn't a vibrator, there's little handle buzz to worry about (just small amounts from the motor of the thruster as it thrusts).
Other notes: This can be suction-cupped to a smooth surface, so if you have trouble holding toys in place, this might make it easier for you.
Price: At $179 USD, this is on the expensive side compared to other self-thrusters with similar features. It's also $20 more than the original model.
How to Use the Velvet Thruster Teddy GS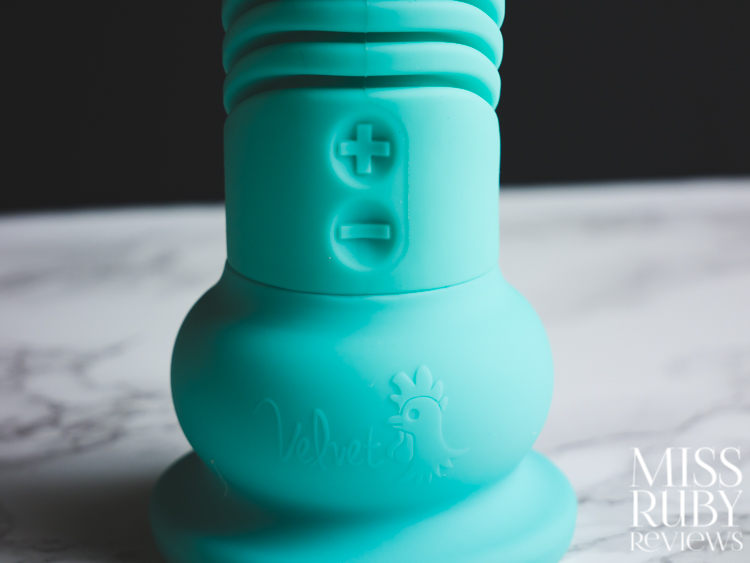 Hold the Velvet Thruster Teddy GS in place or suction it to a wall.
Insert the tip vaginally. Though primarily marketed towards vaginal (G-spot) use, the Velvet Thruster Teddy GS can be used safely anally due to the flared base.
To turn it on, tap the power button. It'll start thrusting at the lowest speed.
Press (+) to increase speed and (–) to decrease speed).
To turn it off, press the power button again.
Packaging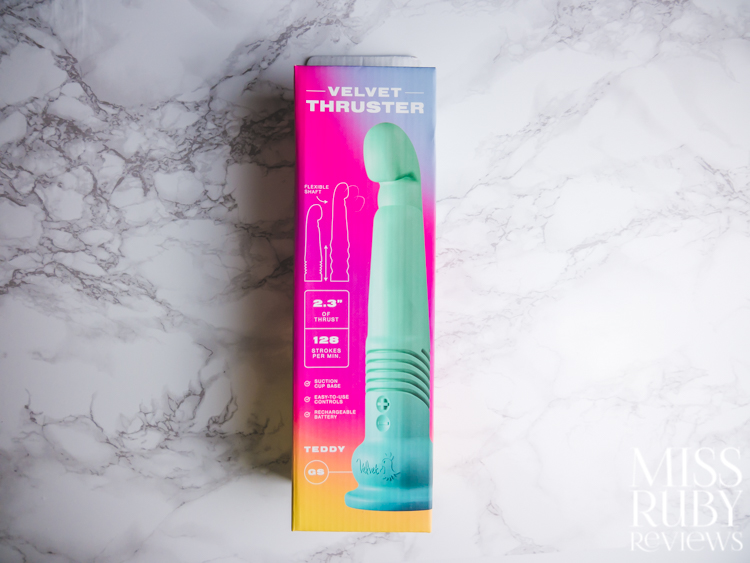 The Velvet Thruster Teddy GS arrives packaged in a brightly colored box. The cardboard and print aren't the most luxurious quality, but they're functional.
Inside the box, you receive the Teddy GS, the charging cord, and the operating instructions.
This doesn't come with a dedicated storage bag. If you'd like a storage bag, I recommend something like the SugarSak.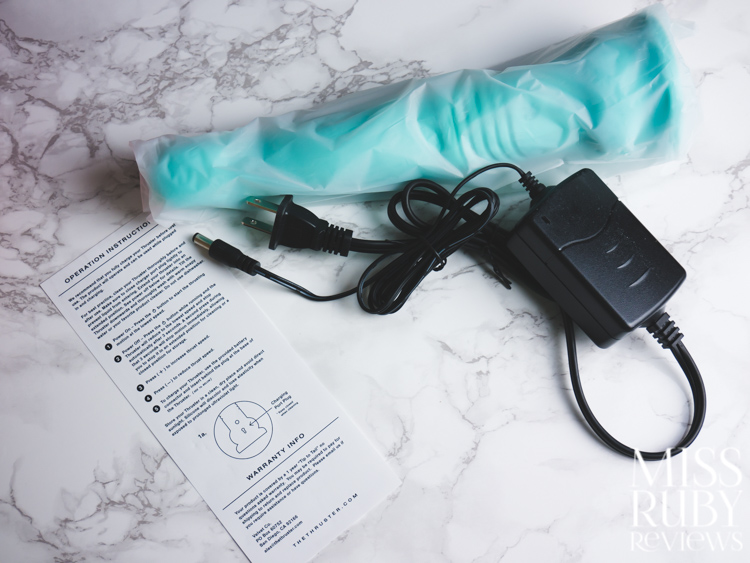 Material and Care
The Velvet Thruster Teddy GS is made from silicone, making it bodysafe. The silicone finish is very silky and matte.
The Velvet Thruster Teddy GS is water-resistant (not waterproof). To clean, the manufacturer recommends tilting the Teddy GS downwards (so water doesn't get into the base), then washing with warm, soapy water. You could also add a dedicated sex toy cleaner. Do not immerse in water, and allow to air dry before storing it away.
If you'd like to use lubricant with this toy, choose a good quality water-based lube like my favourite Wicked Simply Aqua.
This toy comes with a 1-year manufacturer's warranty, so keep your online receipt.
To recharge the Velvet Thruster Teddy GS, open the charging port (a little flap near the base of the toy) and insert the needle end of the charging cord. Plug the other end into your wall outlet. A light on the charging cable will be red when charging, and turn green when fully charged. If you don't want to wait until it's fully charged before playing, you can use it while it's still plugged in.
My Experience with the Velvet Thruster Teddy GS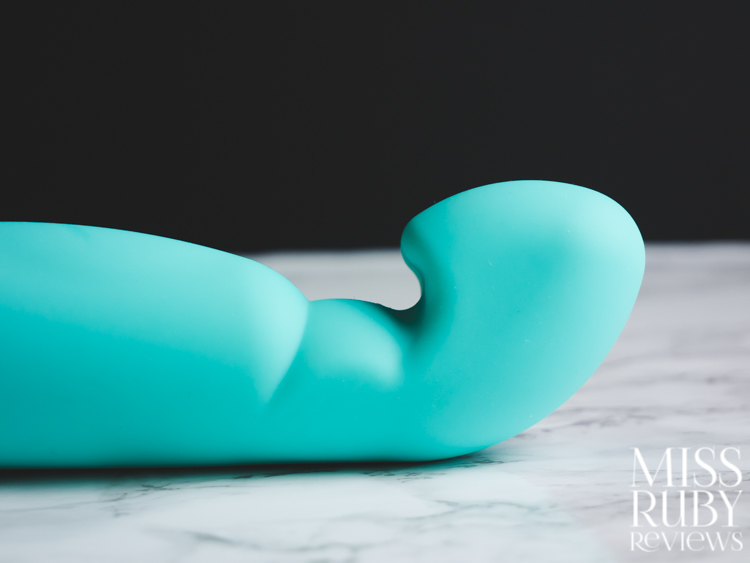 I absolutely loved my time testing the Velvet Thruster Teddy GS.
It's no secret that I'm a fan of self-thrusting dildos. I'm a self-professed lazy masturbator — I don't want to have to work hard for pleasure, which is why I have such high expectations for my sex toys.
The Velvet Thruster Teddy GS does the hard work for me. It keeps chugging along like a little steam engine, providing determined thrusts.
It's the thrust depth that really makes this brand stick out. Many other self-thrusting brands make provides that give very short, rapid thrusts; Velvet Thruster specializes in the long and deep.
During my testing, the hooked shaft proved itself effective for G-spot stimulation. The hooked tip has a kind of girthy, blubbery head, which finds and pulses back and forth against the G-spot. It feels divine (especially when I combine it with a good bullet vibrator like the We-Vibe Tango X).
This toy's motor is good — and I can tell so because when I clench around the shaft, the motor doesn't slow down to a stop as some other toys would.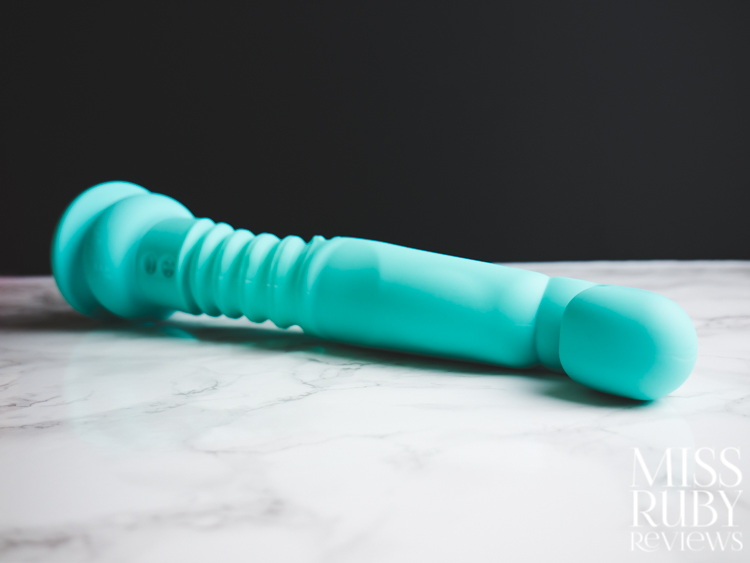 Are there any issues?
Well, the Velvet Thruster Teddy GS isn't quiet. I can hear this a little through my closed bedroom door, so if you have roommates you'll want to wait until you have the house alone to use it.
I also wish this was fully waterproof. With that suction cup, it'd be amazing to take this into the shower with me and slap it on the tiled walls. But because it's only water-resistant, I'm hesitant to do so.
Lastly, the price. At $179 USD, it's one of the most expensive portable self-thrusters on the market. You can get 10% off with coupon code RUBY , but  it's still pricey. This is one you'll need to save up for.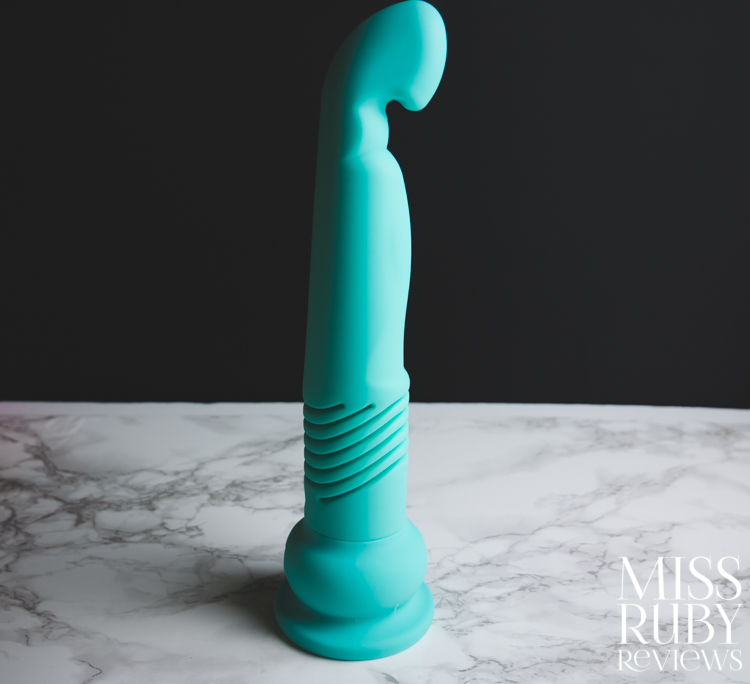 Velvet Thruster Teddy GS Review – Overall Thoughts
The Velvet Thruster Teddy GS is a great portable self-thrusting dildo. I adore the hooked tip end, which excels at putting pressure against the G-spot as it thrusts. This toy delivers on long, deep thrusts, which sets it apart from other brands. While I wish it were quieter, waterproof, and cheaper, this is a good quality, bodysafe, pleasurable toy, and definitely one to seriously consider.
You can pick up your own Velvet Thruster Teddy GS here! Why do I like Peepshow Toys? They ship internationally, only carry body-safe products, and you can get a 10% discount off your whole purchase with coupon code RUBY. 

See below for my Velvet Thruster Teddy GS review breakdown.

Velvet Thruster Teddy GS Review
Overall thoughts - 9.2
9.2
$179
PROS
Deep thrusts
Fast speeds
Bodysafe silicone construction
Can be used cordless or corded
Comes with 1 year warranty
CONS
Water-resistant (not fully waterproof)
Loud
Expensive
Shop Now