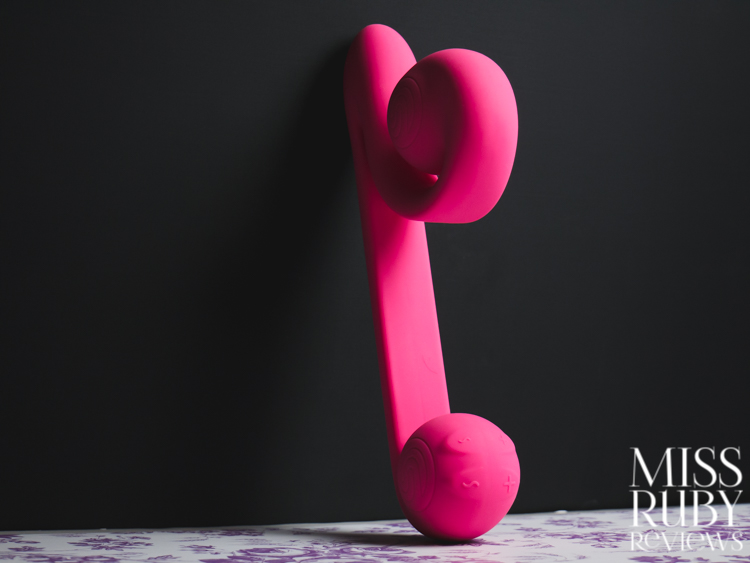 Who knew that snails could be sexy? This sex toy is so strange, so peculiar, that I just had to get my hands on it… Read on for my SnailVibe review!

Design | Accessibility | How to Use | Packaging | Material and Care | My Experience | Overall
Design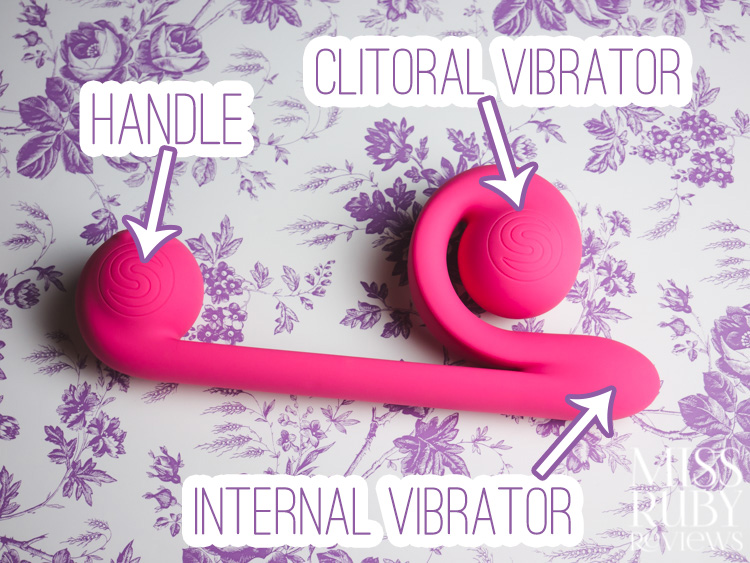 The SnailVibe is a new dual stimulator that's eye-catching, to say the least.
Part wand and part rabbit, the SnailVibe leans on a snail-ish flexible spiral design to offer dual stimulation. There are two motors: one in the swoopy, larger ball (for your clitoris), and the other in the pointy end (for your G-spot).
As you insert this vaginally, the vibrating ball on top (which presses against your clitoris) stays in place. The deeper you insert it, the more the flexible spiral unfurls, but the clitoral ball/motor stays in place. It's VERY hard to describe, so look at the motions in this video below:
Just to be clear: This is not an automatic thrusting toy. It doesn't move by itself. You need to thrust it using your own hand.
Below I've taken a few photos of how the SnailVibe would be positioned if it was: partially inserted, moderately inserted, and fully inserted.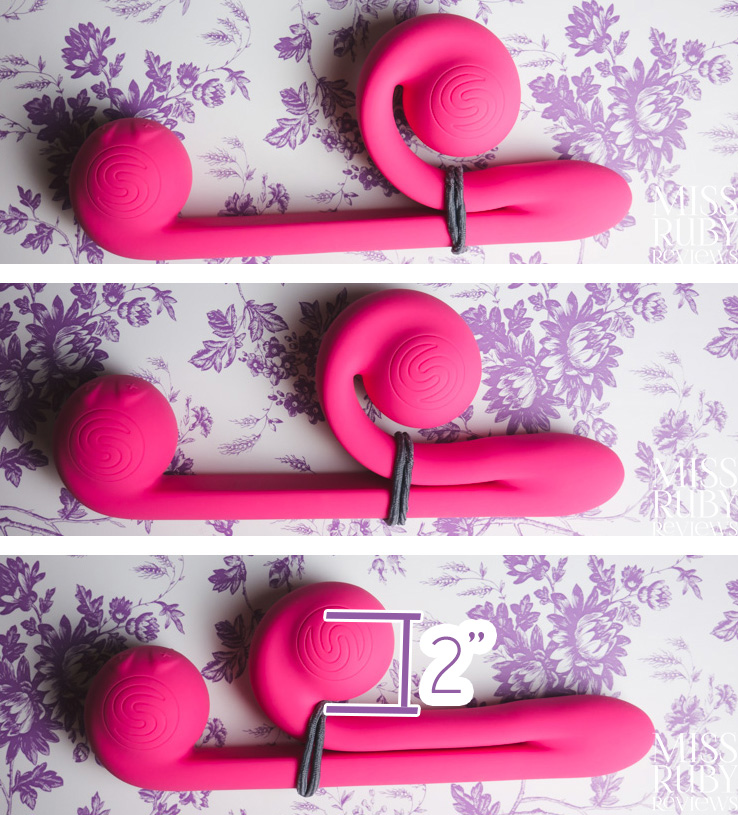 Yup, it's a weird design. Definitely weird enough to pique my interest.
Other misc. features
The SnailVibe is waterproof, rechargeable, and coated in bodysafe silicone. The vibrations in the clitoral "ball" stretch about 2″ tall, so this should accommodate people with a clitoris-to-vagina distance of 2″ (this is nice because most rabbits assume every user has a tiny distance, when that's not always the case).
The insertable motor and the clitoral motor are independently controlled with their own set of buttons. This means you can have just the clitoral motor on, or just the internal motor on, or both at the same time. Each motor has 5 levels of vibration intensities and 5 patterns.
I received my SnailVibe in Pink. It's a bright, cheerful, Barbie pink. It also comes in Purple if you prefer. I do wish it offered a few more non-conventional colour options, but my guess it that this design and name was such a risk in the first place, that they probably didn't want to take an extra risk of a novel colour!
Though designed as a rabbit for G-spot/Clitoral use, I wouldn't be surprised if someone tried to use this anally. The clitoral ball is large and should act as a flared base. Of course, heed caution any time you consider using a sex toy for something it's not specifically designed for.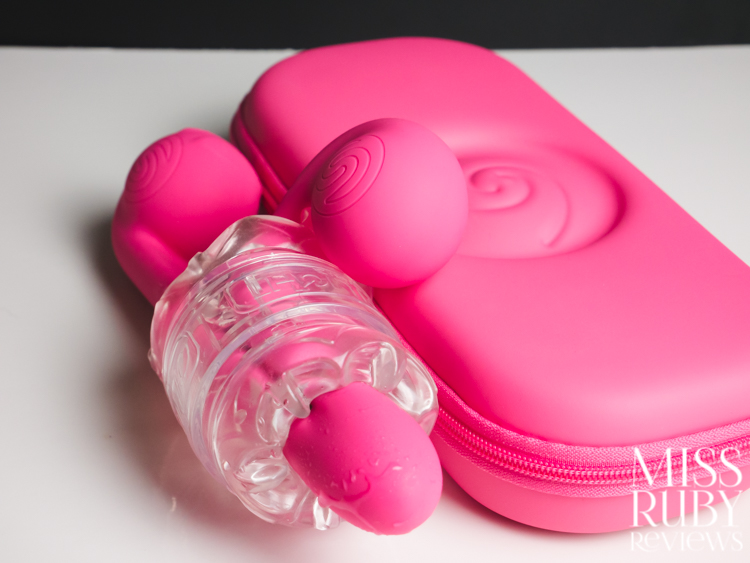 Accessibility
This section is to help folks determine if they might have any issues using/accessing this toy.
Size: This is a fairly large/clunky insertable vibrator. It's 9.4″ long (total), has 1.4″ to 5.5″ of insertable length, and the insertable portion's width is 1.4″. The clitoral ball reaches about 2″ high from the shaft, so it should accommodate people whose clitoris sits up to 2″ away from their entrance.
Weight: By my measurements, this weighs 303 grams.
Buttons: There are 4 buttons on the handle, approx 8mm wide. You can feel them with your fingertips. They each take moderate pressure to press and make a loud 'click' noise.
Vibration Transfer: While few of the clitoral vibrations reach the handle, a LOT of the internal vibrations reach the handle. If you have joint issues, you may want to keep the internal motor turned off.
Visual notes: The buttons are the same colour as the body, so they are not in visual high contrast. The charging pinhole is quite hard to see — you can just barely feel it with your fingertips.
Price:  The SnailVibe is $150, which is fairly pricey. However, because this is the first toy of its kind with this kind of shape/design, I can't really compare it to others because no other toy has this kind of design. The closest that this comes to, in theory, is the We-Vibe Nova 2, which is priced similarly.
How to Use the SnailVibe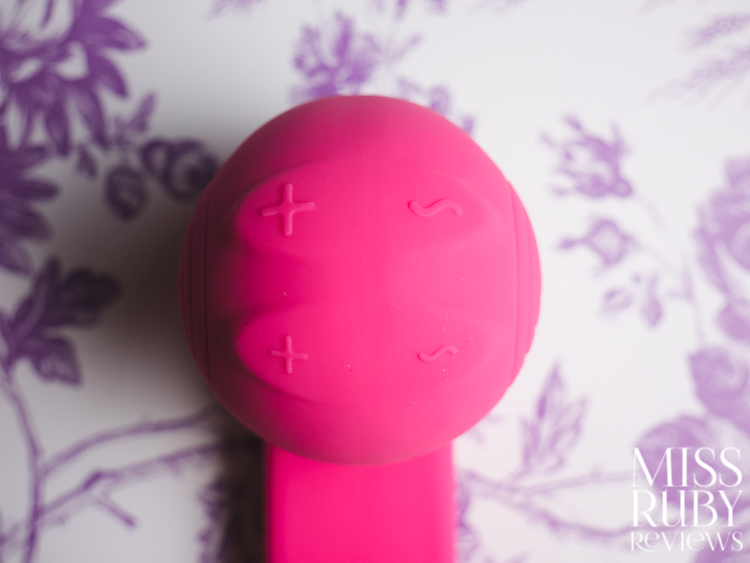 The clitoral motor and the internal motor are controlled independently.
There are 4 buttons on the SnailVibe: the upper (+) and (~) buttons and the lower (+) and (~) buttons. The upper buttons control the clitoral motor and the lower buttons control the internal motor.
Insert the insertable portion and align the spiral ball over your clitoris.
To turn on vibration, press and hold either of the (+) buttons. Keep tapping (+) to increase intensity. There are 5 intensity levels.
To use a pattern, press and hold the (~) buttons. There's 1 steady-state and 4 patterns you can cycle through.
Thrust the toy inwards using the farthest ball (with the controls) as your handle. If everything is aligned correctly and this toy is a good fit for your body, the spiral ball should stay on your clitoris as you thrust in and out.
To turn off each motor, press and hold its corresponding (+) and (~) buttons.
Packaging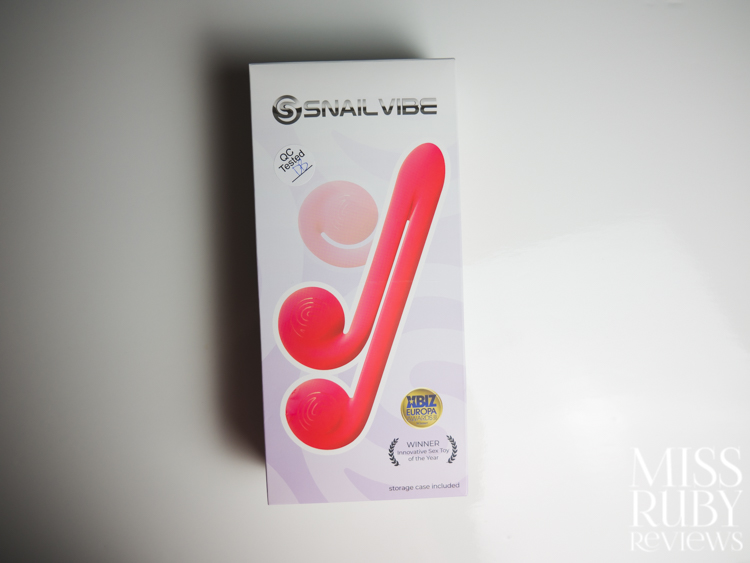 The SnailVibe comes packaged simply in a cardboard box. It's not particularly luxe or flashy or discreet.
What did impress me, however, was the storage case that comes with the SnailVibe. It's a beautiful hardshell zipper case in the colour of your SnailVibe. The zipper and case are very good quality — it's rare for sex toys to come with such a great case.
Along with the SnailVibe and the storage case, you also receive the USB charging cord and the instruction booklet.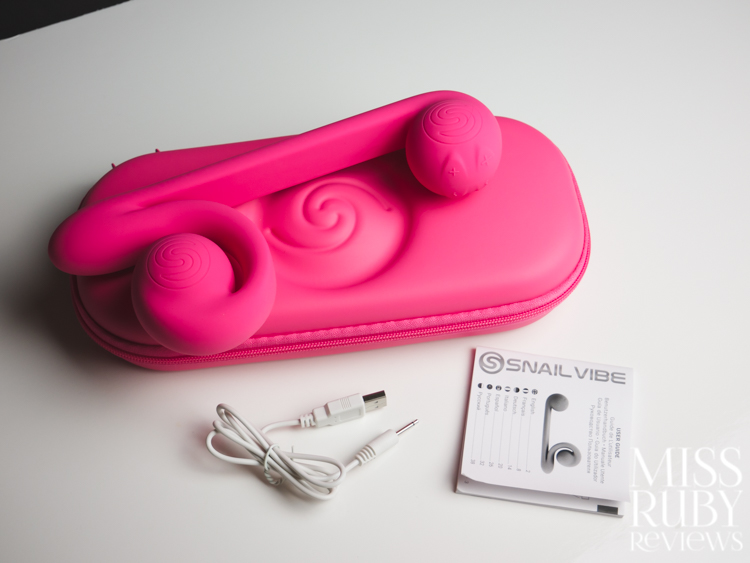 Material and Care
The SnailVibe is coated in silicone, making this non-porous, non-toxic, and free of phthalates. The silicone is matte and draggy to the touch before adding lubricant.
To clean, I wash in warm, soapy water before and after each use. Take extra care in the small narrow gaps. Allow to air-dry before storing.
To charge your SnailVibe, insert the needle end of the USB charger into the pinhole at the very top of the toy (above the buttons). Then plug your cord into your computer or a USB wall adapter. An LED light will come on while charging (flashing during charging, and solid when fully charged). A full charge takes about 2 hours and will give you up to 1 hour of playtime.
A water-based lubricant is required to use this toy to function normally. If you don't have some already, I recommend Sliquid H2O.
SheVibe mentions a 10-year warranty on their product page for this toy. I can't find verification of that on SnailVibe's website, and I can't find much detail in the instruction manual, so I can't confirm. But if it's true, that would be pretty amazing.
My Experience with the SnailVibe Vibrator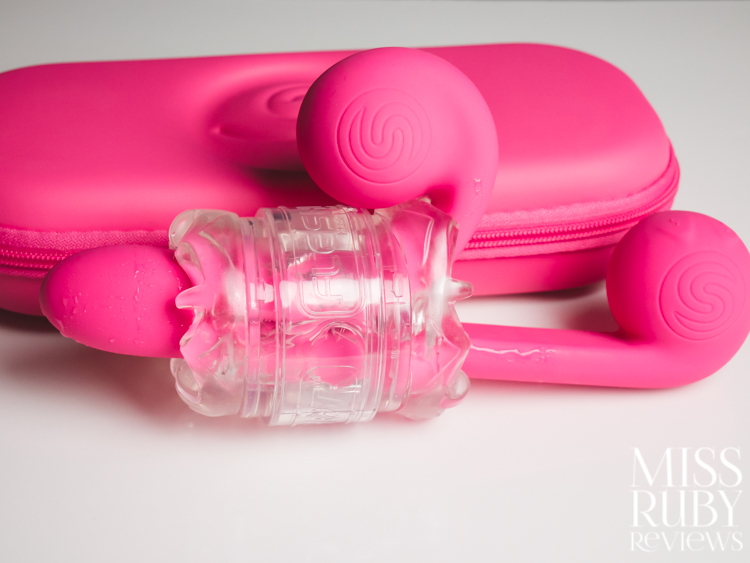 Overall, my experience with the SnailVibe was surprisingly positive, but this toy isn't without its drawbacks. I list the Pros/Cons below.
Why I love the SnailVibe
The SnailVibe may have some issues, but I have to admit — this thing feels great.
1. It's strong.
If a vibrating sex toy isn't strong, it doesn't matter how fancy or innovative it is. Motor strength is SO important. And much to my relief, the SnailVibe carries two strong motors.
The internal vibrator is strong and buzzy. It didn't knock my socks off, but then I use the clitoral motor. And it is SO STRONG and RUMBLY. I've owned full-sized wands that didn't pack the same punch as that clitoral motor.  I am not disappointed by the clitoral motor at all. SnailVibe says that the clitoral motor is 4x as strong as the internal motor, and I'd say that's about right!
For those of you with sensitive clitorises, you'll be pleased to hear that the lowest mode is still very tame, so I think this will apply to people with sensitive clitorises as well as power queens.
2. The clitoris is always stimulated
I was pretty thrilled to find that the whole swoopy snail design actually works. As long as the SnailVibe is properly lubricated, when I thrust the rumbling ball glides along my clitoris. Unlike a conventional rabbit that loses contact with your clitoris when you thrust out, the SnailVibe keeps in contact the whole time.
I personally need clitoral stimulation to orgasm (always), and I've loved my orgasms from this toy. The internal shaft is straight and easy to angle towards my G-spot.  And, like a wand, the clitoral head is broad enough to stimulate around the clitoris and parts of the vulva as well. Hot damn.
I also love that there's some versatility with how I use the SnailVibe. I can choose to only thrust deeply, or only shallowly, or not at all — I can hold it deep inside, in place, without moving, and let the rumbling motors do the job.
3. Deeper Stimulation
The We-Vibe Nova 2 (review here) is the only other rabbit (that I'm aware of) that stays in contact with the clitoris the whole time during thrusts. It's the same price as the SnailVibe. The We-Vibe Nova has the advantage of having a curve to better target the G-spot which, I'll admit, would have been great on the SnailVibe too. But, for those of you who love that deeper stimulation, the SnailVibe offers a whole extra inch of insertable length compared to the We-Vibe Nova 2.
4. It's… odd.
I also kind of like this toy because it's so… weird. It's not every day that you see a sex toy named after a shelled gastropod. This curled design is clever. I'm enjoying that it's a novel and different addition to my toolbox.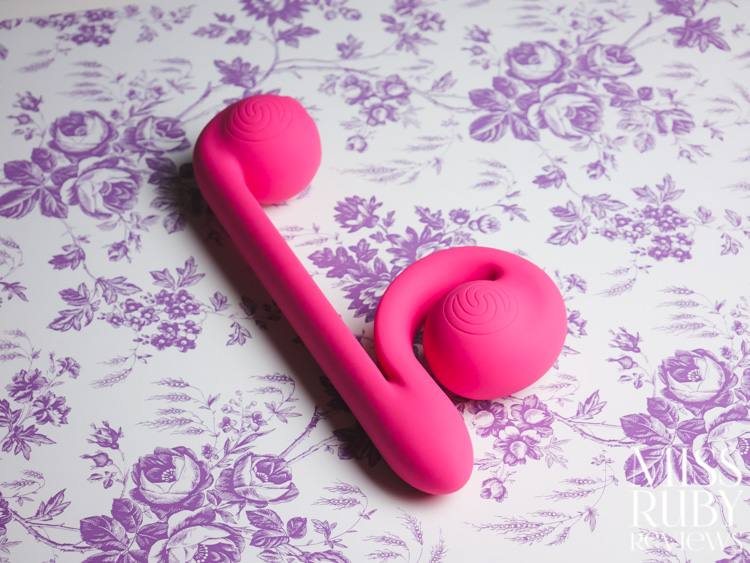 1. You need LOTS of lubricant. 
Hell's bells, does this toy need lubricant! I always recommend people use some good water-based lubricant (like this one) when they use a silicone sex toy because I always seem to go through lubricant faster with a silicone sex toy than with partnered sex. Lubricant with a silicone sex toy just makes things easier.
HOWEVER. Lubricant isn't just recommended here… it's absolutely required.
As I thrust the SnailVibe, the clitoral ball kind of rolls. This means my clitoris kind of glides over different parts of the ball during each thrust. If you don't use lubricant, your poor labia and clitoris are going to get rug burn. The clitoral ball CANNOT glide without a lot of lubricant. I made this mistake on my first try — the clitoral motor/ball just sort of draaaaags against the clitoris as it tries to move. Ouch.
So please buy this as well and coat EVERYTHING (except the handle) until it's good and slick.
2. Consider trimming your pubic hair first.
As you thrust with the SnailVibe, the gap between the rigid shaft and the flexible swoopy arm narrows and closes. If you keep your pubic hair long, I honestly think there's a mild chance it will get pinched and pulled as the gap closes. I wasn't brave enough to risk it so I shaved beforehand just in case.
(Side note: Can labial folds get pinched? I don't think this is likely because the labia are pulled away to the sides during insertion and the angle should keep you safe. I didn't have any issues with getting pinched, but if you are worried, go slow.)
3. Annoying buttons.
The SnailVibe doesn't have a (–) button, so you can't go back. When you're moving up the 5 intensities, if you go too far you're back at the lowest mode. It's not a dealbreaker for me, but some might find this annoying.
4. Moderately Loud.
The SnailVibe isn't whisper quiet. There's a chance someone could hear this through a closed bedroom door (especially if your walls have poor insulation).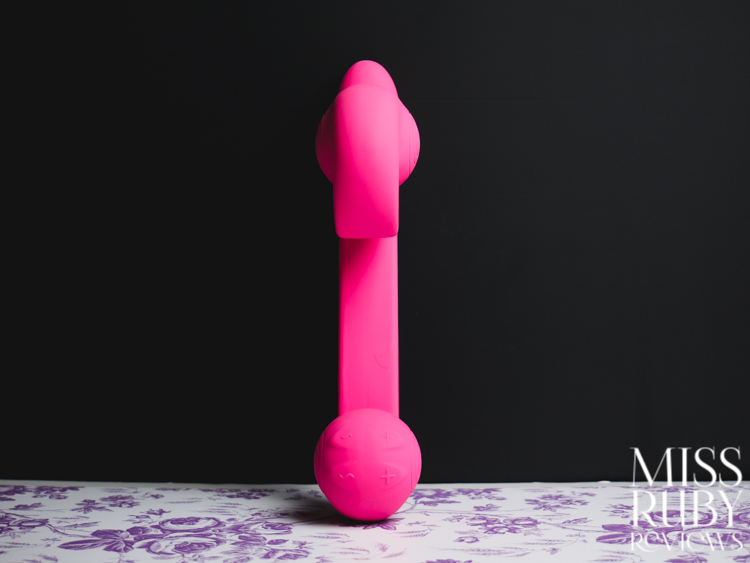 SnailVibe Review – Overall Thoughts
The SnailVibe is a fascinating, weird-looking sex toy that gets the job done. Your clitoris stays stimulated whether the SnailVibe is thrust deeply or shallow, which is very rare for a dual stimulating vibrator. The motors are also good — the clitoral motor (in particular) is VERY strong and rumbly. You'll want to stock up on waterbased lube, though, to keep things gliding.
You can pick up your own SnailVibe here at SheVibe! At the time of this post, it retails for $150 USD. Why do I like SheVibe? They offer international shopping and currency, carry thousands of amazing bodysafe products, have a great team working for them, and feature unique artwork all over their site! 

See below for my SnailVibe review breakdown.
SnailVibe Review Summary
Overall thoughts - 9
9
$150
PROS
External motor stays in contact with your clitoris
Clitoris motor is strong and rumbly
Independently control both motors
Waterproof
Bodysafe silicone construction
Rechargeable
Waterproof
CONS
Lubricant absolutely required
Noisy
Name could be off putting to some
Shop Now

Last Updated on October 23, 2021 by Miss Ruby