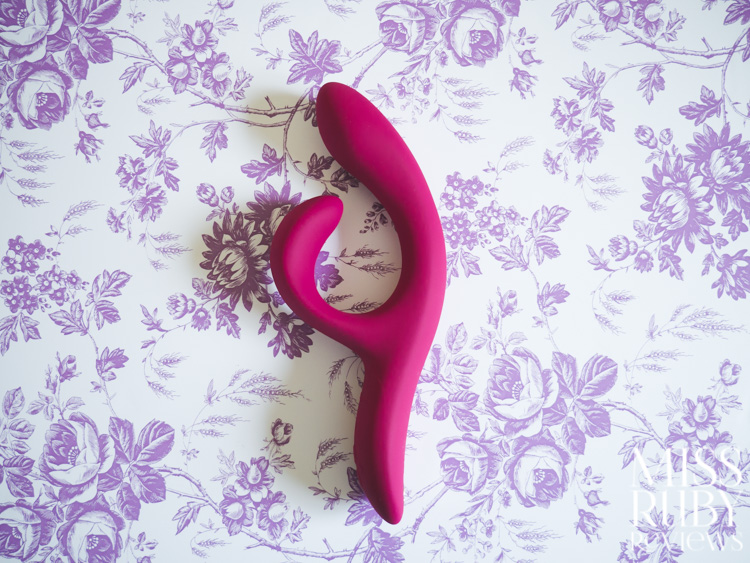 There's an improved, upgraded We-Vibe Nova! Read on for my We-Vibe Nova 2 review!

Design | Accessibility | How to Use | Packaging | Material and Care | My Experience | Overall
Design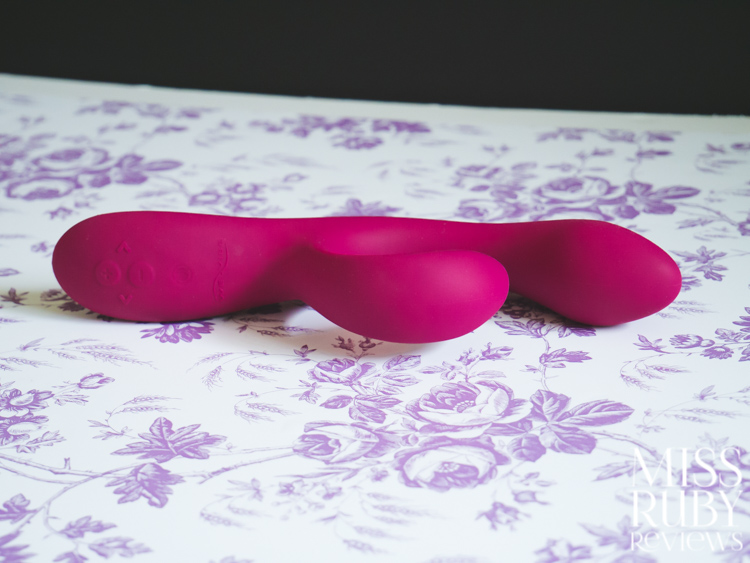 This is exciting! Way back in 2017, I fell in love with the original We-Vibe Nova. Up until this point, I've been recommending it as the best rabbit vibrator out there. That's why when We-Vibe released this newer, We-Vibe Nova 2 version, I knew I had to give it a go.
What makes the We-Vibe Nova 2 great?
If we wanna be basic, the We-Vibe Nova 2 is simply a rabbit vibrator. As a dual stimulator, it pleasures both your G-spot (with the bigger, longer shaft) and your clitoris (with the shorter shaft) at the same time. The goal? To have a wicked clitoral orgasm, or G-spot orgasm, or both at the same time!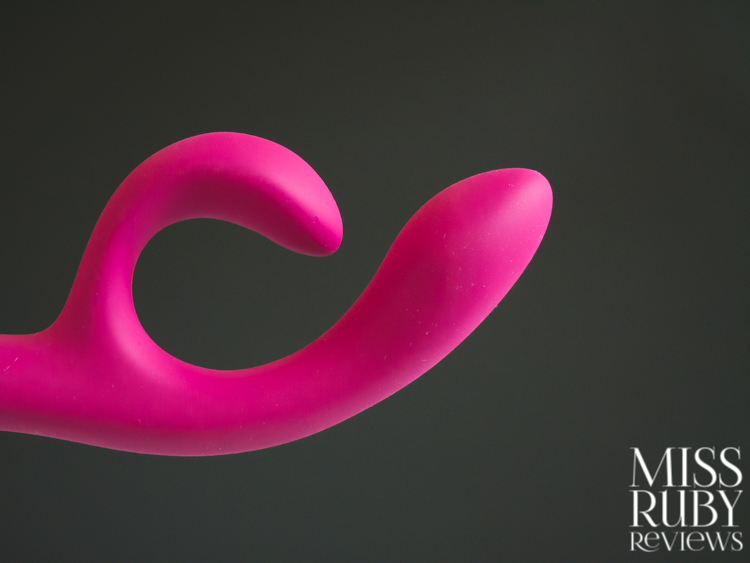 Most rabbit vibrators on the market have a fixed clitoral shaft that only taps against your clitoris when the main shaft is fully inside you. But the We-Vibe Nova 2 is designed for thrusting! It'll keep vibrating against your clitoris whether you're mid-thrust or not.
The key to the  We-Vibe Nova 2's genius is its long, flexible clitoral arm. It's long enough to reach a clitoris with a far gap from the vaginal opening, can bend if your vulva has a shorter gap, and simply continues bending when you thrust the main shaft inside you. This makes the We-Vibe Nova 2 a one-size-fits-all rabbit vibrator.
This truly is an amazing design.
Original We-Vibe Nova vs. We-Vibe Nova 2?
At first glance, the We-Vibe Nova 2 looks very similar to its predecessor, the original Nova.
There are a few key upgrades:
Dual Density: The We-Vibe Nova 2 has a soft, squishy outer layer.  While the original Nova's body was rock hard, the We-Vibe Nova 2 has dual-density. The shafts have a hard inner core, yes, but they're surrounded by soft, squishy goodness (especially at the tips). This makes for a more forgiving experience if you're thrusting vigorously. I just adore cushioned vibrators.
An adjustable main shaft: While the smaller clitoral arm is bendy and flexible, you can also adjust the main shaft in the Nova 2! This means you can better configure it to your specific body.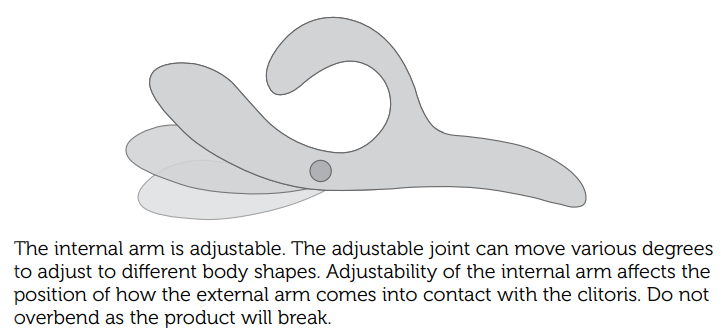 More seamless: The original Nova had two different colours, so cleaning took a bit more time because there was a seam. The new We-Vibe Nova 2 has no harsh seams; it's smooth and easy to clean.
Travel lock: The original Nova couldn't be travel locked, but the new We-Vibe Nova 2 has this handy function!
Different colour scheme: The original Nova came in white and bright pink. The new We-Vibe Nova 2 is a deeper, matter, pinkish purple.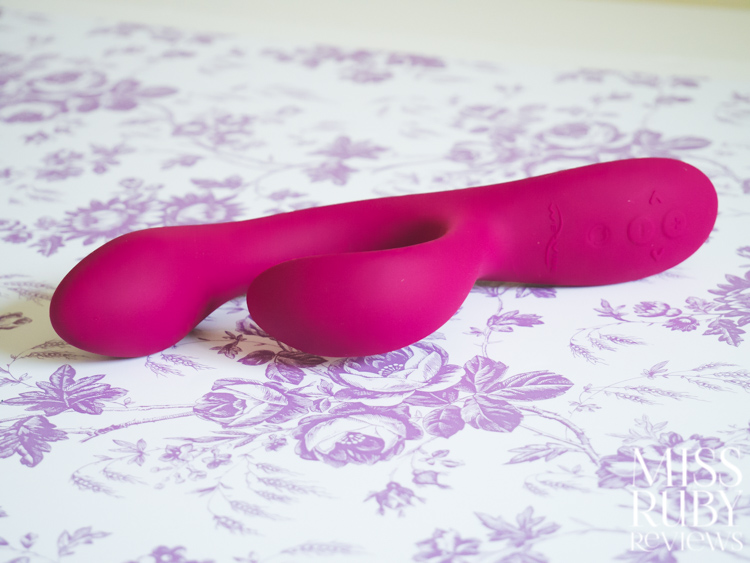 Accessibility
This section is to help folks determine if they might have any issues using/accessing this toy.
Size/Weight: The We-Vibe Nova 2 is a mid-sized rabbit vibrator. By my measurements, it's roughly 9″ long (with 4.25″ insertable length) and 1.5″ at the widest point. For a rabbit vibrator, it's fairly lightweight.
Buttons: There are 5 buttons. The (+), (–), < , and > buttons are grouped together (about 2mm apart) and are about 1mm tall. The arrow button is inverted and is off to the side by itself. All buttons take a bit of pressure to click and make a quiet click sound. If you have visual difficulties, I think you'll have challenges using this because the buttons are hard to feel with your fingertips.
Handle buzz: Some of the vibrations transfer to the handle. Your hand will buzz a bit when you hold it.
Price: At $149.99 USD, this is on the more expensive end for a rabbit toy.
Other notes: You can operate this toy with one hand only. However, the magnetic charger cord falls off the charging plate on the device easily; if your hands are very shaky, you may have difficulty getting this to charge.
How to Use the We-Vibe Nova 2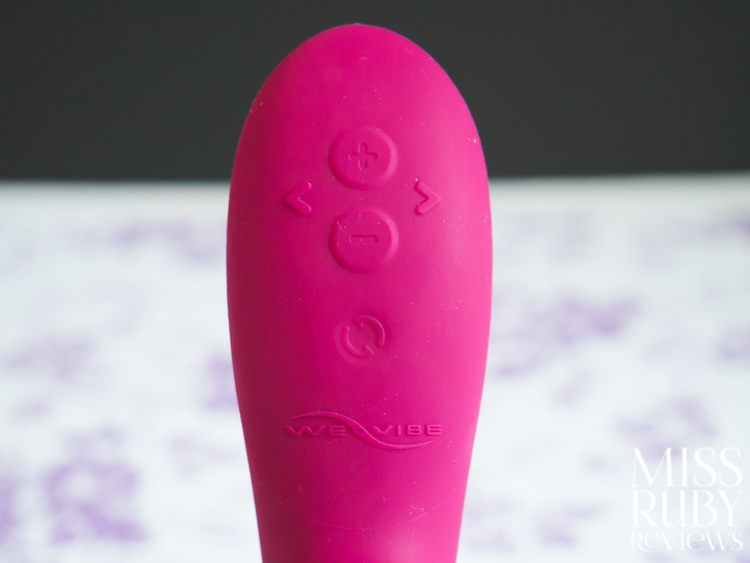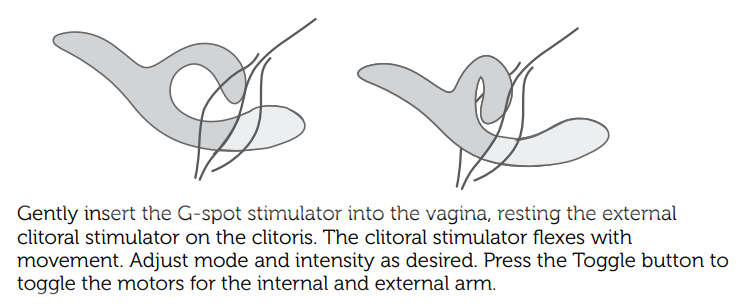 Turn on the We-Vibe Nova 2 by tapping the (+) button.
Keep tapping (+) to increase strength. There are 13 intensity levels.
Tap the arrow button to cycle between the motors. You can have the clitoral arm vibrating without the G-spot shaft, or just the G-spot shaft vibrating by itself, or both vibrating at once!
To cycle through the 10 patterns, press the < and > buttons.
Apply water-based lubricant like Sliquid H2O. Even if you naturally produce lubricant, silicone tends to use up a lot so having some extra on hand is always a good idea to keep things gliding.
Insert the main shaft into your vagina. As you thrust, the clitoral arm will flex against you with your movements.
To turn it off, press and hold the (–) button.
To activate the travel lock, hold the (+) and (–) buttons together for 2 seconds. Do the same to unlock it.
You can also control the We-Vibe Nova 2 using the We-Connect App on your smartphone.
Packaging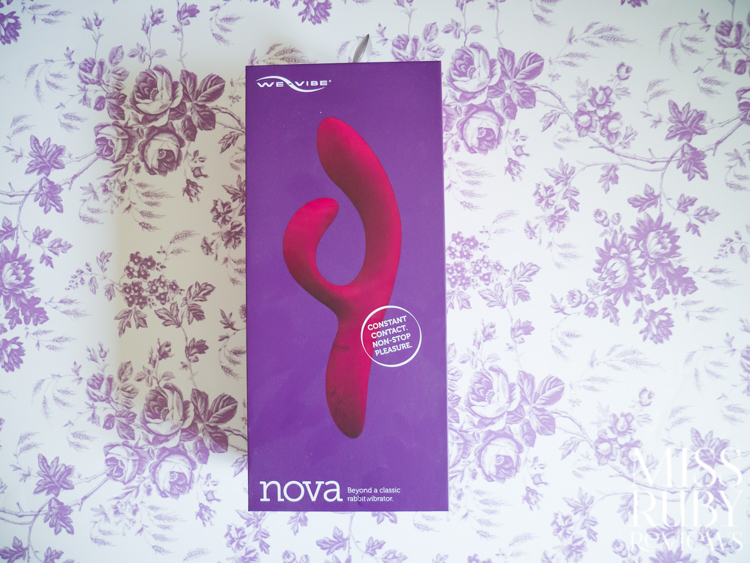 The We-Vibe Nova 2 comes packaged in a good quality box. It's giftworthy.
Inside, you receive the Nova 2, a manual, a USB charging cord, a sample packet of lubricant, and a white satin storage pouch.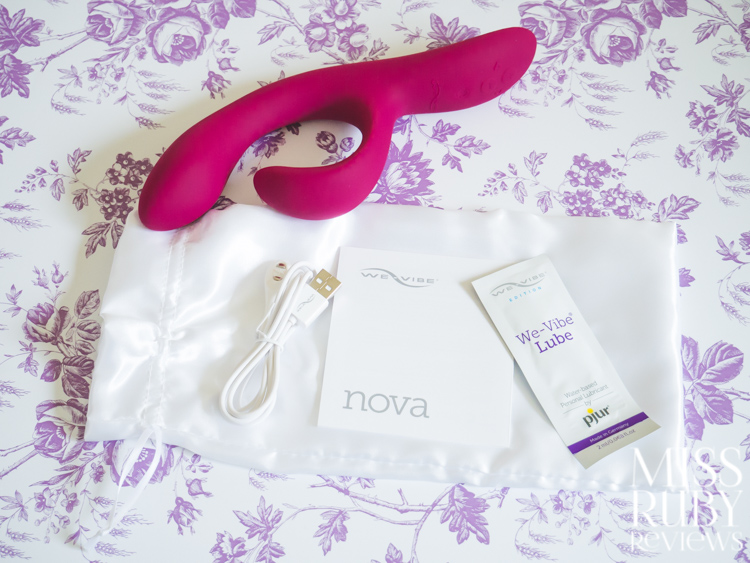 Material and Care
The We-Vibe Nova 2 is made from silicone, making it bodysafe. This particular silicone finish is matte and silky to the touch.
The We-Vibe Nova 2 is fully waterproof and submersible. To clean, I rinse it in warm, soapy water before and after each use. You could also add a dedicated sex toy cleaner. Allow to air dry before storing it away.
If you'd like to use lubricant with this toy, choose a good quality water-based lube like my favourite basic Sliquid H2O or vegan Wicked Simply Aqua.
This toy comes with a 2-year manufacturer's warranty, so keep your online receipt.
To recharge the We-Vibe Nova 2, attach the white magnetic charger (included) to the metal ports at the base of the body. Plug that cord into your computer or a USB wall adapter. A full charge will take 90 minutes, and will give you up to 2 hours of playtime.
My Experience with the We-Vibe Nova 2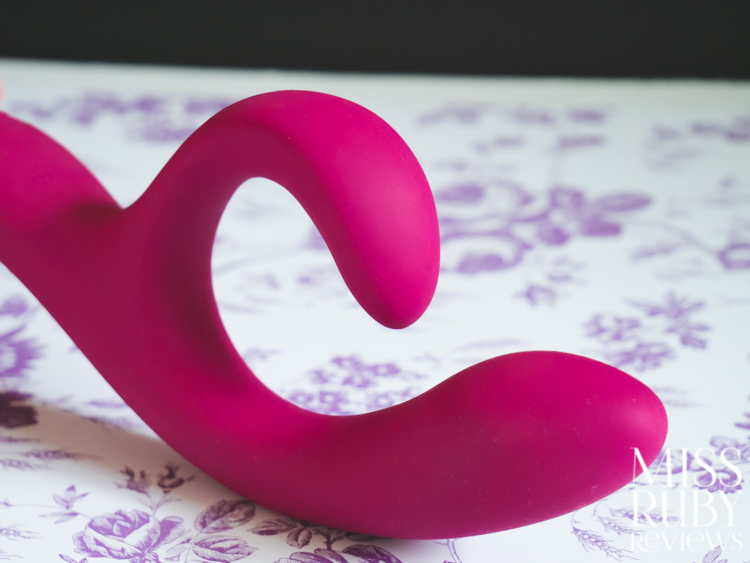 We-Vibe has done it again.
The We-Vibe Nova 2 is one of those rare toys that actually delivers on its promises. In use, it actually stays in contact with the clitoris. This by itself puts it miles ahead of other rabbit vibrators.
Why is this important? Because most people with a vagina need clitoral stimulation to orgasm, and that stimulation isn't broken if you're thrusting to maximize your G-spot stimulation at the same time. Plus, if you're capable of blended orgasms, this will be ideal.
The vibrations on both the main shaft and the clitoral shaft are fantastic. Strong and rumbly, just as I've come to expect from We-Vibe's motors. While rabbit vibrators are notorious for having weak clitoral arms, this isn't at all the case with the We-Vibe Nova 2. The We-Vibe Nova 2's clitoral arm is more than strong enough for me.
Despite the strength of the motors, this is not a loud toy. The We-Vibe Nova 2 is surprisingly quiet. If you have housemates, no one will be able to hear this through closed doors.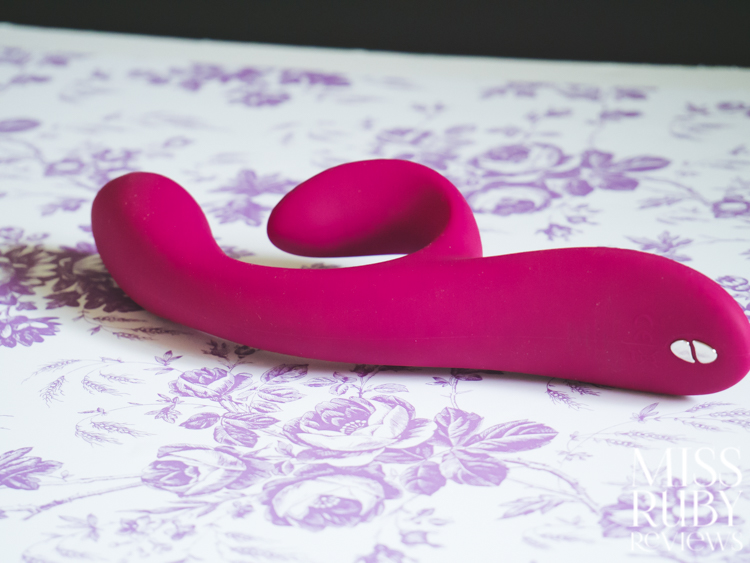 The internal arm does a good job at G-spot stimulation, thanks to its bulbous shape. It feels divine to thrust with this; this is where the squishy outer layer of silicone really shines. When I'm not in the mood for thrusting, I can just lie back and hold it still to enjoy the sensation of the vibrations.
This really is the best rabbit vibrator out there.
Complaints? 
My only gripe is that I wish it came in additional colour options. Pinkish purple won't appeal to everyone. Give me red or coral or blue!
We-Vibe Nova 2 Review – Overall Thoughts
The We-Vibe Nova 2 is remarkable and a must-buy if you're into dual stimulation. Unlike the vast majority of rabbits on the market, the flexible arms make it suitable for a wide range of bodies; there's a good chance this will work for your body too. It's also strong, rumbly, quiet, waterproof, rechargeable, and dual density! Hubba hubba!
You can pick up your own We-Vibe Nova 2 here! Why do I like Peepshow Toys? They ship internationally, only carry body-safe products, and you can get a 10% discount off your whole purchase with coupon code RUBY. 

See below for my We-Vibe Nova 2 review breakdown.

We-Vibe Nova 2 Review Summary
Overall thoughts - 9.9
9.9
$149
PROS
Adjustable main shaft angle
Flexible clitoral arm
Dual density
Will suit a wide-range of bodies
Powerful and rumbly
Quiet
Bodysafe silicone construction
Rechargable
2-year warranty
CONS