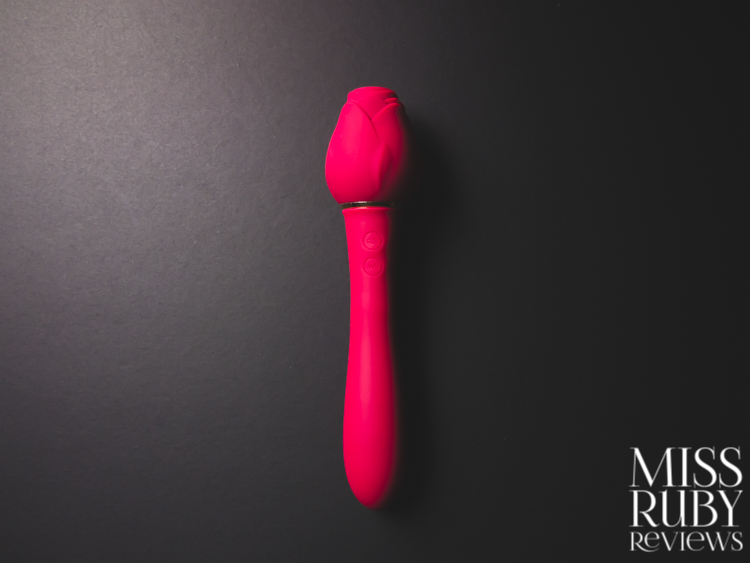 A pressure wave sucker PLUS a G-spot vibe all packaged in a beautiful rose shape. Read on for my Sohimi Rose Queen Sucking Vibrator review!

Design | Accessibility | How to Use | Packaging | Material and Care | My Experience | Overall
Design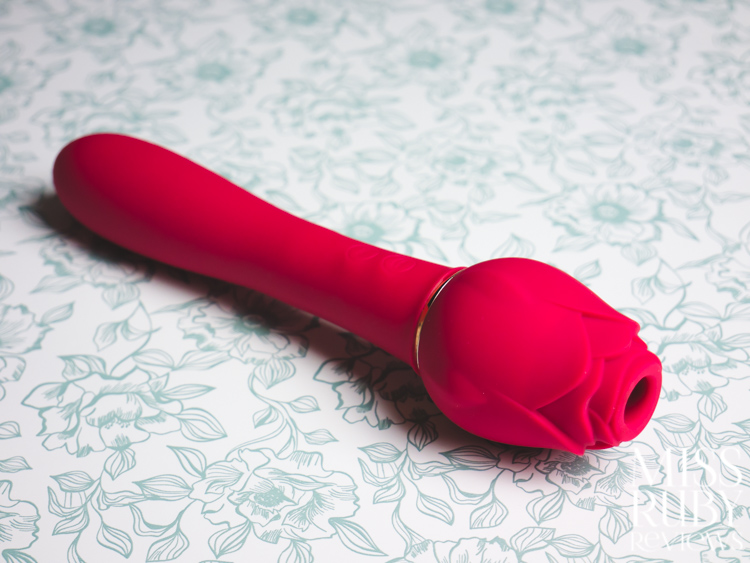 The Rose Queen Sucking Vibrator is an eye-catching multi-function toy from Sohimi. They've taken their Rose Toy Vibrator (a clitoral suction toy) and expanded its capabilities by adding a G-spot shaft.
It's a lovely, aesthetically pleasing design. The Rose portion, which provides pressure-wave stimulation, is delicately sculpted and petite. The opening for your clitoris lies at the very tip.
Below the Rose portion, you have a gold-coloured band for decoration and the two control buttons.
The shaft extends gracefully from there, widening slightly at the end for better G-spot stimulation. You get about 4.5″ of insertable length from the shaft before you hit the buttons.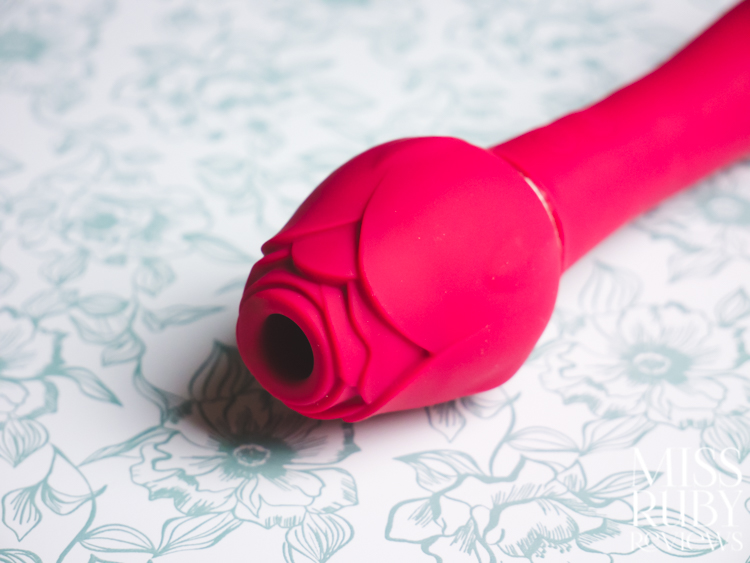 ---
WHAT IS PRESSURE WAVE TECHNOLOGY? Pressure wave technology provides touchless clitoral stimulation, which makes your clitoris feel like it's being sucked by air. This sex tech first emerged around 2016, and since then I've witnessed (and reviewed) the technology spread across the industry. I was skeptical at first, and the technology is pretty bizarre, but it can be SUPER effective.
---
The Rose on this Rose Queen (or "Rose Toy Pro") is smaller than the Rose head on their original Rose Toy, and it has 5 suction modes instead of 7. But asides that that, they appear very much the same.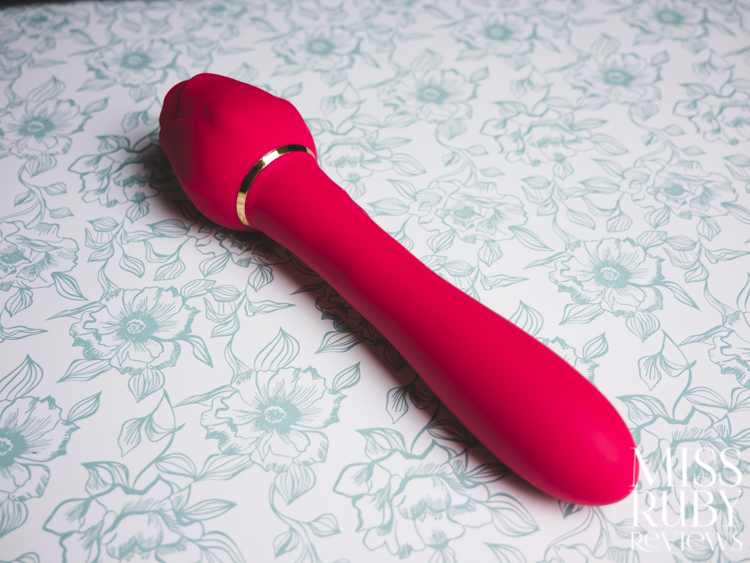 The Rose Queen Sucking Vibrator is IPX7 level waterproof and USB rechargeable. It's made of bodysafe silicone.
It also has the great perk of NOT looking like a sex toy. Unless you look closely, you could argue it's just a Rose-shaped sculpture.
Accessibility
This section is to help folks determine if they might have any issues using/accessing this toy.
Size: The Sohimi Rose Queen Sucking Vibrator is large for a pressure wave sucker toy and standard for a G-spot toy. By my measurements, it's about 21cm tall. The G-spot shaft gives about 11 cm (4.5″) of insertable length. and is 3.1 cm wide at its widest point. The Rose head is 5.5 cm x 4.5 cm. The hole of the pressure wave stimulator is 13 mm wide with a 9 mm lip around it.
Weight: This is a lightweight toy, about 1.5 grams.
Buttons: The 2 control buttons are located below the neck. They are round, sit flush with the surface, and are engraved with (lips) and (~) impressions that you can mildly feel with your fingertips. The buttons are 8 mm across and 4mm apart. They don't take much pressure to push down and make a loud click noise.
Visibility: The buttons are not in high contrasting colours, so you may struggle to see them if you have visual difficulties.
Handle buzz: The pressure wave portion of this toy doesn't create vibrations on the handle. However, if you're using the vibrating function, many of those vibrations travel down the handle to the Rose head. If you have arthritis or carpal tunnel, this may affect you.
Other notes: The charging connection is quite finicky – it's easy for the magnetic cable to slip out of place, and the only way you know it's charging is by an LED light that blinks. If you have visual difficulties and cannot see an LED light blinking, you will not know if this toy is properly charging when you think it is.
Price: At $53.99 USD, this is inexpensive compared to other dual-mode toys (pressure wave stimulators with vibrations) with similar features.
How to Use the Sohimi Rose Queen Sucking Vibrator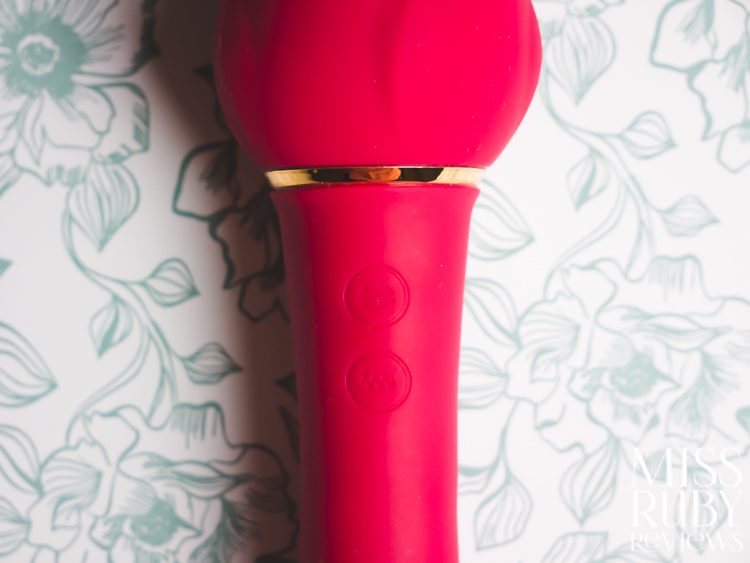 The Sohimi Rose Queen Sucking Vibrator comes with two buttons: one looks like lips and it controls the suction. The other button looks like a wave ~ and it controls the vibrations in the G-spot shaft.
To turn on vibrations, press and hold the ~ button. It'll turn on at its first vibration level.
Keep pressing the ~ button to cycle through vibration modes. If I've counted correctly, there are 3 steady states and 7 patterns.
To turn on suction, press and hold the lips button. Keep tapping to cycle through the 5 suction modes.
Apply to your body. Though the suction Rose head is designed for clitoral use, it could be used against other body parts (such as nipples or the shaft of a penis). The G-spot shaft could also be used against your clitoris if you're not in the mood for internal stimulation.
To turn off its functions, press and hold the corresponding buttons again.
Packaging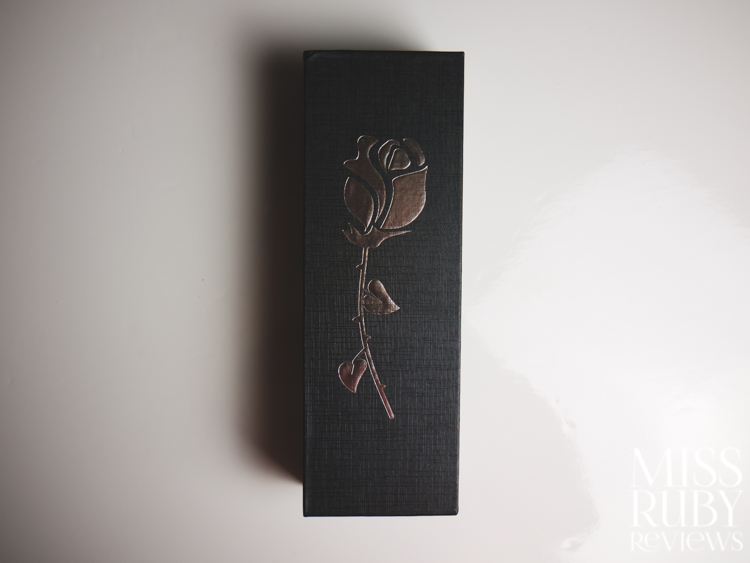 The Sohimi Rose Queen Sucking Vibrator comes packaged beautifully in a black textured box embossed with a silver rose on the front. The box is sturdy and of good quality, and you'd have no idea from packaging alone that it houses a sex toy.
Inside the box, you receive the Rose Queen, a charging cord, and a slim booklet of instructions.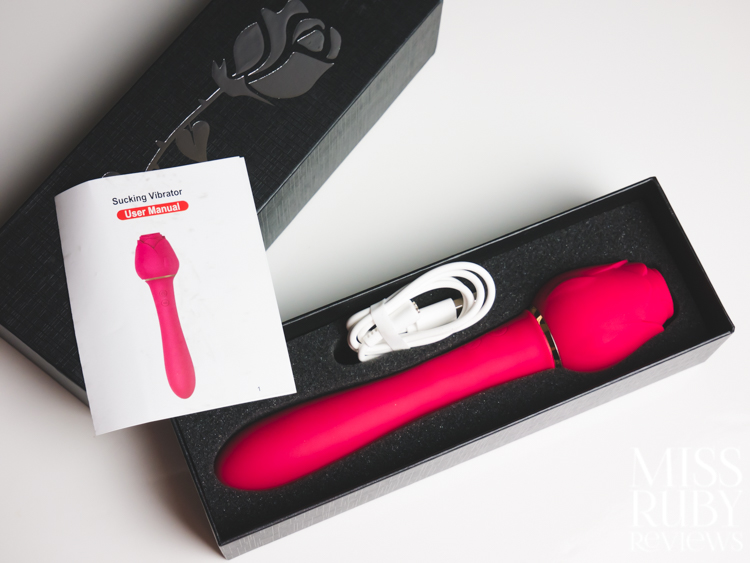 Material and Care
The Sohimi Rose Queen Sucking Vibrator is largely made of pink-coloured silicone, with a gold-coloured ABS plastic band around the neck for decor. Silicone is one of the best materials you could ask for in a sex toy: it's nonporous (making it hygienic), non-toxic and hypoallergenic.
The Sohimi Rose Queen Sucking Vibrator is waterproof (to an IPX7 level, which means products can be submerged up to 1 meter in water for 30 minutes). If using it in the bath, err on the side of caution and don't leave it submerged for too long.
To clean, I rinse it in warm, soapy water before and after each use. After rinsing, to get the water out of the pressure wave chamber I find it helpful to turn it on and shake it gently. Wait for it to be dry before storing it away.
If you'd like to use lubricant with this toy, choose a good quality water-based lube like my favourite basic, paraben-free Sliquid H2O.
To recharge the Sohimi Rose Queen Sucking Vibrator, use the included USB charging cable; attach the magnetic end against the two little metal dots under the gold band. Plug that cord into your computer or a USB wall adapter. A full charge takes about 2 hours and gets you 1 hour of playtime.
I found the charging cord quite tricky to get right; it's a bit finicky and slips off easily.
My Experience with the Sohimi Rose Queen Sucking Vibrator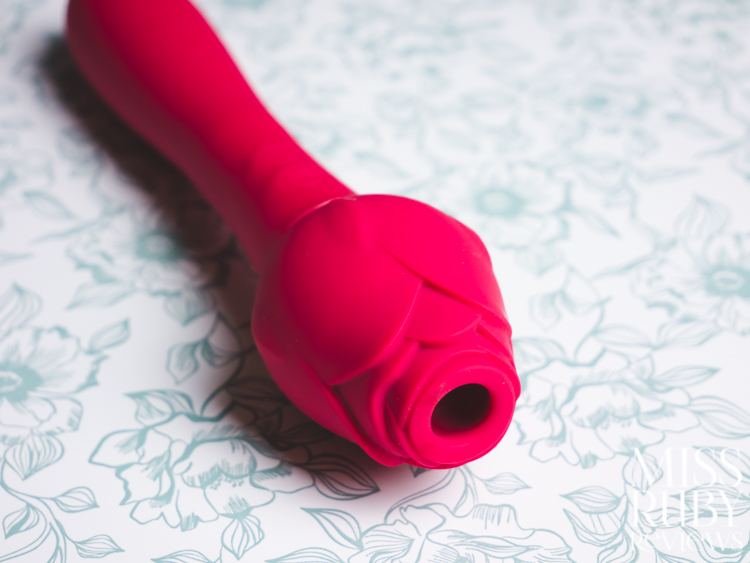 The Sohimi Rose Queen Sucking Vibrator looks pretty — but how does it feel?
I was happy with the quality of the clitoral suction. The suction is strong, feels "thuddy", and gets me off VERY quickly. The top-level was too strong for me to use (and I usually need very strong/top levels), so I suspect this toy would be strong enough for most users. And there's something about getting pleasured by a beautiful toy that you really can't beat. This doesn't feel or look cheap or cheesy. It feels like quite a luxury experience.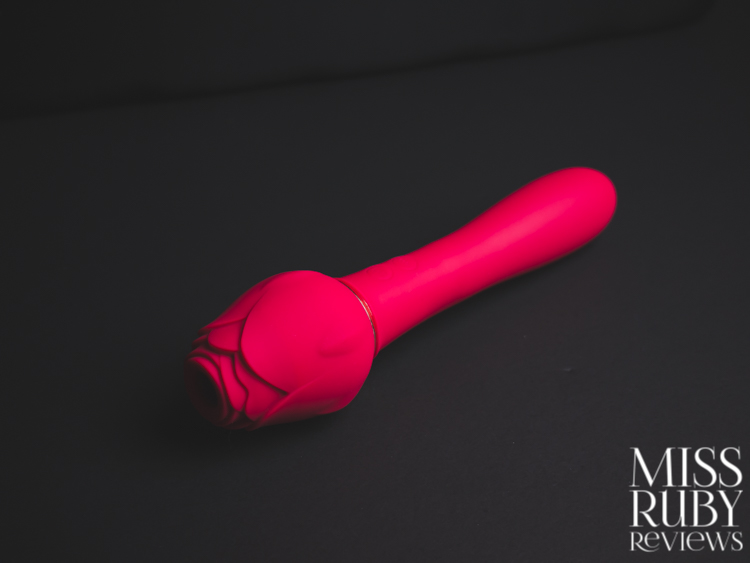 The vibrations weren't quite as successful for me. They're decently strong, but do err on the buzzy side, so weren't a huge hit with my clitoris.
How about G-spot stimulation? The Sohimi Rose Queen has a bendy shaft, so you can't really apply firm pressure on the G-spot. However, if you like light-to-moderate vibrations on your G-spot, and you don't need to apply firm pressure, then this part may work for you.
Unfortunately, I have doubts about the longevity of the Sohimi Rose Queen. I've owned it for 3 months now and tested it about once a month. Over the last couple of sessions, I've noticed that the motor will unexpectedly dip in strength or fizzle out and stop completely (even when it has a full charge). When I turn it back on, it seems to come on at half strength. I then need to recharge it, which seems to reset the motor for a few minutes. During my last testing session, it occurred more than the previous session, so I'm starting to have my doubts about this toy lasting me long into the future.
If this happens to you within the first 60 days, Sohimi will help you out: "For the quality reason (damage, doesn't work properly, etc.), customers must provide the proof of the defective to us (picture; video; etc.), we will send a replacement or issue the full refund to customers after approved."
While I suspect this toy won't last much longer, I'm personally not hugely bothered — this is a fairly small investment and did give me several months of pleasure. However, I imagine that other users won't be so pleased. If you start to experience any quality issues within the first 60 days, please contact Sohimi.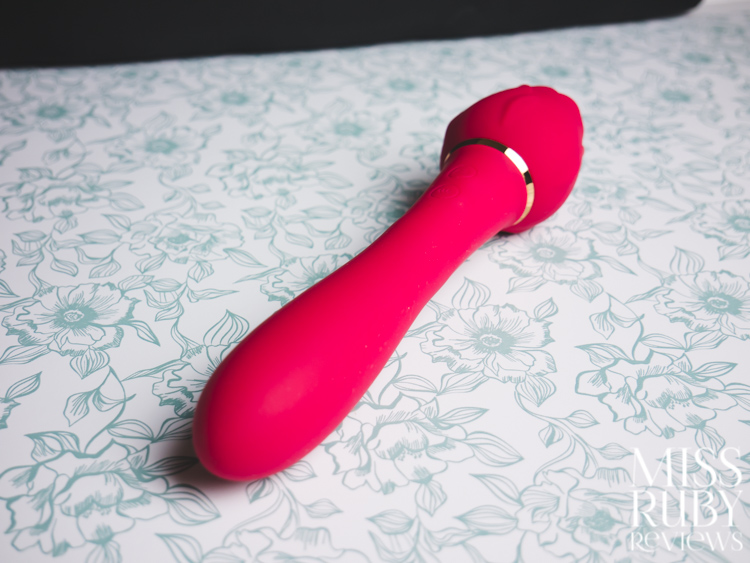 Sohimi Rose Queen Sucking Vibrator Review – Overall Thoughts
The Sohimi Rose Queen Sucking Vibrator is a beautiful 2-in-1 suction/vibrator toy. I love how this looks — its design is quite pleasing.
While the suction is good, the shaft's vibrations do leave me wanting a bit more rumble. I also wish the G-spot shaft wasn't bendy so I could really apply some firm pressure.
Lastly, I do have some doubts about how long this motor will last before it finally kicks the bucket. While I'm happy that it gave me several months of pleasure, I can imagine that other shoppers won't be too pleased if theirs start having issues. If you experience any defects in the first 60 days, Sohimi will help you out.
You can pick up your own Sohimi Rose Queen Sucking Vibrator here! Why shop from Sohimi? You can get a 10% discount on your whole purchase with coupon code RUBY10. 

See below for my Sohimi Rose Queen Sucking Vibrator review breakdown.
Review: Sohimi Rose Queen Clitoral Sucking & G Spot Vibrator
Overall thoughts - 5.5
5.5
$53
PROS
Beautiful 2-in-1 design
Strong suction
Discreet appearance
Waterproof
Bodysafe silicone
Rechargeable
Inexpensive
CONS
Wish the G-spot shaft had more rumble
Wish the G-spot shaft wasn't bendy
Motor showing warning signs
Finicky charging cord
Shop Now
Last Updated on December 19, 2021 by Miss Ruby