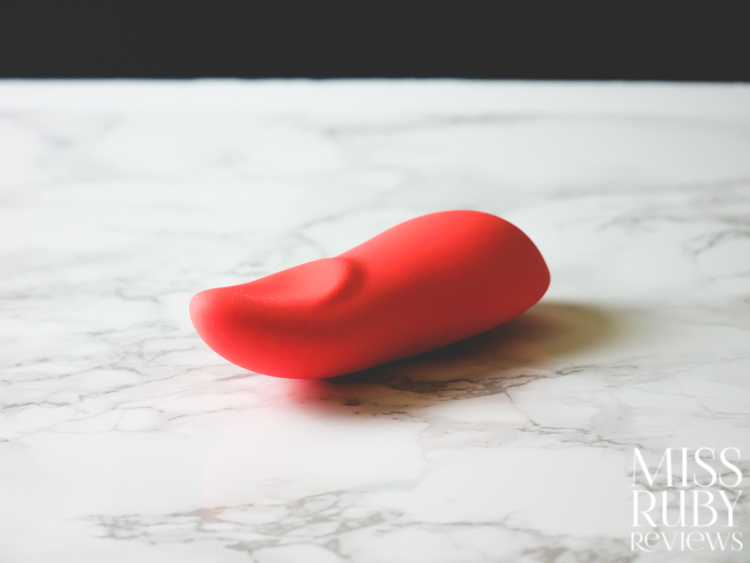 The We-Vibe Touch is back, baby! Read on for my We-Vibe Touch X review!

Design | Accessibility | How to Use | Packaging | Material and Care | My Experience | Overall
Design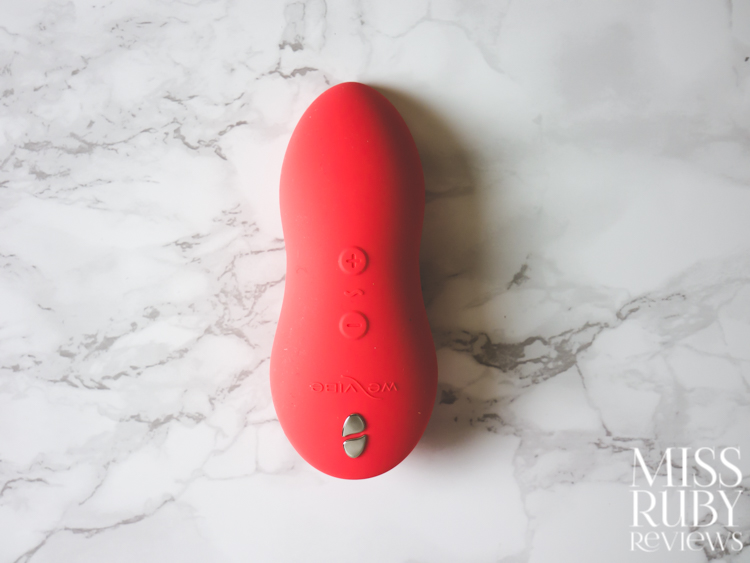 The We-Vibe Touch X is the second generation version of the popular We-Vibe Touch (which I reviewed here). The older version is 10 years old. While it was still going strong as a product (and my personal copy certainly still is), 10 years is pretty ancient in the sex toy world. So I guess that means it was back to the drawing board for We-Vibe. I was just thrilled to see this model come out!
The original We-Vibe Touch was very likeable…the squishy, marshmallow body was just a ruse, because underneath housed a powerful motor.
To my delight, We-Vibe hasn't changed the overall design too much. The We-Vibe Touch X is still a cuddly, squishy silicone vibrator that fits perfectly in your palm. The clitoral tip is still scooped, like a spoon. The top is squishy with some flex to it. Beneath that, the body bulges slightly for a more comfortable grip.
Perhaps the most notable difference, physically, are the buttons. Whereas the old Touch had a single-button function at the base of the toy, the new Touch X has upgraded to 3 buttons on the body. While single button designs have their place, this is a welcome change because it allows for easier control.
Like any respectable luxury sex toy, the We-Vibe Touch X is also rechargeable, waterproof, and coated in bodysafe silicone.
I received my We-Vibe Touch X in this beautiful shade of Crave Coral. It's a bright, matte, peachy tone of red, and I adore it. If you're not a fan of this shade, you can also purchase the We-Vibe Touch X in Green Velvet; this green is a serious, deep shade of emerald. Both colours are just drop dead gorgeous (though I personally prefer how fun and bright Crave Coral is!). The previous generation was only available in dark purple, so I'm really digging the new colour options.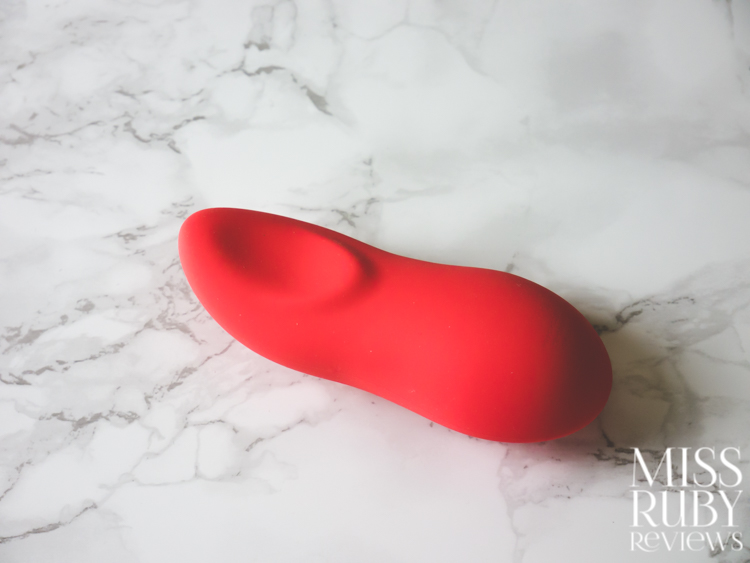 Accessibility
This section is to help folks determine if they might have any issues using/accessing this toy.
Size/Weight: The We-Vibe Touch X is a small clitoral vibrator. By my measurements, it's roughly 10.2cm long and 4.2cm at the widest point. It's surprisingly heavy given its small size.
Buttons: There are 3 buttons. The (+), (~), and (–) buttons are grouped together (about 3mm apart) and are about 1mm tall. All buttons take a bit of pressure to click and make a quiet click sound.
Handle buzz: Some of the vibrations transfer to the handle. Your hand will buzz a bit when you hold it.
Price: At $99.99 USD, this is on the more expensive end for a clitoral vibrator (though very typical for We-Vibe's products, which are very high quality). This is the same price as the previous generation.
Other notes: You can operate this toy with one hand only. However, the magnetic charger cord falls off the charging plate on the device easily; if your hands are very shaky, you may have difficulty getting this to charge.
How to Use the We-Vibe Touch X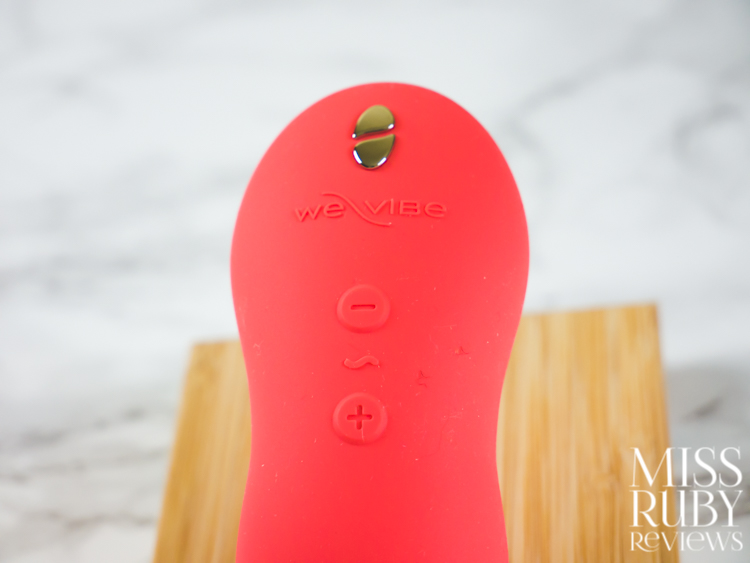 There are 3 buttons on the We-Vibe Touch X: (–), (~) and (+).
To turn the We-Vibe Touch X on, press the (+) button.
To increase power, tap the (+) button (or hold it to seamlessly move through intensities).
Click the middle (~) button to cycle through the 7 vibration patterns. The patterns will be as strong as the intensity (+ or –) you've set it at.
To decrease strength, tap or hold the (–) button.
Apply to your body. Though designed for clitoral use, the We-Vibe Touch X could be used against nipples or the shaft of a penis. This isn't designed for internal use, however.
To turn it off, hold the (–) button.
The We-Vibe Touch X can be travel locked. To activate the travel lock, hold the (+) and (–) buttons at the same time for 2 seconds. Do the same to unlock it.
Packaging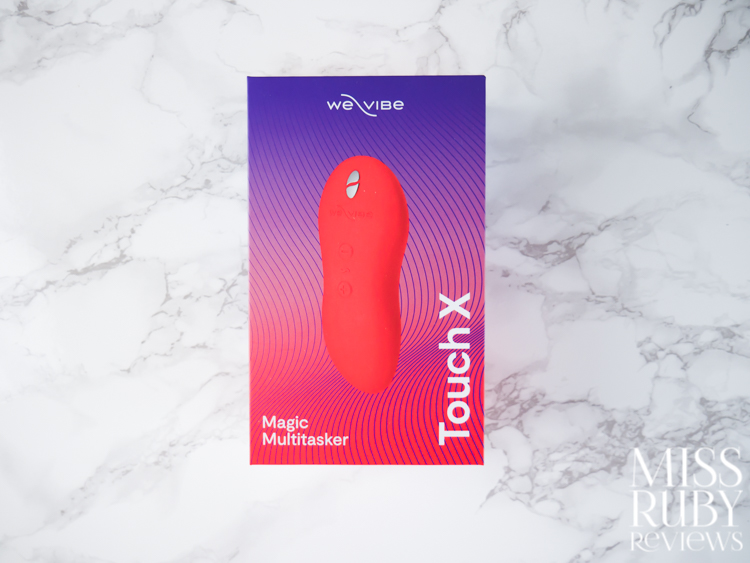 When it comes to packaging, We-Vibe has never once disappointed me (and I've bought dozens of their products).
The We-Vibe Touch X comes packaged in a bold, brightly coloured box. It's good quality and very giftable.
Inside the box, you receive the Touch X, a charging cable, a sample packet of lubricant, a quick start guide, the safety instructions, and a white satin drawstring pouch that fits everything.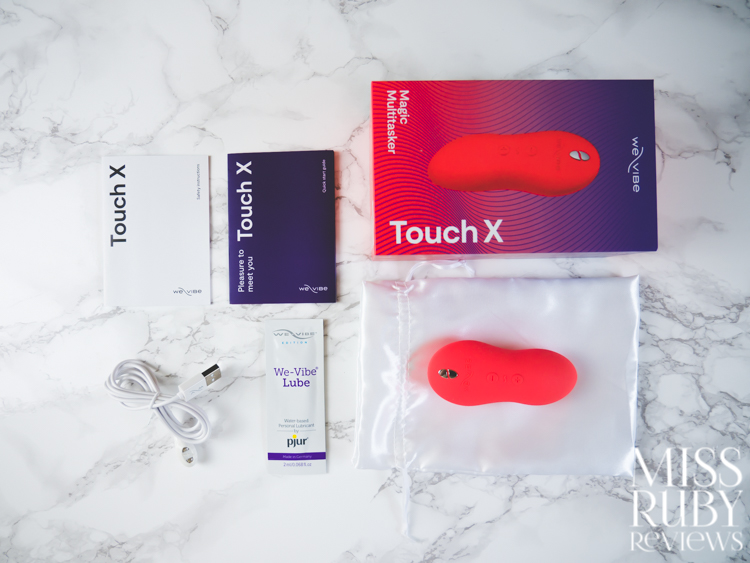 Material and Care
The We-Vibe Touch X is made from silicone, making it bodysafe. This particular silicone finish is matte and silky to the touch.
The We-Vibe Touch X is fully waterproof and submersible. To clean, I rinse it in warm, soapy water before and after each use. You could also add a dedicated sex toy cleaner. Allow to air dry before storing it away.
If you'd like to use lubricant with this toy, choose a good quality water-based lube like my favourite basic Sliquid H2O or vegan Wicked Simply Aqua.
This toy comes with a 2-year manufacturer's warranty, so keep your online receipt.
To recharge the We-Vibe Touch X, attach the white magnetic charger (included) to the metal ports at the base of the body. Plug that cord into your computer or a USB wall adapter. A 90-minute charge will last you about 2 hours of playtime.
My Experience with the We-Vibe Touch X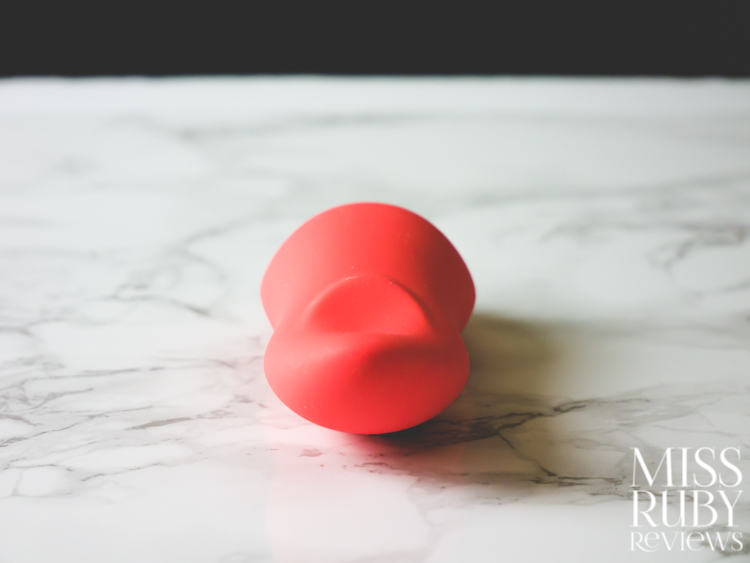 So how does the We-Vibe Touch X actually *feel*? Pretty damn good.
We-Vibe's motors do not disappoint. Like, ever. And while I liked the old, original model's vibrations, I'm much more impressed with the Touch X's capabilities.
The We-Vibe Touch X is strong and rumbly. YES. While not as strong as the Tango X (it can't really be, covered in all that silicone), it's still very powerful. The motor lies somewhere in the middle of the body, but the vibrations are amplified as they flutter to the spoon tip. I'm VERY impressed with its vibrations.
As for noise — what noise? The Touch X's motor is quiet. This cannot be heard through doors… you can barely hear it in the room, especially not under the blankets.
It's not only the vibration power that is good, but also its depth and range. There are 8 intensity levels, and you can experience them just on steady/default mode or in any of the 8 patterns. There are lots of options to play around with, and that means the Touch X is a versatile toy that'll appeal to both users that need power and users that have a sensitive clitoris.
Orgasms from the We-Vibe Touch X are a joy.  I can hold the vibrator still or move it in circles.. either way, orgasms are easy to reach. The pleasure can be pinpoint (if I use the tippy tip) or broader (if I use the spoon-like scoop). The rumbles travel deep. The orgasms are gripping. Need I say more?
The We-Vibe Touch X rings in at $99 USD. This is the same price that the original model used to be. I appreciate that We-Vibe didn't jack up the price, even though the Touch X is a much fancier model. Is it worth the money? Yes, I'd say so. They don't get much better than this.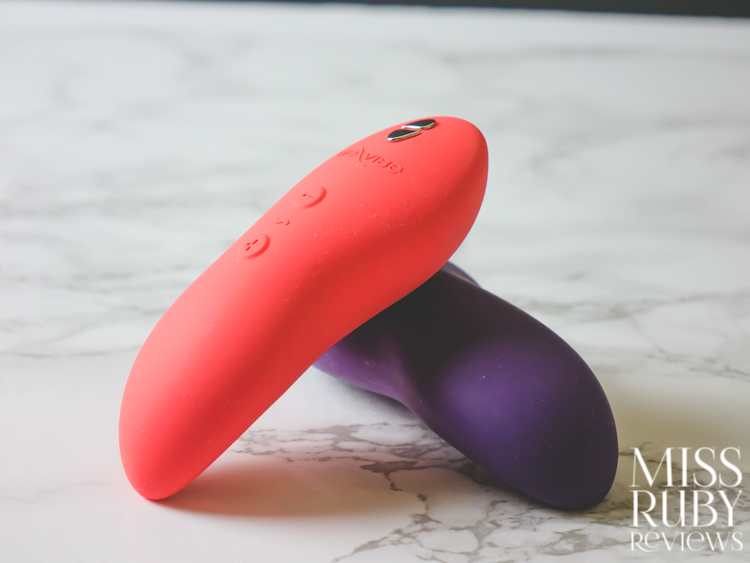 We-Vibe Touch X Review – Overall Thoughts
The We-Vibe Touch X is a fine piece of engineering. I love it more than the previous version, which is saying a lot. It's strong, waterproof, rechargeable, rumbly, and oh-so-gorgeous.
I have zero qualms with recommending this purchase — go buy it!
You can pick up your own We-Vibe Touch X here! Why do I like Peepshow Toys? They ship internationally, only carry body-safe products, and you can get a 10% discount off your whole purchase with coupon code RUBY. 

See below for my We-Vibe Touch X review breakdown.

We-Vibe Touch X Review
Overall thoughts - 9.5
9.5
$99
PROS
Strong
Quiet
Two beautiful colour options
Rechargeable
Waterproof
Bodysafe silicone construction
2-year warranty
CONS
Charging cord falls off easily
Shop Now
Last Updated on March 18, 2023 by Miss Ruby