The popular new Womanizer Premium Eco is marketed as a greener sex toy choice: your orgasms now help the environment because this pressure wave sex toy is "fully recyclable." I set out to test: just how recyclable is the Womanizer Premium Eco? Is it as eco-friendly as they say, or is this just a greenwashing ploy?
The Claims
When I first heard about the Womanizer Premium Eco, I was intrigued. Here are some of their claims:
"Made from innovative biodegradable Biolene and being fully recyclable, PREMIUM eco is a pleasure for both you and the environment." (store page)
"PREMIUM eco is made from innovative Biolene – a unique bio-based material from Womanizer that is in addition biodegradable. It's an excellent eco-friendly alternative to ABS plastic. Should you decide to part ways with your PREMIUM eco, you can do so without creating waste." (store page)
"Not only does it reduce the impact of producing PREMIUM eco, it also reduces waste, since it's 100% biodegradable and recyclable." (Womanizer website)
Big claims! So let's test them.
Recycling the Womanizer Premium Eco 
One of Womanizer's main selling points is that the Womanizer Premium Eco can be dissembled and easily recycled when you're ready to get rid of it.
Okay, I'm listening. This sounds like a big improvement from just throwing away your old sex toys with their electronic components inside.
Once the Premium Eco is taken apart, the pieces can be grouped into electronic waste, Biolene parts, ABS plastic parts, metal parts, and silicone parts.
So let's break this down and think for a moment. How environmentally useful is it to be able to disassemble and group the individual parts?
✓

Dispose of electronic pieces: Electronic pieces like the battery can be very harmful to the environment, so it's great that you can separate these so they don't end up in a landfill.

✓

Recycling Metal pieces: It's great to recycle metal. There are few restrictions at recycling depots on metal pieces, so this should be able to be recycled without a problem.
❌Recycling Silicone pieces: While silicone CAN be recycled, it isn't accepted for curbside recycling. Specialized recycling plants will recycle silicone, but these aren't accessible to the average consumer. Because of this, most silicone ends up in a dump. For example, the City of Calgary advises people to just throw out their silicone.
❌Recycling ABS Plastic pieces: While large pieces of plastic can be recycled, small ones can't. Small miscellaneous plastics are rejected from recycling depots because they can cause problems for the recycling equipment (especially pieces smaller than 3 inches). So they end up as trash anyway. I can't recycle these small pieces of plastic. My depots don't want them!
❌Recycling Biolene pieces: This is the eco-friendly "recyclable" material Womanizer got me excited about. But it ends up as household waste anyway! See my explanation below.
Obviously, it's not Womanizer's fault that most cities don't allow the recycling of silicone or small plastic pieces. But after reading Womanizer's website, I thought I could at least recycle the Biolene body, which makes up most of this toy.
Biolene can't be recycled by average consumers
Most of the Womanizer Premium Eco is constructed from Biolene, not their typical ABS plastic. Biolene is a bioplastic made from renewable raw materials (mostly corn starch).
Biolene is:
✓

Biobased. More than 70% of the total carbon in the polymer is biobased.

✓

Biodegradable. Biolene can, theoretically, be broken down by microbes and turned into biomass, water, and carbon dioxide.
❌Industrially compostable. Industrially compostable is NOT the same as being able to use your own home garden compost; it needs to be sent to an industrial composting plant for proper degradation.
This last point worried me because I've never heard of industrial composting. As it turns out, these facilities are rare in North America and not accessible for the average person.
So what do we do with the Biolene parts, then? I combed through Womanizer's manual for help.
Womanizer's manual says:
"Bioplastics such as Biolene are 100% recyclable but they need special recycling facilities that are not yet commonplace. Disposing of bioplastics through household waste is therefore the best and most environmentally friendly solution."
In other worse, it is not feasible to try to recycle Biolene. Throw away the Biolene parts with your household trash.
I was confused by this. Womanizer's advertising is HEAVILY based on how the Premium Eco can be recycled. The packaging states, "The innovated design means the unit can be fully disassembled, making recycling efficient and effortless."
And here again, the website reads, "Made from innovative biodegradable Biolene and being fully recyclable, PREMIUM eco is a pleasure for both you and the environment."
HUH? What is the point of touting this as "fully recyclable" if none of your customers can do so?
Because of Womanizer's word choices, I obviously believed that I'd be able to recycle most of this toy and not create waste. But this seems to be false. From what I can see, the only parts that can be easily recycled are the small metal bits.
As a consumer, I personally find this disappointing and VERY misleading.
Yes, tossing a Biolene object into your trash is less harmful than throwing away plastic (plastic is very bad in landfills). But will the Biolene parts biodegrade in regular landfills, or just sit there as waste? Womanizer doesn't say. Why couldn't Womanizer have used recyclable pieces of plastic or metal instead of Biolene? 
What
did

Womanizer do well?

Womanizer did do a lot of things well, and I'm happy to point these out here.
Sustainable packaging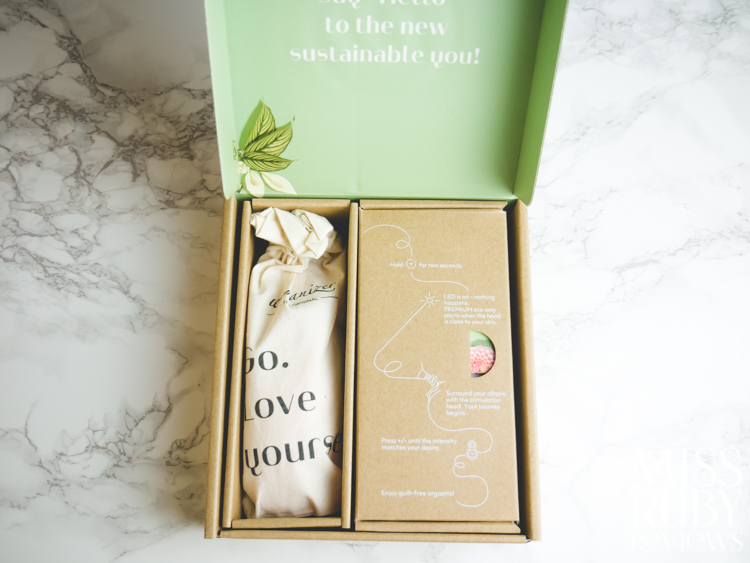 I was relieved to see that the Womanizer Premium Eco used no plastic in its packaging. The box is cardboard. The storage pouch is organic vegan cotton. I didn't need to throw away any of the various packaging components. Sex toy packaging almost always has plastic pillows or plastic sleeves somewhere in there, so I was really happy with this.
The packaging is also labelled as FSC Recycled. This means it's made from 100% recycled content.
Reduced overall plastic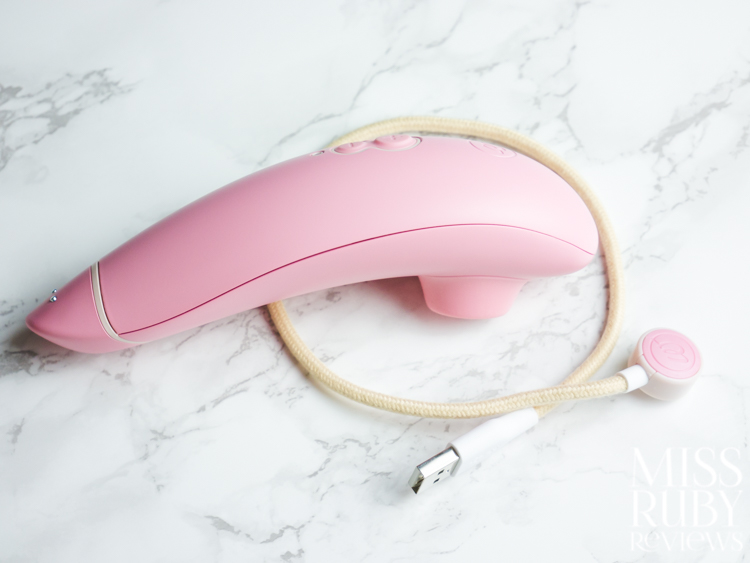 The Womanizer Premium Eco has remarkably few plastic pieces: only 5 components within the Biolene body. 
Even the charging cable uses less plastic. The cord's wires are wrapped in a fabric-based braided material, instead of the cheaper plastic tubing.
Exchangeable battery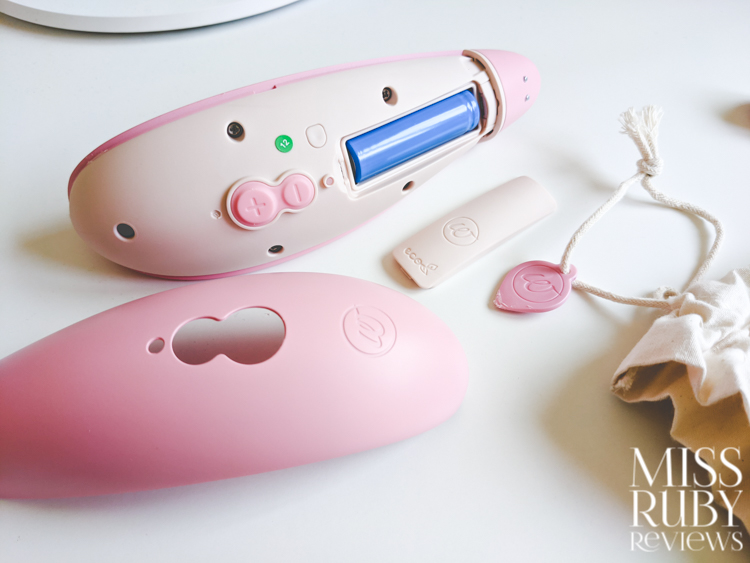 The Womanizer Premium Eco is rechargeable. It uses a 3.7V lithium-ion rechargeable battery. If, for some reason, your rechargeable battery fails, you can open the device to replace it. This is great for the environment and your wallet – instead of creating more waste by replacing the entire product, you can just replace the battery.
One Tree Planted
For every Premium Eco that is sold, Womanizer has committed to planting a tree in Paicho, Uganda through the One Tree Planted initiative.
This initiative "strives to improve the livelihoods of vulnerable people, especially women and youth, through sustainable agricultural practices, and promoting cultural values and natural heritage conservation in agricultural areas."
That made me happy. ✓
What should Womanizer have done instead?
In my opinion, Womanizer shouldn't have led with the Recycling Biolene marketing angle. I found it misleading because the Premium Eco's Biolene parts are not feasibly recyclable.
Instead, Womanizer should have led with how disassembling this toy reduces electronic waste. Being able to disassemble this toy does reduce toxic electronic waste in landfills.
I'm also not yet sold on the benefits of using Biolene. When I reviewed this toy, I didn't find it as durable for a sex toy as Silicone or ABS Plastic. Plus, if we can't recycle it here, it's just more waste.
Instead, they should have used materials that can easily be recycled by the average consumer. Or wood…If they'd managed to use a wooden construction, I'd be ALL over this.
Overall verdict – How Recyclable is the PREMIUM Eco?
I will concede that the Womanizer Premium Eco is still greener than most sex toys on the market. You can disassemble it so you can extract the recyclable metal bits and toxic battery. Its packaging is made from recycled material. There's been a real effort to limit the use of plastics. The battery is made accessible so you can replace it, instead of replacing the whole toy. And for every Premium Eco sold, Womanizer will plant a tree through the One Tree Planted initiative.
But I was floored and disappointed to realize that most of the Premium Eco itself is NOT feasibly recyclable, especially considering that this is Womanizer's main selling point. Biolene may be compostable, but only in specialized industrial composting facilities that aren't available to us. The bulk of this toy (Biolene, Silicone, and small ABS plastic parts) will end up in landfills. Had this toy been made from metal or larger pieces of recyclable plastic, it would have been more recyclable overall.
Maybe you think this is semantics, or I'm scrutinizing Womanizer too closely. But I honestly don't believe it's too much to ask a company to accurately market their products, especially when claims around eco-friendliness are concerned. People (and the environment) deserve better. In my personal opinion, the Womanizer Premium Eco isn't nearly as recyclable as they say, and I do NOT want this to start a wave of superficial or dishonest greenwashing in the sex toy industry.
I'm annoyed and feel misled by their marketing. But with so few sex toy companies trying to make an environmental difference, I will begrudgingly hand it to Womanizer… While I don't agree with some of their claims, at least they're trying.