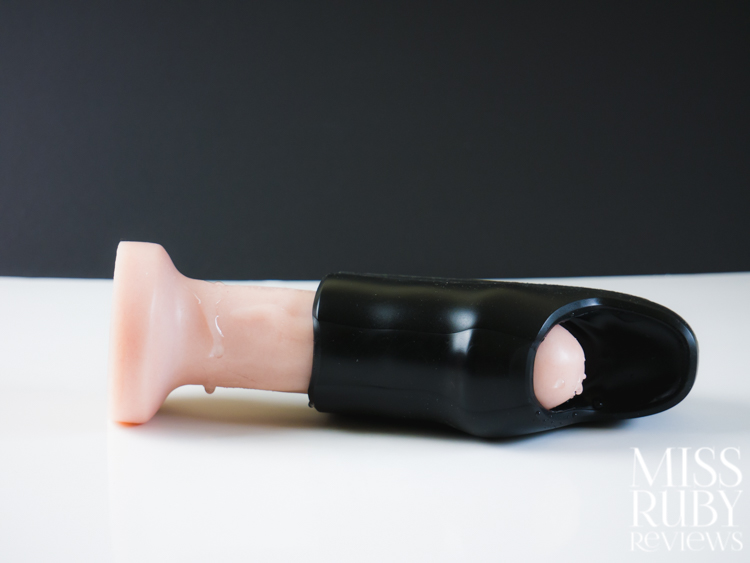 A penis toy that uses pressure wave stimulation? This we had to try. Read on for our (super lengthy) Arcwave Ion Pleasure Air Stroker review!

Design | Accessibility | How to Use | Packaging | Material and Care | My Experience | Overall
Design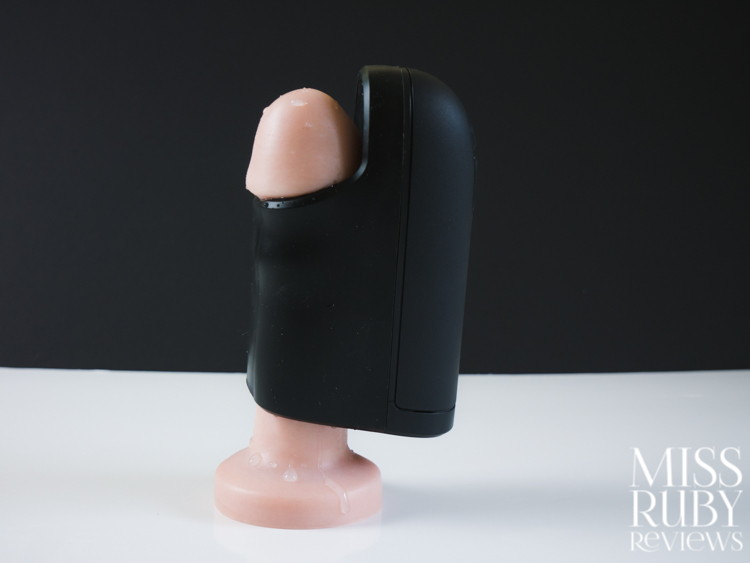 When you've owned hundreds of sex toys, it's pretty rare to come across a NEW kind of penis toy.
The Arcwave Ion Pleasure Air Stroker isn't just a stroker, nor is it a conventional vibrating sleeve. Instead, it uses pulsating airwaves to stimulate pleasure receptors in the frenulum. (In case you don't know what this is — the frenulum is that extra sensitive area on the underside of the penis, right below the head).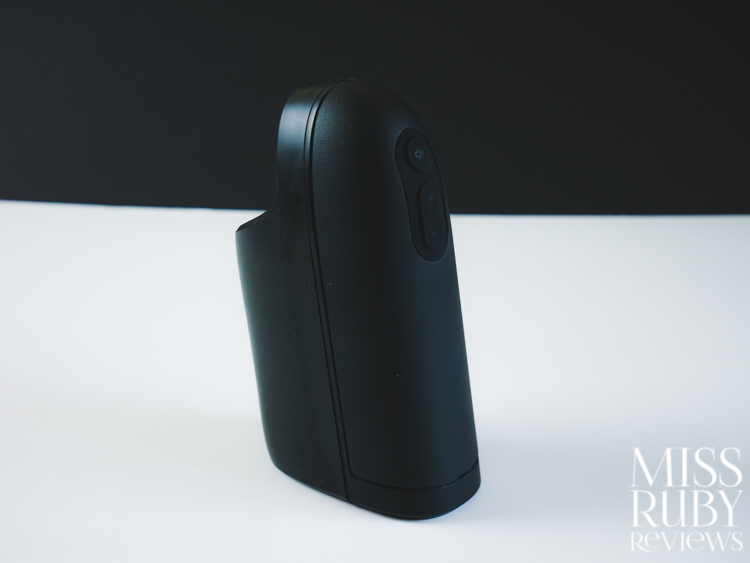 In terms of design, the Arcwave Ion is beautifully streamlined. The Ion consists of two parts that can be separated during the cleaning process. You have the ABS plastic motor side, which has the buttons and controls (and houses the pressure wave chamber), and the sleeve side.
The sleeve is a ribbed, silicone canal. It's stretchy and designed to fit most penises, and it's also open-ended. This means the top of your penis will pop out at the other end while stroking. Not only does this make cleaning easier, but it also fixes the "squelch" problem that many closed-ended strokers encounter.
With its simple lines and sleek design, the Arcwave Ion feels modern, gender-neutral, and sophisticated.
The Arcwave Ion comes with a fantastic storage and charging station. We adore how discreet it looks. When it's back in its storage base, there's really no way to tell that this is a sex toy unless you investigate and open the case. This absolutely looks like some innocent or electronic, like a bluetooth speaker.
What is Pleasure Air stimulation?
Pleasure Air stimulation is a touchless form of pleasure. It's entirely made from air pressure — so think of it like rapid sucks of air. You may have heard about this technology in clitoral sex toys by Womanizer. The Arcwave and Womanizer brands are related, so this is the same idea. Pressure wave technology stimulates the penis without touching it. Instead of vibrating like a conventional sex toy, a chamber inside the toy make pressure waves that feel like gentle suction. When used in a clitoral toy (like my favourite Womanizer Liberty), the orgasms can almost feel spontaneous, unpredictable, and unexpected… but very powerful.
So this a Womanizer clitoral sex toy, but for your penis?
Basically, yep. This is a Womanizer sex toy for penises. However, it generates more powerful pressure waves (the clitoris is extra sensitive, after all) over a wider surface area.
This, apparently, generates what feels (to people with penises) like a clitoral orgasm. Or, at least, the closest thing to.
Is this totally new?
Actually, maybe this concept is a little familiar. This reminds me of the LELO F1s, which used LELO's competing equivalent SenSonic technology. The LELO F1s was also absolutely horrible, in our experience. That toy promised Mr. Ruby the most overwhelming orgasm of his life, and not even one orgasm was had with it. So I really hoped Arcwave's rendition was much better.
What other features does the Arcwave Ion have?
8 Intensities: From a low purr to a loud roar, the Arcwave Ion has 8 increasingly strong modes to suit your preferences.
Smart Silence: The Arcwave Ion turns on when it senses a penis by the pressure wave chamber. This mode can be turned off, but it's handy!
CleanTech Silicone: Arcwave says this "CleanTech silicone is only available within the Arcwave range. Its high density and biocompatibility make it safe from pathogens and germs." Err, okay. But that's all silicone, buddy! I call marketing gimmick.
Waterproof: Not only does this make it easier to clean, but this means you can take it in the shower or your trip to the lake.
Rechargeable: Recharge the Arcwave in its fancy storage case.
DryTech Stick: The canal of the sleeve is stored on a vented cylinder, and you can insert a reusable DryStick pack (included) to absorb any last moisture.
Accessibility
This section is to help folks determine if they might have any issues using/accessing this toy.
Size: The Arcwave Ion Pleasure Air Stroker can fit most penises. By my measurements, the canal is 3.5 cm wide in diameter when unstretched, and easily stretches to about 5.5 cm in diameter. As it's open on both ends, it'll fit most penis lengths; however, the PressureAir sensor is about 8.5 cm in, so if your penis is shorter than this you won't be able to use it fully.
Buttons: There are three round buttons: the mute (Smart Silence) button, the (+) button, and the (–) button. Each button is about 1cm wide and 1mm tall. If you have visual difficulties, the Smart Silence button will be farthest from you, the + button is in the middle, and the — button is closest to your body. They require a good amount of pressure to press and make a loud 'click' noise.
Other notes: For those of you with visual difficulties, it will be challenging to recharge this toy. The charging port for the cable is underneath the base of the storage unit (under a silicone flap. The USB charging cable is at a right angle so that you can plug it in and stand up the unit at the same time.
Price: At $199 USD, this is pricey for a penis toy (though a fairly standard price in terms of high-tech penis toys). You can also use the coupon code RUBY at this link to get 10% off.
How to Use the Arcwave Ion Pleasure Air Stroker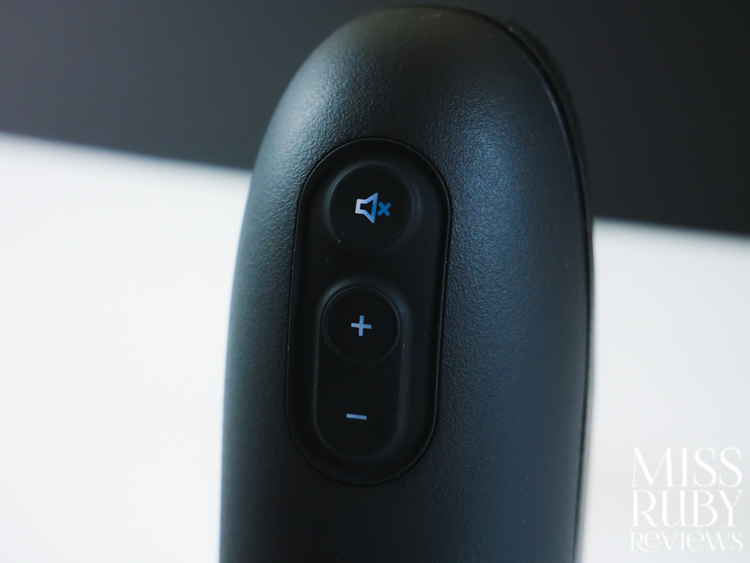 Turn on your Arcwave Ion Pleasure Air Stroker by holding the (+) button until it starts rumbling. By default, it goes into Smart Silence mode (meaning it won't turn back on until it detects a penis inside).
Apply some water-based lubricant to your penis and the inside of the sleeve. This is essential — friction will NOT feel good (plus it could damage the surface).
When you insert your penis and the Pleasure Air sensor is covered, it'll start working (you can deactivate this Smart Silence mode by holding the mute button).
Position your frenulum over the PleasureAir sensor (or, alternatively, use it as a stroker).
Press (+) or (–) to cycle through the 8 intensity levels.
To create more pressure, squeeze the silicone sleeve with your thumb as you hold it.
To turn it off, press and hold the (–) button.
Packaging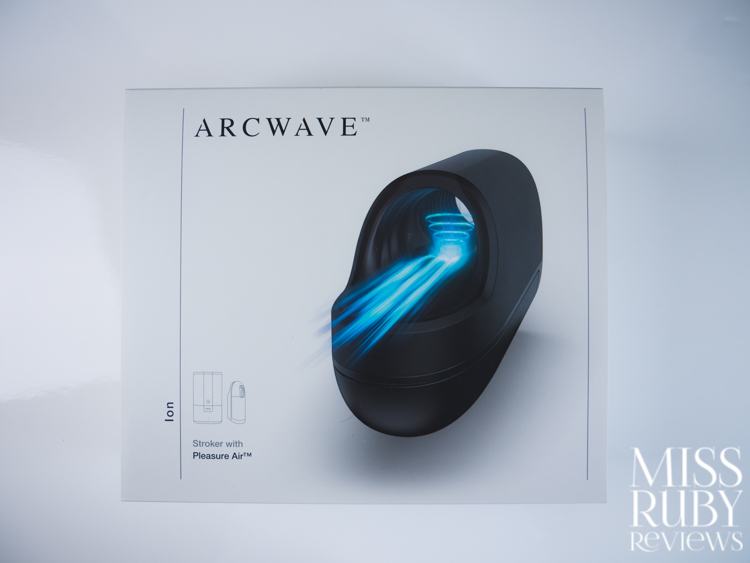 Arcwave knows how to package its products luxuriously. The Arcwave Ion Pleasure Air Stroker arrives in beautiful, sturdy, luxe white packaging (with black accents). The box opens on a hinge (I LOVE it when companies do this). The presentation is very sleek and techy.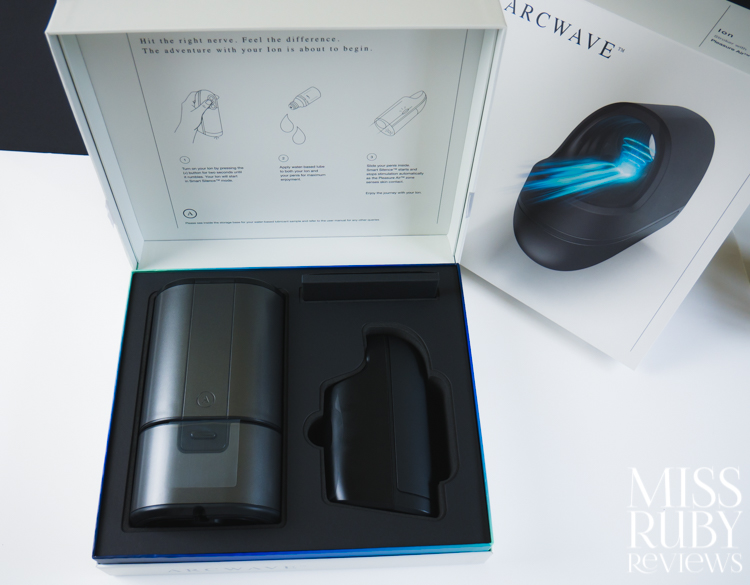 Inside the box, you receive the Arcwave stroker, the charging/storage base, the manual and safety instructions, a DryTech stick pack, the DryTech stick (already in place in the storage unit), a USB charging cord, and a sample bottle of Pjur lubricant.
Arcwave's DryTech sticks are used in the Storage Base. They help speed up the drying process. At first glance, I was worried that this was a money grab and something you'd have to keep buying, but they're reusable (dry them in the microwave for repeated use).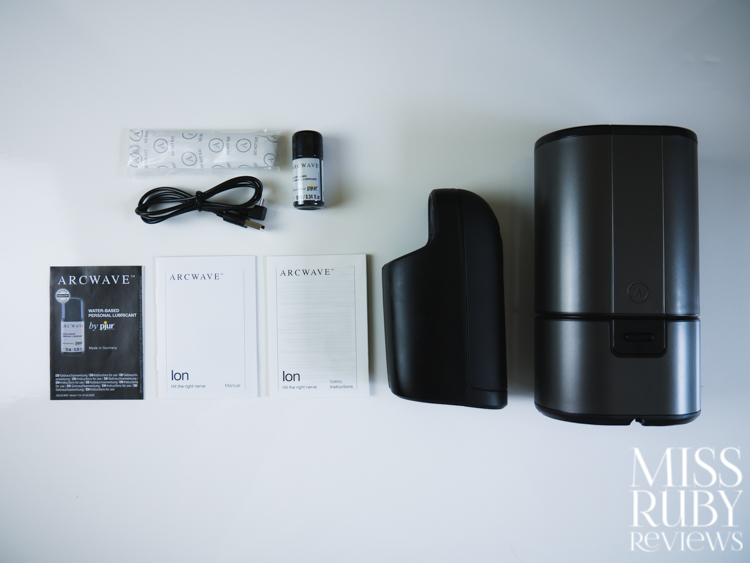 Material and Care
The Arcwave Ion Pleasure Air Stroker is made of ABS plastic and silicone. This makes it bodysafe. The sleeve is silicone, which is rare. Sleeves are generally made from porous real-skin type materials. While those toys aren't always necessarily toxic, they are porous (so not very hygienic) and have a finite lifespan. Silicone is non-porous and very durable, so this can be sanitized PLUS it has a long lifespan.
The Arcwave Ion Pleasure Air Stroker is totally waterproof (meaning you can submerge it). This applies to the stroker only: don't get the charging base wet.
To clean the Arcwave, twist the sleeve section from the motor unit. They separate into two pieces (as shown in the picture above).  Wash the parts in water (you can submerge them and use regular antibacterial soap or a specific toy cleaner).  You can dry them with a cloth, though I just prefer to shake them and set them aside to air dry. Once dry, twist them back together to lock them back into place.
To store the Arcwave, open the storage base and pop off the DryTech stick (the vented cylinder that comes in the base). It doesn't twist off — just gently pop it off by pressing on one side. Then insert your DryTech stick (included) and put the DryTech stick back on. This thing basically absorbs any last bits of moisture in your silicone sleeve so that it's not growing mildew when in storage (genius!). Place your sleeve on the stick and cover it with the storage cap before moving it to storage. The DryTech stick can be refreshed in the microwave (read the manual for details).
To recharge the Arcwave, put your sleeve into place and close the storage cover. Connect the USB cable to the port at the base of the storage unit (under a silicone flap), then plug it into your computer or a USB wall adapter. A full charge takes just under 1.5 hours and you'll get at least 1+ hour(s) of playtime from that.
Our Experience with the Arcwave Ion Pleasure Air Stroker
When it comes to sex toys, Mr. Ruby is pretty hard to please. He can be picky when it comes to the vibration quality or sleeve texture of penis toys, so it's always a bit of a gamble to try a new one. That's also why I love asking him to test penis toys for me — I know he'll be unflinchingly honest about his experience (like with the LELO F1s).
Let's start with the good.
To my delight, Mr. Ruby absolutely LOVES using the Arcwave Ion. He uses it both as a stroker and as a stationary toy. His orgasms are slow-building —  a much slower experience than using his hand. According to him, the slow-building nature of these orgasms means they are much more powerful than usual. A leisurely, yet intense experience.
Curiously, he enjoys the lowest settings the most. At the lower intensities, the pressure waves feel more distinct and thuddy. As he ramps up the levels, they become a higher frequency, and the resulting engine rattling results in a vibrating sensation (taking away from any pressure suction sensation). But those low modes appear to be divine.
The Arcwave Ion is, in his words, "one of the best" toys he's tested for me over the years. He's a man of few words, so this is high praise indeed.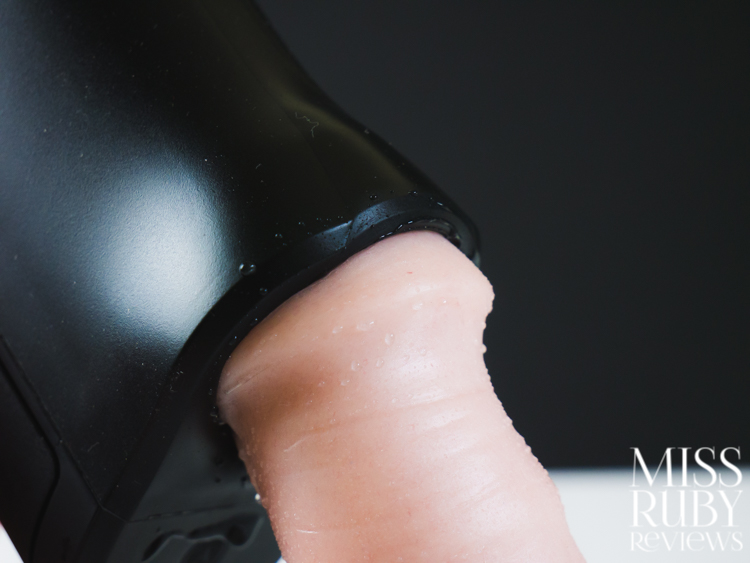 Sensations aside, the Arcwave Ion also has good logistical aspects going for it. Because it's open-ended there are no horrible squelching sounds (which has really put him off other sleeves in the past). It's super easy for him to clean and takes no time at all (which is definitely a step up from some real-skin type sleeves he's tested in the past).
He also thinks the SmartSilence will be handy for some people. If someone walks in on you unexpectedly, there's no fumbling about with buttons to make it go quiet. You just pull out, and then it stops rumbling. Simple as that!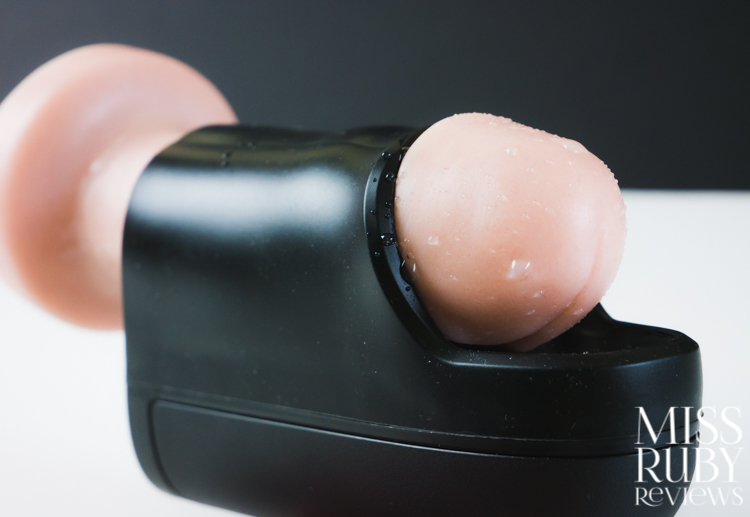 Any negatives?
To my surprise, Mr. Ruby didn't have any particular gripes. But I noticed that this toy is loud. The lowest mode doesn't seem so bad, but if you stroke a lot it gets louder. The highest settings are quite noisy. So if you have roommates, you may want to turn up your music a lot or wait until you're alone in the house.
Arcwave Ion Pleasure Air Stroker Review – Overall Thoughts
The Arcwave Ion was a hit. I was a bit worried we'd have another LELO F1s disaster fiasco but, instead, it was a huge success. This has become one of Mr. Ruby's all-time favourites, and it really does give a slow-building, powerful orgasm. It's pricey, yes, but it's also silicone, durable, rechargeable, and aesthetically discreet.
You can pick up your own Arcwave Ion Pleasure Air Stroker here! Why do I like Peepshow Toys? They ship internationally, only carry body-safe products, and you can get a 10% discount off your whole purchase with coupon code RUBY. 

See below for my Arcwave Ion Pleasure Air Stroker review breakdown.

Review Summary
Overall thoughts - 9.5
9.5
$199
PROS
Slow-building, powerful orgasms
Sleeve is made of silicone!
Rechargeable and waterproof
Discreet, gender-neutral design
Handy storage/charging case
Two year warranty
CONS
Shop Now
Last Updated on March 18, 2023 by Miss Ruby