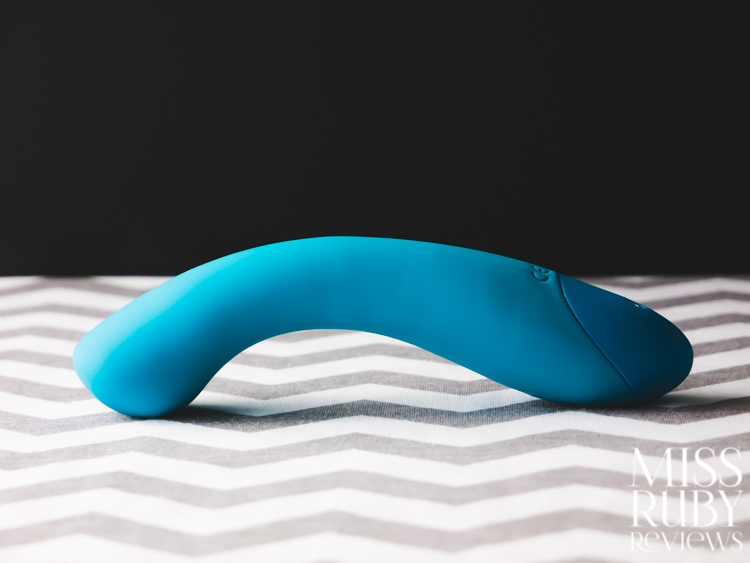 Check out those curves! This toy has a tried-and-true design. Read on for my Blush Noje V1 review.

Design | Accessibility | How to Use | Packaging | Material and Care | My Experience | Overall
Design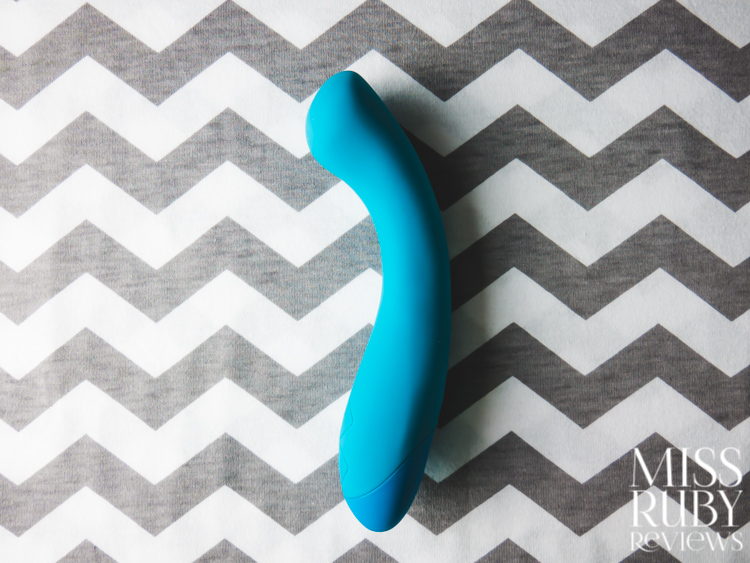 The Blush Noje V1 is a beautifully simplistic G-spot vibrator.
Outwardly, it's misleadingly plain and forgettable.
The Blush Noje V1 is only 7 inches long (with 5 inches of insertable length) and doesn't look overly fancy or high tech. A bulging handle (fuller for a comfortable grip) swoops inward to a narrow, curved neck. That neck then quickly hooks around a corner and swells to a bulbous, flat-ended tip.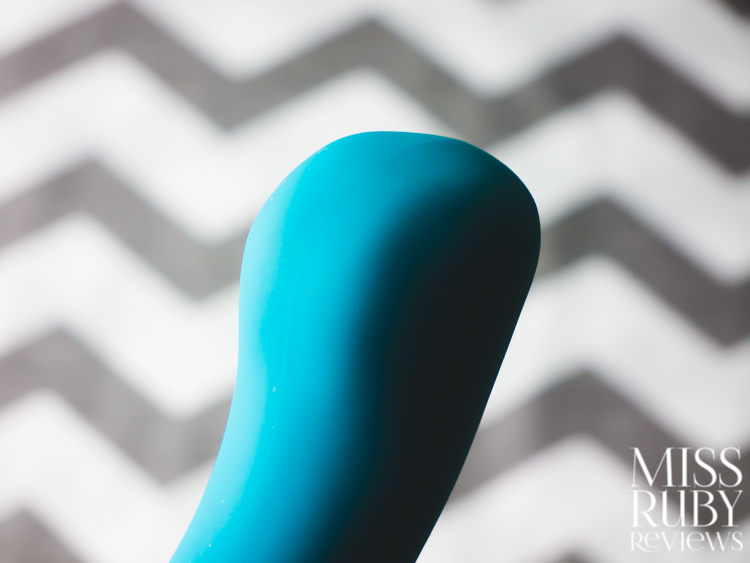 The design reminds me of the (now hard-to-find) LELO Ella dildo, which is an oldie but a goodie and got rave reviews. There are certainly some differences between the two, but the best parts of the LELO Ella are found here: the hooked shape, the bulbous head, and the flattened tip.
The Blush Noje V1 comes in one colour: Juniper. This is a deep turquoise colour (slightly more turquoise than my pictures captured). It's fun and breezy and refreshing. Blush is really great at releasing toys in non-conventional colours (ie, not pink or purple) and I appreciate this lovely sea blue.
Despite its simple outward appearance, the Blush Noje V1 brings the goods: it's totally waterproof (IPX7 rating), it's rechargeable, has 5 steady vibration speeds and 5 patterns, it's made of bodysafe silicone, and it comes with a 1-year warranty. For only $39.99, this is pretty amazing.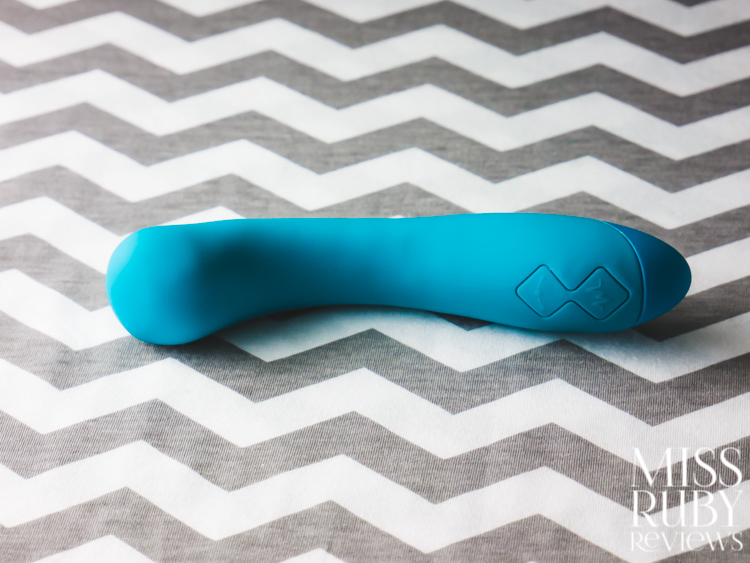 Accessibility
This section is to help folks determine if they might have any issues using/accessing this toy.
Size/Weight: The Blush Noje V1 is a mild-sized G-spot vibrator. By my measurements, it's 17cm long and 3.2cm wide (at the tip). It's a lightweight toy (about 105 grams).
Buttons: The 2 control buttons are located on the handle.  The buttons require moderate pressure to press down and make a loud click noise. The buttons are shaped as diamonds (with the tips flowing into each other). They're 1.2 cm wide each and spaced 2 mm apart.
Handle buzz: Some of the vibrations transfer to the handle. Your hand will buzz a bit when you hold it.
Price: At $39.99 USD, this is very inexpensive compared to other G-spot toys with similar features.
How to Use the Blush Noje V1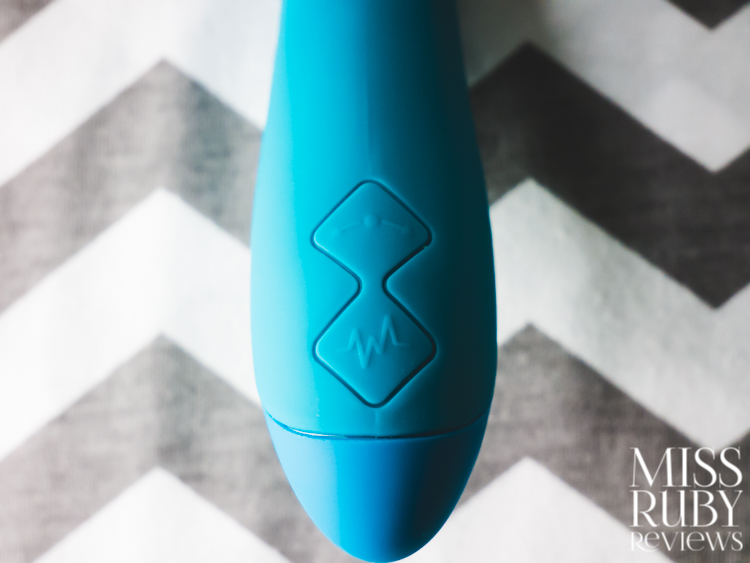 Turn on the Blush Noje V1 by pressing the top button (looks like ←•→) for 3 seconds.
To cycle through the 5 speeds and 5 patterns, tap the top and bottom button.
Apply it to your body. Though designed for G-spot stimulation, you could of course use this against your clitoris, nipples, or the shaft of a penis. However, this is not anal-safe as there's no flared base.
Turn it off by pressing and holding the bottom button for 3 seconds.
Packaging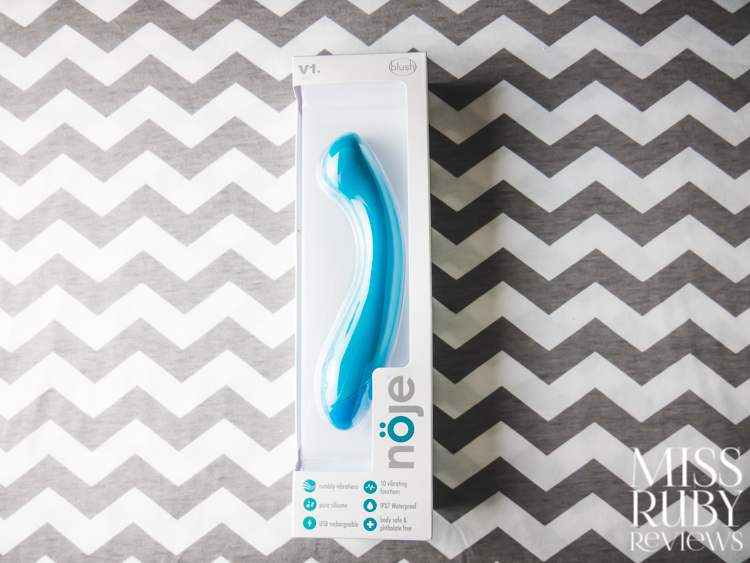 The Blush Noje V1 comes packaged simply in a white and turquoise box. There's no bells or whistles, but it's clean and functional.
Inside the box, you receive the Blush Noje V1, a USB charging cord, instructions, and a note reminding you to contact Blush if you have any issues.
If you'd like a specific toy bag/case for it (not necessary, but always nice), you can browse for some here.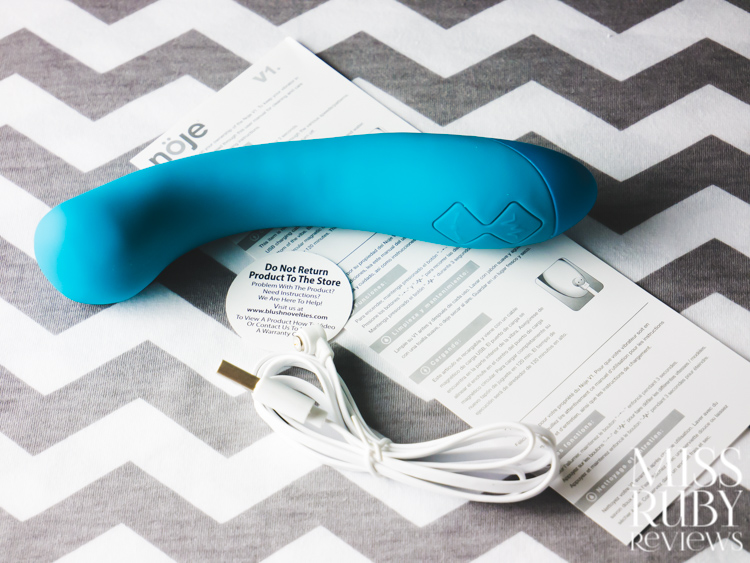 Material and Care
The Blush Noje V1 is made from silicone, making it bodysafe. This particular silicone finish is matte and silky to the touch, which doesn't attract lint or dust.
The Blush Noje V1 is fully waterproof and submersible. To clean, I rinse it in warm, soapy water before and after each use. You could also add a dedicated sex toy cleaner (I personally like this one). Allow to air dry before storing it away.
If you'd like to use lubricant with this toy, choose a good quality water-based lube like my favourite basic Sliquid H2O or vegan Wicked Simply Aqua.
This toy comes with a 1-year manufacturer's warranty (valid in the USA and Canada), so keep your online receipt.
To recharge the Blush Noje V1, attach the white magnetic charger (included) to the circular metal port at the base of the body. Plug that cord into your computer or a USB wall adapter. A full charge will take 2 hours, and will give you up to 2 hours of playtime.
My Experience with the Blush Noje V1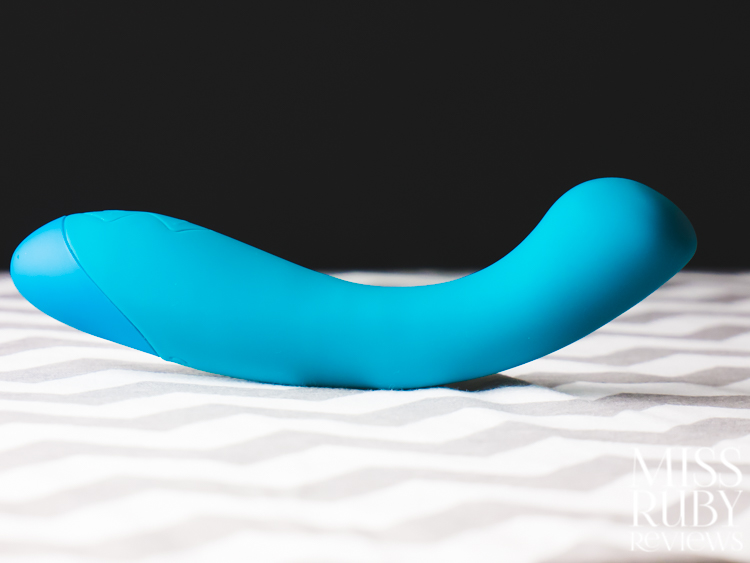 The Blush Noje V1 went on my wishlist as soon as I saw it.
G-spot pleasure
This severely-hooked design is fail-safe. It's simply AMAZING for G-spot stimulation. You don't even have to turn the vibrations on.
The Blush Noje V1 is totally rigid; the body doesn't flex and the surface is rock hard. This is perfect. The G-spot needs firm, unrelenting pressure, and the Blush Noje V1 gives me that. The hooked shaft also does a lot of the positioning work for you; it wraps around your pubic bone and finds the G-spot. When I thrust this toy, the G-spot can't hide and it gets worked/milked very thoroughly… it feels gloriously delicious, even without vibration mode turned on. It's seriously a major workout for my G-spot.
Like with any silicone insertable toy, I recommend adding generous amounts of water-based lubricant. Though this isn't a big toy, the head can feel big going in (due to its flat, bulbous shape). Extra lube never hurts.
When you get past the head, the Blush Noje V1 kind of 'pops' in. Because the body narrows around the hooked neck, thrusting feels easy and seamless.
Coupled with a good-quality, rumbly clitoral vibrator (like the Rocks-Off Chaiamo, FemmeFunn Ultra Bullet, or We-Vibe Tango), I found that my clitoral orgasms were pushed over the edge very quickly.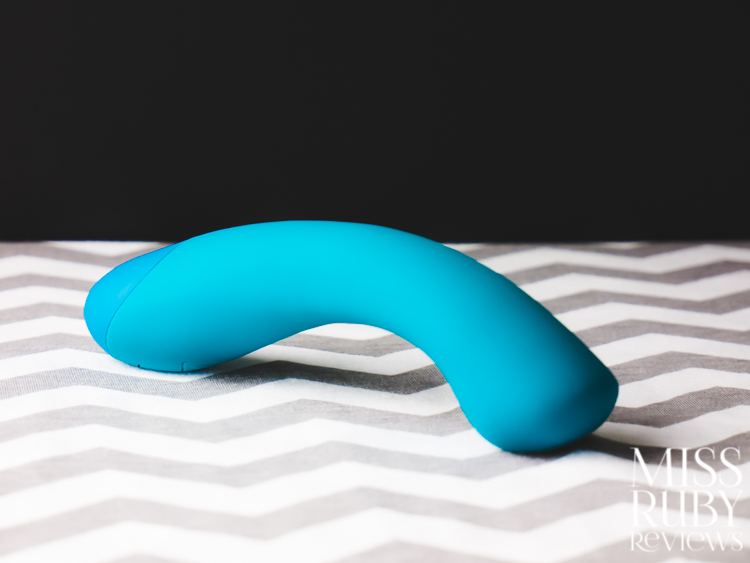 Vibrations and Sound
The Blush Noje V1's shape is amazing. But is its motor?
I was hoping that the internal motor would be strong or rumbly enough so it would double as a good clitoral vibrator, but no such luck. I found the motor to be moderately weak (4.5/10) and buzzy. So it's a no-go for clitoral stimulation, and I didn't find it added much to G-spot stimulation either.
The motor is very quiet at least, so if you're okay with softer vibrations, you won't have to worry about any roommates hearing you through closed doors.
Do I care about the weak motor? Well, obviously it'd be fantastic if this was a strong vibrator, but I got this because I wanted something that could really milk the G-spot. This toy's shape does that for me, so I'm still satisfied.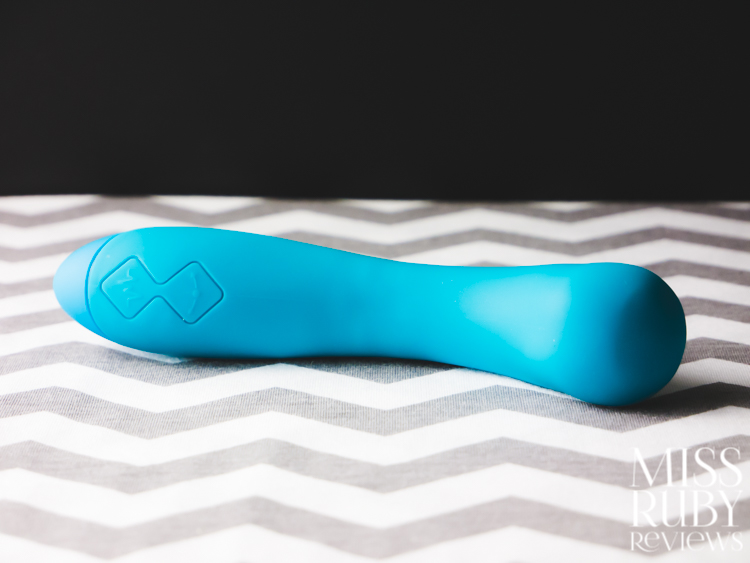 Blush Noje V1 Review – Overall Thoughts
Even with the soft vibrations, $39.99 USD is a really great price for a toy like this.
The rigid, hard body and hooked shape are perfect for intense G-spot pleasure. It's made from bodysafe silicone, it's a bright happy colour, and it's waterproof and rechargeable.
If you're looking for a budget-friendly toy that'll give your G-spot a real workout, this is one to consider.
You can pick up your own Blush Noje V1 here! Why do I like Peepshow Toys? They ship internationally, only carry body-safe products, and you can get a 10% discount off your whole purchase with coupon code RUBY. 

See below for my Blush Noje V1 review breakdown.

Blush Noje V1 Review Summary
Overall thoughts - 8.4
8.4
$39
PROS
Amazing G-spot stimulation
Refreshing colour
Quiet
Inexpensive
Waterproof
Made from bodysafe silicone
Rechargeable
1 year warranty (USA/Canada)
CONS
Shop Now
Last Updated on March 18, 2023 by Miss Ruby