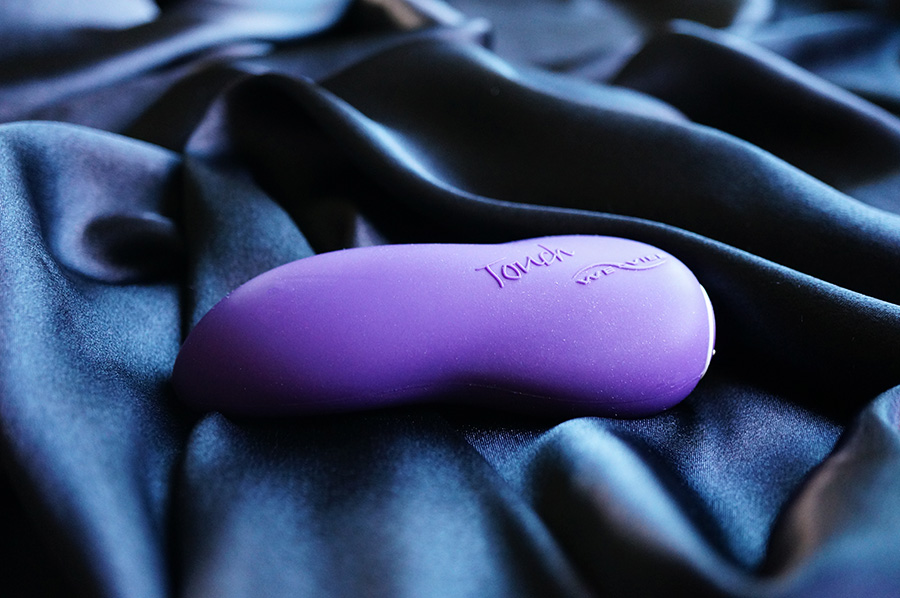 Read on for my We-Vibe Touch review! Because this is magical. It's a magical marshmallow for your clitoris.
Curious how the We-Vibe Touch compares to the We-Vibe Tango? Check out my comparison post.
About the Brand | Physical Details| My Experience | Overall
About the Brand: We-Vibe
We-Vibe is a Canadian (woohoo!) manufacturer and distributor of high-end sex toys. Though you may know them best for their We-Vibe couple's toys, they also make a number of solo toys, including the Touch and the Tango. If you follow me on Twitter, you've probably seen me raving about the Tango with a certain amount of obsessive devotion. I love the Tango, so I was very curious to see how its counterpart, the We-Vibe Touch, compares.  Though you can find We-Vibe toys in most sex toy shops, you can also buy directly from We-Vibe, and I received swift and discreet shipping from them.
Physical Details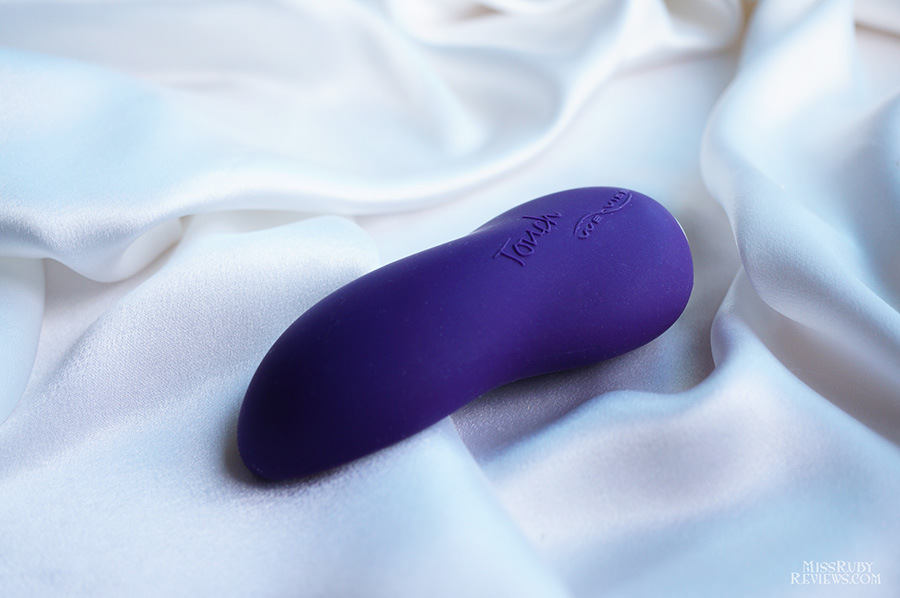 Design and Packaging:
The We-Vibe Touch is a funny-looking thing, reminiscent of a poorly-functioning spoon. The triangular head has a spooned dip in it. The body narrows in the middle before flaring out to a plump base. At the very bottom lies the single control button and a magnetic charging port.
The whole thing is fairly small, but not so small that it's uncomfortable to hold. Its size and shape is perfect for fitting in your palm.
And it's squishy! I love the squish! The motor lies in the bottom 2/3rds of the body, so that part is fairly firm, but there is still some give to it when you press it between your fingers. The triangular head though, the part meant for clitoral stimulation, is delightfully squishy. It's firm enough to retain its shape, but you can bend the tip around and press it into your skin very comfortably.
Unlike the Tango, the Touch only comes in one colour: plum purple.
The We-Vibe Touch comes packaged in a clean, white box. Inside the box, the Touch is nestled in white foam. You also receive a USB charging cable, an instruction booklet, and a small white satin bag. The satin bag is large enough to fit both the Touch and the charging cable, so you can store them together in between uses.
Vibrations: 
If the We-Vibe Tango gets 10/10 in terms of vibration strength, the We-Vibe Touch gets a solid 9.5/10. Though the Touch uses the same motor as the Tango, this toy's silicone exterior dampens the vibration intensity by a smidgen. For most clitoris-owners, I don't think this should dissuade you from the Touch at all: it's still much stronger than the vast majority of small rechargeable clitoral vibrators out there. The majority of the vibrations lie in the very tip of the triangular head. Very few vibrations travel to the handle, so your hand won't be affected by the intense vibrations.
The We-Vibe Touch delivers deep, rumbly vibrations from the very tip of that triangular head. If you find that you get numb from clitoral vibrators, it's probably because your vibrators are giving off buzzy vibrations, which are surface-level. These vibrations, however, are rumbly, which means that they seem to come from deep within the toy and they don't make you go numb so easily. I find rumbly vibrations to be massively pleasurable, especially compared to buzzy vibrations. The Touch doesn't fail me in this regard.
Noise: 
The We-Vibe Touch is impressively quiet (7.5/10). It's not completely silent, but it's much quieter than I expected it to be, especially given the strength of its vibrations. The soft, silicone exterior helps to muffle the motor's sound. You definitely can't hear it through walls or a closed door, but you can hear it if you're in the same room.
Other Features: 
The We-Vibe Touch is rechargeable. It uses the same magnetic charging port as the Tango, and the magnets themselves are a bit weak, which can be a small hassle. Most of the time I don't notice any issues, but other times I nudge the table and I don't realize that the little magnets aren't connecting anymore because they're easy to snap apart. I charge my We-Vibe for about 90 minutes each time. When charging, a blinking yellow light comes on, and this light switches off when it's fully charged. When it's charged, the charge will last for a while. We-Vibe says that the charge will last on standby for several months, but I've used this toy too many times to see if it can even last for more than two weeks. A single charge lasts for quite a while. Even at full vibration strength, mine lasts for over an hour.
The We-Vibe Touch is also waterproof! This means that it's completely submersible. Not only does this make cleaning way easier, but it also increases your capabilities. Going on a beachfront honeymoon? Swimming in the ocean or the pool?  Take the Touch. Just don't lose it in the water. You'll cry.
Material and Care: 
The We-Vibe Touch is made from premium silicone. This means that it's totally free of phthalates and other dangerous chemicals. It's also completely non-porous, meaning it won't be growing bacteria beneath the surface like some other toy materials. I wash mine with warm soapy water before and after each use. You can also sterilize it completely by rinsing it with a 10% bleach solution. If you'd like to add lubricant, always use a water-based lubricant (as opposed to silicone lubricant) with this toy.
My Experience with the We-Vibe Touch
If the We-Vibe Tango is the king of all clitoral vibrators, the We-Vibe Touch is its queen. For me, it very nearly dethrones the Tango as my most favourite vibe ever. Nearly.
When I first opened the box, I couldn't stop squeezing my new toy. I had no idea it would be so puffy and marshmallow-like. I loved it, and I could wait to try it out for the first time.
Most toys don't work for my body right away. Generally, I have to try a toy several times before I grow to love and appreciate it. Not this toy. With the We-Vibe Touch, much like the Tango, my body loved it right away. During my first play session, I only lasted around 2 minutes before I was hurled into multiple-orgasm-mode. Thank you, We-Vibe.
Blame that incredible tip. It means serious business. It's very powerful and it gives you firm, direct pressure At the same time, it doesn't poke you in any sort of painful way because it's not sharp and it's very squishy. This means that pressing it firmly against your clitoris doesn't hurt. It just feels good.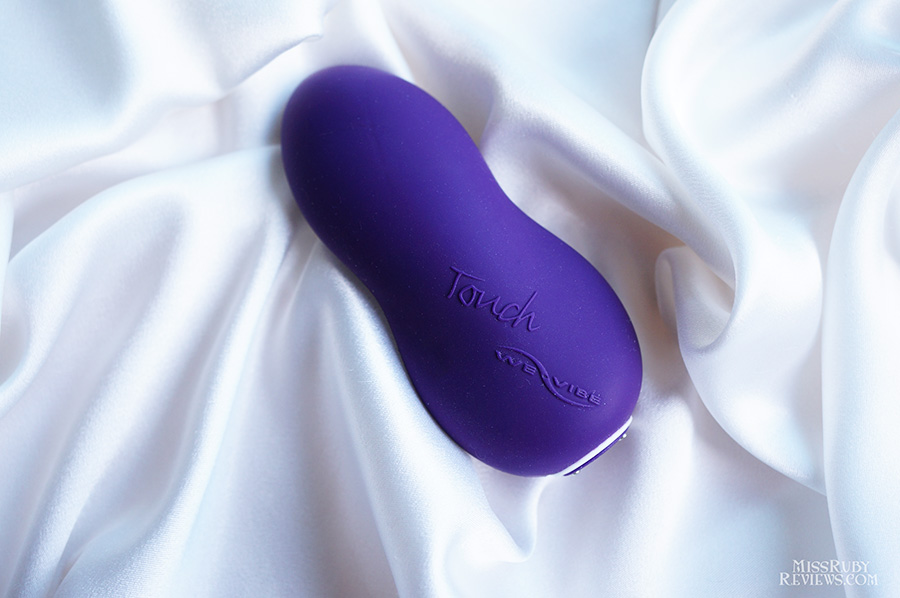 Curiously enough, it's also the first clitoral vibe that my partner can make me orgasm with. He enjoys taking charge and using my clitoral vibes on me, but my clitoris is generally too finicky to be satisfied by a vibrator that someone else is controlling. I really need the right amount of pressure against me and the right specific angle at just the right times. With the Tango's hard, pointed surface, it's a bit too easy for my partner to accidentally poke me too hard. But, because the Touch's tip is both firm and bendy, my partner is able to give me that firm pressure without poking me uncomfortably. And…voila! Orgasms that someone else can give me!
I also find that the We-Vibe Touch is super comfortable to hold. If you get an iron grip around your vibes during masturbation, your palm will be happy to know that the Touch fits very snugly and cushioned in your hand. My hand gets cramped quite easily holding smaller objects, but it doesn't cramp up holding this toy because of its size and shape.
Another huge perk of this toy is that it's really easy and comfortable to use during sex. I usually don't use bullet vibes during missionary position because, if they're shaped like the Tango, they have to be sticking straight upwards into my partner's stomach. For clitoris-owners with partners who have a larger belly, this is a pretty common annoyance. But the Touch cups my clitoris; the "spoon" like dip curves down my pubic bone and onto my clitoris. This gives me the most amazing clitoral orgasms during sex. For this reason, when I know I'll be having missionary sex, I grab the Touch.
Overall – We-Vibe Touch review
I hope this We-Vibe Touch review cleared up some answers for you!
The We-Vibe Touch lives to please. It pleases me. It pleases my partner to be able to please me with it. With such intense vibrations like these, you can't go wrong. I completely recommend this vibrator. Shoo, readers, shoo! Go get it!
To buy the We-Vibe Touch, here are some recommended stores: 

Lovehoney EU
---

Last Updated on February 27, 2022 by Miss Ruby