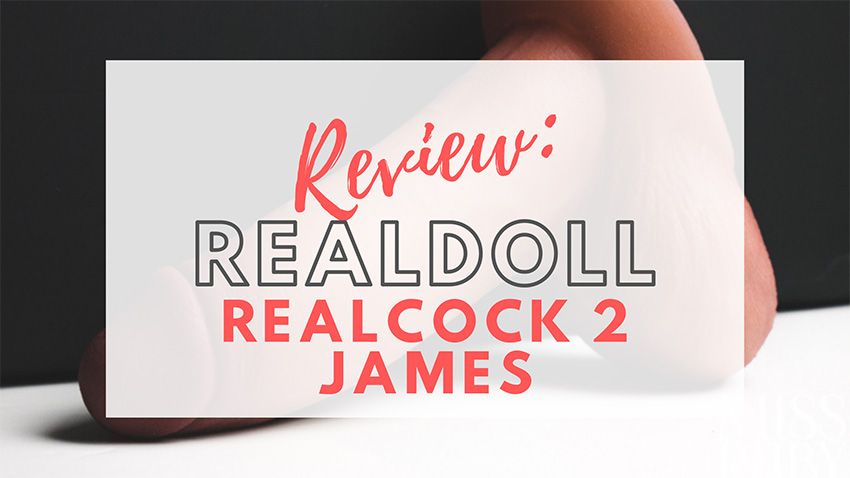 Super realistic. Gorgeous. Top of the line. Check and check. Read on for my RealDoll RealCock2 James review!

Design | Accessibility | Vac-U-Lock | Packaging | Material and Care | My Experience | Overall
Design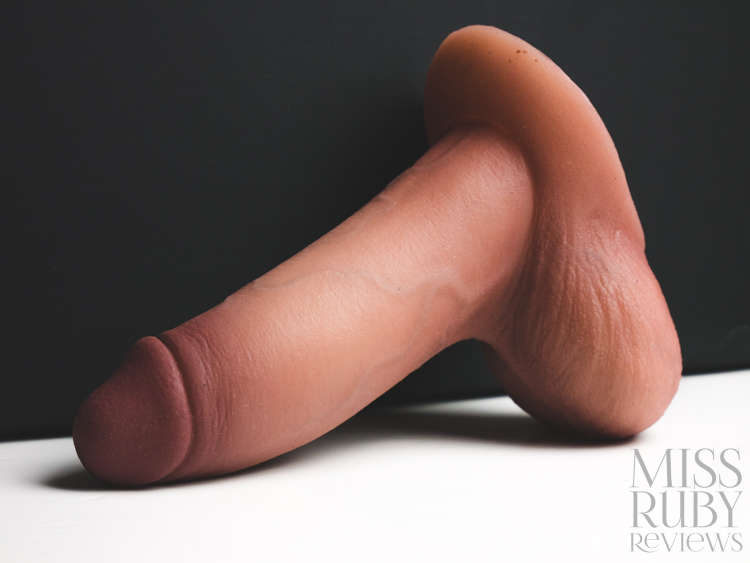 The RealDoll RealCock2 James is the newest model in RealDoll's RealCock2 line. It's it just stunning? Mouth-watering? Shockingly realistic?
For those of you who have never heard of this company, RealDoll specializes in high-end silicone sex dolls and sex robots. Their products are state of the art and top notch. A few years ago, they also branched out and created the RealCock 2 line — a series of detailed, standalone (non-doll) dildos. All of their products are individually hand-cast and hand-painted in the USA.
Triple-layer goodness. This is a dual-density dildo (firm inner core with squishy outer layer) plus a layer of safe hand-painted silicone for added realism.
Sil-Slide™ technology. Pull and tug the skin away from the shaft. Stroke it. The outer layer moves slightly so it looks and feels more realistic.
Individual floating testicles. Two hard balls are surrounded by squish inside the scrotum. Squeezing balls on a dildo has never felt so real.
Vac-U-Lock compatibility. Grab some attachments so you can wear this dildo in a harness or stick it to your wall.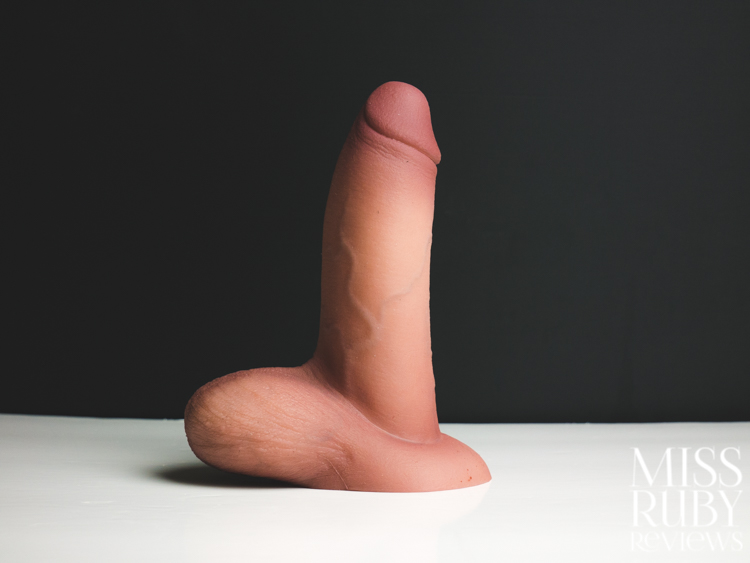 James is the 5th product in the RealCock 2 line and the 3rd that I've owned. Out of all the designs so far, I think this must be my favourite. Aesthetically, it's just beautiful.
The shaft is thick, veined and swollen. It tapers at the tip to provide a small head. The head features a urethral hole (that you can pull open; it's a couple of millimetres deep), a detailed frenulum and a tidy coronal ridge.
At the base are two large testicles. They're slightly asymmetrical and wrinkled. Like with previous models, the RealDoll RealCock2 James has two individual floating testicles. There are two hard silicone balls floating inside the softer silicone scrotum. I can dig my fingers into the scrotum, locate each testicle, and squeeze. I can also wrap my hand around the top of the scrotum and squeeze to push both testicles down below my hand, as if I was grabbing a real person. It's pretty amazing.
Above the shaft, the base flares out a bit to give a glimpse of a pubic platform. The skin on this base is lightly freckled for added skin realism. Lastly, the underside features a hole for Vac-U-Lock attachments.
This slideshow requires JavaScript.
Movable Shaft & Triple Layering
Like with previous models, the RealDoll RealCock2 James features an incredible movable shaft.  If you squeeze the shaft with your hand and stroke up and down, the "skin" on the shaft moves like real skin (video example here).  You can thank RealDoll's Sil-Slide™ technology, which allows a soft outer layer to slide along a firm core. So you can pull, stroke and squeeze it and it feels more realistic in your hands than any other conventional dildo. If you were wearing this in a strap-on, you could essentially give yourself a handjob and watch the shaft's skin move under your hands.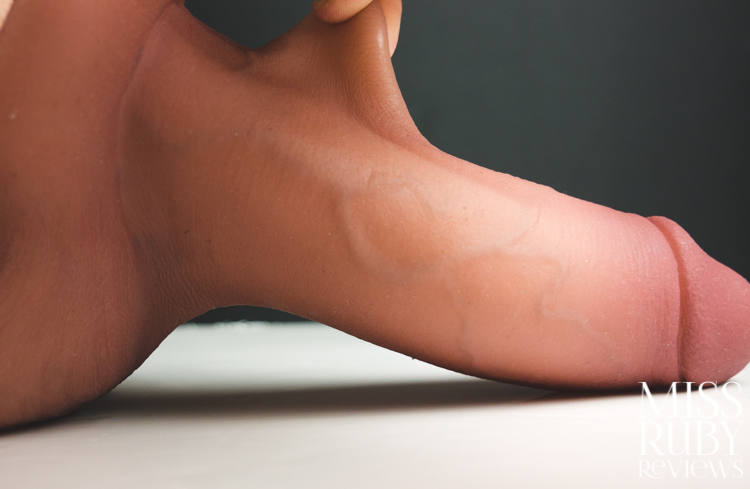 It's not enough to only feel realistic… The RealDoll RealCock2 James' colouring is also shockingly realistic. Unlike most dildos by other brands (which cast the dildo using a single silicone colour), this dildo has an additional (third) layer for silicone colouring and colour texturing. That means you have shadows, highlights, and freckles where you'd expect to see them in a real penis. This takes the RealDoll RealCock2 James' realism to a whole new level.
This slideshow requires JavaScript.
The RealCock 2 Line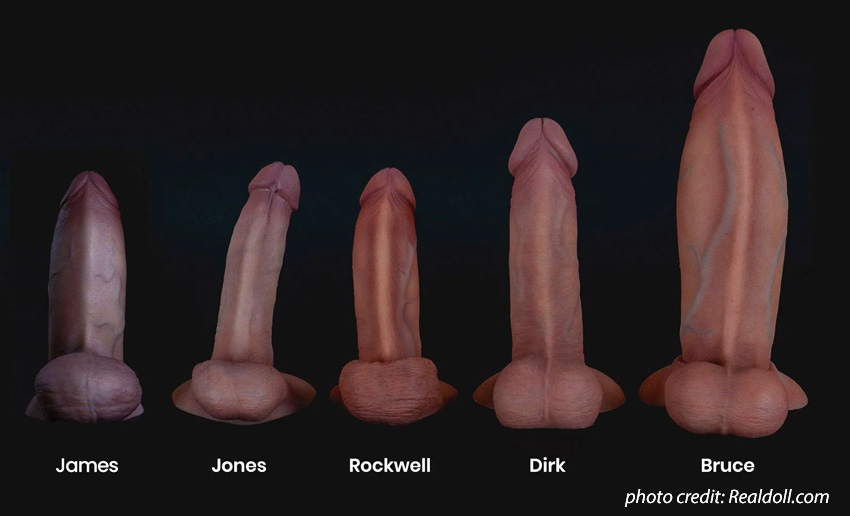 Compared to previous models, the RealDoll RealCock2 James is short and stout. It's shorter than Jones and Rockwell by about half an inch, and thicker than all the other designs.  In contrast to giant Bruce (a huge 10″ dildo), it isn't particularly big, but more than makes up for length in girth. Like Dirk and Bruce, James has a very straight and symmetrical design.
Colour Options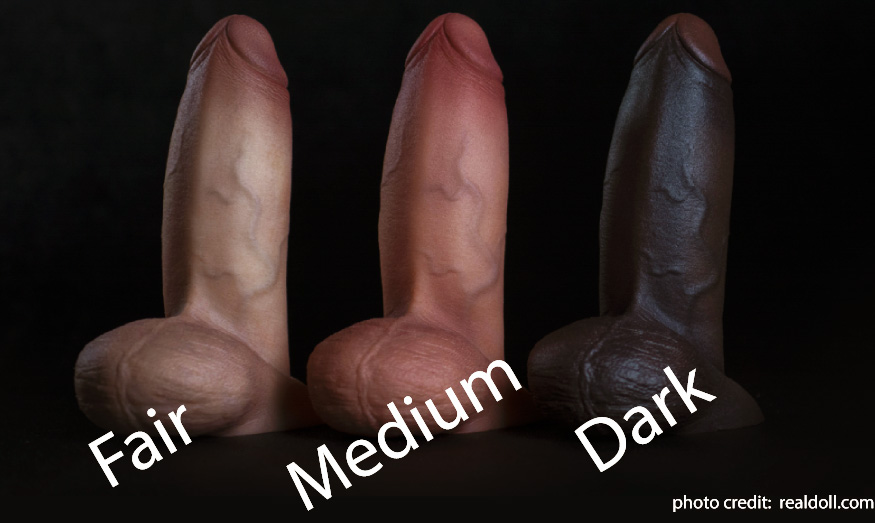 Like all the dildos in this line, the RealDoll RealCock2 James comes in four colour options: Fair, Medium, Dark, and Custom.
Fair is a pale, cool, pinkish tone.
Medium is a warm, earthy tan. This is the colour I got.
Dark is a very rich, deep tone.
Custom colour: for an extra $1,000, you can request a custom colour. This dramatically increases the price (eep) and production time.
Because these products are hand-painted, bear in mind that there may be slight differences between the product you receive and the product you see here.
Accessibility
This section is to help folks determine if they might have any issues using/accessing the RealDoll RealCock2 James.
Size (my measurements): The RealDoll RealCock2 James is a girthy, sizeable dildo. It's 5.3cm across (at the widest point), 12.2cm in insertable length, and 17.5cm in total length. The testicles are 7.3cm (across) x 5.4cm (height) x 4cm (depth).
Weight: My scale says this weighs 518 grams. This is fairly heavy for a dildo.
Handling: Like all dildos, there's no dedicated ergonomic "handle" section to hold onto. You're left holding onto the flared base or the testicles. However, the base has a hole (6.5cm deep x 2cm wide) that you can insert a finger into during use for a better grip.
Other notes: This dildo is Vac-U-Lock suction cup compatible. This means that you can purchase separate attachments to suction cup it to the wall or strap it to yourself for use with a partner. This helps free up your hands.
Price: At $499 USD, this is one of the most expensive silicone dildos you can purchase. The RealDoll RealCock2 James is a top-tier luxury item, and the price reflects that. It's the same price as the rest of RealDoll's RealCock 2 dildos.
Vac-U-Lock System for the RealDoll RealCock2 James
The RealDoll RealCock2 James features a hole at the bottom to accommodate the Vac-U-Lock system. This adds a LOT of versatility.
It means you can wear the RealDoll RealCock2 James as a strap-on dildo/prosthetic. Just pick up a Vac-U-Lock harness. (This won't be a subtle packer to wear beneath clothes though; it'll always be a sizeable and hard erection. If you're looking for something small and subtle, look elsewhere.)
With the Vac-U-Lock hole at the base of the dildo, you can also give it a suction cup so that it sticks to walls or the shower,
You can even make the RealCock2 James vibrate with your favourite wand, strap it to knuckles, pretend you're living in a fantasy kingdom, or use it with this Vac-U-Lock compatible sex machine I love.
Simply put, you have a lot of amazing options.
(Warning that any Vac-U-Lock insert you add will get stuck inside the hole and hard to remove unless you dust the insert with powder beforehand.)
Packaging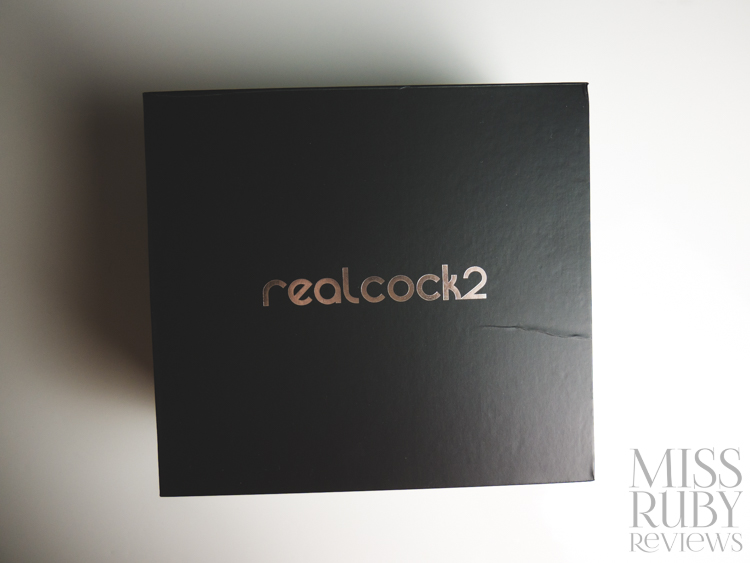 RealDoll has really kicked their packaging game up a notch. The RealDoll RealCock2 James arrived in a luxury black box. "RealCock2" was inscribed on the top in silver letters.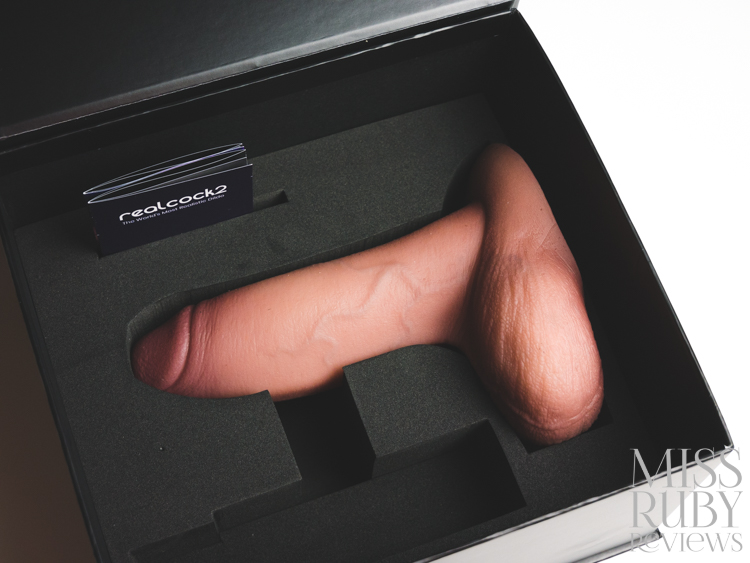 When I opened the box, I found the RealCock2 nestled in a foam pillow along with two pamphlets (care instructions and a RealDoll promo pamphlet).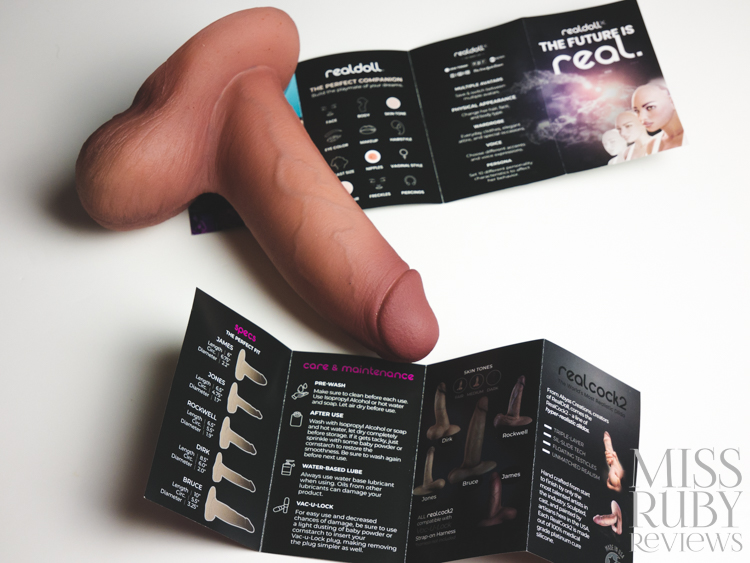 Material and Care
The RealDoll RealCock2 James is made of 100% platinum-cure silicone, making it non-porous, bodysafe, and durable. Even though silicone is durable, don't try to destroy it (do not bite or pierce it. You don't want to tear it). With normal use, silicone products basically last forever; the material is inert and stable, so they don't deteriorate like some TPE and jelly products. The RealDoll RealCock2 James is a long-term investment.
A lot of realistic dildos on the market (especially with this level of shading and colouring) aren't silicone. A reminder that, if you're using a realistic dildo, you need a silicone one like this if you want it to be hygienic. Silicone toys can be sterilized; porous materials can't. You can read more about material safety here.
To clean, I wash the RealDoll RealCock2 James with hot water and soap before and after each use. RealDoll says you can also use Isopropyl Alcohol (which I recommend doing to sterilize it if you are going to share it with a friend or use this anally). Let it air dry before storing it away.
Only use water-based lubricant with the RealDoll RealCock2 James. I store mine wrapped in cloth (to keep it dust-free) in a drawer.
If you are going to add a Vac-U-Lock attachment, please dust the insert with powder beforehand so it doesn't get stuck. You can use a dedicated product or try baby powder or cornstarch.
My Experience with the RealDoll RealCock2 James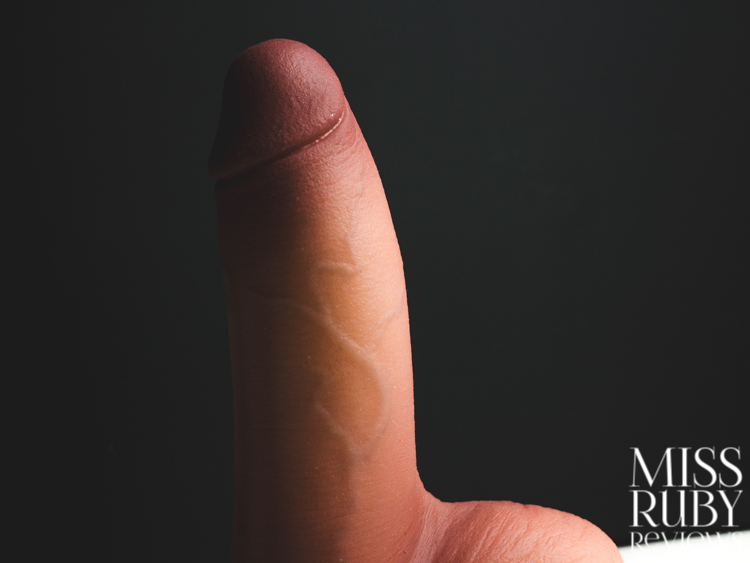 I was really thrilled to review another RealCock 2 dildo. I was particularly eager about RealCock2 James because (a) I personally just love the design a lot and (b) it's been a few years since I got my last one and I wanted to make sure the quality was still top-notch.
Shape-wise, this model strongly reminds me of my husband — so yes I am absolutely biased when I say that I'm loving the design and sensation of this model. I never really compare dildos to real-life penises because they're not the same, but dang this one hits close to home.
Visual excitement
Although there's a time and place for non-realistic dildos, I am a devout fan of realism. I find it fascinating how intricately and realistically a sex toy can be. It's no secret that many people are turned on by visual stimulation, and this is the cream of the crop… with so much detail, the RealCock2 James provides so much visual excitement, whether at an arm's length away or against your cheek.
The RealCock2 James is also great for foreplay. When it's stuck to the wall with a suction cup, you can stroke it, give it head, or rub it against yourself. And if you have a partner who can join, hello threesome fantasies!
Sensation
But what does James actually feel like inside?
Big! That 2.2 inch diameter means business. The tapered head helpfully eases its entry, but then the shaft swells into a nearly perfectly round girth, and it feels extremely filling. For those of you used to smaller dildos or penises, you will want to go slowly. Once inside, the shaft has about as much bendiness as a real erection; the slight bend makes it comfortable, but the thrusts feel firm and unyielding.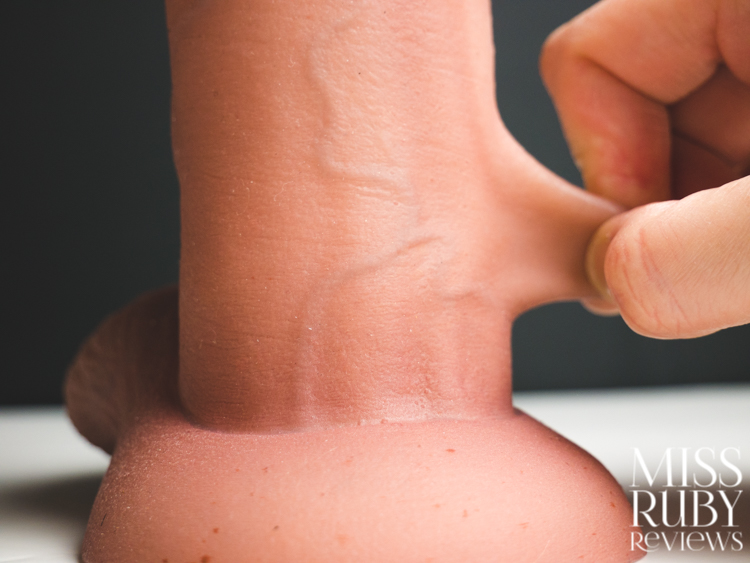 I don't know if I'm just imagining it, but I'm sure I can feel the slight movement of the movable shaft's skin during thrusts if I grip it enough. I can also reach down and enjoy the feeling of the testicles and the rest of the veined shaft. It adds a lot to the experience in a how-did-I-go-without-this-before? kind of way.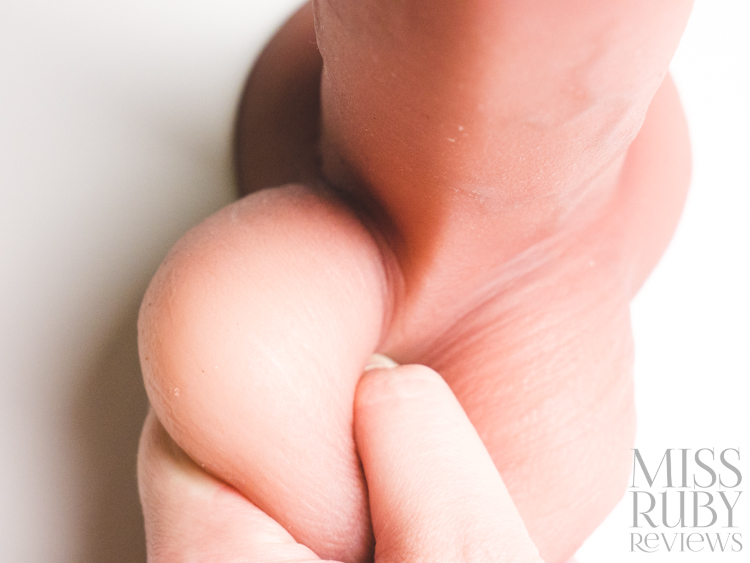 One thing about this shape is that there's no severe coronal ridge to stimulate the G-spot (like I experienced with Dirk). James' coronal ridge is very subtle. That means that, if you're going for G-spot stimulation, you'll need to focus on your angle of penetration. If you use this dildo upside down (so that the testicles are on the side of your clitoris), you'll have a better shot at pressing against your G-spot — that's because the shaft gentle curves on the underside.
In short, I love using this dildo.
Complaints?
Do I have any real complaints? Just that the $499 USD price tag will make this dildo inaccessible to many. That's a LOT of money. This is something you'll need to budget for. In its defence, though, I will repeat that this is sheer top-of-the-line when it comes to realism. You can't really ask for better. And, with care, this will last a lifetime.
RealDoll RealCock2 James Review – Overall Thoughts
The RealDoll RealCock2 James is an incredible dildo. Aesthetically, it's gorgeous. It features touches of realism that other brands don't offer (noticeably the floating testicles, silicone painted shading, and movable shaft). I love the detail and I love how this feels inside me. I also love how versatile it is with its Vac-U-Lock capabilities — I can strap it to the wall or a sex machine to bring it to life. There's a lot of justification for the price tag.
If you are a fan of realism and you're as in love as I am, pick up your own RealDoll RealCock2 James here! Why do I like RealDoll? They're the only genuine manufacturer/distributor of RealCock 2 dildos and my #1 recommended shop for sex dolls. Their products are premium silicone hand sculpted, cast, and painted in the USA. They also ship internationally!

See below for my RealDoll RealCock2 James review breakdown.
RealDoll RealCock2 James review
Overall thoughts - 10
10
$499
PROS
Incredibly realistic
Bodysafe and durable silicone material
Individual floating testicles
Movable shaft
Compatible with Vac-U-Lock
3 color options + custom color
Hand crafted in the USA
International shipping
CONS
Shop Now
Last Updated on November 3, 2021 by Miss Ruby