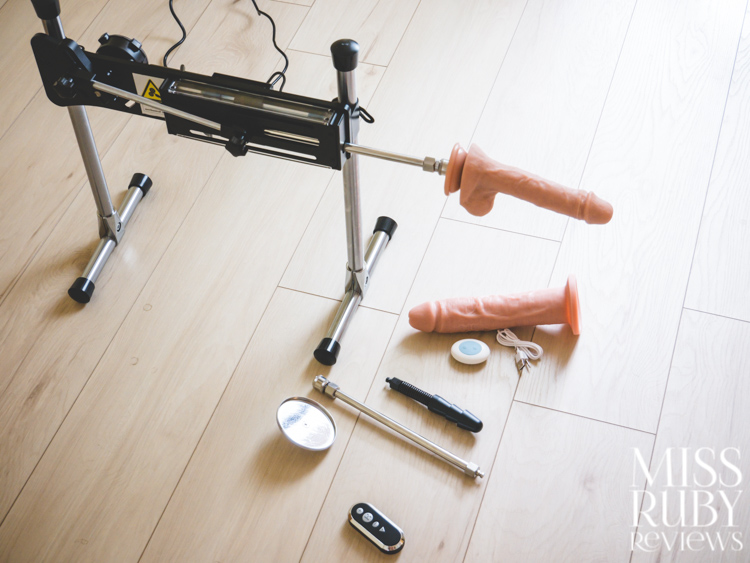 I've wanted to review one of these for ages. Bucket list goal accomplished! Read on for my Hismith HS06-APP Sex Machine review!

Design | Attachments | Accessibility | Use | Packaging | Material/Care | Experience | Overall
Design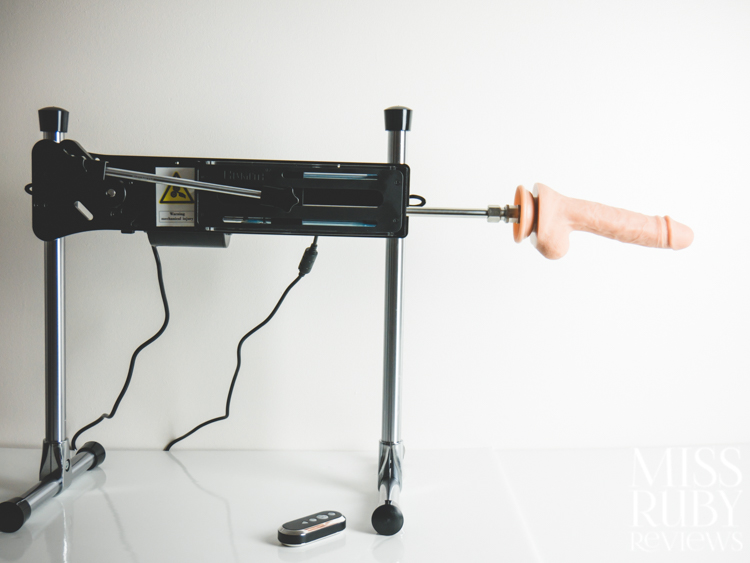 The Hismith HS06-APP Sex Machine is a beast of a machine.
Most specifically, it's a highly customizable beast. I was shocked by the multitude of ways you can tweak your experience. For example, you can:
Adjust the height (horizontally up and down).
Tilt it upwards.
Tilt it downwards.
Have it perpendicular (!) so that it's thrusting right up into the air.
Adjust the stroke length between 1.2″ mini thrusts to 6″ long thrusts.
Adjust the speed from a slooooow thrust to a fast frenzied thrust.
Use adapters to attach sex toys you already own, like dildos and fleshlights.
That's a LOT to play with.
See my video below of the Hismith HS06-APP in action.
But let's back up for a moment. What is this thing?
The HS06-APP is a high-end sex machine made by Hismith, a company based in the UK with warehouses over the world. This is the real thing, folks. And with a pricetag of $660 USD (or $1,000 CAD), this is a serious, no-nonsense investment for your sex life. This is a big investment, but it's also a once-in-a-lifetime purchase. (Side note: get 5% off your order with coupon discount code KVT5XPF1).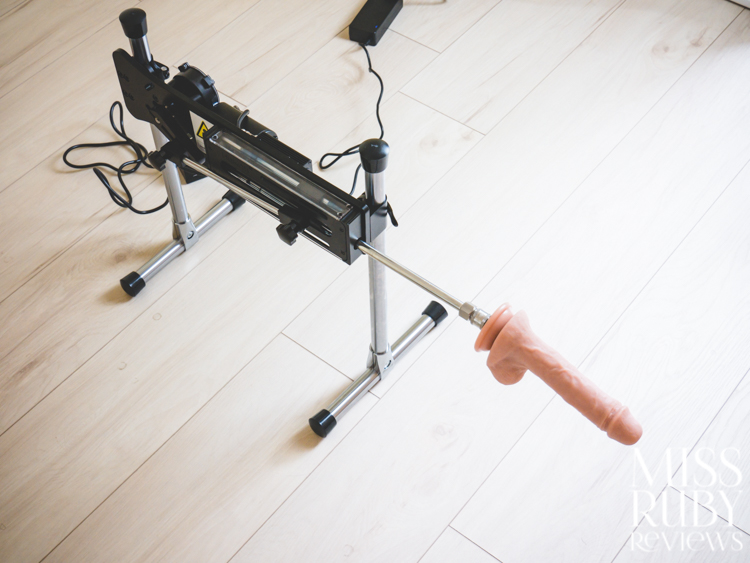 Hismith HS06-APP Sex Machine is made up of 4 basic components:
The legs, which are sturdy, with stainless steel construction
The machine and motor, which provide forward propelling thrusts. The thrusting motion reminds me of the wheels of old steam trains — circular and steady.
The thrust bar extends out from the machine, and this is what you connect the dildo to (or any other sex toy if you have the right adapter).
The controls. There are several ways to control the Hismith HS06-APP, which I'll get into below.
As mentioned, the Hismith HS06-APP Sex Machine can be oriented in 4 different ways. See the graphic below.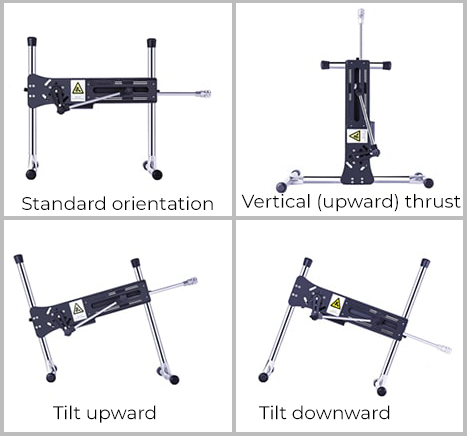 While the standard orientation will perhaps be most common, the tilt downard is perfect for missionary position, the vertical (upward) thrust is great for cowgirl-style, and the tilt upward is handy for doggy style if the standard angle isn't quite hitting the right spot.
Attachments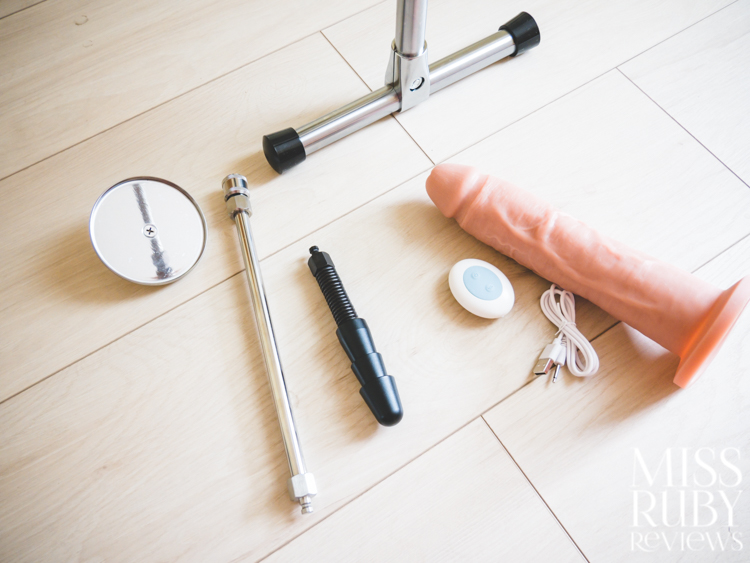 The Hismith HS06-APP Sex Machine uses Hismith's fantastic Kliclok attachment system. This genius connector system lets you change up the attachments effortlessly. I was impressed by how easy it is to change attachments. I thought it'd be tedious, but it only takes a second to unclick the old attachment and click on the new one.
In addition to the silicone dildo that came with my machine, I tested 4 Hismith adaptors (sold separately), which really expand the capabilities of your sex machine. From left to right (above), we have the Hismith Kliclok Suction Cup Adapter, the Hismith Kliclok Extension Rod, the Hismith Kliclok Vac-U-Lock Adaptor and the Hismith 10.2" Vibrating KlicLok Silicone Dildo.
I'll discuss my experience with each of these attachments down below in My Experience.
Accessibility
This section is to help folks determine if they might have any issues using/accessing this machine.
Size/Weight: The Hismith HS06-APP is a large sex toy machine. It's 25 lbs, which is manageable if you're non-disabled, but would be tricky to maneuver and move otherwise.
Set up: The machine needs to be assembled when it arrives. It comes with an allen key and a book of instructions. You'll need both hands, be able to read/follow instructions, and some strength to lift parts and screw them together. Once it's set up, moving it around and adjusting it also takes a bit of muscle. If you have mobility constraints, this will all be quite tricky.
Buttons: There are several ways to control the machine — a unit with a dial (connected via wire to the machine), a remote control, or by app on your smartphone. If one method is tricky for you, you may have better luck with one of the other methods, so I appreciate that there are so many ways to control it.
Price: At $660 USD, this is a serious investment and will not be financially possible for the casual consumer. This is something most people would need to carefully budget for.
How to Use the Hismith HS06-APP Sex Machine
You can use the Hismith HS06-APP Sex Machine via corded controls (attached to machine), remote control, and smartphone app.
Via corded controls
Ensure the machine is plugged in, then turn on the Hismith HS06 by pressing the red button.
Turn up the dial to increase speed, and turn down the dial to decrease speed.
To turn it off, press the red button again.
Via remote control
First ensure the red button on the corded control unit is turned on.
On the remote control, press the + or H button to start motion.
Keep pressing the + button to increase speed.
To decrease speed, hit the — button.
Press the + and — buttons continuously for more fluid control.
To cycle through the 10 speed patterns, hit the downward ▽ button.
To stop the machine instantly, hit the H button.
The remote control takes one AAA battery (included).
Via App
Using the app, you can control your machine more precisely, enjoy thrusting patterns, customize your play modes, join a public playroom, or have it privately controlled remotely by your partner. This makes the app-controlled version of this sex machine pretty fabulous for long-distance couples.
Hismith put out a really detailed guide on how to get this hooked up to your smartphone.
Packaging
This slideshow requires JavaScript.
The Hismith HS06-APP Sex Machine was very neatly packaged in a black, rectangular, zip-up fabric carry case. Everything you need is in the black carry case (separately sold attachments came in different little boxes).
When you unzip your Hismith carry case, the different components are very neatly and securely stored.
The carry case is mostly for travel or long-term storage. Once it's assembled, it no longer fits in the carry case.
Inside the carry case, you receive the disassembled machine (ie, motor, leg components, thrust bar), a silicone 8″ dildo, the booklet of instructions, a large allen key, a sample bottle of lubricant, the control unit and the remote control, and a black dust cover.
Material and Care
The Hismith HS06-APP Sex Machine is made from stainless steel, with some ABS plastic components (ie, the caps and the remote control). The included dildo is silicone.
This is a mains-powered sex machine, so it plugs into your wall. The machine is NOT waterproof, so never use it around water. To clean, wipe it down with cotton towels (if you need to use a damp cloth, dry it quickly). Hismith also suggests lubricating the sliding rail regularly (though I haven't had to do it yet).
The motor gets warm after 20 minutes of use, and Hismith advises not to use it for more than 30 continuous minutes. This is pretty standard, even for small sex toys.
As for the silicone dildo, I simply rinse it in warm, soapy water before and after use (taking care to make sure it's totally dry before attaching it to the machine).
This machine comes with a warranty. There's a 1-year warranty on the machine and a 2-year warranty on the motor. If you change your mind about this machine before using it, you can return it up to 30 days if it's in unused condition.
Always refer to the instruction booklet for full care and safety info.
My Experience with the Hismith HS06-APP Sex Machine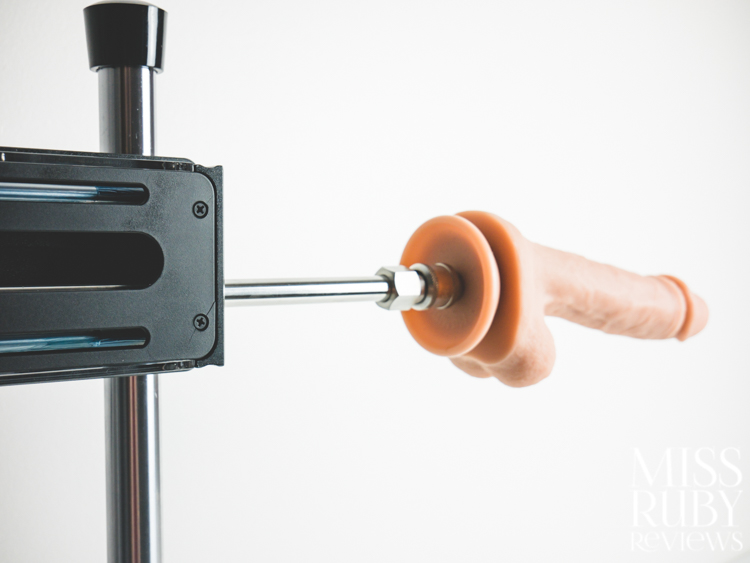 The Hismith HS06-APP is my first full-sized sex machine. Up until now, I've only experienced little portable self-thrusting toys, ones that are handheld or suction cupped to the wall.
And while those are great and all, now that I've experienced a full-sized sex machine, I wish I'd gotten one sooner. I don't need to worry about a battery running out, or holding it, or wondering if the suction cup will fail. This thing is reliable, and it is unrelenting.
This machine just keeps going. I can't slow it down by clenching (like I can with many smaller self-thrusters). It thrusts away like an expert, giving me endless penetration at the click of a button. Coupled with a good clitoral vibrator (like this one), I've experienced countless body-shakingly-good orgasms in the months that I've owned it.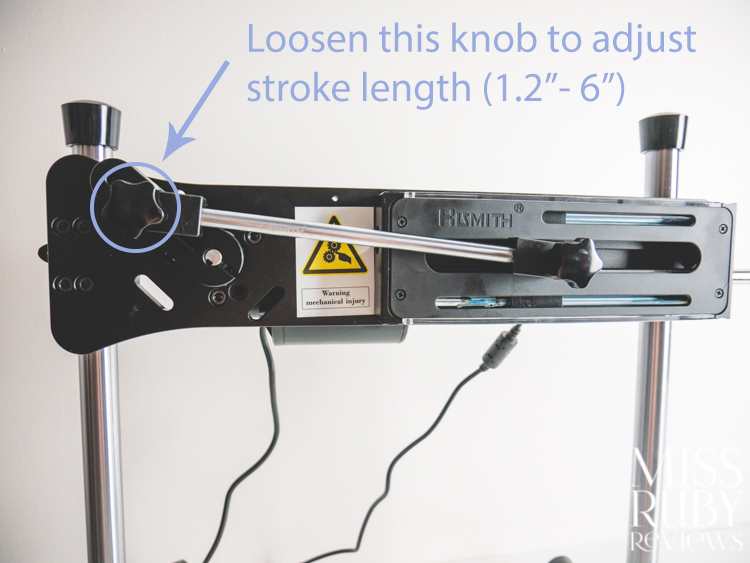 By changing the stroke adjustment knob (pictured above), I can also set the thrusts to very short (about an inch) or very long (6 inches forward thrust). I find the long strokes are best at a slow speed, whereas the short strokes excel during fast speed. Those feel AMAZING, especially when targeting the G-spot.
The fastest speed feels quite frantic, so I usually use it on slow or medium. For this review, I ramped it to the highest speed and counted thrusts for 5 seconds at the longest and shortest stroke lengths. I calculated 240 thrusts/minute on the long 6″ stroke and 276 thrusts/minute on the shortest 1.2″ stroke. That's absolutely mindblowing.
I honestly have ZERO complaints about this machine's performance (which is pretty unheard of… I'm usually a shark).
Simulating a threesome
If you have a partner, the Hismith HS06-APP is also amazing for fulfilling a MFM threesome fantasy (without actually having a third person in the room). There's two positions we keep coming back to:
I can use this angled down to provide me with missionary-style penetration, while my partner kneels by my face for oral sex.
Doggy-style penetration with the machine, with my partner standing or kneeling in front of me for oral sex.
If we got one of the penis masturbator adapters (like this one for Fleshlights or this universal adapter), we'd be able to open it up to FMF fantasies (so that one's going on the wishlist).
Noise levels
With a machine this intense, I expected it to be loud. To my surprise, it's one of the quieter sex toys I have. At full speed, it's 50dB loud, which is only about as loud as a spirited conversation. It reminds me of a washing machine on the spin cycle. This makes it quieter than most of my portable self-thrusting dildos (and many of my other sex toys, like my big wands).
Included Hismith 8″ Silicone Dildo attachment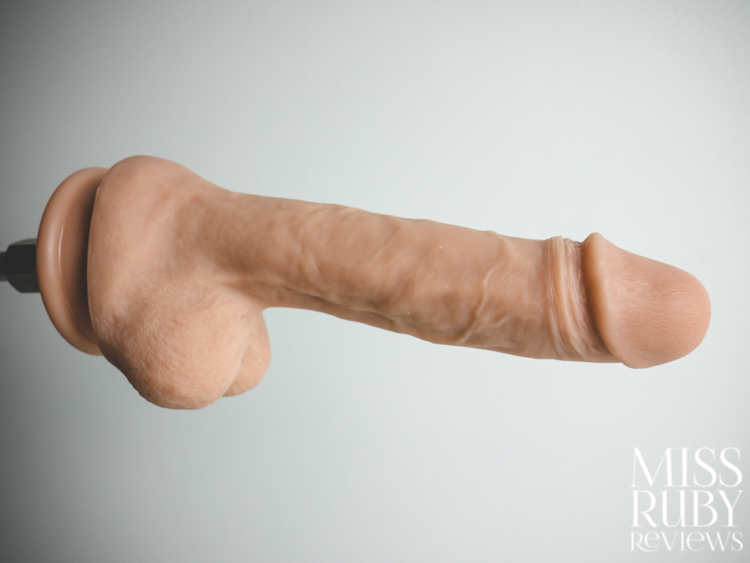 The default silicone dildo that the Hismith HS06-APP Sex Machine comes with is, by itself, quite the beauty. It's 8″ long (1.5″ diameter) and remarkably detailed. The head has a pronounced ridge and a slight urethral dent. Folds and veins line the perfectly straight shaft. The base holds symmetrical testicles. It's fairly soft and bendy (which honestly is comforting to me during those speedy thrusts).
If you want to use it without the machine, you can simply unscrew the Kliclok bits at the base. The dildo has a built-in suction cup, so you can use it against your wall.
It is a light skin tone though, which won't appeal to everyone; deeper skin tones can be purchased here or here, though at those steep prices you may as well buy an adapter and use your own dildos.
Still, I find it an attractive dildo, and it's certainly higher quality than I expected for something that just comes as a starting attachment. In use, it feels moderately girthy, and that pronounced coronal ridge is fantastic for hitting the G-spot.
Hismith Kliclok Suction Cup Adapter
The Hismith Kliclok Suction Cup Adapter (newer version here) is, in my opinion, a pretty essential purchase. At around $40 USD, it's a small price to pay for the capabilities it unlocks.
With this adapter, I can suddenly use SOOOO many dildos. It has a perfectly smooth 3.5″ surface, large enough for most of my suction-cup dildos. When I'm not using the silicone dildo that the machine came with, I'm reaching for this adapter so I can use my own personal favourite dildos.
Hismith Kliclok Extension Rod
The Hismith Kliclok Extension Rod extends your machine by about a foot. This is useful if you find that your legs are too close to the machine during use. For taller folks (like myself) this comes in handy (espeically during missionary-style thrusts when you won't want your thighs too close to the moving mechanisms).
Hismith Kliclok Vac-U-Lock Adaptor
The Hismith Kliclok Vac-U-Lock Adaptor lets you use Vac-U-Lock dildos, which are fairly easy to come by. I don't have any at the moment, but I've owned other Vac-U-Lock adapters and this matches perfectly.
Hismith 10.2" Vibrating KlicLok Silicone Dildo
The Hismith 10.2" Vibrating KlicLok Silicone Dildo is a hulking beast of a dildo. This thing is MASSIVE. With about 9.5″ of insertable length and a 2″ diameter, this is not for the faint of heart. It's swollen, veiny, and realistic. It also vibrates (3 speeds and 4 modes) and has a remote control. While you can pickup the vibrations, the dildo is so big that they don't feel particularly strong or rumbly.
The silicone is nice and squishy, and the dildo has some good bend to it during use. You can also unscrew the KlicLoc bit at the base and suction cup it to your wall. It's honestly kind of beautiful but much bigger than I imagined. Measure carefully before buying — you need to be a serious size queen to use this.
Hismith HS06-APP Sex Machine Review – Overall Thoughts
The Hismith HS06-APP Sex Machine is a remarkable system. It's expensive, yes, but it's a buy-it-once-then-you-have-it-forever kind of thing. This will give me years of enjoyment.
One of the best things about this particular model is its customization — height, angle, stroke length, speed, patterns, attachments, bluetooth… this machine has got it all.
If you can afford it, this is an amazing buy.
And I mean, 276 strokes per minute. Need I say more?
You can pick up your own Hismith HS06-APP Sex Machine here! Why shop here? Hismith ships internationally (free for Europe, UK, and North America), you can get 5% off your order with coupon KVT5XPF1. Plus by shopping direct, you know you're not getting a knock-off machine!

See below for my Hismith HS06-APP Sex Machine review breakdown.

HS06-APP Review Summary
Overall thoughts - 10
10
$660
PROS
Endless penetration!
Highly customizable
Comes with a good silicone dildo
Choose different angles/heights/stroke lengths
I measured up to 276 strokes per minute
Wide range of speeds and patterns available
Surprisingly quiet
Comes with warranty
CONS
Expensive
Adaptors are sold separately
Shop Now