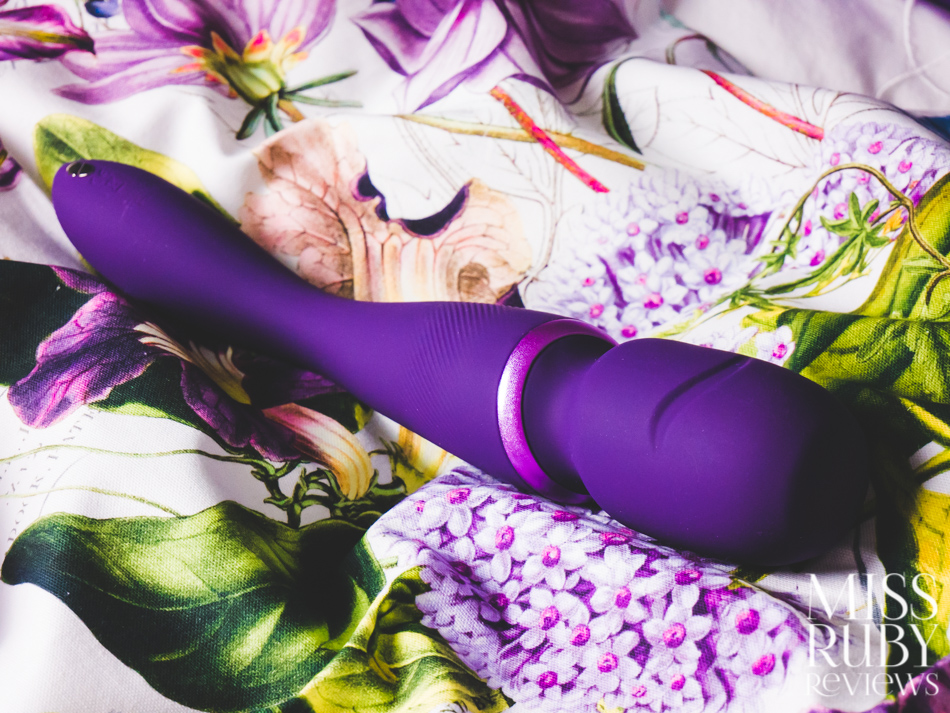 HUZZAH! HUZZAH! The We-Vibe Wand is here! Read on for my We-Vibe Wand review!

Design | How to Use | Packaging | Material and Care | My Experience | Overall
Design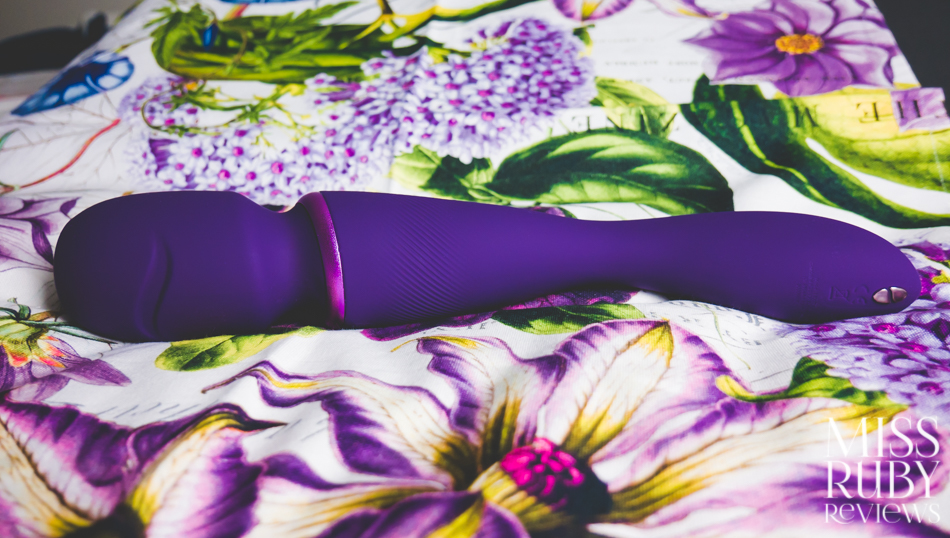 The We-Vibe Wand is We-Vibe's very first step into wand-style vibrators. For those of you who don't know this brand, We-Vibe became famous for their C-shaped toys for PIV sex. I didn't like their earlier models, but their later models like the We-Vibe Sync are incredible.
We-Vibe has also released a long line of fantastic solo play toys — the Tango is legendary, the Nova is the best rabbit I've tried, and the Rave is another favourite of mine.
With the We-Vibe Wand, We-Vibe is continuing to branch out.
The We-Vibe Wand is a large wand-style vibrator. While designed for clitoral use, it comes with two silicone attachments to broaden your horizons — most notably a penis stroker attachment with a semi-open design.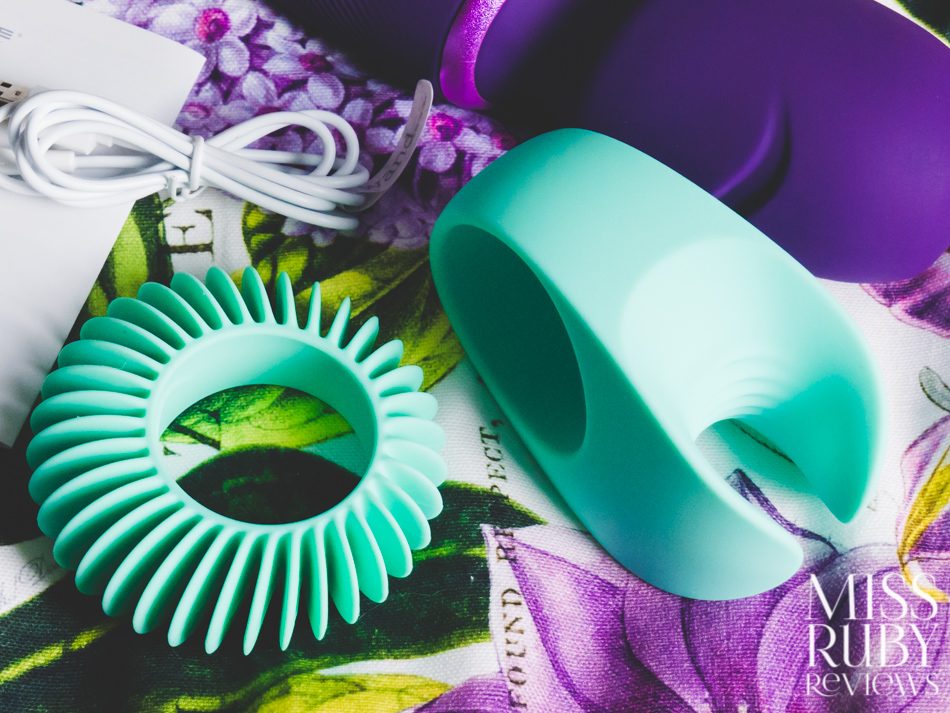 Two included head attachments: fluttery (left) and penis stroker (right)
Physical details:
As far as wands go, the We-Vibe Wand has a fairly standard design.
The head is only decorated with a ~ wave shape (which helps to lock the attachments in place). The head's silicone is deliciously squishy and you can pull/tug it around a bit. The head is a universal size, so if you already have attachments for your other standard wands, you'll likely be able to use them with this too.
The neck is semi-flexible. Flexible necks can get really annoying if you want firm pressure, but this neck is only mildly flexible.
A glittery purple band to separate the head from the body, for decoration only.
A curved handle/body, which is decorated with thin lines for better grip.
A joystick-like nub towards the base, which controls the toy.
The whole wand is about 1 foot long, a bit heavy, and coated in a deep matte purple.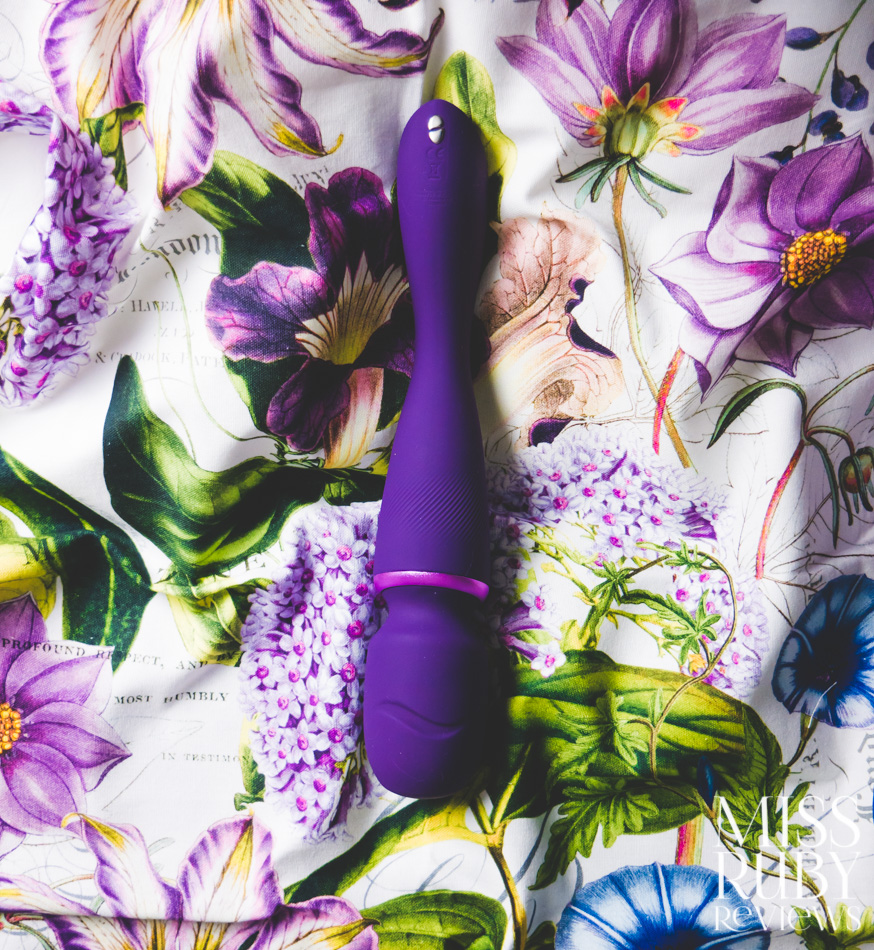 Beyond its standard physical design, the We-Vibe Wand packs a wallop when it comes to features.
Features:
Lots of vibration levels — You have your steady vibration state (with a large intensity range), plus 9 patterns.
Smart Silence mode — This means the We-Vibe Wand knows when it's close to your skin, and turns on then. When it senses your skin isn't close, it turns off. This is super useful if you're trying to be discreet and have to hush up your activities quickly — no fumbling for 30 seconds for the Off button. I can attest that this feature works VERY well. It turns on if close to my skin (even if my skin is beneath some clothes) and turns off immediately when I pull it away. It doesn't turn on when resting against inanimate objects.
Cordless — Zero cords anywhere, except when charging.
Control with a seamless joystick — the joystick nub on the handle means you can ramp up/down seamlessly, rather than working with a rigid set of numbered levels.
Control with We-Connect App — If you want your partner to easily control the wand (whether 1 ft or in a different country from you), this toy works with We-Vibe's We-Connect App.
Waterproof and rechargeable — Lovely! Waterproof wands are rare.
The only thing this doesn't seem to have is a dedicated travel lock, but the Smart Silence mode should prevent any issues while travelling.
How to Use the We-Vibe Wand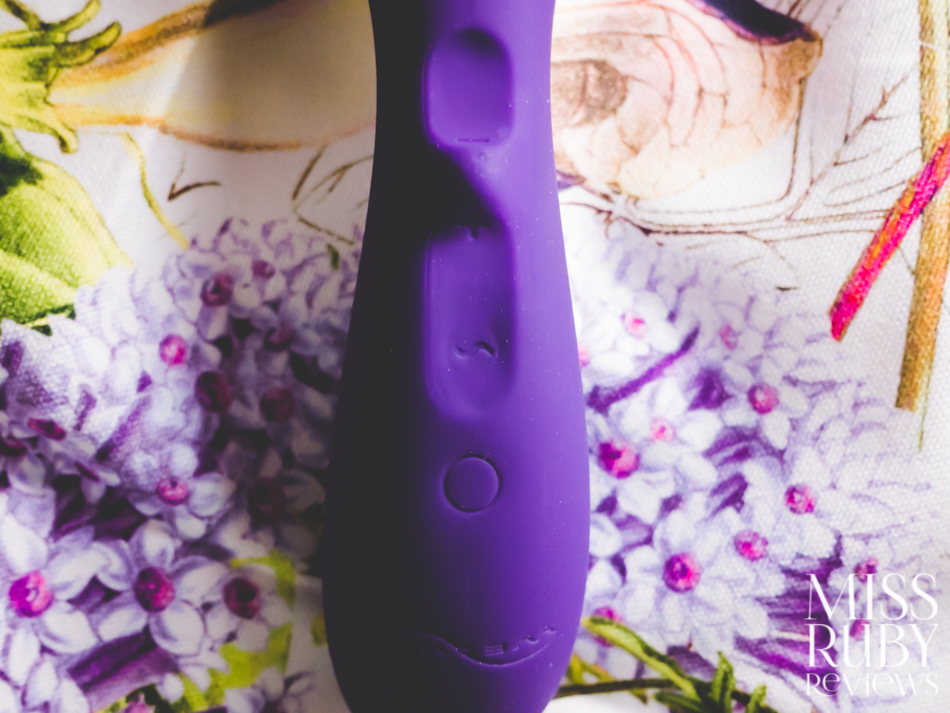 To turn on the We-Vibe Wand, press the circle ◯ button for 2 seconds. The Wand will buzz to indicate it's now on.
Push the joystick on the + side (towards the head) to increase strength. Pull it back to decrease strength.
Place the head near your skin for the wand to actually turn on (Smart Silence mode).
Press the ~ button to cycle through patterns.
If you'd like to turn off the Smart Silence mode, press the ~ button for 5 seconds.
To use the penis stroker attachment, pull it over the wand's head until the wave segment locks, apply lubricant, and place the two wings around the penis. The wings are very flexible, so it should be one-size-fits-all.
To use the fluttery attachment, pull it over the wand's head until the wave segment locks and apply it to your body. This is most suitable for clitoral/vulva stimulation, but it could be used against a penis as well.
To turn off, press the power circle ◯ button for 2 seconds.
If you want to control this via Smartphone instead, you can connect it to the We-Connect App. I prefer using physical controls instead, but if you're in a long-distance relationship the app can be quite handy.
Packaging
The We-Vibe Wand was packaged beautifully in a blue, turquoise, and purple box. The box was large, sturdy, and felt good quality.
Inside the box, you receive the wand, a manual, a USB charging cable, and the two silicone attachments. No storage pouch is included.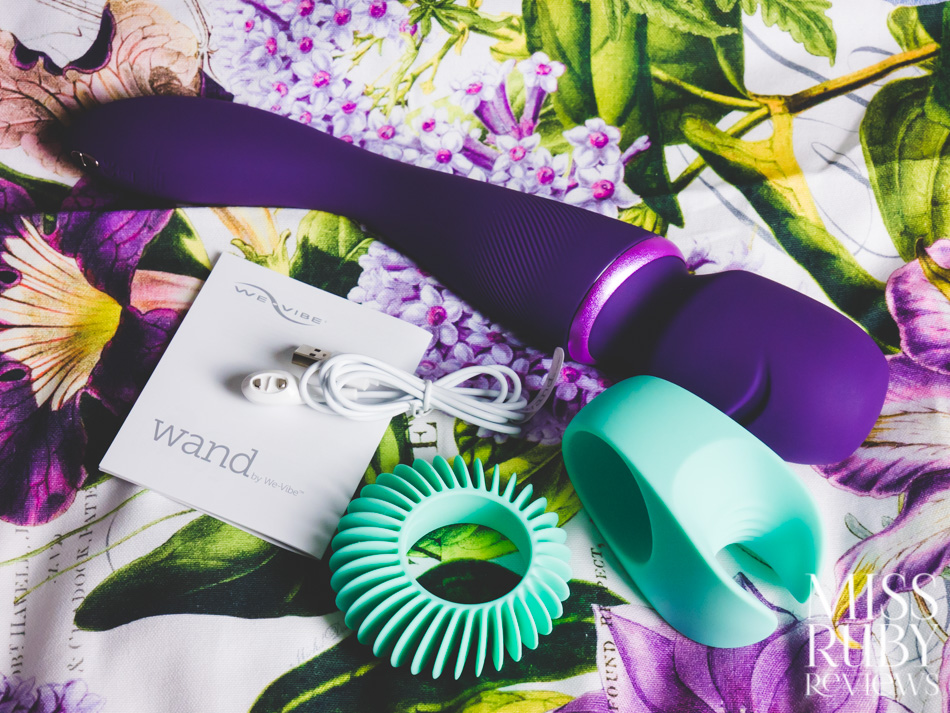 Material and Care
The We-Vibe Wand is bodysafe. It's made from silicone, which is free of phthalates, BPA, and latex. The silicone finish is matte and prone to collecting lint, but feels quite luxurious all the same.
The two mint green attachments are also silicone, and they're even more soft and silky.
Wash your We-Vibe Wand with warm, soapy water before and after each use. This toy is waterproof, so don't worry about water getting into it. If you'd like to use a dedicated toy cleaner, you can always pick up something like this as well.
If you'd like to use lubricant, opt for a good quality water-based lubricant like my favourite Sliquid H2O. You'll definitely want to use lube like this if you're using the penis stroker attachment.
To charge, use the included USB charging cable. It attaches magnetically to the two metal pins at the base of the wand. Plug to the cord into your computer or a USB wall adaptor. About 2 hours of charge should get you up to 2 hours of playtime.
Also — this comes with a 2-year manufacturer's warranty for defects. This thing is rock solid and I don't expect you'd have any issues, but it's nice to know there's a warranty for peace of mind.
My Experience with the We-Vibe Wand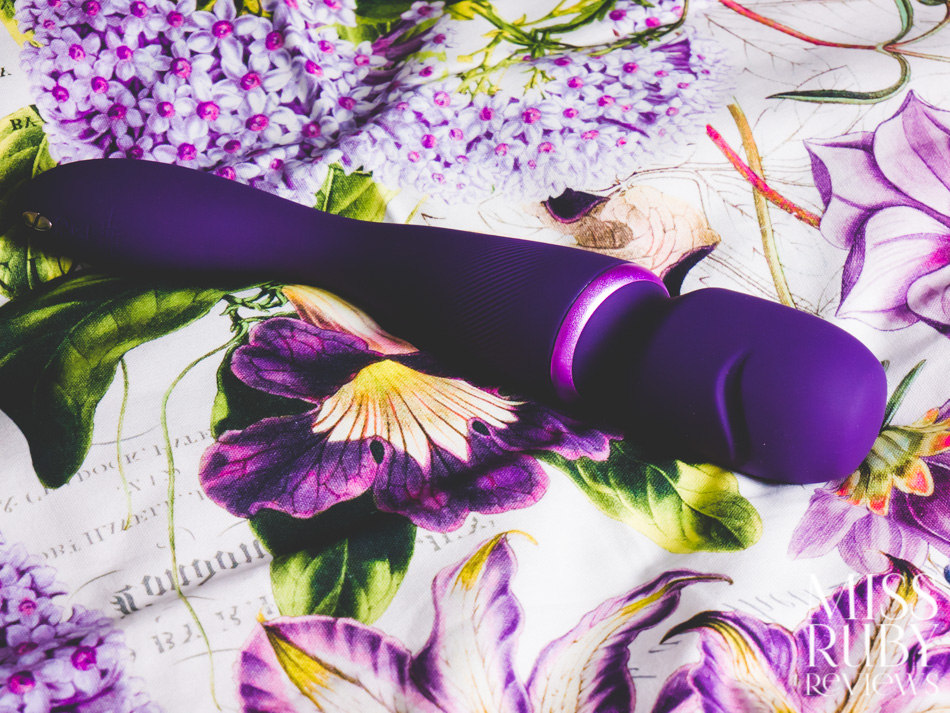 I honestly don't know how We-Vibe does it. How do they consistently keep making SUCH good toys? Because the We-Vibe Wand is another winner. Here's a breakdown of my We-Vibe Wand review.
Vibration and Sound
The We-Vibe Wand is STROOONNNGGG. I find it a pinch stronger than the BMS PalmPower Extreme, and in a similar playing field to the Magic Wand Rechargeable. Those are epic wands, which goes to show the We-Vibe Wand is playing in the big leagues here.
Rumble wise, it doesn't disappoint. I don't detect any underlying buzz, which puts the We-Vibe Wand ahead of the Magic Wand toys. I can use this for long periods without experiencing any temporary numbing, and that rumble means that orgasms are super satisfying with this wand. 
This is basically like a smaller, lighter, waterproof, cordless, milder version of the Doxy Die Cast. Not 100% quite as strong, but rumbly and super good, and has the benefit of being cordless.
Sound-wise, the We-Vibe Wand succeeds. It emits a soft rumble. I can't hear it through walls.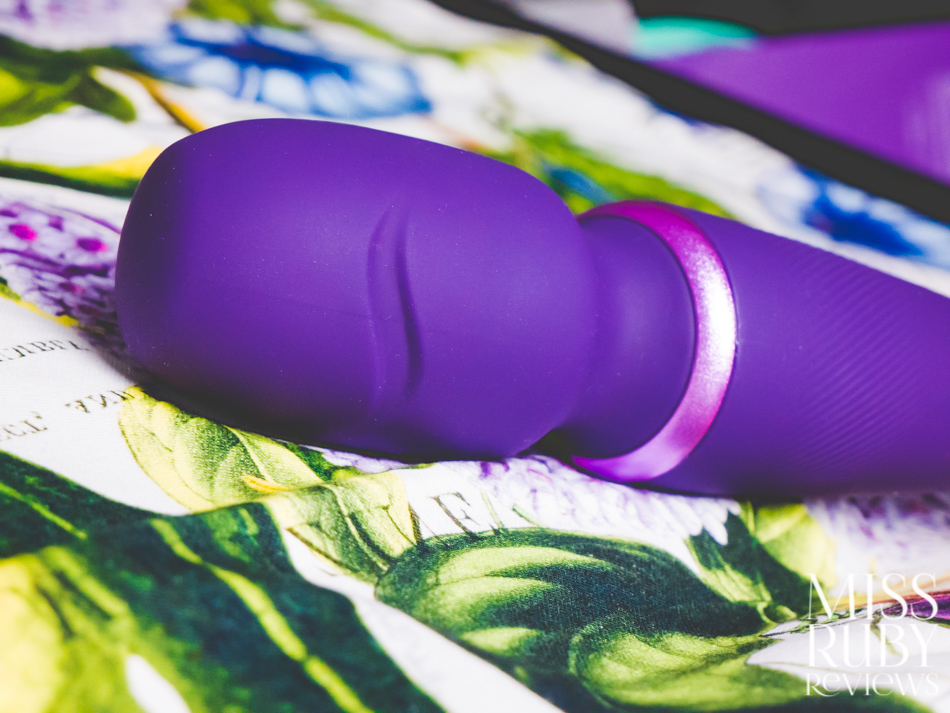 Ease of Use
I was a little skeptical of the We-Vibe Wand's joystick control, but it ended up being pretty intuitive. No complaints there. The Smart Silence mode works flawlessly, and I'm quickly wishing more toys had this feature.
As for ergonomics — this baby is easy to hold and position. The curved handle is perfect, the neck is just inflexible enough for me to get firm pressure, and I'm a fan of the head's narrower shape. It's narrower than the Magic Wand or the Doxy Die Cast, which gives me slightly more pin-point powers.
Plus, because it's waterproof, I can take this into the bath with me, or to the beach. Fully waterproof cordless wand vibrators aren't common, so this is a real treat.
Accessories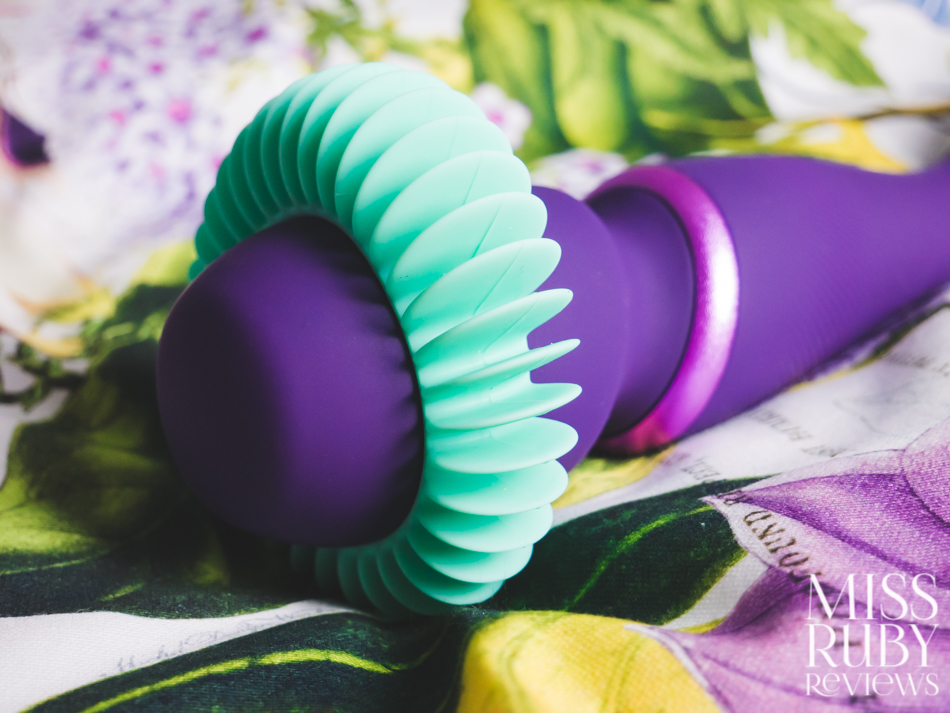 I tried to love the We-Vibe Wand's fluttery attachment, but it's not really my thing. While I can see this being appealing for people who like soft, ticklish, teasing sensations, I'm a firm pressure gal so this took me nowhere. The great thing is that I didn't pay extra for this attachment — both attachments are included in all We-Vibe Wand boxes.
The penis stroker attachment is more useful to us. It wraps around neatly around the underside of the shaft, and stays in place great during stroking. If you (or your partner's) penis has a massive girth, it may not fit. This is best suited for penises with average girth. The opening is 1″ wide and can be stretched easily to 2″ wide. The base of this attachment is ribbed for extra textured sensation, which feels great on the underside of the head.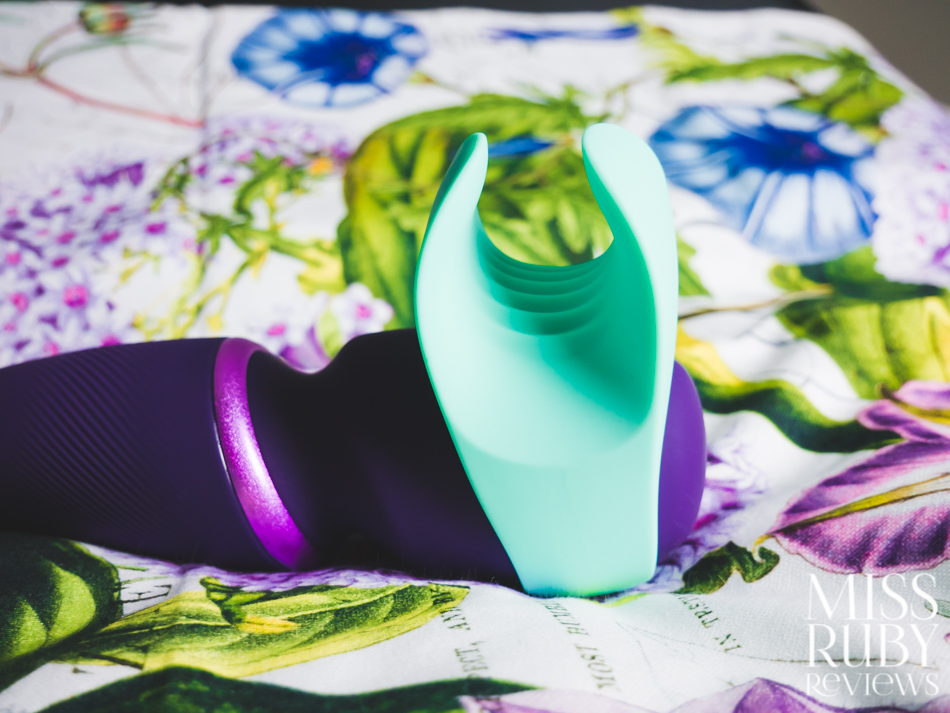 Cons?
Honestly, I'm struggling to find flaws. I just love the We-Vibe Wand. I guess I'll settle to nitpick on the colour… The We-Vibe Wand only comes in this dull matte purple, and I'm so sick of purple. I'm okay if companies offer purple as one of many options, but We-Vibe's toys usually come in one colour only. Bleh.
I wish the whole toy could be the attachments' refreshing shade of mint green, because that's a colour I like.
Overall – We-Vibe Wand review
Has my We-Vibe Wand review convinced you yet? The We-Vibe Wand is easily one of the best wands on the market. For starters, it's cordless, waterproof, and rechargeable, three things that full-size wands rarely have. With its We-Connect App capabilities, your long-distance partner can control it for you too. Better yet, this thing is STRONG and RUMBLY and its orgasms feel amazing. As a bonus, you get two head attachments, which wands rarely come with.
The only thing I don't like is the purple colour, but that's pennies compared to all the pros.
This is definitely one for the wishlist!
You can pick up the We-Vibe Wand at Betty's Toy Box for $179 USD (minus 15% when you use coupon code RUBY)! Why do I like Betty's Toy Box? They ship discreetly to the continental US for free on all orders over $49, plus you can get 15% off your whole purchase with coupon code RUBY. 

See below for my We-Vibe Wand review summary.
REVIEW SUMMARY
Overall Thoughts - 9.7
9.7
$179
PROS
Strong
Quiet
Waterproof
Rechargeable
Cordless
Bodysafe
2-year warranty
CONS
Only 1 colour option (purple)
Shop Now

Last Updated on November 9, 2022 by Miss Ruby