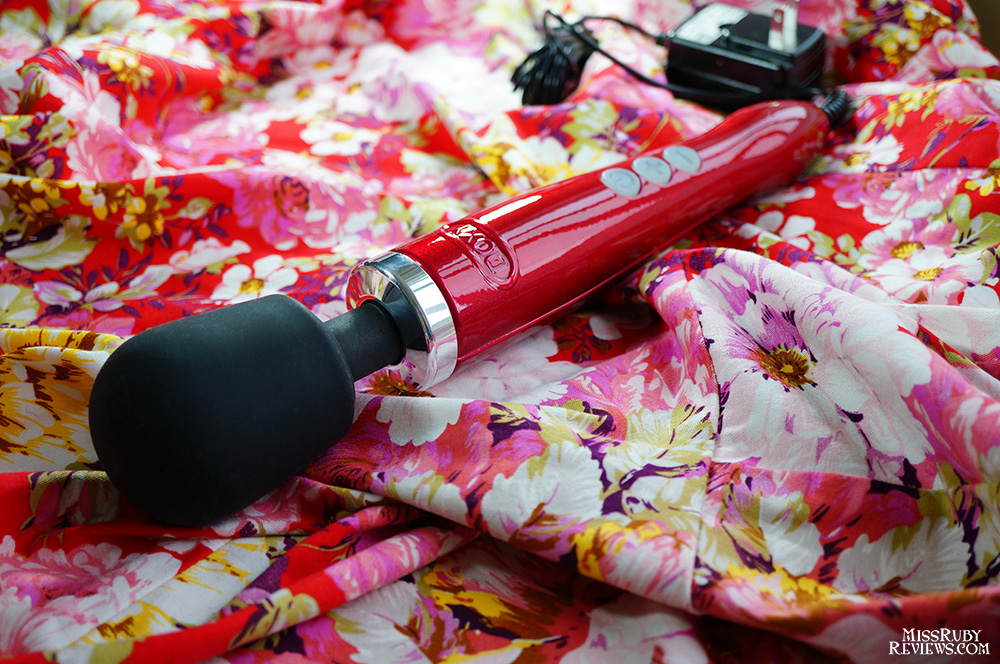 I'm telling you: the Doxy Die Cast must be the prettiest wand vibrator ever to grace this earth. Read on for my Doxy Die Cast review!

Physical Details | Material and Care | Packaging | My Experience | Overall
Physical Details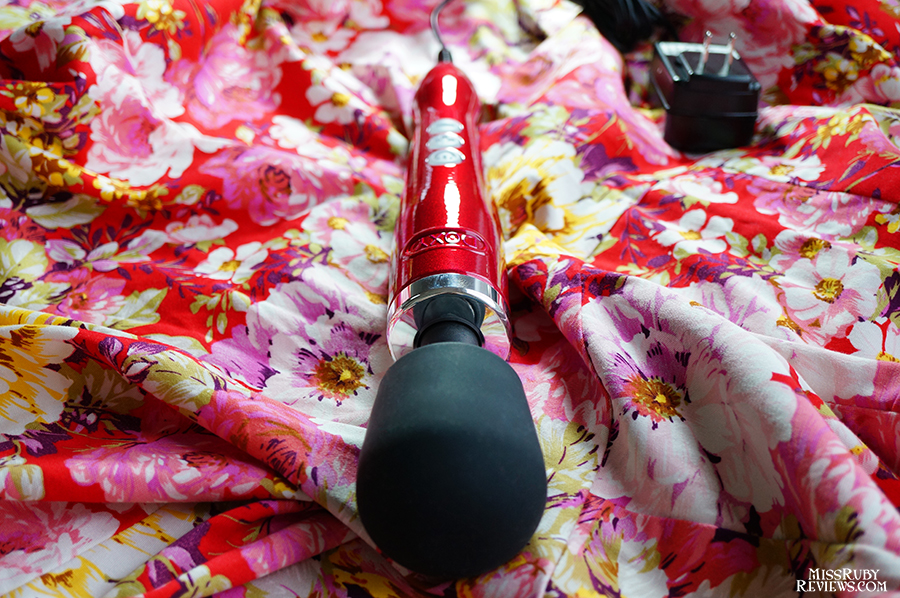 So. Umm. I LOVE IT! IT'S SO PRETTY!
Sex toy manufacturers have tried to make wand-style vibrators look good before. There was LELO's stab at the Smart Wand, which resulted in a streamlined (albeit crummy, in my opinion) wand. There was the newer Mystic Wand, which tried to be serious and demure. But none of these were really pretty. And there was, of course, Doxy's original wand, but that didn't make your clit flutter with the sheer sight of it or anything.
So it turns out: All you have to do to make me think your sex toy is gorgeous is to cover it with red, glittery, sparkling titanium. Like, I swear, it is actually glittering, like something out of a dragon's treasure hoard.
Okay, it also comes in purple, black, white, and silver…if you can bear to turn away the red.
The Doxy Die Cast is an upgraded, prettied-up version of the original Doxy. Designed as a simple wand, this can be used on a clitoris, penis, or along with attachments to expand its capabilities.
Key features of the Doxy Die Cast version include:
A black silicone head, which is a huge plus compared to the original Doxy's porous PVC head
A double-weighted head, which is meant to give it a rumblier sensation
A polished body made from titanium and aluminum which, along with its heavier head, makes it total 680 grams
Sturdy as heck. Feels virtually unbreakable. And, because Doxy knows their product is made well, they offer a 12-month guarantee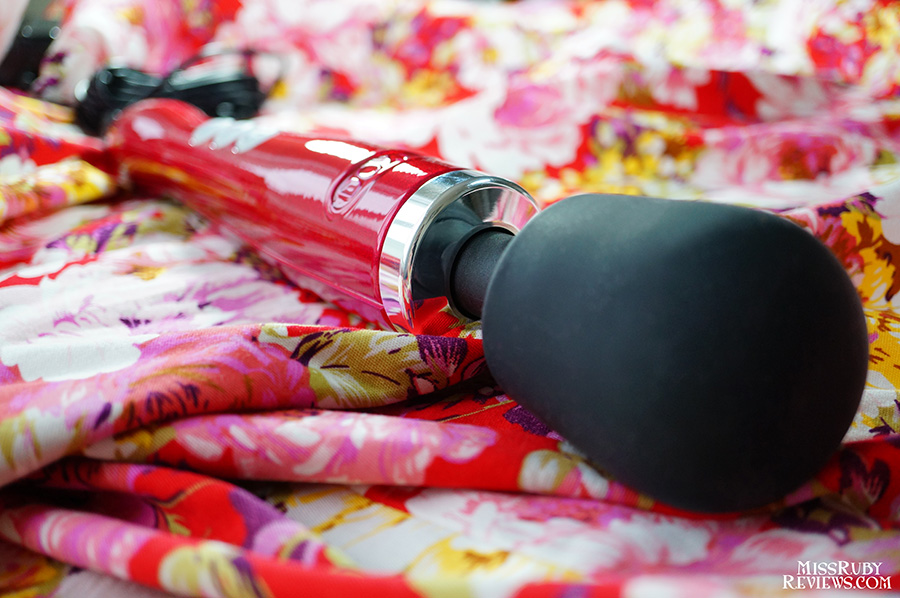 Vibrations:
I suspect that the vast majority of people would find the Doxy Die Cast's vibrations strong enough to satisfy their needs. Because these vibrations are wonderful. On the low settings, they're a determined purr. On the high settings, the vibrations strongly reverberate through your whole vulva and pubic bone. These are strong.
Compared to the original Doxy, the vibrations here do feel modified — the double-weighted head gives the Doxy Die Cast a discernibly rumblier feel.
Still, there is some buzziness, particularly at higher levels. My wrists feel achy if I hold the head itself, so I need to be careful to just hold the body. If you hold the Doxy by its body, your fingertips can barely tell it's vibrating, which is saying something (and will be a godsend if you have arthritis or carpal tunnel).
Noise:
"Jeez, that's super quiet." (Mr. Ruby)
The Doxy Die Cast is remarkably quiet for a wand vibrator, especially one as strong as this. When you apply it against yourself, the sound deepens slightly, and overall it should pass unnoticed through walls and closed doors. If you have a roommate, you'll probably be okay using this on high with the door closed, as even the high is pretty tame (it's not as noisy as the Magic Wand, for instance).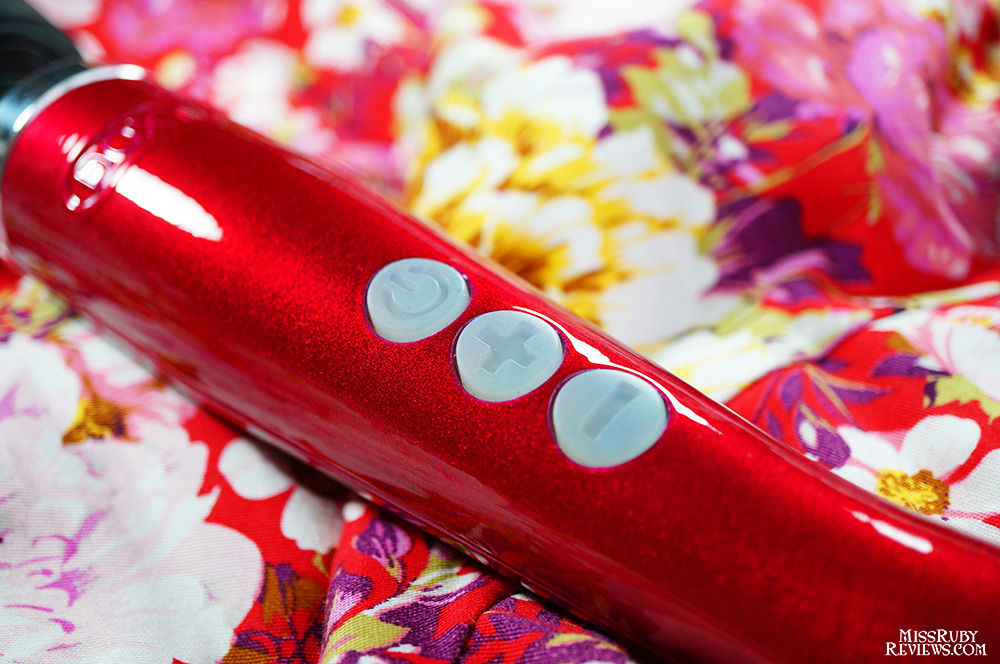 Function: 
Just so we're clear: this is a plugged (mains-powered) product. The Doxy Die Cast comes with a 12-foot cord and can be operated with any voltage (with the right plug adapter). There are three buttons: [Power], [+], and [-], and these function as expected. These three buttons light up with blue LED lights when turned on (okay, yes, I'm difficult: red would have been a pinch nicer), which makes them easy to find in the dark.
If it's turned off, and you hold down the power button for about two seconds, you get an escalating pulse pattern. You can vary the speed of this pulse pattern using the [+] and [-] buttons. But me? I'm more of a steady-state girl, so I love that there's just lots of steady-state levels (I count 7).
Material and Care
The Doxy Die Cast's head is made from a black silicone. This makes it non-porous and bodysafe. For everyday cleaning, you can use a mild soap and a damp cloth. If you wish, you can add an anti-bacterial toy cleaner.
As a mains-powered toy, this should not be used anywhere near water. It is not waterproof and you risk electrocution if it's plugged in near water.
As with any silicone product, I recommend avoiding a silicone-based lubricant, as they can sometimes bond with and degrade silicone material. I'm a big fan of Sliquid's water-based lubes.
Packaging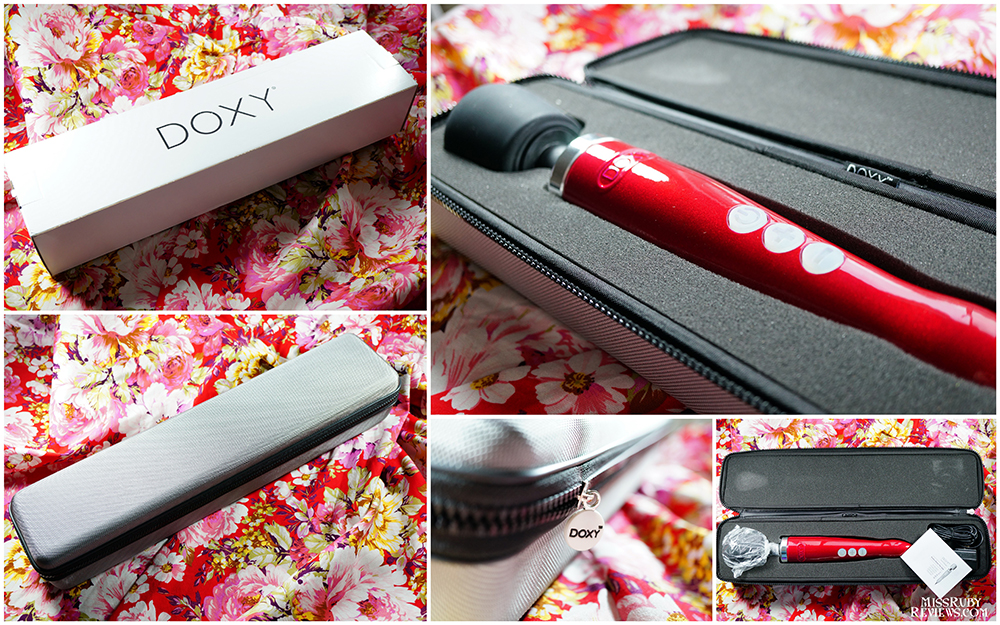 The Doxy is packaged in a plain white box. In this box, you receive the Doxy, a storage case, and an instructions booklet.
In my review of the original Doxy wand, I complained that it didn't include a storage pouch. Well, the Doxy Die Cast comes with a fancy case. Suuupppperrr reminiscent of a soft flute case, this is a perfect home to store my luxury Doxy wand. I love it.
Okay, one weird thing I found was that the included little instructions booklet hasn't been updated for the Die Cast version — it was originally written for the original Doxy, and they did not update its information to include the new silicone head. The instructions still state: "the massager head is made from medical grade PVC … it is safe to use with water or silicone based lubricants."
Umm. That's old, and doesn't apply to this version anymore. This head is silicone, which means you're probably going to want to avoid a silicone-based lubricant. Stick with water-based.
My Experience with the Doxy Die Cast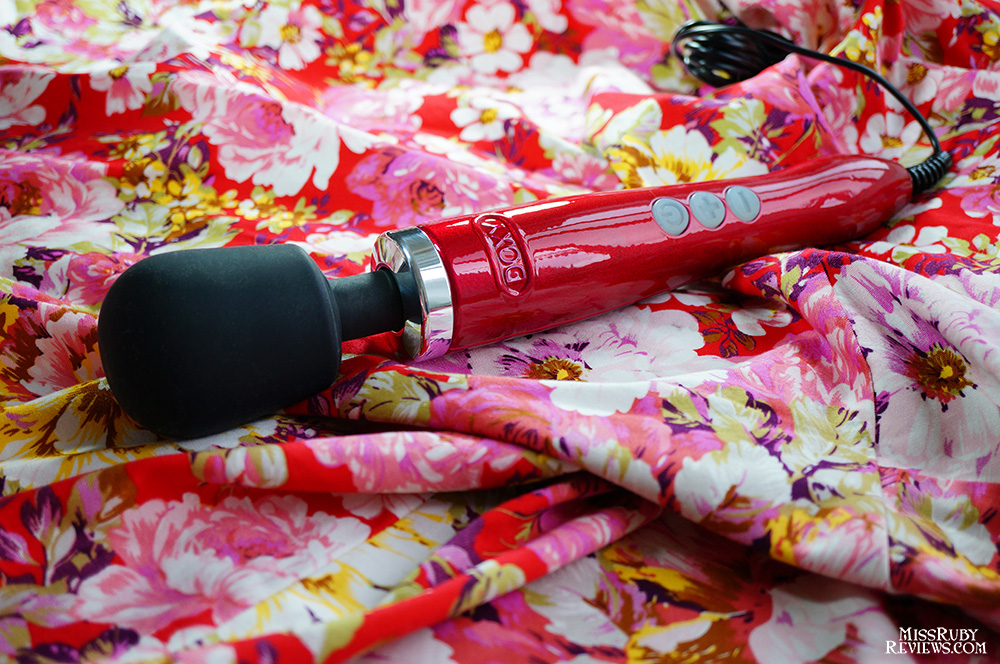 I mean, is it really necessary to still be reading this review?
Do I recommend it? YES!
I keep on getting blown away by Doxy. Their original Doxy was my favourite wand for a long time, even beating the hallowed Magic Wand. But now, that same, lovely original wand comes to me in a sparkly red titanium body, with a lovely bodysafe head, and a rumblier oomph.
And my clitoris is in heaven.
In simplistic terms, the Doxy Die Cast provides me with fantastic pleasure. The orgasms come quickly and (almost too) easily. Those vibrations don't just stay localized to the tip of my clitoris; they're strong enough to stimulate the internal legs of the clitoris, to reverberate through the whole pubic area. In short, this can get me to orgasm within 20 seconds or so, and even quicker yet when I combine it with g-spot stimulation.
But not everyone wants to orgasm so quickly. If you (or you and your partner) are playing around with delayed orgasm, you can delay your orgasms by vibrating the sides of your labia majora, which will still give your clitoris some solid indirect internal stimulation.
I'm usually one for pin-point stimulation. Still, the Doxy Die Cast works for me because I press the corner of the rectangular(ish) head against me. If you know you need pin-point stimulation, this method may work well for you as well.
Downsides found in my Doxy Die Cast review
The Doxy Die Cast is also, naturally, applicable to penises. Mr. Ruby has had success using it on his frenulum and by holding it against the underside/base of his penis. However, he recommends the lower settings for this, as they come across as more rumbly than the higher ones. I should also point out that, if you are very sensitive to mildly buzzy vibrations, you'll want to avoid those top speeds. After several orgasms, when I'm sensitive, I find the top speeds suddenly too buzzy for me. But, seeing as the Doxy gives me several orgasms to get to that point, it's not an issue for me.
I also wish it was lighter. Its heft gives it a sturdy, indestructible feel, but it also means your wrists need to have twice the strength to keep holding it up in bed. But, I mean, let's face it: it's nice to bring something so beautiful and luxurious into bed with me.
Overall thoughts – Doxy Die Cast review
I really, truly, deeply love the Doxy Die Cast. It seems, to me, like the ultimate gift to yourself or a loved one. Yes, it's pricey, very much so. But remember that you can get 15% off your order at Betty's Toy Box with coupon code RUBY. And I also think it's pretty damn worth it. I've owned several wand-style vibrators, and this takes the cake as my favourite thus far. It's bodysafe, it's strong, it's relatively quiet, and it's gorgeous.
And in that shade of power-red, the Doxy Die Cast seems like a natural addition to the bedroom.
To buy the Doxy Die Cast, head on over to Betty's Toy Box.
See below for my Doxy Die Cast review summary!
Doxy Die Cast Review Summary
Overall thoughts - 10
10
$220
PROS
Gorgeous
Sturdy design
Very strong
Very rumbly
Bodysafe
CONS
Corded
Heavy
Not waterproof
Shop Now