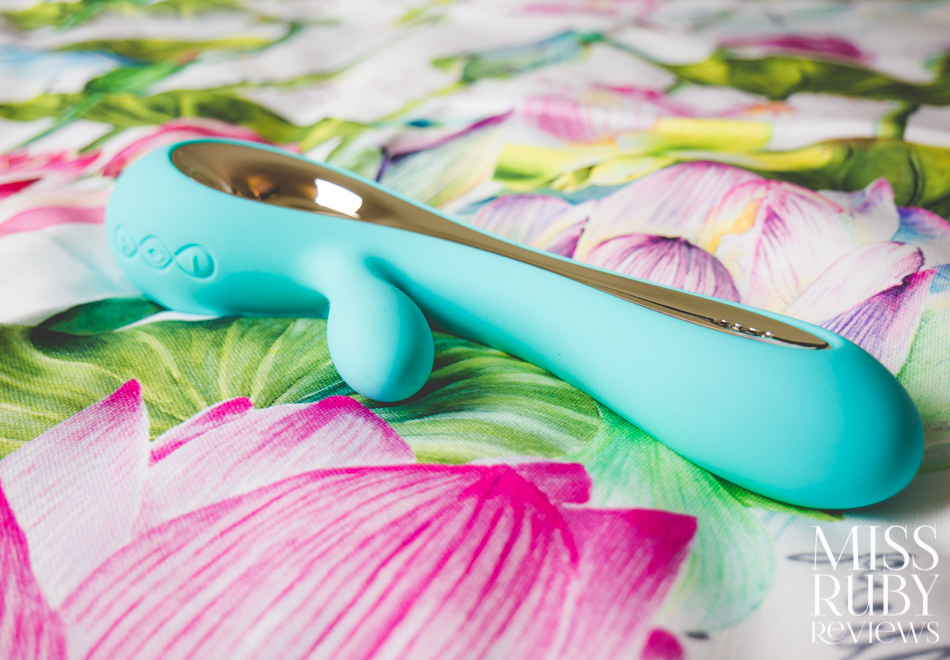 The "world's most luxurious rabbit vibrator," eh? Read on for my LELO Soraya 2 review!

Design | 360° View | How to Use | Packaging | Material and Care | My Experience | Overall
PRE-REVIEW NOTE
When I was approached about reviewing the LELO Soraya 2, I agreed to with the understanding that this review is not an endorsement of LELO as a company. I cannot, at present, say that I support the company. Googling "ethical issues with LELO" will take you to extensive writing about LELO, most notably about their HEX condoms and their PR choices. This review will cover my experience with the LELO Soraya 2 only, and I will try to not let my personal feelings about the brand impact my views on the product itself.
Design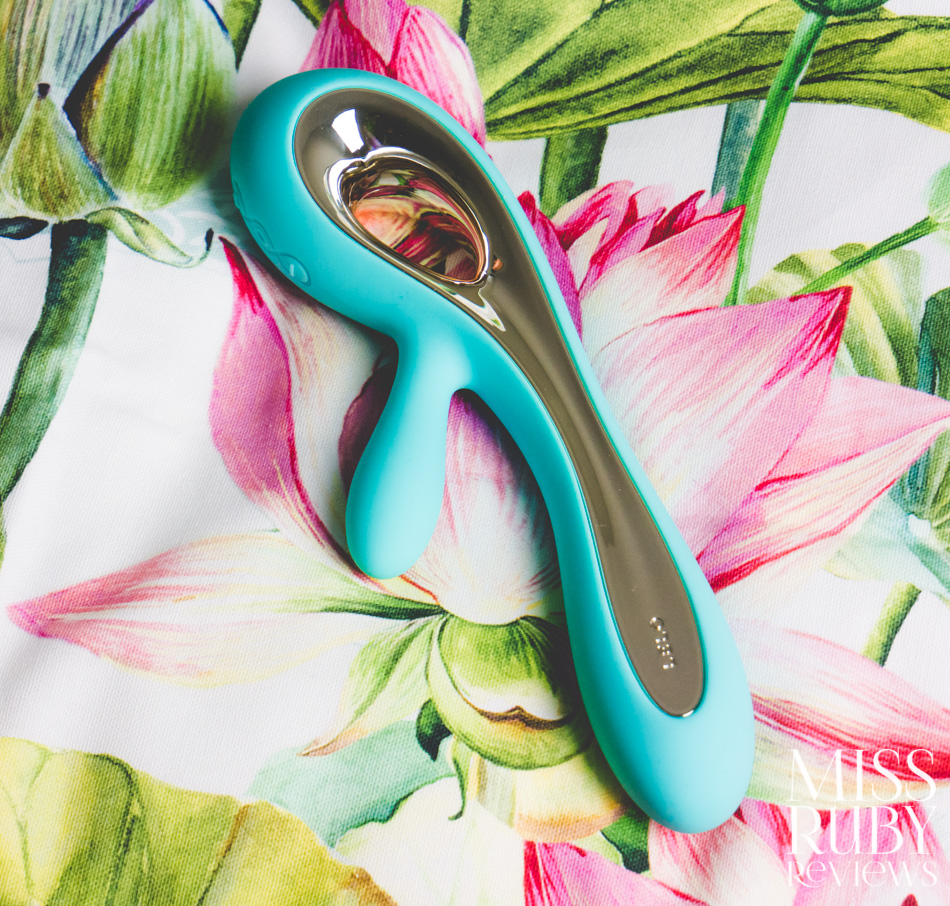 The LELO Soraya 2 is an update to the original Soraya. This is a high-price luxury rabbit vibrator.  A rabbit has dual stimulation: the smaller arm vibrates to provide clitoral stimulation, and the larger arm simultaneously vibrates to provide internal pleasure.
(1) Colours — The original Soraya came in Cerise (pink), Deep Rose (purple) and black. The new LELO Soraya 2 has ditched the Cerise and now comes in Ocean Blue, Deep Rose, and Black. I really love this Ocean Blue colour. It's a cool, pale aqua tone, and feels modern.
(2) Vibration modes — The original Soraya came with a mere three speeds and five patterns. The new LELO Soraya 2 has 12 speeds and 12 patterns. The patterns consist of just clitoral stimulation, just internal stimulation, alternating vibrations between the two arms, and lots of wave patterns.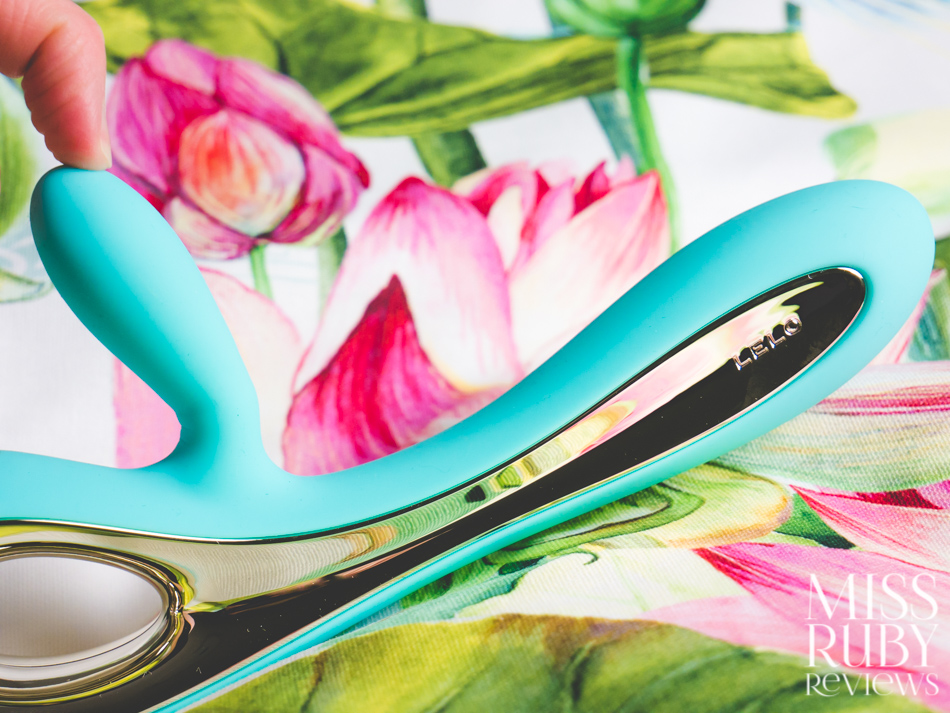 (3) Reduced angle — The original Soraya had a clitoral arm angled 37° away from the main shaft, meaning some people had to hold the clitoral arm more snugly against the clitoris with their hand. The new LELO Soraya 2 has reduced this angle to 27°, so the clitoral arm will fit more snugly against the clitoris. The arm is still very flexible, so if you needed that extra amount, it'll easily flex into position.
(4) Extended internal arm — The internal shaft of the new LELO Soraya 2 has been redesigned to be slightly longer and thicker. This was done so the arm can access the G-spot easier. A purple Soraya 1 is overlaid a turquoise Soraya 2 below so you can see the difference.

What are its other features?
Like with the original model, the LELO Soraya 2 is waterproof, rechargeable, and bodysafe. It has strong motors in both the smaller clitoral arm and the larger extended arm.  The handle has a hollow loop that you can use for an easier grip.
Because of these features, and because it's LELO, this is a pricey little toy — it'll put you back $200-300 USD, depending on where you shop.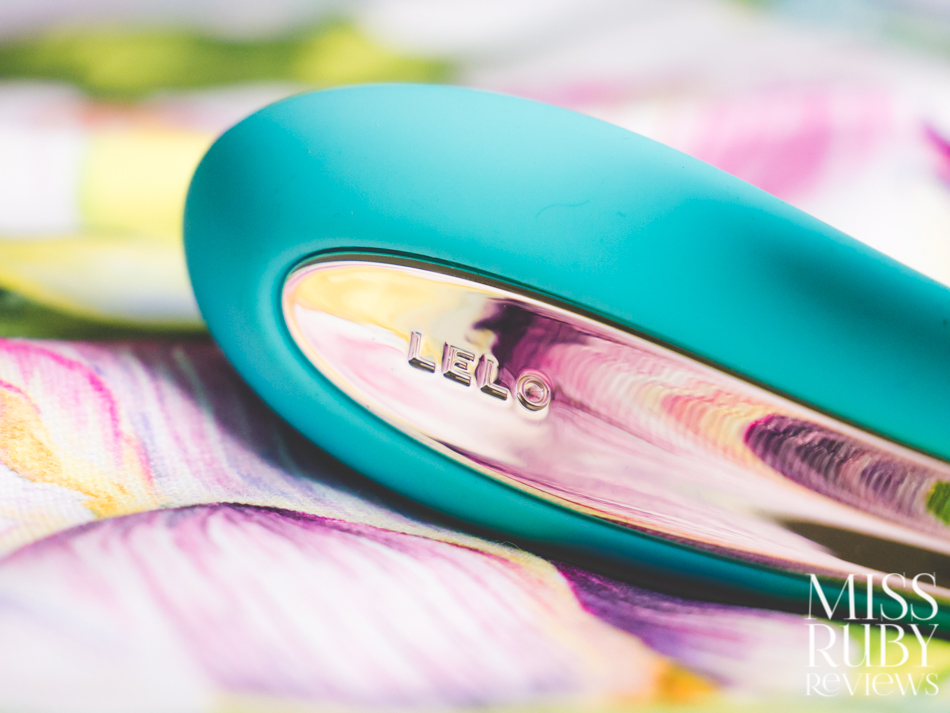 360° View
Click and hold the image above to move it around.
How to Use the LELO Soraya 2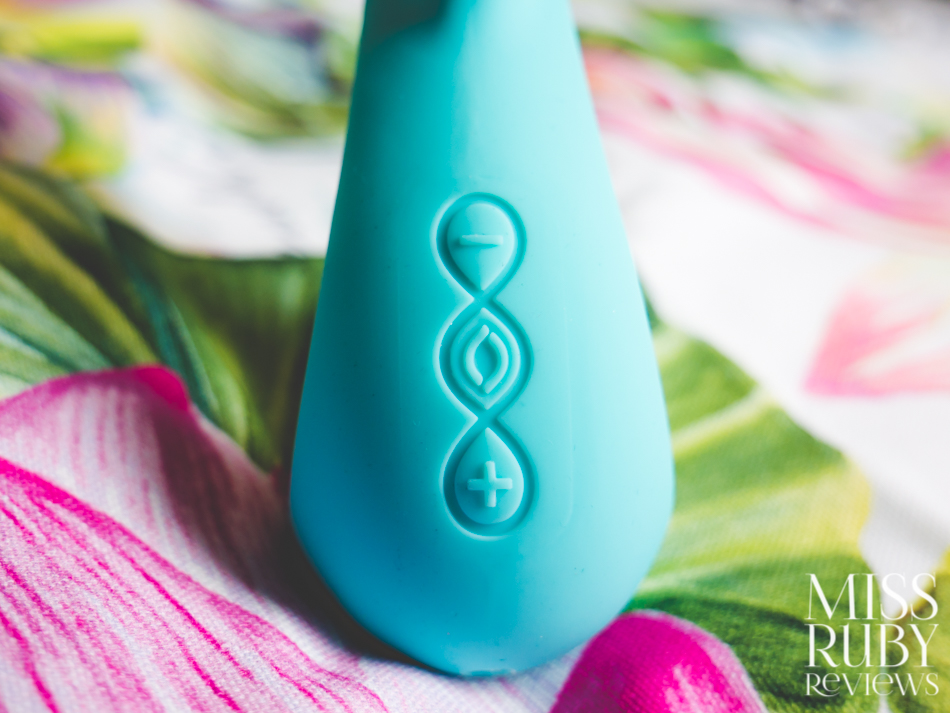 Unlock your LELO Soraya 2 by pressing the + and — buttons for 3 seconds.
Press the + button to turn the LELO Soraya 2 on.
Keep pressing the + button to cycle through the strengths. I count 12 strength levels.
Press the — button to reduce strength.
To cycle through the 12 patterns, press the middle () button.
Insert the LELO Soraya 2 so that the longer arm is snug against your G-spot and the shorter arm falls over your clitoris.
To turn off this toy, press and hold the middle () button.
You can apply a travel lock by pressing the + and — buttons (at the same time) for 3 seconds. The same is used to unlock it.
Packaging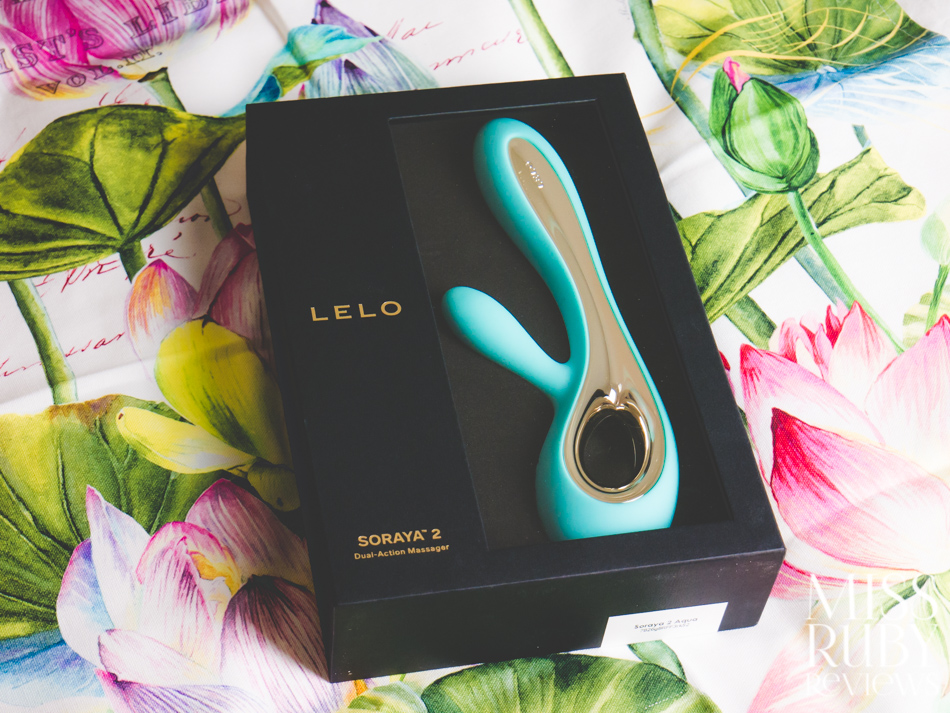 The LELO Soraya 2 is packaged luxuriously in a sleek black and gold box. The packaging is well-made and feels fancy. The Soraya can be seen through a clear window on the front.
Inside the box, you receive the Soraya 2, a black satin storage pouch, a USB charging cable, a sample packet of LELO's lubricant (plus a separate manual on how to use it), a warranty card, and an instruction manual.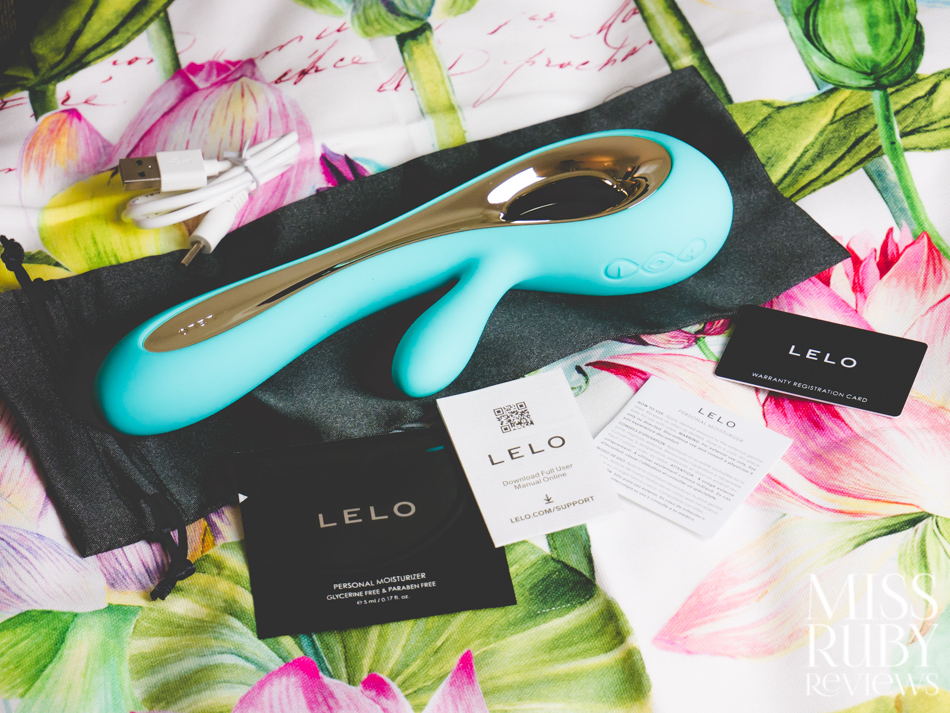 Material and Care
The LELO Soraya 2 is coated in silicone, making this non-porous and non-toxic (free of phthalates). This specific silicone finish is very matte, silky, and soft to the touch. The gold detailing along the mid-section of the toy is made of ABS plastic, another solid material. In other words, the LELO Soraya 2 is bodysafe.
To clean, I recommend just washing the LELO Soraya 2 in warm, soapy water before and after each use. Allow it to dry before storing it away. See the manual for full cleaning instructions.
If you'd like to use a lubricant (which I always recommend), opt for a good quality water-based lube like my favourite Sliquid H2O.
If your LELO Soraya 2 won't turn on, or there's a blinking white light, you need to recharge it. The charging port is at the base of the LELO Soraya 2 (there's a little hole). Insert the needle-end of your USB charging cord (included in the box) into that hole, then plug it into your computer or a USB wall adaptor. While charging, an LED light will flash. When it's fully charged (after about 2 hours), the LED light will become steady. A full charge should get you up to 4 hours of playtime.
When you get your LELO Soraya 2, register for the 1-year warranty right away and keep your receipt. This will protect against manufacturing defects.
My Experience with the LELO Soraya 2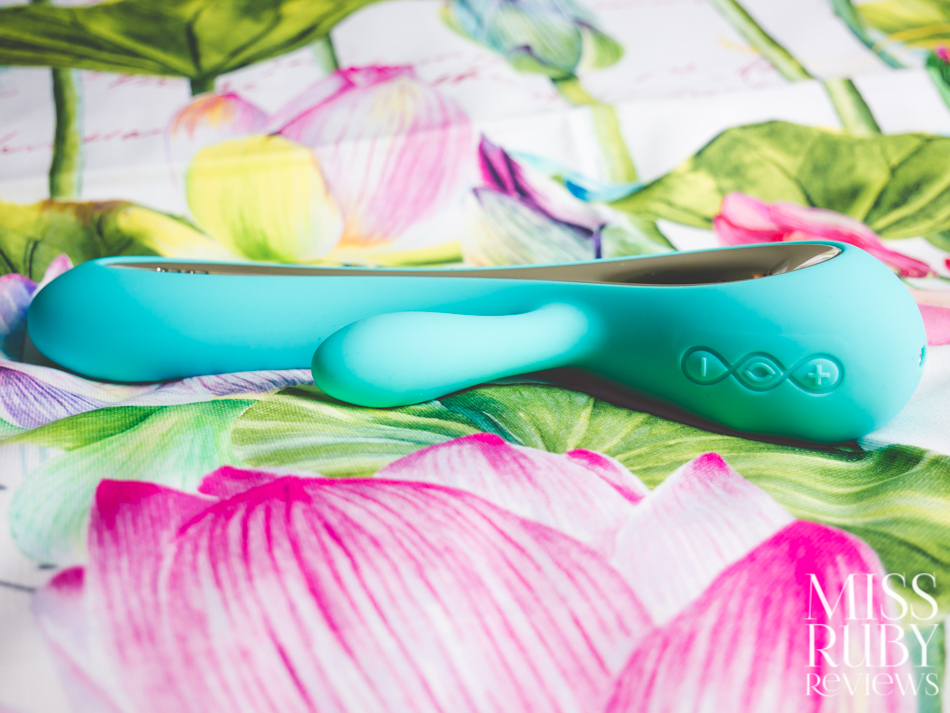 PROS
I hate to admit it, but the LELO Soraya 2 does a lot of things right.
(1) It feels good. In use, the LELO Soraya 2 aligns well with my body. The internal arm finds my G-spot really easily, and the main shaft's vibrations have some solid oomph to them. I can't have internal orgasms, but the added G-spot stimulation definitely helps enhance the sensations of the clitoral shaft, and so clitoral orgasms with this toy feel lovely.
(2) It's gorgeous. The streamlined body has no hint of the original traditional "rabbit" look with awkward animal ears. Instead, the LELO Soraya 2 is basically a work of art.  It's elegant and it looks expensive. The photos speak for themselves here — this thing is beautiful.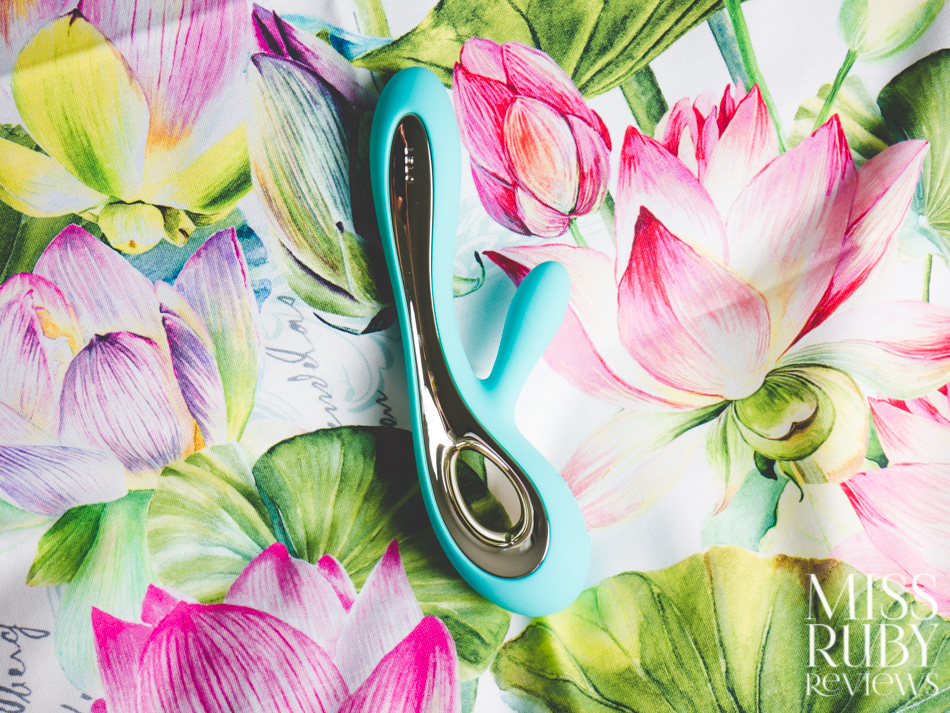 (3) That clitoral arm knows how to work. A lot of rabbit vibrators have a short clitoral arm, limiting its usefulness to women with a close clitoral-to-vaginal gap. The clitoral arm on the LELO Soraya 2 just over 2″ long, and vibrates along the full length of it, so if your clitoris lies anywhere 2″ or less from your vaginal opening, it should (theoretically) all line up for you. This makes it more accessible.
(4) The LELO Soraya 2 knows how to be quiet. There's no way anyone could hear this through walls if you're in a closed room. The sound is a gentle buzz, even at its top speed.

CONS
(1) I still want more oomph. While the LELO Soraya 2 has good vibrations, it's good only in terms of LELO's toys. The vibes are better than ones found in the Mona 2 or the Ina Wave 2. Yes, the LELO Soraya 2 was strong enough for me to orgasm (and so might be for you), but the vibrations still had a buzzy undertone that my hands didn't like. I want more rumble.
And when you look at other brands, it compares less favourably. I think the We-Vibe Nova does a better job of providing stronger, deeper vibes (for both the internal and external shaft). Better yet, the We-Vibe Nova is truly a one-size-fits-all toy because of its unique design.
(2) The price is high. LELO sells this for $299 USD, and Peepshow Toys sells this for $197 USD (after you use my 10% off coupon code RUBY). Whether you're paying $200 or $300 for this toy, that's a LOT of money. Yes, it has a 1-year warranty, it's pretty, and it's bodysafe… but the We-Vibe Nova also has all these things and it's only $149 USD.
(3) It's LELO… I really recommend you do some reading on the brand before making a decision about buying a LELO product. There's nothing wrong with their vibrators, but it's hard to stand behind them based on some of their past marketing/PR decisions. There are better brands out there to support, like We-Vibe.
Overall – LELO Soraya 2 review
So is the LELO Soraya 2 the "world's most luxurious rabbit vibrator"? Well, with that high price tag it'd better feel luxurious… and it does. It's gorgeous, modern, bodysafe, waterproof, rechargeable, and well-designed for pleasure.
But, I would have liked to see a bit more oomph and a bit less buzz for this exorbitant price tag. It's also a LELO product, so it's hard to recommend giving them money.
If you want a stronger, rumblier, and cheaper rabbit vibrator, you can always opt for the We-Vibe Nova instead. It remains my favourite rabbit, and feels just as luxurious.
You can pick up your own LELO Soraya 2 at Peepshow Toys! Why do I like Peepshow Toys? They ship internationally, only carry body-safe products, and you can get a 10% discount off your whole purchase with coupon code RUBY. 

LELO Soraya 2 review summary
Overall thoughts - 7.5
7.5
$219
PROS
Feels luxurious
Feels good/good design
Quiet
Waterproof
Bodysafe
Rechargeable
CONS
I want more strength/rumble
Pricey
Iffy brand
Get Your Own