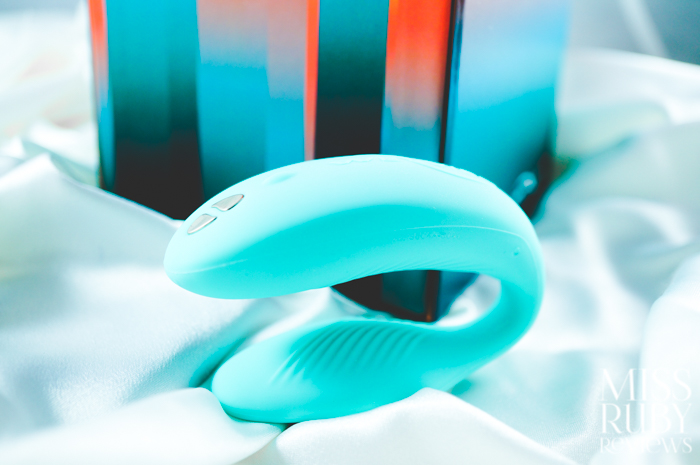 The best partner toy I've EVER tried. Read on for my We-Vibe Sync review!

Physical Details | Material and Care | Packaging | My Experience | Overall
Physical Details
Prior to this, I'd only tried one We-Vibe couples toy. It was the We-Vibe 3 — I purchased it right before I started this sex toy review blog. It was a bitter disappointment, such a sharp contrast to the experiences I've had with We-Vibe's solo products, and it made me unwilling to try another one of their couples toys, so I skipped with We-Vibe 4 Plus.
But then, this past autumn, I saw that the We-Vibe Sync came in a pretty shade of aqua…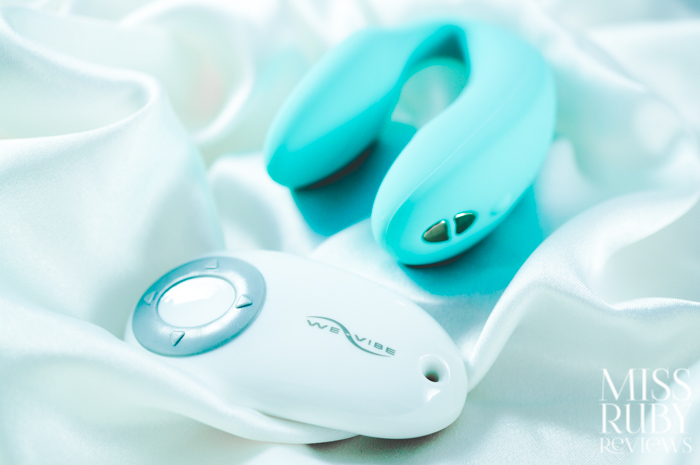 How it works:
In case you can't figure out how this is supposed to work, the We-Vibe is designed to be used during PIV sex. The slimmer, shorter arm slips inside the vagina, resting up against the G-spot, while the larger, textured arm wraps around the body and rests against the clitoris. Both of these arms vibrate (at varying strengths) and are designed to enhance both female and male pleasure. (Female: the clitoris and G-spot gets vibrations and gently textured surfaces) (Male: the penis slides against the smooth surface of the internal arm, which vibrates the penis to add sensation).
Flexibility:
So that's the We-Vibe. But We-Vibe changed things up a bit for their latest product. Because vaginas tend to sit at slightly different angles on different bodies, We-Vibe tried to develop a way to make their product fit a wider range of bodies. While previous We-Vibe models had one joint, or place of flexibility/bending, the We-Vibe Sync has two: one near the base of the clitoral arm, and one near the base of the G-spot arm. This allows flexibility like so:

This was a good move: adding that extra joint seriously increases the chance that it'll fit your body, as you can tweak it to customize it to your own anatomy.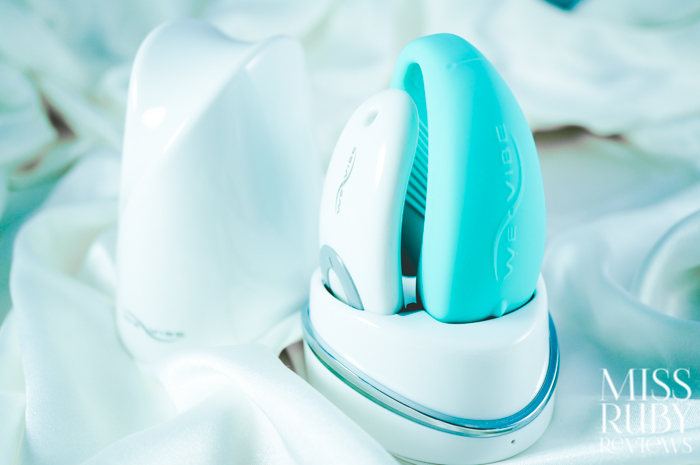 Vibrations:
I remember feeling stunned/betrayed/irritated beyond belief at the weak vibrations from the We-Vibe 3. I was floored to discover how much We-Vibe has improved. The vibrations on the We-Vibe Sync are actually strong and rumbly. As in, strong and rumbly to give me an orgasm whether or not I'm having sex. That is fantastic. The clitoral vibrations are stronger than the G-spot ones, which isn't surprising, given that the internal arm needs to be slim.

Noise:
It's also quiet. Quieter than the We-Vibe Tango. It gives off a deep, purring sound. It cannot be heard through doors or walls.
Features:
The We-Vibe Sync is both waterproof and rechargeable. It also comes with a remote control, one that is recharged along with the We-Vibe. The remote works well and holds connection. This toy is also app-compatible. We-Vibe has the We-Connect app, which lets you control your partner's toy from afar, orchestrate your own vibration intensity pattern, and set your We-Vibe product to vibrate along with the beat of your songs. (yes, we live in the future)
Lastly, a word about colour. I LOVE this aqua colour! It's absolutely stunning and not cliche. For those of you who are more traditional, though, it also comes in purple and cosmic purple.
Material and Care
The We-Vibe Sync is made from 100% silicone. This makes it completely body-safe; it's non-porous and non-toxic. For regular cleaning, I rinse mine with warm, soapy water. You can also try an anti-bacterial sex toy cleaner, or sterilize using a 10% bleach solution and rinse.
As it's made from silicone, be sure to only use a water-based lubricant with this toy. I recommend any of Sliquid's water-based lubes.
Packaging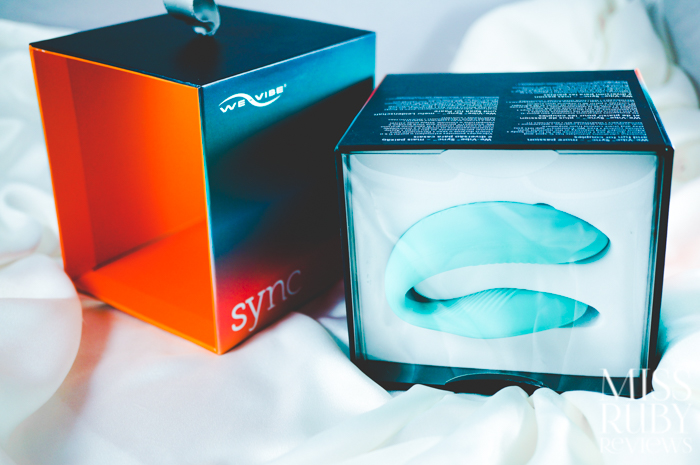 I absolutely adore We-Vibe's packaging. Opening it makes me feel like it's my birthday: it's fun, clean, and so obviously luxurious. Inside the box, you receive the We-Vibe Sync, the remote, a USB charging cable, a manual, a packet of sample lube, and the charging port (which doubles as a storage container).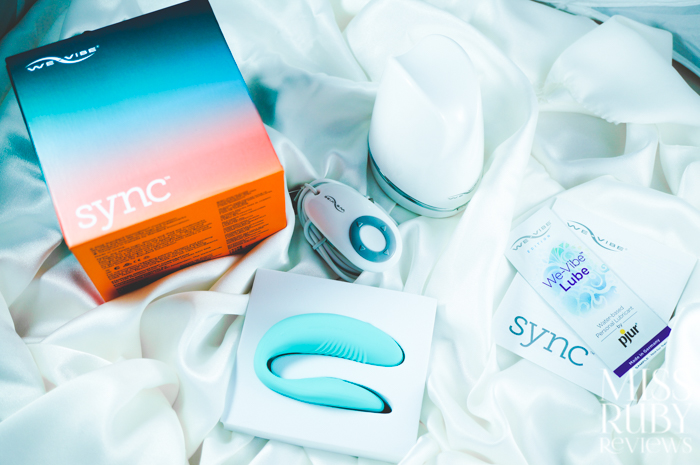 Our Experience with the We-Vibe Sync
The We-Vibe Sync provided my partner and me with our most positive "couples" toy experience to date.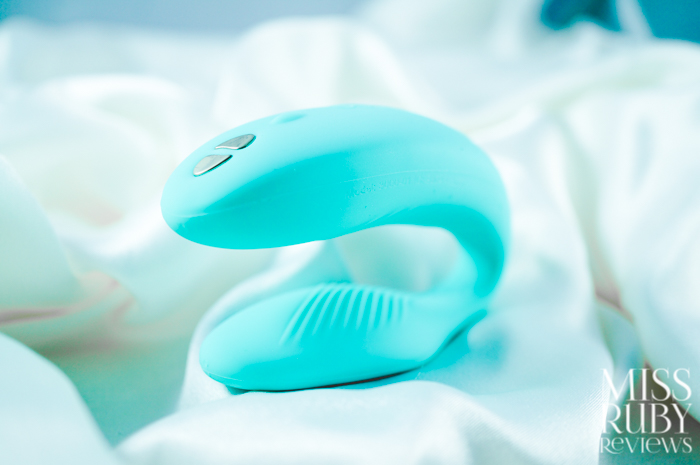 First off, the We-Vibe Sync is actually hands-free. YAY! The grippy-nature of the silicone works with my body to cling onto my vulva with impressive determination, allowing Mr. Ruby and I to change positions comfortably without having to reposition everything.
The We-Vibe Sync is also strong enough to get me to orgasm, which in itself is pretty miraculous. The clitoral arm is lovely, especially during missionary position (when it is generally harder to budget space for one of my clitoral vibrators). As for the G-spot arm: I can definitely feel that it's weaker than the clitoral arm, but this isn't necessarily a drawback. If was it any stronger, Mr. Ruby might have had serious trouble keeping his stamina for long, as the vibrations do nothing to lengthen his stamina. Quite the opposite: it brings him to orgasm faster than without.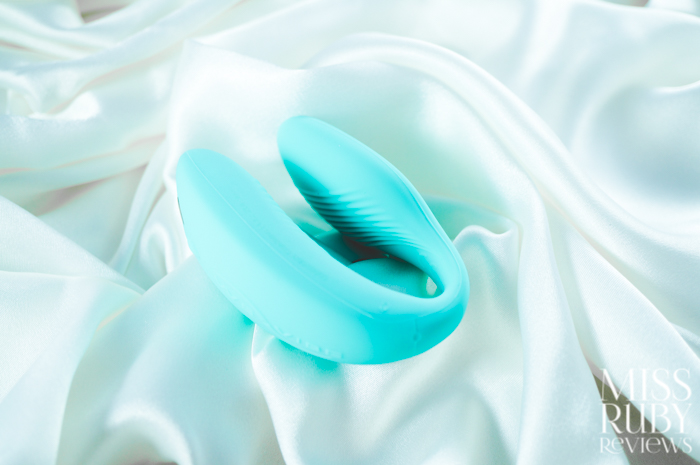 The biggest issue I found was that, like with other similar dual-motor sex toys for PIV sex, the vagina can get a tad too snug. Even though the internal arm is slim, it takes up room, and this means there's less room for your partner's penis. My partner is pretty girthy, and unless I've been warming up for 30 minutes or testing extra-large toys, my vagina feels too cramped in there. This isn't comfortable, not for me or my partner. So, for this toy to be comfortable, I've had to spend extra time warming up beforehand: it's not enough for me to be aroused and ready for sex — I need to take time to stretch. If I take the time to do this, I can enjoy the We-Vibe Sync…but I'm not always in the mood for this.
But this isn't something We-Vibe can really control: your experience with this product WILL be shaped (at least partly) by how large your partner's penis is. If they're average, or below average, I imagine that you probably won't have a problem. But if your partner is large, things might feel too snug.
Overall thoughts from my We-Vibe Sync review
The We-Vibe Sync is the first We-Vibe "couples" toys that I can confidently recommend. It's stronger than previous versions, and its increased flexibility means it'll have a higher chance of fitting your body.
One thing to remember, though, is that adding a dual-motor sex toy to your PIV sex WILL make your vagina feel more full. If sex with your partner already makes you feel stretched, or just-about-as-full-as-you-can-get, you might not find this (or any similar toy) comfortable. To test this, I recommend trying to insert one of your fingers inside the G-spot wall of your vagina WHILE your partner is inside of you: if it's comfortable, you'll likely be fine.
Overall, I'm pleased with the We-Vibe Sync. It's luxurious, strong, and quiet — and it certainly does its job to enhance our sexual experiences together.
To purchase the We-Vibe Sync, head to We-Vibe! Why do I recommend We-Vibe? They ship discreetly and, by shopping directly from them, you can be sure you'll never receive a knock-off!

See below for my We-Vibe Sync review summary!
We-Vibe Sync Review Summary
Overall thoughts - 9.5
9.5
$199
PROS
Strong
Quiet
Comfortable fit
Enhances pleasure for both users
Bodysafe silicone construction
Waterproof and rechargeable
CONS
Won't fit if your partner is very large
Shop Now
Last Updated on November 6, 2023 by Miss Ruby