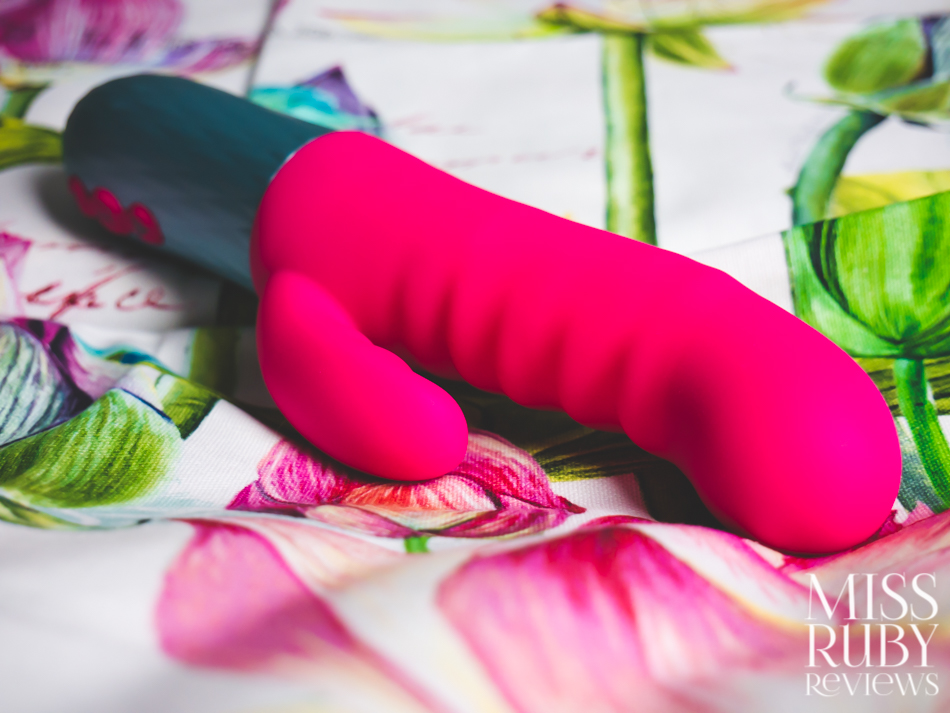 A self-thrusting rabbit by one of my burgeoning favourite brands? Oh yessss, sign me up! Read on for my FemmeFunn Essenza review!
Design | 360° View | How to Use | Packaging | Material and Care | My Experience | Overall
Design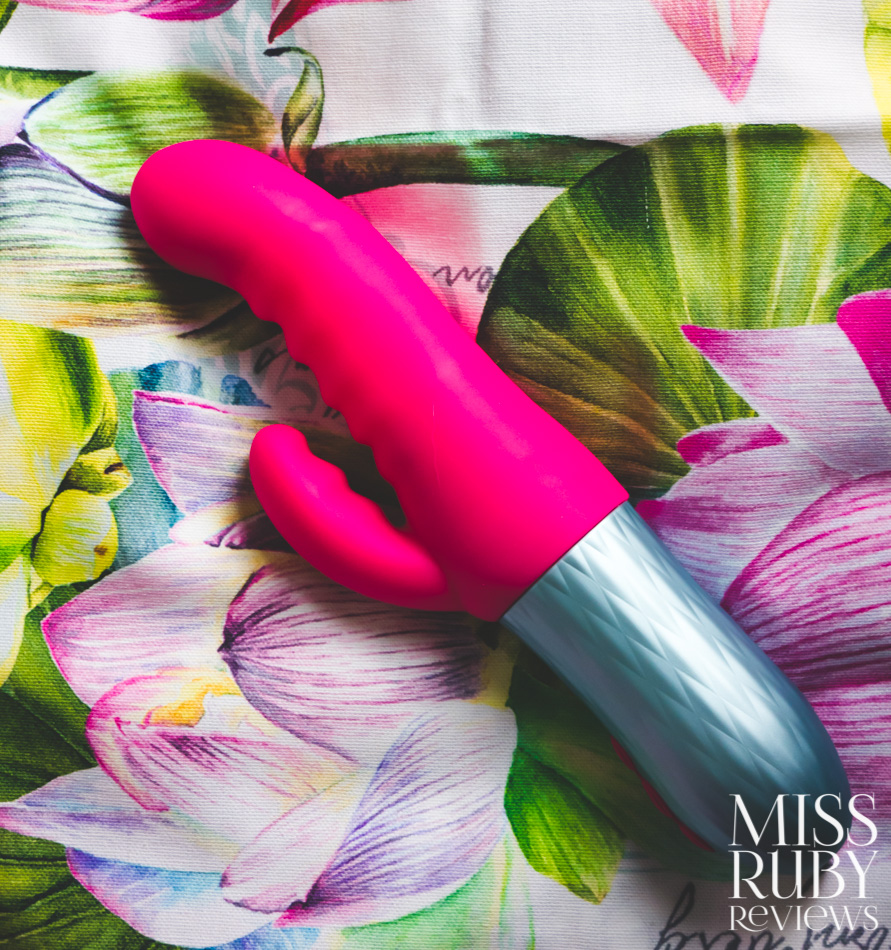 The FemmeFunn Essenza is a stunning new rabbit toy from FemmeFunn, a brand that's expanding quickly and keeps putting out amazing toys (like the Ultra Bullet and the Ultra Wand!).
For those of you who are new to sex toys, rabbits are designed to stimulate both the G-spot and the clitoris at the same time. The longer shaft goes inside, and the shorter arm fits snugly over the clitoris.
But unlike ordinary rabbits, the FemmeFunn Essenza's internal shaft thrusts by itself. I've only ever seen this concept before in the Fun Factory Stronic Bi.
And when I say thrust, I mean THRUST. Check out the 7 thrusting modes below:
It starts off slow, but then Mode 7 is an absolute jackhammer.
This toy is pretty hands-free. You (or your partner) don't need to thrust it manually. Once it's held in place, your G-spot gets stimulated all by itself. Excellent for us lazy gals!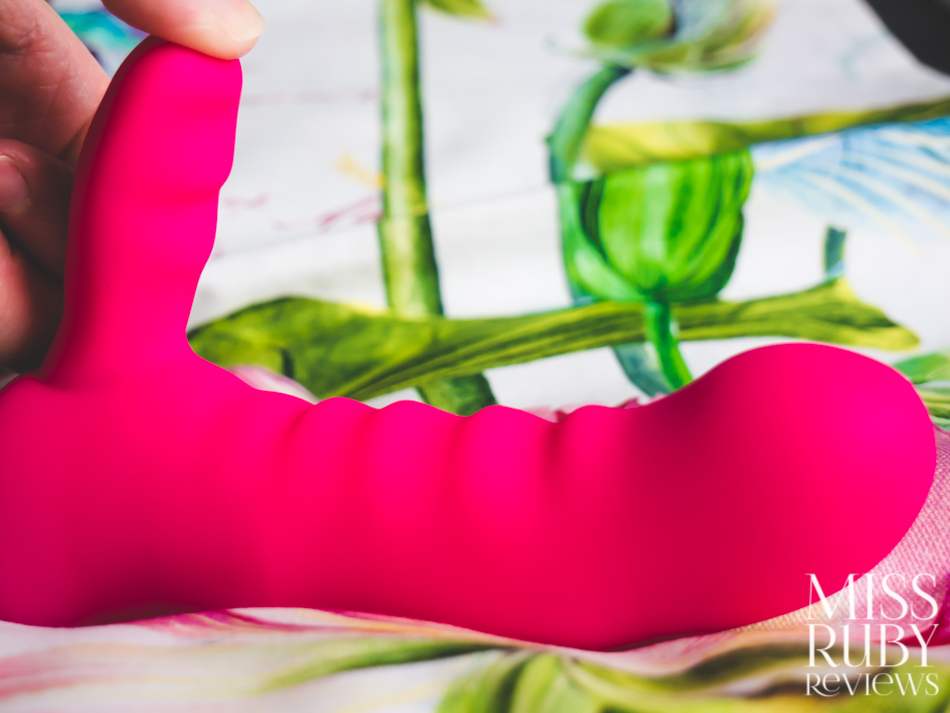 Instead of thrusting, the external (clitoral) arm vibrates. There are 3 vibration modes, and they are vivacious.  The clitoral arm has a nice, easy flexibility to it. The clitoral arm is 1.75″ long, which should be long enough for most people, but you might want to measure yourself before purchasing just in case.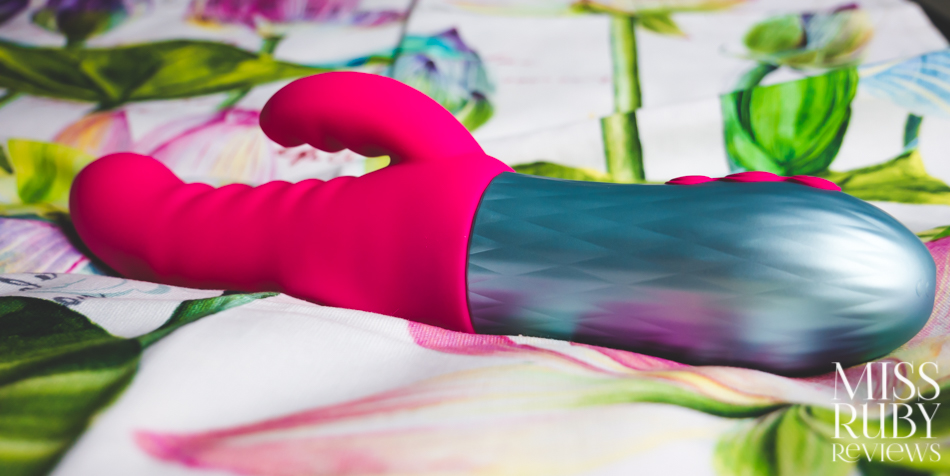 360° View
Click and hold the image above to move it around.
How to Use the FemmeFunn Essenza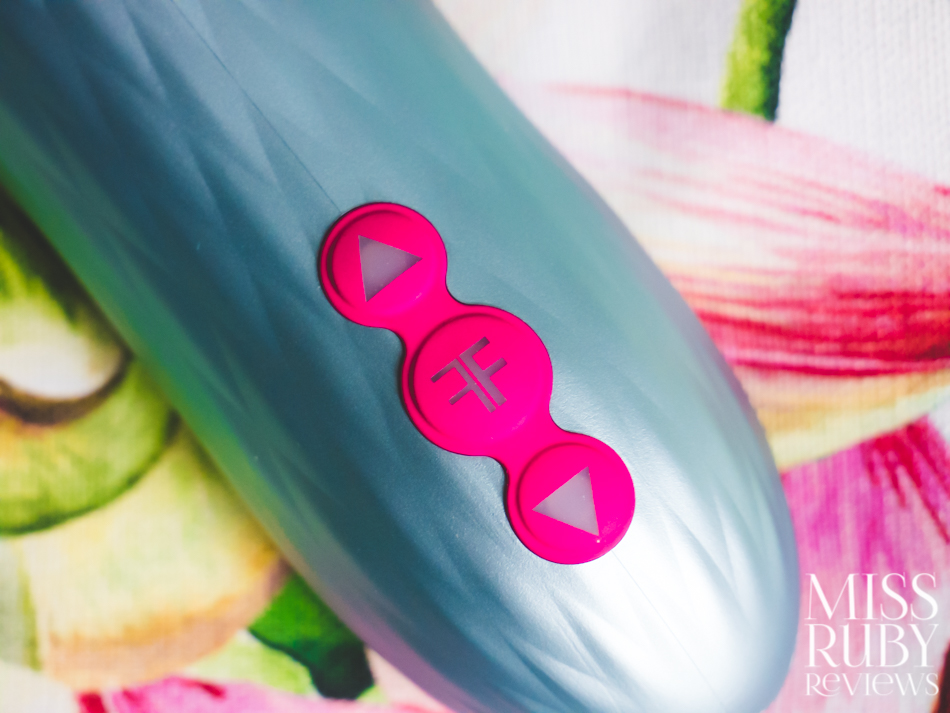 Turn on the FemmeFunn Essenza by pressing the ꟻF button for 2 seconds. It'll now be in Standby mode.
To activate the vibrations (short arm only), press the ꟻF button. It'll vibrate at the lowest strength.
Continue pressing the ꟻF button to cycle through the vibration strengths. There are 3 levels.
To activate thrusting, tap the ⯅ arrow button.
There are 7 thrusting speeds. To increase, keep tapping the ⯅ button, or press the ⯆ button to decrease speed.
To turn the toy off, press the ꟻF button for 2 seconds.
You can have vibrations (short arm) and thrusting (long arm) on both at the same time.
Packaging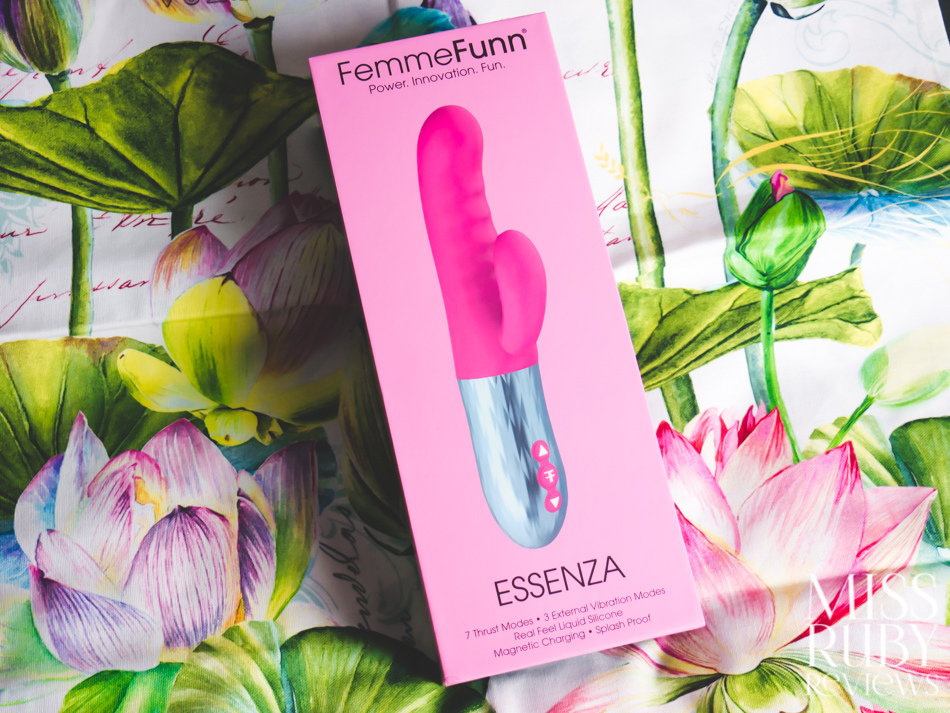 The FemmeFunn Essenza is packaged in an adorable pastel box. The box is sturdy and feels good quality.
Inside the box, you receive the Essenza, a USB charging cable, and a brief quickstart guide.
There isn't any storage pouch included. If you'd like a pouch, consider adding something like this to your shopping cart.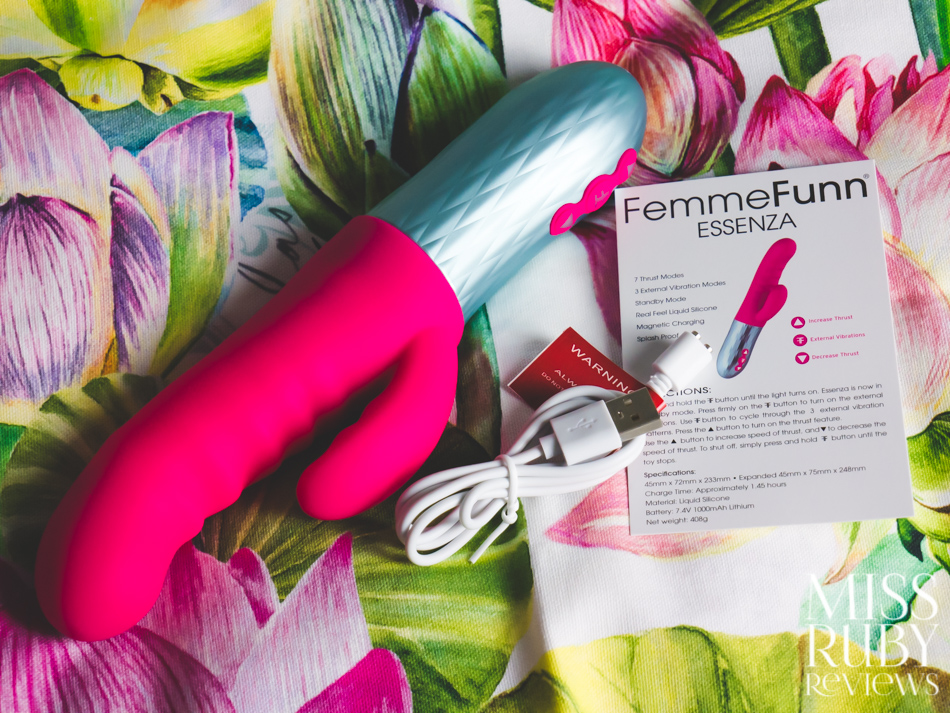 Material and Care
The FemmeFunn Essenza's body is coated with silky smooth silicone. This makes it bodysafe (non-porous, non-toxic, free of phthalates) and the best material you could ask for in a rabbit. The handle of the toy is made of ABS plastic, another good material.
One drawback of this toy is that it's only splashproof, not fully submersible/waterproof. This means I have to be a little cautious when cleaning — I don't want to drop it in a tub of water. FemmeFunn doesn't give any official cleaning guidelines, so I just rinse the insertable portion in warm, soapy water before and after each use. Getting the silver portion wet hasn't caused any problems for me.
I really recommend you use lubricant with this toy — you want plenty of lube for that thrusting motion. Because this is a silicone toy, you'll want to choose a good quality water-based lube like my favourite Sliquid H2O.
To charge, connect the magnetic charging cable (included) to the metal pins at the base of the toy. Plug it into your computer or a USB wall adaptor. While charging, LED lights will blink.
The FemmeFunn Essenza comes with a 1-year manufacturer's warranty for all faults and defects. It's always great to see companies stand behind their products like this.
My Experience with the FemmeFunn Essenza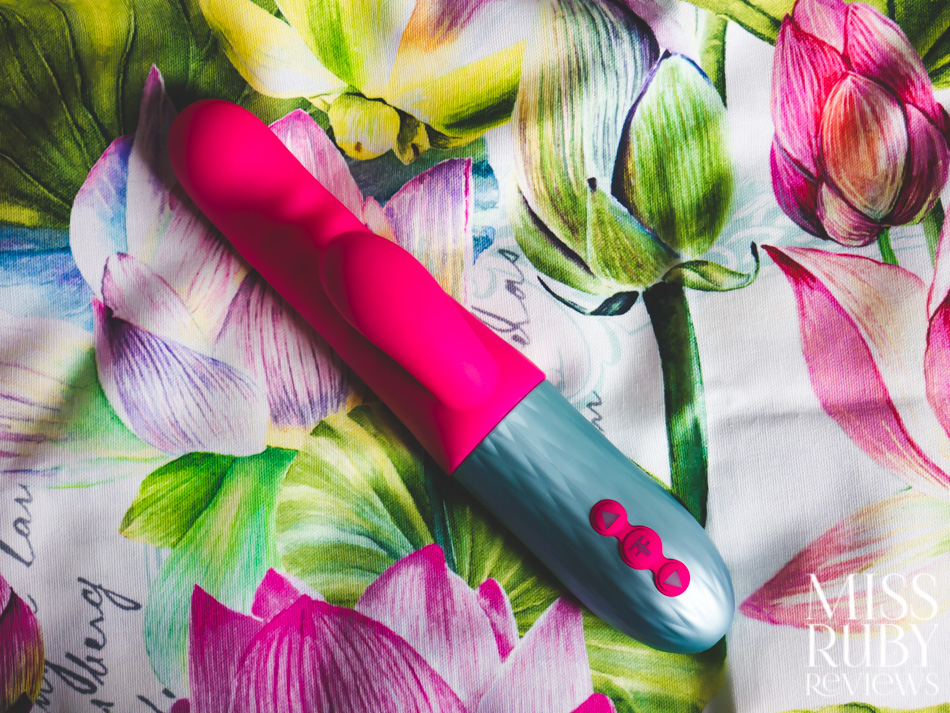 Vibrations
The FemmeFunn Essenza's clitoral arm is decently strong (7.5/10). I was pleasantly surprised — rabbit clitoral arm vibrations tend to be weak. It's definitely strong enough to orgasm with (at least for me). While there's a buzzy undertone, there's some solid rumble in there and I'm able to orgasm several times without feeling any numbness.
This is a welcome change from the thrusting rabbit Fun Factory Stronic Bi, whose clitoral arm only provided weak buzzy vibes.
Because the clitoral arm is only 1.75″ long, I have to do quite a bit of maneuvering to get it to align properly. I'm personally better suited to clitoral arms of 2″, but I'm uncommon in that regard. For many of you, the length of 1.75″ will be plenty.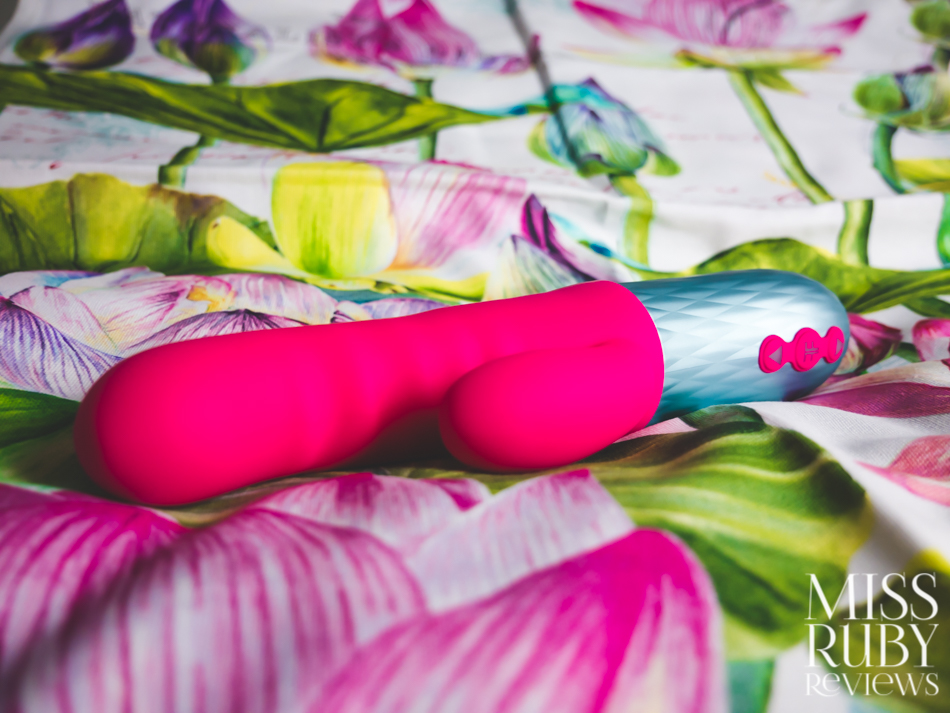 Thrusting
The thrusting is where it's at. The FemmeFunn Essenza's thrusts are firm and steady (and downright frenzied when it gets to the top speed). They feel fantastic, and the curved tip of the head helps you pinpoint your G-spot. It's a very textured experience too. You really feel every ridge on that shaft as it slides deeper.
Some notes — With such vigorous thrusting, you'll want to start slow. Don't insert it all the way at first, because you don't want to poke your cervix when the thrusts start. Also, with the wavy ridges on the shaft, you really need extra lube on hand. But once you get in the groove, the Essenza delivers a delicious self-thrusting pleasure experience.
When the thrusting is coupled with the vibrating clitoral arm, orgasms can be super powerful. 
How does the thrusting compare to other thrusters? 
The FemmeFunn Essenza's thrusts feel more impactful/forceful than the Fun Factory Stronics, and also more so than the Blush Lush Iris.
However, in my opinion, the Velvet Mini Thruster delivers slightly better thrusts — those ones are deeper at about 2.5″ depth. That one isn't a rabbit, though, and isn't as aesthetically pretty.
Noise
Okay, here's a caveat for you — the FemmeFunn Essenza is loud. Like, damn loud. When I turn all the functions on at top speed and shut this in my bedroom, I can very clearly still hear it through the door/walls. If you have roommates, you'll definitely want to wait until they're out of the house before trying this.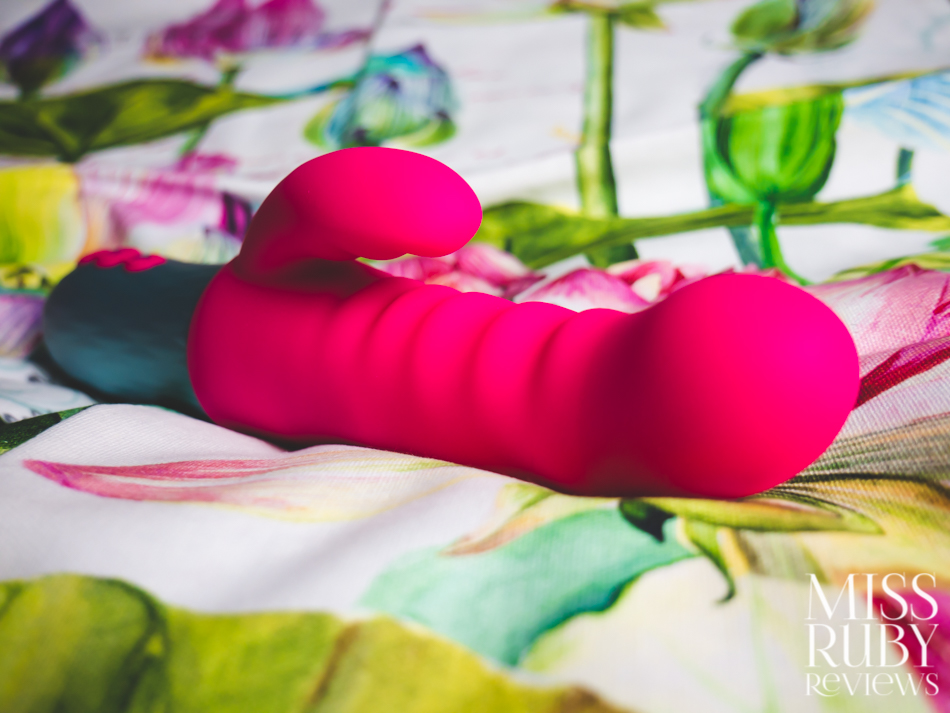 FemmeFunn Essenza vs Fun Factory Stronic Bi
The FemmeFunn Essenza and the Fun Factory Stronic Bi are the same price ($199 USD). Which is better?
Unlike the Stronic Bi, the Essenza has a longer, more flexible clitoral arm. The Essenza's clitoral arm vibrates MUCH stronger. It also uses a different technology to thrust — instead of the entire body thrusting (like any of the Fun Factory Stronic toys), the FemmeFunn Essenza only thrusts its internal shaft. This already puts it ahead of the Fun Factory Stronic Bi because it's a lot easier to keep the clitoral arm in place when the whole body isn't moving with each thrust.
In fact, the handle remains totally still. Even the strongest vibrations don't travel into the handle. This is really rare. Vibrations often disperse into the handle, which wastes those vibrations plus makes your hand feel awful. So I'm impressed.
I also feel that the FemmeFunn Essenza thrusts firmer and quicker than the Stronic Bi.
So the Essenza wins for me, hands down.
Overall – FemmeFunn Essenza review
The FemmeFunn Essenza is the best self-thrusting rabbit I've come across. It has a great clitoral arm with solid vibrations, and the internal shaft's thrusts are pretty fantastic. It's certainly a lot better than the Fun Factory Stronic Bi.
In terms of thrusting alone, though, I still prefer the Velvet Mini Thruster — that toy is cheaper, has a suction cup, and thrusts way deeper.
Still, if you're looking for a bodysafe and pretty toy that combines dual stimulation with thrusting, the FemmeFunn Essenza is a fantastic choice!
You can pick up your own FemmeFunn Essenza at Peepshow Toys! Why do I like Peepshow Toys? They ship internationally, only carry body-safe products, and you can get a 10% discount off your whole purchase with coupon code RUBY. That'll take $19.90 off this toy alone!

See below for my FemmeFunn Essenza review summary.
Review Summary
Overall thoughts - 9.2
9.2
$199
PROS
Decent vibrations
Great thrusting
Pretty design
Bodysafe
Rechargeable
1-year warranty included
CONS
Splashproof (not submersible)
Only 2 colour choices
Loud
Shop Now