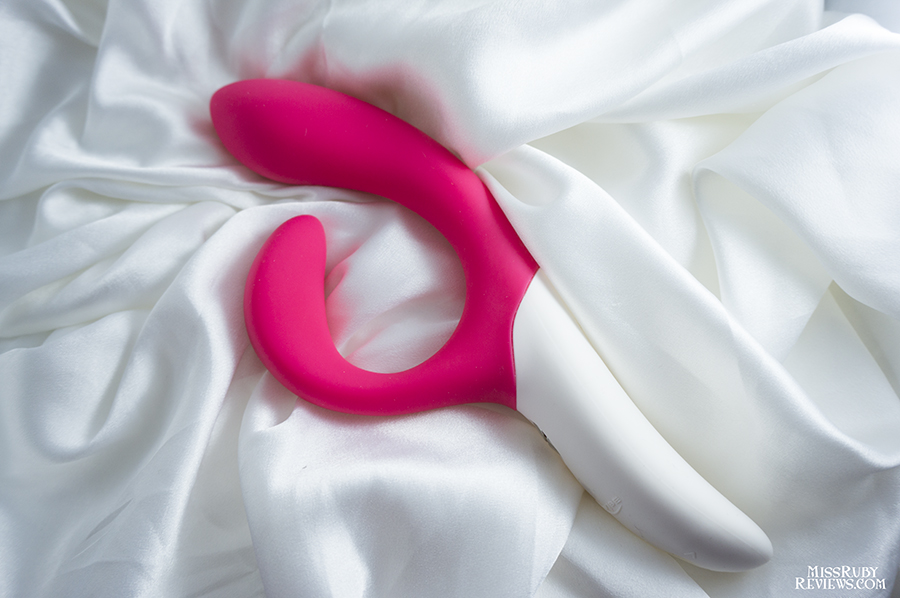 UPDATE: This has been updated with the We-Vibe NOVA 2!
Lo and behold! A rabbit with a decent clitoral arm.
Physical Details | Material and Care | Packaging | My Experience | Overall
Physical Details
The We-Vibe Nova wasn't high on my wishlist when I first heard about it. Because, really: another pink rabbit vibe? Hardly sounds like a revolution… Oh boy was I wrong.

Function: The We-Vibe Nova is designed to be a dual stimulator — it vibrates both your clitoris and G-spot. Unlike most rabbits, the Nova is designed to be thrusted — most rabbit vibes lose contact with your clitoris when being thrusted. The Nova is unique in that keeps stimulating your clitoris during thrusts.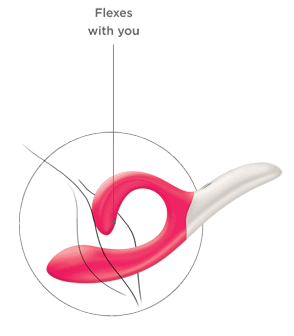 Sound impossible? It's thanks to the Nova's ultra bendy clitoral arm. Instead of your clitoris touching the underside of the clitoral arm (like with most rabbits), your clitoris touches the top/outside surface. As you thrust the Nova in and out, the arm bends to expand and compress, always staying on your clitoris.
Yup. Why hadn't I thought of that before? It's simple but genius.
Vibrations: We-Vibe has come out with some of the strongest cord-free vibrators on the market today. The Tango is the yardstick to which I compare all other vibrators. So, understandably, I have high expectations for We-Vibe products.
The We-Vibe Nova's vibrations are strong (8.5/10), deep, and rumbly. I was thrilled to discover that this is also true for its clitoral arm: many rabbit vibes have a considerably weaker clitoral arm, but not with the Nova. Even more impressive is that turning on one arm does not reduce the strength of the other. In contrast: turning on the main shaft seems to make the clitoral arm even stronger, as the main shaft's vibrations travel up to the clitoral arm. Neato!
Noise: Noise isn't an issue for the We-Vibe Nova. Even at full blast, its motors emit a low, pleasant rumbling sound. It cannot be heard through walls or doors.
Material and Care
The We-Vibe Nova is coated with 100% premium silicone, making it completely bodysafe (non-porous and non-toxic). The silicone itself has a matte, silky finish.
The Nova is totally waterproof and submersible, making cleaning easy. For regular cleaning, I rinse mine with warm, soapy water. You can also try an anti-bacterial sex toy cleaner, or sterilize using a 10% bleach solution and rinse.
As it's made from silicone, be sure to only use a water-based lubricant with this toy. I recommend any of Sliquid's water-based lubes.
This is a rechargeable toy, and it holds charge well — the battery doesn't appear to drain while it's not in use. A full charge (which takes 90 minutes) will get you up to 2 hours of playtime.
I store my Nova in the white satin storage pouch it came with.
Packaging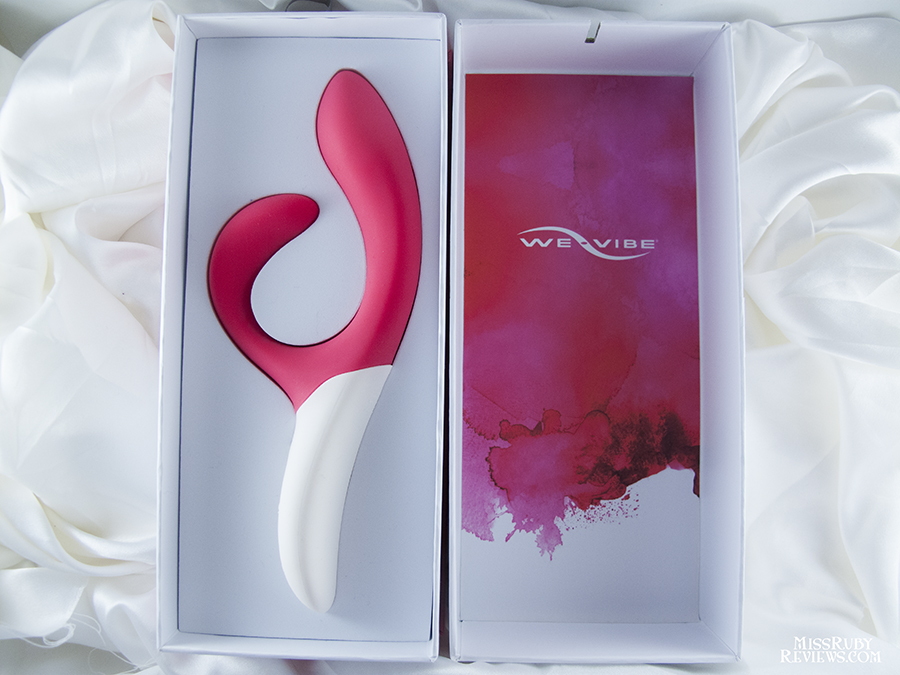 I love We-Vibe's packaging; while streamlined and simple, it feels luxurious and they always add a burst of colour. Inside the box, you receive the Nova, a USB charging cable, a sample packet of lubricant, an instruction manual, and a white satin storage pouch big enough to fit all of this.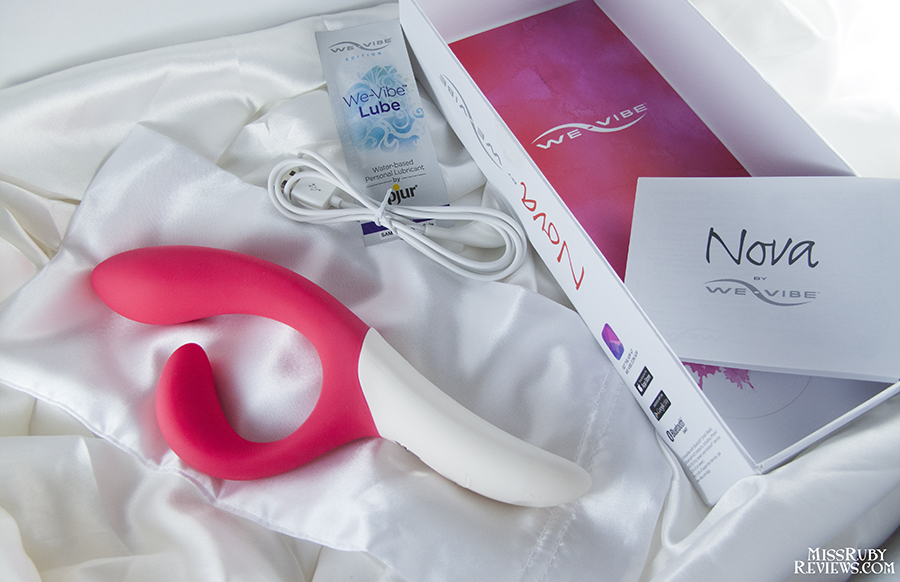 My Experience with the We-Vibe Nova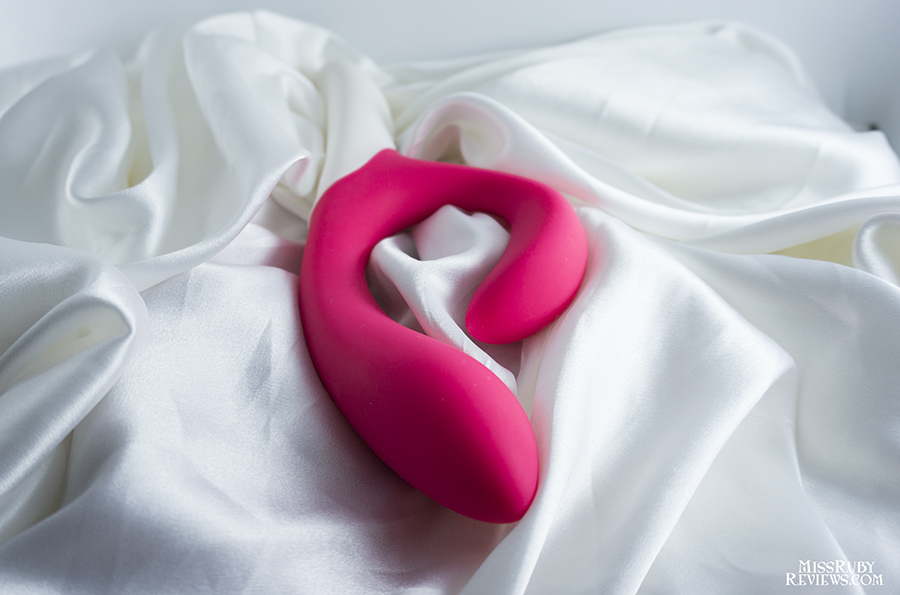 I have to say — I'm definitely impressed by how the We-Vibe Nova actually does what it advertises: keep in contact with your clitoris while thrusting. It's not just some theoretical wish: it actually works.
And it feels good. When it's inside and in place, I'm immediately aware of how bulbous the internal shaft is. In the world of G-spot sex toys, bulbous is good. Bulbous means that your G-spot is targeted easily, because the full roundness of the shaft pushes deeply into it and covers a wide surface area. And if the Nova's clitoral arm disappeared, I think it would make a solid G-spot vibrator all by itself.
But I like it as a rabbit. I can't remember the last time a rabbit had a clitoral arm strong enough to easily bring me to orgasm. The We-Vibe Nova excels in this, and it excels in heightening my clitoral orgasms with solid G-spot stimulation: the blended combination of these, by the way, is unforgettable.
Though it's not intended to be used this way, I've also had success using the Nova by rocking it horizontally side-to-side. Because the clitoral arm is flexible enough to bend sideways, I've been able to give my G-spot rocking stimulation while keeping contact with my clitoris. That's unexpected.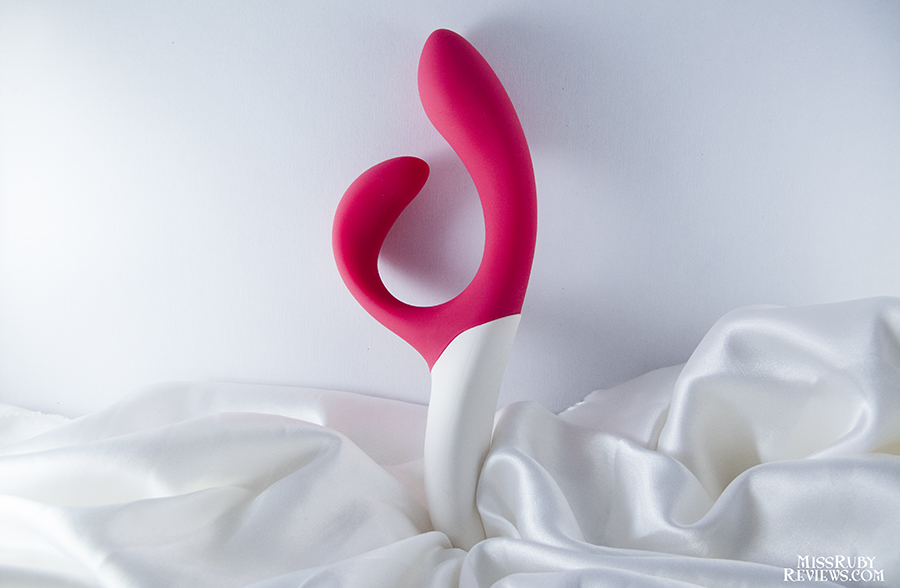 Overall
The We-Vibe Nova is, frankly, revolutionary in the world of rabbit vibrators. Its design successfully enables you to keep contact with your clitoris while thrusting, which is novel for me. And, thanks to its strong, rumbly vibrations, orgasms can fly freely here.
To buy the We-Vibe Nova, head on over to We-Vibe. 
UPDATE: This has been updated with the We-Vibe NOVA 2!
We-Vibe Nova
Overall thoughts - 9.5