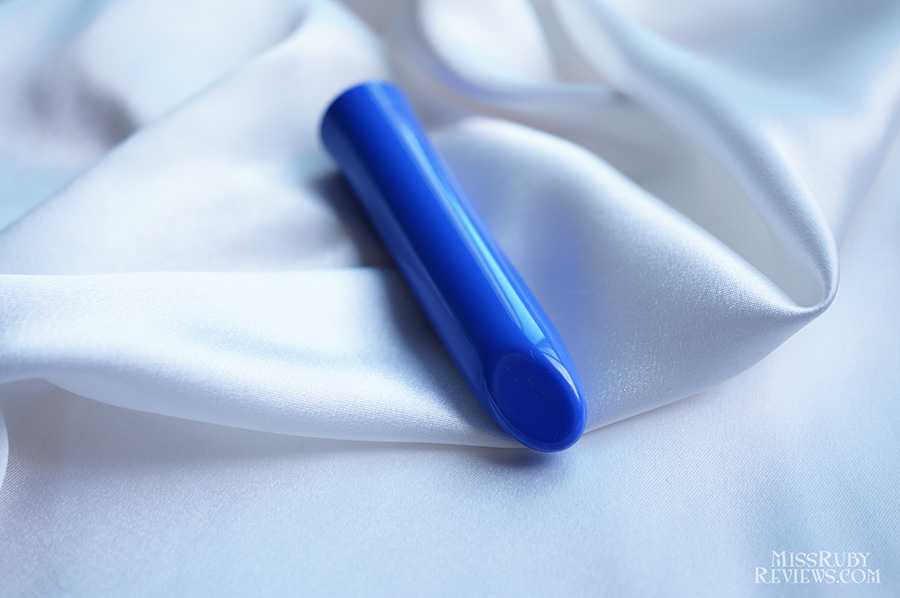 I don't even know where to begin with this one. I mean, how? Just how? How can something be THAT good? Read on for my We-Vibe Tango review!
(Curious how the We-Vibe Tango compares to the We-Vibe Touch? Check out my comparison post.)
Physical Details| My Experience | Overall
Physical Details
The We-Vibe Tango doesn't seek to impress with any stunning design or appearance. It doesn't need to. The Tango is a small, quaint little object. I say quaint because the shade of blue is so cute, so nondescript, so unassuming. When I held it in my hand for the first time, it was so underwhelming that I wondered how something so ordinary-looking could get such good reviews.
Despite its simple design, it comes with a lot of features. It has 4 steady states of vibration and 4 pulsation patterns. This is the first vibe that I've actually been interested in the pulsation patterns. I usually just skip them, but this vibe is so strong that I find the varying pulsation patterns delightful.
A little yellow light comes on when the battery is low. It's waterproof and rechargeable. The Tango isn't silicone, but a body-safe ABS thermoplastic.
Charging is a bit finicky. The We-Vibe Tango uses a neat magnetic charging dock, but the magnet isn't very strong. This means that a bump or a pull of the cord will easily disconnect the vibe from its power source.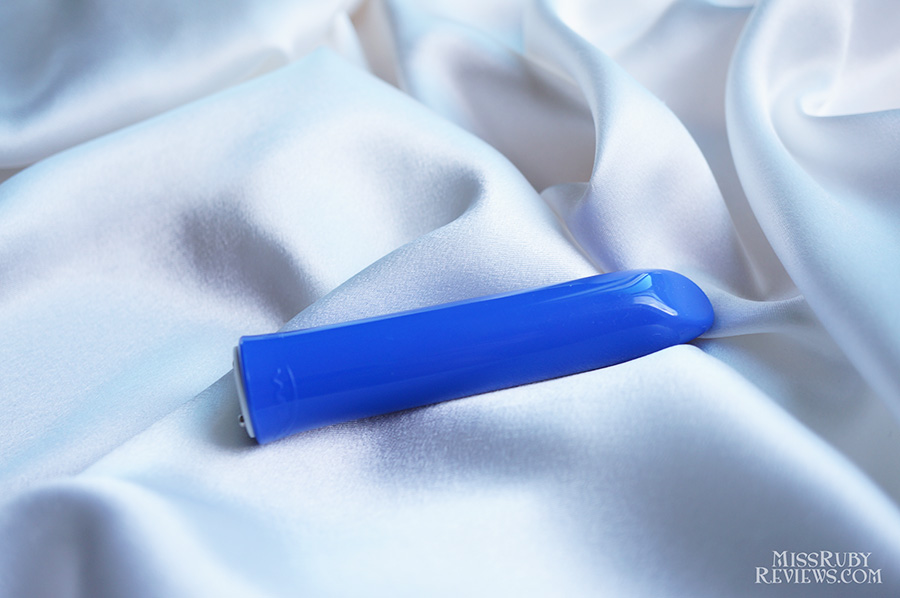 Noise
It's also surprisingly quiet. As in, it's actually quiet. Not the "we swear it's whisper-quiet but, in reality, it wakes the dead" kind of quiet. It can be softly heard from across a small room. It cannot be heard through walls. I actually like the sound it makes: a low, deep, resonating rumble.
Strength
And how strong is the We-Vibe Tango? Amazingly so. It's the strongest bullet vibe I've experienced to date (update 2020: this still holds true!). Let me put it this way: A really good way to scare someone sitting next to you would be to quietly turn the Tango on and place it on a hard surface. It bounces on the surface so rigorously that it quickly becomes the loudest thing in the room, akin to a firecracker. This thing is strong. Really strong. People with sensitive clits may find happiness in its lowest vibration. The strongest setting is explosive.
Most importantly, its strength is rumbly, not buzzy. This means that you won't get numb after 30 seconds of pressing it against your clit. I haven't gone numb once using the Tango, which is a first for me because most vibes make me numb to some degree after 10 minutes or so.
My Experience with the We-Vibe Tango
I was originally inspired to get the We-Vibe Tango after reading great online reviews. With such reviews, I was expecting a decent vibe. Nice, decent, maybe even very good.
First impression? The lowest vibration mode got my attention. The second mode made my toes tingle. The third mode made me lose touch with my surroundings. And the fourth delivered on what every good vibe should do. All in a few seconds.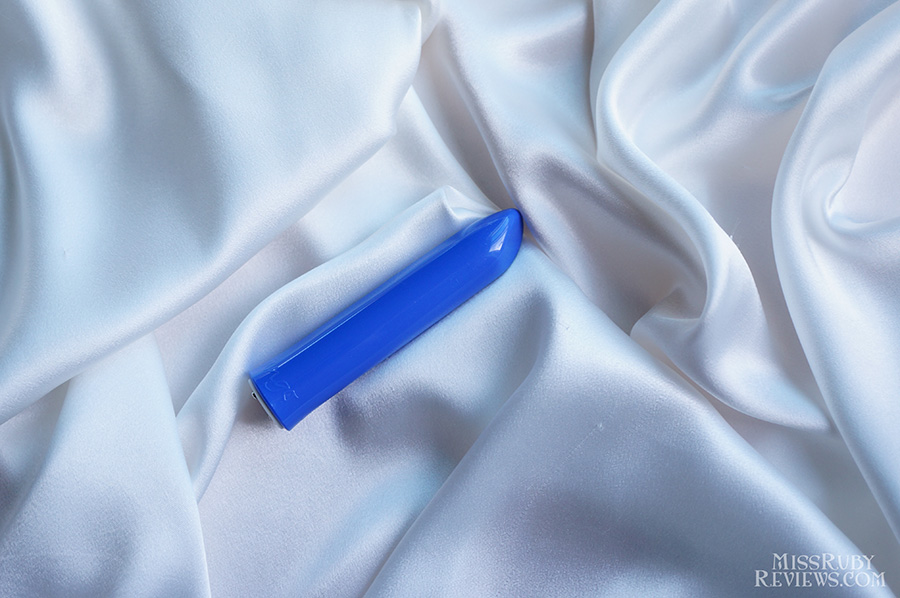 Over the next 20 minutes, it delivered ten times. Ten. All in one sitting.
Now, I don't know about you, but 10 orgasms in one sitting is unthinkable for me. You may be hitting 20 a night (you saucy minx, you), but I've only ever gotten up to 6 in one day. And that was years ago. This has never happened before.
In other words,  the We-Vibe Tango did more than any other vibe, stimulation, or hand has done. With its deep rumbly vibrations and pinpoint stimulation, it made me beat my orgasm record. I think this was possible because, generally speaking, my clitoris goes numb and feels overly sensitive after just a few orgasms. Somehow, the tango's specific rumbly vibrations don't have this effect of me, so I'm able to keep going.
Strong vibrations also mean that your hand will feel weird after a while. The Tango would benefit from a soft handle that absorbed some of the vibrations.
I'm strangely attached to the Tango. I've been keeping it by my side. I took it with me into the shower even though I didn't need it there. And now it's hanging out charging by my computer. I don't really want to leave it home all alone tomorrow. That's not weird, right?
Dear Tango. Where have you been all my life?
This vibe is going on my bedside table next to my cell phone and my lamp.
Overall – We-Vibe Tango review
Has my We-Vibe Tango review convinced you yet??
The Tango has become my go-to clit vibrator. Nothing has dethroned it yet.  If I could only keep one vibe, Tango would be it.
Tango I love you, Tango I do. When we're apart, my heart beats only for you.
Update: After owning the Tango for several years, it is safe to say that this is by far my favourite vibe to date. If you only bought one vibe, I suggest this be it. However, the battery has never lasted the full 2 hours for me as advertised. It generally dies out after 40-50 minutes, and I'll need to get a back-up Tango at some point. For this reason, I'd recommend that you consider buying TWO Tangos for those orgasm marathon nights.
To buy the We-Vibe Tango, here are some recommended stores: 

USA:
Peepshow Toys
 (
$79 USD and get 10% off your order with coupon code RUBY)

USA + Canada:
We-Vibe

UK:
Lovehoney UK

Canada:
Lovehoney Canada
Australia:
Lovehoney AU

Europe:
Lovehoney EU
Last Updated on November 6, 2023 by Miss Ruby