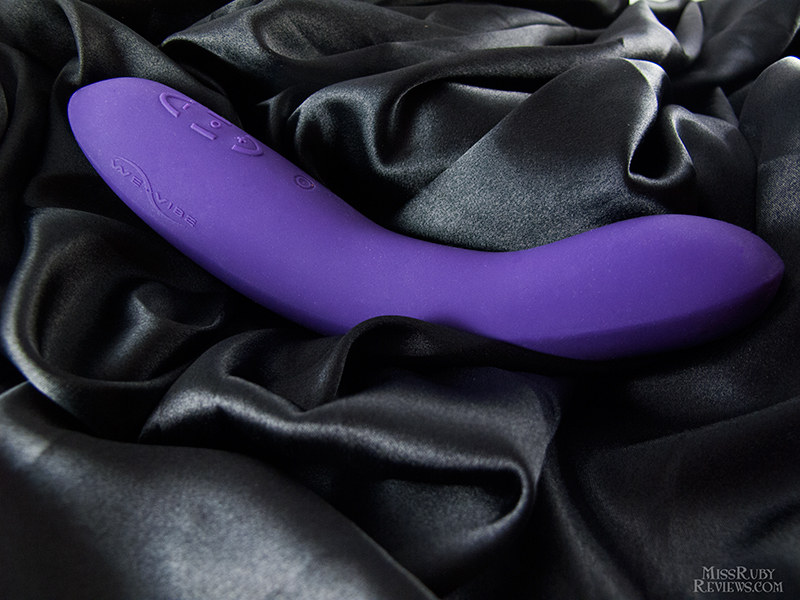 This is one of the few toys I won't completely write off for being purple. Read on for my We-Vibe Rave review!
Physical Details | Material and Care | Packaging | My Experience | Overall
Physical Details
Design:
Given the success of the We-Vibe Tango and the We-Vibe Touch, the We-Vibe Rave is a highly anticipated product this year. Unlike previous toys by We-Vibe, the Rave is designed for internal use (though nothing stopped me from using it externally).
The We-Vibe Rave has a weird design. You might think it's just a curved rod. But it's not. While it does hold a standard G-spot curve, there is nothing symmetrical about this toy. It swoops to the side, giving it a tapered edge. The head itself is actually fairly bulbous, and the whole body is rimmed by fairly worrisome-looking corners. The result? A product that is both comfortable to hold, interesting to look at, and effective for targeting the G-spot. If you were hoping for a squishy toy, however, you'll be disappointed to learn that the Rave is very firm. This is great for people who love firm pressure on their G-spot or their clitoris, but take care when thrusting to avoid poking your cervix.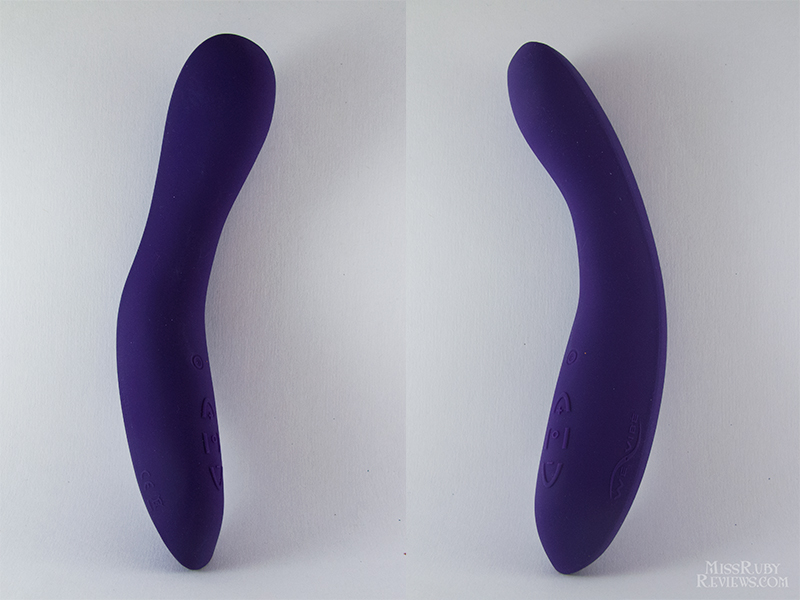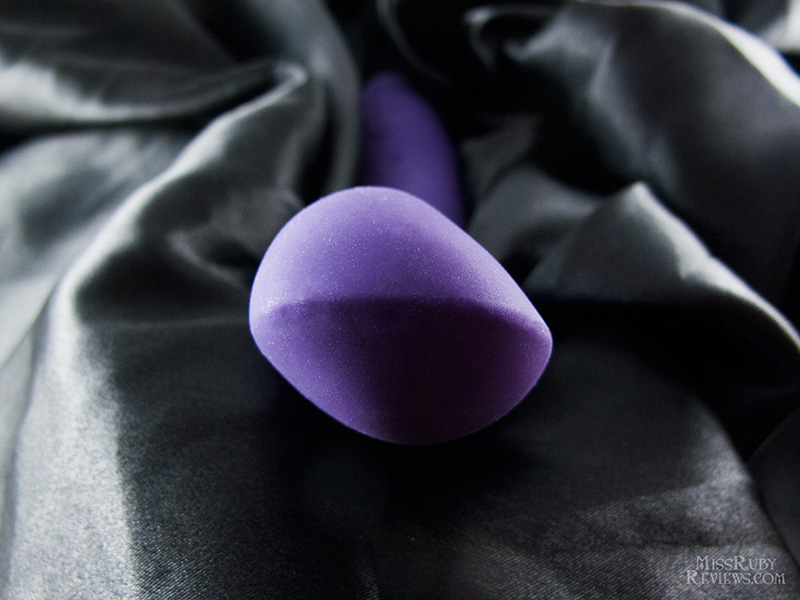 Vibration Strength: When I turn on the We-Vibe Rave, it rumbles to life at full strength. For people who have a sensitive clitoris, you'll definitely want to scale it down a few notches, because this thing is powerful. Though it has a silicone coating (which can often dampen vibrations), the Rave is as powerful as I'd ever want a vibrator to be. It's more powerful than the Touch, and its vibrations are fairly rumbly. For people who love vibration patterns, you have 10 to choose from, though I'm definitely a fan of steady vibrations.
The We-Vibe Rave's strongest vibrations are at the head, though they definitely transfer. The mid-section still has noticeable vibrations and even the handle receives a fair amount. Just to warn, for people with carpal tunnel or arthritis, these vibrations may be uncomfortable for your wrist bones.
Noise: We-Vibe is awesome. Somehow, they've managed to make a powerful toy NOT sound like a vacuum cleaner. The Rave does make noise, but it's muffled very well underneath a blanket, and certainly won't travel through walls or a closed door. For the power it produces, I'm impressed with how quiet it is. Thumbs up.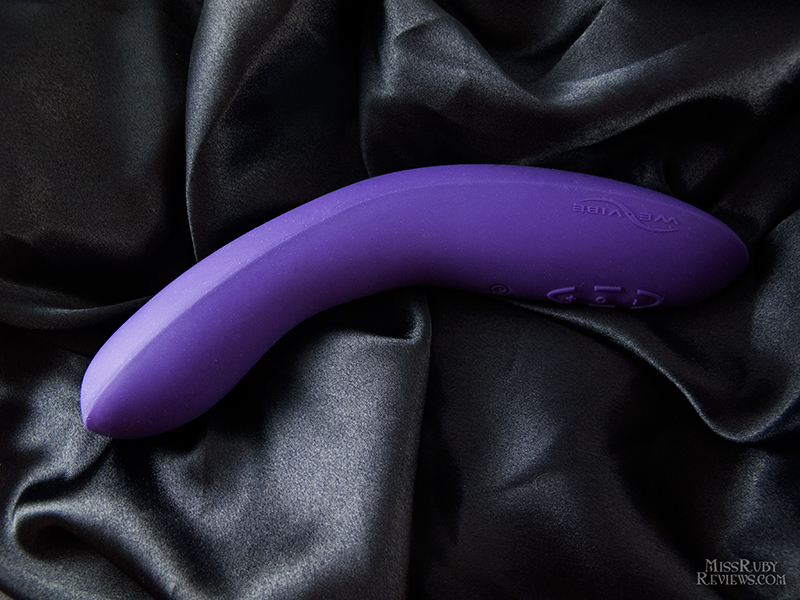 Material and Care
The We-Vibe Rave is coated in premium silicone. Silicone is simply one of the best materials for a sex toy, as it is non-toxic and non-porous. This means that the Rave, with proper cleaning, will remain hygienic. This specific silicone is matte and silky to the touch, though it does attract some lint. Be sure to rinse your toy off before use to remove any dust or lint.
Just to point out, this toy is NOT anal safe. Don't stick this near your butt!
Unfortunately, the Rave isn't waterproof. It's splashproof, so you can rinse it in water, but take care not to completely immerse it in water. I recommend that you rinse the We-Vibe Rave with warm soapy water before and after each use, taking care not to immerse it in water. When dry, store it in its white satin pouch.
This toy keeps charge very well in storage, so I recommend charging it for 1.5 hours after using it so that it's ready for the next time you need it. It'll last 2 hours on a full charge.
Lastly, as this is a silicone toy, do not use a silicone-based lubricant. I recommend drizzling a water-based lubricant before use. Even if you're someone who generally produces a lot of natural lubricant, I find that silicone toys tend to require more lubricant than, say, you would require during sex.
Packaging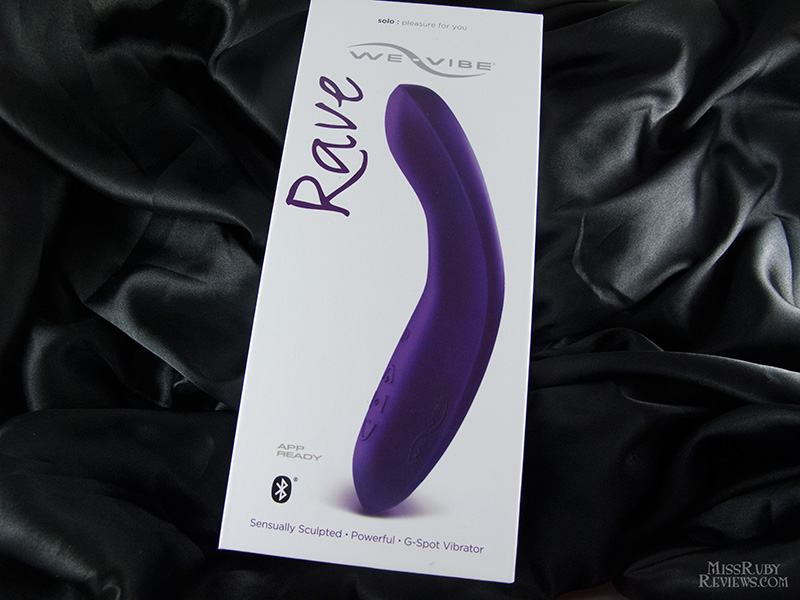 We-Vibe packages their products beautifully. The We-Vibe Rave is packaged in a simple white box. I loooove this neat design. Inside, the Rave nestled on a white foam board. You also receive a white charger, a satin pouch, and a quick instruction manual. The pouch is large enough to carry the Rave, the manual, and the charger, and this is something I wish most companies would also do. Thanks, We-Vibe!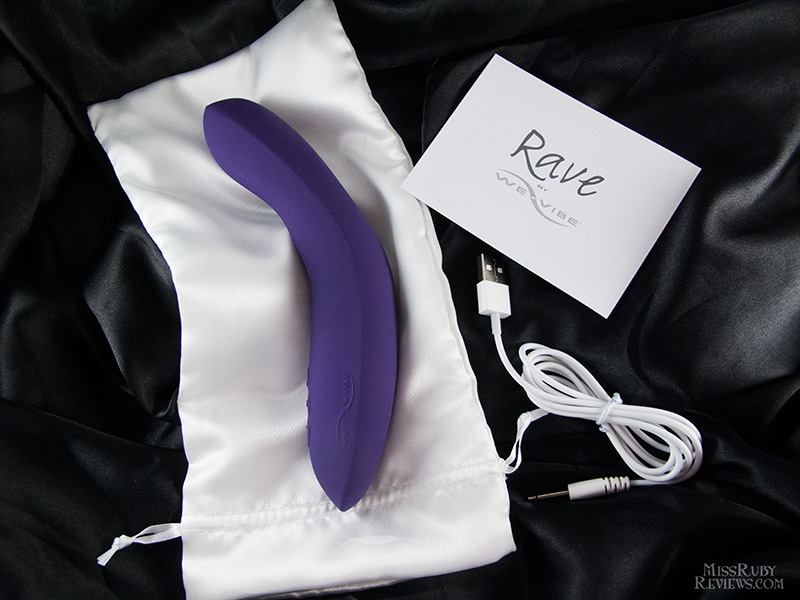 My Experience with the We-Vibe Rave
The We-Vibe Rave has quickly asserted itself as one of my regulars.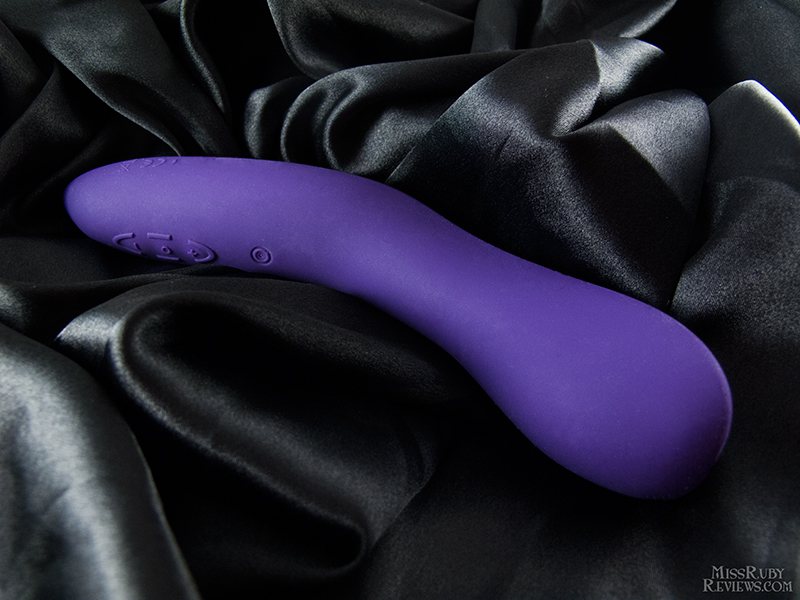 Because I'm a clitoral fiend, I primarily use the We-Vibe Rave externally, despite that it's not designed for this. I'm a fan of pin-point stimulation, and I find that using the top cornered edge gives me exactly that. But for people who enjoy broad stimulation on their clitoris, the rest of the head consists of that broad, flat surface, with equal distribution of vibrations across. Those strong vibrations are more than enough to take me to a quick orgasm, and I've found myself opting for the Rave instead of the Touch (sorry old friend!)
Internally, the We-Vibe Rave has an incredible ability to keep me guessing. I find it hard enough to keep track of the direction of the head on the LELO Ella when it's inside of me, so you can imagine the difficulty I have figuring out which direction the Rave is, especially with its asymmetry. Is this a downside? Definitely not! It makes twisting and turning the Rave a fun and unpredictable experience, one that doesn't disappoint when it comes to pleasure. We-Vibe did well with the design: the Rave knows how to find my G-spot. Its curved design is also intuitive — Increasing and adapting pressure is easy and effective. And, thanks to the unbending body, my G-spot is able to get the firm pressure it needs.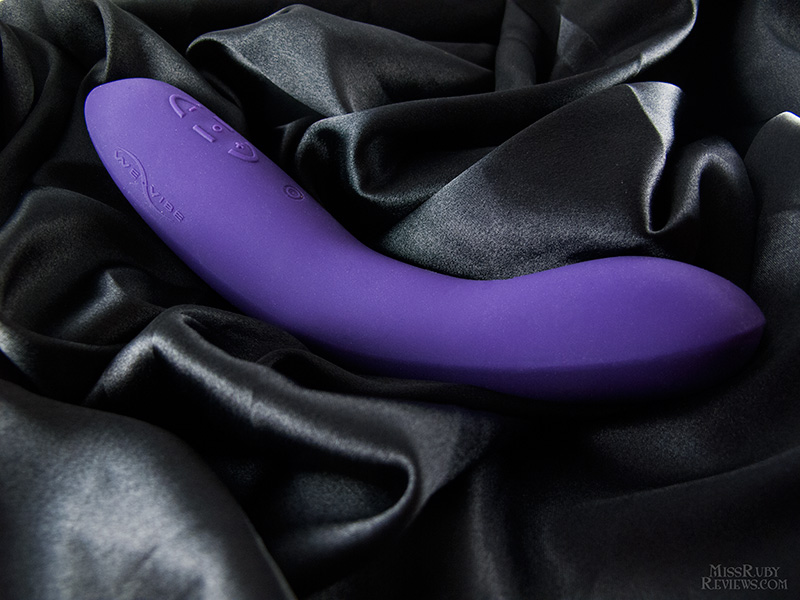 So what do I dislike? Because my body is ridiculously picky, I wish that the Rave had some squish to it. Internally, I feel like the We-Vibe Rave's surface is just sometimes too firm, and I would have loved for the Rave's head to have some give to it. Mostly this is because I'm clumsy and often punch my cervix, and a squishy head could make this less uncomfortable. Also, I should irresponsibly complain about the colour. Purple. We see too much purple in this industry. It's worse than pink. I'd have loved to have seen a more interesting colour (Leaf's green toys were fab). Okay. I've said my piece.
We-Vibe Rave Review – Overall thoughts
This is a great addition to my collection! The Rave certainly changes things up with its asymmetrical design, one that provides me with great G-spot stimulation. But it's those strong vibrations that win me over….this toy has quickly become one of my favourites, for clitoral and G-spot stimulation alike.
To buy the We-Vibe Rave, here are some recommended stores: 

Lovehoney USA
 (
$119 USD)

Lovehoney UK
(£99 GBP)

Lovehoney Canada
($139 CAD)
Lovehoney AU
($159 AUD)

Lovehoney EU
(€109
)