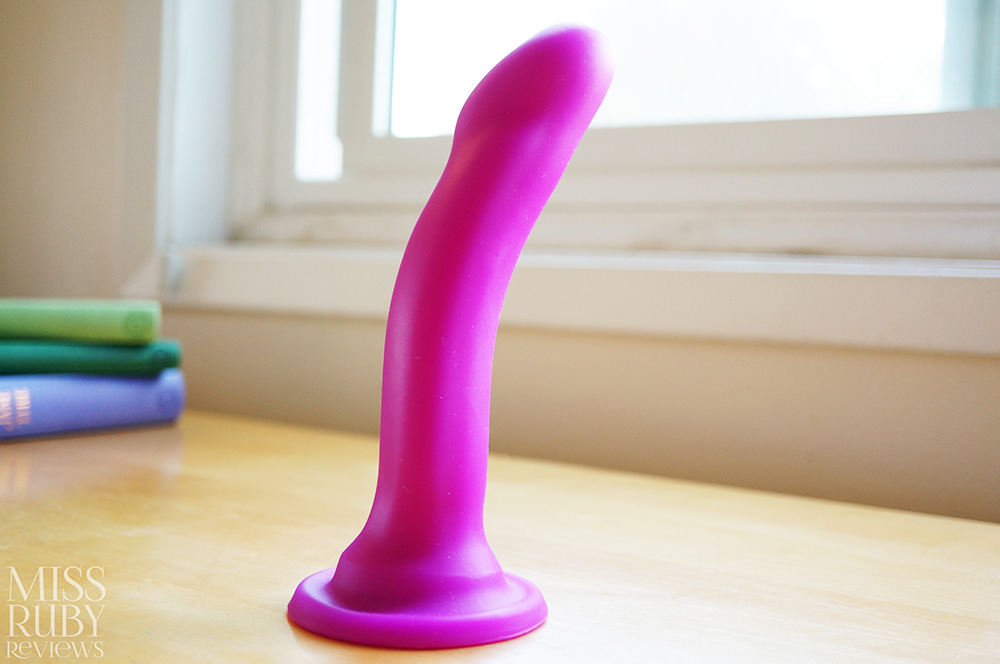 When I got the LoveArc, I discovered I was in dire need of more suction cup dildos. Enter the Real Nude Helio by Blush: a dual-density, squishy, floppy stick of goodness.
Physical Details | Packaging | Material and Care | My Experience | Overall
Physical Details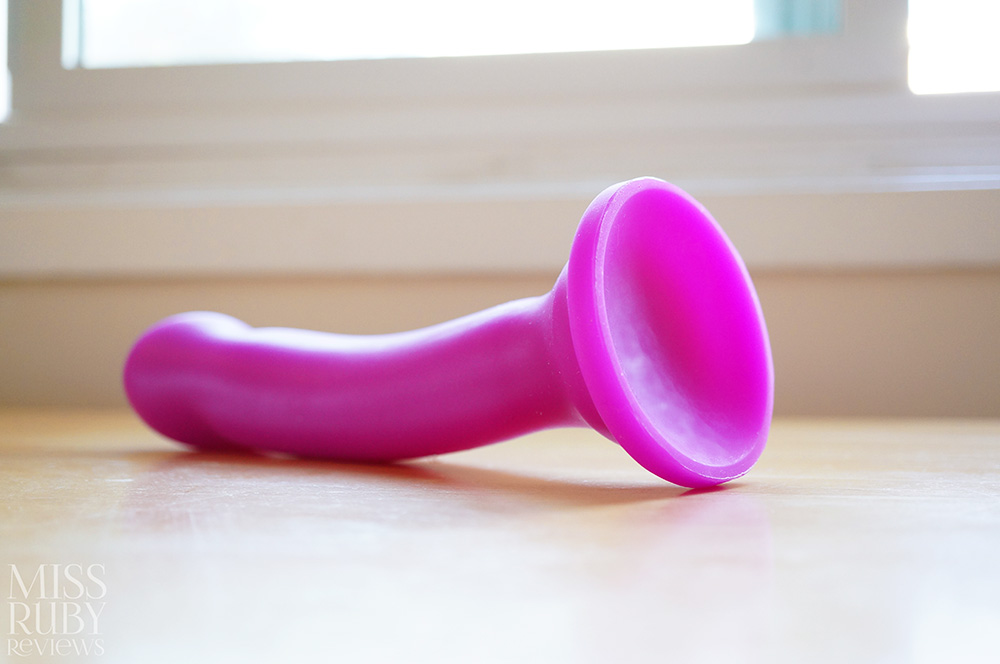 The Blush Real Nude Helio is a moderately small dual-density suction-cup dildo. I first tried the Real Nude line when I reviewed the Real Nude Ergo, which I adored and have kept to this day. The Ergo model is fairly girthy though, and sometimes I don't feel like working my way up. When I spotted the Helio, I knew I needed it.
The best thing about this product line is its dual-density silicone structure. Tantus has their O2 line, Vixen has their VixSkin line, and Blush has their Real Nude Sensa Feel line. I enjoy Blush's dual-density far more than Tantus', which is quite firm. The key is squish: Blush's Real Nude line has gummy-bear squishiness that surrounds a firmer inner core. In the case of the Helio, the firm inner core isn't even that firm; it's extremely bendy and can be folded in half with ease.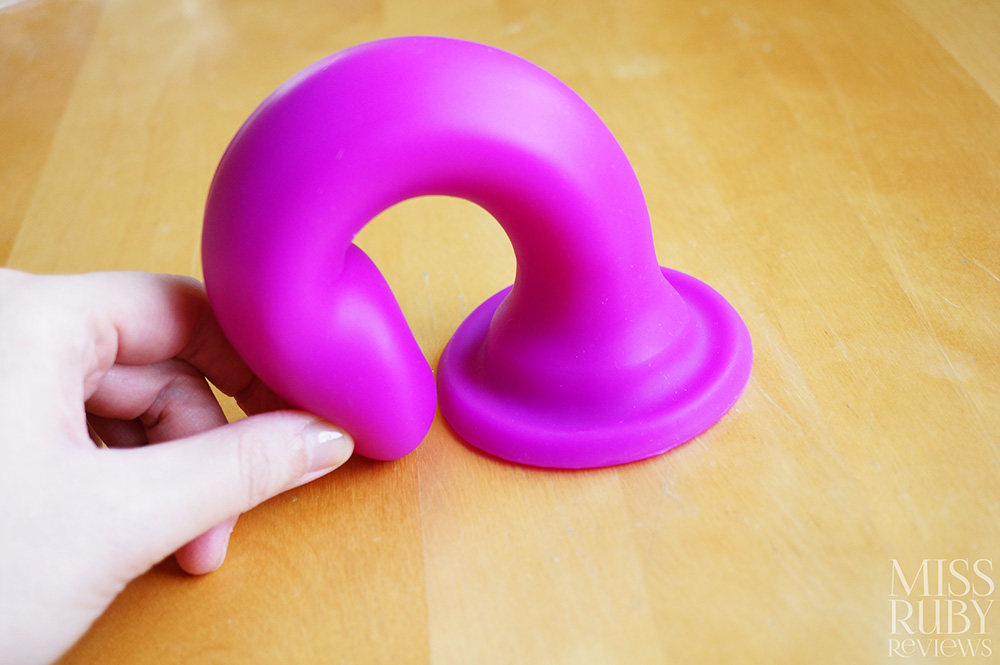 At a circumference of 4.5 inches, the Helio is sized for those who enjoy moderate girth.  The head is broad, stylized with a subtle coronal ridge. The 6 inch insertable length is mostly plain, smooth-sailing, and textureless. At the base, the Helio flares out (making it safe for anal use and compatible with O-ring harnesses). The base is hollowed out, creating a strong suction cup effect when you slap it on a hard surface (wall, hardwood floor, shower, LoveArc, chair, etc.)
Packaging
The Blush Real Nude Helio is packaged simply in plastic casing. Inside, you receive the Helio and a handy little antibacterial/lint-free microfiber storage pouch. Dildos often don't come with storage pouches, so I appreciate that one is included here.
Material and Care
The Blush Real Nude Helio is made from 100% platinum cure silicone. This makes it free of toxins and phthalates. It also makes it non-porous, meaning you can sterilize it (for switching between anal and vaginal use, for example, or for shared use with different partners). This silicone texture, in particular, is grabby/sticky, though with lubricant it becomes perfectly textureless and glides. When choosing a lubricant, I recommend opting for a good quality water-based lube like my favourite Sliquid H2O.
For everyday cleaning, I wash my Helio with warm, soapy water. If you'd like to sterilize yours, you can also boil it for 10 minutes. If you're into temperature play, boiling it in water can also make your Helio stay warm for a long time (on that note, you can also chuck it in the freezer if you'd like to play with cold sensations).
My Experience with the Blush Real Nude Helio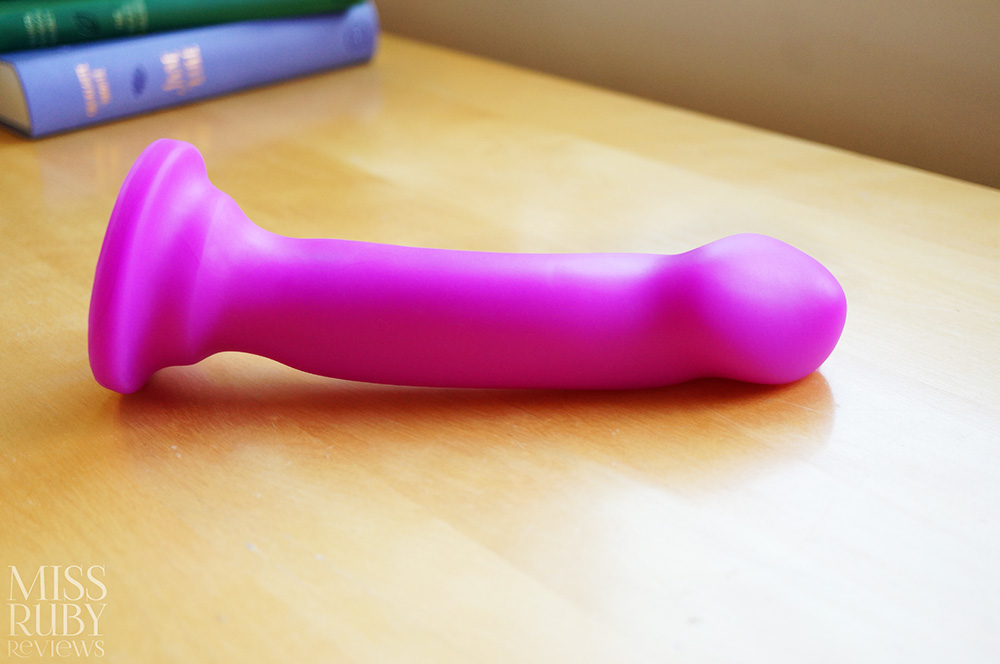 The Blush Real Nude Helio has very quickly become my favourite suction cup dildo and is earning itself a place in my Favourites Category.
It's amazing for three reasons:
Squish
Shape
Price
1. SQUISH
Silicone is one of the best materials for dildos, but it has a texture unlike skin; it is often matte, or grabby, or (in cheaper silicone dildos) any texture can feel like cement. A dildo made from completely firm silicone can therefore easily be uncomfortable, or jab your cervix, or scrape uncomfortably against your walls. Firmer silicone dildos also feel a lot bigger than they appear (this can either be a pro or a con, depending on your preference). Some people love that feeling of stretch. I sometimes do, but I also sometimes want pleasure without the hard work because it takes me time to warm up to that.
On the flipside, soft silicone dildos are much easier to insert and use. Squishy heads, like the one on the Helio, don't punch your cervix with any force (rather, squish against it gently). That means that, in the case of the Helio, things are ready to go immediately. It's easy. And I love that. Coupled with its moderate size, the Helio is a breeze to use.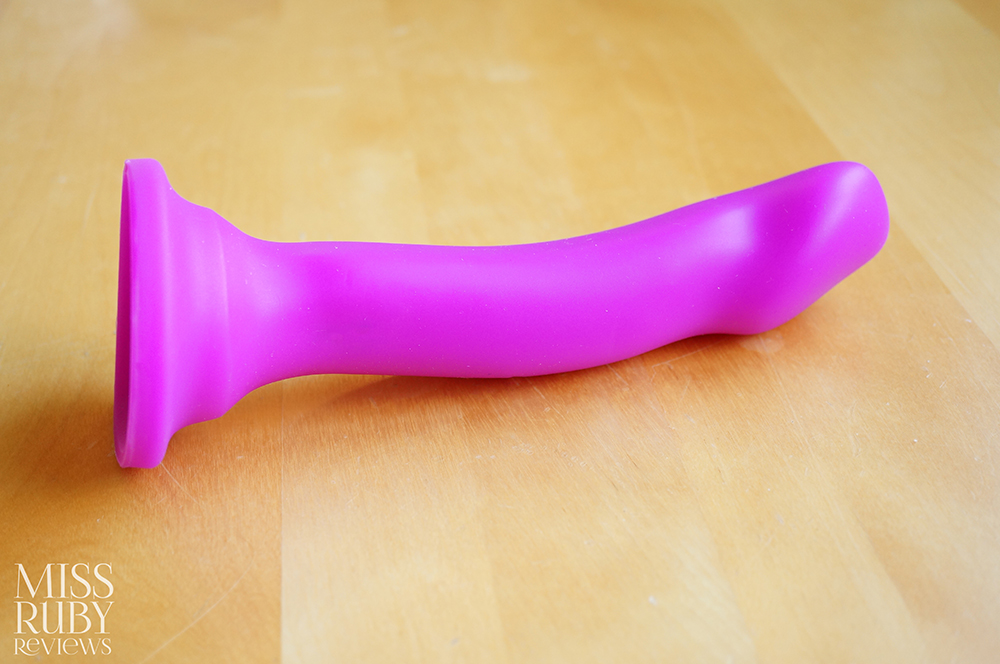 2. SHAPE
The Helio isn't what I would call aesthetically pretty. I'm not a fan of this violet colour, and it's not mouth-wateringly gorgeous or anything, but in actual use the Helio is effective. When it's strapped to the LoveArc against the wall, I prefer placing the Helio upside down, with the coronal ridge facing downwards. That way, the coronal ridge can hit the g-spot, which is perfect. Even when not strapped to a surface, the bendy, pliable nature of this product means that you can push it in the direction it needs to go. In use, it finds the spots I want it to. While it doesn't deliver unrelenting force against my G-spot like, say, the njoy Pure Wand, it still massages it with satisfying pressure.
Plus, with that suction cup, the Helio makes for a fantastic simulated threesome experience if you're so inclined.
3. PRICE
The next best thing about the Helio is its price. At the time of this post, it's only $38.99 USD (or $48.45 CAD if you're in Canada), which is a steal. For a pleasurable, squishy, bodysafe silicone dildo, this is an amazing price.
Overall
The Blush Real Nude Helio is a solid purchase. It's inexpensive, bodysafe, suction-cupped, and has some amazing squish.  To purchase the Blush Real Nude Helio for $38.99 USD, head on over to SheVibe.

Last Updated on November 16, 2020 by Miss Ruby