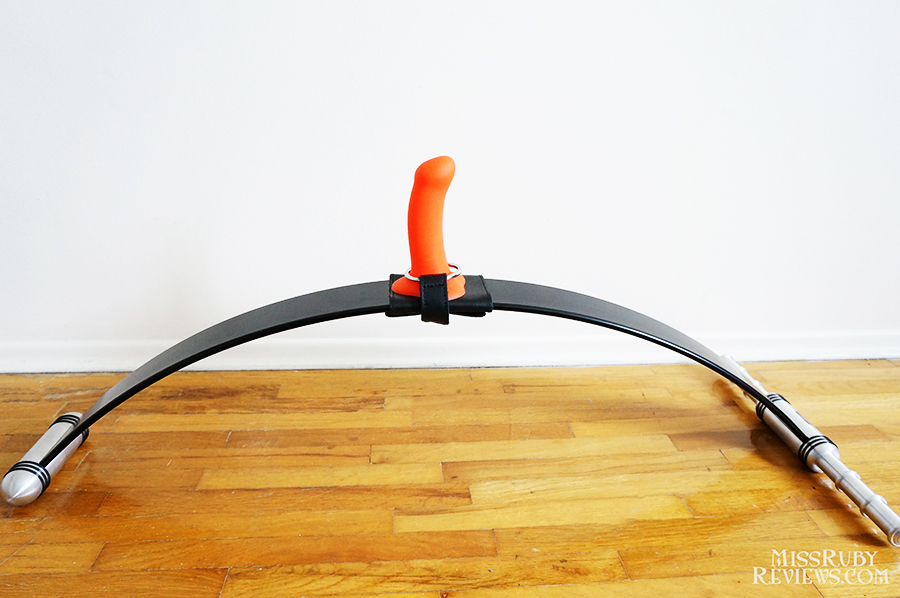 Behold: the LoveArc. A self-propelled, quiet, portable sex machine. Sex machines hold appeal to me — it's one thing to thrust a dildo using the power of your own arm, but it's another to use your entire body to enjoy hands-free dildos.
This has taken my sex life to a whole new level.
Physical Details | Packaging | Material and Care | My Experience | Overall
Physical Details
As you can see, the LoveArc looks simple and not like a typical sex machine. There are no motors, no wires, no loud logos. Akin to a piece of generic gym equipment (if anyone snoops and finds this around the house, I'm telling them it's Mr. Ruby's home-gym muscle flexer), the LoveArc consists of a long, curved beam and two ends: handlebars and a shorter, rounder end.
Suction cup toys
The LoveArc requires suction-cupped toys, such as dildos, plugs, and male sleeves with a suction cup.
I measure the beam to be 3.25″ wide, so your suction cup just needs to be small to fit on something that width. This means most suction cups.
Note, though, that Fun Factory's unconventional suction cup style means they won't stick. I have a lot of Fun Factory dildos, so thankfully I also have the dildo harness to accommodate them. If you have the dildo harness pictured in this review, you're free to use all of your non-suction-cupped flared dildos as well.  But if all of your dildos have the standard suction cup that measures less than 3.25″ in width, you're fine without the additional dildo harness.
And the LoveArc's surface is smooth enough to STICK. That Blush Real Nude Ergo you see pictured to your top-left sticks like nothing else: when I try to lift it off, it lifts the whole LoveArc.
Size
The LoveArc arrived in a pretty large box, but for such an unwieldy item (I measure the LoveArc to be approximately 36″ long, 15″ wide at the handlebars, and 8.5″ tall), it's surprisingly manageable to house. The rectangle of space it occupies in my closet is mostly air, so I can smush all my other stuff around it. It's also only 3 kg (roughly the weight of a cat).
Positions

Without additional attachments, I can boil the LoveArc down to four basic positions:
Mounted: Placed on the floor so that you mount on top / simulate cowgirl style;
Doggy style: Propped against a wall so it's behind you;
Rocking: Rock it, bracing your hands against the handlebars (vaginal and/or anal stimulation); and
Fleshlight: If you have a penis, use the Fleshlight shower attachment to ride a Fleshlight sleeve
Note that you need to be able to physically kneel to use most of the LoveArc's positions.
There are, however, several attachments available, which increase the possibilities: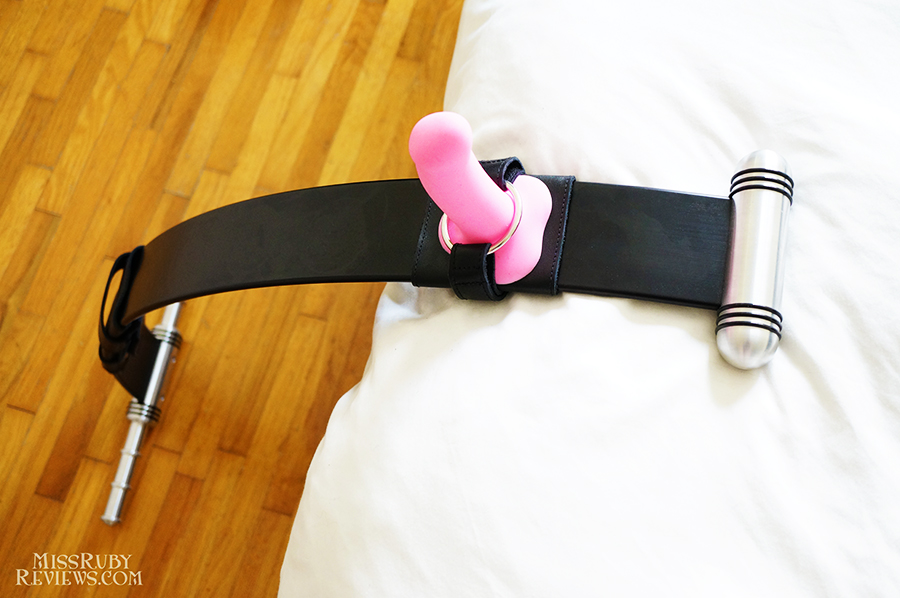 Of course, you don't need to mount it only on the floor. You can mount it when it's propped against your bed (above image). For sketches of more angles to try, scroll down on LoveArc's main page. When I got mine, I had a lot of fun just placing it around the house to see what works and what doesn't (I don't recommend the shower or anywhere wet/slippery).
I also received the dildo harness (pictured below) and the wand harness; I share my thoughts of them here. This review only consists of the LoveArc itself.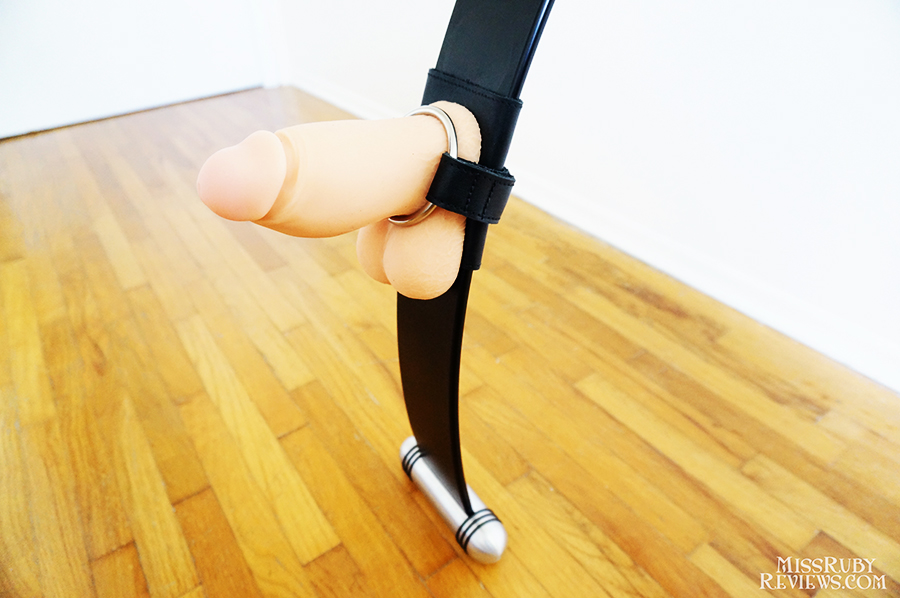 Packaging
The LoveArc came in a large but nondescript brown box. Inside, the LoveArc was unassembled; you get the curved beam, the two ends, a hex key, and instructions. The two attachments seen pictured above are sold separately.
The LoveArc was easy to assemble and only took about 60 seconds. It didn't require much strength; just pushed the ends onto the beam and then tightened them with the hex key.
Material and Care
The LoveArc is entirely made from anodized aluminum. This makes it bodysafe, nonporous, and lightweight. The metal is fairly brushed and very smooth. If you're handling lubricant, be careful not to get too much on your hands and on the handlebars, as it'll get very slippery very quickly.
To clean it, LoveArc recommends washing with a mild detergent after use, such as a toy cleaner. Me? I've been using anti-bacterial baby wipes. But definitely don't use chlorine bleach, as that will ruin the finish.
While the LoveArc is pretty strong and sturdy, don't stand or jump on it.
This could theoretically fit under your bed, but my bed frame is low so it doesn't fit there; instead, I place it upright at the back of my closet and it disappears!
My Experience with the LoveArc

Where to begin.
Okay, backstory. Several years ago, I was offered a MMF threesome by a cisgender man (a friend of mine). It never materialized, for good reasons, and nowadays I no longer want to bring a second man into the bed. That being said, the idea of being penetrated twice at the same time took hold, and I've been eyeing out sex machines to use with Mr. Ruby ever since.
Dildos can't replace a person; they're not comparable. But I think that sensations and movements can be close enough to simulate your fantasies, which is as much as I need. And that's where the LoveArc comes in. Reader, the LoveArc makes all my MMF threesome dreams come true.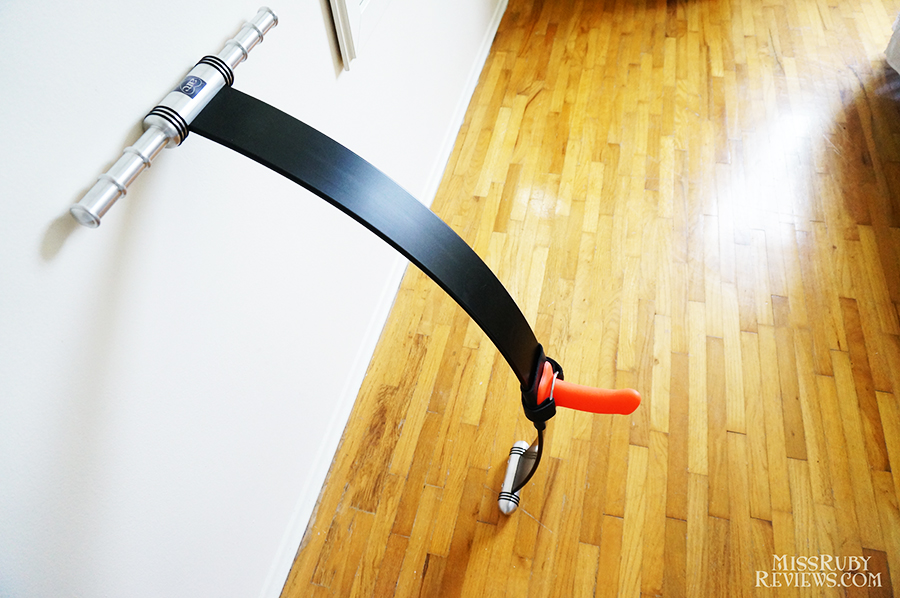 Doggy Style:
For me, the LoveArc's main strength is its ability to simulate doggy style sex. By leaning the LoveArc against the wall (pictured above), I've been able to get my first ever comfortable doggy-style experience with a dildo. I've had suction cup dildos for a while, but I can't just slap them on the wall and back into them; my legs get in the way because they need to be behind where the dildo begins.
With the LoveArc, my legs are comfortably behind where the dildo begins, so there's no cramping or repositioning. The LoveArc also stays put; it doesn't fall down, even when I'm moving rigorously. My apartment walls are slightly uneven apparently because there is a slight noise as the movement rocks the handlebar against the wall, but overall it's a very quiet experience. While I can do this perfectly happily alone, I'm also able to enjoy giving oral sex to my partner. The result is amazing, and I can't believe I've been without the LoveArc for so long.  Doggy style is my most frequent use of the LoveArc.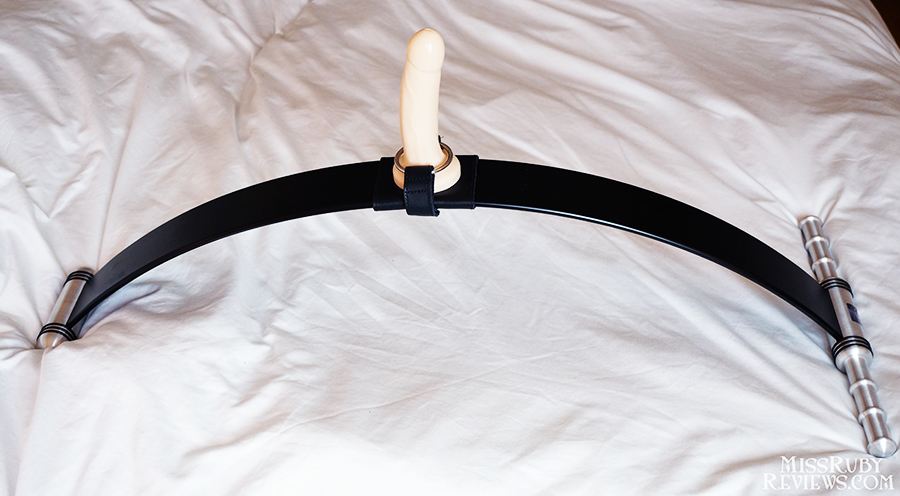 Mounted:
Of course, there's also the mounted position (think cowgirl style). I find this most comfortable on the bed so that there's extra padding for the knees. On top during sex, I'm generally more of a grinder and less of a bouncer, but the LoveArc requires bouncing. Anyone who's bounced on top of something phallic knows that bouncing is tough. It requires thigh muscles that aren't usually used (unless you're a horseback rider), so I find this to be quite the workout. Definitely still pleasurable, though, and there's something exciting and exhibitionistic about enjoying the LoveArc like this while my partner watches. And when the LoveArc is on the floor and my partner is standing or sitting on the edge of the bed, fellatio is added to the mix, which ups the excitement.
Rocking:
The only position my body can't adapt to is rocking (think of a rocking horse, with your hands on the handlebars). Part of this is probably because I am NOT fit. I have zero core strength and I can't remember the last time I had dedicated cardio exercise. And this position requires a ton of strength. Unfortunately, this position just didn't come together for me. If I ever get fit, I'll add this to my try-again list, but for now, there are other positions I much prefer enjoying.
Overall
The LoveArc is ridiculously fun. It's like the Liberator Wedge in that it's changed/enhanced the way I have sex. I don't always have to use the LoveArc; but, when I'm alone or I want to simulate a threesome with my partner, it's the easy answer.
To purchase the LoveArc, head to Uberkinky.