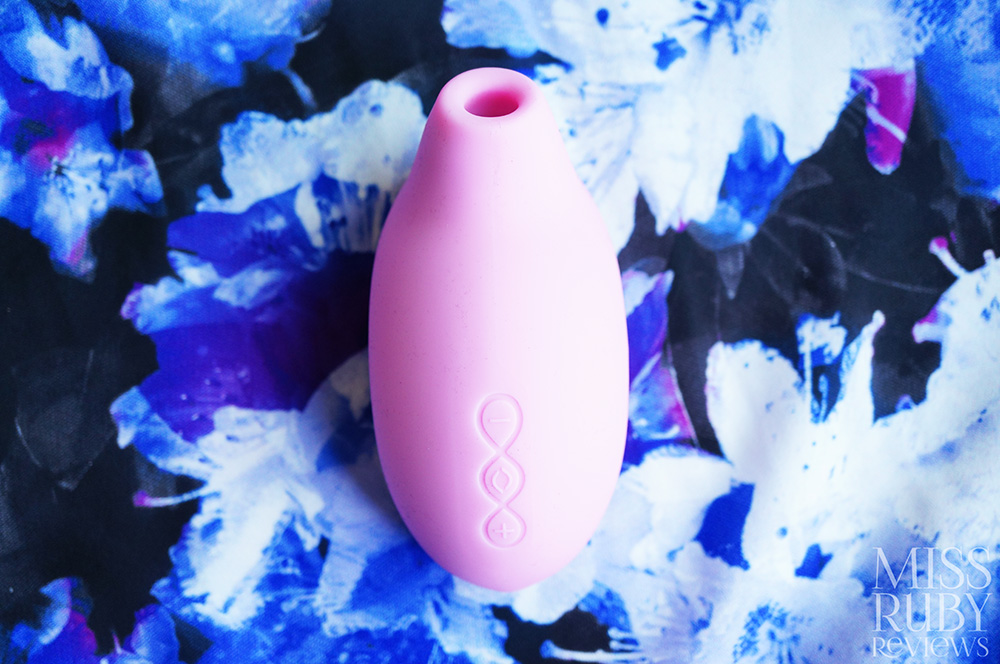 Okay, yes, the LELO Sona sort of looks like an internal organ. Maybe a simplified, cartoon stomach. But the LELO Sona promises a new kind of stimulation, one that reaches even the internal parts of your clitoris, so this piqued my curiosity. 
Physical Details | Packaging | Material and Care | My Experience | Overall
Pre-Review Note
I haven't reviewed a LELO product in over two years. At first, that was by happenstance as I was focusing on other lines. Then, in 2016, there was a lot of frustration and anger in the blogger world surrounding LELO's Hex condom product, as well as the person they chose as their brand ambassador. Lorax of Sex and Marvelous Darling eloquently explore these issues, so I won't go into them here, but please do read their pieces.
When I was approached about reviewing the LELO Sona, I agreed to with the understanding that this review is not an endorsement of LELO as a company. I cannot, at present, say that I support them. This review will cover my experience with the LELO Sona only, and I will try to not let my personal feelings about the brand impact my views on the product itself. But for my readers: I urge you to take LELO's history into consideration when choosing whether or not to purchase this product.
Physical Details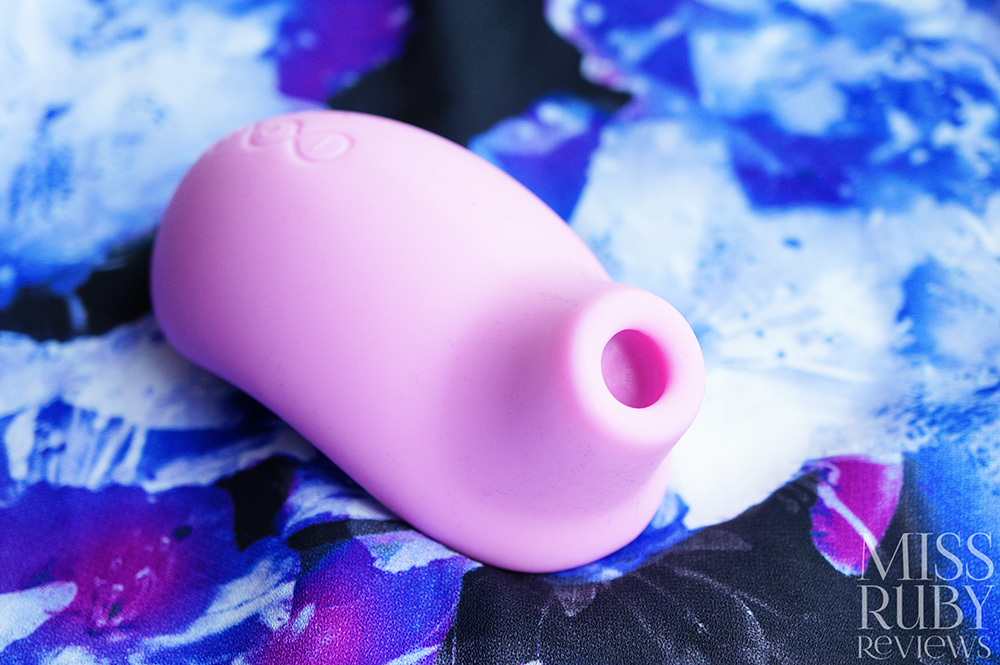 What is this?
The LELO Sona is a "sonic clitoral massager." Instead of a sex toy that uses a vibrating motor (like most clitoral stimulators), the LELO Sona uses sonic pulses and waves to stimulate the clitoris. LELO states that it stimulates the whole clitoris, not just the external parts. By that, they mean that most vibrators can only access the clitoral glans (external bit that peaks out), which leaves most of the clitoris (internal) unstimulated. Instead, the Sona is said to use its sonic pulses to resonate deep into the internal clitoral structures.
While similar to suction-based toys like the Womanizer and the Satisfyer, these sonic pulses offer something slightly different. Instead of using air waves to pull your clitoris (suction), this seems to use air waves to magically tap your clitoris. LELO likens this to feeling sound waves throughout your body when standing in front of a huge speaker. See below:
Design
Physically, the LELO Sona looks different compared to… well, really, any other sex toy. Mr. Ruby keeps commenting that it looks like a 3D-printed internal organ. Thick, curved, and with a little tube-like mouth, the Sona is also fairly small and light. It comfortably fits in my hand. The back is coated with gold-coloured ABS plastic. The base has a hole for the USB-charging port. The front consists of the mouth on one end and the controls on the other end.
Noise
Oh boy. This thing is noisy. While the Womanizer Pro40 is quiet, and gets even quieter when applied to skin, the LELO Sona starts out moderately quiet, but then ramps up to noisy when applied to skin. Each time I've used this, I've been self-conscious about the neighbours in the next apartment hearing me, which I don't experience often.
How to use the LELO Sona
The LELO Sona arrives travel locked. Unlock it by connecting the charger. Alternatively, you can press and hold the (+) and (–) buttons for five seconds. You can press these buttons for 5 seconds again if you'd like to travel lock it.
Before using it for the first time, charge the Sona for 2 hours. Once it's charged, place it over your clitoris (or nipple, or whichever part you'd like!) and turn it on by pressing the + button. Adjust the strength by pressing the (+) and (–) buttons. If you'd like to explore the 8 vibration patterns, press the middle ( ) button. To turn it off, hold the (–) button.
To charge the LELO Sona, insert the plug into the base of your Sona and connect the USB part to your computer or a USB-wall adapter. The LED light will pulse when charging and will be steady when fully charged. When the battery is low, the Sona will also blink a white light. An 1–2 hours of charging will get you about 1 hour of playtime.
What's the difference between the LELO Sona and LELO Sona Cruise? 
This toy comes in two versions: Sona and Sona Cruise. The Cruise is about $30 more expensive and has an automatic function designed to detect a slowing motor (from pressing the Sona against your skin). Once it detects any slowing motion, it'll boost the motor up again using Pulse Wave Modulation. The purpose of this is to make sure you get consistent power.
I can't say if dishing out the extra cash for the Cruise is worth it. What I can say is that I didn't experience any annoyance from a slowing motor when using the Sona, and that I am fine without.
Packaging
LELO knows how to package their products. The box you receive is sleek, simplistic, and black. Inside the box, you receive the Sona, the USB charger, a black satin storage bag, a sample lubricant packet, the 1-year warranty registration card, and a couple of small instruction booklets.
Material and Care
The LELO Sona is mostly made from silicone. The back plate, however, is gold-coloured ABS plastic. Both of these materials are bodysafe. Like all of LELO's toys, the silicone has a matte, silky texture.
The Sona is waterproof. For everyday cleaning, I simply rinse mine in warm, soapy water. LELO recommends you also use their toy cleaner, which you can pick up here. You can clean the inside of the mouth using a cotton swab.
Be sure to use the SONA with a water-based lubricant, such as my favourite.
My Experience with the LELO Sona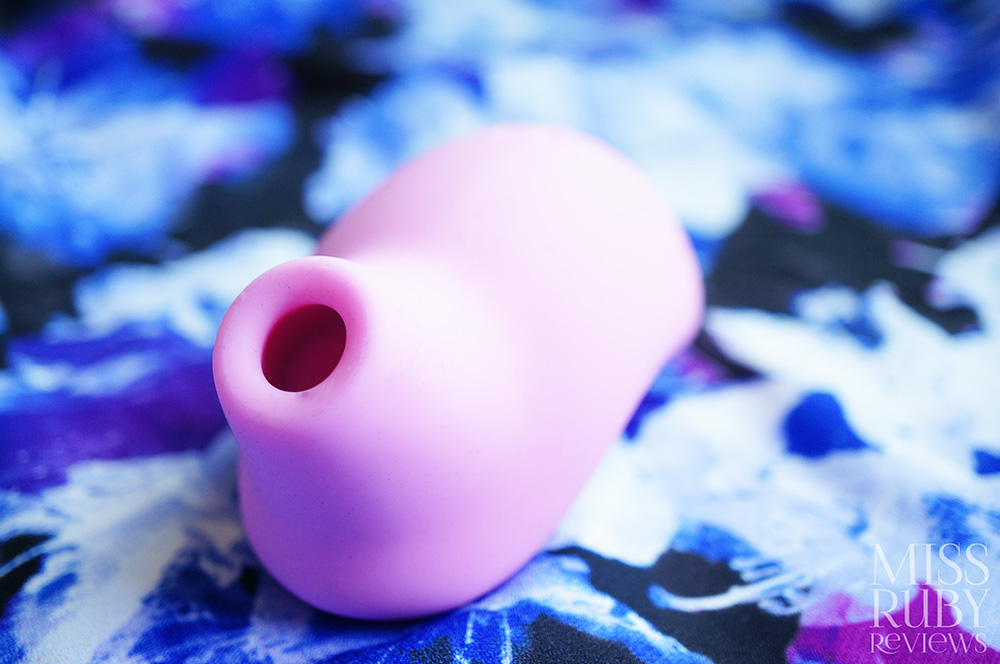 I tried using the LELO Sona in a couple of ways. First, I tried just hovering it close to my clitoris and ramped up the strength. While I could discern a very slight wave-like sensation, I didn't find it much pleasurable. Instead, I had success applying it over the clitoris but without firm pressure. Unlike my experience with conventional vibrators, I did not need firm pressure with the Sona.
And yes, this toy delivered surprisingly well, getting me to orgasm over 16 times during my 5 day test.
Does it stimulate the internal clitoris? Yep! During build up, I can definitely feel pleasure running down both sides of the internal "legs" of the clitoris. It's a sensation I've felt before, but it doesn't happen very often, and I'm impressed.
One thing to note is that it does take me longer to orgasm with this toy than conventional vibrators or the Womanizer Pro40. I'm not sure why; it feels nice, but things build to an orgasm a lot slower for me using this toy (8 minutes vs 2–3 minutes). That being said, when they do arrive, the Sona delivers impeccable orgasms. Toe-clenching and STRONG, these orgasms don't disappoint.
Plus, that low (sub-$100) price point pulls me closer.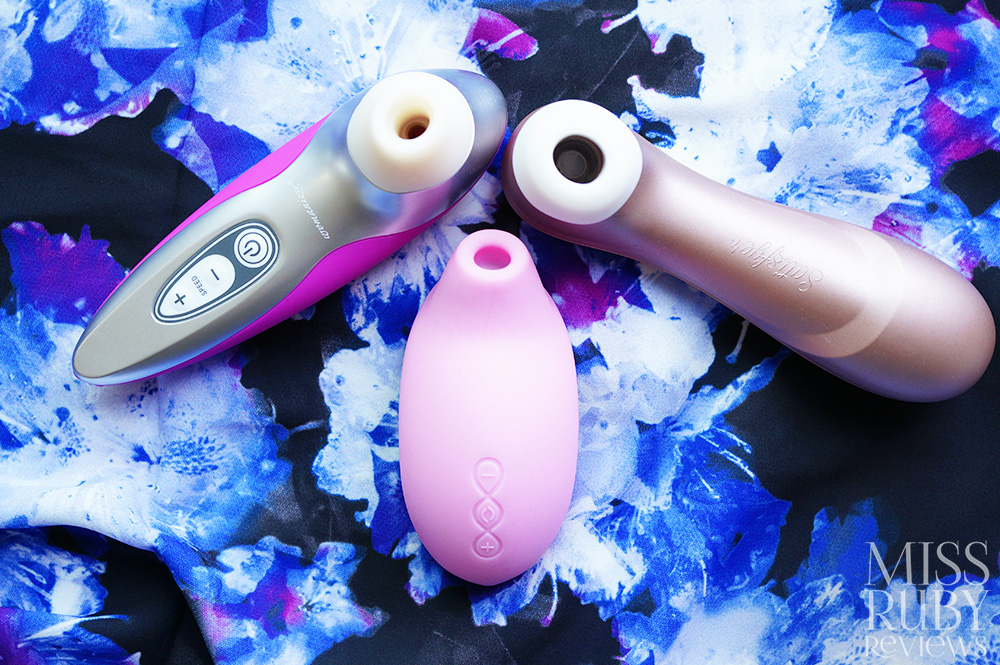 Above (Left to Right): The Womanizer Pro40, the LELO Sona, and the Satisfyer Pro2.
Overall
Despite my personal reservations about the brand, I enjoyed the LELO Sona, and do recommend the toy itself, especially if you purchase through an ethical 3rd party distributor like Peepshow Toys.  I was surprised and impressed to find that the internal clitoris does actually feel stimulated, and orgasms are POWERFUL. If this is your style, or if you haven't had much success with conventional vibrators, the LELO Sona should be something to consider. And at only $80.10 (when you use a 10% off coupon with code RUBY), it's a lot more affordable than many other LELO toys.
To purchase the LELO Sona or the Sona Cruise, head on over to Peepshow Toys and get a 10% discount with code RUBY.