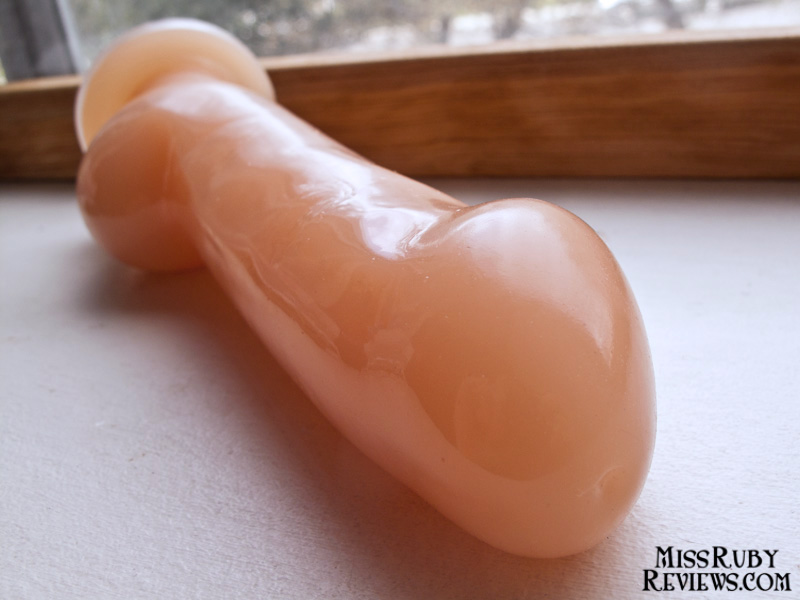 Update: This toy has been replaced with the Blush Avant Ergo series. 
That title sounds more violent than I meant it to. But, really, this one is super squishy.
---
Physical Details| My Experience | Overall
---
Physical Details
Design: 
I had trouble deciding whether or not I should slot this review into my "realistic" feature category of toys. The Real Nude Ergo clearly resembles a penis. It has testicles. It has a head with some sort of coronal ridge. And it comes in this peachy skin tone as well as a darker skin tone. But the realism ends there.
Overall, this dildo is a very interesting piece of stylized work.  The shaft is long and narrow, topped by a pointed head and prominent coronal ridge. The balls really just consist of a single high ball that's tucked tightly up against the shaft.
Below this is a gap for an O-ring and then a widely-flared base, making this dildo anal-safe and compatible with O-ring harnesses. The base is hollowed out to form a suction cup. Its suction cup capability is actually really strong, and I'm thrilled to have another suction-cupped dildo in my box. When it's attached to a smooth, flat surface, it stays put when you tug it about, making this great for hands-free play.
Firmness:
Blush's Real Nude line features Sensa Feel dual-density silicone. I love dual-density silicone. There's something pretty sexy about squeezing a shaft made like this. Though the outer later of silicone is squishy and loose enough to squish around, there's a firm, backbone-like inner core that can't help but remind you of the real thing. The only other dual-density silicone I've experienced is Tantus' O2 line, and I can confirm that the Sensa Feel silicone is softer. But where Tantus' O2 line is matte, Blush's line of dual-density silicone is very sticky.
The head and the balls, on the other hand, don't have a firmer inner core. Instead, they're very very squishy. The head and the balls can be pressed thin to about half of their original size.
Because of the firm inner core, the shaft retains its shape really well despite all this squishiness. It'll stay as straight as you need it to. That being said, it's still very flexible. I can easily twist it and bend it in half.
Material and Care: 
The Real Nude Ergo is made from silicone, making it free of phthalates and non-porous. You can sterilize it by rinsing it with a 10% solution, boiling it, or throwing it in the dishwasher. I keep mine clean by washing it with warm soapy water before and after each use. I use a water-based lubricant with this toy.
One thing I noticed about this silicone is that it retains imprints left by packaging. My dildo's shaft has several lines embedded it in, which I can only imagine is from the production and packaging process.
Another thing I've noticed about this silicone is that it is incredibly sticky and shiny. I haven't experienced a silicone finish quite like this before, and I wouldn't have guessed it was silicone at first glance.
Packaging:
The Real Nude Ergo comes packaged in fun, orange, plastic packaging. It's very tasteful. Much to my delight, this dildo also comes with its own storage case.
My Experience with the Blush Real Nude Ergo
Judging by the mass of dildos I've collected and reviewed so far, you'd think I was tired of them. But not so. You can never have too many dildos.
When I first gripped the Real Nude Ergo,  I was pretty pleased. The realistic (dual-density) nature of the silicone means that touching and squeezing this dildo gets my juices going. Seriously, ladies and gents, if you haven't experienced dual-density before, get on it!
Because it's so straight and fairly narrow, deep thrusts don't hit my g-spot. Instead, during deep thrusts, this dildo just slides right on past my g-spot without a care in the world, meeting my grumpy cervix (who unfortunately has no interest in being woo'ed). Fortunately, the Real Nude Ergo's head is so squishy that any deep and rapid thrusts don't hurt the cervix, which is something that my cervix and I are thankful for.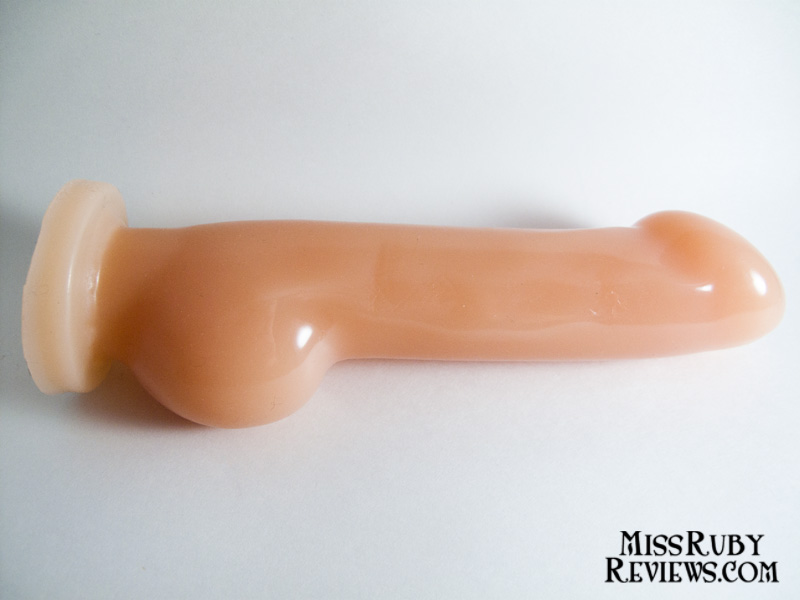 I find I enjoy the Ergo the most with shallow thrusts. Now, the sound of "shallow" might not grab you as super amazing but hear me out. The Ergo's head features that stylized coronal ridge on one side. If you thrust with the ridge facing your g-spot, and stick to only shallow thrusts, the g-spot certainly can get a lot of pleasure. This, combined with my favourite clitoral massager, can feel pretty awesome.
Because this dildo has a suction cup, it's immediately more fun than one without. I like to suction it to the wall, balls upward, so that the coronal ridge is on the shaft's underside, and then use it doggy-style. I've had no problems with the suction cup so far, but make sure that you use a very flat surface.
When I'm not in the mood for suction cupping (a rare occasion), this dildo is still pretty easy to hold and maneuver thanks to its large flared base. It's easy to grip. Plus, the balls make for a good handle to grip with an iron squeeze hold.
It's not all sunflowers and daisies though. One downside to this dildo is that it requires a lot of lubricant. I usually don't need to use too much extra lube, but this one will have you squeezing your lube bottle like there's no tomorrow. So, be prepared. Definitely pick up some water-based lubricant if you don't have some already.
Overall
The Real Nude Ergo surprised me. I wasn't expecting it to be so deliciously squeezable or so fun to hump. For a silicone toy, it's pretty inexpensive too.
Lastly, help me out here guys. Would it make sense to see this dildo in my "realistic dildos" category?  I just can't make up my mind…It's certainly more realistic than the Ella. Comment below.
You can't buy the Real Nude Ergo directly from Blush, so I suggest getting one from one of their distributors like SheVibe.
Update: This toy has been replaced with the Blush Avant Ergo series.