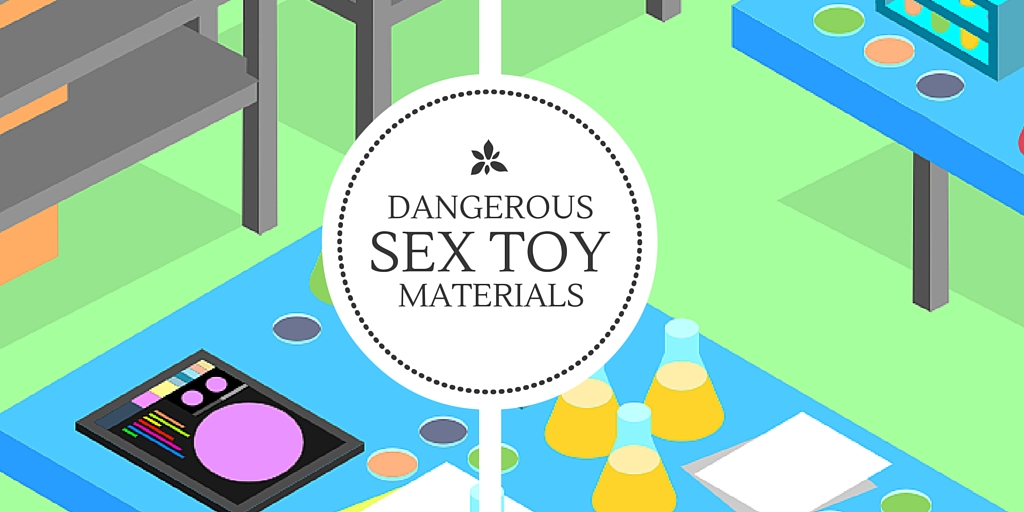 On a weekly basis, I help people find new sex toys. They're often surprised to hear that their sex toys are unsafe. I usually have to tell them that they have to get rid of most of the sex toys they own, which prompts a lot of confusion and questions.
I've repeated myself so often that I've decided just put a brief summary here to refer people I'm chatting to.
In a nutshell | Why companies can do this | The goods | The bads | If you have bad unsafe toys
Dangerous sex toy materials — in a nutshell:
There are 2 main things that make a sex toy material unsafe: (1) porosity and (2) toxicity.
Porous Material: A toy material that is porous has tiny micropores in the material itself. These pores usually can't be seen by the naked eye, as it has to do with the density of the structure of the material. Porous toys can never be fully clean. They cannot be sterilized. Germs, bacteria, and mould will bloom in those micro-pores, even if you wash it thoroughly.
Bottom line: Avoid porous toys.
Exception: But! There is a tiny bit of wiggle room when it comes to porosity, but only with penis masturbators. The vast majority of penis masturbators (ie, sleeves) are porous so you literally cannot avoid it. Some sleeves are toxic on top of porous, which is why it's best to stick to trustworthy companies. Tenga and Fleshlight are particularly trusted as non-toxic masturbators. They're still porous (so don't hang onto them long), but they're about as least harmful for you as penis masturbators go and they at least aren't used internally like dildos or anal plugs.
Toxic Material: A toxic sex toy is a toy whose material had unsafe chemicals added to it. Toxicity is never good. Ever. It's also hard to tell when a toy is toxic, as companies aren't under any legal obligation to state if they are toxic. Cheap sex toy materials (read: porous) carry a high risk of containing chemicals that you *really* don't want in your body, such as phthalates. Phthalates are chemical plasticizers used to soften toys. The FDA has banned them in children's toys. Avoid them. See a soft toy made from jelly? See a translucent toy? Think Phthalates! and run. They've been linked to cancer. You do NOT want them in your body.
Phthalates tend to leech out. That's the thing about porous sex toys…don't expect that the chemicals within the material won't leech out onto your skin. I've used jelly toys before (years ago) only to find that they give me a terrible burning sensation. Chemical burns from toxic sex toys aren't unheard of.
Bottom line: Avoid toxic toys. NO exceptions.
Here are a couple of rules of thumb:
Not all porous toys are toxic. Some porous toys are non-toxic (depends on the brand, really)

All toxic toys are porous. 

Truly non-porous toys aren't toxic.
How can sex toy manufacturers get away with selling toxic sex toys?
The legal classification of almost all sex toys is that of a "novelty item." And this is fine…it's either that or "medical device," which would be super hard and expensive for companies to pursue.
However, unlike things like children's toys, sex toy materials aren't regulated. Unfortunately for consumers, that means that sex toy manufacturers aren't legally responsible to disclose what their toys are made of, if there are any toxic chemicals in their toys. They can literally even blatantly lie on their packaging and say that it's a material that it isn't. Legally, it's all good. They don't need to inform any higher regulatory authority of what they're putting in the toys they sell to customers. They're not responsible for any harm their products cause.
This sucks. I know. This is the reason why so many sex toy bloggers advocate that you:
avoid porous toys (as they're most likely to be toxic).
stick to brands that are known in the sex blogging world to be trustworthy and ethical.
avoid buying through Amazon, which is notorious for selling knock-off products listed as "silicone" when they're definitely not.
Good Sex Toy Materials
100% silicone sex toys 🙂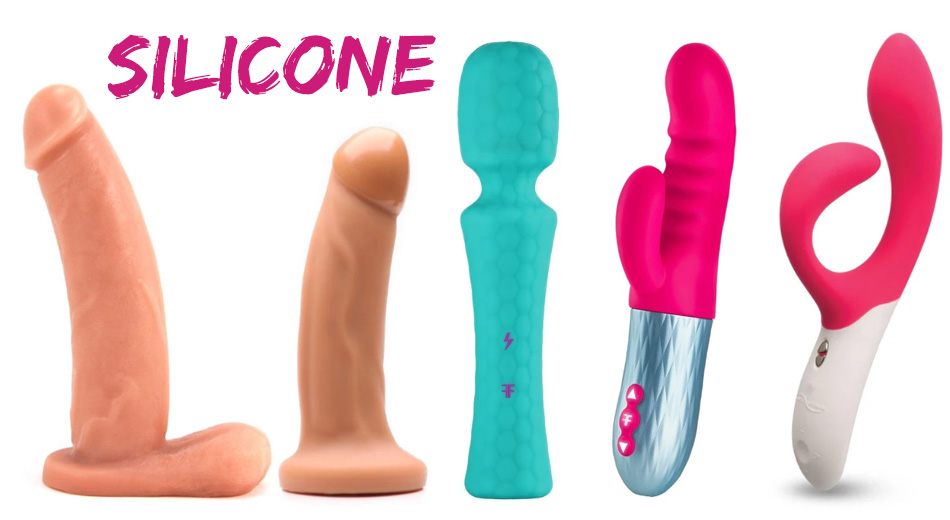 Silicone is my #1 recommended sex toy material. Non-porous and non-toxic. Won't leech out anything, won't melt when touching other toys…it's an inert, stable material. It is hypoallergenic, odourless, non-porous, and free of phthalates.
It's sterilizable, meaning that you can safely use it for both anal and vaginal use if you sterilize it before jumping to the next orifice. You can even share it between people, as long as you sterilize between each use.
You can't go wrong here.
BUT: Make sure it's actually a 100% silicone toy (or "platinum cure"). Don't go for "silicone blends"…those are not 100% silicone. (note: silicone toys should not be used with silicone-based lubricant)
** Silicone is the only non-porous material that'll be able to be made into realistic dildos (such as flesh-coloured dildos). So if you're buying a realistic dildo, it'd better be silicone.
Think Tantus, Vixen Creations, We-Vibe, and FemmeFunn.
Borosilicate (Pyrex) Glass sex toys 🙂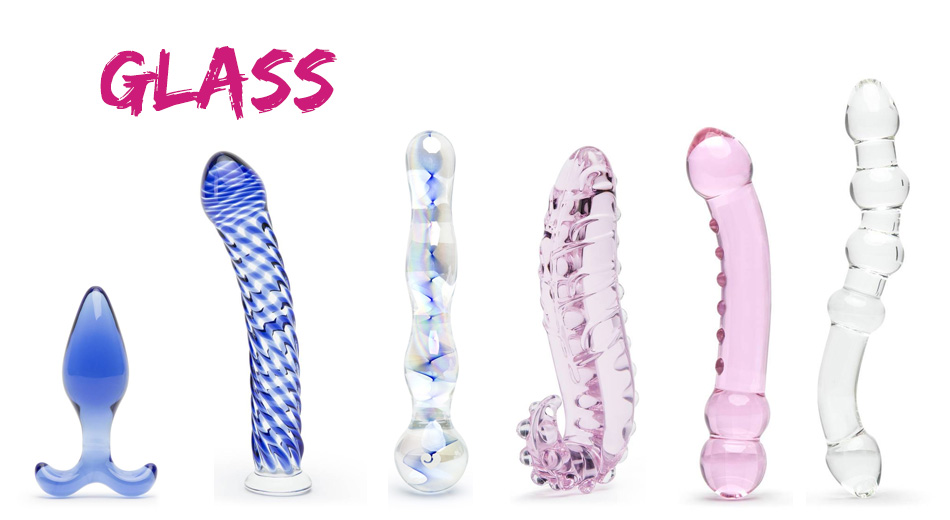 Glass is non-porous, phthalate-free, hypoallergenic, and difficult to destroy. It can be rinsed with soap and water or sterilized in the dishwasher/boiling/bleach. It's a great material for sensation (hot/cold) play.  Lovehoney has a few great glass toys.
Stainless Steel sex toys 🙂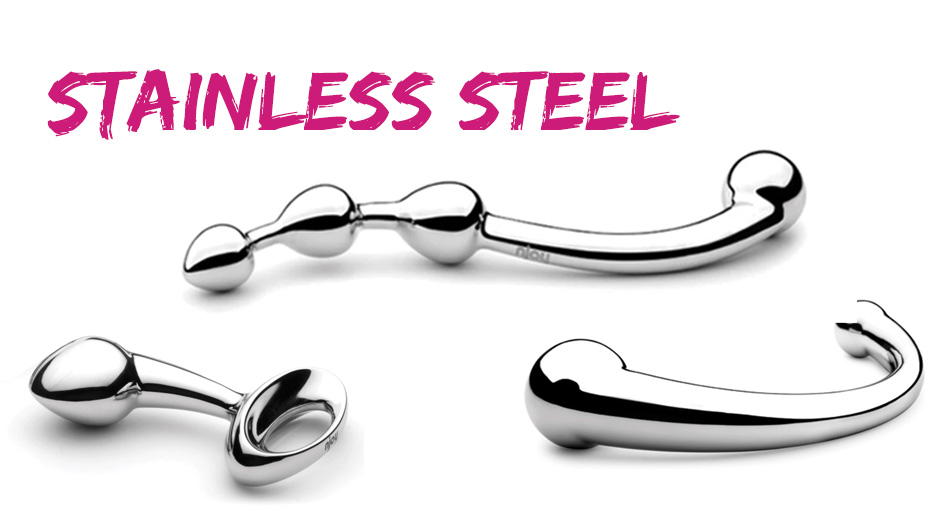 Stainless steel is also non-porous and phthalate-free. Easily cleaned and can be sterilized. Think Njoy.
ABS Plastic sex toys 🙂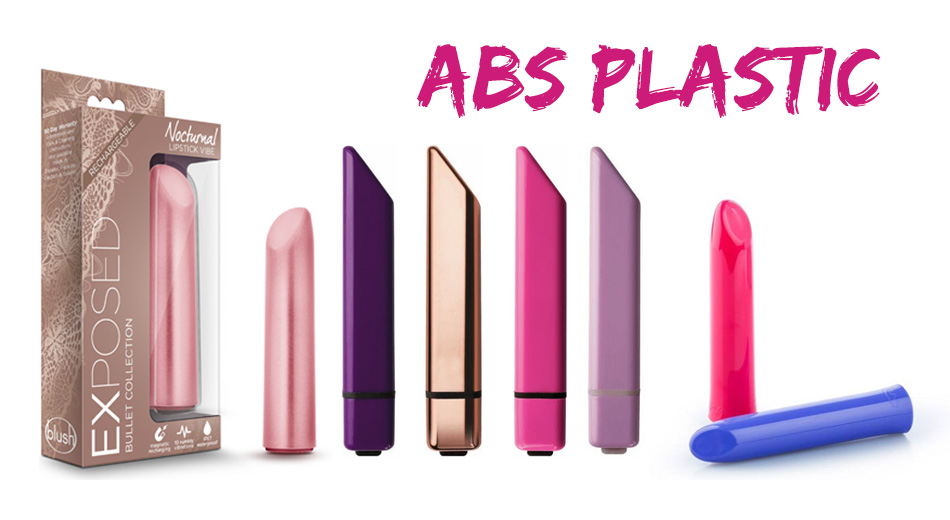 ABS toys are phthalate-free and hypoallergenic. They also have very low porosity. They're a safe material for things like clitoral vibrators, which are always outside of the body. For example, my favourite clitoral vibrator, the We-Vibe Tango, is made from ABS plastic.
Treated Wood sex toys 🙂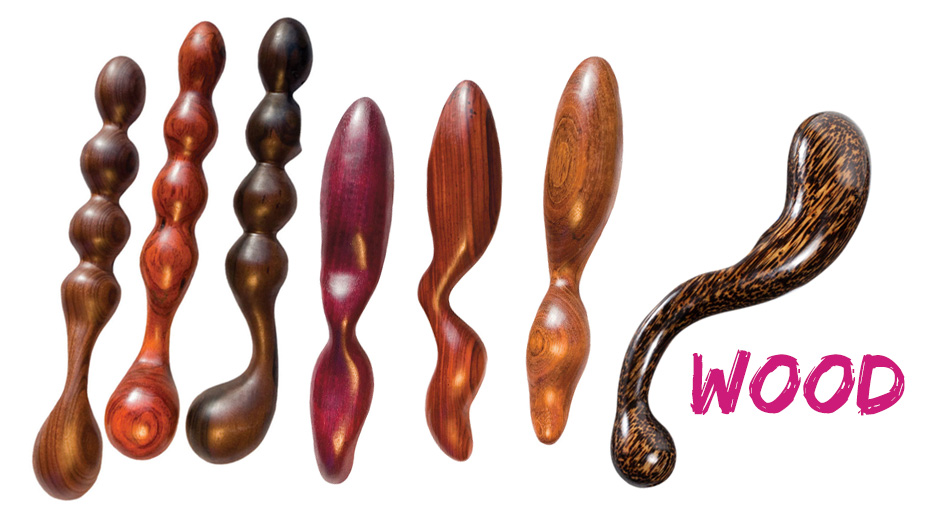 Some wooden toys are bodysafe. Wood, by nature, is porous. However, if treated and glazed correctly with a non-toxic sealant, wood toys will become non-porous. The non-toxicity depends on the manufacturer though. NobEssence is a great company to buy from.
Stone sex toys 🙂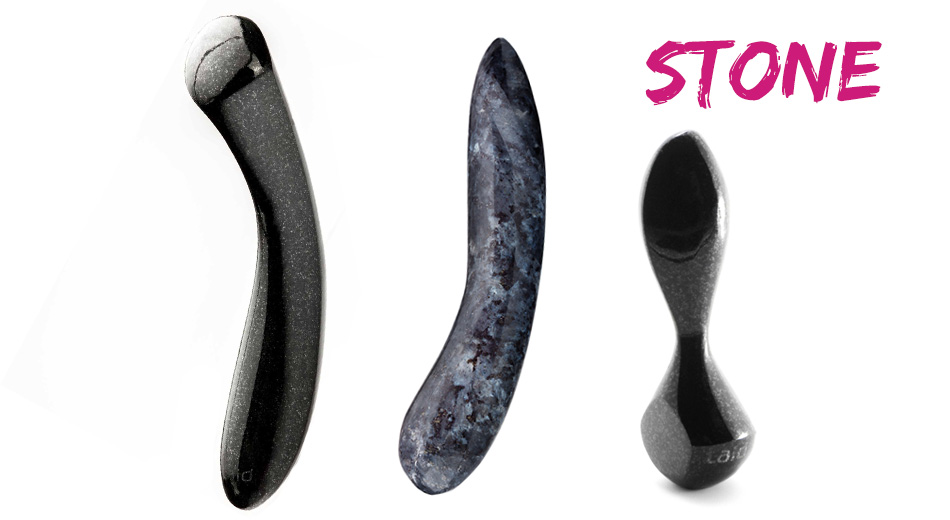 Stone may or may not be porous, depending on the type. If it's polished to a glassy sheen, then it's likely less porous. Laid's stone toys are trusted.
Ceramic sex toys 🙂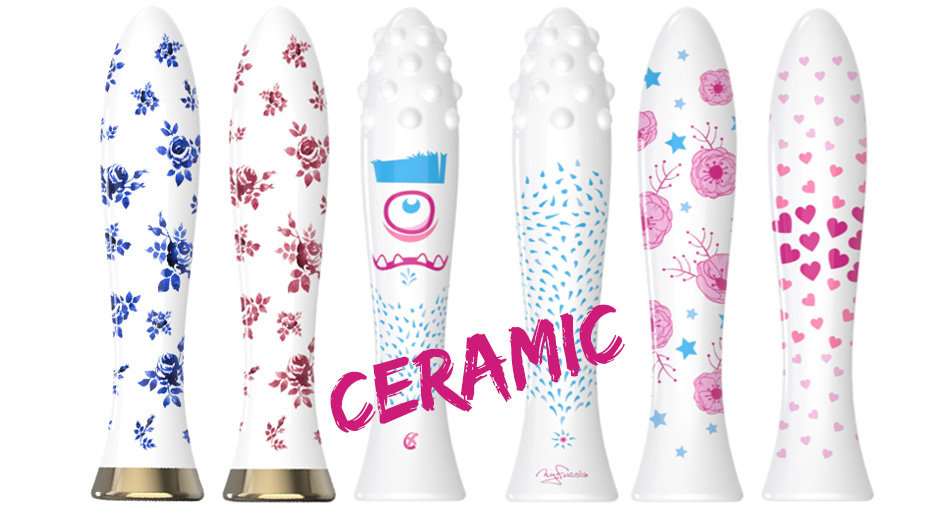 Not ALL ceramic toys are non-porous. I've seen some pretty sketchy ceramic dildos on Etsy that I would absolutely not recommend. But, if done correctly, ceramic dildos can be safe to use. To be non-porous, the creator must vitrify and glaze their product, so make sure that this has been done. You'll also want to make sure that there's nothing toxic in the glaze itself, such as lead. Ceramic toys can't withstand the same sudden heat changes as silicone toys, and definitely don't use them if you notice any chips. MyFucsia makes my favourite ceramic toys.
Bad Sex Toy Materials
Jelly sex toys 🙁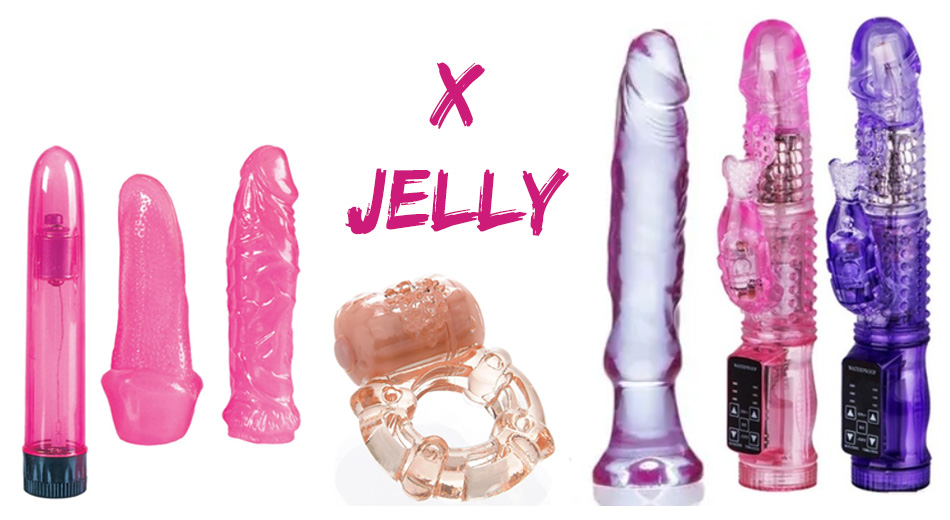 Run away.  Jelly or "Jelly Rubber" is often made with phthalates to keep it soft and flexible. This is a squishy, sticky substance and is often clear/translucent and can come in bright colours. Cheap to produce (so it's low cost). Very porous and toxic. Don't use it!
TPE/TPR sex toys 🙁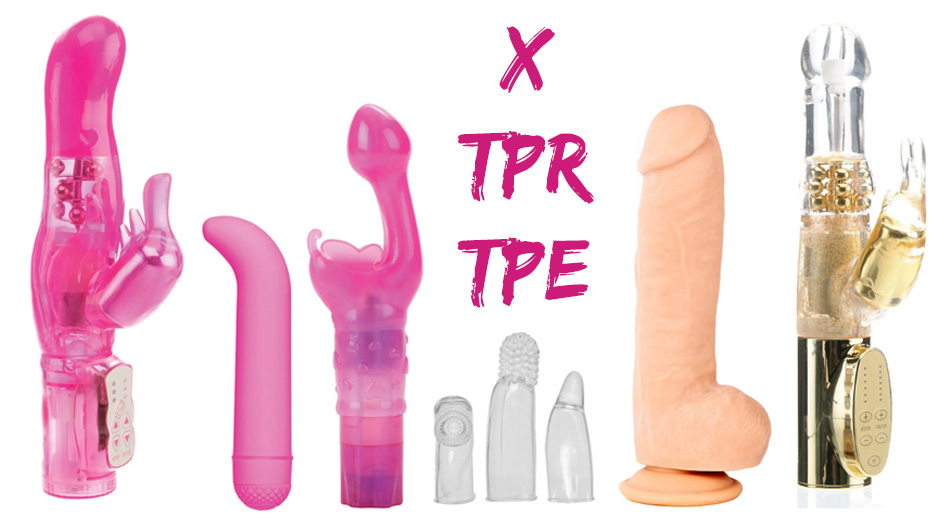 Approach TPE and TPR toys with caution. This is the safest on this "avoid" list. Non-toxic but may still be porous, so I still recommend that you avoid it. If you absolutely must buy this, use a condom over it. TPE sex toys have been known to retain things like HPV, so definitely no sharing. Some companies claim that their TPE is medical grade and non-porous, and in limited cases, this might be true, but there's no way of knowing for certain without sending their toys to a lab. The vast majority of TPE on the market is porous, so I personally avoid it (esp. when the brand tends to put forth other porous toys.)
Real Skin type sex toys 🙁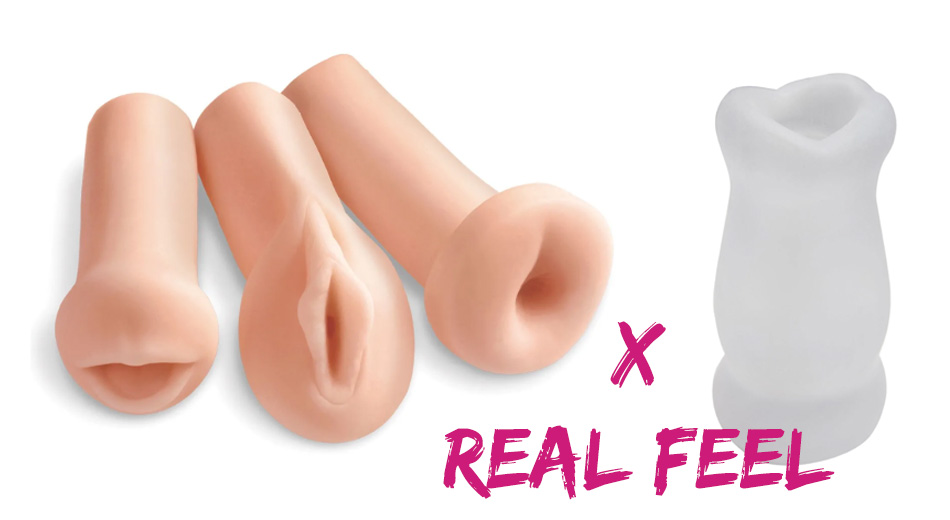 These skin-soft materials fall under the names like UR3, Cyberskin, Pure Skin, and RealSkin. These are highly porous, cannot be sterilized, and sometimes toxic. Several realistic dildos and penis sleeves are made from such materials. If a dildo is made from this, don't buy it.  If you're looking for a penis sleeve, stick to Fleshlight and Tenga sleeves. They're still porous (so remember they cannot be sterilized or shared) but they're non-toxic.
Silicone Composites sex toys 🙁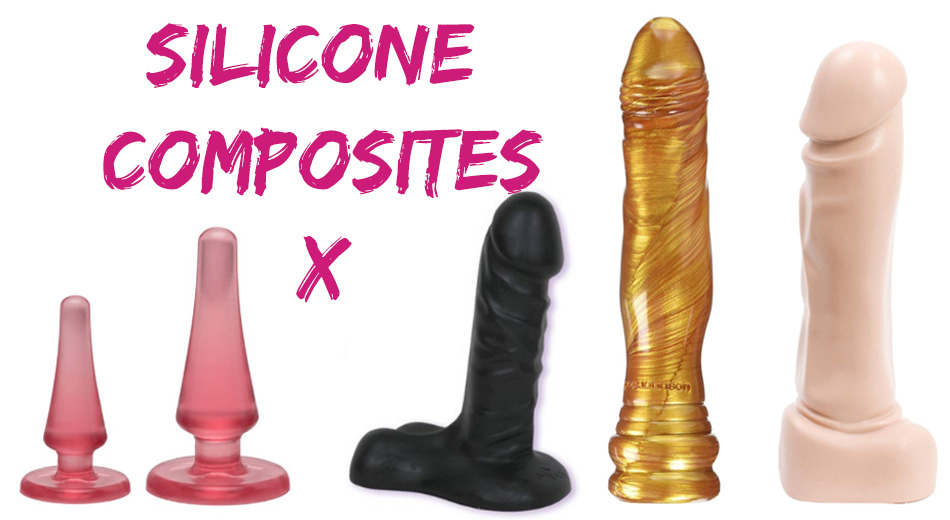 Silicone composites (e.g. Sil-A-Gel) contain less than 10% silicone. They're often squishy and soft and much cheaper than 100% silicone toys. Unlike 100% silicone toys, silicone composite toys are porous. Other materials in the composition (e.g. softened PVC) may make these toxic as well. Dangerous Lilly discusses Sil-A-Gel in depth.
PVC sex toys 🙁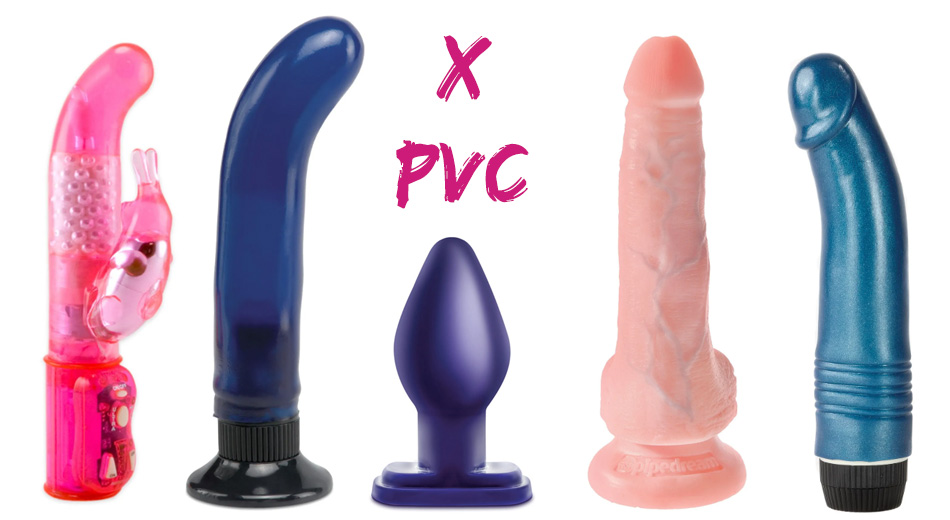 Bad. Common in realistic dildos. PVC, by nature, is a very hard substance, so if you have a soft squishy PVC toy, it's likely that it's been softened with toxic phthalates. This is a very common sex toy material because it's cheap to produce. This is a very porous material.
Latex Rubber sex toys 🙁
Sprint away. Latex rubber is porous and has the added danger of giving people allergic reactions.
What to do if I only have porous/toxic sex toys?
Throw them out. It's that simple. If you have a collection of rubber butt plugs, throw them out. If you love your jelly vibrators, throw them out. If you're experiencing any sort of burning sensation from your sex toys, throw them out. If you're not experiencing a bad reaction from your porous toy, still throw them out.
Then invest in safer alternatives, such as silicone, stainless steel, and glass. If you're a realistic-dildo fanatic, 100% silicone is your only safe option. Anal plugs and beads also come in glass and stainless steel, which is great too. If you want penis sleeves, Tenga and Fleshlight are your best bet.
Sorry to be such a downer, folks. When I learned about unsafe sex toy materials. I had to throw away a recently-bought collection of porous sex toys worth $100. I wasn't pleased. But it's great being able to safely use your sex toys without fear of toxins leaching into your cervix or germs from the last time you used your anal plug spreading everywhere….
Feeling overwhelmed? You can choose to simply shop from a store like Peepshow Toys, which ONLY stocks totally bodysafe materials. That way you're not double guessing everything you see.
Any questions? Did I miss something? Comment below or contact me through my contact form.