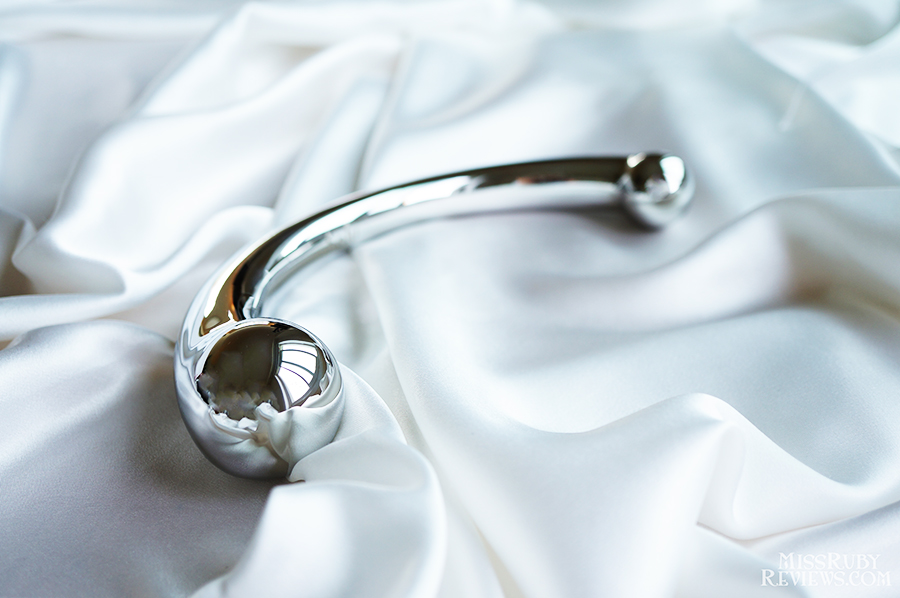 Behold! The queen of G-spot toys.
Physical Details | Packaging | Material and Care | My Experience | Overall
Physical Details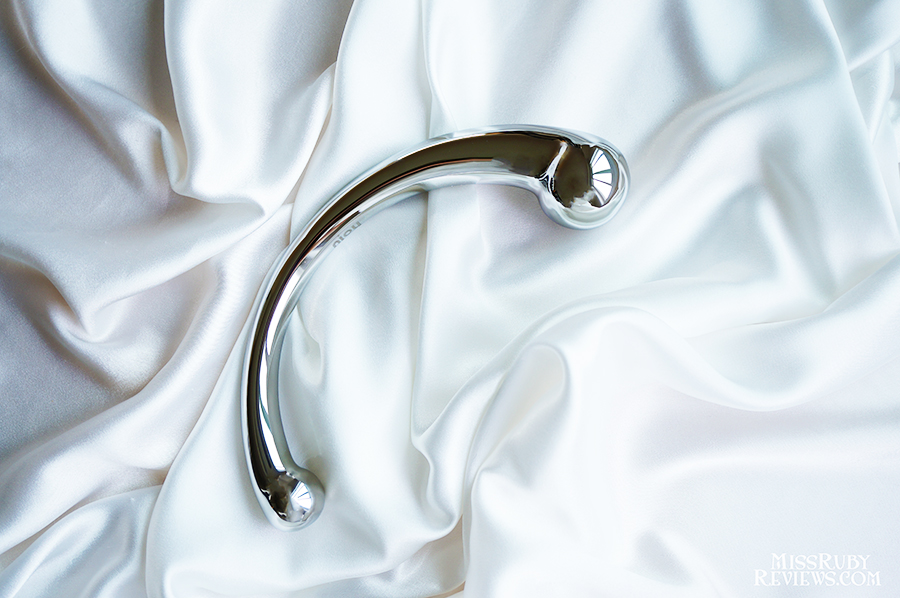 The njoy Pure Wand is a gorgeous, shiny, and famous stainless steel sex toy. With a curved crescent shaft and two usable, bulbous ends, the njoy Pure Wand is applauded as one of the best G-spot dildos on the market. And, with that severe anal-safe curve, it can also appeal to those looking for prostate stimulation.
Total length: 8″
Smaller tip: 1″ diameter
Larger tip: 1.5″ diameter
Eight inches sound huge, but its overall narrow shape makes it look underwhelming in size. Then you pick it up and it's crisp and cold and heavy. The njoy Pure Wand weighs over 1.5 lbs, making it one of the heavier dildos you'll come across. This weight, along with the glossy, flawless surface, makes this toy feel valuable. It feels expensive, it feels luxurious, and it feels serious.
Overall, the njoy Pure Wand's design is sleek and streamlined, consisting only of:
the small bulbous end;
the thin, curved shaft; and
the large bulbous end.
Asides from a small, subtle "njoy" inscription in the center of the shaft, the metallic surface is perfectly smooth and polished. This gives it a friction-free surface that glides easily.
Packaging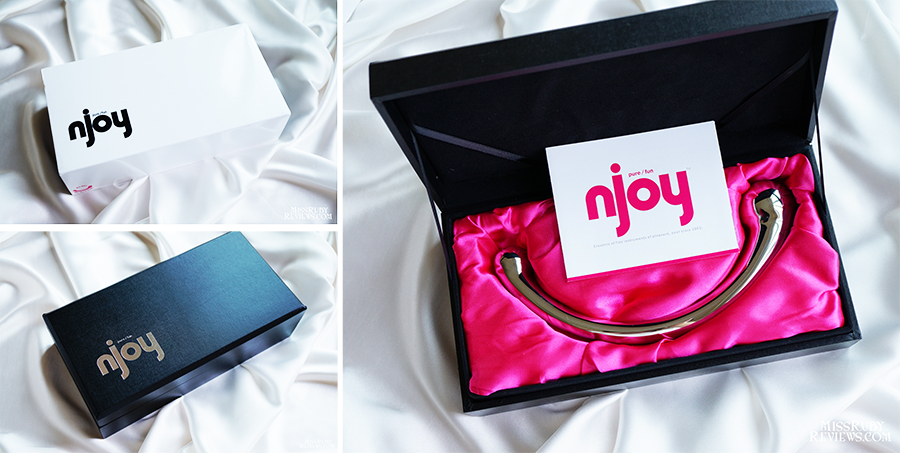 The njoy Pure Wand comes in fancy, giftable packaging. The box is packaged in a simple, white outer sleeve, allowing it to be discreet and gender-neutral. When you take off the sleeve, you find a black hinged presentation box with a silver "njoy" inscription. The box has the hardness of wood, feels sturdy, and has remained my long-term storage option for this toy. Inside the box, the njoy Pure Wand lies in a pink satin-covered pillow. You also receive an information booklet.
Material and Care
The njoy Pure Wand is cast in 316-grade medical-grade stainless steel and is hand polished. It won't corrode or degrade. In addition to being pure, hypoallergenic, and non-porous, it's perfectly smooth and durable. It's the same case in all njoy products, such as the njoy Eleven, njoy Fun Wand, and njoy Pure Plug.
For everyday cleaning, I wash my Pure Wand in warm, soapy water and let it air-dry. If you want to sterilize your toy (for example, for switching between anal and vaginal play, or for sharing with someone else), you can submerge it in boiling water. Alternatively, you can also submerge it in a 10% bleach solution and rinse thoroughly with water afterward.
Unlike silicone toys (which shouldn't be used with silicone-based lubricants), you can use any type of bodysafe lubricant with this toy. I recommend picking up any of Sliquid's bottles.
My Experience with the njoy Pure Wand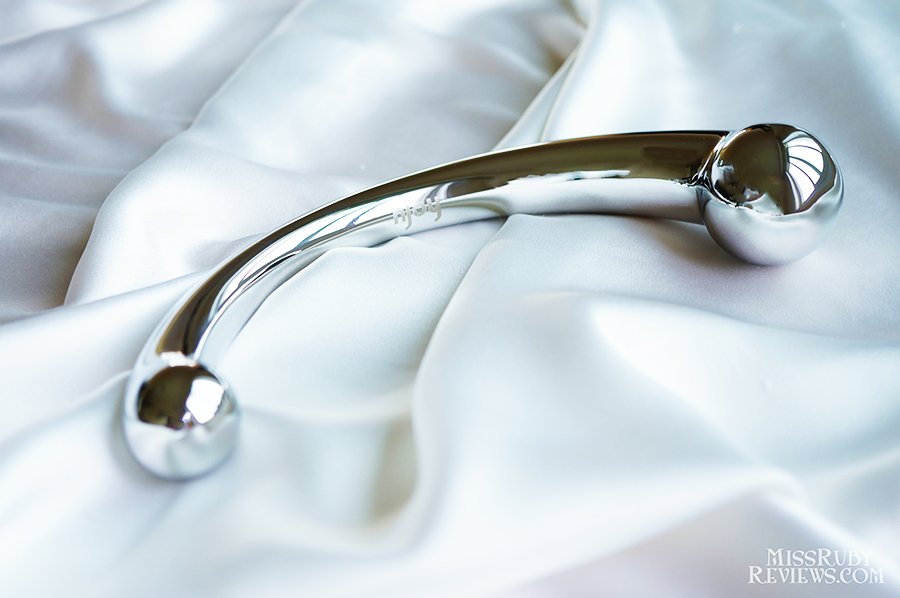 I won't beat around the bush: if you want to know whether I recommend the njoy Pure Wand or not, the answer is YES YES YES.
The njoy Pure Wand is engineered to provide intense G-spot (or prostate) pleasure. Here's how:
Bulbous ends 
Those of you who follow my blog will know that I'm a fan of bulbous sex toys. Bulbous/spherical toys feel large in use (larger than a non-bulbous items) and they target the G-spot with ease. Unlike a narrow finger that needs to locate the G-spot with its pin-point tip, the spherical end of the njoy Pure Wand pushes against my G-spot if it's simply inside of me. I don't have to angle it awkwardly or do acrobatics: that large bulbous end finds it immediately and presses.
The larger bulbous end does this so quickly and so well that I can't actually skip straight to it. I need to start with the smaller end to get the blood rushing to the G-spot; if I go to the large bulbous end straight away, it's too intense too quickly. For those of you who can warm up faster, you could probably go straight for the large end. But, if you're like me (whose G-spot is sometimes shy), it's great to have that dual-end option.
The curve does most of the work
You know how with straight dildos, you need to angle them so they're pointed upwards towards your belly button so they can find your G-spot? Or how, when getting fingered, you want your partner(s) to do the whole "come higher" motion with their finger? That's because the G-spot is located 2–3 inches on the front (belly-side) wall of the vagina. You need something angled upwards, and that's sometimes tricky to swing with a straight toy/finger/penis.
With the njoy Pure Wand, the severe curve means that there's no manual angling when I or my partner hold it. The curve does all the work, poising the bulbous ends to press firmly against the G-spot. This makes thrusting SO much easier (but again, SO much more intense).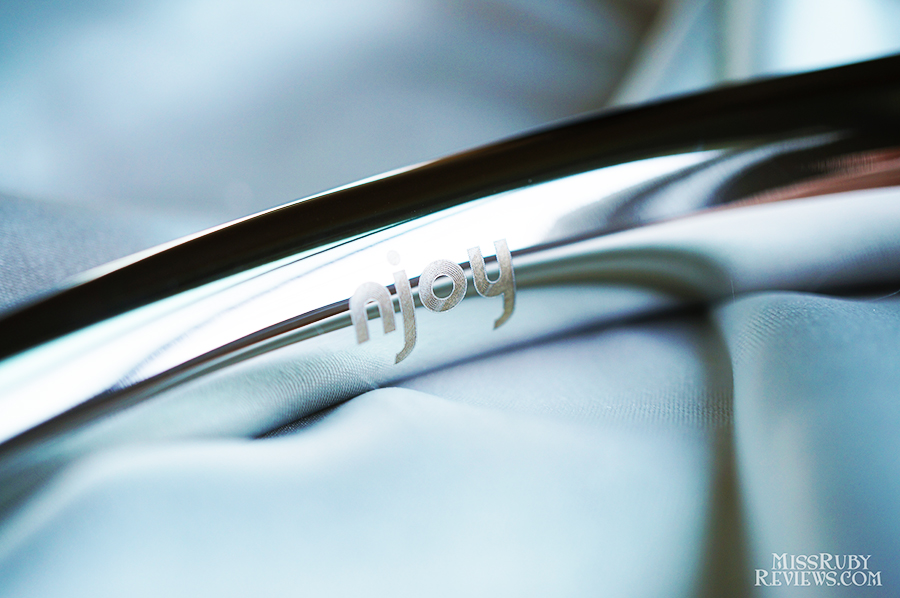 It's weighted
A hunk of stainless steel like this weighs a lot. Unfortunately, this means the njoy Pure Wand is off the table if you have mobility issues; there's no getting around that this isn't a lightweight toy. I personally can lift and work with a 1.5 lb product and I find that the heavy weight works with me to provide firmer pressure; it adds to the swing. This is good: the G-spot needs firm pressure. And because it's so smooth, a little lube goes a long way: it glides in and out easily, allowing you to pick up speed.
Also, this means the njoy Pure Wand can double as a great home-defense weapon.
Temperature play
Being stainless steel, the njoy Pure Wand warms up and cools down quickly. At first touch, it's icy. To get it even more icy, you can chuck it in the fridge or freezer for a few minutes. I personally prefer warmer toys, and love how it quickly heats up when it's submerged in luke-warm water. Be careful though: this heats up faster than silicone products, so be sure to touch-test it before you insert it to make sure it's not too hot.
So how does it feel?
Fantastic. I've never had a squirting or G-spot orgasm, but I really love good G-spot stimulation. The njoy Pure Wand delivers superb stimulation and has become my new go-to toy for intense G-spot play. Even if you can't experience G-spot orgasms, I've found that this toy has seriously enhanced and sped up my clitoral orgasms.
Overall
If I could only keep one G-spot dildo, this would be it. The njoy Pure Wand is a beautiful, bodysafe, and pleasurable toy. It excels in intense G-spot stimulation, though it can also be used for prostate stimulation. If you have mobility issues, though, be warned that the njoy Pure Wand is heavy at over 1.5 lbs.
To purchase the njoy Pure Wand, head on over to Peepshow Toys. Get 10% off with coupon code RUBY so that this item is only $99 USD. And if you're in the USA, this item ships with Free Complimentary FedEx 2-Day Air so you can get this pretty quick!

Last Updated on March 14, 2020 by Miss Ruby