A Review of the Liberator Wedge: Or, that magic foam thing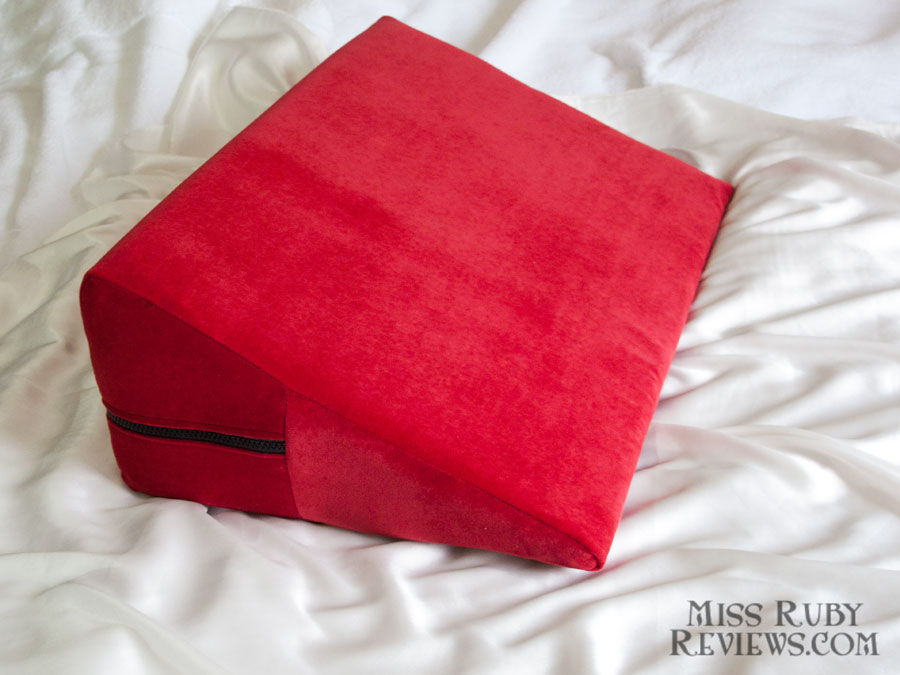 My partner and I have used the Liberator Wedge every single time since getting it. Every. Single. Time.
---
About the Store | Packaging| Physical Details| My Experience | Overall
About the Store: Liberator
Liberator is a US-based company that specializes in bedroom adventure gear. The Liberator Wedge reviewed here is one of their most basic products, but they offer larger, more elaborate sex furniture items, as well as the legendary Fascinator Throe and kinky wedge accessories.
Shipping and Packaging
Shipping was discreet. The box I received was plainly packaged. The name "Liberator" did not appear anywhere on the label. For international customs, the contents of the box was listed as "orthopedic pillows." In other words, had this box momentarily ended up in someone else's hands, they'd have no idea that it contained a sex furniture product.
Within the box, there are three items: an instruction poster, the cover in the colour you chose, and the Wedge in a compression bag. The compression bag is neat. Before I took the wedge out of the bag, I thought that was how tiny the wedge was, but what I didn't realize was that 90% of the air had been removed prior to shipping so that it could be compressed into such a tiny box. This reduces shipping costs and makes the package less conspicuous. As you can see, the wedge is about twice the size of the compression sack, and it isn't possible to get the wedge back in the compression sack once it is out.
Physical Details
The Liberator Wedge itself is a white foam brick shaped into a triangle. The foam has the perfect density for keeping you up in the air while still being cushiony enough to be comfortable. There is also a plus-size version of the wedge. I'm a size 14, so I was considering the plus-size wedge, but I found the regular-sized wedge to fit me perfectly.
The Liberator Wedge comes covered in a moist-resistant black liner. This liner is meant to stay on at all times to protect the foam core from lubricants and other liquids. If you do get a mess on this liner, it can be washed in a cold cycle and tumble-dried on low. The liner, being slippery, lets you easily get the microfiber cover on and off easily.
For the microfiber cover, I chose red (I'm Miss Ruby, after all), but there are several other colours. You can also buy additional ones separately if you can't decide on just one. This microfiber layer can be thrown in the wash as well. My one complaint about the cover is that it is much brighter than I was expecting. The red wedge used in the promotional shots is a deep, crimson red, but the red wedge that you get is a loud fire-engine shade.
I find the microfiber cover to be very comfortable against bare skin. I was worried that I'd overheat against it and sweat profusely, but that hasn't happened. My skin doesn't slide around on it either, which is useful. We've tried using it without the microfiber cover, but I found that difficult. The black liner is really slippery, and my hips were constantly sliding down the wedge.
The Liberator Wedge is 2 feet across and 7 inches high, angled upwards at 27 degrees. This means that your bum, vagina, hips, etc will be 7 inches in the air higher than it usually is. This number sounded small to me, and I was fairly skeptical that sex would actually feel any different.
I don't usually comment on pricing, but the Wedge is pricey. At $90, it definitely seems like an expensive object. After all, isn't it just a pillow? But no. After trying it out for myself, I'd actually consider the $90 to be money well-spent. This object is really useful.
My Experience with the Liberator Wedge
Wow. Okay. Where to begin?
I was really pumped to use this wedge. I didn't have huge expectations leading up to its arrival, but when I finally had the Liberator Wedge on my bed with my partner in sight, I was really eager to try it out. During the first go, we tried some of the recommended positions (see picture below), such as the Down Low and the Grab and Go. In plain speech, we tried Wedge-style missionary and doggy.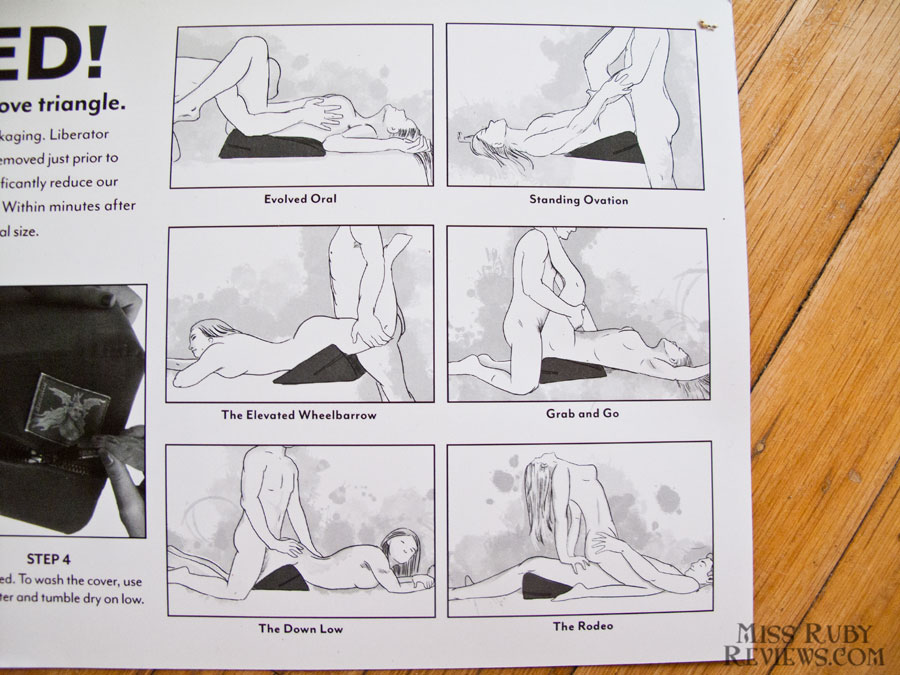 Doggy style feels no different than usual asides from more relaxing. Instead of holding up my body weight by my arms, I get to lie down on my front and enjoy.
Missionary style feels very different. Better. With my hips raised 7 inches up in the air, vaginal penetration feels more intense. It feels as if my partner is reaching places he usually doesn't in missionary position. In other words, penetration with the wedge feels deeper and more pleasurable, as if us females were always meant to have sex with our bums raised several inches up in the air.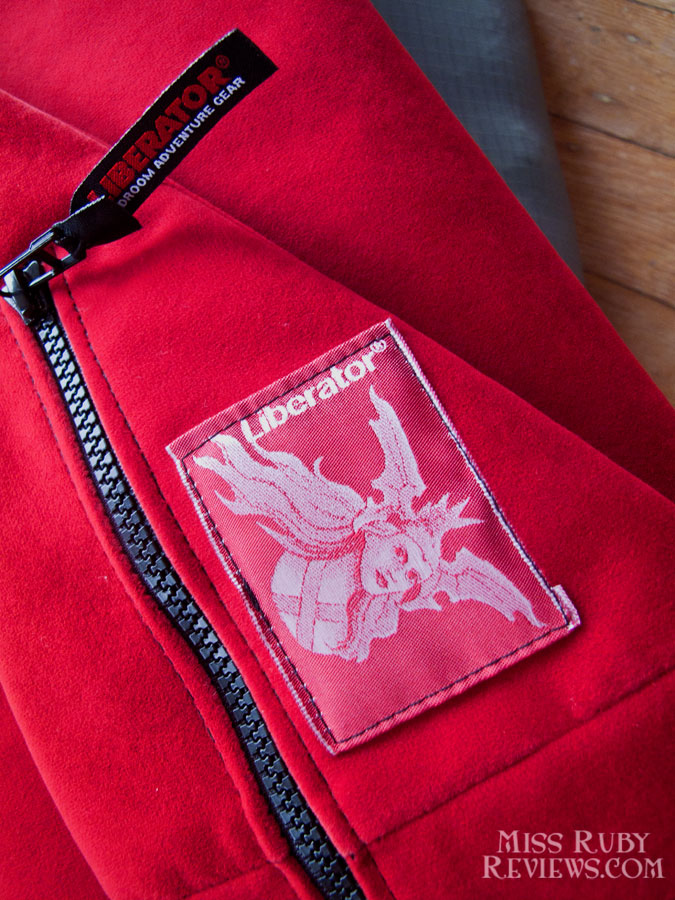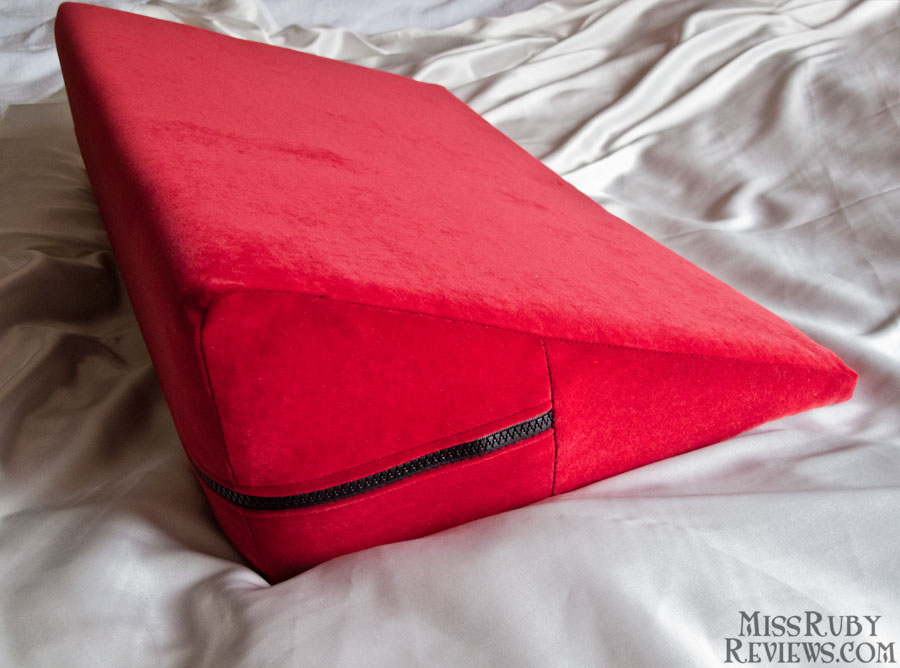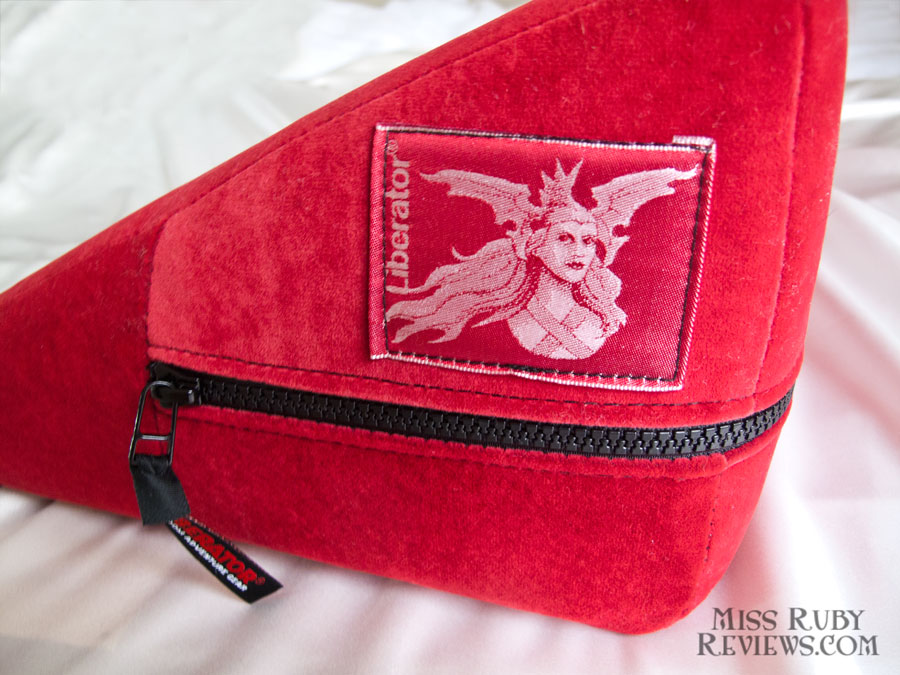 My partner and I tried the remaining 4 recommended positions over the next several sex encounters. In each of these positions, I realized the simple truth that sex using the Wedge makes my life a bit easier. Sex is less hard work. I really get to lie back, all my body weight dispersed onto the wedge and the bed, and enjoy.
Another thing I've noticed is that it's seriously fun to use this in bed. The moment my partner and I realize that sex is on the menu for the night, I run to the closet to fetch this Wedge. I want to use it each and every time we have sex. It makes me feel more exposed, more adventurous, more aroused. All this for a simple wedge.
On a side note, this also makes a really fantastic pillow for sitting up in bed. I use it when I'm reading in bed and it gives me perfect back support. I've been looking for a sit-up-and-read back support pillow for ages. Is there anything this can't do?
Overall
The Liberator Wedge adds a fun spin on the sex positions that I've used for so many years. In a way, it transforms all my favourite positions. It makes them feel new and novel as if I'm discovering them all over again. Not only that, but sex — specifically missionary position — feels better. I'm not sure if I'll be able to go back to having sex without this. This is a must-purchase.
To buy the Liberator Wedge, you can head on over to Liberator.