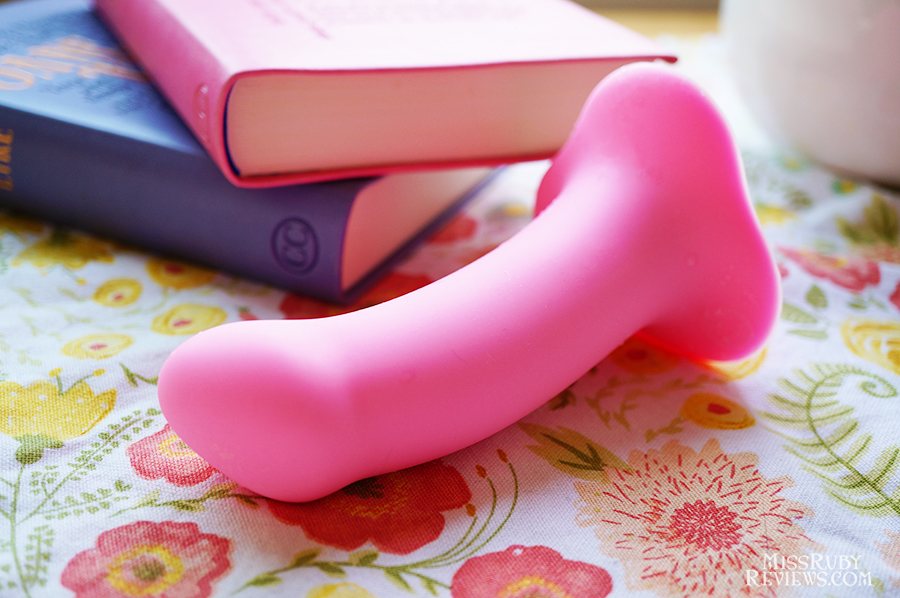 Even if you don't like pink… you've got to admit… this one is cute.
Physical Details | Packaging | Material and Care | My Experience | Overall
Physical Details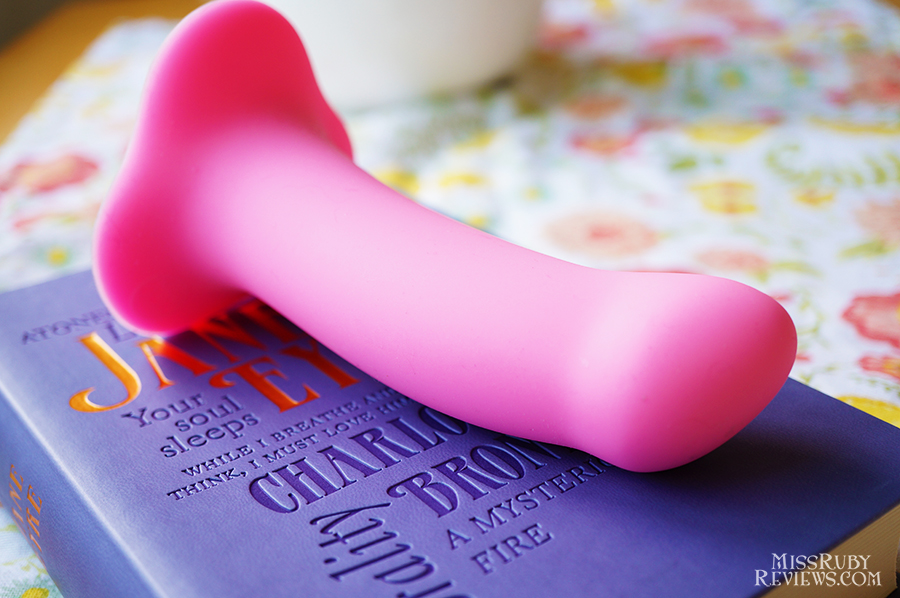 The Fun Factor Amor is one of the cutest low-cost silicone dildos around. At 5 inches insertable length and a 1.4-inch diameter, it's definitely on the small size for a dildo. Coupled with its sleek, simplistic design, the Fun Factory Amor is eye-catching. This dildo is single-density and is fairly firm, with only a few millimeters of squeeze to it.
While some people love realistic sex toys, realism isn't for everyone. The Fun Factor Amor is what I consider a stylistic representation (not at all realistic). The only phallic hint is the head; you can see the shadow of a coronal ridge encircling it. It also doesn't come in skin tones; I received mine in this lovely candy pink. It's also available in jet black.
All in all, this isn't a toy designed for intense G-spot stimulation. There's certainly a curve to help you aim towards the G-spot, but it's subtle enough to firmly remain in the realm of realism.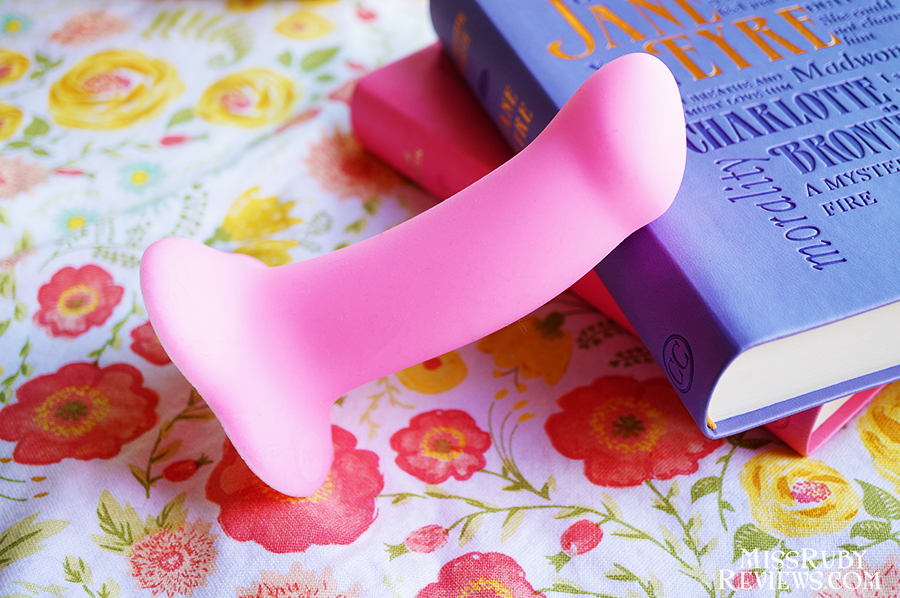 At the bottom, the Amor flares out into Fun Factory's typical triangular base. A "FUN" logo is quietly imprinted on one of the points. I love this base design because it functions as a hidden suction cup. The base is concave just enough for it to adhere to smooth, flat surfaces. I've slapped this on wooden floors, walls, and bathroom tiles, and it stays very firmly put. Fun Factory is really onto something with this design; most dildo's suction cups are bulky.
Thanks to that flared base, the Amor is safe for anal use. It's also O-ring harness compatible (a 1.5″ O-ring should do the trick).
Packaging
Fun Factory's packaging is funky and colourful. The Amor's outer box is purple, gold, and glittery. Inside, the Amor lies in a red chamber. You also receive a short product catalog.
Material and Care
The Fun Factor Amor is made from 100% medical grade silicone, making it totally bodysafe (non-porous and free of phthalates). This type of silicone is doesn't feel sticky on your fingertips, but it dust/pet hair definitely gravitates towards it.
The Amor's silicone has been treated to give it a very fine, invisible texture. Though you can't see it, the silicone has a strange fine-grained, gritty feel to it, like microscopic sandpaper. I wasn't expecting this (and I'll talk about it more below).
For standard cleaning, I wash it with warm soapy water. You can also use a silicone-safe toy cleaner, but I haven't found it necessary. If you're going to use the Amor anally or share it with a partner, be sure to sterilize it: you can submerge it in boiling water for 15 minutes or wipe it down with a 10% bleach solution (and rinse thoroughly afterwards).
As this is a silicone toy, it's best to stick to water-based lubricants like Sliquid's H2O (I have the Sliquid Swirl Green Apple and love it). If you need something thicker like a hybrid lubricant, be sure to spot test it because using silicone lubes with silicone products can degrade the material.
My Experience with the Fun Factory Amor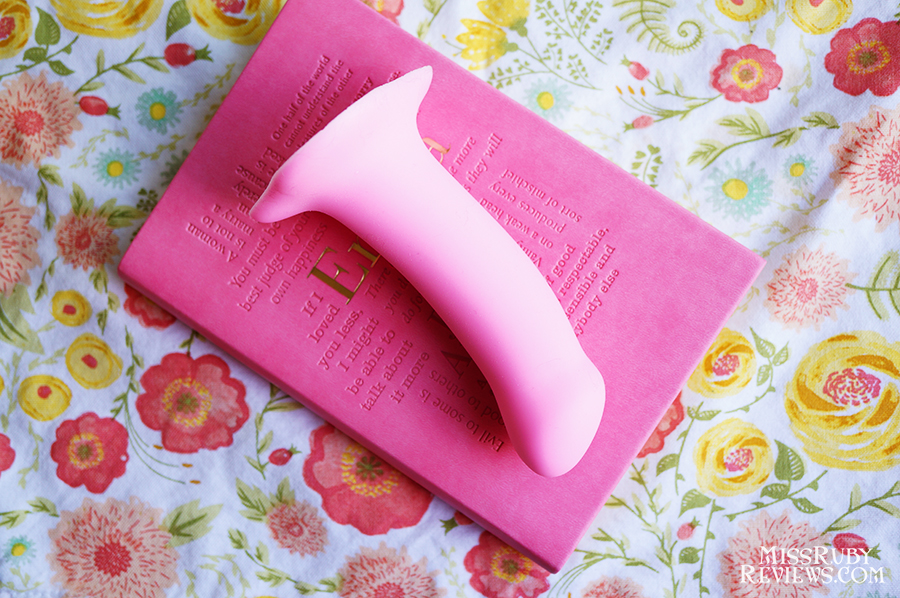 I wanted the Fun Factor Amor because it was small and suction-cupped. Specifically, I was looking for a dildo that could stick to the wall so I could simulate doggy-style sex (which, of course, has the added bonus of allowing you to simulate a threesome if your partner is in front of you). I also wanted something small enough to not require too much build up. Larger dildos can require a lot of time, making sure I've been aroused long enough to accommodate a large girth.
In those two regards, the Amor has lived up to my expectations. Its modest size makes it an easy start-up toy, one that can't accidentally punch my in the cervix. Plus, that suction cup is a boss; I haven't had any issues with it falling and my partner and I have loved incorporating it into our playtime for short periods. When simulating doggy style, I've found it best to use pointed downwards (so that the curve is still heading towards your G-spot as opposed to away from it).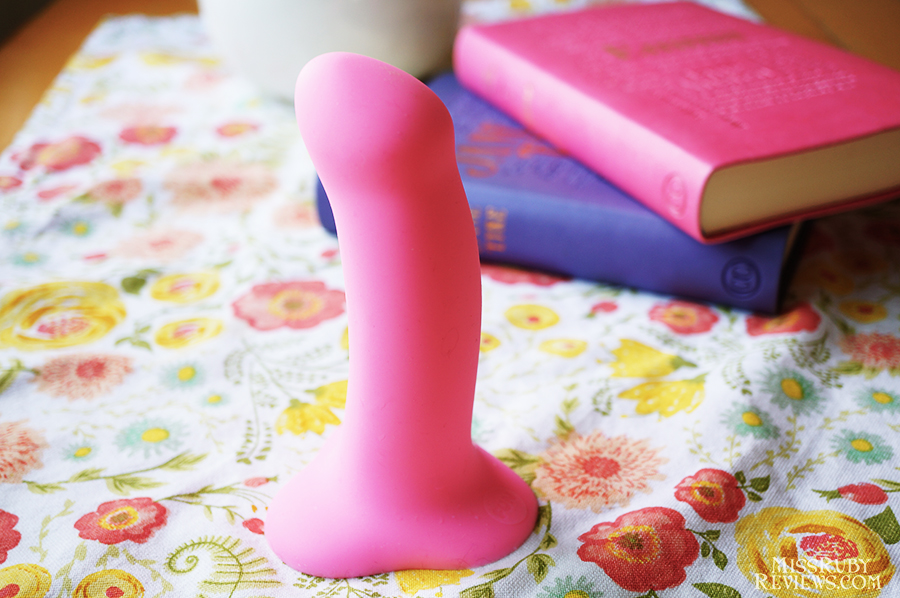 HOWEVER. No matter what position I try, or how much lubricant I pour on, I've struggled to adapt to the fine-grained, gritty texture. Some texture I love; when its built into the shape itself, like with the Fun Factory Moody or Tiger, it can be AMAZING. But this texture, only discernible by touch, is distracting and uncomfortable. No matter how lubricated I am, I don't like it. In use, I'm distracted by how the gritty nature drags harshly along my walls.  Even though it should be subtle, sensations range from mildly distracting to not-quite-right to painful. Adding more water-based lubricant doesn't seem to help for very long, as the lubricant disappears quickly. The result is that I'm hesitant to thrust firmly or quickly because it's akin to sandpaper. Not ideal for me. Hold up! I've released an update on the texture. Read it here.
That isn't to say that NO ONE can like this toy. I can imagine many people enjoying fine texture enough to appreciate this. I am simply not one of them. For you to enjoy this toy, you need to enjoy the grainy texture.
I've seen indications online that the Amor's bigger counterpart, the Magnum, has a smooth texture, so it's possible that this issue isn't present in that model. If you're looking for a smallish suction-cup dildo, you could also try the Vixen Mistress, Vixen Leo, or Blush Mio.
Overall
While the Fun Factory Amor is cute, stylish, and suction-cupped, it ultimately doesn't work for my body. The source of my misery is the grainy, gritty texture; for me, it's distracting and uncomfortable.
But if you know that you enjoy fine-grained textures, you may fall in love with this toy. And at $39, it remains one of the most affordable silicone dildos on the market.
To purchase the Fun Factory Amor, head on over to Peepshow Toys. You can get 10% off your whole purchase with coupon code RUBY.