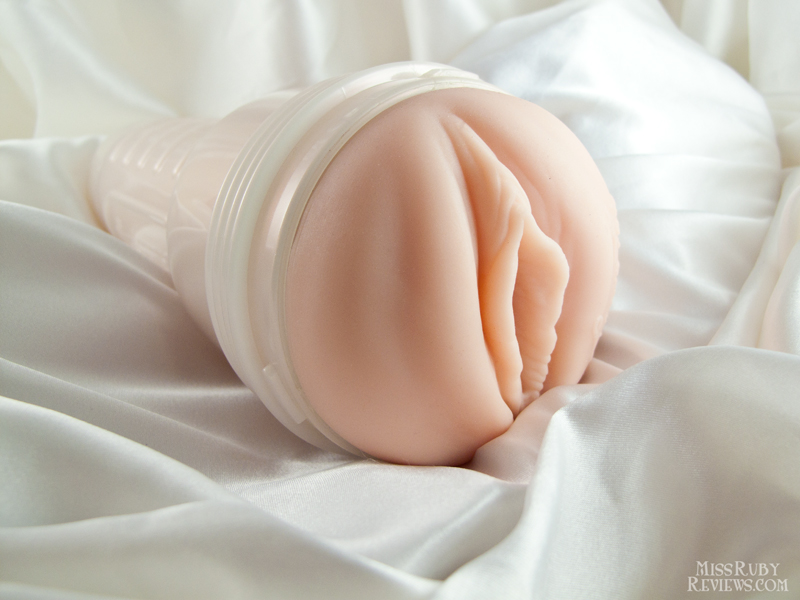 Update: This model has been discontinued, but I've replaced links with the closest match I could find – Dillon Harper.
My first penis sleeve review! Huzzah! Read on for my Fleshlight Girls review!
---
Physical Details
Well, this is a pretty vulva.
Fleshlight Girls is, very obviously, a penis masturbator. And it's a large one, at that. Standing at 10 inches tall, it accommodates a 9-inch penis length, allowing comfortable use by both smaller and well-endowed penises.
External Design:
The exterior of this model features a stunning live-cast of Tanya Tate, a British porn star. It's really interesting for me to handle this toy because (a) I've never been with a woman and (b) I can't peer as closely at my own vulva as I can at this Fleshlight. Suffice it to say, I'm not used to seeing a vulva close-up in all its glory, and I'm loving it. The details on this Fleshlight are impressive. The outer and inner lips are full, the clitoral head is perky, and the folds of skin are intricate.  The whole vulva is a pale peachy colour, the same matte shade throughout.
Tanya Tate's signature is sprawled across her left outer lip, which detracts from the realism, but adds a personal touch I'm sure Tanya's fans would enjoy. If you choose a different model, their corresponding signature is here instead.
The case is an interesting piece of work. The front cap protects the SuperSkin material during storage. The cap at the end of the shaft can be twisted during use. This adjusts the level of suction within the canal during use.
The case itself is long, sturdy, and adorably pearly. My hands aren't anywhere as large as a man's, but I can still grip it fairly comfortably. The case also has small ridges along it for extra grip, and this comes in handy when your hand is slippery with lubricant.
All in all, the whole thing is fairly heavy, weighing in at 635 grams. Its heavy weight may cause issues for you if you have any mobility concerns or arthritis.
Internal Design: 
Though Fleshlight Girls come in several internal designs and models, this specific Tanya Tate model features the "Lotus" design. Fleshlight calls it the "most realistic vaginal intercourse sensation possible." The first 2 inches of the entry are smooth and narrow. It opens up a bit into a wider canal, and then at 6 inches there are some serious ribbed textures going on. Because the most stimulating texture is in the last 3 inches, not all people will be able to enjoy the complete Lotus experience.
Material and Care
Fleshlight sleeves are made from Fleshlight's SuperSkin material. It is bodysafe, but it's porous so it needs to be cared for carefully. It feels beautifully soft, squishy, and silky. I just want to pet it. Does it 100% feel like real skin? No, but it comes pretty close. Using lubricant will make it slippery and slick.
After each use, take the sleeve out of the case and run warm water through it. I recommend using Fleshlight's Antibacterial Cleaner as Fleshlight specifies to NOT use soap or detergents. Spray the Fleshlight cleaner on the outside and inside of the sleeve, rinse, and allow to dry on a clean non-porous surface. Once it's completely dry, sprinkle it with Renewing Powder and make sure there's a thin layer covering the inside and the outside. You can then return it to the case and store it. After its first use, it'll become tacky unless you sprinkle it with renewing powder, so this last step is really important.
Because you can't use regular soap with this, I strongly suggest picking up Fleshlight's Antibacterial Cleaner when checking out.
Shipping and Packaging
Fleshlight's packaging is generally quite pornographic, but if you buy through Lovehoney, you'll receive their re-packaged no-nudity version. The outer box features the model and a few of her statistics. Inside, you receive the Fleshlight, a packet of lubricant, and an information booklet.
If you order through Lovehoney, you're also guaranteed quick and discreet delivery. My order was placed on June 5th and I received my package on June 9th. For international shipping from Lovehoney's warehouse in UK all the way to Canada, this is really impressive. The box that arrived was plain and brown, with no hint of the package's origins. If you're concerned about your privacy, this means that you won't have to worry about nosy roommates or family members realizing that you're ordering things from a sex toy company.
Our Experience with Fleshlight Girls
I'm not a huge fan of giving handjobs. They're okay, and I do fine, but never feel like I really know what I'm doing. I feel clumsy at it, and I much much prefer giving head, so I have very little experience/time/patience with handjobs.
This is one of the reasons I wanted to get my hands on a penis masturbator. Using one of these on Mr. Ruby, I realized, would take away all my handjob worries. It'd be much easier (and arousing) to use this on my partner than use just my hands alone.
In reality, yes, and no. I do find it arousing to watch my partner use it (and to use it on my partner). Using this together is visually stimulating. I don't usually get to see the actual moment when a penis pushes past my lips, so being able to see this moment (albeit simulated) is a huge turn-on for me.
But I don't find it easier than using my hand simply because it's quite heavy. I don't have particularly strong arms and I got fatigued quickly. Mr. Ruby didn't have an issue with this, though I think this is something to consider if you have any mobility issues.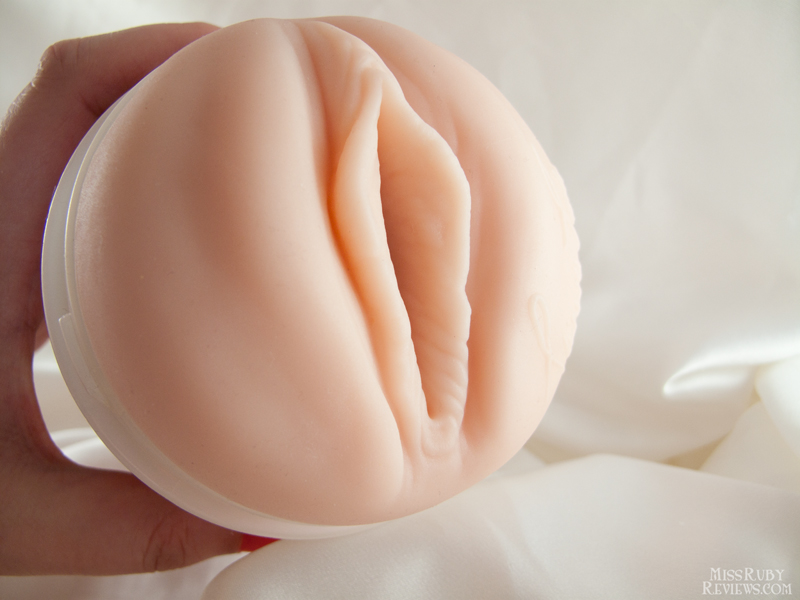 In use, the texture is very soft. Fleshlight's SuperSkin material is a definite plus, enhancing Mr. Ruby's experience. It definitely has to be warmed though. I strongly suggest placing the inner sleeve in a bowl of hot water for about 15 minutes. Better yet, grab the Fleshlight rod warmer.
Although Fleshlight calls the Lotus the "most realistic vaginal intercourse sensation possible," my partner doesn't find it to be similar at all. Asides from all the obvious reasons why a Fleshlight can't feel like real vaginal penetration, he said that the entry is smoother than vaginal penetration, something that makes it comparatively less stimulating. That being said, this is his first Fleshlight, so he can't compare it to other models. It might feel more realistic than other Fleshlight models.
One thing to note is that, for users who are used to masturbation sleeves without a plastic case, not being able to squeeze may be a bit startling. Because the outer shell is hard, you can't adjust "amount of squeeze" like you can with your hand or a non-encased sleeve. The upside of this is that you can adjust suction by turning the valve at the end of the case. For people who love suction, this can be a real treat. When the cap is closed, Mr. Ruby says that there's considerably more suction, which he finds immediately more stimulating. This comes with a bit more friction though (so add extra lube), as well as the need to push and pull harder.  He enjoys this though, and I think this feature really sets Fleshlight apart from cheaper sleeves.
I think the biggest drawback of this model is that people with penises under 6 inches in length won't be able to enjoy the best parts of the design. Only people with penises around 8-9 inches will get the most out of this experience because it's the last 3 inches that are the most stimulating. The heavily ribbed textures at the back of the case offer vigorous stimulation to the head of the penis, but only if the penis can reach them. My partner's penis falls safely in the "average length" group, and he can't reach the back textures. As such, his stimulation is limited to the smoother parts of the Lotus canal.  For average-sized and smaller penises that enjoy intense stimulation, a Fleshlight Pink Lady Stamina Training Unit (STU) might be a better bet as it's the same stimulation throughout.
Fleshlight Girls review – Overall thoughts
For penis-owners who enjoy a subtle, nuanced sensation, Fleshlight Girls is a good choice. Mr. Ruby, who can't reach the back sections of the canal, still finds this model stimulating enough. Plus, he finds this fun to use as an alternative to his hands because it's a novel experience, something he's not used to. And for larger penises (6-9 inches), this model will offer the best of both worlds: a smooth, subtle entry and an intense stimulating end.
For these reasons, we think this model still makes for a great purchase.
To buy a similar model, here are some recommended stores: 

Lovehoney USA
 (
$79 USD)

Lovehoney Canada
($114 CAD)

Lovehoney UK
(£69 GBP)


Last Updated on February 27, 2022 by Miss Ruby