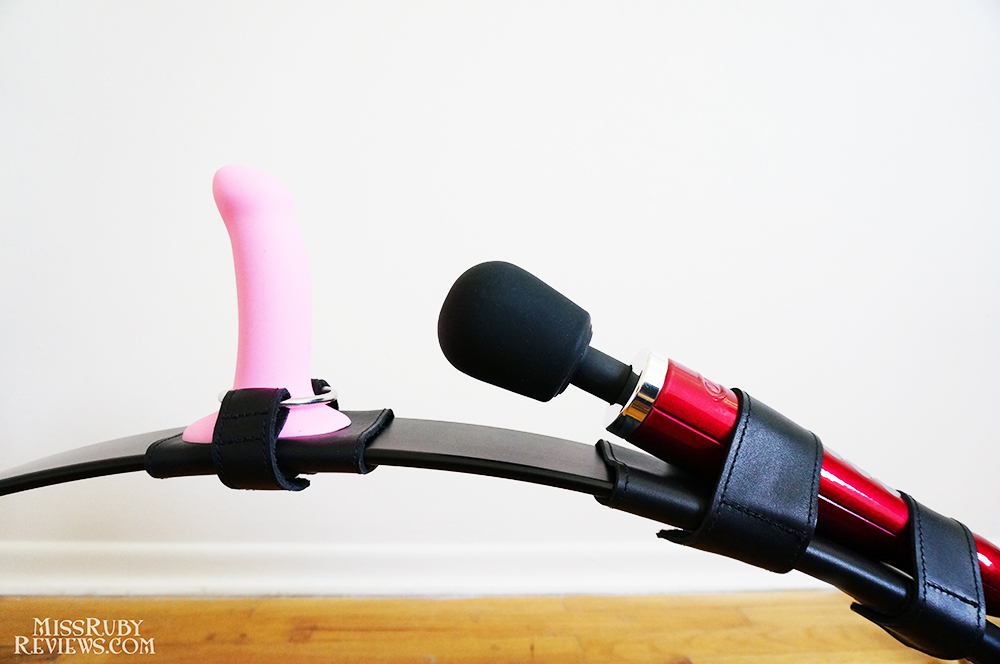 Last week, I reviewed the LoveArc Self Propelled Sex Machine. This week, I'm highlighting two fabulous harnesses that expand the LoveArc's capabilities even more!
This review covers the LoveArc dildo and wand harnesses only. For my review of the actual LoveArc, head here.
Dildo Harness | Wand Harness | Packaging and Care | Overall
LoveArc Dildo Harness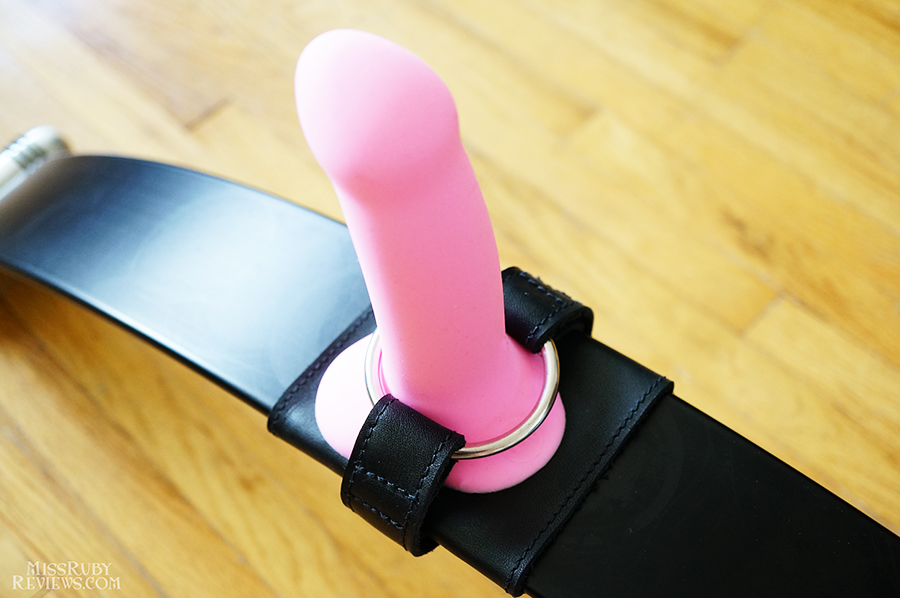 The LoveArc Dildo Harness is an essential addition to the LoveArc. Without the harness, the LoveArc requires a dildo that can stick to it via a suction cup. Unfortunately, most dildos don't have suction cups.
Most dildos do have some sort of flared base, which is where the Dildo Harness comes in.
The Dildo Harness is stunning, made with handcrafted black leather, and it's designed specifically for the LoveArc.  It fits snugly around any part of the the curved beam of the LoveArc; two straps on either side wrap around two sides of the harness O-Ring, securing the dildo in place.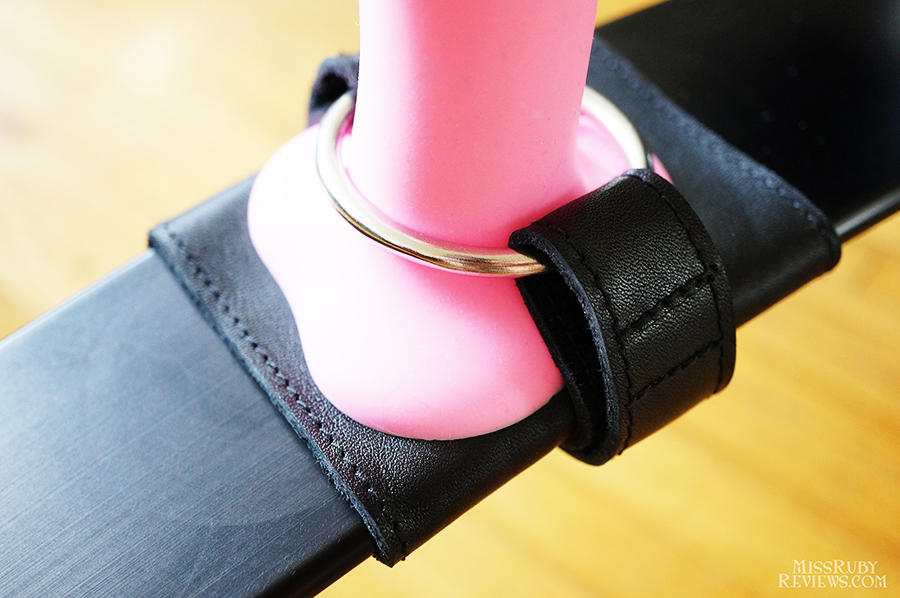 The O-Rings are sold separately. The ones through LoveArc are stainless steel, super sturdy, and available in 50mm, 60mm, and 80mm. They can be purchased here. The LoveArc Dildo Harness can be used with any O-Ring size though; if you're purchasing through UberKinky, have a look at these similar rings. Remember to measure the diameter of a couple of your favourite dildos so you know which ring to purchase.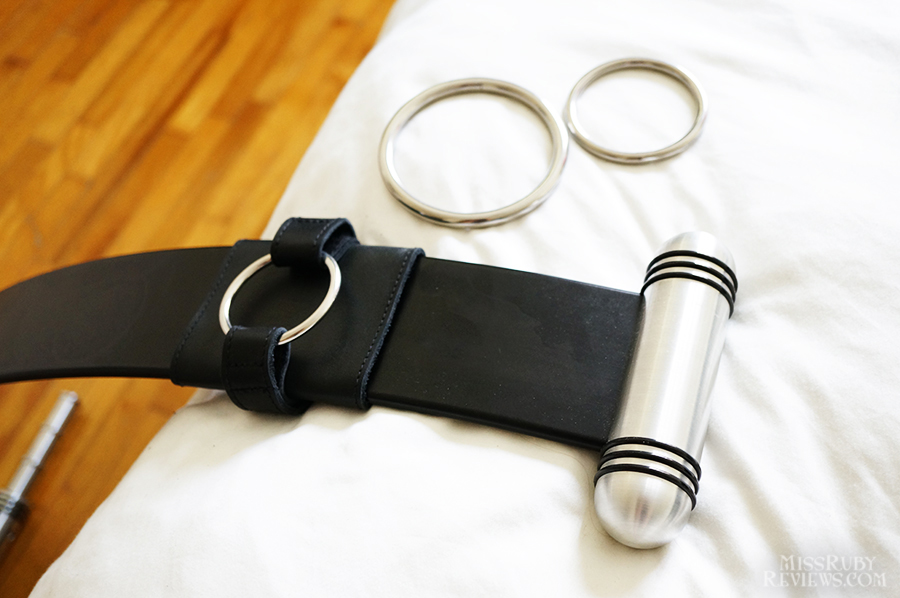 The LoveArc Dildo Harness has obviously been designed with a lot of care. In use, the harness does its job; my flared-base dildos stay in place, no matter how swift my movements. The leather is also soft and comfortable on the skin of my thighs; there's no uncomfortable scratching.
Most of my favourite dildos don't have a suction cup. Thanks to this harness, I've been able to use some of my non-suction cup favourites like Tantus Mark and the EE Halfling. If you're investing in the LoveArc, I strongly suggest picking up this harness as well.
LoveArc Wand Harness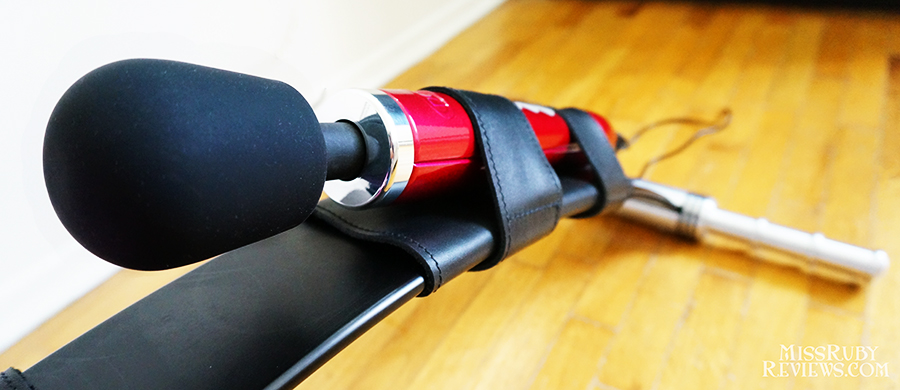 So the dildo harness is useful because it lets you use more dildos; the wand harness, on the other hand, is amazing because it takes the capabilities of the LoveArc to a whole new level.
The LoveArc Wand Harness is also made of handcrafted leather. It wraps around the beam of the LoveArc, securing itself in place with velcro (I know that doesn't sound strong, but it works), and allows you to use wand-style vibrators with your LoveArc. There are two adjustable other straps, one thick and one thin. I place the thick strap around the closest part of the wand head. The thinner straps snugly fits around the thinner part of the wand handle. It perfectly fits both the Doxy Die Cast and the Magic Wand Rechargeable; the controls aren't even covered up, which is super useful.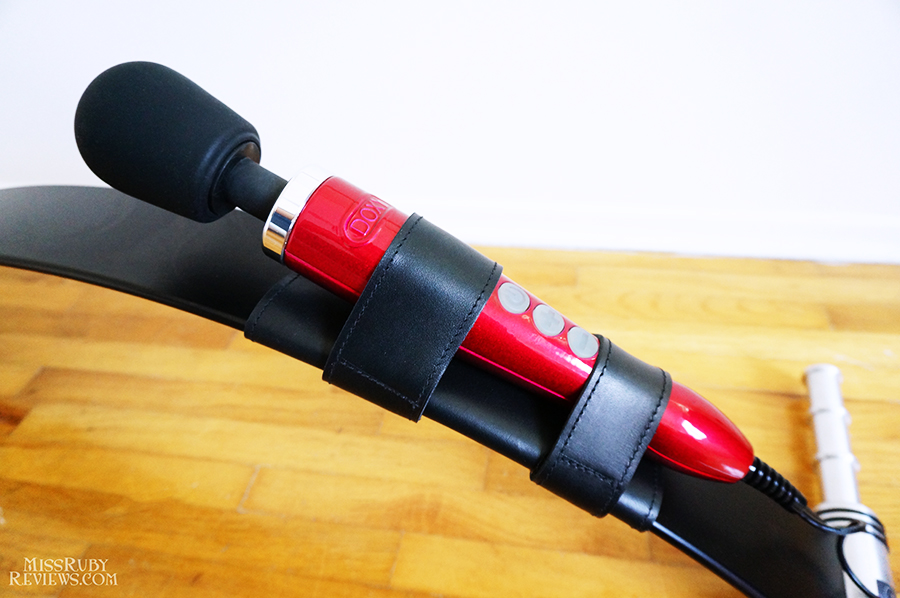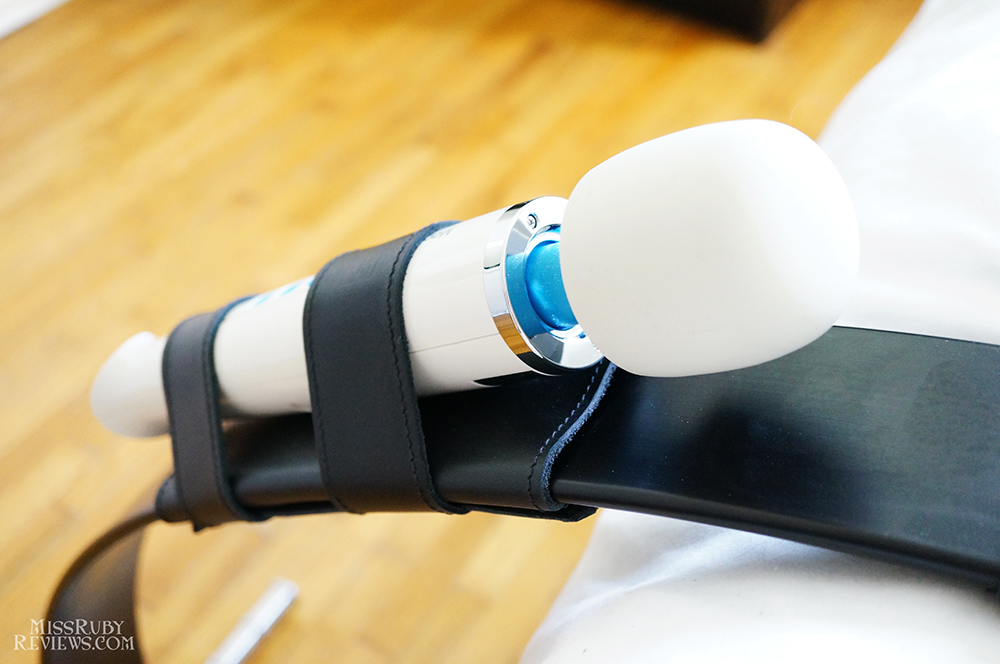 With the Wand Harness, I'm able to mount a dildo AND get clitoral stimulation at the same time. This feels fantastic! Most cis-gender women can't orgasm with internal stimulation alone (me included), so I need good clitoral stimulation. An added perk of this position is that, when I'm mounted on top, my pelvic floor is clenched to hold myself up, which brings on orgasms quicker.
I also love that it provides hands-free orgasms. Sometimes, during play with my partner, I want both hands free (which often isn't possible because one hand is often stimulating my clitoris). To have hands-free stimulation definitely frees me up. If you're into forced orgasms, this harness would also come in handy.
I have noticed that, even when the straps are tight, the wand nudges around when I push against it with my pelvis. I knew it wouldn't stay perfectly still, but I suspect if the leather was slightly less smooth, it would move around less. It hasn't been a big issue for me though, and certainly not a dealbreaker.
I also played around a bit with non-wands. Yes, it totally fits the Satisfyer Pro and the We-Vibe Tango! It's a bit tricky to use, but technically it works!
Packaging and Care
The Dildo Harness and the Wand Harness are sold and packaged separately. They arrive in little cardboard pouches like the one above. It's simple and clean!
Because these are made from leather, you want to be careful to keep them clean and dry when not in use. I wipe mine down with a damp cloth (sometimes baby wipes) and then again with a dry cloth. I store them on the LoveArc itself; keeping them securely wrapped in place is a good way to make sure I don't lose anything.
Overall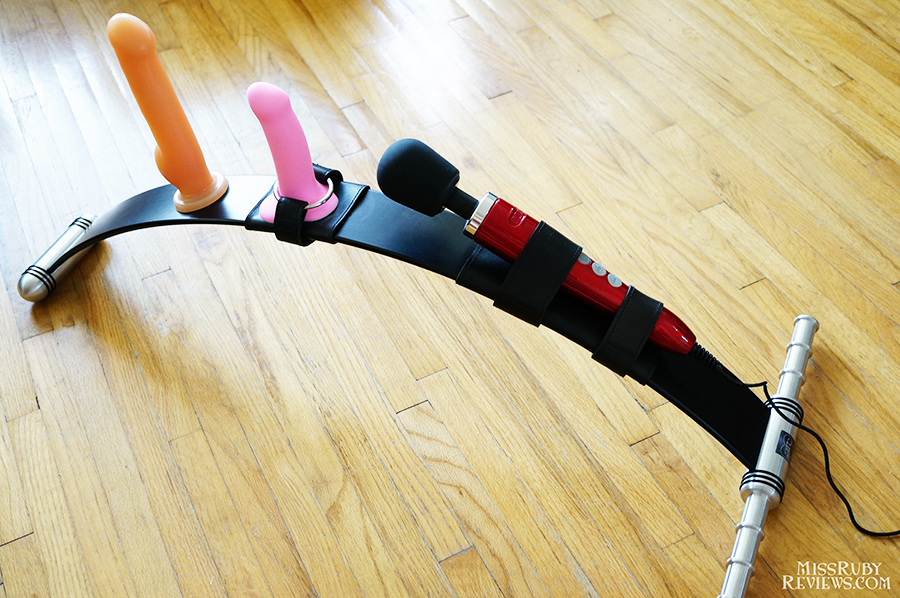 Both of these harnesses are super useful! The Dildo Harness ensures I can use practically any dildo, not just suction cup dildos, and the Wand Harness lets me enjoy dual stimulation and hands-free orgasms.
To purchase these harnesses, head on over to UberKinky (dildo harness here and wand harness here)! You can also purchase directly through LoveArc.
Last Updated on March 14, 2020 by Miss Ruby