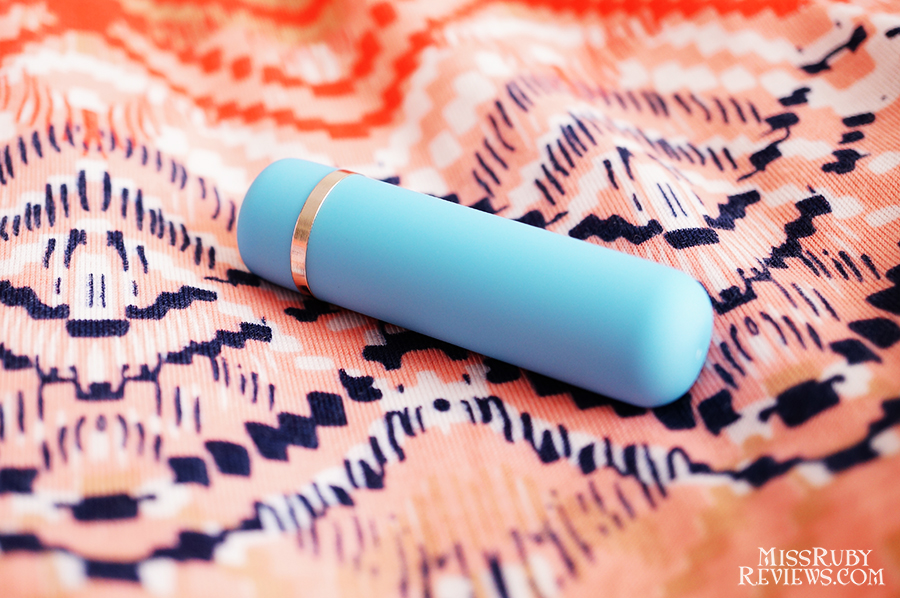 An itty bitty Joie vibe for those of you who need something small and discreet.
I'm dealing with an injured wrist here so this review will also be itty bitty!
Physical Details | Packaging | Material and Care | My Experience | Overall
Physical Details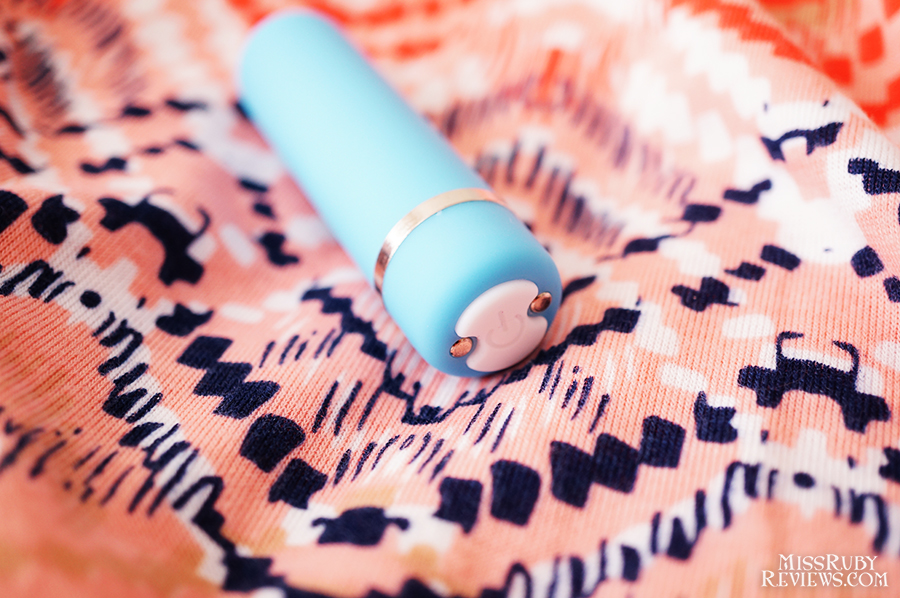 The NU Sensuelle Joie is a TINY little bullet vibrator.  Smaller than a standard lipstick case (measuring only 2.5 inches long and 0.75 inches wide), it's the kind of vibe that can easily slip in a purse or jean pocket.  Despite its small size, I heard it was powerful, and was interested in giving it a go. Plus, it's cheap; it's only $35 USD at Peepshow Toys ($31.50 with coupon RUBY), and it's hard to find vibes that offer all these features at this price.
As far as looks go, the NU Sensuelle Joie keeps things simple and plain. It's a smooth cylinder with rounded corners; the only embellishment is a metal ring around the base, which helps you orient it the correct way. At the base, there's a single power button and two subtle metal bits (for the magnetic charging cord).
Single-button bullet vibrators are pretty common (the famous We-Vibe Tango uses the same). Instead of an increase and decrease button, you have one single button controlling everything (see the "how to use" section below for details).
Though it's designed for clitoral stimulation, there's nothing stopping you from using it on other body parts (penis, nipples, etc). Keep in mind, however, that this should not be used anally.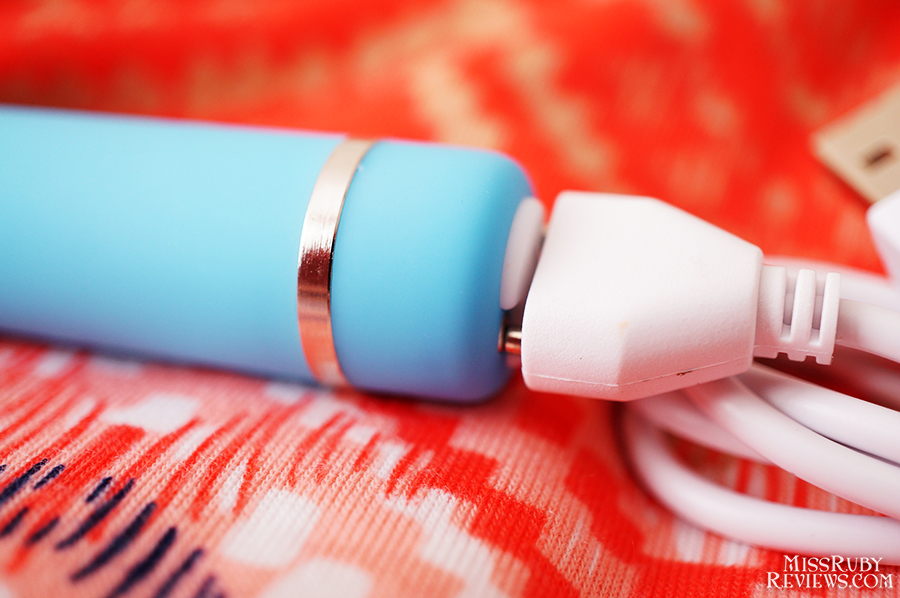 How to use the NU Sensuelle Joie
To turn on your NU Sensuelle Joie, press the single button at the bottom. It'll turn on at a low, steady state with an LED light. Keep on pressing to cycle through all 15 vibration modes (three increasingly strong steady states, and the rest are patterns). To turn off, hold the button for about 3 seconds. When you turn it on again, it'll start at the lowest steady state again.
The NU Sensuelle Joie is rechargeable, which sets it apart from many other bullets under $40. To charge, connect the magnetic pins on the charging cord to the base; it'll be a bit loose, but the magnetic pull should keep them together. Like most chargers, it's USB — so you can plug it into you computer or into a USB wall adapter. While charging, the LED light at the base will flash. Two hours of charging will get you approximately 25–50 minutes of playtime.
Packaging
The NU Sensuelle Joie has pretty functional, simple packaging. Its packaging is white and grey, with a few key taglines (discreet, petite, powerful). Inside, you receive the Joie, a satin pouch, an instruction manual, and the USB charging cord. I'm glad it came with a pouch (it's such a pain trying to find proper homes for all the pouchless toys I receive). The satin pouch looks quite giant in the image above but it's not – it's 6.5 x 5 inches in size (fairly standard/small).
Material and Care
The Joie is made with ABS plastic (which is bodysafe) and it's covered with a layer of silicone (which is even better). This makes the Joie non-porous, free of phthalates, and bodysafe.
This toy is also waterproof! You can submerge it, which makes cleaning so much easier; I simply rinse mine in warm, soapy water.
A one-year warranty is included with the Joie in the event of a manufacturing defect. Follow the instructions in the manual to register your product.
Because the Joie is coated in silicone, it's a good idea to avoid silicone-based lubricants. If you plan to use lubricant, opt for a good quality water-based lubricant, such as Sliquid's H2O.
My Experience with the NU Sensuelle Joie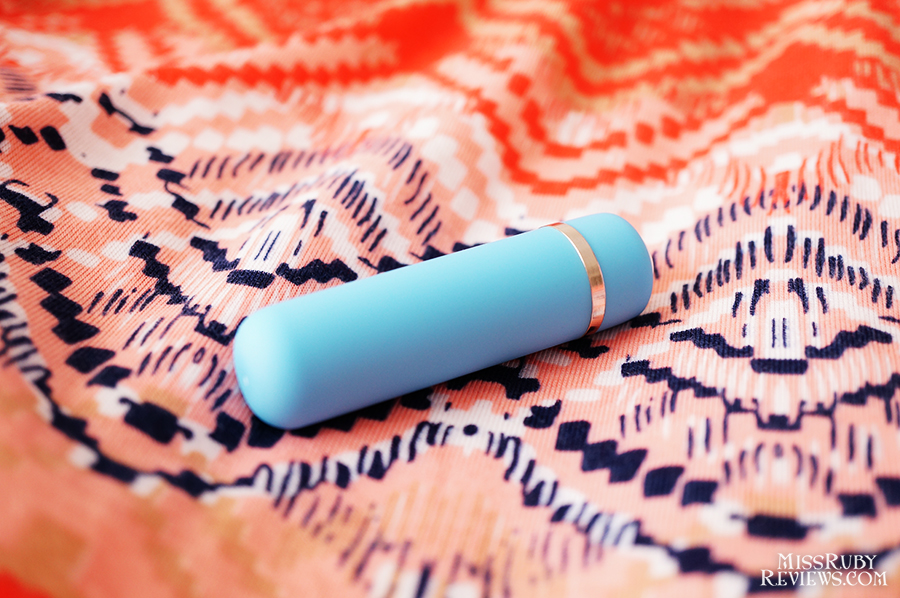 A little while ago, I was super impressed with the $40 FemmeFunn Ultra Bullet Massager (review here), which won't ever win prizes for its name but really packed a lot of power and became my favourite low-cost vibrator in 2017.  So, I was optimistic about the NU Sensuelle Joie, priced at $14 cheaper.
The NU Sensuelle Joie does, actually, have a good little engine for power. The vibrations fall at around 6.5/10 in strength, which honestly isn't bad for this price range. I've had $130 clitoral vibrators with much weaker engines. It's also relatively quiet (8/10), and it won't be heard through closed doors/walls.
Thanks to the strength and its great pin-point shape, this means that the Joie has been able to get me to orgasm, particularly when I'm feeling sensitive. I'm a big fan of pin-point stimulation though — if it's pin-point, I don't need as much strength from a toy in comparison to wand-style vibes.
Still, I can't give a wholehearted recommendation. The Joie's engine does have strength, yes, but it's also very buzzy. Instead of deep, rumbly vibrations, these ones are fairly surface-level. Decently strong, but surface-level and high. And, due to the tiny body, the vibrations travel throughout the entirety; my hand gets temporarily numb very quickly when I hold it. My clitoris, which can sometimes be quite iron-willed, lasts longer and can orgasm. That being said, I haven't been able to reach a second orgasm with this toy, like I can with rumblier vibes like the FemmeFunn or the Tango.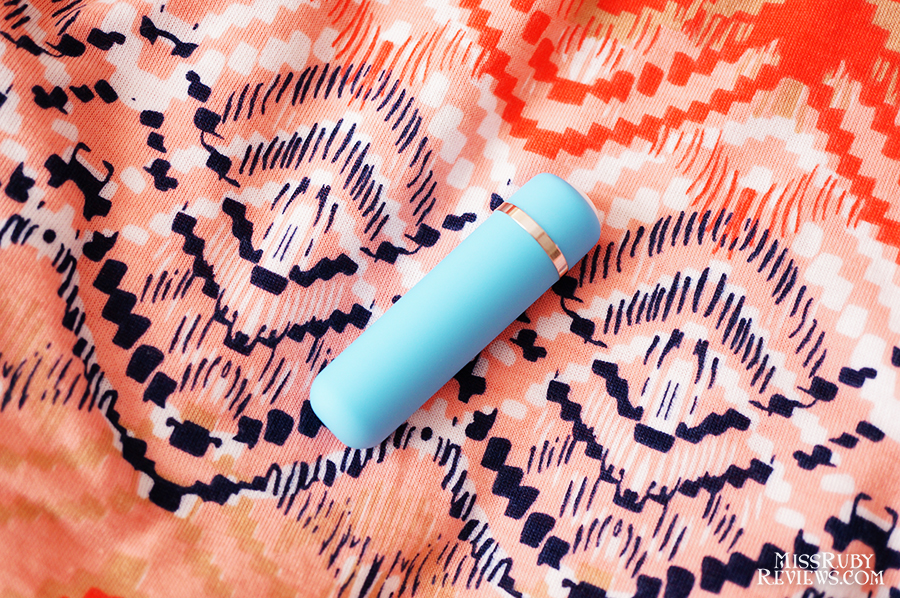 Overall
On paper, the NU Sensuelle Joie sounds fantastic. It's waterproof, rechargeable, pin-pointed, and silicone. Its motor is also decently strong.
Unfortunately, the vibrations are buzzy and buzzy vibrators tend to temporarily numb what they come into contact with. For this reason, second/third/fourth orgasms are off the table for me here.
I really recommend spending the extra $14 and purchasing the $49 FemmeFunn Ultra Bullet Massager instead. Its vibrations aren't as rumbly as the Tango, but it's an excellent under-$50 vibe.
If you're still interested in purchasing the NU Sensuelle Joie, head on over to Peepshow Toys. And to get 10% off your whole purchase, use the coupon code RUBY.

Last Updated on March 18, 2023 by Miss Ruby