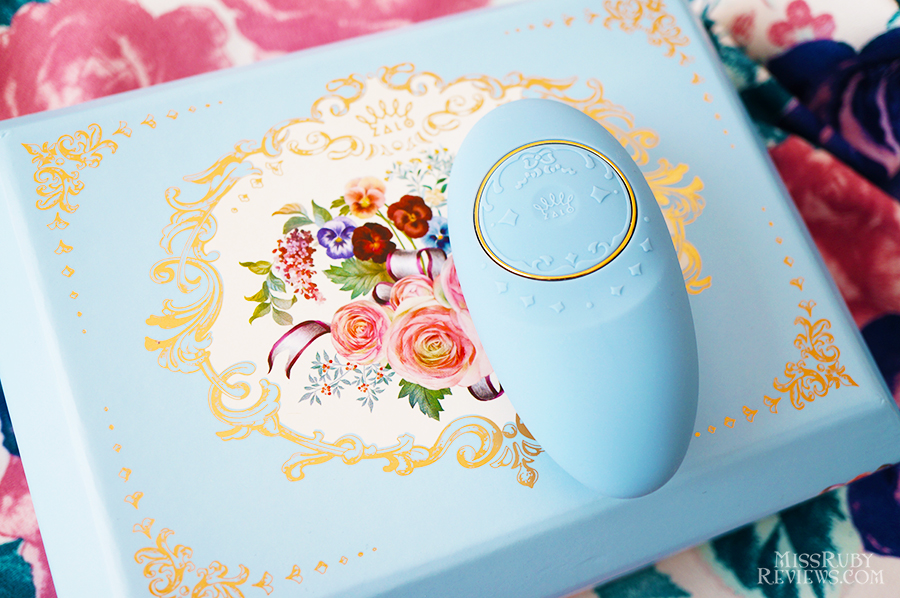 May as well start out with saying there's GOLD here. That metal ring around the control center is plated with 24K gold. Call me predictable, but I love gold on my sex toys.
Physical Details | Packaging | Material and Care | My Experience | Overall
Physical Details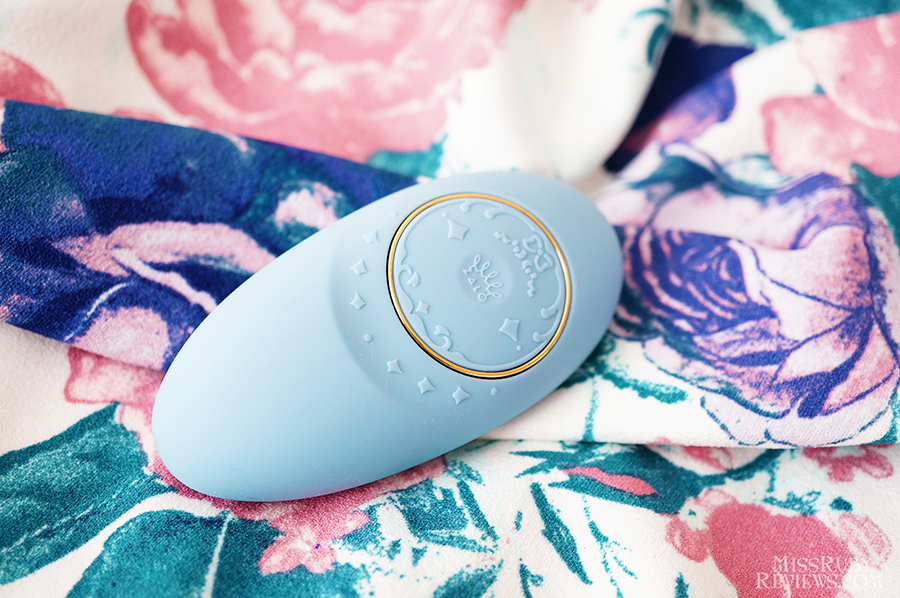 Design
The ZALO Jeanne is one of the most elegant toys I've ever come across. Part of ZALO's Versailles line, the Jeanne embodies everything that is dainty, French, and regal. Its body is oval, light, and covered in silky silicone. The ZALO Jeanne fits comfortably in your palm. It's fairly light, weighing only ~ 65 grams, and has stunning detailing around the control center. It comes in this dashing Royal Blue colour as well as a Rouge Pink and Bright Red. Designed for clitoral use (though totally usable by anyone), the ZALO Jeanne reminds me of a fancy Je Joue Mimi or a Lelo Siri with its pebble-shaped body.
Vibrations and Sound
At its highest mode, the ZALO Jeanne vibrates with moderate strength (6.5/10). The vibrations err on the rumbly side, and most of them are focused on the bottom, bulbous end (or, the top-right of the toy below). Jeanne also comes with an impressive array of vibration modes.  In addition to the steady states, there are 8 patterns. If you download the "ZALO Remote" app, you can access further patterns as well as a music mode and a "tease" mode, allowing your smartphone to function as an intuitive BlueTooth remote control.
Jeanne is super quiet (9/10). Even at its highest speed, you can't hear this through closed doors or walls.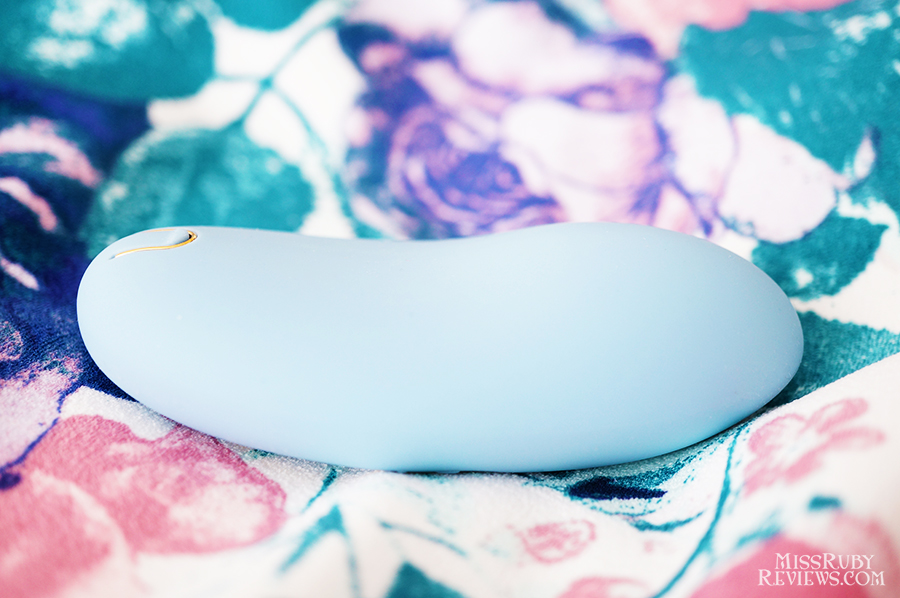 How to use the ZALO Jeanne
To turn the ZALO Jeanne on, press the middle button in the center of the gold-plated ring (it says "ZALO"). It'll turn on in standby mode. Press it again to start the vibrations. If you continue pressing through the middle ZALO button, you'll cycle through patterns. To increase or decrease the vibration intensities, press the little ← → arrow buttons.
The ZALO Jeanne can be travel-locked. To do this, press the two ← → arrow buttons for three seconds. Unlock it the same way.
If you notice the LED light blinking quickly, the battery is low. To charge, plug the included charging cord into the base of the toy. Connect it to your computer or a USB wall adapter. This product takes around 90 minutes to fully charge.
Packaging
I have a huge weakness for pretty packaging and ZALO takes packaging to a whole new level. Jeanne's box is the prettiest I've seen. It's made of strong, sturdy cardboard, beautifully detailed with flowers and gold trimmings. Inside, the Jeanne lies on a velveteen pillow. You also receive a pretty silver and gold satin storage pouch, a warranty card, an instructions booklet, and a USB charging cord.
Packaging like this makes the ZALO Jeanne super gift-able. Super impressive.
Material and Care
The ZALO Jeanne is made from silicone, making it non-porous, non-toxic, and bodysafe. This specific silicone is silky to the touch, much like LELO's. This matte, silky exterior means that it doesn't attract dust as quickly as other silicone products, such as Tantus'.
To clean the ZALO Jeanne, I simply wash it with warm, soapy water. You can also use a silicone-safe toy cleaner. Because it's totally waterproof, submersing it while cleaning isn't an issue. ZALO warns against using solvents such as ethyl alcohol though, so don't sterilize it with that.
If you're going to use lubricant, make sure it's not silicone-based. Opt for a high quality water-based lubricant instead, such as Sliquid's H2O.
If you do notice issues with your ZALO Jeanne, there is a warranty. A one-year warranty applies to any mechanical/quality issues and defects. There's also a ten-year commitment plan, which allows you to purchase another ZALO product at 50% off for up to ten years after you made the original purchase. See the instruction guide for details.
My Experience with the ZALO Jeanne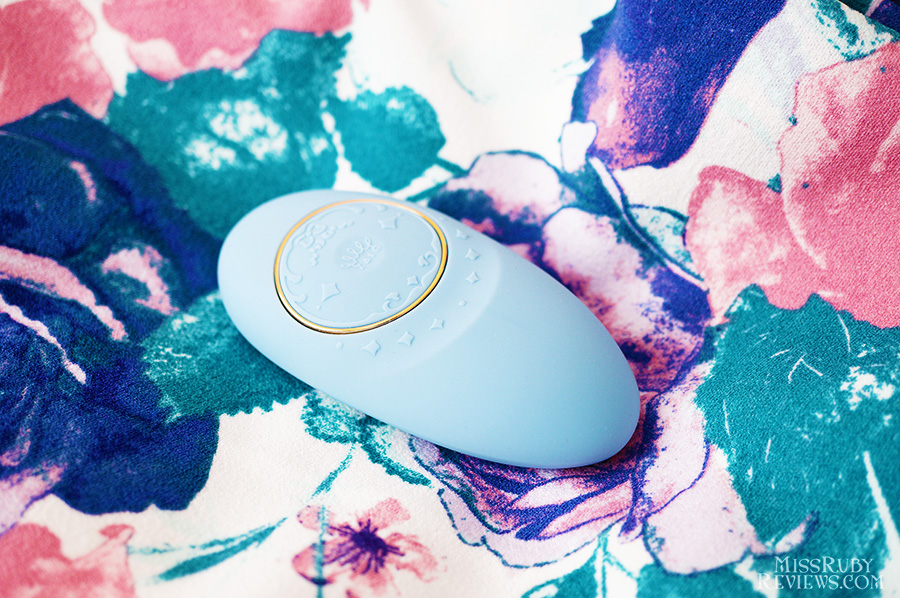 The ZALO Jeanne is one of those little vibes that could make many people happy. It's oh-so-pretty and it has every luxury feature you'd expect from a $100+ toy: it's waterproof, rechargeable, silicone, and has gold-plating. But of course, at the end of the day, its ability to deliver orgasms is important too.
Though I usually prefer pinpoint stimulation, Jeanne's rounded tip delivers the perfect in-between shape: I think it's rounded enough to appeal to those who like broad stimulation, but it's still pointed enough to satisfy people like me. I also appreciate that most of the vibrations stay focused where they're supposed to: in the bulbous bottom end. Cheaper vibrators often can't contain their vibrations, making the entire body (including the handle vibrate). That's always off-putting for me, so I'm glad that it's not the case here.
However, while I have been able to orgasm with the ZALO Jeanne, these vibrations won't satisfy power queens. When in use, I find that the vibration strength is fair (6.5/10), but it's no We-Vibe Touch. This isn't to say that the ZALO Jeanne is a weak vibrator. It's not.  My clitoral orgasms with Jeanne are easy to reach and are satisfying. But for this price range, it's not the strongest.
To be fair, I generally need super strong vibrations (i.e., using the top speed available in the Tango or Doxy), but I doubt that's the case for everyone. For people who don't need Hitachi-strength vibrations, I think this would make a lovely gift. It's classically beautiful, luxurious, and moderately strong.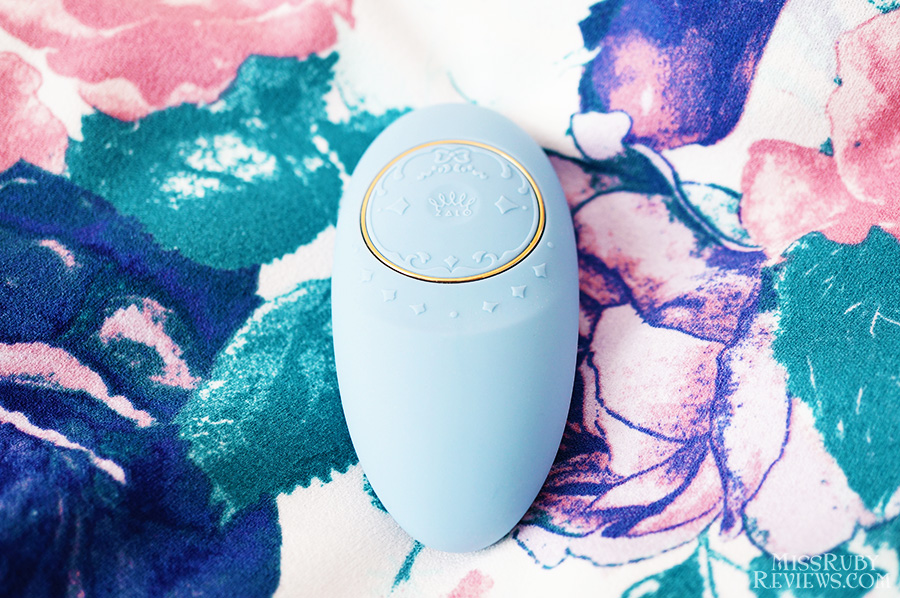 Overall
The ZALO Jeanne stands out from the crowd. Aesthetically, you don't get much better than this for a clitoral vibrator… totally beautiful! It's not a powerhouse though; power queens should look elsewhere. For everyone else, the Jeanne would make a luxurious, lovely gift.
To purchase the ZALO Jeanne, head on over to ZALO USA for $125 USD. You can also purchase it through Peepshow Toys for $108 USD when you use coupon code RUBY.
Last Updated on March 14, 2020 by Miss Ruby