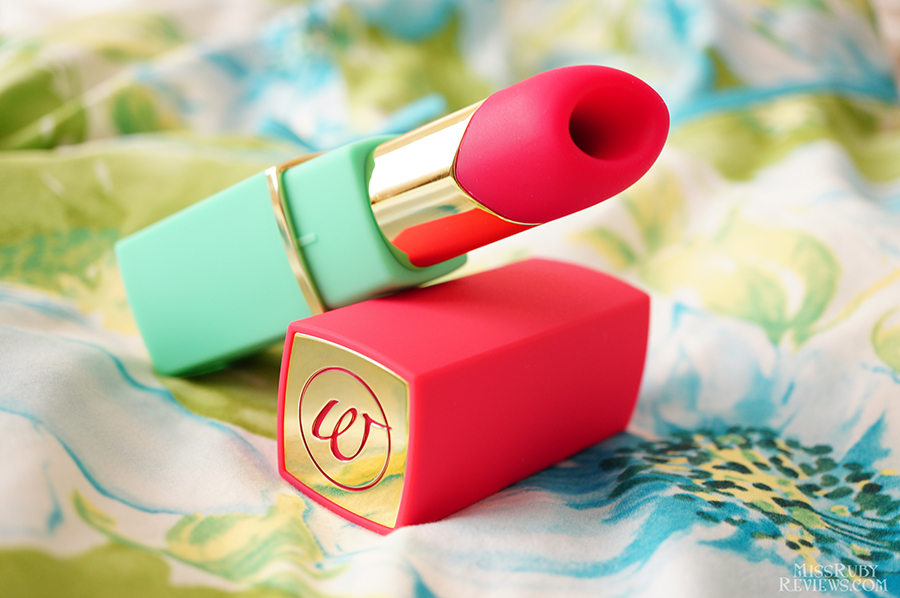 The Womanizer 2GO is the latest product in Womanizer's beloved line of suction stimulators. If you haven't come across this line before, Womanizer products have "Pleasure Air Technology." This technology sucks the clitoris with pulsating blasts of air pressure waves, resulting in touch-free stimulation. These have become popular because they can result in very speedy orgasms and there's none of the over-stimulation that can result with hand stimulation or traditional vibrators. I'm a fan of this technology and was happy to get my hands on the latest product!
Physical Details | Packaging | Material and Care | My Experience | Overall
Physical Details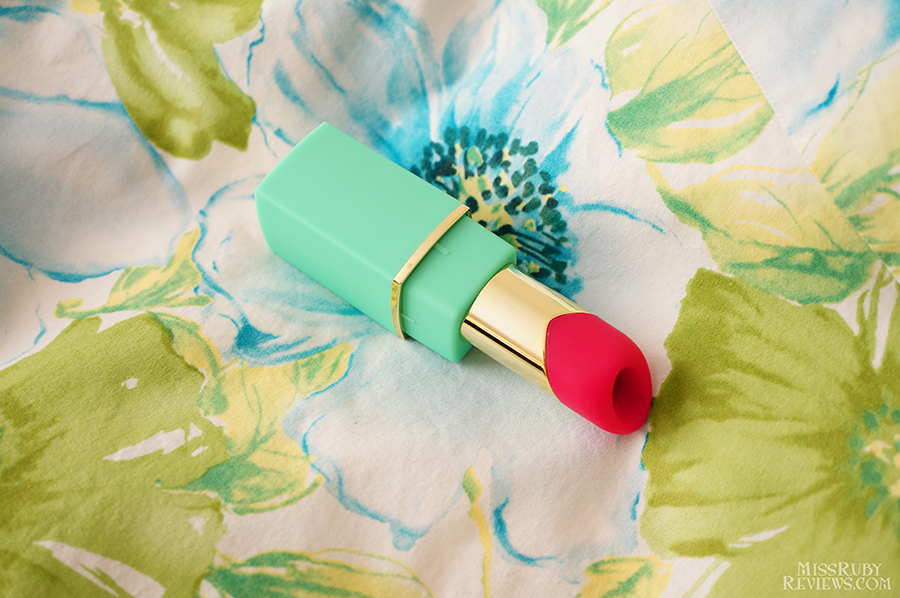 Design
The Womanizer 2GO consists of a few parts:
Main body: This consists of the handle area that houses the motor and the pink stimulation head.
End: The bottom end of the green area has a single control button and a charging port on the end.
Cap: When not in use, the pink cap clips over the stimulation area for storage. I've heard it said that this cap can fall off easily, but that is not my experience. Mine stays put pretty well and hasn't accidentally come off when I didn't want it to.
Additional head: An XL stimulation head is included. It has thinner, less-rounded ridges.
The Womanizer 2GO first attracted itself to me on the promise of a tiny, mini, subtle version of the Classic. It was supposed to look like any one of my lipstick cases! Without scale in the product photos, it's easy to imagine that this is a tiny, pocket-sized item that could blend in with your lipsticks. When it arrived, however, I laughed at the irony. This is not the size of a lipstick case. It is lipstick-shaped, but not lipstick-sized. You can see the comparison shot below.
The Womanizer 2GO is a lot prettier than previous Womanizer models. Up until now, Womanizer has been faithful to the whole strange-medical-ear-instrument design scheme. While that got the job done, it wasn't exactly pretty. And while it didn't look like an obvious sex toy, it was a curious object. Now, the Womanizer 2GO has a much sleeker, subtler design. Yes, it's GINORMOUS, but I can imagine it going unnoticed in a pile of other beauty products, unlike the previous Womanizers.
Can we talk about those colours? Woooow. The Womanizer 2GO comes in black, white, or this delicious summer mint green/pink mixture. Although the colours I chose are a great deal less subtle than the black or white options, I LOVE it. This is a huge improvement from the Womanizer Classic's purple option.
How to use the Womanizer 2GO
To turn on, press the large button on the bottom end of the toy for two seconds. A red light will come and the lowest mode will start.
Place over your clitoris (or nipple, or wherever you'd like stimulated!) and get comfortable. Once your clitoris lies in the hollow area of the head, press against you so that you create an air seal. You'll know it's on correctly because it'll become quieter.
Keep pressing that single button to increase the intensity.
There are 6 intensity levels. If you click again past the top level, it'll go to its softest mode again.
To turn it off, hold the button for another 2 seconds.
To charge, plug the USB charging cable into your computer or a USB wall adapter and let charge for 2 hours. A full charge will get you up to 4 hours of playtime (depending on intensity used).
Packaging
The Womanizer 2GO is packaged much like a beauty product. This could be a perfume box. My box was mint-green, pink , and gold to match my model's colours. Inside the box, you receive the 2GO, the second stimulation head, a USB charging cord, and an instruction manual. There's no storage bag included, which is a real shame for this price.
Material and Care
The Womanizer 2GO is made of bodysafe materials. The stimulation heads are made from silicone, making them totally non-porous, free of toxins, and safe. The remaining body is made from sturdy ABS plastic.
To clean, remove the charging cable and the silicone head. You can clean the silicone head with warm, soapy water. Alternatively, you can boil it to sterilize it or you can use a toy cleaner. The body itself can be cleaned by submerging it in warm water. Turn it on for 60 seconds while submerged. Once finished, shake the water out and let dry. You can also use a cotton earbud to wipe inside.
If you'd like to use lubricant, make sure you opt for a good quality water-based lubricant, like Sliquid's H2O.
My Experience with the Womanizer 2GO
Womanizer products have long established themselves in my world as orgasm-inducing wonder toys. At this point, it's no longer a question of: will this toy get me off or not? The answer to that is always "yes" because you can't go wrong with this suction-based stimulation. It's more a question of: which Womanizer product is the most comfortable/convenient to use?
I've already established that I prefer the Womanizer Classic over the Satisfyer Pro2. But what about the Womanizer 2GO compared to the Womanizer Classic?
Sound:
The Womanizer 2GO is considerably louder than the Classic. While the Classic is always pretty quiet, the 2GO's motor emits a high-pitched rattling sort of noise. Though it quietens up considerably in use, it's still louder than the Womanizer Classic. So if you're living with roommates and being discreet is your main concern, you'll probably want to opt for the Classic.
Intensity: 
Overall, I found that both models feel equally intense at their top level. This is impressive, seeing as the 2GO is much smaller than the Classic. Both models are able to induce an orgasm at their lower levels — I don't even have to use the top speed (unlike conventional vibrators, whose top power I always need).
Appearance:
The Womanizer 2GO wins this for me, hands down. I'm getting tired of the weird medical-instrument look that dominates the market for suction-based toys. I love the 2GO's new sleek, simple, and discreet appearance. And if you don't like mint green or pink, you can opt for a clean white or a classic black.
Ergonomics: 
Unfortunately, a prettier body doesn't equal a more comfortable one to hold. After a few minutes, I find the 2GO's pointy ridges of the boxy case a bit tiresome to hold. On the other hand, the Classic seems really designed for comfort: the smooth, rounded edges fall comfortably in my hand.
Controls: 
I also prefer the Womanizer Classic three-button interface (power / + / – ) to the 2GO's single-button. I have a fickle clitoris: it often thinks it wants more power and then changes its mind. With the Classic, I can easily decrease the intensity when this happens. But with the 2GO, I have to count through the cycles and hope I don't accidentally repeat the cycle again.
Price:
The Womanizer 2GO is currently more expensive than the Womanizer Classic.
The 2GO's base price is $169 USD (or $152.10 with coupon code RUBY)
The Womanizer Classic is only $129 USD (minus 10% with coupon code RUBY)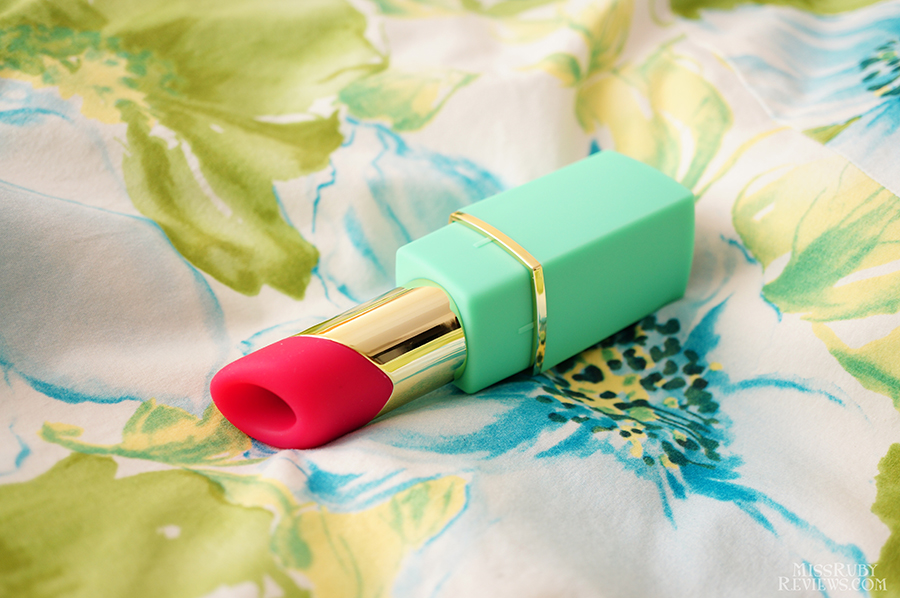 Overall
I like the Womanizer 2GO, but I can't really find a reason to recommend it over the championed Classic. It's certainly prettier, and it's just as intense as the Classic, but the 2GO is also pricier, louder, less comfortable to hold, and less convenient to use. It's not a bad toy. It gets me to orgasm just as well as the Classic. But for me, the Classic remains the best deal.
If you'd like to opt for the Womanizer Classic instead, you can use coupon code RUBY for 10% off.
But if the Womanizer 2GO's pretty exterior has won you over, head on over to Peepshow Toys to purchase and use coupon code RUBY to get 10% off your entire order.