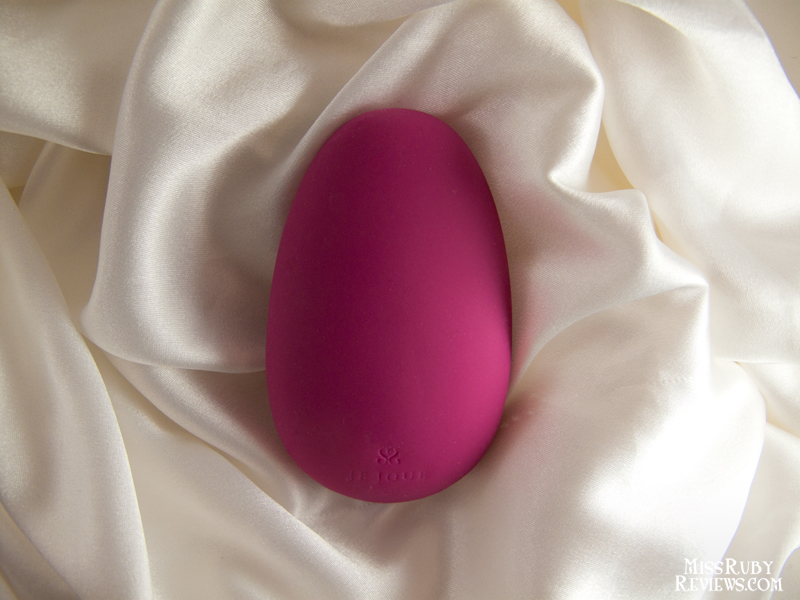 This is one of the only shades of pink I like on a sex toy. So good job, Je Joue, good job. Read on for my Je Joue Mimi review!
---
Physical Details | Shipping and Packaging | Material and Care | My Experience | Overall
Physical Details
Design:
When I first held the Je Joue Mimi in my hands, I was immediately smitten with the design. The Je Joue Mimi is a clitoral vibrator. It's a fancy piece of work.  It looks and feels luxurious. Part of what makes it so fancy is just its simple design. There are no frills or funkiness, just clean lines and a basic shape. It's a slightly triangular oval disk that fits perfectly in your palm. It's covered by a layer of smooth, matte silicone. Near the base of the toy on one side, "Je Joue" is engraved, along with their logo. This particular model is firm, but if you want something more squishy you can grab the MiMi Soft version.
Now, if you follow my blog at all, you'll have seen how much I avoid pinks and purples. I usually try to get unconventional sex toy colours like black or blue. But there's something about this particular shade of pink that I really love. I know, weird right? The MiMi also comes in other colours though – black, purple, and lilac. But I recommend the Fuchsia 🙂
I also think that this would make an awesome romantic gift, even for a someone who is totally new to sex toys. Its design is so innocent and attractive that it'd be hard to offend someone by this.
Functions: 
The Je Joue Mimi has a very simple control interface. At the base of the toy, there are three small round buttons. Two are metal buttons, (+) and (-), which double as the charging magnets. Press the (+) for 3 seconds to start the vibrator. It'll turn on to a default steady vibration state at its lowest setting. Press (+) again to increase the vibrations strength. Press (-) to switch back to a lower setting or hold for 3 seconds to turn it off. Between these metal buttons is a smaller button. This middle button (~) cycles through the 6 pulsation patterns.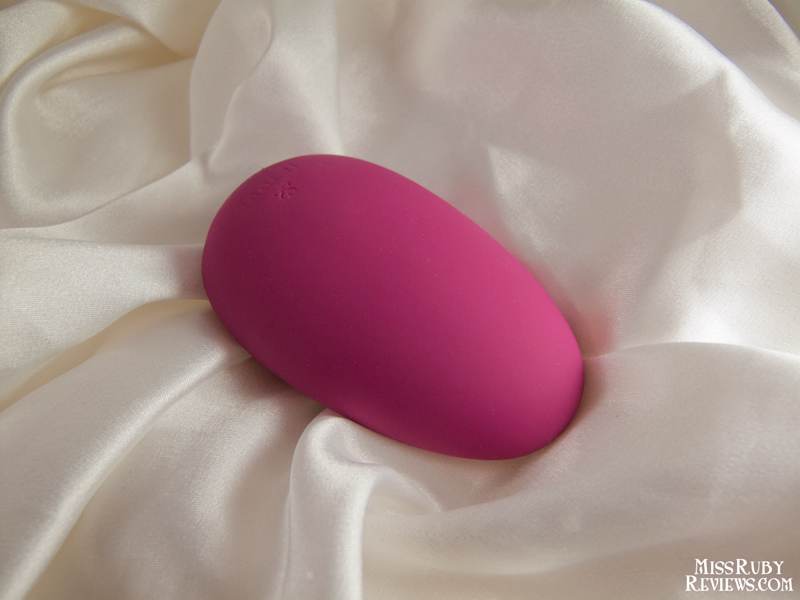 Vibrations and Noise:
This is my first experience with a product by Je Joue, so I wasn't sure what to expect in terms of vibration strength. I was pleasantly surprised. The Je Joue MiMi isn't the strongest vibrator I've ever experienced, but it performs at a solid level (8/10). The closest vibe I can compare it to, in terms of shape and function, is the Lelo Siri. It's deifnitely stronger than the Siri, which is often priced higher than the MiMi. The vibrations are also remarkably deep and rumbly. When I press the MiMi into my skin, the vibrations don't disperse and disappear like they would with buzzy vibrators. Instead, they still feel strong and tactile even when pressed firmly against me. For people who require firm pressure to orgasm, this is an awesome thing.
The vibrations are focused in the top 1/3rd of the vibrator (the smallest part). The strongest vibrations lie in the broad area right below the pointed tip, but the upper edges also produce strong vibrations.
If you're someone with a more sensitive clitoris, the Je Joue Mimi has 5 vibration strengths, so there are several weaker levels to choose from if you don't want to hit the max power.
Along with rumbly vibrations come a rumbly sound. The MiMi's motor emits a deep sound. There's nothing high and buzzy and whiny about it. It's also fairly quiet. From a scale of 1-10 (with 10 being totally quiet), I'd give it a good 7/10. You'll be aware of its sound when you're using it in bed, but it muffles really well under covers. There's no way to hear it through walls or a closed door, so you're good to go if you live in a busy household and need to remain discreet.
Other Features: 
The Je Joue Mimi is also packed with the features I would expect from a luxury toy. It's completely waterproof and rechargeable. Being waterproof, you can take it in the shower or submerge it underwater during a bubble bath.
As a rechargeable toy, it's much more convenient. You don't have to scramble to find batteries. Simply plug in the charger to a wall outlet and magnetically clip the charger to the MiMi's metal buttons. When charging, the small Je Joue logo starts blinking a red light. The light will become steady to indicate that it's fully charged. Je Joue recommends charging it for 2 hours, and a full charge will give you about 2 hours of playtime.
Unfortunately, there's no travel lock.
Shipping and Packaging
Je Joue's packaging is seriously adorable. The outer box is discreet and clean. Inside this is another, firm, black box. Inside this, you receive the Mimi, an information booklet, and the charger. There is no storage pouch, which ticks me off because that's really expected for any luxury vibrator. I suppose you could store it in the black box, but it's bulky and takes up more room than it needs to. So, sadly, my pretty Je Joue MiMi gets shuffled into a clear ziplock bag in between uses.
Material and Care
The Je Joue Mimi is coated with premium silicone. It's a soft, matte finish. It does collect lint and hair very easily, but rinsing it off cleans it quickly.
Silicone is the best material for vibrators because it's non-porous and free of toxins. This means that, after use, it won't be growing bacteria in any micro-pores that so many other sex toy materials have. It also won't be leeching phthalates out into your skin, so it's totally bodysafe.
I recommend washing the Mimi in warm water and soap. If you're going to share it with anyone, I recommend that you sterilize it first: wipe it down with a 10% bleach solution and then rinse it thoroughly with water.
My Experience with the Je Joue MiMi
The Je Joue Mimi has become one of those vibes that I keep in my regular rotation. If I don't feel like absolute wand-style raw power, but I want a nice, discreet, solid vibrator, I turn to the MiMi.
I find that the MiMi provides me with a good mix of broad and pinpoint stimulation.
It gives me marvellous broad stimulation when I use the upper flat side. It's the perfect size for my vulva, and when I press the whole body against my vulva (with the stronger upper part across my clitoris), I find it immediately stimulating. It's just broad enough to cover everything sensitive, so I get to enjoy vibrations across my clitoris, inner lips, and outer lips. Awesome. I've even taken to just tucking it in my underwear and sitting down, holding it against my body by crossing my thighs. If I'm not already turned on, this is enough to get me there pretty quickly. So, broad stimulation? Check.
Using the tip, I can get okay pin-point stimulation. It won't be as pinpointed as a bullet vibe like the We-Vibe Tango, but it's not impossible to work. These edges of the vibrator (particularly the tip of it) provide decent vibration. They aren't as intense as the flat portion, but they're still pleasurable.  Though I can get turned on by broad stimulation, I need pin-point stimulation to orgasm, and I find that getting a pin-pointed touch is still achievable with a little bit of wiggling and correct positioning. With a bit of work, my pin-point-preference clitoris finds its way to orgasm quite quickly with the MiMi's edges.
I do find it harder to press the buttons on the Je Joue MiMi. The buttons offer more resistance than on a LELO toy, so they're slightly harder than average to press. But they don't cause my fingers any grief. Also, you need to look closely to see which is the (+) and the (-) button. It's not a pain for me, but it does require looking at the vibe when you want to change things up.
Will this be the perfect vibrator for everyone? Perhaps not everyone, but I think it can make many people happy. People who need broad stimulation will appreciate that the strongest vibrations are emitted from the flat upper section of the vibe. People who need pinpoint stimulation can work things out with one of the vibe's edges. Personally, I love using first the broad stimulation to get myself hot-and-bothered and then switch to the edges to take me to climax. This works really well for me.
And, for people who want to stimulate their whole vulva at once, I highly recommend just tucking the whole body of the vibe into your underwear and feeling it vibrate your outer and inner lips.
Je Joue Mimi Review – Overall Thoughts
I'm sold on the Je Joue Mimi, and now I'm very curious to try out other Je Joue products. The MiMi offers a bit of something for everyone, from broad stimulation to pin-point stimulation to pretty colours. It gets the job done and looks pretty while doing so.
I also can't help but think that everything about the Je Joue Mimi would make an awesome gift for someone special. It's luxurious. It comes in a pretty box. It's discreet looking. So, ya know, keep this one in mind for Valentine's Day.
To buy the Je Joue Mimi, head on over to Peepshow Toys! Why do I like Peepshow Toys? They ship internationally, only carry body-safe products, and you can get a 10% discount off your whole purchase with coupon code RUBY. 

See below for my Je Joue Mimi review breakdown.

Je Joue Mimi Review Summary
Overall thoughts - 8.6
8.6
$95
PROS
Beautiful
Silky soft silicone
Nice vibrations
Waterproof and rechargeable
CONS
Pink and purple color choices won't be everyone's preference
Shop Now
Last Updated on October 5, 2022 by Miss Ruby