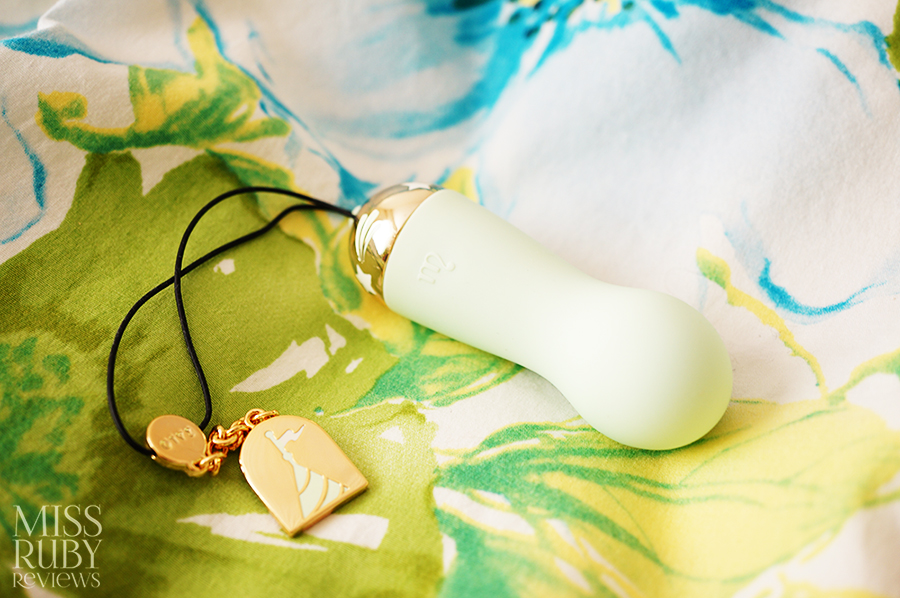 I don't generally use the word adorable with sex toys, but it definitely applies here. Just look at it. Small, beanlike, and whimsical, the Zalo Baby Star Bullet Vibrator is the stuff of fairytales. Read on for my Zalo Baby Star Bullet review!
Physical Details | Packaging | Material and Care | My Experience | Overall
Physical Details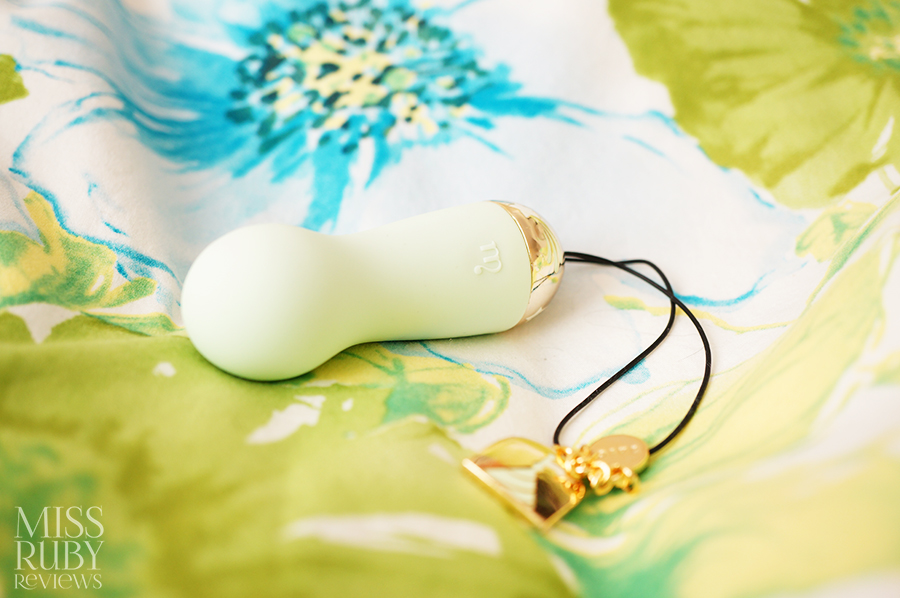 Design
The Zalo Baby Star Bullet Vibrator first drew me in by its creamy, melon-green colour and its discreet, streamlined shape. Though it also comes in Vanilla White, Strawberry Pink, and Berry Violet, I knew I had to have it in Melon Green. The world doesn't have enough green vibrators.
Designed for clitoral stimulation (though usable by anyone), the Zalo Baby Star is just over 3″ long. The head is bulbous and smooth, allowing you to pin-point your clitoris without feeling jabbed. Though I think it works best for clitoral stimulation, it can also be inserted vaginally.
The body narrows and, down near the base, there's a subtle M-shaped mode button. This is the only button and, as such, the Baby Star Bullet is a one-button function toy, like the We-Vibe Tango. At the base, you'll see gold plating (yes, this is real 18K gold plating); the gold plating is embellished by white enamel shooting stars.
At the very tippy bottom, a small silicone plug can be removed to reveal the charging port. There's also a cord that's connected to the base at all times. It is not removable. At the end of the cord, there's a gold-coloured tag that says "Baby Star by Zalo" on one side; on the other side, there's the image of a castle turret.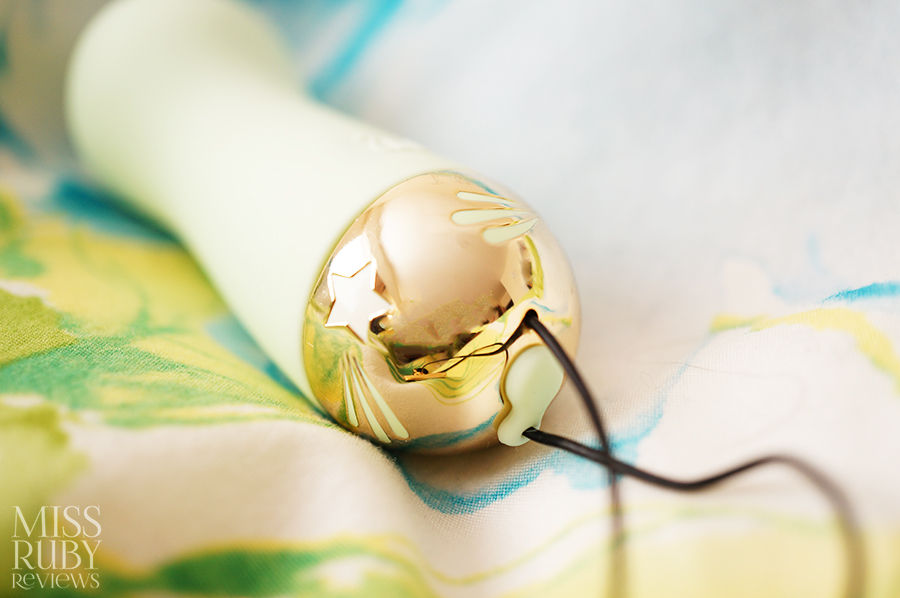 Vibrations
The Baby Star Bullet (part of the Zalo Lolita line) is designed to be all-around soft, gentle, and sweet. This is reflected in its vibrations as well. Its motor is not as strong as the Zalo Versailles line (such as the Marie and Jeanne I reviewed). Instead, the vibrations have low strength, falling around 3.5/10. The vibrations also err on the buzzy side.
Sound
The Zalo Baby Star is super quiet (9.5/10). It cannot be heard through walls or closed doors. This is ideal for those of you who have roommates or prefer to not have a loud motor during sex or masturbation.
How to use the Zalo Baby Star Bullet Vibrator
To turn it on, press the single mode button near the base/golden end. The Baby Star Bullet will enter standby mode and an LED light will flicker. Press the button again to start vibrations. Continue pressing this button to cycle through the 8 vibration modes. There is only one standard vibration strength mode; the remaining modes are all patterns. To turn it off, press and hold the mode button for 3 seconds. There doesn't appear to be a travel lock.
Before first use, this toy should be charged for 4 hours. After that, when you need to re-charge your Zalo Baby Star, remove the silicone plug at the base of the toy and insert the charging plug (included). Plug it into your computer or a USB wall adapter for 90 minutes.
Packaging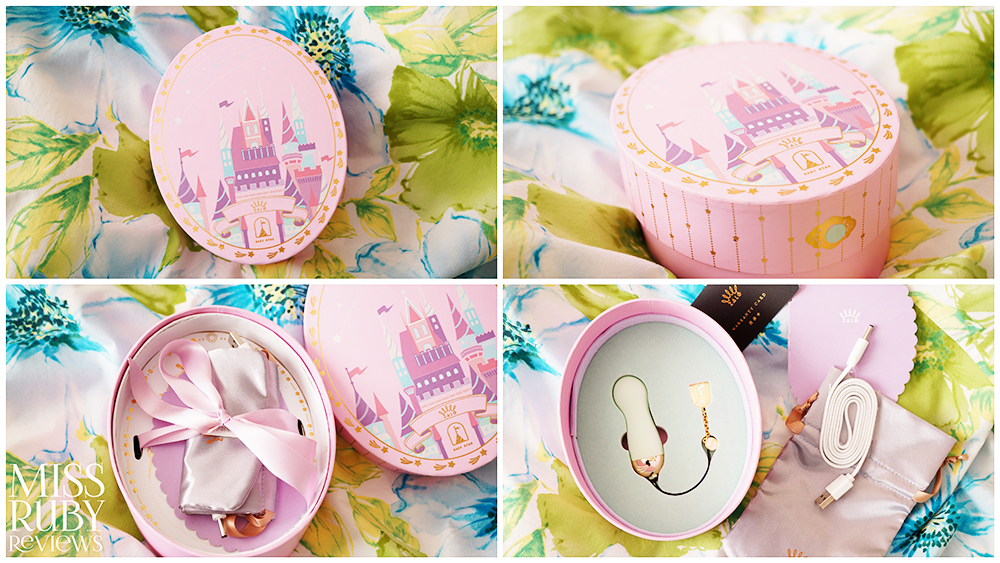 That packaging is absolutely gorgeous. The box is decorated with a cute castle and gold-leaf embellishments, and inside your items are wrapped up with a pink ribbon. Cute? Check. Girly? Definitely.
All in all, you receive the Baby Star bullet, a USB charging cord, an instructions manual, a pretty satin storage pouch, and a 1-year warranty card.
Material and Care
The Zalo Baby Star is coated in silky silicone. Silicone is one of the best sex toy materials because it's non-porous (so it can't grow bacteria beneath the surface) and it's non-toxic. The base of the Baby Star is plated with genuine 18K gold.
As this toy is waterproof and immersible, cleaning is pretty simple. I simply wash mine in warm, soapy water before and after each use. You can also pick up Zalo's toy cleaner.
I'm not a fan of the cord though. Zalo warns to not cut off the cord (the reason being that you might struggle to get the Baby Star Bullet out if you inserted it into your vagina). I don't know how big of a worry that really is — I've never "lost" the various kegel exercisers I've used, which were a similar shape and size. Nonetheless, they recommend that you don't cut it off, so I haven't (yet). But I find it frustrating to clean and dry.
Just to be clear, do not use the Zalo Baby Star bullet anally. It doesn't have a flared base of any kind; even if you keep the cord on, do not try to insert this anally.
My Experience with the Zalo Baby Star Bullet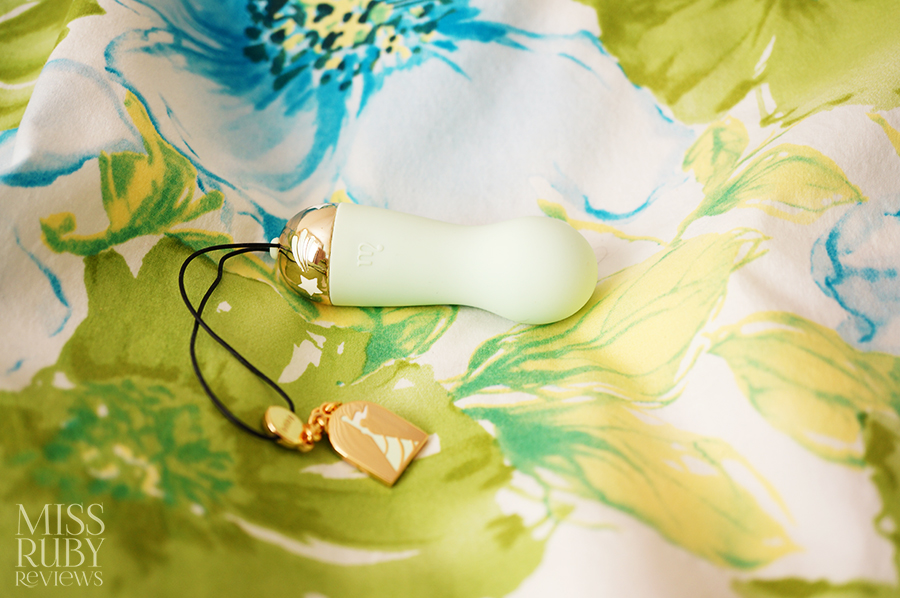 I love the Zalo Baby Star Bullet Vibrator in many ways. It's an experience in and of itself: the pink castle, the shiny ribbon, the satin pouch. The presentation of this toy is top-notch. And the Zalo Baby Star is luxurious; satin smooth silicone, rechargeable, water-proof. It's stunning, and cute, and would be a lovely gift (especially in ddlg partnerships). It's just SO cute and princessy, and I love that about it.
That being said, the Baby Star's motor is simply not strong enough for my body. I'm someone that constantly verges on the brink of power-queen status. I love rumbles, strong wands, and warrior Tangos. The Baby Star bullet can't give my clitoris what it needs: raw, rumbly strength. In use, the Baby Star Bullet feels pleasant, but it only provides me with teasing, not orgasms.
Does this mean that it won't work for you? Not necessarily; if you know that you like gentle, pin-point vibrations, the Zalo Baby Star Bullet Vibrator may be able to provide you with orgasms. But for those of you who need moderate-to-strong vibrators, I think you need to look elsewhere. You can consider the Zalo Jeanne, which is stronger than the this toy, or other brands like the We-Vibe Tango or the FemmeFunn Ultra Bullet.
Overall
The Zalo Baby Star Bullet Vibrator has a lot going for it: it's luxurious, quiet, has gold bits, and is cute as heck. Unfortunately, those vibrations just don't do it for me. If you're okay with low vibrations, you may be in luck; otherwise, look elsewhere.
Last Updated on March 16, 2020 by Miss Ruby