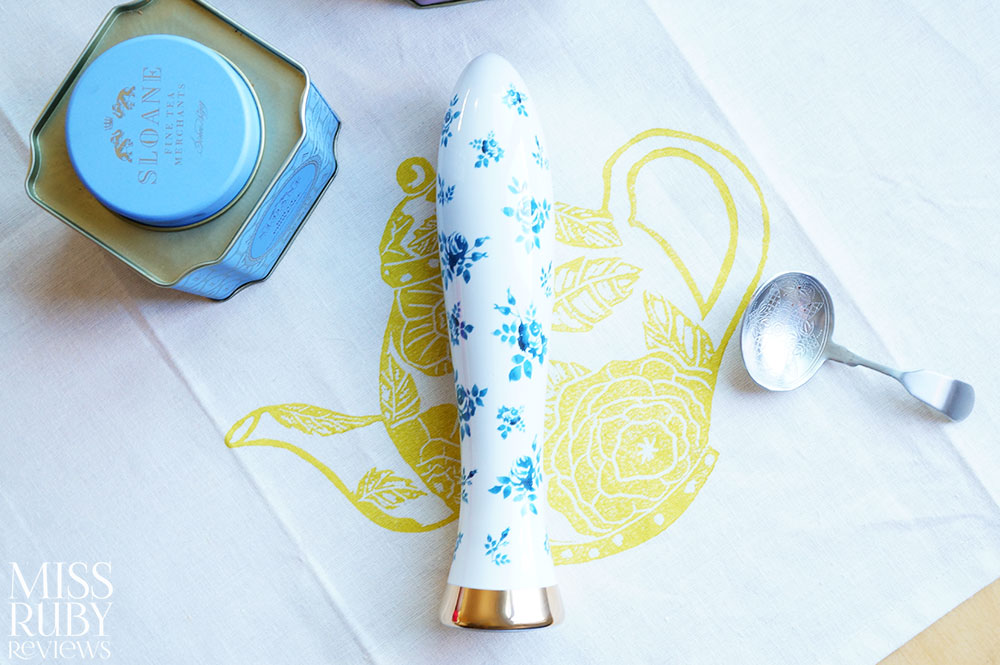 I am a fervent lover of tea. I have a cup of English Breakfast tea at 6 am with breakfast, then again with elevenses, and then I need another one by afternoon tea. And then I get home and need two or three more cups before bed. I am a tea drinker, okay, through and through. So when I saw this line of dildos, they spoke to me. Be still, my beating heart… Read on for my review of the Blue Tea Time Porcelain Dildo by My Fucsia!
Physical Details | Packaging | Material and Care | My Experience | Overall
Physical Details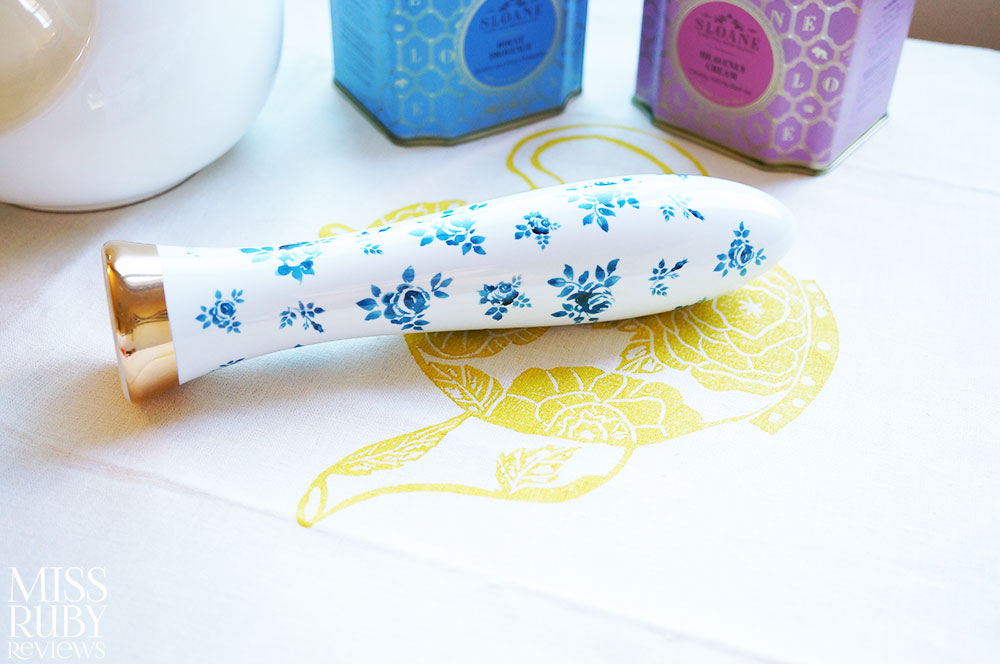 This is everything.
The Blue Tea Time Porcelain Dildo is one of several elegant, luxury dildos by My Fucsia. Designed and handcrafted in Italy, the My Fucsia Blue Tea Time features a flowing, streamlined shape. The shaft is slightly bulbous and starts out as a white porcelain surface. The stunning blue floral design is then printed as a decal and applied wet on the glazed body; it's then baked to seal it. If you're not a fan of blue, you can also opt for red florals instead.
Towards the base, the shaft narrows before flaring out again. The base is gold-tipped (by the way, My Fucsia states that this product is refined with real gold, though I can't find information on the specific gold karat).
Insertable length: 7.5 inches,
Width: 1.75 inches
Total length: 8.25 inches
If you were looking to use this for anal play, in my view the base does not look flared enough to make it safe for anal use.
High-quality porcelain like this is fantastic for temperature play. Like with stainless steel, porcelain is hygienic, non-porous, and can retain temperature well. Though the My Fucsia Blue Tea Time  is ice cold when I retrieve it from my closet, it can be warmed up easily. There's a hole in the base; when you fill the hole with hot water and hold it there for a few minutes, the ceramic warms and retains a stable, lovely temperature. In other words, it'll act like a mug; even after the hot liquid is gone, it'll stay warm for a while.
At first, I didn't know how to feel about a hollow porcelain dildo. At first, I worried it would seem fragile, but after handling it I can confirm that it isn't. The walls of this item are adequately thick and sturdy. Plus, I can see why it must be hollow: it's already 230 grams in weight. Had it not been hollow, it may have been impractically heavy.
Packaging
The My Fucsia Blue Tea Time  is packaged simply in a fuchsia-colored tube. Inside, you receive the Blue Tea Time dildo with a "Handcrafted: Made in Italy" tag, and a short instruction manual. There's nothing excessive about the packaging and I'm able to use the tube as a long-term storage option.
Material and Care
The My Fucsia Blue Tea Time  is made with bodysafe, high-quality porcelain, making it non-porous, hypoallergenic, and non-toxic. It's baked at 1280°. The flared tip is refined with real gold. This porcelain is also free of nickel, cadmium, and lead.
To clean, wash with gentle soap and warm water. My Fucsia states that you should avoid boiling water, so I'd skip the dishwasher on this one. The only thing that irks me here is that the hollow inside, which is unglazed, takes ages to dry. It's porous inside; while you won't be coming into contact with the inside of the toy, you can clean thoroughly both inside and out if that bugs you.
Also note that you should NOT drop this dildo, especially not on a hard floor. Even though this is sturdy, a sudden, sharp drop to the ground could cause a chip or a crack. If you notice any cracks, fractures, or chips, stop use immediately.
My Experience with the My Fucsia Blue Tea Time Porcelain Dildo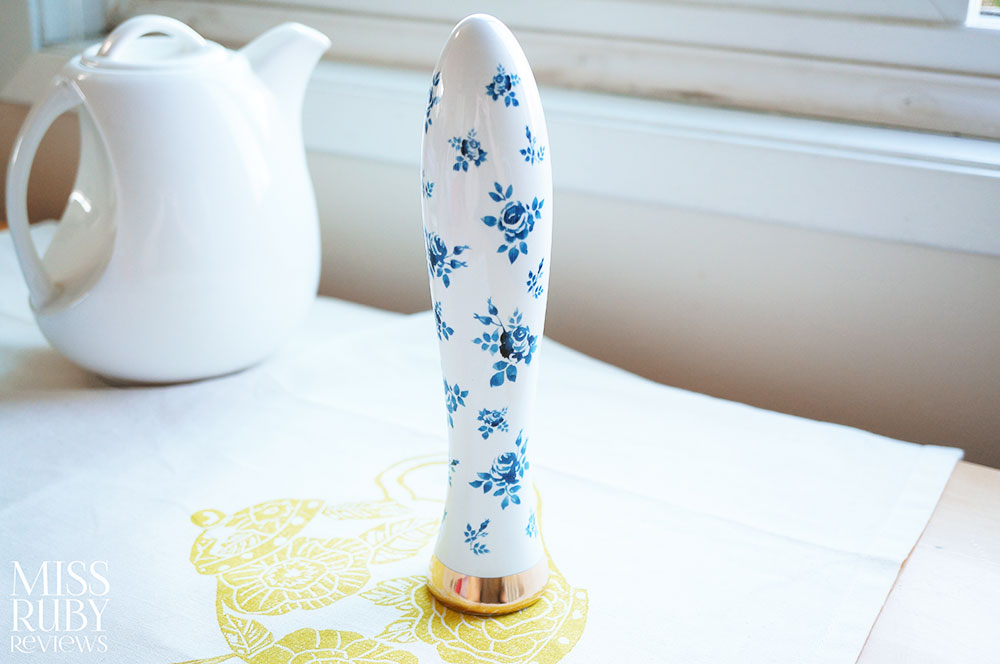 There's something super relaxing and glorious about a heated sex toy. Perhaps it just increases blood flow to the G-spot, increasing sensitivity, I don't know. I fell in love with my L'amourose Rosa Rouge's heating function, and I'm thrilled that the My Fucsia Blue Tea Time offers the same function, albeit in a manual way. I much prefer warmth to cold, so I wasn't interested in seeing how it holds cold. If you want to pursue this though, fill it up with cold water for a few minutes.
For me, I was just interested in the heat. I ended up cranking my bathroom tap as hot as it can go (which isn't boiling, mind you, just hot enough to generate some steam). It was a bit awkward to hold the dildo up upside-down for long, and obviously it won't stay up by itself. I ended up just putting it in, upside-down, in the long tube packaging, which held it and worked perfectly! About 5 minutes of hot water got me about 17 minutes of warmth.
In use, whether pre-warmed or not, I loved using the My Fucsia Blue Tea Time . It's hard, unrelenting, long, and smooth; this allows you to work quickly (without uncomfortable friction). I was finding it a bit tricky to find my G-spot, mind you; lately, I've been so used to toys with a definite G-spot curve (think nJoy Pure Wand) that non-curved toys need a bit more tweaking. Still, theMy Fucsia Blue Tea Time  is girthy, which helps. Its widest part is 1.75 inches, so when the G-spot is already riled up and sensitive, it can't hide much. Using this toy helped to speed up my clitoral orgasms considerably, and the hole at the base ended up being a handy grip for my finger to hold.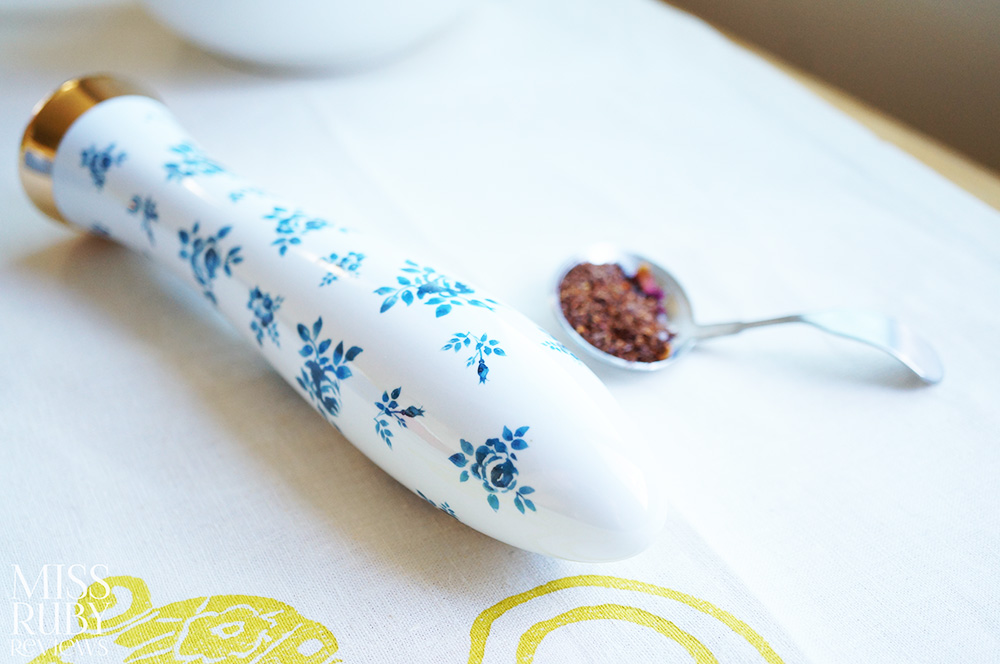 Overall
The My Fucsia Blue Tea Time Porcelain Dildo is elegant, luxurious, and stunning. Better yet, it's under $100 in the USA, which isn't a common occurrence for toys that contain gold. My favourite thing about it (asides from those ridiculously lovely floral designs) is the heating function.
To purchase the My Fucsia Blue Tea Time Porcelain Dildo, head on over to SheVibe. At the time of this post, it's $99 USD.

Last Updated on November 15, 2020 by Miss Ruby