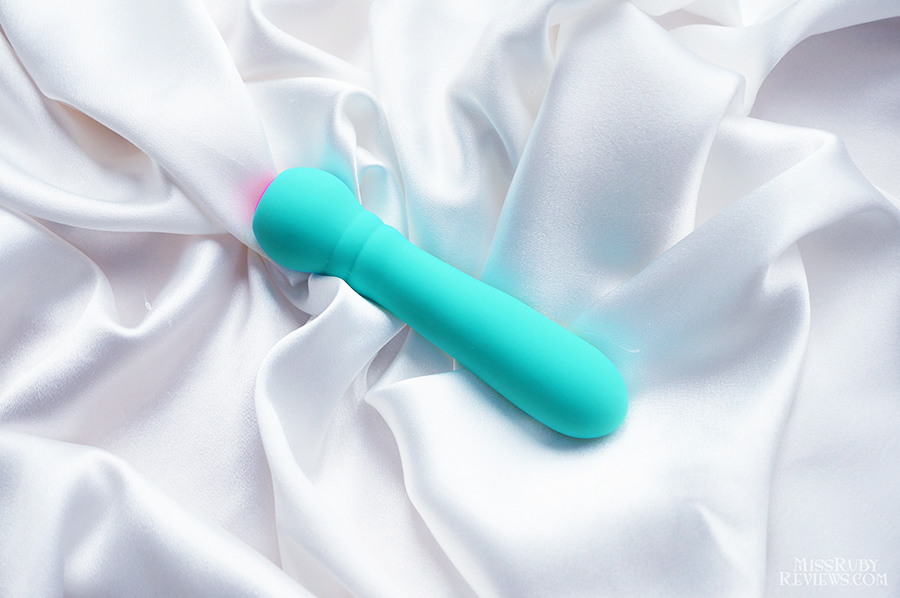 This has to be one of the strongest little vibes that $49 can buy.
Physical Details | Packaging | Material and Care | My Experience | Overall
Physical Details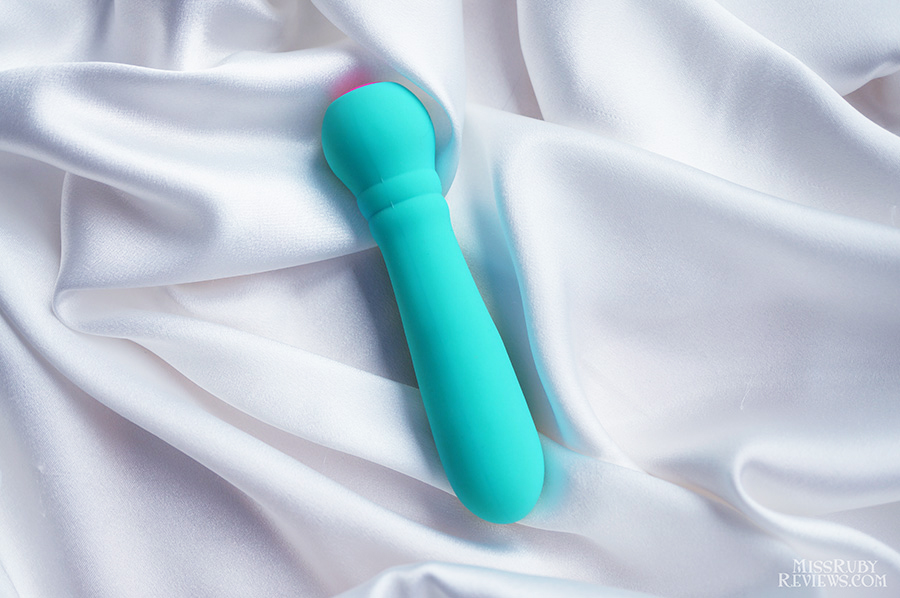 Design
I suspect the FemmeFunn Ultra Bullet Vibrator is a misnomer. Is it a bullet if it can't fit inside bullet-compatible dildos? Maybe the Tango just spoiled me, or maybe my definition has been wrong the whole time, but the FummeFunn Ultra Bullet is different than your average bullet-shaped bullet vibe. Different isn't bad though; while this vibe clearly won't fit inside my own bullet-compatible dildos, it still marks itself as a small, travel-friendly, convenient little toy.
The FemmeFunn Ultra Bullet measures just over 4 inches long and 1 inch wide. The handle is bulbous and contains a tiny waterproof hole for the USB recharger. At the very base of the toy, there's a neon pink button. The pink button (marked ꟻF for FemmeFunn) is the only control on this toy.
Though I originally assumed this would be a rigid vibe, the handle and the lower half of the body is somewhat flexible. The tip of the toy (the area used for stimulation), where the motor lies, is the most rigid structure.
I can't help but feel that the FemmeFunn Ultra Bullet looks a bit… Barbie-esque? I received mine in a nice, clean shade of Turquoise, which helps reduce the effect a bit, but the Pink and Purple definitely make this toy look childish to me. I don't think this was the desired effect (I suspect FemmeFunn was going for a non-threatening, fun, and feminine look). I can easily look past this, though, thanks to the vibrations.
Vibrations
For $49, the FemmeFunn Ultra Bullet is an impressively-strong toy (8/10). I mostly receive and review $100+ vibrators, and I've built up a picture of where vibrations should be for their price range. This vibe is certainly stronger than a lot of pricier vibes 3x the price.
While these vibrations are certainly orgasm-inducing, they aren't as deep and rumbly as the Tango (priced at $30 more). Still, they're decent. I've come across vibrators that are a great deal buzzier and more surface-level than then. Just be aware, though that users with arthritis or carpal tunnel syndrome might experience some hand aching after holding it for extended periods of time.
That shouldn't stop the rest of you though. I was expecting the FemmeFunn Ultra Bullet to be weak and forgettable. Instead, it took me by surprise with its strength.
Noise
I'm also pleased with how quiet this is (7.5/10). While it'll be heard within the same room, it's not a loud, obnoxious sound at all. It won't be heard through walls or a closed door, so it'll be discreet enough for roommates.
How to use the FemmeFunn Ultra Bullet
Click the power button and hold for 3 seconds. The LED light inside will light up. It'll turn on at the last pattern you used. When you press the button again, it'll reset the cycle, starting at the lowest steady state, then the mid steady state, and then the highest, strongest steady state. If you keep pressing the button, it'll take you through (seemingly endless) patterns; there are 20 different vibration settings in total. To turn off, press and hold for another 3 seconds. There is no travel lock.
Packaging
While I've seen more stylish and sleek sex toy packaging before, the FemmeFunn Ultra Bullet's packaging isn't offensive or ridiculous. It's simple and clear. Inside the box, you receive a fabric drawstring pouch to match your vibe, the Ultra Bullet, a short instructions pamphlet, and a USB charging cord.
Material and Care
The FemmeFunn Ultra Bullet is made from silicone, making it bodysafe, non-porous, and free of toxins. It's a silky, soft, matte silicone that doesn't attract outrageous amounts of lint/dust. If you're going to use lubricant, opt for a good-quality water-based lube like this one.
For everyday cleaning, I wash the Ultra Bullet in warm, soapy water. It's 100% waterproof, which really makes cleaning so much easier.
Charge your vibe by plugging it into your computer or a USB wall adapter. The charge holds pretty well on the shelf. I haven't charged it in a couple of weeks and it's still going strong whenever I turn it on. Each full charge should give you about 2 hours of playtime.
My Experience with the FemmeFunn Ultra Bullet
I've been honestly blown away by the amount of pleasure the FemmeFunn Ultra Bullet provides me on such a budget price.
The strong vibrations mean that orgasms come quickly. There's no difficulty there with this toy — it certainly delivers on its promises. It provides a great firm, pin-point pleasure (those of you that require broad stimulation will need to look elsewhere).
I also love that it's so convenient. For the past month, I've just been keeping it in my bedside table, and it always has charge left in it. The LED button provides some guiding light for my partner when we use it together late at night. Clean up afterward is a breeze because it's waterproof, and the streamlined design means there are no frustrating crevices to battle to clean.
At first, I wasn't a fan of the control system. Holding the button on for 3 seconds to turn it on and off seems a bit tedious (of course, I compare it to the Tango, which is a simple quick click to turn on, cycle through a few states, and turn off). That being said, the Ultra Bullet doesn't have a travel lock, so I can see why holding the power button on for several seconds is beneficial: it's less likely to go rogue inside your suitcase while traveling. And, because there are 20 vibration settings, I'd hate to have to cycle through all of them to turn it off with a quick click. So, while the control system didn't seem simple enough for me at first (I love simple things), I understand and appreciate why the controls need to be this way.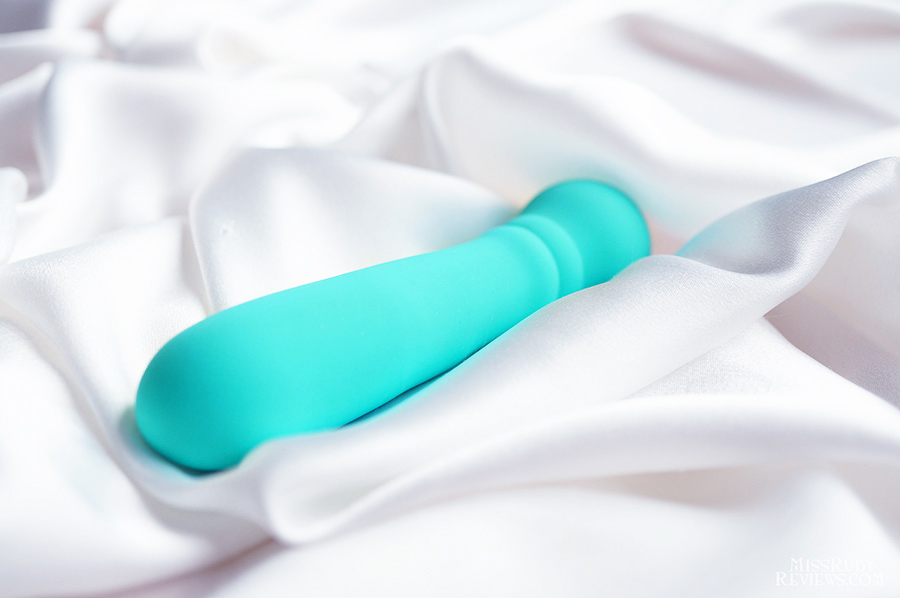 The single complaint I have about the FemmeFunn Ultra Bullet is that the vibrations travel throughout the vibe's body, right to the tip of the handle. As with all vibrators that cannot keep the vibrations localized within a specific point, your hands will feel those vibrations and they will start to feel tingly/weird after a few minutes. The delicate little bones in my hands and wrists don't like feeling all of these vibrations, so that's a drawback for me. But again: the price. I can deal with vibrations against the hand with such a low price like this.
Overall
The FemmeFunn Ultra Bullet is one of the most inexpensive small vibrators that can perform at this strength. I was pleasantly surprised by its power and its ability to get me to orgasm. It's also quiet, waterproof, rechargeable, and bodysafe. My complaints are (1) the design is slightly too Barbie-esque for me and (2) the vibrations travel throughout the whole toy, meaning your fingertips will vibrate along with your clitoris. But I think this would make a great toy for someone who wants a strong, pin-point vibe, but who cannot dish out the extra cash for a Tango.
Head on over to Peepshow Toys to get the FemmeFunn Ultra Bullet! And you can use the coupon code RUBY to get 10% off!

Last Updated on August 19, 2022 by Miss Ruby