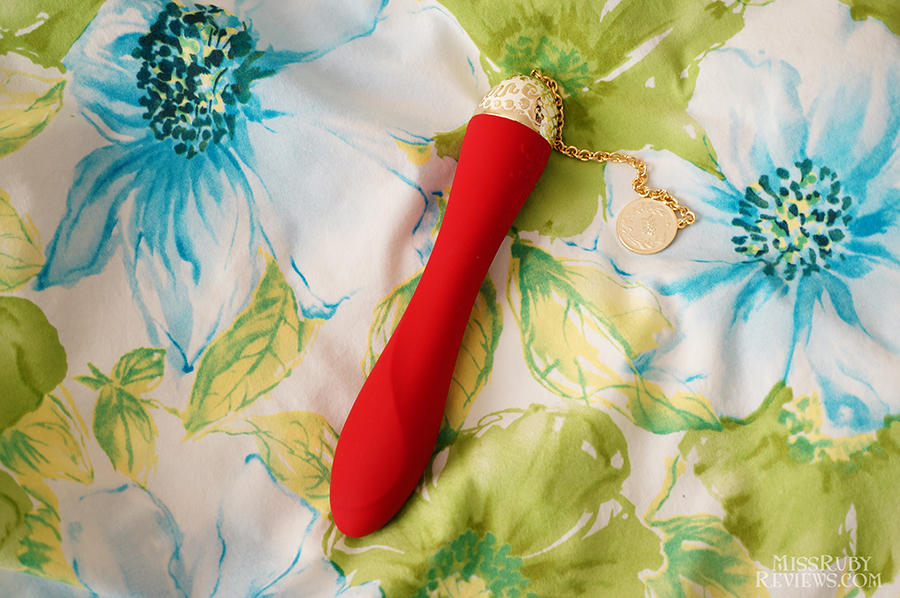 For those of you who enjoy the finer things in life, like a luxe red vibe with gold plating…
Physical Details | Packaging | Material and Care | My Experience | Overall
Physical Details
Design
The Zalo Marie is one of those eye-catching sex toys that demand my attention. Personally, there are few things sexier in a vibrator than deep red, sleek curves, and gold plating.
Yes, GOLD. The base of the Marie is beautifully and intricately detailed with 24 K gold. It's beautiful, and I'm someone who loves beautiful things; when I first received the Marie, I spent minutes running my fingers over the cold, golden surface.
From the images, you can also see that there's a chain leading to a coin-like pendant with the words "Zalo de Marie" on it. This chain can be unscrewed: inside, you'll find the port for the charger.
The Zalo Marie's body is beautiful, almost floral. At the base, on one side (lower left picture below), you have the intricate control interface. On the opposite side, there's further subtle embossing. From this base, Marie's body narrows before swooping out into a pointed tip. The insertable portion of the body definitely widens/bulges; it's sleek and subtle, but that shape helps with G-spot targeting.
This shade of red is DIVINE. My images came out slightly brighter than reality; it's a deep ruby red (not firetruck red). If you're not a huge fan of red, it's also available in Rouge Pink and Royal Blue.
While designed for vaginal use, this toy can act as a wicked pin-point clitoral vibrator. If you have a penis and enjoy vibrations, knock yourself out as well. But, as there is no flared base, this is not safe for anal use.
Vibrations
At full blast, the Zalo Marie has moderately strong vibrations (7/10). This number might not sound super high to you, but remember that I'm mentally comparing it with the hundreds of other toys I've reviewed, many of them corded and huge. For a small, cordless, rechargeable vibrator, this is decent.
The vibrations are focused in the top half of the toy. However, they do travel to the handle part, meaning your hands will feel them. In terms of rumbly versus buzzy, the Marie errs on the rumbly side (70% rumbly), but my hands and my clitoris can definitely pick up an underlying buzz. Buzzy toys can give a temporary numbing sensation, but some people love it.
I counted 5 steady-state vibration modes (increasingly stronger than the next) and 8 pattern modes. If you download the "ZALO Remote" app for your smartphone, you can get more patterns, a music mode, and a "tease" mode (your smartphone will become a BlueTooth remote control).
Sound
The Zalo Marie is decently quiet (7.5/10). In general, stronger toys tend to be noisier because the motor needs to function at a higher level. It's considerably louder than the Zalo Jeanne (which is both smaller and not as strong). I don't think you'll have an issue with anyone hearing this through walls.
How to use the Zalo Marie
To turn on the Zalo Marie, tap the central "M" mode button. It'll start to blink. Tap it again to start vibrating at a steady state. To increase/decrease the vibration strength, press the ← → arrow buttons. If you want to check out the pattern modes, press the "M" button to cycle through them. To turn it off, press and hold the "M" button for 3 seconds.
The Marie can be travel locked: press and hold the ← → arrow buttons together for 3 seconds. Unlock doing the same thing.
If during use you notice the "M" mode button flashing, you need to charge it. To charge your Marie, unscrew the golden chain and insert the USB charger, which is included. Plug the USB into your computer or a USB wall adapter. The "M" mode button light flickers during charging; when complete, it'll become steady. A full charge should take about 1.5 hours.
Packaging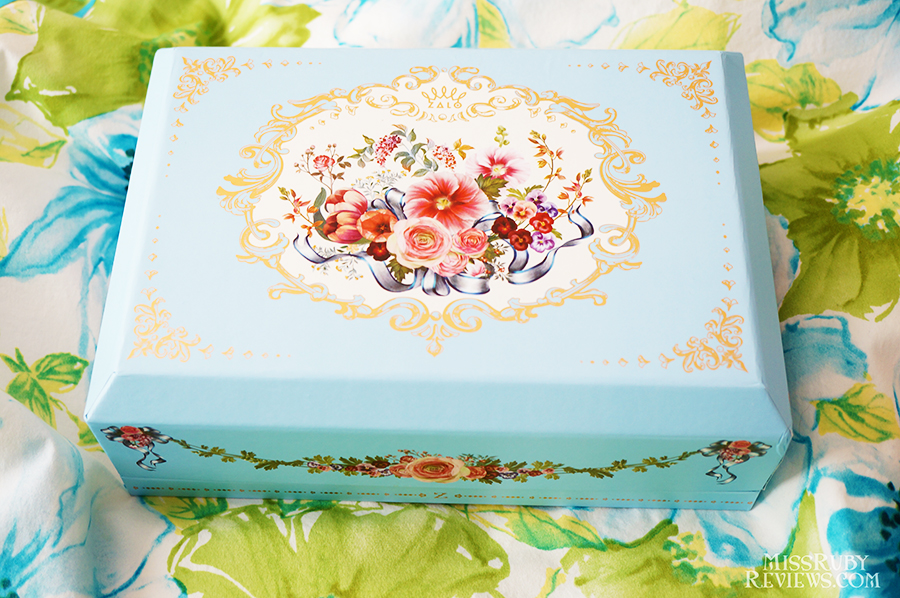 UGH THIS IS BEAUTIFUL. Zalo seems to specialize in beautiful packaging. The Marie is part of Zalo's Versailles series. Like the Jeanne, the Zalo Marie comes in an absolutely stunning hard blue box, covered with floral and golden embellishments. It's super gift-worthy (hint hint). Inside, the Marie lies embedded in a pillow. You also receive a 1-year Warranty Card, a silver and gold satin pouch, an instruction booklet, and the charging USB cord.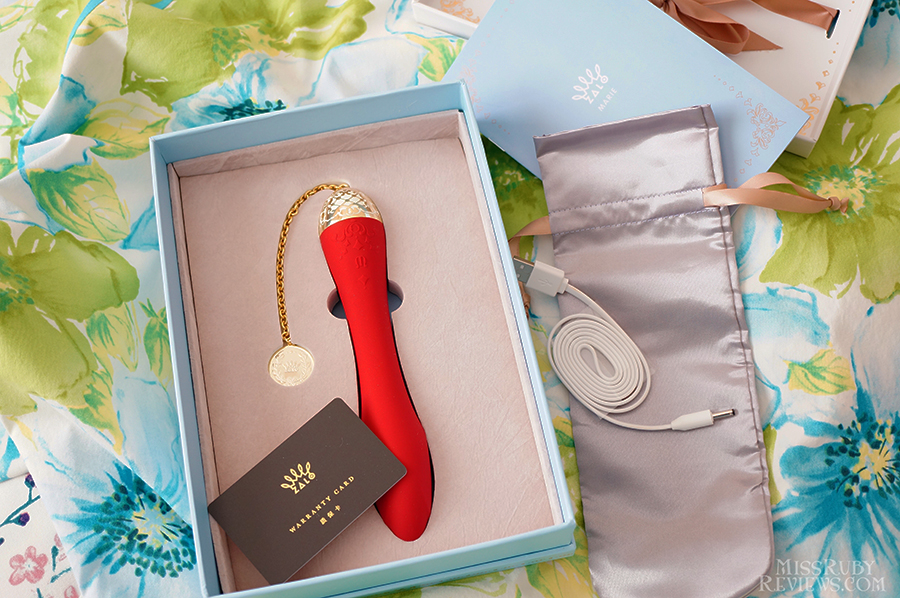 Material and Care
The body of the Zalo Marie is made from silicone. Silicone is my #1 recommended sex toy material: it's non-toxic, non-porous, and bodysafe. Silicone comes in a wide variety of finishes: some are sticky, some are matte. This silicone is matte and silky to the touch.
The white area of the base is enameled metal; it's surrounded by 24 karat gold plating. I'm not so sure about the actual chain and the pendant; I suspect they aren't gold-plated.
To clean the Zalo Marie, I wash it in warm, soapy water. Marie is completely waterproof and submersible, which really helps cleaning.
As this is a silicone toy, it's a good idea to opt for a water-based lubricant like Sliquid's H2O.
My Experience with the Zalo Marie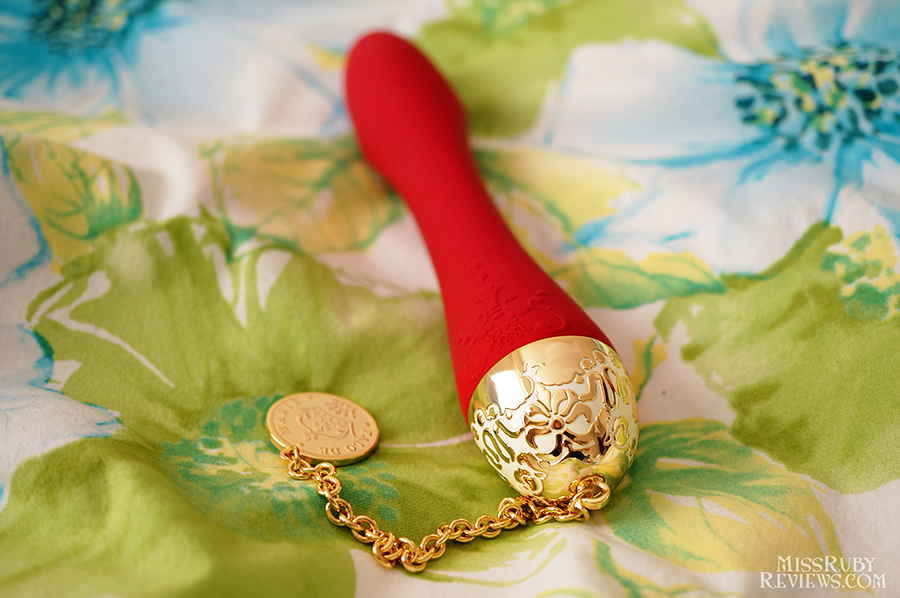 The Zalo Marie has proved itself to have a pretty effective design.
Internally, I ADORE Marie. The bulbous end goes a long way in helping target the G-spot. Though it's obviously not as bulbous as, say, the We-Vibe Nova or the L'amourose Prism (and so doesn't provide me with as intense stimulation), it still feels wonderful, and the sensations can speed up my clitoral orgasms considerably.
I was pleased to discover that Marie's shape means it can double as a clitoral vibrator. It's pointy enough to get some solid pin-point stimulation, and I'm usually pin-point sort of gal. In that way, I think the Marie is a bit handier than the smaller clitoral-only Zalo Jeanne: it's simply more versatile. Coupled with the stronger vibrations, I overall enjoyed it a lot more than I did the Jeanne.
Though orgasms did come with the Marie, power queens will need to look elsewhere. These vibrations are decent, but they aren't able to provide what the Tango or the Doxy can. Most users, though, will likely be pleased with Marie.
I have to say, though: I just COULD NOT get used to that pendant/chain. It swings around something terrible during use, and it's a pain to clean if you get lubricant on it and it dries. I started simply removing the chain before play. I don't think it's waterproof when you do this (because you're exposing the charging port), but I much prefer not being distracted by it. I would have much preferred a subtle cap as the charging cover, in place of a long, dangling chain.
Overall
The Zalo Marie is a STUNNING vibrator. With that deep red body and the 24 karat gold plated base, it strikes me as a gift fit for a queen. Its vibrations are decent as well, though they may not satisfy power queens. I'm not a fan of the dangling chain; luckily, the chain can be removed during use.
To purchase the Zalo Marie, head on over to ZALO USA for $199 USD. You can also purchase it through Peepshow Toys for $152 USD when you use coupon code RUBY