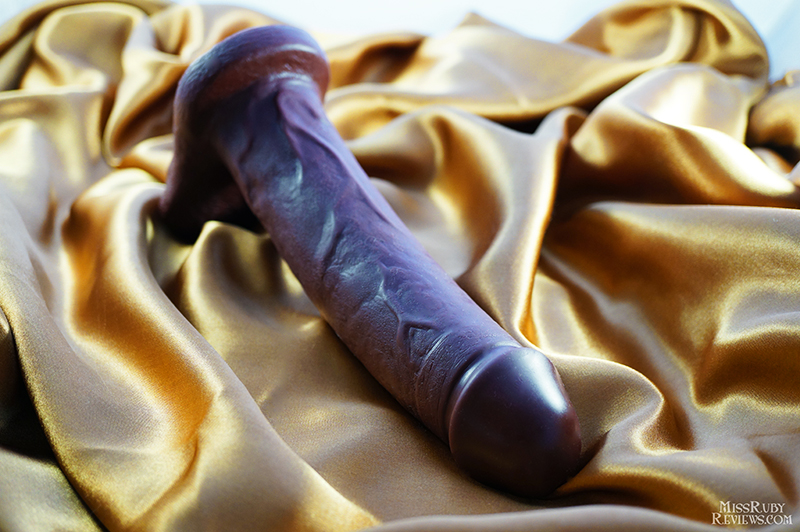 This is one of my most gloriously-luxurious realistic dildos!
Physical Details | Material and Care | Packaging | My Experience | Overall
Physical Details
Good grief. It's so beautiful.
For those of you who follow my blog, you might know that I'm a huge fan of realistic dildos. And I've been eyeing the Vixen Bandit for a looooong time. When I first discovered that VixSkin (dual-density) was a thing, I wanted the Bandit right away.
I'm not entirely sure what I like more about the Bandit. There's the long, girthy, straight shaft (7″ long x 1.75″ wide). There's the veined detailing along the body, the deliciously squishy head, the soft striations of the frenulum.
It might even just be the colour (in this case, called "Chocolate"). I usually bristle at food-themed colors for sex toys (ie, caramel for medium, chocolate for dark). It's a common practice with companies and usually only reserved for non-white tones, and this othering of skin tones irritates me (ie, "flesh" for Caucasian, food names for other races). BUT in this case, the shade is *exactly* the same shade as a chocolate bar. The white balance of my photos isn't quite right (sorry!). It's not a bluish brown. It's a gorgeous warm, tasty, scrumptious shade.
It's very Cadbury, actually.
(I love chocolate)
Which makes my mouth water with extra oomph.
For those of you who prefer a different shade, the Bandit also comes in a light, creamy shade (pictured in my Mustang review here) and a medium color.
For those of you who are new to Vixen toys, Vixen produces a line of "VixSkin" dildos. VixSkin refers to a dual-density structure. Throughout the Bandit's shaft, a soft, squishy layer of silicone surrounds a firm inner core. The head itself is completely squishy. This combination makes you want to squeeze this thing with your fist (or vagina) (or butt) all day. It allows the Bandit to feel extra realistic to the touch, which makes its $102 price tag seem positively reasonable.
The only thing I'm not a fan of, physically, is the pair of strangely-flat balls. I like dildos with testicles, but these ones look painfully squashed. Despite their odd appearance, they do retain a function: they allow this dildo to be anal safe and O-ring harness compatible (I suggest a 2″ O-ring).
Material and Care
The Bandit is made from 100% platinum-cure silicone. It's the safest material for a realistic sex toy. Unlike porous materials like Jelly or UR3, it cannot harbor bacteria and fungus within its chemical structure. In other words, it's impenetrable for bacteria. Woohoo!
It still, of course, needs to be washed to clean its surface. For every-day cleaning, I just use warm, soapy, water. However, if you share this with someone, or use it anally, be sure to sterilize it. You can do this by washing it on the top rack of the dishwasher (on a hot cycle) or boiling it for 3 minutes.
Unfortunately, the Vixen Bandit doesn't come with any sort of storage bag. Soooo, for now, it's just living in the plastic container that it came in.
As with any silicone sex toy, use a water-based lubricant. Vixen's silicone feels very sticky and grabby to the touch until you apply lots of lubricant, so don't skip this step. I recommend sliquid.
Packaging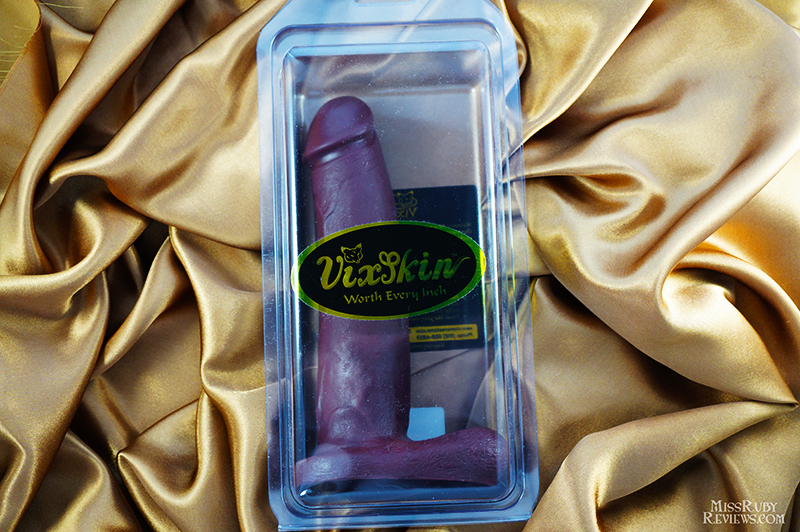 The Vixen Bandit is packaged extremely simply in a clear plastic case. The case details that there is a lifetime warranty and that it's made in the USA (which I totally forgot about. That's awesome).
My Experience with the Vixen Bandit
Using the Bandit is like using a sexy cushioned phallic pillow. Okay that sounds terrible. But hear me out.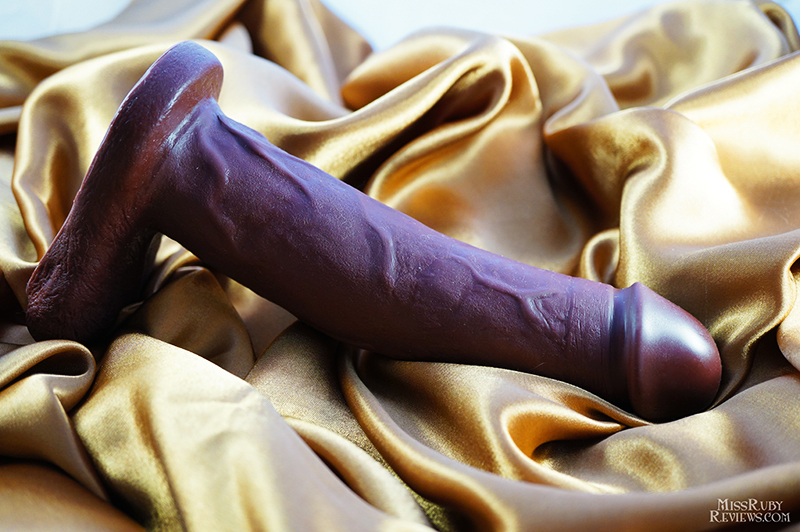 The Vixen Bandit has quickly become my go-to when I want decent girth and realism. It's also replaced my two other dark-toned dildos, the Tantus Sam and the Pleasure Works First Mate.
During vaginal use, the Bandit has a smooth, easy entry, thanks to its squishy outer layer and relatively texture-less surface. A rock hard dildo of this size would feel dramatically larger because it would be less malleable. Even though the Bandit is no tiny piece of work (1.75″ diameter and 7″ long), it doesn't feel as immediately imposing or obstructive as something firmer this size. (mind you, if this is exactly the thing you're looking for, you might want to opt for the Vixen Outlaw instead, which is larger). But I love this: it means that I don't need to start super slow. The Bandit can be inserted early on in my arousal and it gets to work right away.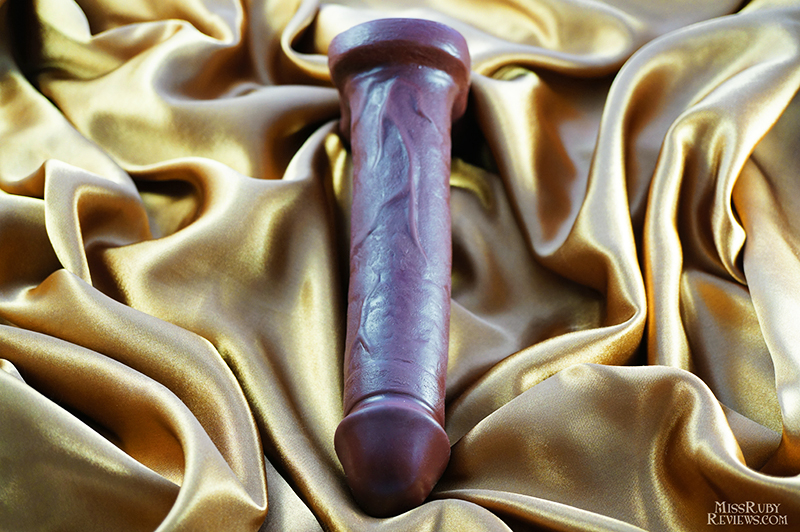 Based on the straightness of this dildo, I expected that there wouldn't be much G-spot stimulation. In practice, this proved true. I haven't been able to achieve the sort of intensity that, say, the Jopen Comet can give me. With other straight dildos, I can often just angle upwards. However, the Bandit's long, flexible shaft makes this difficult. But that's all A-OK! The Vixen Bandit is what I turn to when I want rapid thrusting, full girth, and realism, without worrying about it hitting my cervix with any blunt force.
And rapid thrusting? It does it well.
It's smooth, quick, gentle stimulation. And it's those flat balls turn to shine when it comes to thrusting: thrusting is made SO much easier compared to using a small ball-less circular base. My hand doesn't cramp after. Woo!
But for me, the Bandit ultimately dethrones the Sam due to its magical squishy silicone and its startlingly-realistic feel. It's not easy to find a line of dildos that, upon gripping with my hand, creates an instant unf-let's-get-going-now physiological reaction in my body. But Vixen's VixSkin line did this for me in the Mustang, and it's certainly working again. It doesn't sound important, but tactile arousal from dildos themselves is something to be valued and sought after. Realistic dildos shouldn't simply exist to be used when you're already aroused; the best realistic dildos can also arouse you by themselves to begin with. And if I get aroused by gripping a dildo with my hand because it feels so freaking fantastic, I've found a favourite.
One thing that Tantus' line of O2 dildos does have over the Vixen Bandit is this: the Bandit doesn't come with any suction cup capabilities. While some dildos (like the Tantus Sam and the Tantus Pack 'n Play) have a small hole in the base to insert a suction cup, Vixen doesn't feature any sort of equivalent. It's a real shame, because the Bandit would be so much more versatile if it could be used on the wall. EDIT: A smart commenter reminded me that Vixen can't do this for their dual density line because it would affect the overall shape. So I forgive Vixen. *pats Vixen nicely*
Overall
I absolutely adore the Vixen Bandit! You'll be hard-pressed to find someone who doesn't feel the same way about this line of dildos (seriously, we loooove the VixSkin line).
I wouldn't recommend this to buyers who are looking for a texture-rich or intense G-spot or prostate experience. I would, however, recommend this for people looking for:
Something realistic to look at and feel
Something that delivers girthy fullness
Something that excels at rapid thrusting
To buy the Vixen Bandit, head on over to Peepshow Toys! And for 10% off, use coupon code RUBY.