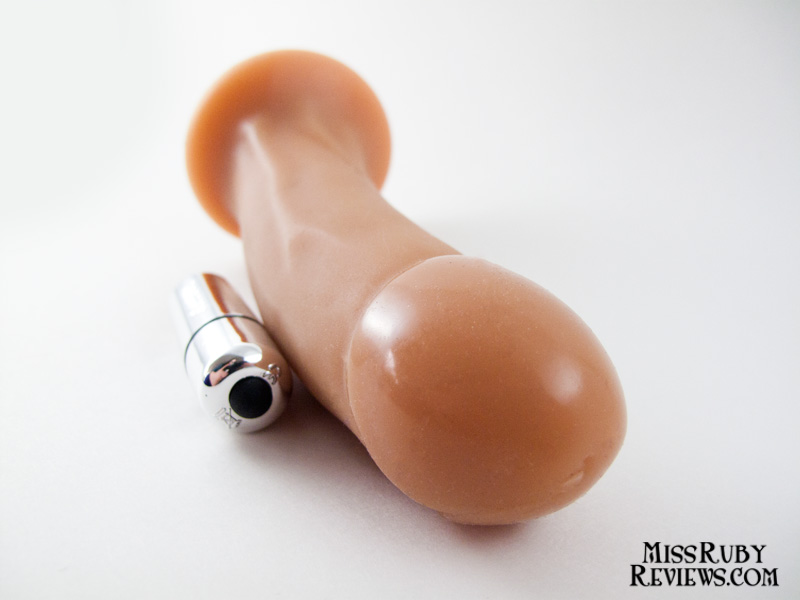 Physical Details | Packaging | Material | Experience (Packing/Pleasure) | Overall
Physical Details
Design: 
The Tantus Vibrating Pack 'n Play No.2 is a dildo designed to be both a packer and a dildo. Meant to eliminate the need to carry around two separate products, this toy is theoretically soft enough to wear beneath clothes but hard enough for penetration.
I love how streamlined and neat this dildo is. The Tantus Vibrating Pack 'n Play No.2 caught my eye because it has the same body as my much-loved Mark O2. Semi-realistic and stylized, this dildo sports a lightly-veined shaft and a shiny head.
The shaft is mostly straight, though a thickening of the mid-shaft gives it a tiny upwards curve. Overall, it's an attractive dildo. People who are put off by extremely realistic dildos may find this dildo stylized enough for them. (Fun fact: I bought the Mark O2 when I was still on the fence about realistic toys. It was a great stepping stone between unrealistic and realistic dildos).
The coronal ridge is negligible, but the head itself is quite full and bulbous. The head is detailed with a small urethral dent.
I absolutely adore this warm caramel skin tone. The Tantus Vibrating Pack 'n Play No.2 doesn't come in any other colors, but I love this shade of toffee and I don't think I would have chosen any other color.
Thanks to the flared base, this dildo is safe for anal use. It's also designed to be worn in an O-ring harness. If you don't want to use a bullet vibrator in this, you can also insert Tantus' suction cup.
Firmness: 
Oh, Tantus. I love this silicone firmness. The Vibrating Pack 'n Play No.2 uses Tantus' Super Soft silicone. There's no firm inner core, so the end result is some lovely squishy goodiness. There's a lot of give when you squeeze it with your fingers and you can easily bend it, twist it, and pull it.  I looove squishy silicone, and this is about the perfect squish for me. It's much softer than Tantus' dual-density O2 line and regular single-density line. Yum.
Vibrator: 
What sets this toy apart from the previous generation (the non-vibrating Pack n' Play No. 2) is that the bottom 1.5 inches of the base is hollow. This hollow space allows for a small bullet vibrator. Tantus includes one along with the toy, so you don't need to go out and buy an additional one if you don't already have one.
This plastic bullet vibrator is compact and offers a single-speed setting, turned on/off by the little black button at the base. The bullet sticks out by a centimeter or so, allowing you to remove it easily. The vibe uses 3 watch batteries (LR44) which come included. The vibe itself is fairly weak (3/10).  The dildo's soft silicone transmits vibrations very well, but they can't amplify the vibrations, so the dildo just quietly buzzes with this vibe in. I suggest you use your own vibrator. The hole can hold a bullet vibe with a diameter of up to 2 cm.
Shipping/Packaging
Though you can buy Tantus dildos from several shops, you can also just buy from Tantus directly. Shipping from Tantus is quick. My order was placed on March 25th and I received my package on March 31st. I received a plain brown box and "Tantus" wasn't listed anywhere on the box. This toy comes packaged simply in a silver non-static resealable plastic bag. It's not fancy, but it actually works as a good storage option.
Material and Care
Tantus dildos are made from premium 100% silicone. Silicone is one of the best materials for sex toys because it's non-porous and free of toxic chemicals. You can sterilize it by boiling it for 5 minutes, throwing it in the dishwasher, or wiping it down with a 10% bleach solution. If you're going to be using this this toy during anal play, or if you want to share it between partners, you should sterilize it. For vaginal everyday use, I simply wash mine with warm water and antibacterial soap. Always use water-based lubricant with your silicone toys.
My Experience with the Vibrating Pack 'n Play No. 2
Packing: 
I wanted the Tantus Vibrating Pack 'n Play No.2 for the squish factor and the bullet-compatible factor, not for packing. That said, I gave it a good test in my Kinky Monkey harness. I find that it's remarkably comfortable to use as a packer. It helps that the hollow base (for the bullet vibe) lets it bend sharply at the base to fit in my clothes. For this reason, I'd recommend this version over the hole-less non-vibrating version. Despite this, it still doesn't make for a subtle packer. No matter which way I tuck it in my pants, I can very clearly see the outline of a wicked erection. Some positions are slightly more discreet, especially when tucking it under the strap of my harness and wearing some thick baggy pants. But there's always a definite bulge. In other words, this really isn't for soft packing. This toy is good for packing hard, so keep that in mind.
Tip: take out the bullet before you try packing. I don't know if the vibe is meant to be inserted when you're using it to pack. The bullet sticks out of the dildo by a centimeter for easy retrieval, so if you try wear this with the bullet you'll find that your pubic bone is jabbed mercilessly. It's not extremely painful, but it is annoying, and I'd rather just carry the bullet vibe in my pocket. The downside of this is that, if you want to use the bullet during strap-on play, the wearer will have their pubic bone poked.
Sexy Times: 
When it comes to pleasure, my relationship with the Tantus Vibrating Pack 'n Play No.2 is complex. During the first couple of sessions with this toy, I used it only for slow thrusts, and I was confused to find that it didn't offer me much in the way of stimulation. I could acknowledge that I felt movement, but not much else. Generally straight toys still hit my G-spot, but they have to be considerably thicker in girth to do so. I haven't tried the Mark O2 for several months so I've forgotten how that felt. I was worried that perhaps I've simply outgrown this size/shape. I also couldn't discern any vibrations using the bullet vibe.
The situation improved a lot when I tried it for the 3rd time. I discovered that this toy, for me, excels with fast thrusts. During rapid thrusts, the full head nudges my g-spot with just enough force to feel lovely. During my previous sessions, where I only slowly thrusted the toy, the shape of the toy simply wasn't curved enough to hit my G-spot with any conviction.  In other words, I won't be making slow, sweet love to myself with this one. The faster I pump, the better this feels. My G-spot responds the same way during PIV sex, so this shouldn't be all that surprising to me.
This taken care of, I was still left unsatisfied by the mild vibrations coming from the bullet vibe. I think I'm too used to $100 vibes; it's difficult for my body to respond enthusiastically to one that's $7 (I've been spoiled by sex toy reviewing). Much to my glee, I found that my We-Vibe Tango fits perfectly! These vibrations travel really well through the soft silicone, giving my thrusts an extra "oomph" as the vibes hit my walls. It's longer than the silver bullet that comes with this dildo, so if you don't mind it sticking out a couple of inches, you're good.  The downside of this is that, while you can wear the bullet vibe during strap-on play (albeit a bit uncomfortably), there's really no way to wear this as a strap-on with the Tango.
When you're not using this as a strap-on, and if you're not in the mood for vibrations, I find the hollow base works extremely well to aid in thrusting. By sticking my forefinger or middle finger in the hollow space, I effectively give my hand a dildo-extension. Now I wish more dildos came with a hollow base, because it seriously makes thrusting this toy so much easier. Alternatively, you could always make this into a suction cupped toy and enjoy it that way.
For me, making this dildo work for my body is hard work (literally, as I have to keep thrusting hard to make it pleasurable). But once it's going, the effort pays off, and my clitoral orgasms with this chugging along inside of me aren't something to sneeze at.
Overall
The Tantus Vibrating Pack 'n Play No.2 isn't without its flaws. Can this toy give me targeted G-spot stimulation? Nope. It can't hone in on the G-spot directly, and it's not very girthy. That being said, this toy works really well for me when it's kept in rapid motion. With quick pumps, vague stimulation turns into considerable pleasure. Though the included bullet vibe is too weak for me, it accommodates other bullet vibes (the Tango fits perfectly). Would I recommend the Vibrating Pack 'n Play No.2 over the non-vibrating version? Would I recommend it over the Mark O2? Yup and yup. For easier placement during packing, vibrating abilities, suction cup capabilities, and easier thrusting via hand, the hollow base is too useful to not have.
To buy the Vibrating Pack 'n Play No.2, here are some recommended stores: