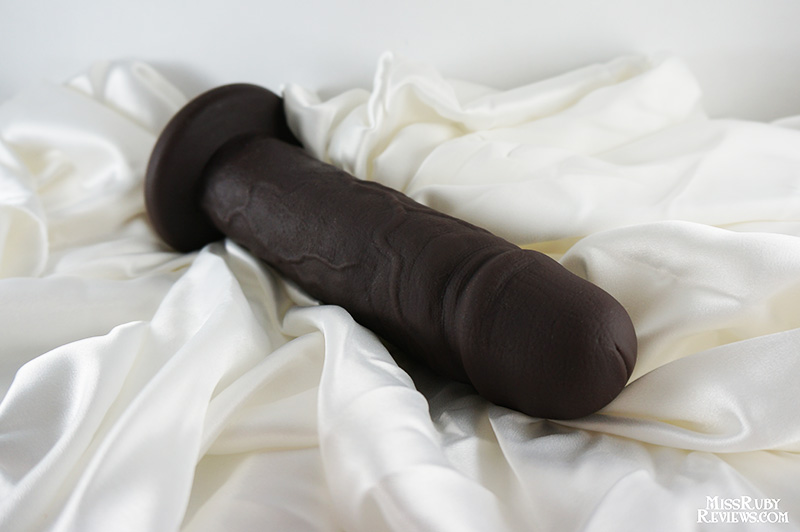 Stunning, but not one for the faint of heart…
Physical Details | Material and Care | Packaging | My Experience | Overall
Physical Details
The Tantus Sam is a monster of a dildo. Maybe I just haven't reviewed a large toy in a while, but when I opened up this package, my eyes widened a bit more than I was expecting.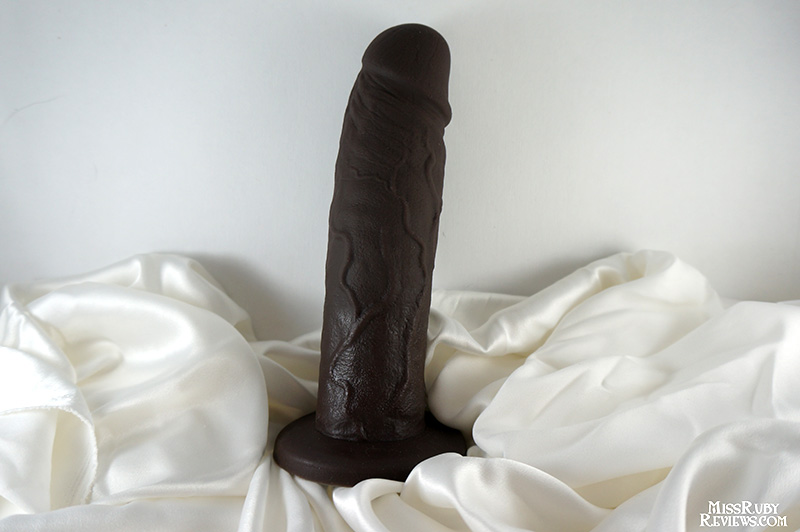 The Tantus Sam is the newest (and largest) addition to Tantus' line of vibrating realistic dildos. And for fans of realistic sex toys, I can tell you: it's a beauty. Shaped straight and tall, the Sam is covered with minute detail. Several large, thick veins run up the shaft, the frenulum is lightly wrinkled, and there are light striations on the subtle coronal ridge. I received my Sam in mocha; it's a dark, matte, neutral brown. It also comes in Cream (pale) and Cocoa (medium) tones.
It's also freaking huge. At a diameter of 1.8″ and an insertable length of 7.3″, the Sam is now my largest realistic dildo. That girth is girthy, I tell ya.
Large toys have the ability to be fairly uncomfortable, especially when they're too firm. Fortunately, this dildo is made from Tantus' O2 dual-density silicone. A firm inner core lies in the shaft of the dildo, while the head is a softer, squishier silicone. Surrounding the firm core of the shaft is that same, squishy silicone. The result is a more natural and more comfortable (and more sexy) feel to the dildo. Seriously folks: dual density dildos…they're great to touch.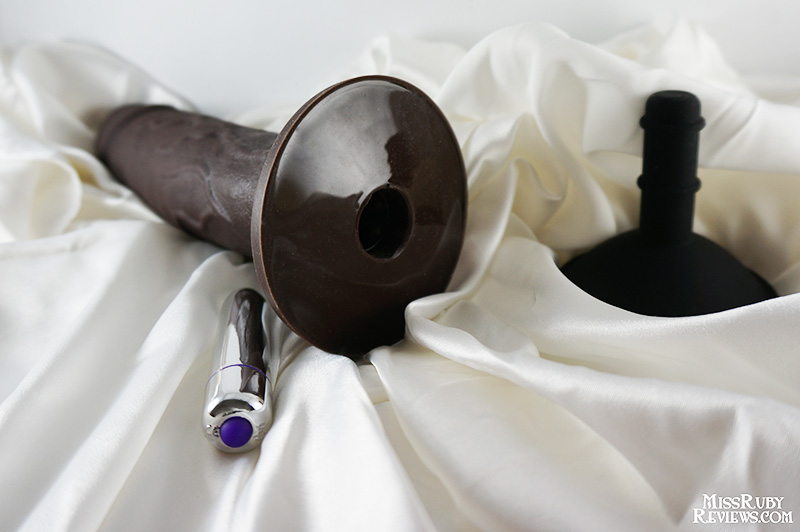 With a 2.5″ hollow tube in the bottom base of the toy, the Tantus Sam can accommodate a bullet vibrator or suction cup. Both are included.
The vibrator itself is fairly weak and buzzy (but also quiet!). Once it's inserted, I can only just barely feel the vibrations in the head of the dildo. So it's not a major earth-shattering feature, but remember that those vibrations have to travel through a huge hunk of silicone.  Is this a drawback? Not really, not for me anyway. Anyone who has followed my blog will know that I think the We-Vibe Tango is simply the best bullet vibrator on the market; I don't think anything can compete with it, so the bullet vibe that Tantus includes is, for me, only a placeholder. For people looking to use this dildo for its vibrator-compatible functionalities, I would really recommend purchasing a Tango to enhance the Tantus Sam's features.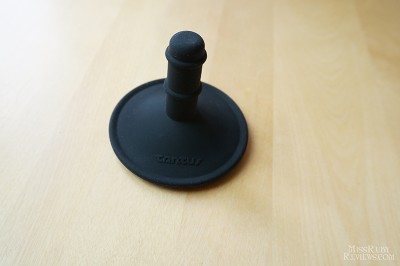 How about the suction cup? Honestly, it's fabulous. Tantus has developed a great suction cup here, and I definitely recommend getting your hands on one. If you're not sure about the Tantus Sam, you can always buy the suction cup separately to use with some of their other vibe-compatible toys. It attaches the Sam to any flat surface (extra long morning showers, anyone?), making things versatile and just a pinch more sexy. The heavy weight of the Sam does mean that it droops downward when suction-cupped to the wall, but it hangs on tight nonetheless.
Material and Care
The Tantus Sam is made from 100% silicone, making it non-porous and non-toxic.  Silicone is also remarkably durable; with proper care, there's really no end to the lifetime of this toy.
For every-day use, I simply wash the Sam with warm soapy water before and after each use. However, if you'll be using this toy anally (yes, anal safe!), or if you're going to be sharing this toy with another person, be sure to sanitize it. You can do this by boiling it in water for a good 15 minutes (without the vibrator, of course), tossing it in the dishwasher, or wiping it down with a 10% bleach solution.
Be sure to avoid using silicone-based lubricant, as that is one of the few things that can degrade the silicone surface of this toy. I recommend a good water-based lubricant like one of these.
Packaging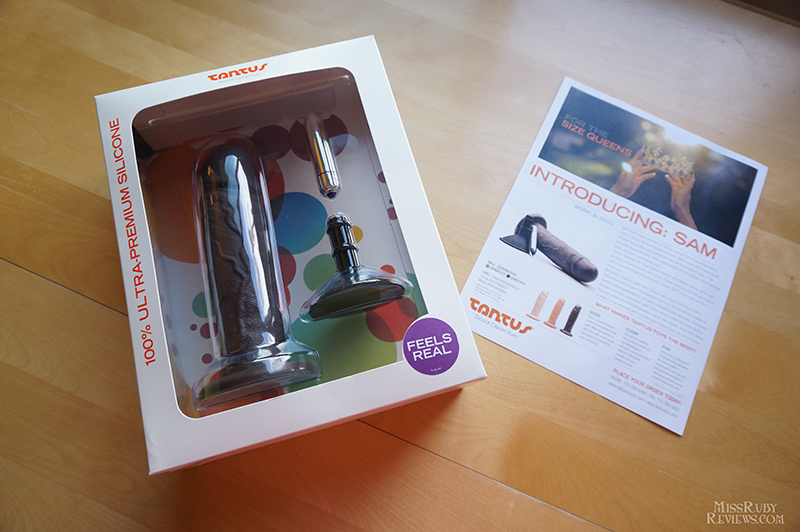 Tantus always packages their toys cleanly in fun, bright, non-pornographic packaging. It's very simplistic; you receive Sam, the suction cup, and the small bullet vibrator. One things I always bemoan about Tantus toys is that they don't come with their own storage pouch — this is something I would really adore.
My Experience with the Tantus Sam
Though I received this toy months ago, it's taken me a loooong time to actually review it. Part of it is that my schedule has been super packed this year, but most of it has been that the Sam's girth is outside my normal range of comfort. Fortunately, the body is an adaptable thing; the Tantus Sam joined the legions (of other dildos) that required time and practice on my part to conquer.
But conquer I did.
I've learned three things about the Tantus Sam in this process.
First, that it will never be a forgettable dildo. The Sam holds my attention well because it delivers well. It delivers on all the stretching and full sensations that I sometimes crave for. And, despite not having a G-spot curve, it still stimulates my G-spot impressively because of the sheer expanse of the dildo's head. Thanks to this, my clitoral orgasms feel fantastic when using the Sam.
Second, its girth is impossible to ignore, nor is its textures; I can feel those textures and those contours  even more so because of its wide girth (size queens and texture junkies: you may start rejoicing now). But remember that, thanks to its girth and texture, this dildo also requires a TON of lubricant. Even if you generally produce a lot of natural lubricant yourself, I strongly recommend that you keep a bottle of water-based lubricant nearby.
Third, the Tantus Sam is definitely one of those toys that puts an interesting spin on sex. If you're having sex with partner and you ever wanted to act out a threesome fantasy, now would be the time to do so. That suction cup doesn't fail, and the Sam's fine detailing look great up-close.
Overall
The Tantus Sam is one of my favourite realistic dildos. The dual-density silicone structure doesn't fail to impress. The detailing is superb. The sheer size commands your G-spot's attention. But it's also not a dildo that is necessarily usable by everyone. It truly is a formidable challenge. For size queens who are up to the challenge, I can totally give you my thumbs up.  However, for potential buyers who love the realism but are hesitant about the girth, I would instead recommend the Tantus Alan which, along with a narrower frame, comes with all the same features .
To buy the Tantus Sam, here are some recommended stores: