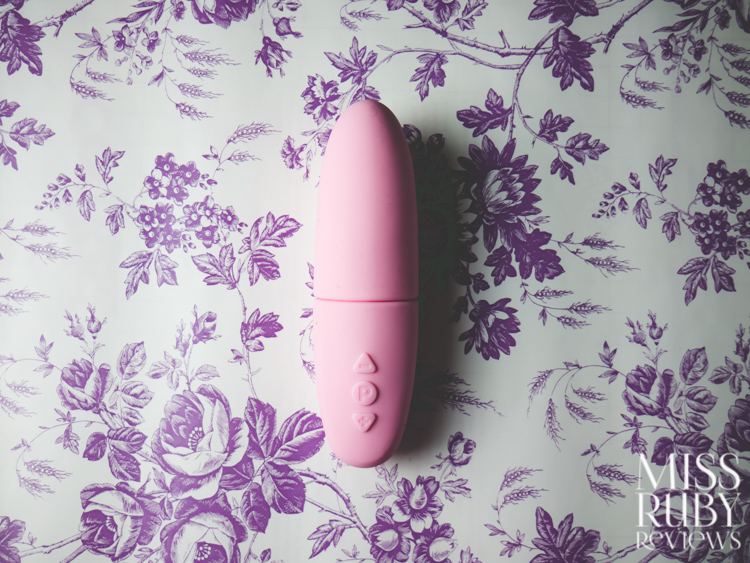 A cute new clitoral vibrator in baby pink! Read on for my Toyfriend Tickler Smooth Snazzy review.

Design | Accessibility | How to Use | Packaging | Material and Care | My Experience | Overall
Design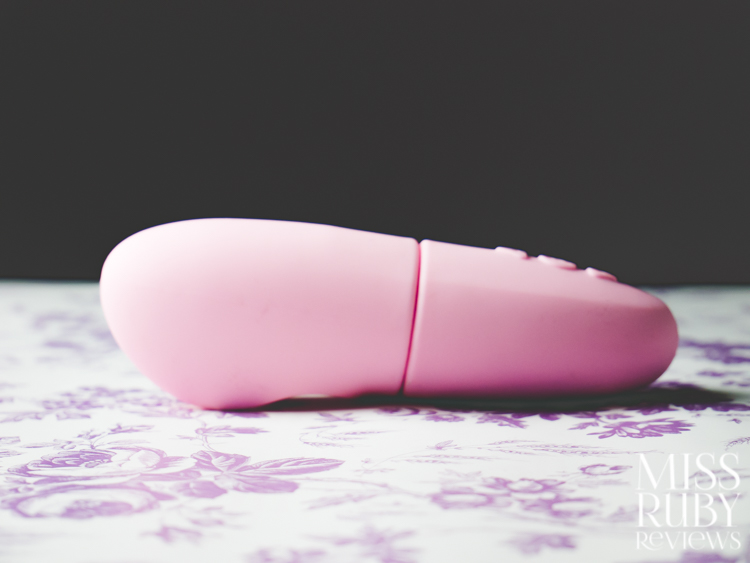 The Smooth Snazzy is a baby pink clitoral vibrator from Tickler. I'd never heard of this brand, which made me curious — when new, smaller brands put out bodysafe luxury sex toys, I want to see if they've come out with the new holy grail of innovative sex toys. I'm always looking for the new FemmeFunn Ultra Bullet, Womanizer or Velvet Teddy Mini Thruster.
The Toyfriend Tickler Smooth Snazzy is a medium-sized toy. It fits in the hand and has a vague bullet shape, but it's not nearly as small as a typical bullet. This means there's room for a bigger motor (which can often mean a stronger motor).
Design-wise, it consists of two parts. The lower half (which unscrews off for charging) is just the handle with the 3 control buttons.  The top half is for stimulation, and it has two sides. The first side is smooth and gently rounded. The other side has two, slightly flexible lips that flare out, as shown below.
Honestly, I don't know if Tickler even meant for this toy to have two stimulation sides, but the motor lies between them and so vibrations are felt on both sides.
The Toyfriend Tickler Smooth Snazzy comes in one colour option: this light, fluffy, baby pink. It's whimsical and cheerful and I don't mind it. It'd be great, though, if there were more colour options available to suit more personalities.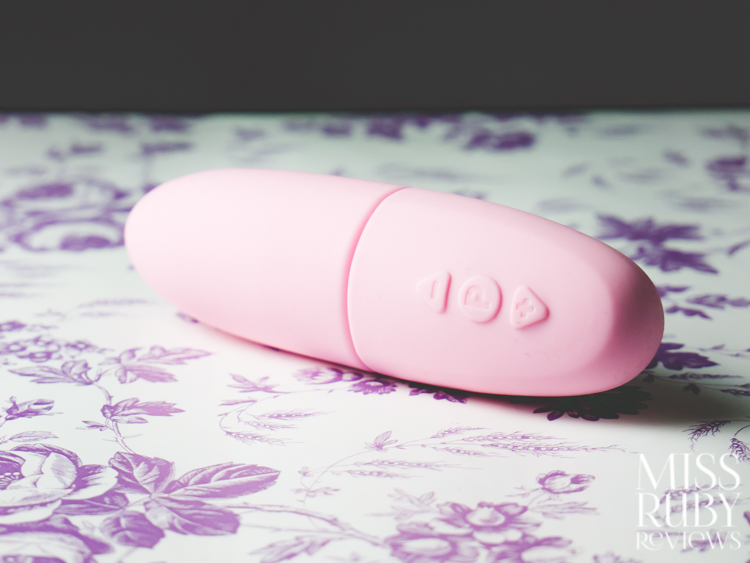 Accessibility
This section is to help folks determine if they might have any issues using/accessing this toy.
Size/Weight: The Toyfriend Tickler Smooth Snazzy is a palm-sized clitoral vibrator. By my measurements, it's 13.7cm long and 3.5cm wide (at the handle). It's a lightweight toy (130 grams).
Buttons: The three control buttons are located on the handle. The texture of the buttons is the same silky silicone as the rest of the toy. The buttons require little pressure to press down and make a loud click noise. The buttons are small (8 mm and 9 mm wide). To unlock it, you must press two buttons simultaneously for an initial 3 seconds.
Handle buzz: Some of the vibrations transfer to the handle. Your hand will buzz a bit when you hold it.
Other notes: To charge it, you'll need to be able to unscrew the handle from the top portion. It doesn't take too much strength to do so, but you'll need both hands to do so.
Price: At $90 USD, this is in the higher price range for toys with similar features.
How to Use the Toyfriend Tickler Smooth Snazzy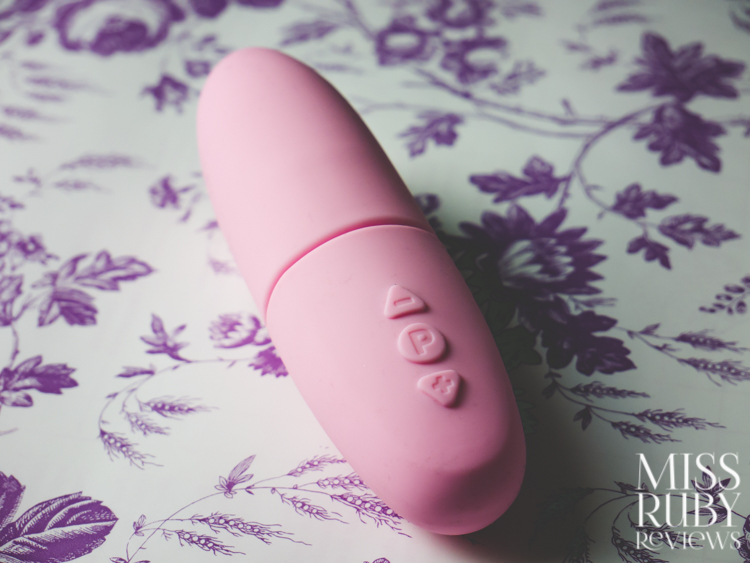 Unlock the Toyfriend Tickler Smooth Snazzy by pressing the P (power/program) button and the + buttons at the same time for 3 seconds.
To turn on the Toyfriend Smooth Snazzy, click the P button.
Apply the Toyfriend Tickler Smooth Snazzy to your body.  While designed for clitoral use, this could be used to stimulate other areas of the body, such as nipples or the shaft of a penis. However, this should only be used externally.
To cycle through the strengths, press the + and — buttons. I count around 6 steady states.
To activate patterns, press the P button. There are 3 patterns to cycle through.
When you're finished, hold down the P button for 2 seconds to turn it off.
If you'd like to enable the travel lock, press the P and — buttons together for 3 seconds.
Packaging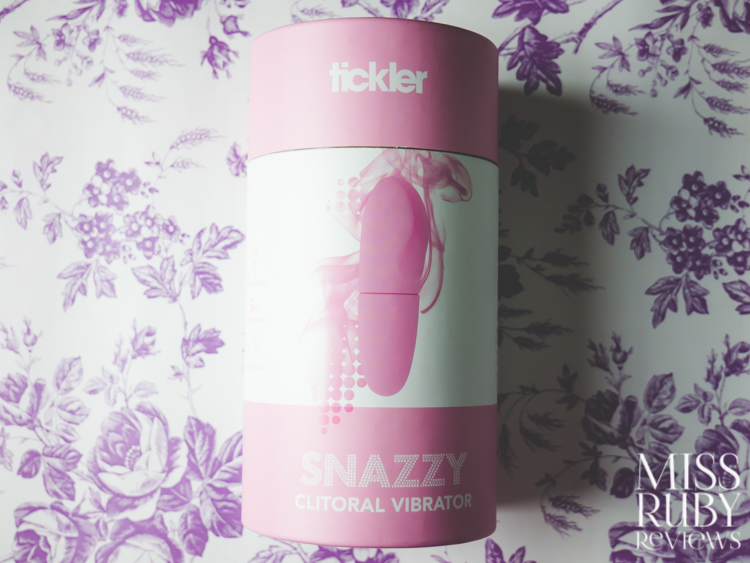 The Toyfriend Tickler Smooth Snazzy comes in a cute, cylindrical, white and pink box. I appreciated that it was minimalistic and recyclable.
Inside the box, you receive a nice velvety grey storage pouch, the Smooth Snazzy vibrator, a USB charging cable, and an instructions manual.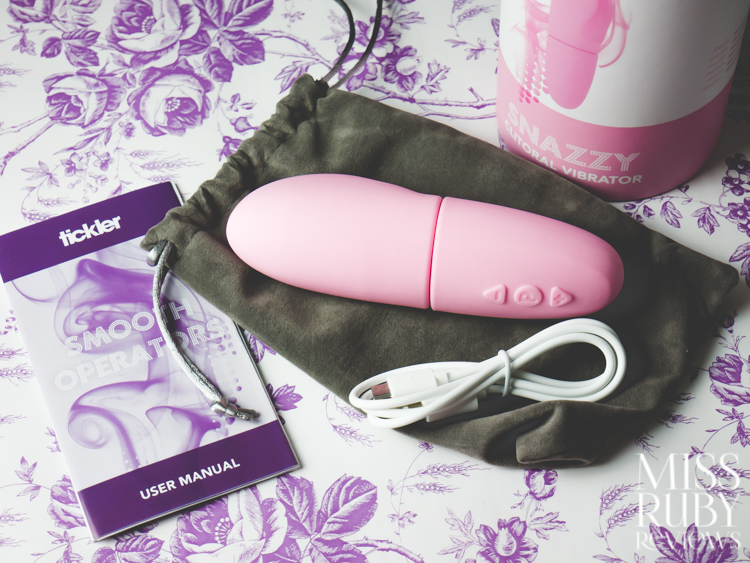 Material and Care
The Toyfriend Tickler Smooth Snazzy is made from silicone, making this toy bodysafe. This particular silicone finish is very matte and silky smooth to the touch. It's not sticky, so it doesn't easily attract lint/dust.
It's also fully waterproof. To clean, I rinse it in warm, soapy water before and after each use. If you'd like to go all out, you could use a dedicated sex toy cleaner (not necessary, but always nice). Allow to air dry before storing it away. I find the seam running down the center really annoying to clean. Take extra care cleaning that area.
If you'd like to use lubricant with this toy, choose a good quality water-based lube like my favourite Sliquid H2O or vegan Wicked Simply Aqua.
This toy comes with a 1-year manufacturer's warranty against defects.
To recharge the Toyfriend Tickler Smooth Snazzy, unscrew the base from the body. Plug in the included USB charging cable into the little port shown below. Plug that cord into your computer or a USB wall adapter.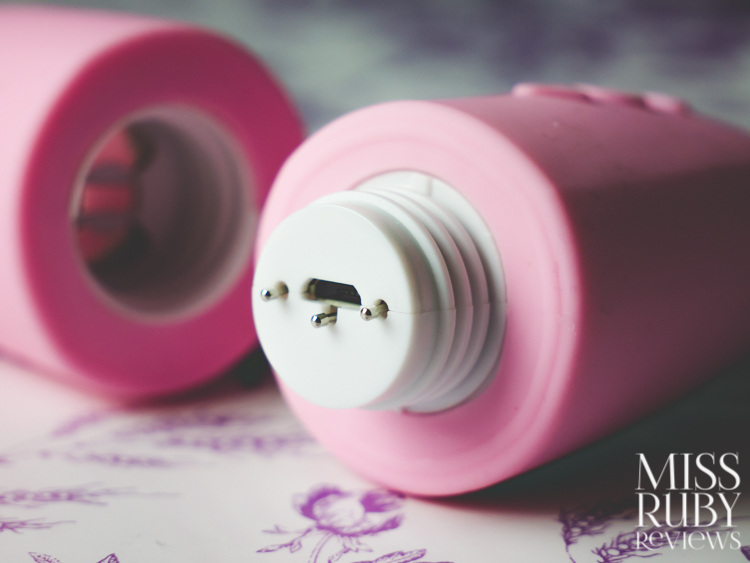 My Experience – Toyfriend Tickler Smooth Snazzy review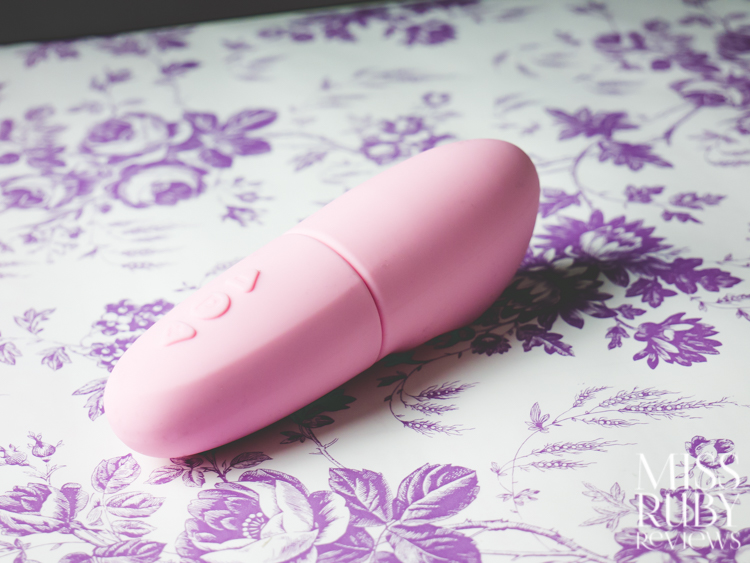 I was super ready to be impressed by the Toyfriend Tickler Smooth Snazzy. It has a $90 USD price tag, which is no small amount. Five years ago, tons of bodysafe, waterproof, rechargeable clitoral vibrators by luxury brands were at least this expensive, but since then prices for good quality sex toys have become more accessible.
So when a clitoral vibrator in today's market is still this costly, I'm expecting to be blown away.
To recap, the Toyfriend Tickler Smooth Snazzy has two stimulation sides: a smooth, rounded side and a side with two lips.
When I test the smooth side, I can get the firm pressure that so many bodies (including mine) respond to, and I can also target them well with the gently tapered tip. But the vibrations feel lacking. They're frustratingly damp and soft, and overwhelmingly surface-level. There's none of the deep rumble I was expecting to feel. They leave my clitoris (and my hand) slightly numb.
On the other side, the lips are soft and slightly flexible, and just the right size to slip over your clitoris, to cup both sides. Theoretically, the vibrations should travel down these flexible lips and surround your clitoris with pulsating pleasure. Unfortunately, in practice, the vibrations feel further dampened as they move through the silicone lips. It feels nice against the clitoris, I'll give it that, but there's nowhere enough strength for (me, personally) to go anywhere.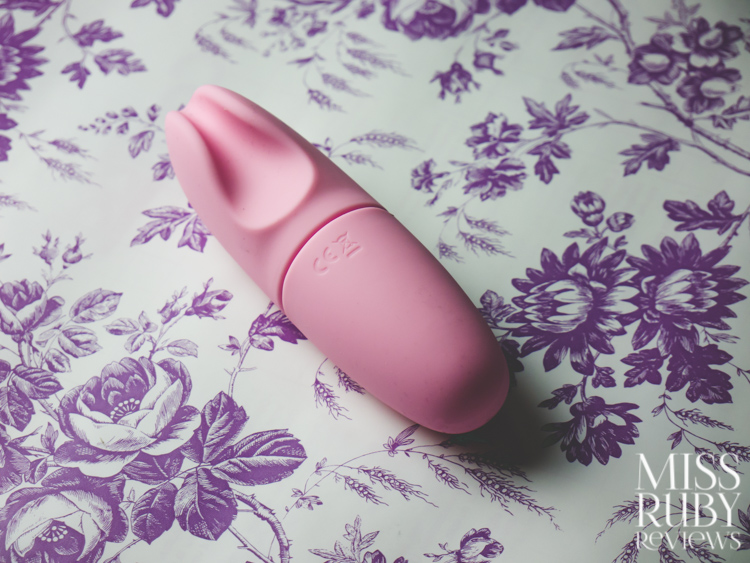 The motor is moderately loud for a toy this size. I've tested quieter vibrators, certainly, but I don't expect anyone to hear this through walls.
In short, when I use this toy, my clitoris is left feeling buzzy and frustrated. Even at the top level, the vibrations feel surface level and buzzy. Sometimes buzzy vibrations can be orgasmic… but only if there's a heck of a lot of strength (such as with the Magic Wand). These just aren't strong enough. Orgasm has stayed far from reach when I've tested this (which honestly is a rarity for me).
Toyfriend Tickler Smooth Snazzy Review – Overall Thoughts
I wasn't super impressed with the Toyfriend Tickler Smooth Snazzy. For this price tag, I was expecting a much more enjoyable experience. Yes, it's waterproof, silicone, and rechargeable, but that's not unique enough to justify the high price tag — it had to be very strong too, but instead, I found the vibrations to be surface level, buzzy, and on the weaker side.
If you have a particularly sensitive clitoris, you might have a better experience. But in my opinion, instead of spending $90 USD on this toy, here are some clitoral vibrators I enjoyed waaay more:
If you still want your own Toyfriend Tickler Smooth Snazzy, you can pick one up here! Why do I like Peepshow Toys? They ship internationally, only carry body-safe products, and you can get a 10% discount off your whole purchase with coupon code RUBY. 

See below for my Toyfriend Tickler Smooth Snazzy review breakdown.
Toyfriend Tickler Smooth Snazzy review summary
Overall thoughts - 3
3
$90
PROS
Rechargeable
Bodysafe silicone construction
Waterproof
1-year manufacturer's warranty
CONS
Vibrations too soft
Vibrations are surface level/buzzy
Annoying seam
Only comes in 1 colour (subjective preference)
Shop Now