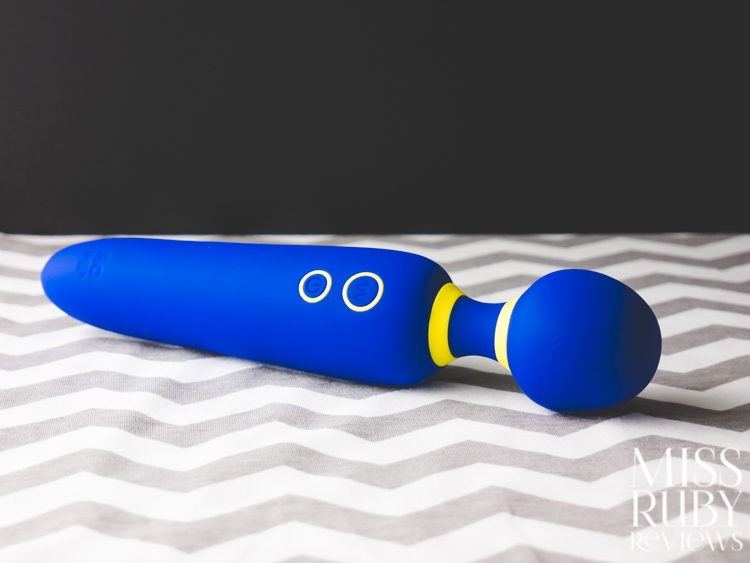 Have you heard about this SUPER affordable wand vibrator? Read on for my ROMP Flip review!

Design | Accessibility | How to Use | Packaging | Material and Care | My Experience | Overall
Design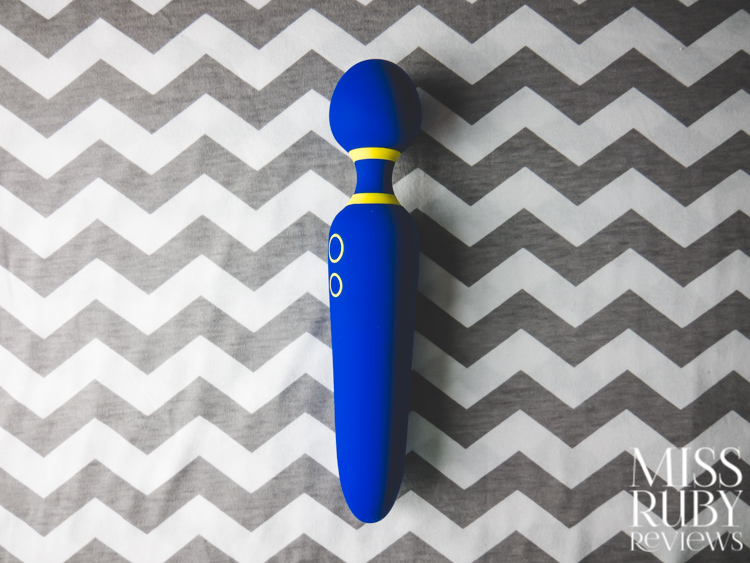 The ROMP Flip is a petite wand vibrator. Petite wand vibrators are everywhere lately (I've collected 7 this year alone) and for good reason: they're portable, discreet, travel-friendly, quieter than larger wands, and yet can still pack a big punch of power.
I was first drawn to this toy for its price. The ROMP Flip is the most inexpensive petite wand I've come across. It's only $39.99 (minus an extra 15% with coupon code RUBY). In comparison, the other 6 petite wands I've collected this year sell for $104, $80, $63, $74, $50, and $220 respectively.
Price aside, have you ever seen such an amazing colour scheme? Blazing emerald blue silicone paired with neon yellow accents. It looks positively 1990s, and I'm digging it. Deep blue is extremely rare to find in the sex toy industry (extremely), so huzzah to ROMP for being so bold.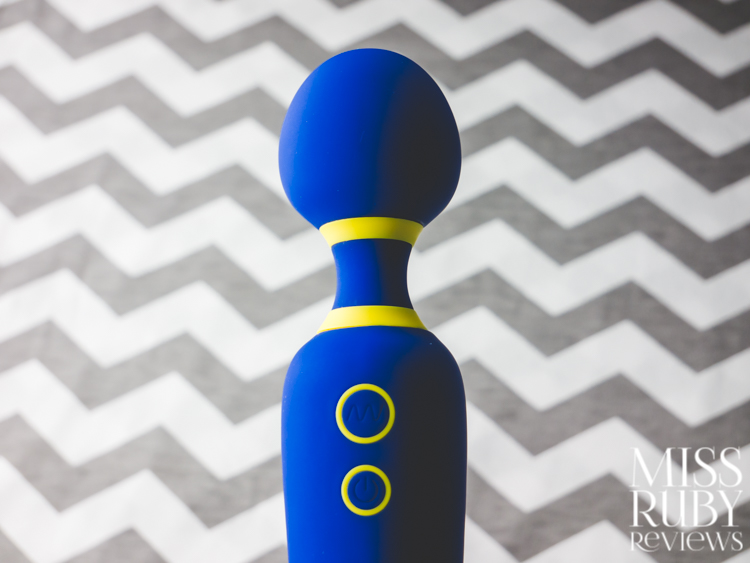 In terms of design, ROMP Flip has a basic wand construction. Two control buttons sit on a thick, straight handle. The neck, which is decorated with two yellow bands, is very flexible. The head is spherical and totally hard.
The ROMP Flip also features a 100% waterproof construction. It's USB rechargeable and it's coated in blue, silky, bodysafe silicone (the yellow decorative aspects are ABS plastic).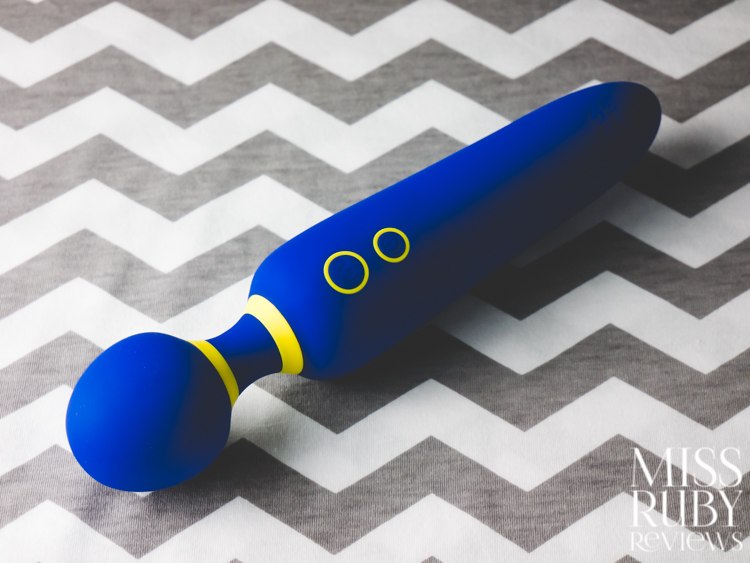 About ROMP
ROMP appeared on the scene this year with a line of colourful, affordable bodysafe products. In addition to the ROMP Flip Wand Vibrator, there's also:
All of ROMP's toys are priced at shockingly low prices — between $24-$49 USD, which is a rarity for bodysafe, silicone sex toys. Nearly all of these are rechargeable and waterproof too.
In my view, ROMP is pioneering a new era of affordable, bodysafe sex toys.
Accessibility
This section is to help folks determine if they might have any issues using/accessing this toy.
Size: The ROMP Flip is a petite wand vibrator. By my measurements, it's approx. 22.5 cm long (total) by 4.5 cm wide at the head.
Weight: It's not a particularly heavy toy (only approx. 150 grams).
Buttons: The 2 control buttons are on the handle, close to the neck. They sit flush with the surface but you can feel them with your fingertips. They take little pressure to press down and make a loud 'click' noise. The power button is 9mm wide and the pulse button is 11mm wide. There's a 7mm gap between them.
Handle buzz: A few vibrations transfer throughout the body to the handle. Your hand will buzz a little while holding this, but not much.
Other notes: If you have visual difficulties, you may have trouble finding the tiny charging port. It's hard to feel with your hands — it's a tiny hole on the underside, between the neck and a small "CE" impression. You'll need to push through the center with the needle end of the charging cord.
Price: At $39.99 USD, this is inexpensive compared to many other waterproof vibrators with similar features.
How to Use the ROMP Flip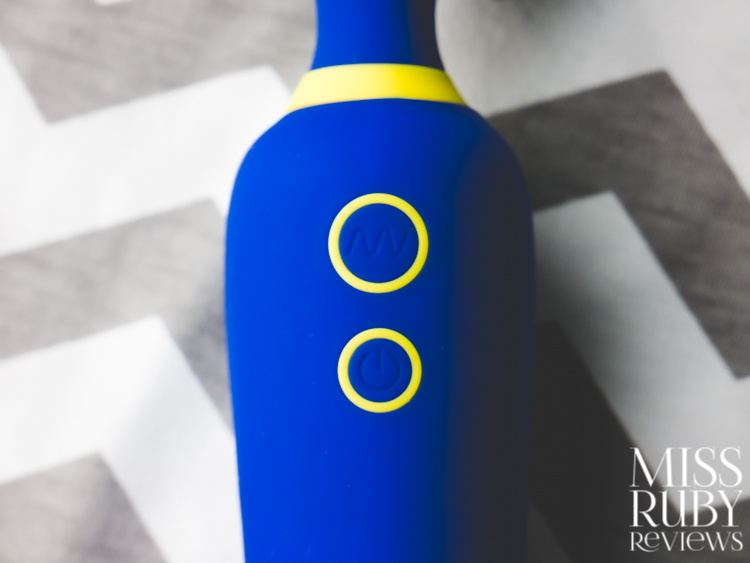 Turn on the ROMP Flip by pressing the power button for 2 seconds.
Tap the top button (looks like a pulse icon) to cycle through 6 steady levels and 4 pattern modes.
Apply it to your body. Though designed for clitoral and vulval stimulation, you could of course use this against your nipples or the shaft of a penis. However, this is not intended for internal use.
To turn it off, press and hold the power button for 2 seconds.
Packaging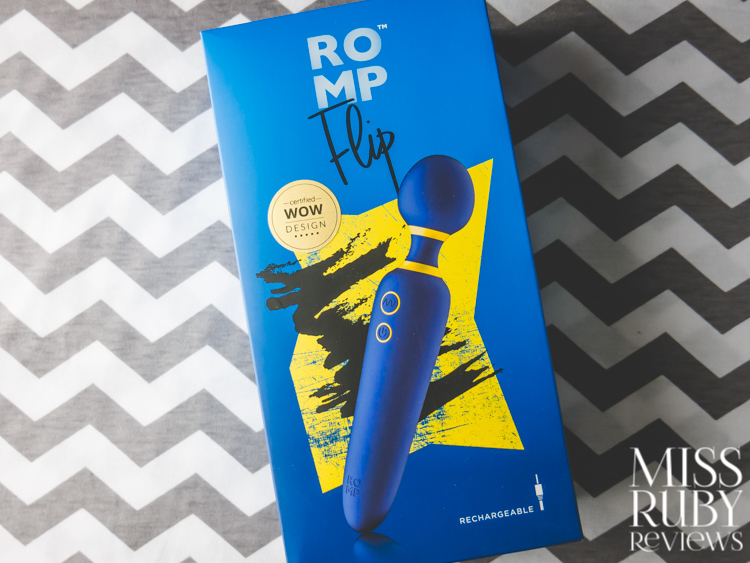 The ROMP Flip comes in colourful blue and yellow packaging. It's bright and bubbly and I like it.
Inside the box, you receive the Flip, a USB charging cable, an instructions manual (which opens up on the other side to a "pleasure for the people" print-out), and a sheet of awesome stickers.
The Flip doesn't come with a dedicated storage pouch. If you'd like to have one (not necessary, but always nice), you can browse for some here.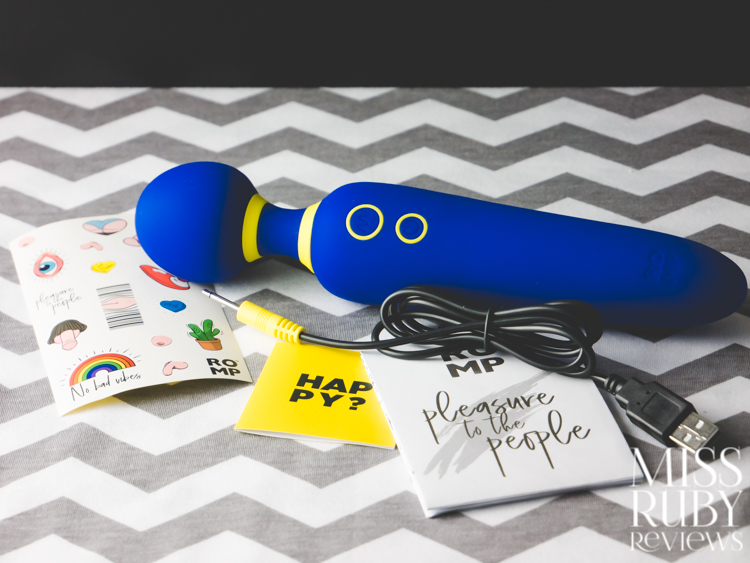 Material and Care
The ROMP Flip is made from silicone (the blue body) and ABS plastic (the yellow decorative bands), making it bodysafe.
It's also fully waterproof. You can submerge it underwater, so this is one you can use in the shower, bath, and pool!
To clean, I rinse it in warm, soapy water before and after each use. You can also add a toy cleaner. Allow to air dry before storing it away.
If you'd like to use lubricant with this toy, choose a good quality water-based lube like my favourite basic, paraben-free Sliquid H2O.
To recharge the ROMP Flip, use the included USB charging cable; plug in the needle end into the little hole on the underside. Plug that cord into your computer or a USB wall adapter. A full charge will get you about 1 hour of playtime on the top speed.
My Experience with the ROMP Flip
First I'll judge the ROMP Flip on its own merits, and then I'll compare it to one of my other favourite wands.
Does the ROMP Flip feel good? It's okay. The vibrations are medium strength, which is enough for me to orgasm. They do have a buzziness to them, so they don't rock through my whole body, but (given the low price) I'm content with the strength. It cannot compete with higher quality, pricier wands like the We-Vibe Wand, Doxy Number 3, or PalmPower Extreme (which I was expecting).
In terms of noise, the ROMP Flip has a high-pitched, rattling kind of noise. It's not whisper-quiet, but it can't be heard through my bedroom walls when I've closed my door.
But why the flexible neck? In my chats with people, most users don't like flexible necks on their wands. Yet that's all companies make right now. Flexible necks make it harder for me to get firm pressure; when I press the ROMP Flip's head into me, the head pushes away from me. Not ideal. Fortunately, the ROMP Flip's lovely spherical head is very hard, so I can still get firm pressure.
The two-button interface is very simple — The power button for on/off, and the pulse button for all the speeds and patterns. I also love that the buttons are encircled by neon yellow, which makes them much easier to find in dimmer lighting.
Overall, it's a decent experience… and sorry to keep harping on about the price, but the experience is just made so much sweeter knowing how affordable it is.
Comparison to the FemmeFunn Ultra Wand
The FemmeFunn Ultra Wand (which comes in blue, pink, and purple) is another petite wand I tested this year. I was extremely impressed with it, and it has the same features as the ROMP Flip… so, naturally, I wanted to compare the two.
Aesthetics:
I adore the ROMP Flip's design scheme and would pick it any day over FemmeFunn Ultra Wand if going just on looks alone. The ROMP Flip is just beautiful. Its retro-esque design has clean lines and bold colours.
Price:
The most obvious difference between them is that the ROMP Flip ($39.99) is nearly half the price of the FemmeFunn Ultra Wand ($74.99). When I reviewed the FemmeFunn Ultra Wand, I thought it had a pretty good price for a waterproof, rechargeable, silicone wand vibrator. But — again — the ROMP Flip is nearly half the price and has all those same features. The ROMP Flip wins on price, hands-down.
Ease of use:
The ROMP Flip and the FemmeFunn Ultra Wand score equally here. Both are cordless, rechargeable, waterproof, and silicone. Both have flexible necks (which I dislike), and both have simple button interfaces. I find them equally easy to use.
Strength and Noise:
The ROMP Flip has decent vibrations, especially considering the low price. But they're medium strength and have lots of buzz to them. In comparison, the FemmeFunn Ultra Wand has much stronger, rumbly vibrations. The vibrations penetrate further, and they feel overall a much better, sturdier quality. Sorry, ROMP.
The ROMP Flip has a high pitched, rattling sound. In comparison, the FemmeFunn Ultra Wand has a softer, deeper purr.
FemmeFunn Ultra Wand wins this round.
Which one to buy?
Asides from its price and aesthetics, the ROMP Flip isn't as good (read: strong/rumbly) as the FemmeFunn Ultra Wand.
But the ROMP Flip is SO much cheaper, which really saves its butt.
For this reason, I recommend the ROMP Flip over the FemmeFunn if:
You're on a budget;
You're just as happy with medium/buzzier vibrations; or
This will be your first wand and you want to see if you like the general genre. The ROMP Flip doesn't break the bank, so if you're new to wand vibrators this is a less risky purchase.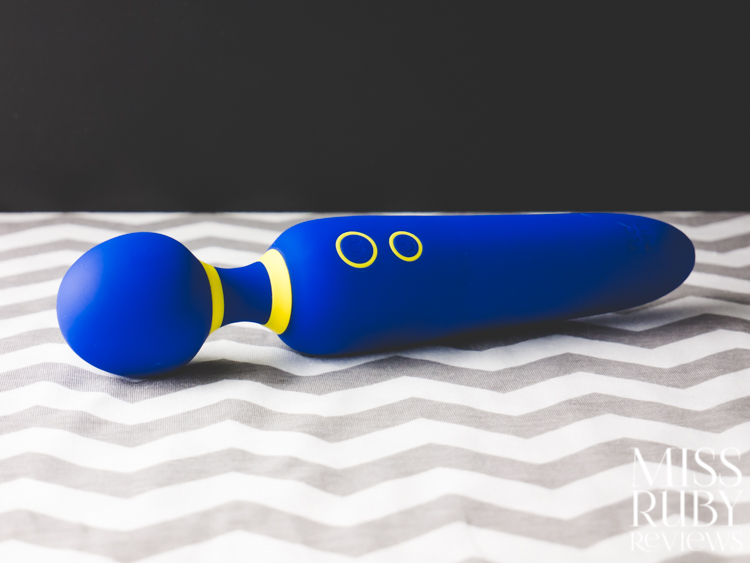 Romp Flip Review – Overall Thoughts
The ROMP Flip is a great wand. It's not as strong or rumbly as my current favourite budget wand, but the ROMP Flip is also nearly half its price.
It's also waterproof, silicone, rechargeable, and stunning. For the price, it's hard to go wrong. If you want to add a new wand vibrator to your collection but don't want to spend a fortune, put this one on your list.
You can pick up your own ROMP Flip here for $39 USD (minus 15% off when you use coupon code RUBY! Why do I like Betty's Toy Box? They ship discreetly to the continental US for free on all orders over $49, plus you can get 15% off your whole purchase with coupon code RUBY. 

See below for my ROMP Flip review breakdown.

ROMP Flip Review Summary
Overall Thoughts - 8.5
8.5
$39
PROS
So cheap!
Gorgeous design!
Medium strength
Waterproof
Rechargeable
Bodysafe silicone construction
CONS
Vibrations are on the buzzy side
Flexible necks in wands are annoying
Shop Now