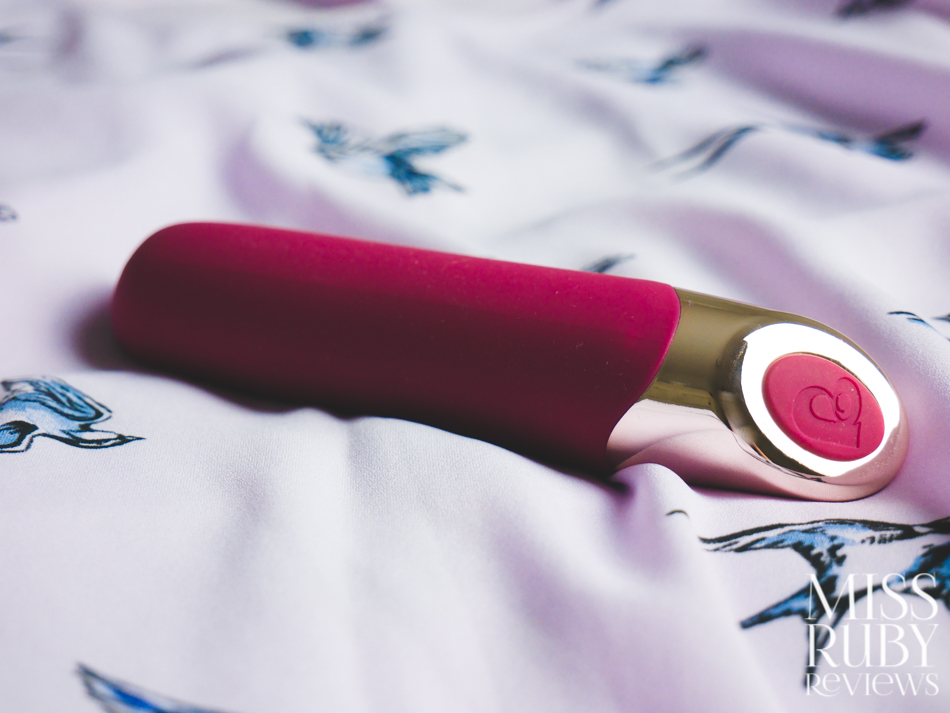 How can something so cheap be so good? Read on for my Rocks-Off Chaiamo review!
Design | 360° View | How to Use | Packaging | Material and Care | My Experience | Overall
Design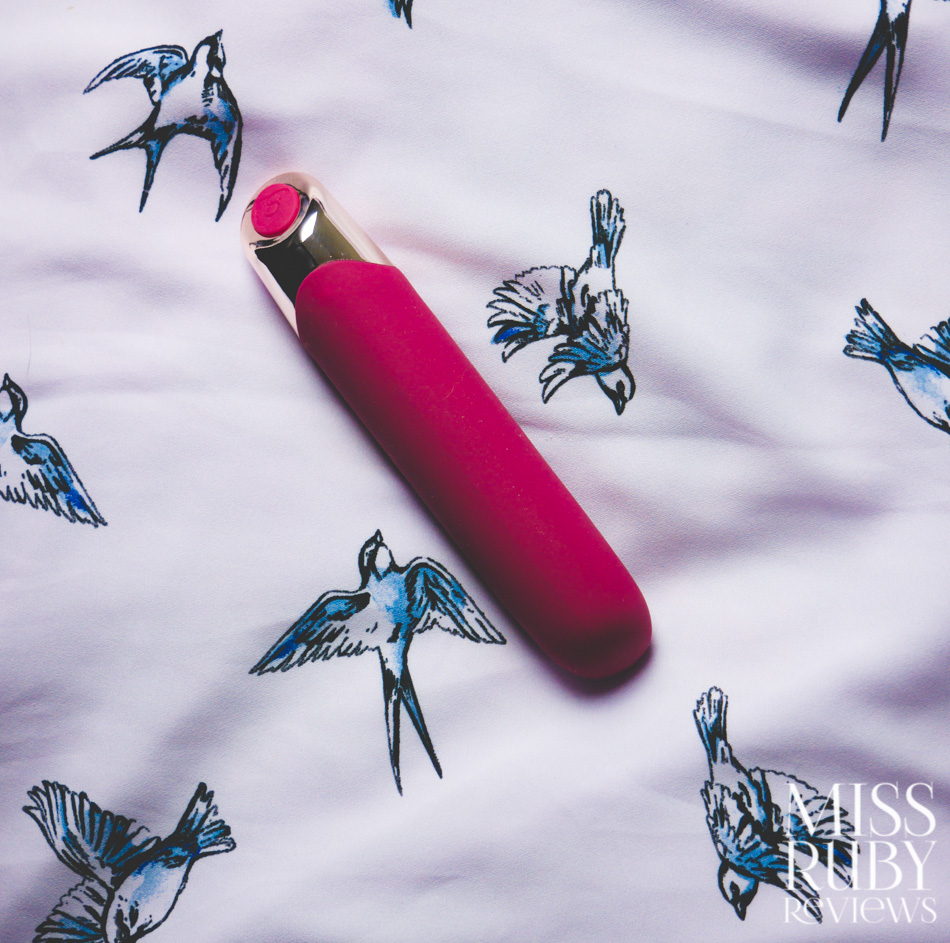 Isn't the Rocks-Off Chaiamo beautiful?
I was originally drawn to the Rocks-Off Chaiamo for its price tag. A price of $39 USD is incredibly cheap for a rechargeable, bodysafe silicone, and waterproof vibrator. There's also a 12-month warranty through Rocks-Off.  I assumed there was some sort of a catch. Maybe a weak motor? Ridiculously noisy? Well, let's see.
Thick, silky, and large, the Rocks-Off Chaiamo is one sturdy clitoral vibrator. This thing feels solid. And with a completely rigid body, this is a firm-pressure-lover's dream.
Design-wise, things are kept simple. The shaft is untextured. The bottom is trimmed with a pale champagne gold colour, and the single-button control lies at the very base.
This head's tapered tip gives you invaluable versatility. Want something pin-point? Use the edges of the tippy tip. Want something broader? Use the flat part of the head, or use the sides of the body instead. Usually, you're stuck with pin-point (i.e., bullet vibes) or broad (i.e., wand vibes), so this is great.
If you're not a fan of burgundy, this toy also comes in Black and Teal.
When I first saw the Rocks-Off Chaiamo online, I thought it was around the We-Vibe Tango's size. It is absolutely much bigger (see above). Still, the larger size isn't a downside. It's still small enough to feel discreet. And, if you need a short dildo in a pinch, this would work… you should get around 4 inches of insertable length. But don't use this for anal use, because there's no flared base.
360° View
Click and hold the image above to move it around.
How to Use the Rocks-Off Chaiamo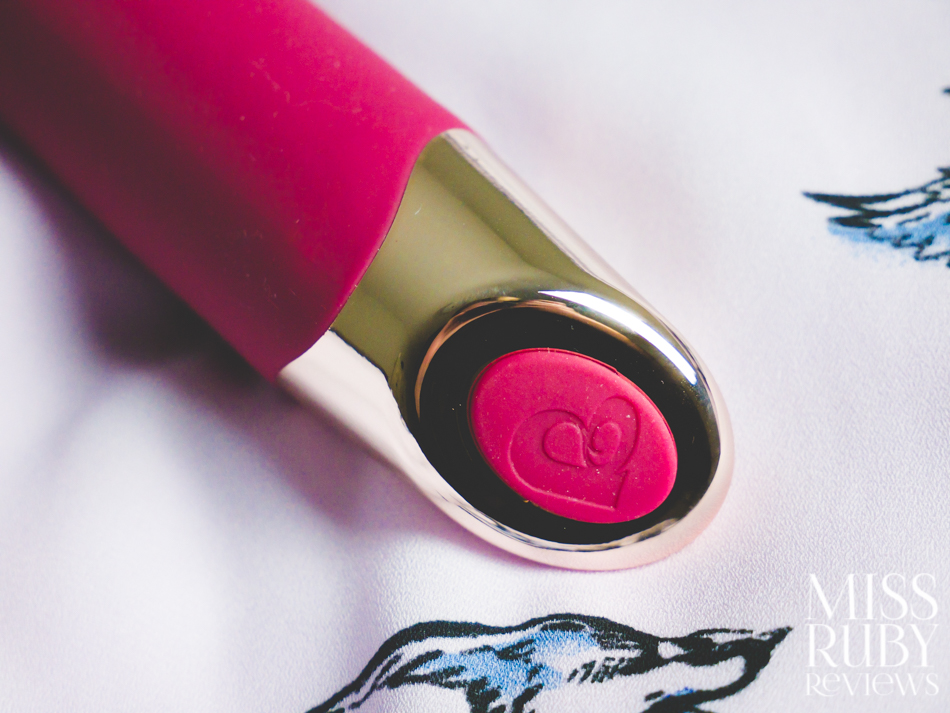 Turn on your Rocks-Off Chaiamo by pressing and holding the single button at the base.
To increase strength, tap the button again. I counted 3 steady speeds and 7 patterns.
To turn it off, hold the button again.
Simple!
Packaging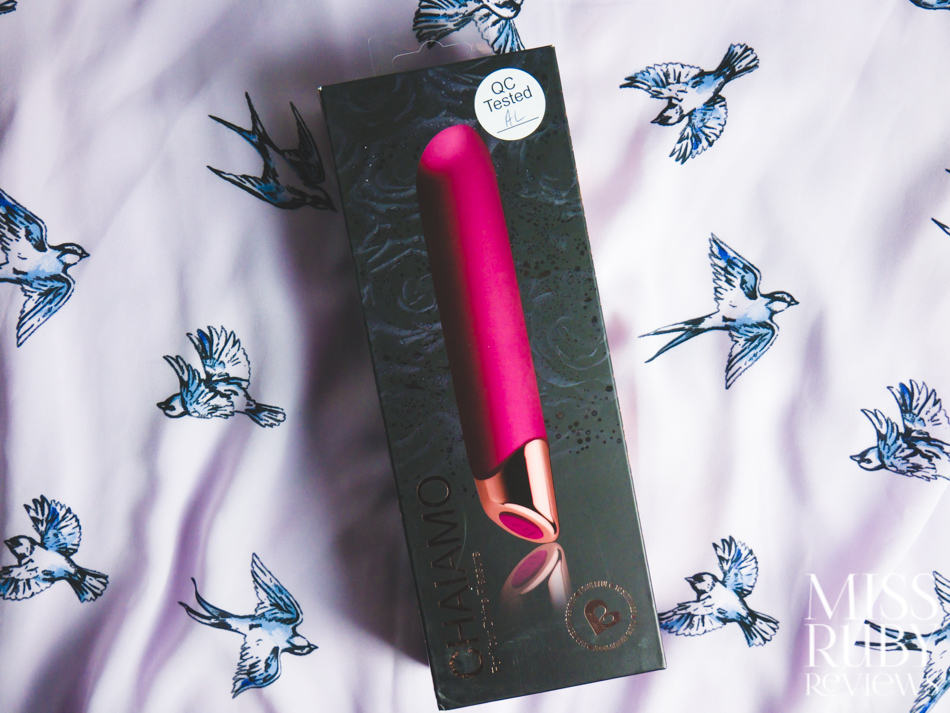 The Rocks-Off Chaiamo is packaged simply in a black box. It's not fancy, but it's functional and it does the job well enough.
Inside the box, you receive the Chaiamo, the USB charging cable, an instruction pamphlet, and the product guarantee activation code.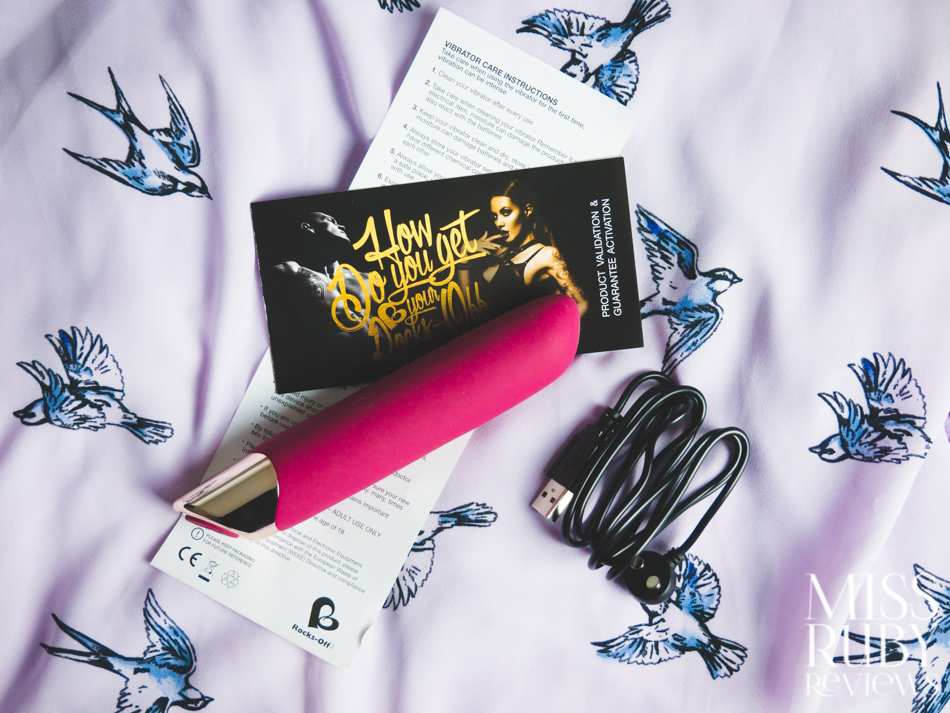 Material and Care
The Rocks-Off Chaiamo is coated in silicone, making this non-porous, non-toxic, and free of phthalates. The light gold trimming around the base is ABS plastic. In other words, this toy is bodysafe.
To clean, I simply wash in warm, soapy water before and after each use. Allow to air-dry before storing.
To charge your Rocks-Off Chaiamo, attach the (included) magnetic USB head to the toy. You'll see there's a couple of metal pins along the side of the body — attach the cord there. Then plug your cord into your computer or a USB wall adapter. An LED light will come on while charging (solid during charging, and flashing when fulling charged). A full charge takes about 1-3 hours and will last up to 3 hours.
This toy didn't come with a storage pouch. If you'd like a dedicated pouch, you can use something like the antibacterial sugarsak.
Lastly, if you're going to use lubricant with this toy, you'll want to opt for a good quality water-based lubricant. I recommend Sliquid H2O.
My Experience with the Rocks-Off Chaiamo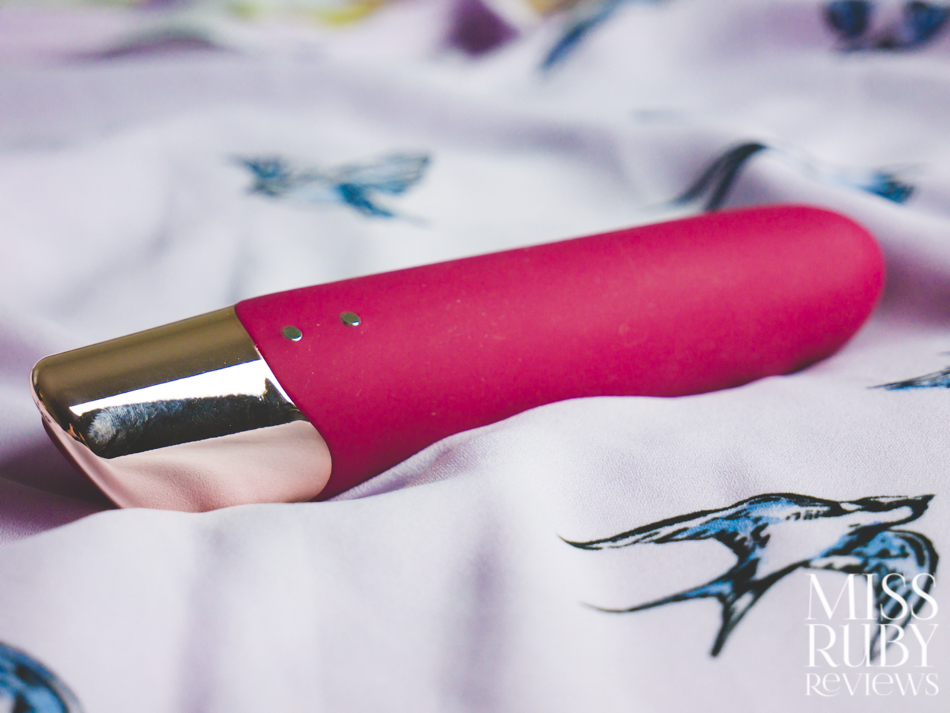 The Rocks-Off Chaiamo sounded fantastic on paper. I was pretty sure there had to be some major downside.
Vibration strength
If this toy has any downsides, vibration strength isn't it.
The Rocks-Off Chaiamo is STRONG. It's similar to the FemmeFunn Ultra Bullet. It even gets pretty close to the We-Vibe Tango (though the Tango is unburdened by any silicone coating, so still feels stronger).
In use, I don't even have to reach the top speed. The middle speed is enough for me, which is really saying something.
Vibrations are rumbly too. While there's certainly some level of buzz, it feels rumblier than the Ultra Bullet.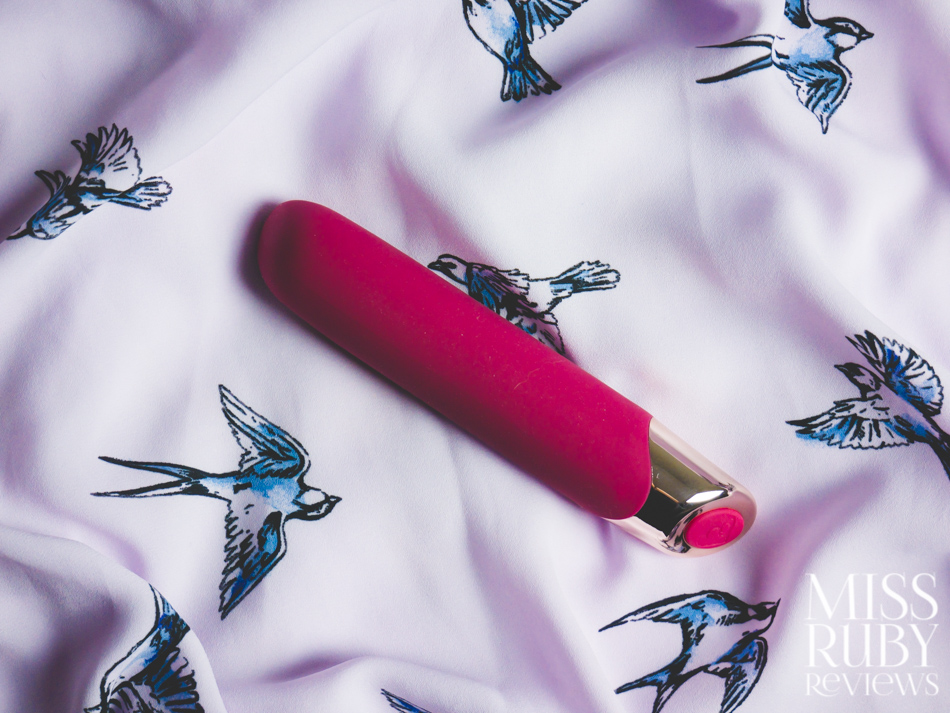 Noise
Okay, so noise has got to be its major flaw, right?
Still nope. The Rocks-Off Chaiamo is relatively quiet. When it's pressed up against you, the sound is satisfyingly muffled. This wouldn't be heard through a closed door/walls.
The sound is also a nice, deep, rumbly purr, rather than an annoying high-pitched frequency.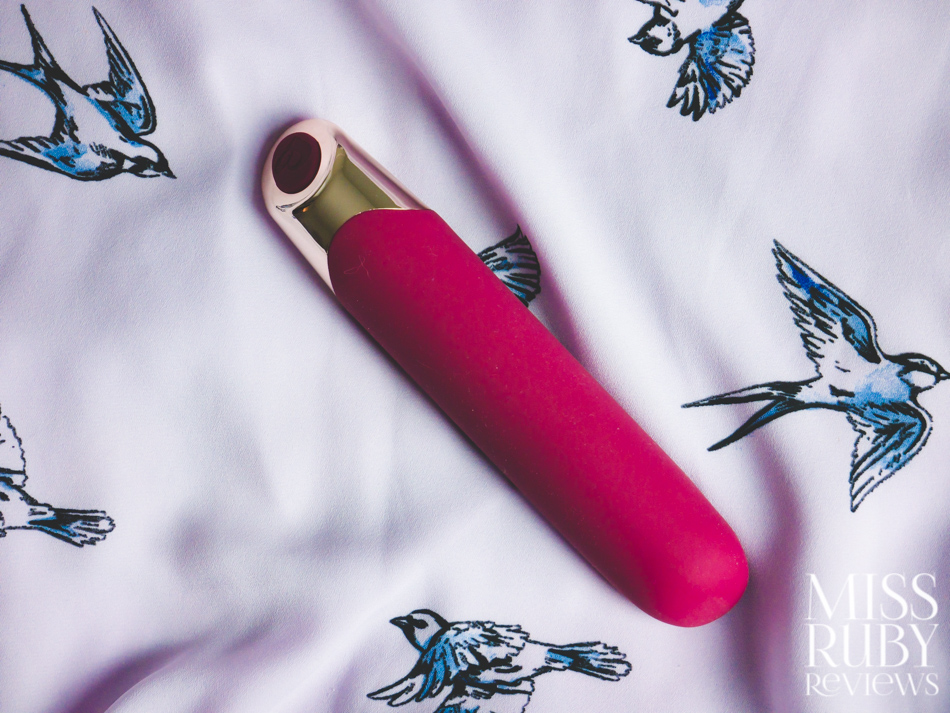 Pleasure
The Rocks-Off Chaiamo has never failed to get me to orgasm. I love that I can use the edges of the tapered tip for pin-point stimulation then switch it up to the broader surfaces. The battery life is really solid too. This is one of the few toys I've reviewed that quickly moved from the closet to the bedside table for quick access.
Price
The Rocks-Off Chaiamo is only $39 USD. This is, honestly, shocking.  For this quality, I would expect a price of at least $89+. Countless toys that delivered less have been sold for much more.
Overall – Rocks-Off Chaiamo review
It's hard to go wrong with this toy. The Rocks-Off Chaiamo ticks all the boxes. It's affordable, waterproof, rechargeable, silicone, strong, and quiet. Rocks-Off has created a gem, and this is one to add to your wishlist!
I've literally no complaints. I think that's a first.
You can buy the Rocks-Off Chaiamo at SheVibe! At the time of posting, it's $39.99 USD.
See below for my Rocks-Off Chaiamo review summary.
Rocks-Off Chaiamo review summary
Overall Thoughts - 9.8
9.8
$39
PROS
Inexpensive
Strong/rumbly
Quiet
Bodysafe
Rechargeable
Waterproof
CONS
Shop Now

Last Updated on November 15, 2020 by Miss Ruby