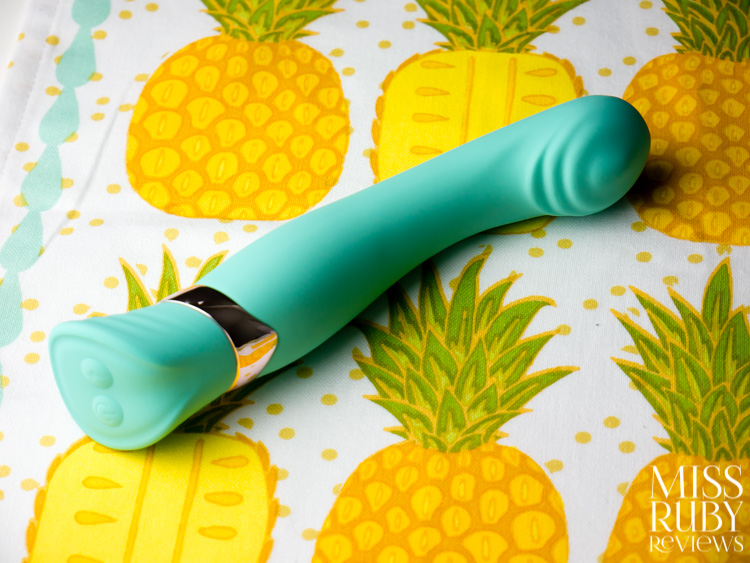 It 'flutters'? Okay, I'm listening… Read on for my NU Sensuelle Geminii XLR8 review!

Design | Accessibility | How to Use | Packaging | Material and Care | My Experience | Overall
Design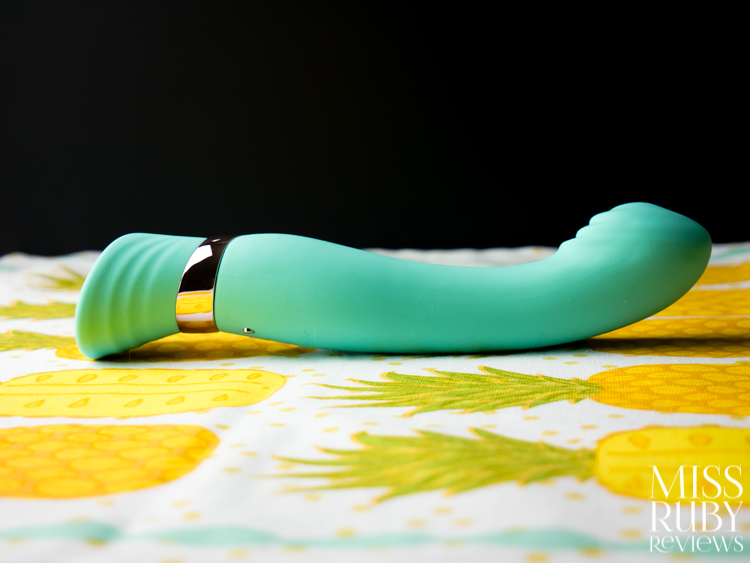 The NU Sensuelle Geminii XLR8 is an elegant G-spot vibrator, one that's waterproof, rechargeable, and comes with a powerful motor.
A firm, rigid shaft curves upwards to a bulbous, hooked head, making it perfect for G-spot targeting.
The head is textured with distinct steps, culminating in a pie-sized mount at the tip.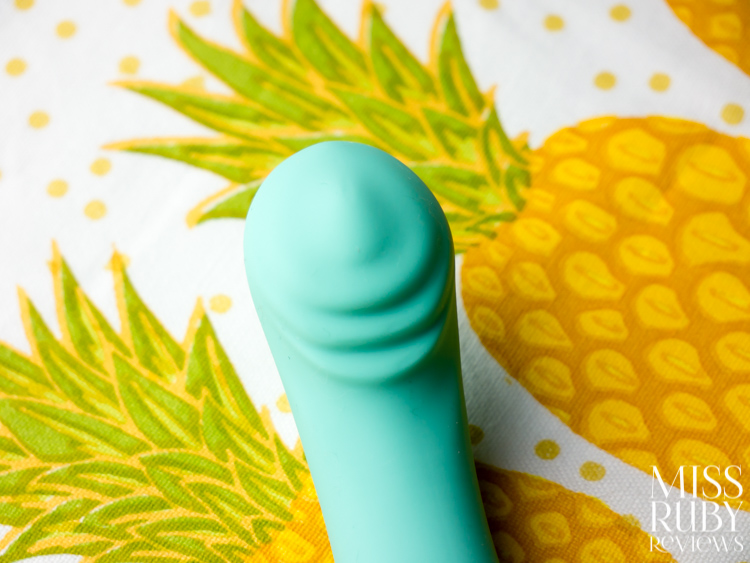 The base of the toy is decorated with a gold-coloured band and some swoopy designs. The two control buttons are located at the very base of the toy.
The overall effect is one of clean, interesting lines. I chose my NU Sensuelle Geminii XLR8 in Electric Blue, but it also comes in Ultra Violet (a bright purple). I like the Electric Blue though — it's a refreshing shade of pastel teal, almost mint green. This colour, coupled with all the swoopy textures, somehow reminds me of seashells.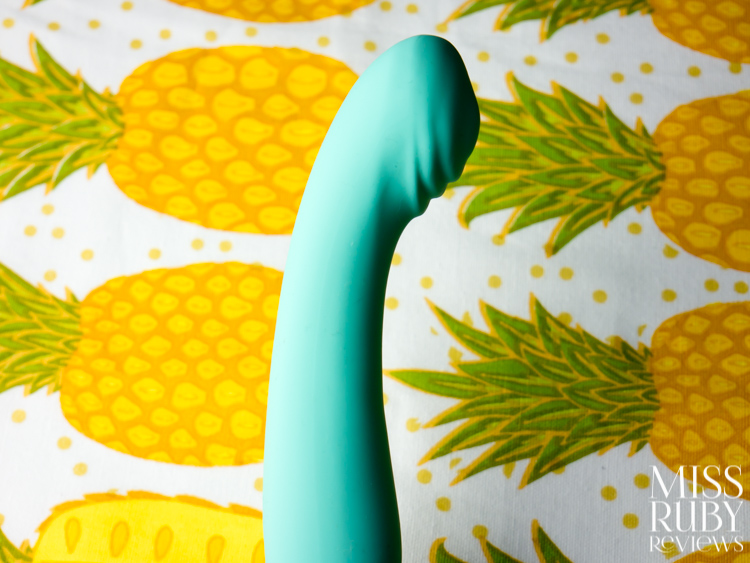 So what does this toy do? It's a dual-motor vibrator designed for G-spots, and it gives you 5.75 inches of insertable length. But the Geminii XLR8's most interesting claim is that it "supplies powerful vibrations plus a cutting-edge fluttering movement. Geminii XLR8's head pulses along with the vibes, creating extra sensual stimulation."
Okay, I'm listening. I'll assess this claim down below at the end of my review.
Accessibility
This section is to help folks determine if they might have any issues using/accessing this toy.
Size/Weight: The NU Sensuelle Geminii XLR8 is a medium-sized vibrator. By my measurements, it's 19.5cm long and 3.7cm wide (at the widest part of the head). About 14 cm of the length is insertable. It's moderately light to hold (about 165 grams).
Buttons: There are two buttons at the base of the toy. They're 1cm across and 1.5mm tall. There's a gap of 2mm between the two buttons. They require light pressure to press down and make a quiet click sound. The two buttons (power and turbo) are embedded with corresponding symbols, but if you have visual difficulties these will be hard to determine with your hands. So, if you're holding it so that the stimulation head is farthest from you and curved upwards, the power button is the one on the right, and the turbo button is on the left.
Handle buzz: A lot of vibrations transfer to the handle. Your hand will definitely buzz while holding this.
Other notes: For those of you with visual difficulties, the charging port is a set of two metal pins on the back of the toy. They're distinct to feel with your hands.
Price: At $79 USD (minus a 10% discount with coupon RUBY), this is an average price for toys with these features.
How to Use the NU Sensuelle Geminii XLR8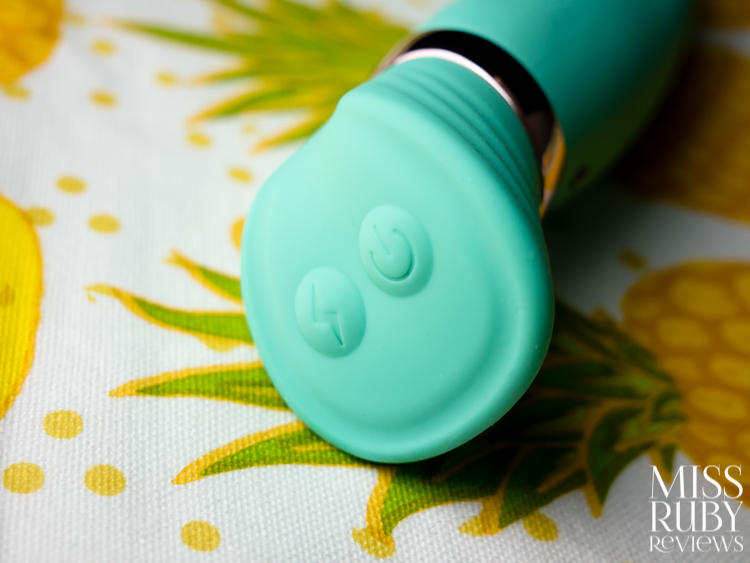 The NU Sensuelle Geminii XLR8 has two buttons: Power button and Turbo button.
Turn on the NU Sensuelle Geminii XLR8 by tapping the power button.
Apply the Geminii XLR8 to your body. While designed for G-spot stimulation, this can also be used to stimulate your clitoris, penis or nipples. However, don't try to use this anally, as there's no safe flared base.
Click the power button to cycle through the vibration modes. There are 15 modes total (I count 4 steady speeds, and 11 patterns).
If you're on a lower speed and you want to get a burst of top strength, click the turbo button. The highest steady strength mode will come on for 12 seconds before reverting to the previous speed.
To turn it off, press and hold the button for 3 seconds.
Packaging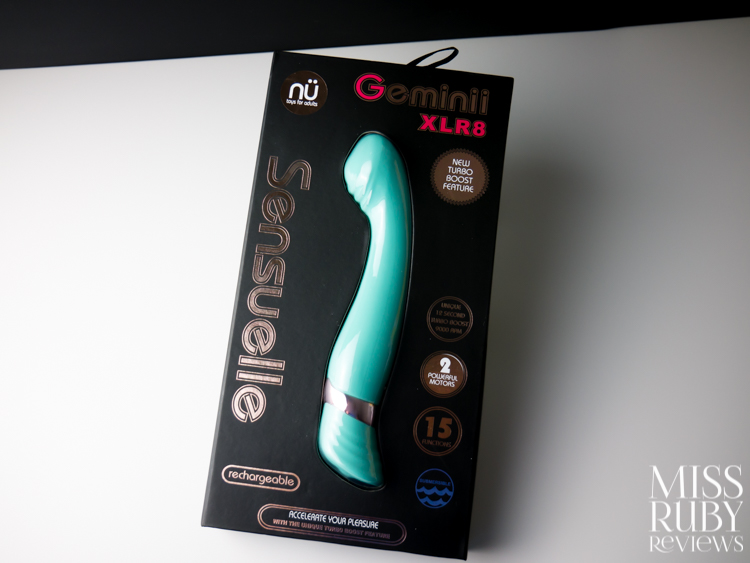 The NU Sensuelle Geminii XLR8 comes packaged in a black box with blue and red accents. It's not particularly luxurious or artsy, but it's functional.
Inside the box, you receive the Geminii, the instruction manual, the USB charging cord, and a large white satin storage pouch.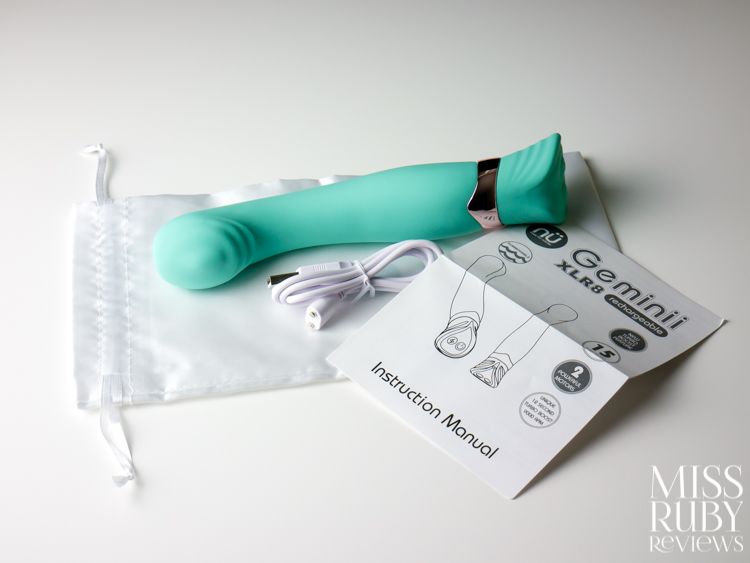 Material and Care
The NU Sensuelle Geminii XLR8 is made from silicone. This makes it bodysafe. This particular silicone finish is matte and silky to the touch, and it doesn't attract dust too badly.
NU Sensuelle's packaging says this toy is waterproof submersible. To clean, I simply wash with warm, soapy water before and after each use.  You could also add a dedicated sex toy cleaner if you like. Allow to air dry before storing it away.
To charge the NU Sensuelle Geminii XLR8, attach the magnetic end of the USB charging cord (included) to the two metal pins on the back of the vibe. Plug the other end into your computer or a USB wall adaptor. A light will flash when charging. A full charge takes up to 4 hours, and that gets you up to 40 minutes of playtime. This isn't a great charge-to-play ratio.
If you'd like to use lubricant with this toy (which I always recommend), choose a good quality water-based lube like my favourite basic Sliquid H2O or vegan Wicked Simply Aqua.
This comes with a 1-year warranty through the manufacturer. Visit the manufacturer's website to register your product.
My Experience with the NU Sensuelle Geminii XLR8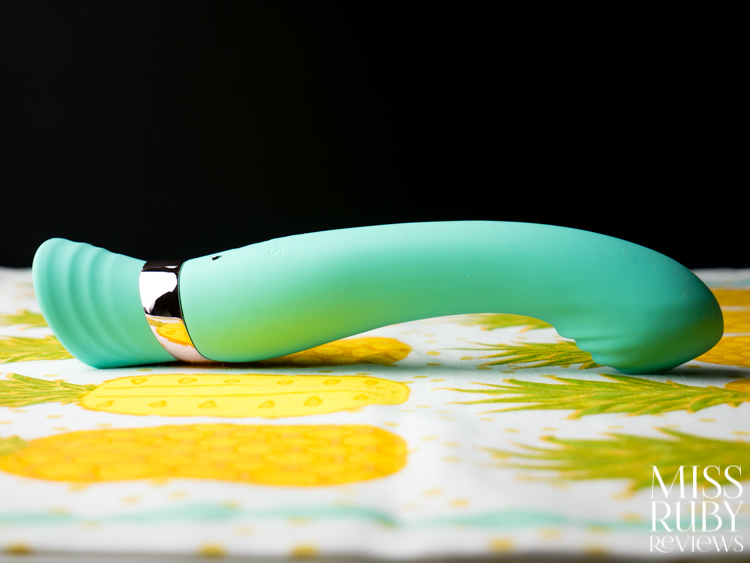 I went into this toy review with no expectations. I originally only wanted the NU Sensuelle Geminii XLR8 for its lovely colour and its curved G-spot shaft (G-spots adore hooked shapes like this). I didn't have any particular expectations for vibration strength or pleasure — sometimes that's the best way to experience a toy.
Vibration strength
The NU Sensuelle Geminii XLR8 is STRONG. When I first turned it on, it wanted to rattle out of my hands. The vibrations feel considerably stronger than some other hooked G-spot silicone vibes I've tried (such as the Jopen Comet II).
Even the first level is strong, and the top speed is bone-rattling. This toy also has dual motors (one in the shaft, and one in the head), and this makes the patterns especially fun (i.e., the head will vibrate, then switch to the shaft vibrating, then back and forth).
Though the motor is strong, be forewarned that it's a buzzy strength, rather than a rumbly strength. My hand buzzes quite a lot holding this.
What do I mean by "buzzy"? Buzzy vibrations feel more surface-level than rumbly vibrations. They don't penetrate deeply. If you're anything like me, your hands will start feeling funny/numb within a few minutes, an inevitable temporary symptom of holding a buzzy vibrator whose vibrations travel down the handle.
Buzzy vibrators with weak motors are a definite no-go for most people, but buzzy vibrators with strong motors can definitely give pleasure (my favourite example of this is the Magic Wand).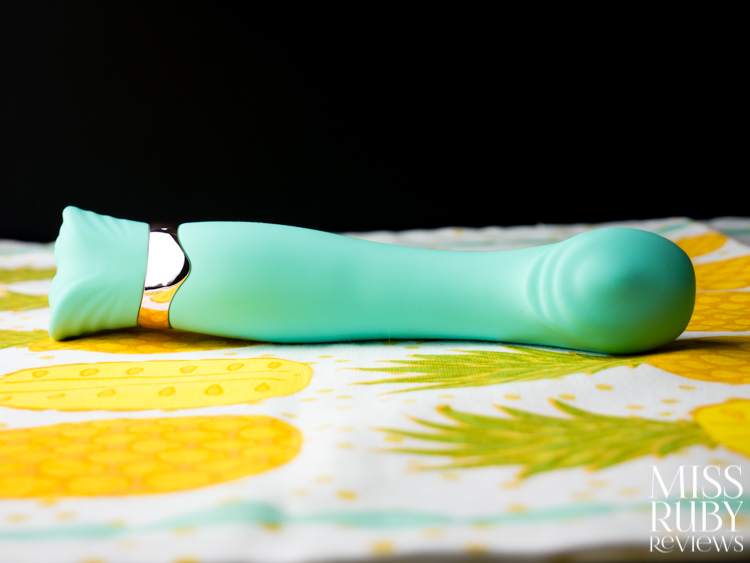 Sound
The NU Sensuelle Geminii XLR8 is moderately noisy. It's not as noisy as most mains powered wands or self-thrusting toys, but it's still up there. I'd be a little concerned about someone hearing this behind a closed door if you have thin walls.
Pleasure
So how does the NU Sensuelle Geminii XLR8 actually feel?
Clitorally, I'm digging it.  The hooked end makes it easy to target vibrations around the vulva, and the pea-sized mound at the tip of the head makes this G-spot vibe double as an effective pinpoint clit vibe. Despite the buzzy motor, there's more than enough strength to satisfy.
So clitoral orgasms? Check.
One clitoral caveat: a downside of a strong buzzy motor (rather than a strong rumbly motor) is that you may not be able to easily experience my 3rd, 4th, or 5th clitoral orgasm because you eventually get a temporary numbness. I found this to be the case.
In terms of G-spot stimulation, I can attest that the shape is a win. The head is pronounced/hooked enough to really easily target the G-sot. I can't orgasm by G-spot stimulation alone, but this makes for wonderful secondary stimulation. If I get tired of my hand buzzing, I can even just turn off the vibrations — they're not (personally) necessary for me for good G-spot stimulation. The shape does all the work.
So basically — this is a strong clitoral vibrator and a great G-spot dildo wrapped up in one little package.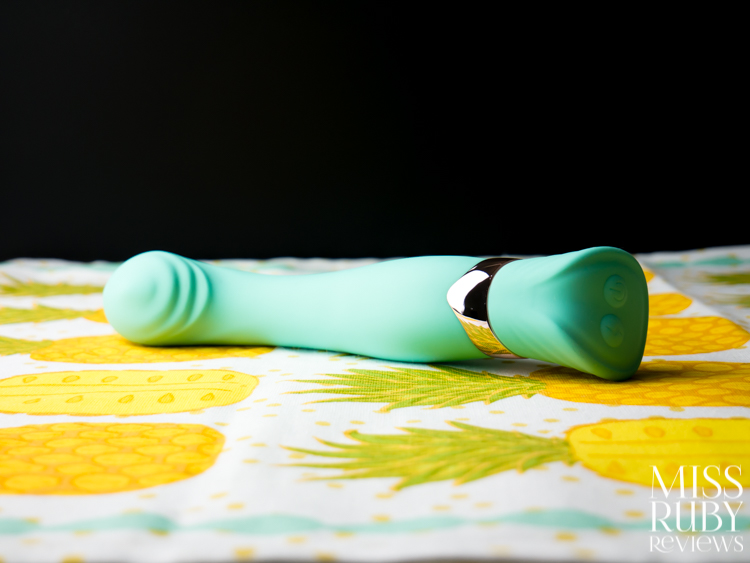 Fluttering movement?
The Geminii XLR8 claims that it "supplies powerful vibrations plus a cutting-edge fluttering movement. Geminii XLR8's head pulses along with the vibes, creating extra sensual stimulation."
So… I was expecting something on the head to move, maybe in a circular motion?
But despite my best efforts, I have nooo idea what NU Sensuelle is talking about. The head vibrates like the rest of the shaft. The tip of the head is firm and unmoving. I don't discern any special pulsation or fluttering.
I've been blogging about sex toys for over half a decade, and you'd think I'd be able to figure this out. But I've no idea, folks. Is this just a marketing ad copy gimmick? Maybe.
NU Sensuelle Geminii XLR8 Review – Overall Thoughts
I couldn't find any special "fluttering movement," so don't be drawn in just for that.  But NU Sensuelle Geminii XLR8 It's a strong vibrator coupled with an excellent shape, and this combination is effective for both clitoral and G-spot stimulation. The vibrations are buzzy, so keep that in mind, but there's enough strength that I can (mostly) forgive that.
You can pick up your own NU Sensuelle Geminii XLR8 here! Why do I like Peepshow Toys? They ship internationally, only carry body-safe products, and you can get a 10% discount off your whole purchase with coupon code RUBY. 

See below for my NU Sensuelle Geminii XLR8 review breakdown.
Review summary
Overall thoughts - 8
8
$79
PROS
Strong
Great shape for G-spots
Can double as a pinpoint clitoral vibrator
Waterproof
Rechargeable
Bodysafe silicone
1-year warranty
CONS
Buzzy motor, rather than rumbly
Moderately noisy
Poor charge-to-play ratio
Fluttering movement???
Shop Now

Last Updated on March 18, 2023 by Miss Ruby