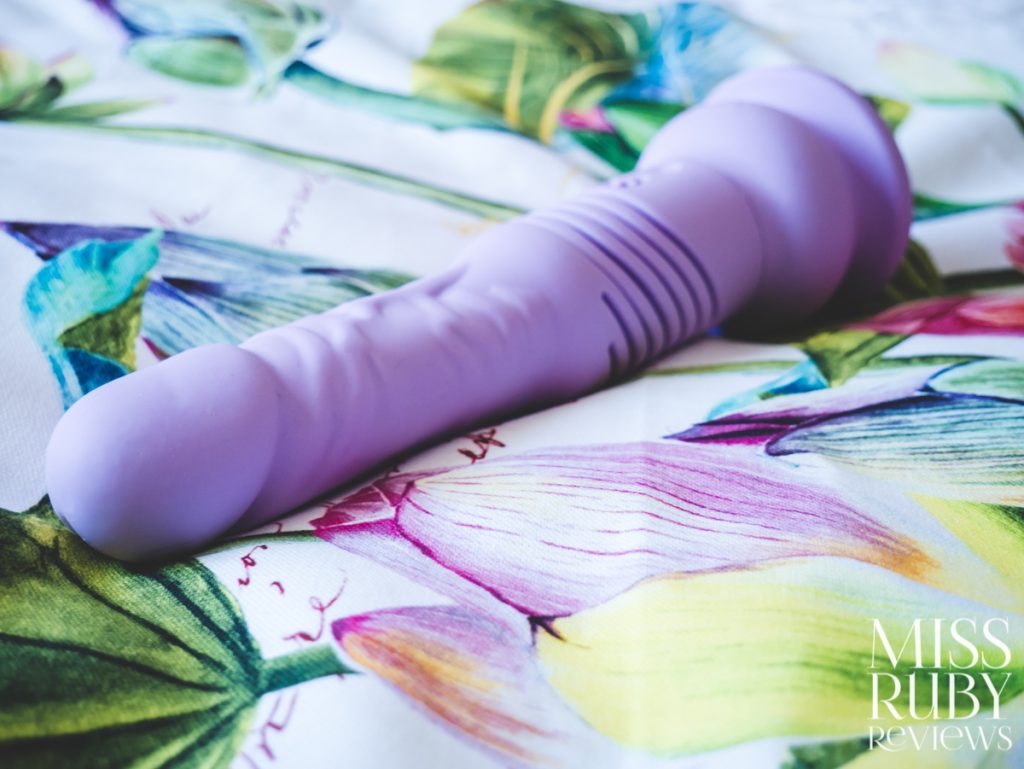 A rechargeable, silicone, suction-cupped, self-thrusting, dildo — can it be real??? Read on for my Velvet Thruster Mini Teddy review!
Physical Details | How to Use | Packaging | Material and Care | My Experience | Overall
Physical Details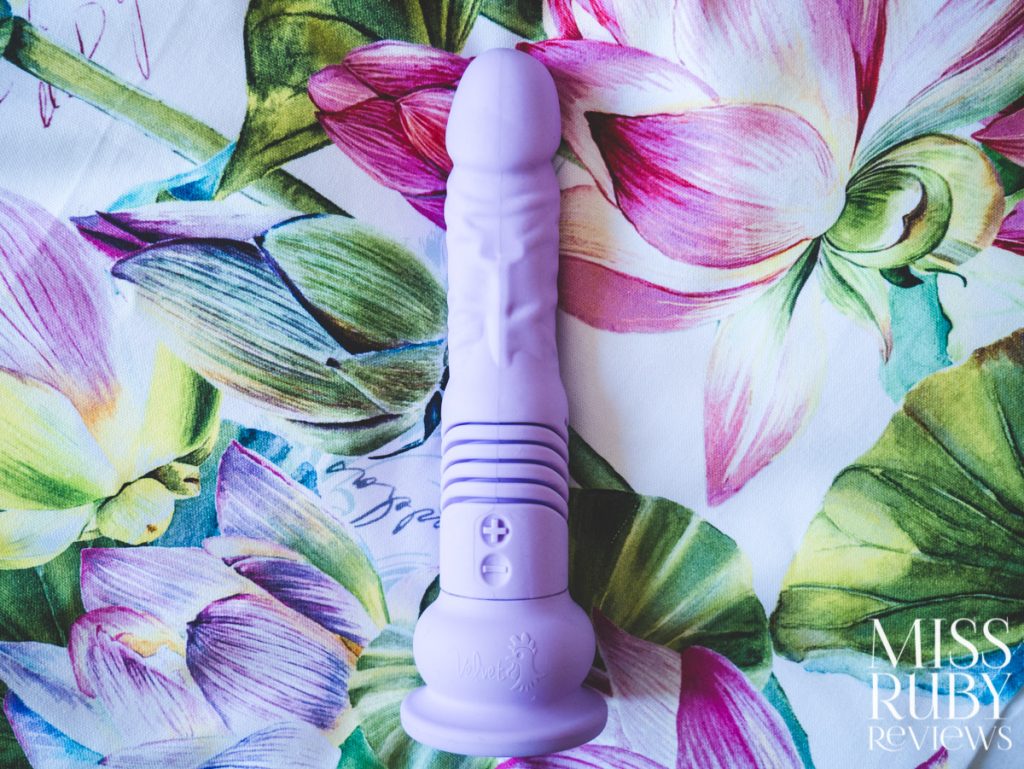 Well, this is a fun one.
The Velvet Mini Thruster is, for all intents and purposes, a tiny little sex machine. It's as light as compact as other silicone dildos, but has the amazing feature of thrusting itself up to 125 strokes per minute. This thing reminds me of the iconic Energizer Bunny – it just keeps going.
Design
The Velvet Mini Thruster is only about 9 inches long (with just under 5 inches of insertable length).  At 1.5 inches diameter, it's comfortably girthy and has the bonus of textured/veined detailing along the shaft.
Below the shaft, you get the expanding plunger-like section, before you hit the bulbous handle/base. It's comfortable to hold and incredibly lightweight, making this a practical and accessible option to many. And with that wide-flared base, this toy is safe for anal use.
Though it's realistic in shape with its head and prominent veins, the Velvet Mini Thruster only comes in Lilac, Mint Green, and Black. The problem with this design is that it'll turn off people who don't like phallic-shaped toys, plus people who want serious realism in colour too. Realism fans may want to look elsewhere.
Speed
The Velvet Mini Thruster has a good range of speed, and a good level of thrust (almost 2.5 inches in forward movement in each thrust). I grabbed a quick video of the movement below:
I count 70 thrusts/minute at its slowest speed (so a little over 1 thrust/second), and that ramps up to 125 thrusts/minute at its top speed.
It's certainly not a whisper-quiet toy. If you live in a home with a roommate, you'll need to be careful when using this toy, because it can be heard through walls.
And HELLO SUCTION CUP. Finally! None of the previous self-thrusting toys I've used have included a suction cup, and this makes life so much easier.
The Velvet Mini Thruster's suction cup is fairly solid, though for best performance make sure to use a clean surface and a drop of water.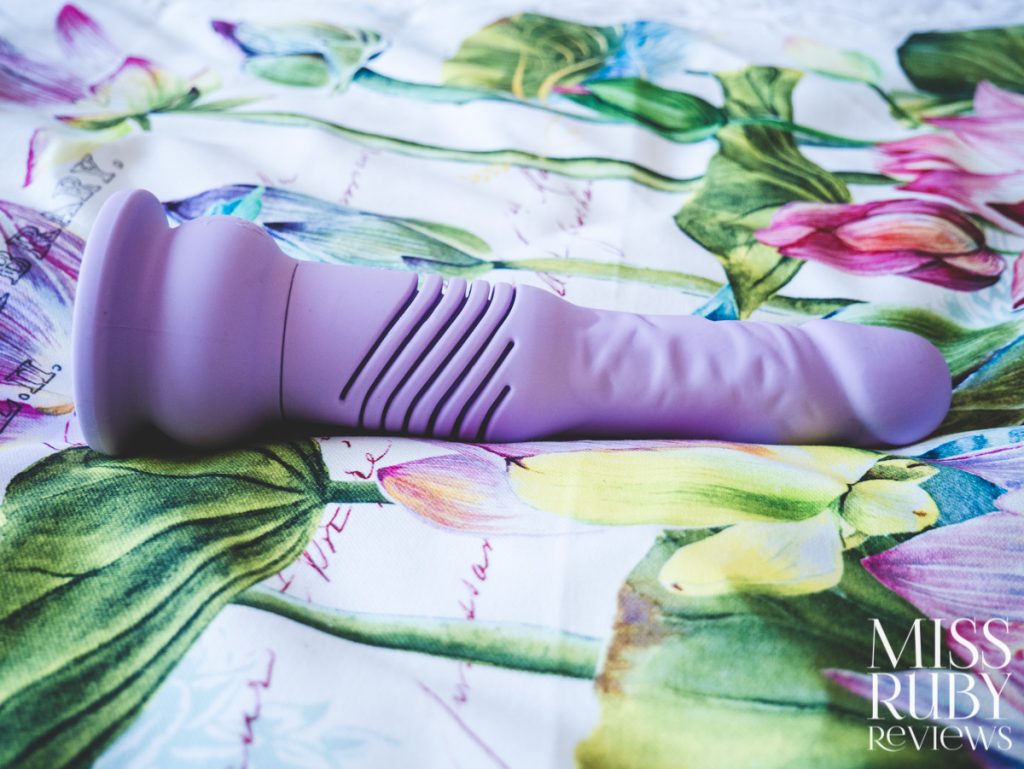 Though the box advertises a flexible shaft, I don't find it particularly bendy. It's really just the head that has some limited flexibility, but overall it's a firm and rigid toy.
How to Use the Velvet Mini Thruster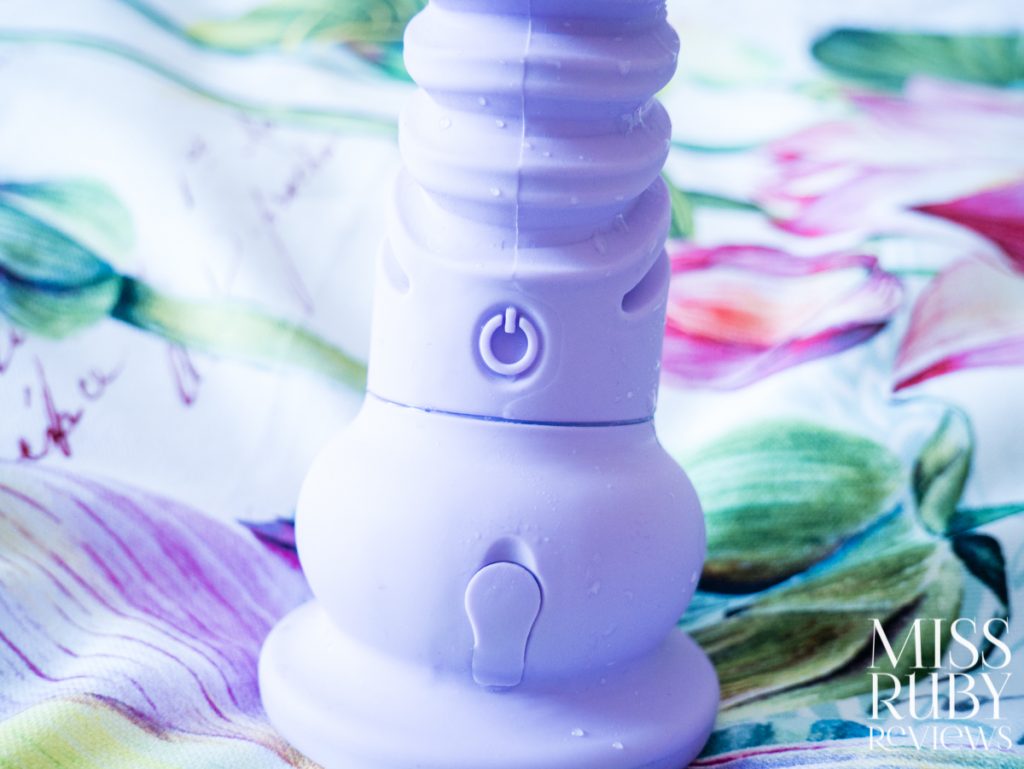 Turn the Velvet Mini Thruster on by pressing the power button at the back of the base. The thrusting motion will start at its lowest speed.
Press the (+) and (–) buttons to increase or decrease the thrust speed. There are 6 speeds.
When you're ready to power off, press the power button for a couple of seconds (it'll go down to the lowest speed then power off within 3 seconds). If you hit the power button again during those 3 seconds, it'll stop motion where ever the shaft is (ie, fully extended for easy cleaning).
To charge your Velvet Mini Thruster, insert the included charging cable into the little port (hidden behind the flap underneath the power button) and plug it into your wall. A full charge gets you around 2 hours of playtime.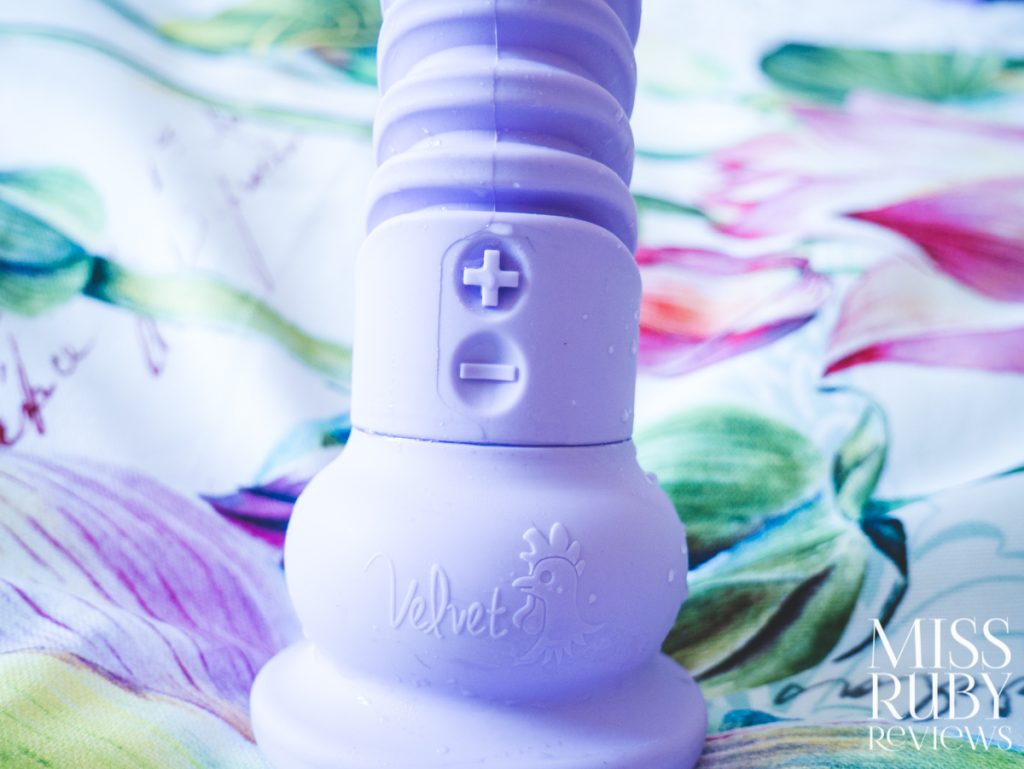 Packaging
The Velvet Mini Thruster is packaged simply.  Not particularly discreet, and what you see is what you get.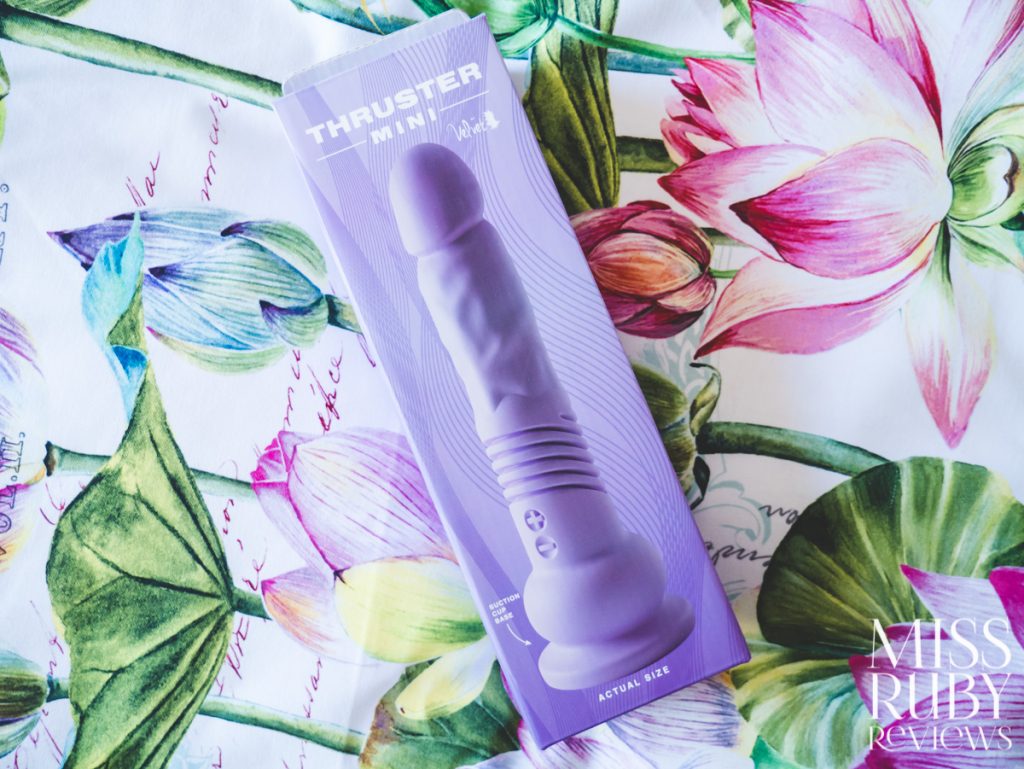 Inside the box, you receive the Mini Thruster, the charging cord, and a sheet of instructions. There's no storage pouch included, so you may want to consider picking up something like this SugarSak.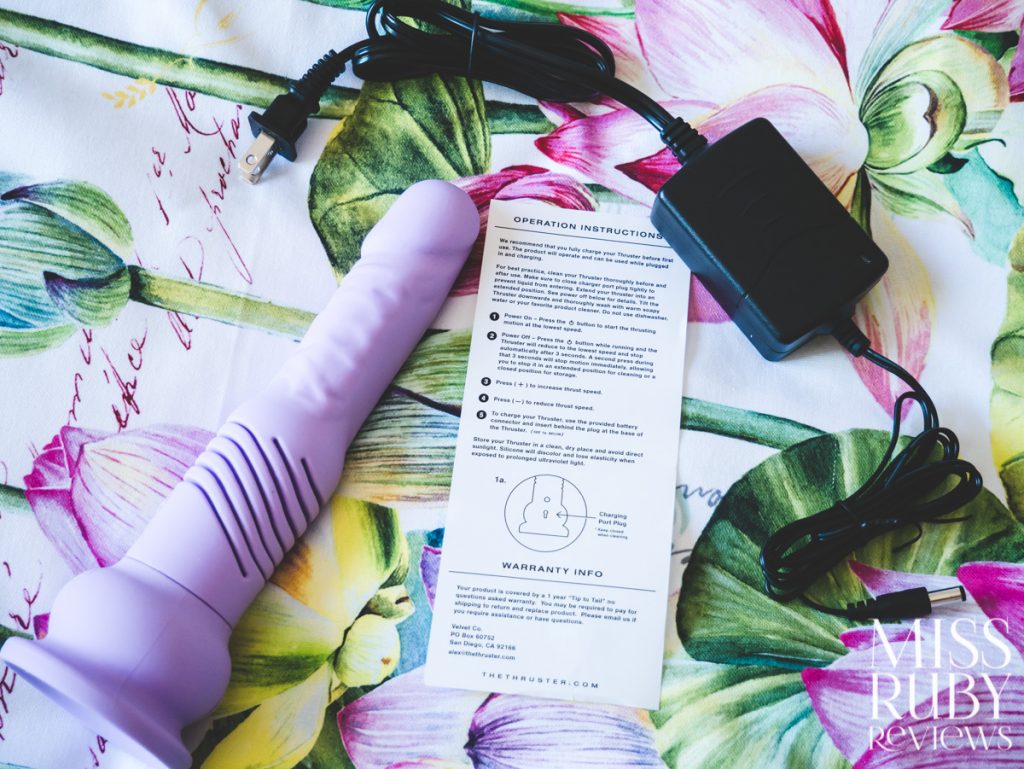 Material and Care
The Velvet Mini Thruster is coated in platinum silicone, making this totally bodysafe (woohoo!). To clean, I wash with warm, soapy water before and after each use, taking particular care with the ridges.
This is NOT fully waterproof (only splashproof), so don't immerse it in water, always keep the battery cover closed when cleaning, and turn it upside-down when washing the shaft so water doesn't trickle to the base.
I highly recommend you use a good quality water-based lubricant with this toy, such as my favourite Sliquid H2O.
The Velvet Mini Thruster comes with a 1-year no-questions-asked warranty with the manufacturer. Details on that can be found on the instruction sheet in the box.
My Experience with the Velvet Mini Thruster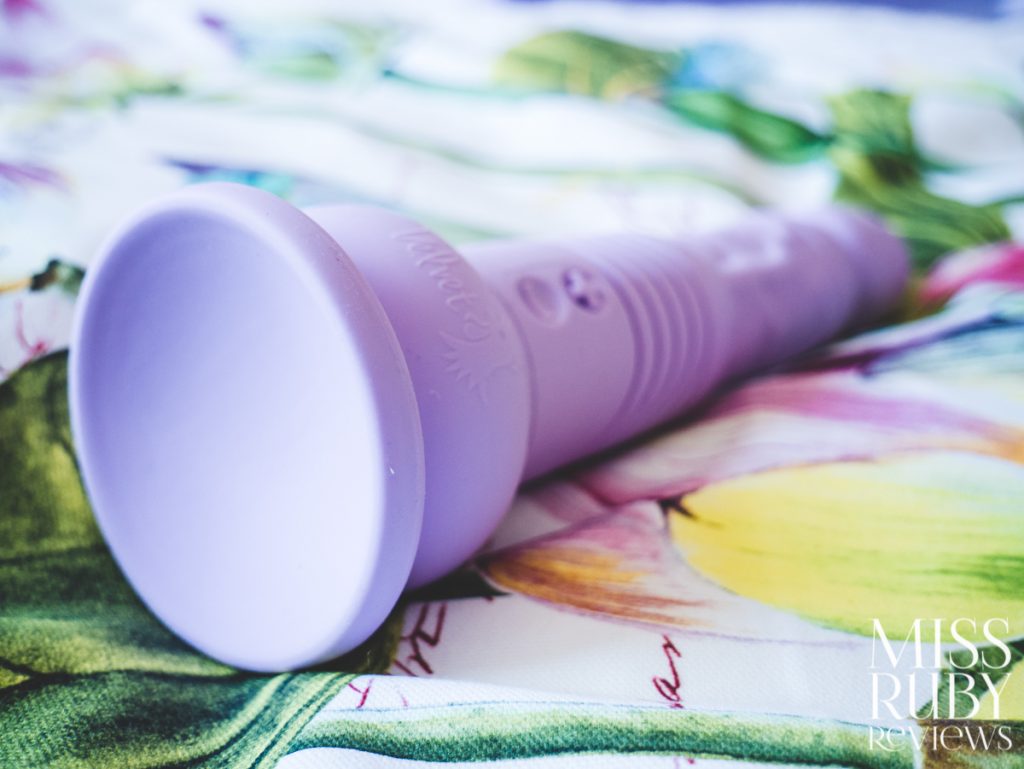 My experiences with the Velvet Mini Thruster have been amazing, and this is a serious contender for the best small self-propelled dildo on the market.
I'm not new to self-thrusting dildos. The Fun Factory Stronic line (which uses magnet technology to deliver thrusts) has dominated the market in terms of small self-propelled thrusters, and I've been a huge fan of them.
Perks:
Though the Velvet Mini Thruster certainly doesn't look as sleek or as modern as the Fun Factory Stronics, it comes with other huge perks:
There's that suction cup. This is incredibly handy in use – while you sometimes have to hold one of the Fun Factory Stronics in place with your hand, you can commit to going totally hands-free with the Velvet Mini Thruster. Just slap it on the wall, the side of some furniture, or (better yet) the LoveArc, and it'll stay in place.
It's cheaper. The least expensive Fun Factory Stronic toys are around $170. The Velvet Mini Thruster is regularly priced $159, though at the time of writing is on sale for $135, plus you can use a 10% off coupon (RUBY).
It has deeper thrusts. The Velvet Mini Thruster extends to thrust at a depth of around 2.5 inches. This may not sound like much, but it feels like a lot. On the other hand, the Fun Factory Stronics have quicker but much shorter/shallower thrusts.
Any caveats?
Of course.
Like anything that you don't have complete, constant control over, you need to be careful that you don't insert too deeply, because then you'll be surprised how quickly your cervix gets jabbed. I recommend trying to insert while it's already thrusting, or when it's standing still in its most extended state, just so you can get a sense of where it'll end up. The first time I used the Velvet Mini Thruster, I was too hasty and inserted it fully before starting it up, and my cervix got an unfriendly jab.
Also – keep a bottle of water-based lube nearby. Silicone can use up natural lubricant quickly, and you don't want anything constantly rubbing your G-spot if you're not lubricated enough.
I haven't been able to stall this using my PC muscles, which is a great sign. The thrusts are powerful and satisfying, and utterly RELENTLESS. When paired up with a good clitoral vibrator like the We-Vibe Tango or a FemmeFunn Bullet, those orgasms just keep on coming.
Overall thoughts – Velvet Thruster Mini Teddy review
The Velvet Mini Thruster is a seriously good self-propelled toy. It's not visually sleek and streamlined or miraculously quiet, but it thrusts quickly, deeply, and has a super handy suction cup.
Better yet, it's cheaper than many other popular self-thrusters on the market.
You can pick up the Velvet Mini Thruster at Peepshow Toys! Why do I like Peepshow Toys? They ship internationally, only carry body-safe products, and you can get a 10% discount off your whole purchase with coupon code RUBY. 

See below for my Velvet Thruster Mini Teddy review summary.
Velvet Thruster Mini Teddy review summary
Overall Thoughts - 9.2
9.2
$159
PROS
Portable/travel friendly
Deep and fast thrusts
Bodysafe & Splashproof
Cheaper than competing brands
CONS
Shop Now

Last Updated on March 18, 2023 by Miss Ruby