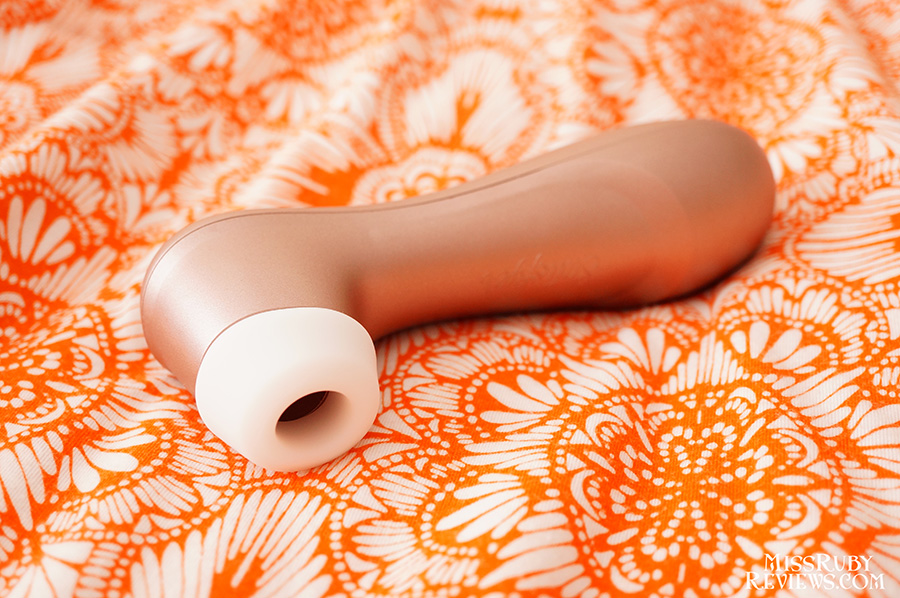 Look familiar? The Satisfyer Pro 2 Next Generation is the latest Satisfyer Pro model. It's an update from the Satisfyer Pro 2 (which I loved), but priced the same, which certainly piqued my curiosity.
Physical Details | Packaging | Material and Care | My Experience | Overall
Physical Details
Design/Function
If you've been kicking around the sex toy community for a short time, you'll have no doubt heard of Satisfyer. Satisfyer is a brand that specializes in suction-based toys. Though they've dabbled in vibes, they're famous for the Satisfyer Pro 2.
Bloggers around the world started reviewing the Satisfyer Pro 2 in Summer 2016, and I myself gushed about it last September:
The Satisfyer Pro 2 isn't technically a vibrator. Instead, it's an instrument that provides touch-free pressure wave stimulation. It's lightweight, easy to grip, and fabulous to own. When placed over the clitoris, the clitoris is encircled/enveloped by the nozzle's circular hole. The Satisfyer Pro 2 works by creating a pulsating effect (one which, I feel, is along the lines of suction). When under water, this sensation is intensified, but it works well outside the tub as well. … The Satisfyer Pro 2 has landed itself as one of my favourite sex toys.
So what's different? 
At first glance, the Satisfyer Pro 2 Next Generation seems identical to its predecessor. There are, though, a few subtle differences:
Buttons: The Next Generation features + / – buttons to increase and decrease intensity. The previous generation just had a single button to click through the intensities. Both models have a separate power button.
Colour: The Next Generation's colour is a more toned down / less saturated shade of copper.
Lights: The Next Generation doesn't have a separate LED light – instead, the power button simply lights up. This light is purposely dimmer than the previous generation.
Sound: The engines have been updated. The Next Generation is now quieter than its predecessor. While this is a welcome improvement, it's still louder than the Womanizer Pro40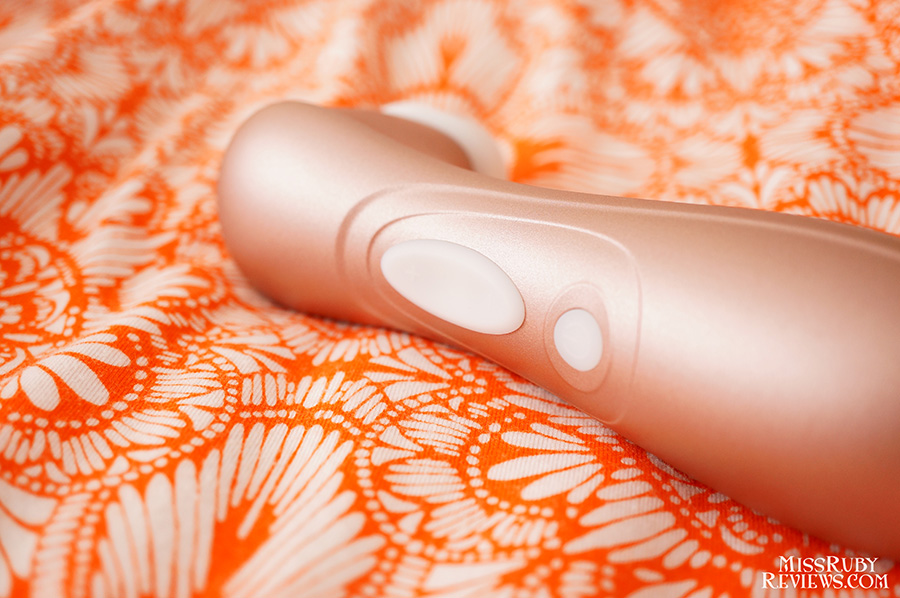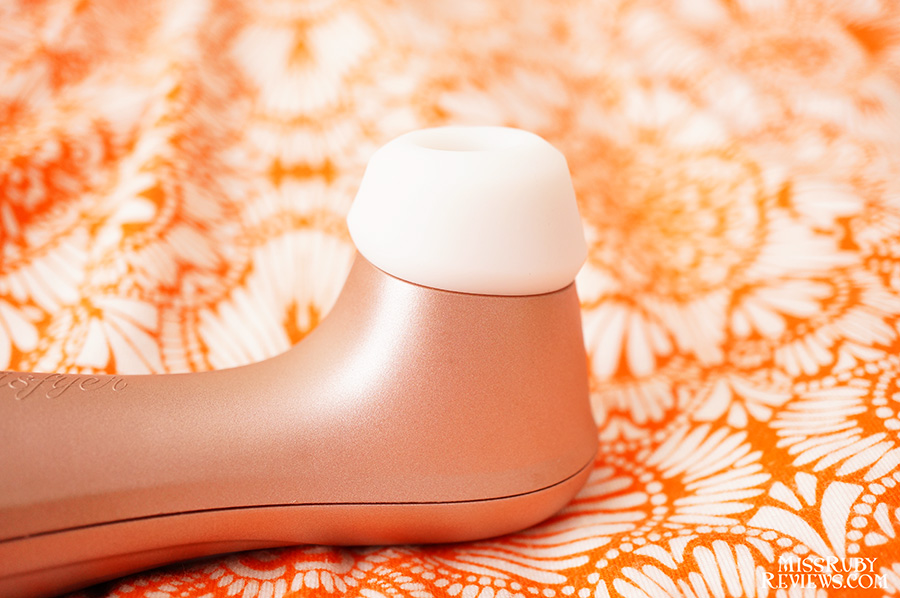 How to use the Satisfyer Pro 2 Next Generation
Turn on the Satisfyer Pro 2 Next Generation by holding the round power button for two seconds. The button will light up in white and the toy will turn on. Position it so the soft, white, silicone cap is directly on your clitoris (capping it in the hollow area). Once it's comfortable, you likely won't need to move it again. Use the + / – buttons to find an intensity that suits you. There are 11 increasingly-strong intensities. Once you're finished, turn it off by pressing the round button again for two seconds. Using a water-based lubricant or using it underwater will increase the effect.
This toy is rechargeable, meaning you'll never need to go out to buy batteries. To charge it, I dock the magnetic charger to the base of the toy and plug it into a USB wall adapter. The white LED light will flash while charging and become steady when it's done. A full charge takes about 1.5 hours, though the first charge may take up to 8 hours.
The Satisfyer Pro 2 Next Generation uses very strong magnets to create the suction effect, so do not use this if you have a pacemaker. I also recommend keeping it away from your computer/cell phone as strong magnets can sometimes interfere with electronic decides.
Packaging
The Satisfyer Pro 2 Next Generation has similar packaging as its predecessor. This toy is packaged in a simple, neat, white box. Inside, you receive the Satisfyer, a USB charging cord, and a brief multi-lingual instruction manual. No storage pouch, unfortunately, so use whatever linen bag or sex toy storage option you have.
Material and Care
Like its predecessor, the Satisfyer Pro 2 Next Generation consists of bodysafe materials. The copper-toned body is made from firm, sturdy ABS plastic. The part that comes into contact with your body, the white head, is made from silky silicone (non-porous, non-toxic, and bodysafe).
For regular cleaning, I rinse the head separately with warm, soapy water. When I want to be more thorough, I also submerge it in hot water, turn it on, and let run for a minute. It's completely waterproof, so water won't damage it (though, of course, don't allow it to become wet while it's being charged).
If you're also going to use lubricant, stick to a good quality water-based lubricant like Sliquid H2O.
My Experience with the Satisfyer Pro 2 Next Generation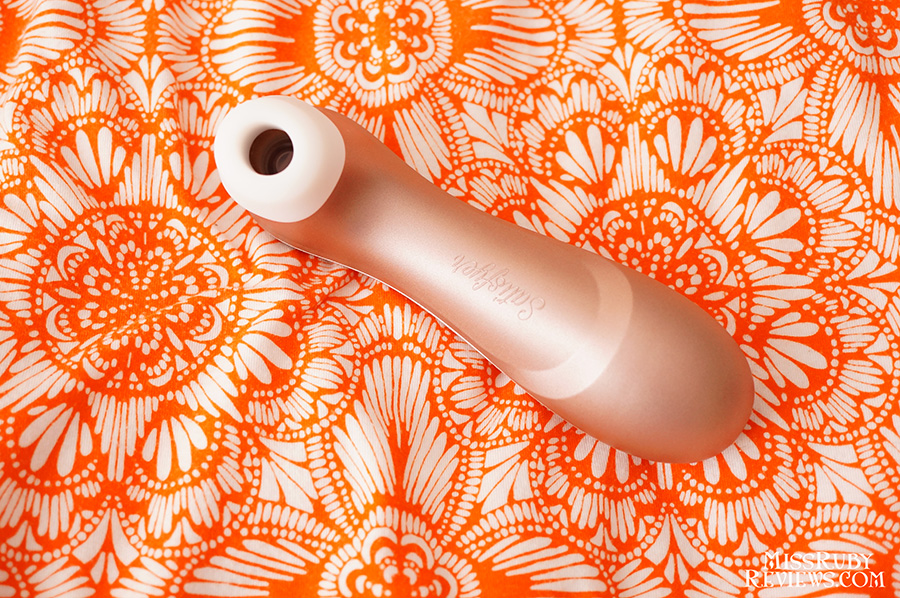 As with its predecessor, the Satisfyer Pro 2 Next Generation is undoubtedly a pleasurable, knock-your-socks-off kind of toy. When in use, even just in the mid-range intensities, it has the magical ability to engorge the clitoris, making it more sensitive to pleasure, and then take it to orgasm without any of the numbing that can occur with vibrators or fingers. And it works quickly. My orgasms arrive in less than half the time it takes with a conventional vibrator. Another perk is that consecutive orgasms are more possible. Compared to using a vibrator, my clitoris is more able/ready to move onto a second, third, and fourth orgasm.
The original Satisfyer Pro 2 was just as amazing. In other words, I don't find there to be much pleasure-wise difference between the two versions.
But, if you had the choice between the Satisfyer Pro 2 or the Satisfyer Pro 2 Next Generation, which should you go for? The Next Generation, definitely. They're the same price, but the + / – buttons are a huge improvement. There are 11 intensity speeds in total, and some of them have larger jumps than others (in other words, some levels don't register as that much stronger when you click the button, whereas others seem a great deal stronger). When I find that the next level up is actually too intense, I'm able to easily flip back instead of cycling through all the modes again. This, in of itself, makes the Satisfyer Pro 2 Next Generation a better purchase.
Although this model is a bit quieter than the previous version, it's not a whisper-quiet toy in general. While I don't think it can be heard through walls, it's noticeable from within the same room. It's also still louder than the Womanizer Pro40. Even the buttons are loud — clicking through them isn't a silent process.
Side note complaint: As with the last model, I wish this toy could look sexier. Unfortunately, it still looks like a strange science fiction TV prop to me. Changing the colour would help a lot. I would have loved for the colour to be a deep red or emerald…but c'est la vie.
Overall
This is what I consider a pretty safe purchase… this toy works, and it works well. If you have the choice between the Satisfyer Pro 2 and the Satisfyer Pro 2 Next Generation, go for the Next Generation model. It's a pinch quieter and those + / – buttons are a huge improvement.
If you have a clitoris, and you'd like an orgasm, head on over to Peepshow Toys to purchase the Satisfyer Pro 2 Next Generation. Don't forget to use coupon code RUBY for 10% off!