A Review of the Exotic-Erotics Halfling:
Or, In and Out Again: A Dildo's Tale
I've racked my brain trying to decide what I love the most about the Exotic-Erotics Halfling. Is it the adorable flushed rosy head? Is it the thin flap of silicone where the shaft tapers into the balls? Is it those delicious veined textures? I don't know. All I know is that I need one for every room in my house.
Note: This post is super long. Use the headings below to skip to the sections you're most interested in, or bravely face the whole post!
About the Store | Packaging | Physical Details | Customization Options | My Experience | Overall
About the Store: Exotic-Erotics
I stumbled across Exotic-Erotics when my blog was only two weeks old. I was immediately hooked on their High Fantasy line after seeing someone share their High Fantasy banner. Exotic-Erotics is a small manufacturing company based in the USA. Their creations are very unique and they offer customers a range of fantasy-themed products. In addition to their High Fantasy line, which includes gems like the Halfling and the Orc, they also carry notable fantasy products like the Pheonix and the Hippocampus. Communication with the team at Exotic-Erotics was very friendly and courteous.
Shipping and Packaging
The Halfling was shipped on March 18 and I received it on March 25th. For international shipping to Canada, this is very quick. The box that arrived was plain and discreet. The return address was discreet and did not say "Exotic-Erotics." For international customs, the box's contents were listed as "Silicone Sculpture."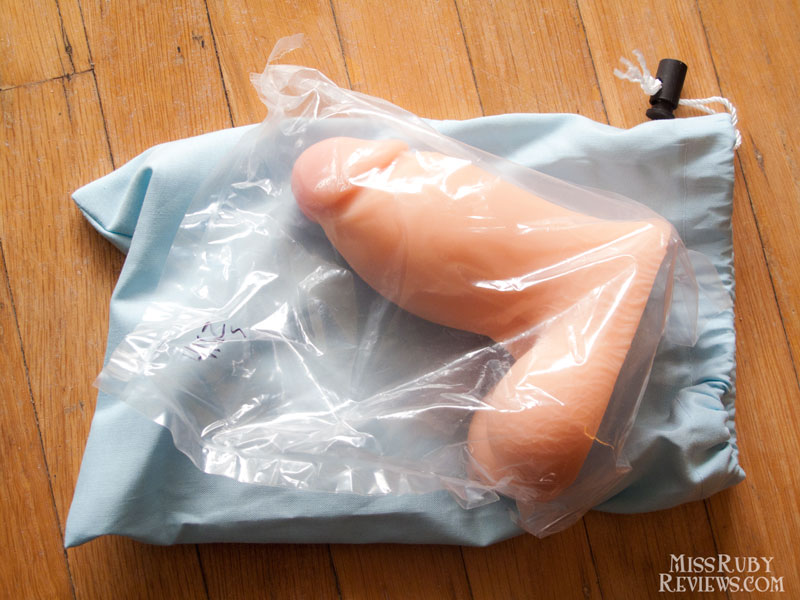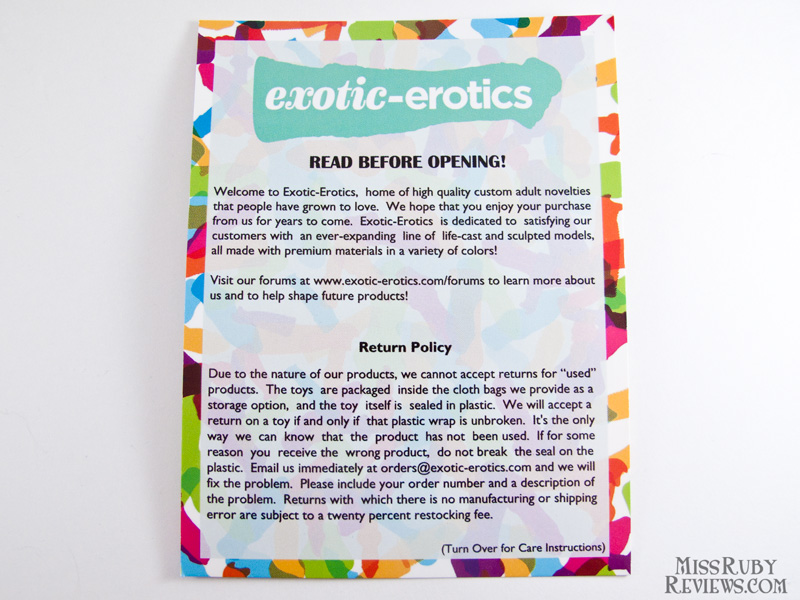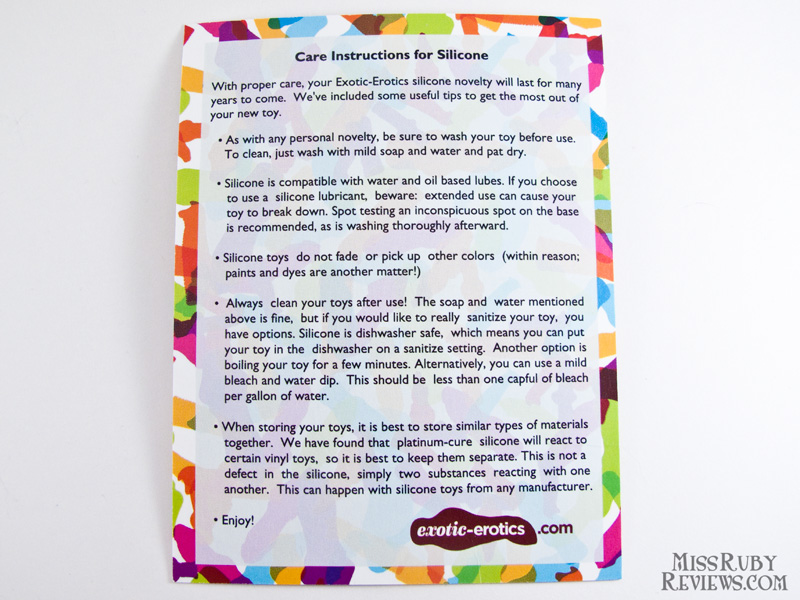 Inside the box, my item lay padded within packing bubbles. My Halfling was sealed in a clear plastic bag. Once you break the seal, you can no longer return your item, so be sure to check your product over carefully before taking it out. I also got a good-sized blue fabric drawstring bag (just check off Free Storage Bag when putting this in your shopping cart) and an information card that talks about the company and how to care for your product.
Physical Details
Design: 
For those of you who don't know, a "Halfling" is a race prevalent in many fantasy novels and games. They look like humans in many ways, except that they're about half the size in height. Across the board, Halflings have certain traits. They're good, simple people, they're often plump, live close to nature, and love food. The Halfling is inspired by this kind of creature.
The Halfling manages to present an impressive mix of realistic and unrealistic traits. In some ways, this is one of the more unrealistic dildos I own. The fantasy element comes into play with girth: I don't think I've ever seen such a girthy and stout penis. While its length is certainly safely within the realm of commonness, its girth makes you gasp. When it comes to realistic dildos, I absolutely love girth, and I was floored when I held it in my hands for the first time. The head itself is thick, but then the shaft's underside swiftly curves to make this dildo substantially plump and portly.
But for the most part, the Exotic-Erotics Halfling is actually one of the most beautifully realistic dildos I own. The head is perfect. There's a deep impression for the urethral hole that connects to the folds of skin that sweep down below the coronal ridge. The shaft is lightly detailed with faint veins. The balls are asymmetrical and plump and you can made out the faint line running down between them.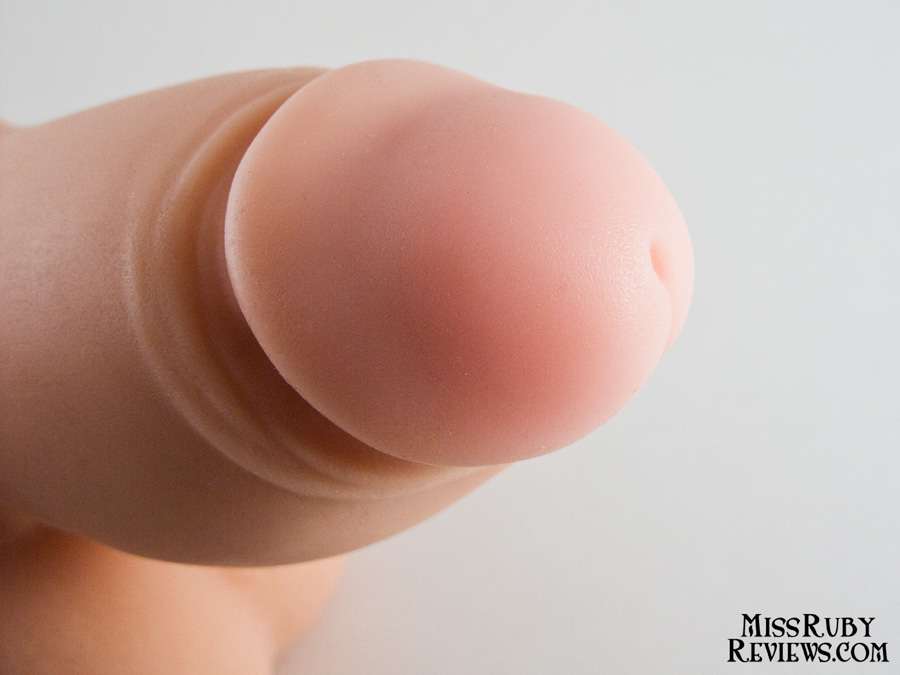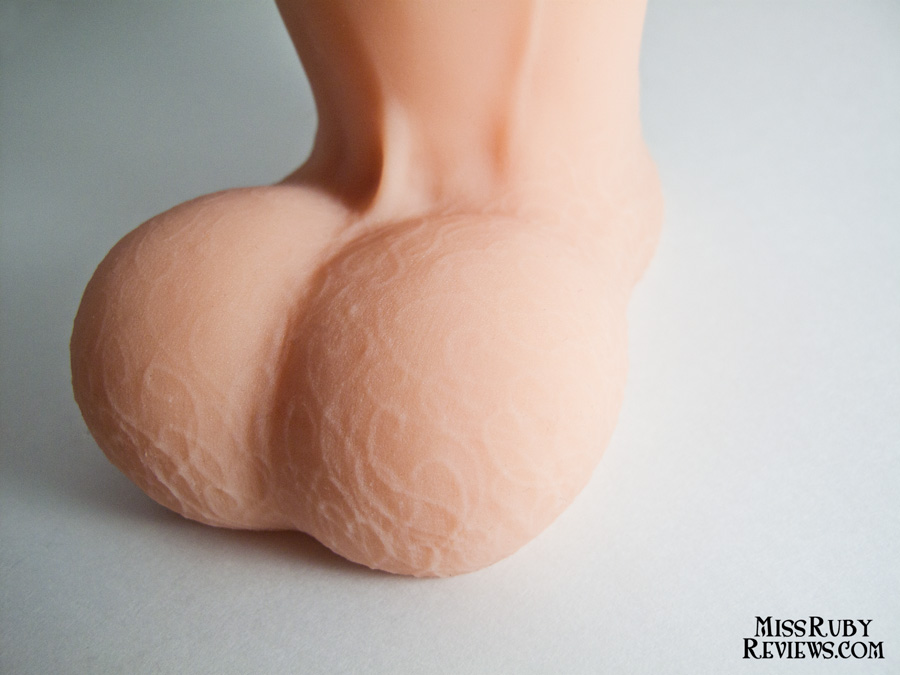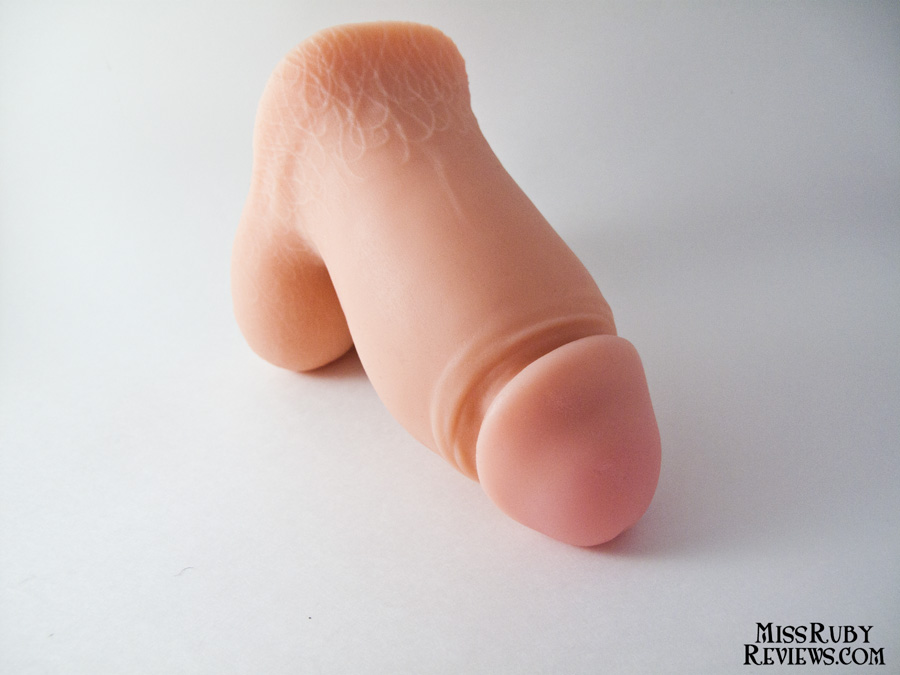 Ironically, out of all of this, the feature that makes this dildo seriously impressive in terms of realism is the flap of skin connecting the center of the shaft to the testicles. I've never seen this before on a dildo. You can push it about and, when you fold the shaft against the balls, this flap folds appropriately like a real penis. It's delicious.
Another unique feature of this dildo are the hair impressions on the balls. All around the base of this dildo, there are raised impressions of short curly hair. I wasn't sure about how much I'd like this when I first saw them, but within two minutes I was hooked. They add to the realism and the overall experience.
Material and Care:
Exotic-Erotics products are made from high-quality silicone. You can tell it's high-quality because, even straight out of the packet, it's completely tasteless and scentless. Silicone like this is my favourite body-safe material for sex toys because it is totally non-porous. You can sterilize it completely by boiling it or washing it with a 10% bleach solution. You can even toss it in the dishwasher.  However, for regular cleaning, I wash mine with warm soapy water before and after each use. I use a water-based lubricant with my Halfling, but you can also try a silicone-based lubricant if you do a spot test first (and be sure to not let it stay on long because silicone lubricants can degrade silicone toys). I store mine in the blue fabric bag that came along with this toy.
Customization Options
The above design elements are common for all Halfling dildos you'll order from Exotic-Erotics. However, one neat thing about this company is that you get to customize your toy to your heart's desire. Below I'll run through the customization options I chose.
Size: 
The Halfling comes in size Small (starting at $65) and Medium (starting at $110). I ordered the small. Don't let the size name fool you. This dildo is huge. Lengthwise, it's short, but the girth is absolutely formidable. The small has an insertable length of 4.75 inches and a mid-shaft circumference of 7.80 inches. This is thicker than the other "small" models in their fantasy and high fantasy lines. Let that sink in for a moment. I think the average penis has a circumference of just under 5 inches. So the 'small' Halfling is over 50% thicker than the average man you'll find in your bed.  This is challenge enough for my vagina. However, if you want a bigger challenge, go for the Medium size, which has a usable length of 6 inches and a mid-shaft circumference of 10.2 inches (or over 200% the average male girth). See below for the size comparison of my Halfling (Small) vs the Tantus Mark O2. The Halfling makes the Tantus Mark (which is a nice, average-sized dildo) look puny.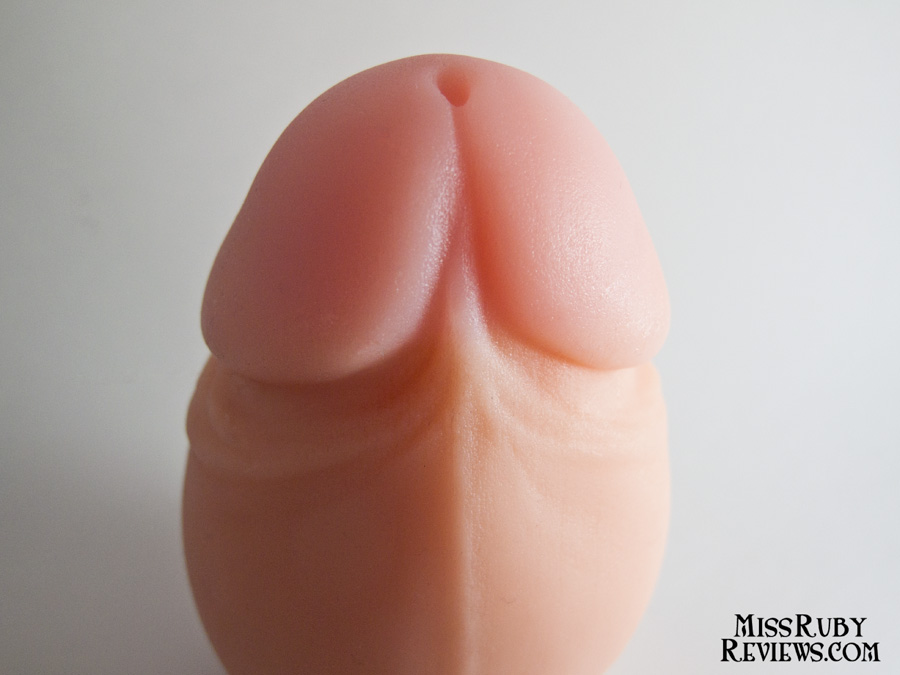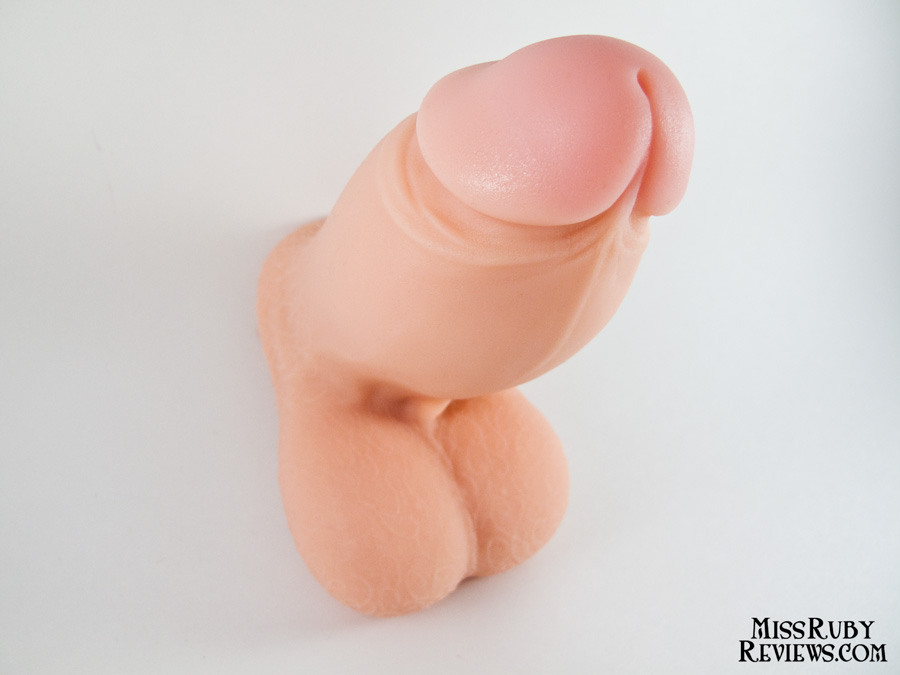 Silicone firmness: 
There are three firmness options available for the Halfling: Soft, Medium, and Firm. I ordered mine in Soft, and I love love love love it. In Soft, the head and shaft can be squished to about half the size. The shaft is so thick that soft firmness doesn't make it floppy or anything: it's just perfectly squishable. For those of you who haven't bought from a fantasy company before, this kind of soft is much softer than most conventional mass-produced silicone dildos on the market. To give you some idea of what I mean, I also ordered a silicone firmness sample kit from Exotic-Erotics and their "firm" is softer than Tantus' dual-density O2 line.
Color options:  
I ordered my Halfling in "Natural" color (an additional $10). This includes a light fleshy shaft and balls with an adorably rosy pink head. I'm thrilled with how this turned out. I think it's the first time I've had such a realistically-colored realistic dildo. Most realistic dildos have one flat color throughout. My only wish is that the testicles had the same rosy blush as the head, because that would be adorable. If you don't want to go for realistic colors, Exotic-Erotics has a ton of other color options, ranging from antique gold to flamingo pink to florescent orange. You can also just tick off "Surprise me," and get a mystery color, or go for a "swirl" option for an additional cost and make it pearlescent or glow-in-the-dark or swirly. Really, there's a lot to choose from here. But I love my natural rosy Halfling and wouldn't change it.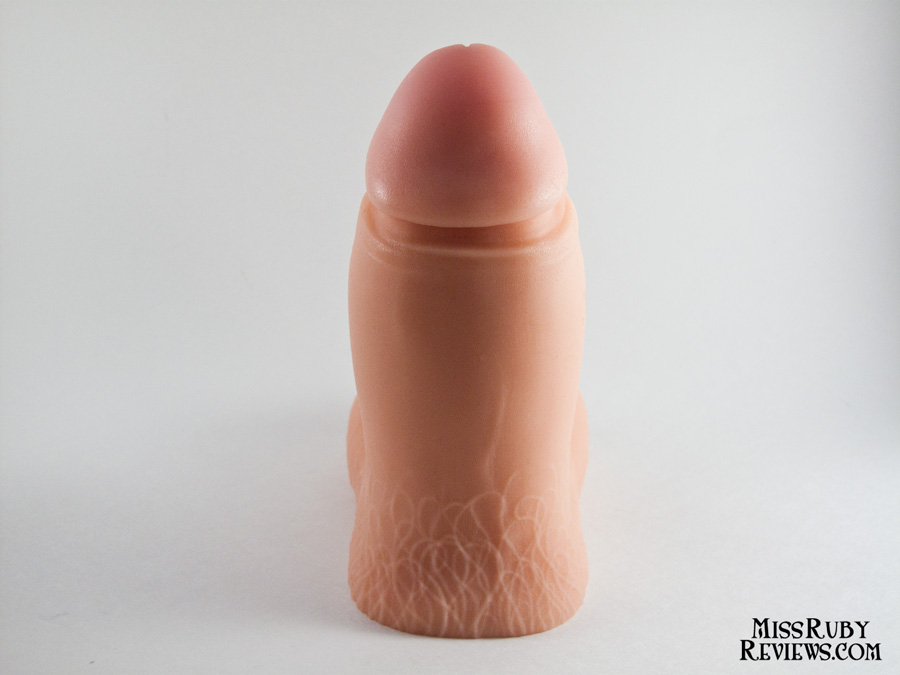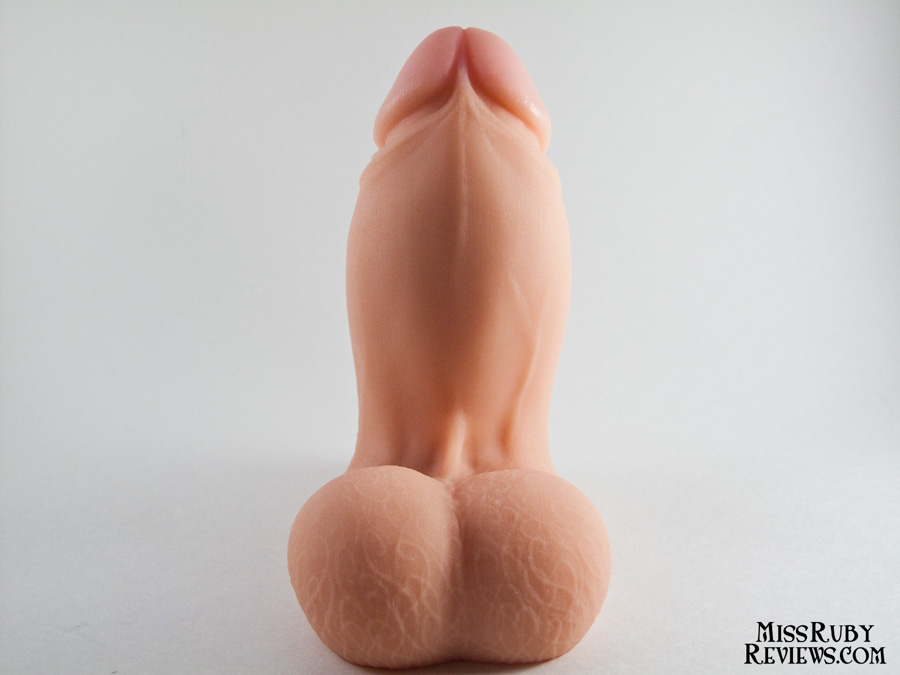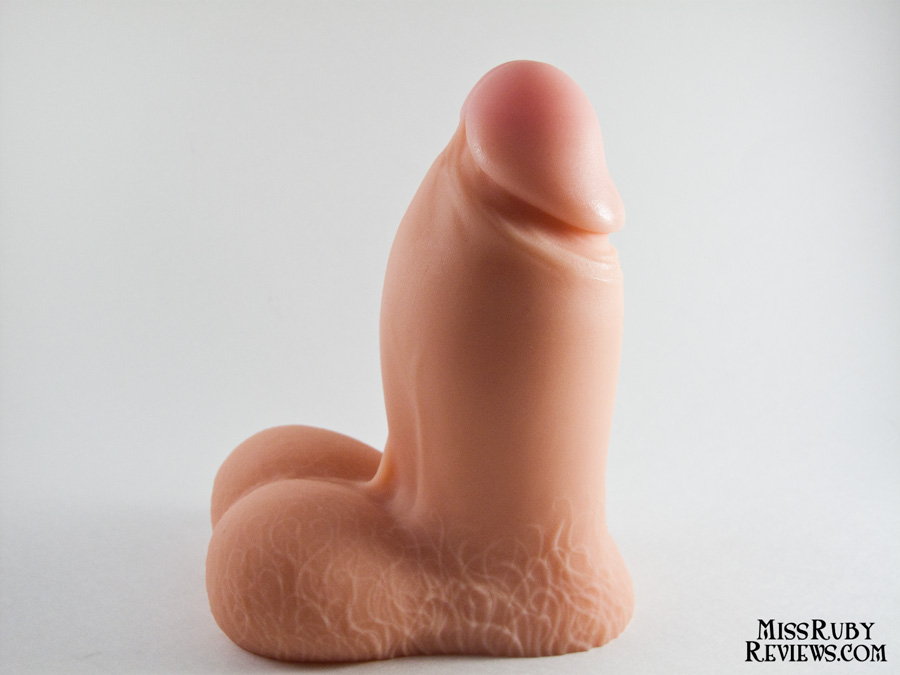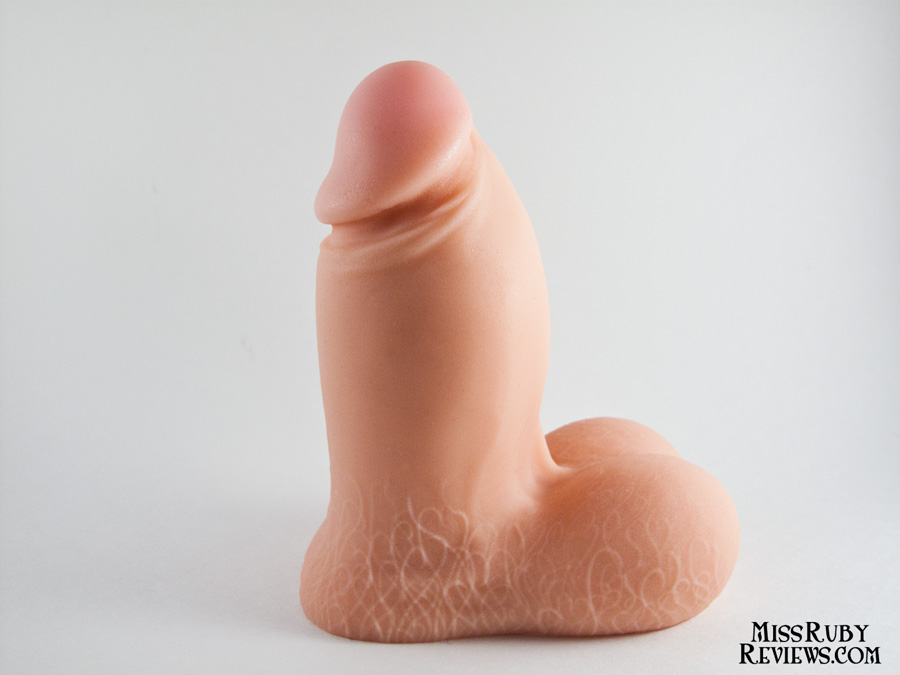 My Experience with the Exotic-Erotics Halfling (read to the end!)
When I first found this dildo on Exotic-Erotic's product pages, I literally kept the Chrome Tab pinned to my toolbar for two weeks just so I could pine over it every few minutes. I'm nerdy like that.
The first time I used it, I realized that I had to be remarkably warmed up before use. A girth like this shouldn't be rushed into. I had several clitoral orgasms before I tried to insert it and used a bucket of water-based lubricant to ease the journey. But it didn't fit. I couldn't get it past the head without feeling myself stretch in a not-very-sexy way.
The second time around, I again had two clitoral O's in preparation. I also warmed my vagina up using my next-largest dildo. I hoped that using a smaller dildo before the Halfling would make my entrance a bit more flexible and accommodating. I drenched the Halfling with a bucket of lubricant and hoped for the best. Using the previous dildo did help to the point that I could get the Halfling in about 1/3 of the way, but then my vagina yelled at me to stop putting such huge things in there that obviously weren't going to fit. The 1/3rd that did fit didn't feel pleasurable because I was distracted by the uncomfortable far-too-stretched sensation. I was suddenly wishing I'd already given birth to a small army of children just so that my vagina could be more elastic.
This was the situation for the first month that I owned this dildo.
But, never fear! After a month of patience and using progressively larger toys, my vagina finally decided to stop yelling "YOU SHALL NOT PASS."
Victory is sweet. As is this dildo. When it's inside, I feel so deliciously full. My vagina is pretty short, so I often can't fit some of the 6″-7″ dildos I'm sent for review. But in this case, all of it, from the tip of the head to the base of the shaft, fits in. And, because the head is so squishy, there's no painful cervix-punching moments.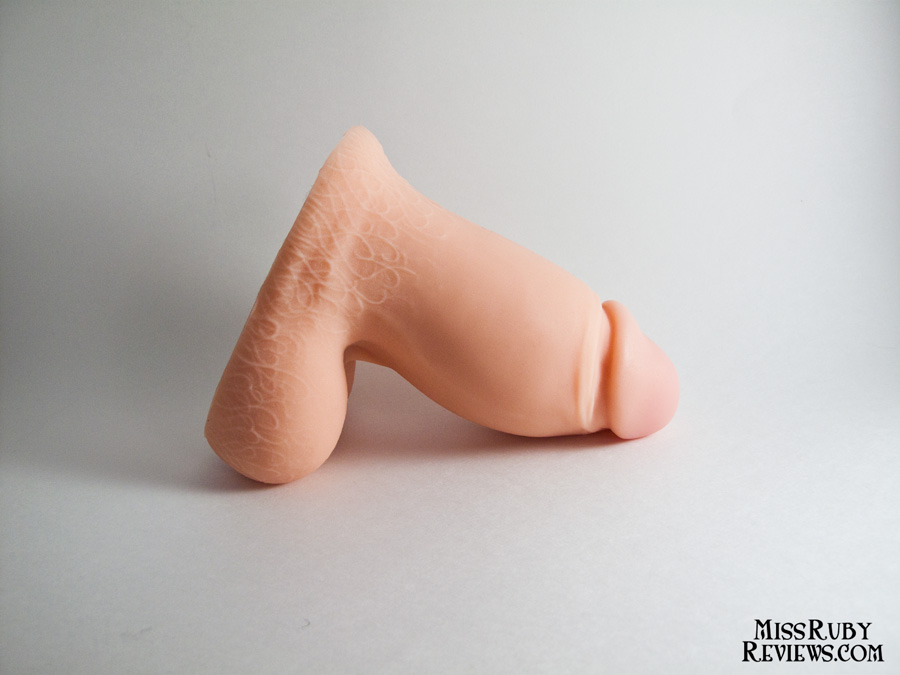 This dildo makes me feel extremely stretched. The not-so-sexy stretch feeling I had when I first started trying this dildo has been replaced by a much better kind of stretch, the type that makes you hungry for thrusts.
When the balls are facing my bum, I don't feel like this necessarily targets my g-spot. However, when the balls are facing my clitoris, the shaft's chubby underside comes in direct contact with my g-spot, and things get even better because then the balls can hit my clitoris during thrusts.
But talking about thrusts, I find this toy is fairly hard to thrust with. Because the shaft narrows towards the testicles, I get a definite "pop" sensation when it's all the way in. Once it's in, my vagina really doesn't want to let it go, which is one of the reasons I find this toy difficult to thrust with. That, and the very short length, makes thrusting awkward, though I am thankful for the balls base which provides a good handle.
My favourite way to use this toy is to swivel it side-to-side, the balls facing up towards my clitoris. That way, the shaft's chubby underside rocks against my g-spot and heightens any clitoral orgasms I'm having.
And, incase I haven't made myself clear….This is, without doubt, the most gorgeous realistic sculpted dildo I own. I get hungry looking at it. I want one in every room in my house. It's freaking beautiful. But I also can't deny that it this toy's girth will be a big challenge for some of you, as it was for me, and it may also take you several weeks of practice before this toy becomes functional. That being said, whether or not it will be a challenge for you, I still totally recommend getting one of these for yourselves.
Do you think your vag or your butt will be more stretchy than mine? Is that a yes? THEN GO BUY THIS NOW. Do you think your vag or butt may be as stubbornly narrow as mine and will take a few weeks of training? Yes? THEN STILL GO BUY IT NOW.
Buy this either way. The price is too low, and the quality is too high, and it is too beautiful, to not buy it. If it won't actually fit for the first few weeks of practice, then buy it to ogle at it and train until a day when your vag or your butt decides to welcome the Halfling with open arms. Okay, that metaphor doesn't really work. Your vag doesn't have arms (that'd be freaky). But you get the picture.
Overall
Despite my initially uncooperative vagina, I'm in love with my Halfling. I also think it would be amazing if Exotic-Erotics came out with a "mini" version of this toy for the mere mortals that can't pass tennis balls. I also wish that Exotic-Erotics would also make a longer/thinner (more human) version of this model and offer it in different skin tones, because the base shapes and details on this model are incredible. In other words, the concept and design behind this creation is a gem and I can envision successful spin-off dildos from this.
Lastly, a word on the price. The Halfling (Small) currently starts at $65 US. The "Natural" color option I chose adds $10 for a total of $75. I don't say this often, but this price is a complete steal. I'd expect something more along the lines of $130+. For the quality, the detail, and the uniqueness you're getting out of this toy, it is absolutely worth every penny.
To buy the Exotic-Erotics Halfling, head on over to Exotic-Erotics. Seriously, just go buy it now.
Have something to say about this review? Comment below!