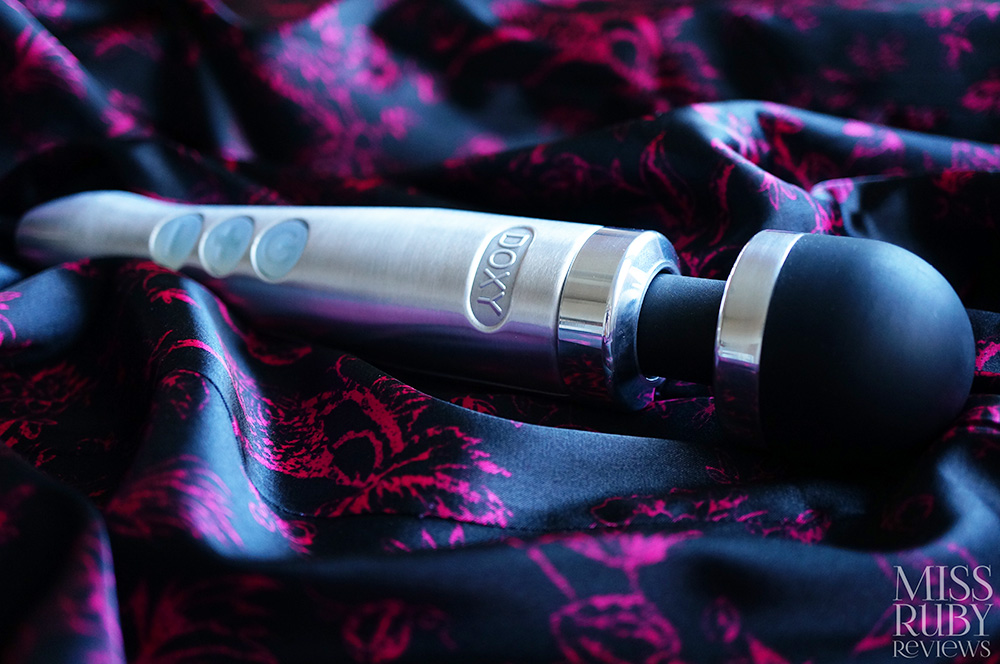 The Doxy Number 3 (more colloquially known as the Doxy Smol) is a miniature version of my favourite Doxy Die Cast. But how do they compare? Read on for my Doxy Number 3 review!
Update: Looking for the newer Doxy Number 3R review? I write about it here!

Physical Details | Packaging | Material and Care | My Experience | Overall
Physical Details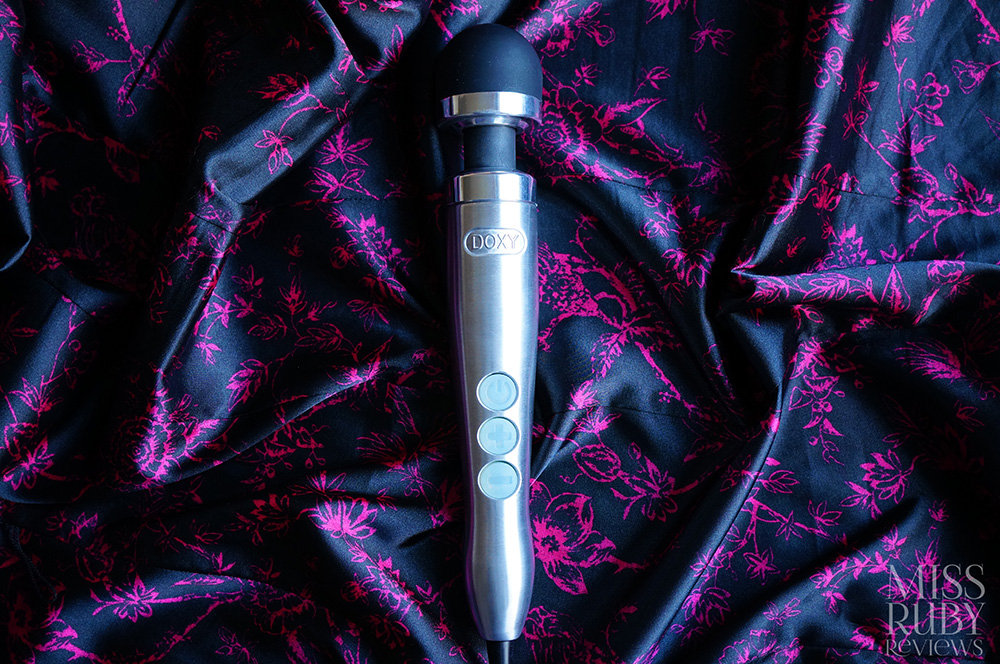 Design
Well, Doxy has done it again. They've come out with another stunning wand vibrator. It may not be ruby red and glittering like my favourite Doxy Die Cast Wand (glowing review here), but there's a lot of appeal in this new design.
The Doxy Number 3 features a brushed aluminum and titanium body, one that's about half the weight of the Doxy Die Cast. This makes it fairly small in terms of corded wands – definitely smaller than the Magic Wand Rechargeable as well. Still, as far as wands go, this one has all the expected bits. There's a 12 feet power cord, which is long enough to get all across my bedroom so that's handy. There's a simple three-button interface (power, +, and – ). There's a slightly flexible neck, which leads to a black silicone head for broad-style stimulation.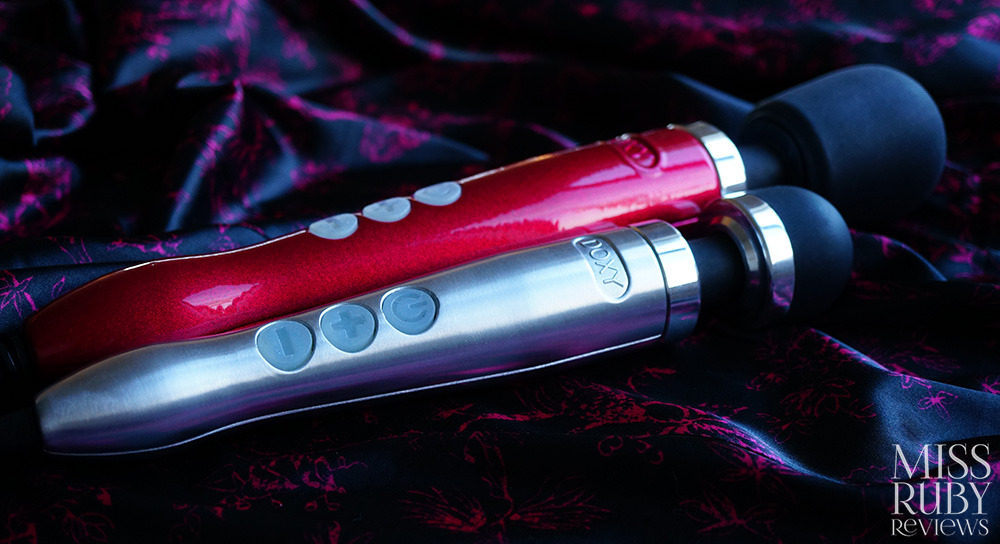 It feels nice to hold and expensive. There's just something about brushed metal…It does not feel cheap.
While this was designed for clitoral stimulation you can, of course, use it gently against a penis if you (or your partner) enjoy vibrations along the shaft.
Note that, unlike the Magic Wand Rechargeable, you cannot use this without plugging it in. You'll need a wall outlet every time you use this.
What makes this the Doxy Number 3 different?
There's a SUPER handy feature here – the black silicone head is REMOVABLE. It screws off cleanly so you can wash it under the tap (while keeping the body itself far away from water). It's the first time I've come across something like this and it's a HUGE upgrade from the Doxy Die Cast, which requires you to carefully wipe the head without getting water near the body.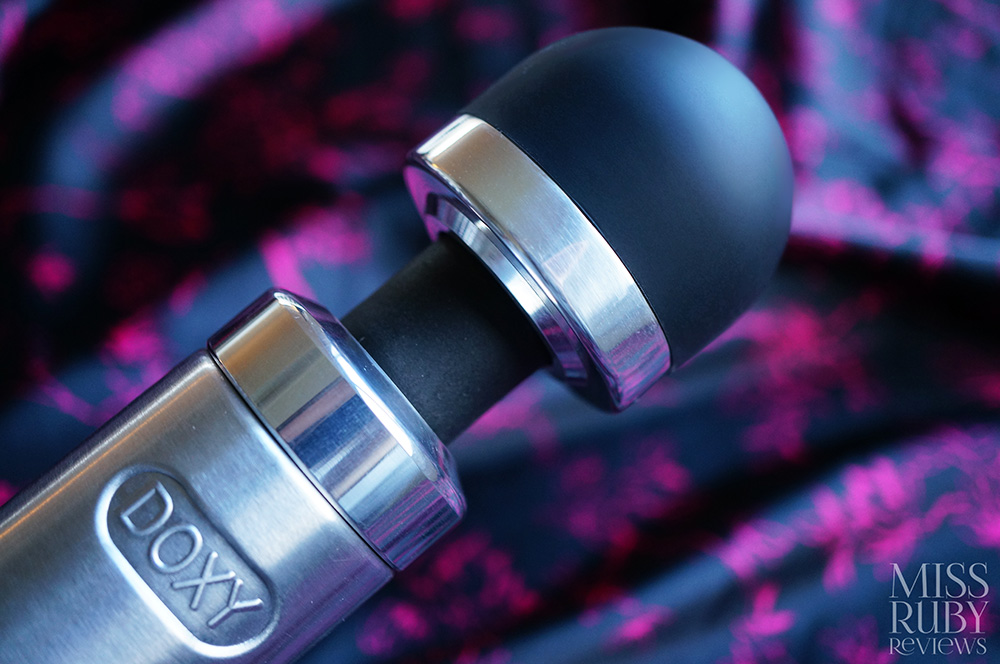 Vibrations and Sound
My partner and I did a blind test (comparing the Doxy Number 3 versus the Doxy Die Cast) and we weren't able to discern any substantial difference in vibration strength between the two. Perhaps the biggest difference is just that the Doxy Number 3's vibrations are more focused because the head is much smaller than the Doxy Die Cast's larger, oblong head.
And, just to be clear, the Doxy Number 3 is strong. Even at its lowest speed, it's strong.  This is a toy for power queens.
There was, however, a large difference in sound. While the Die Cast emits a low, pleasant rumble (even at its higher speeds), the Number 3 gives off a louder, high pitch whir.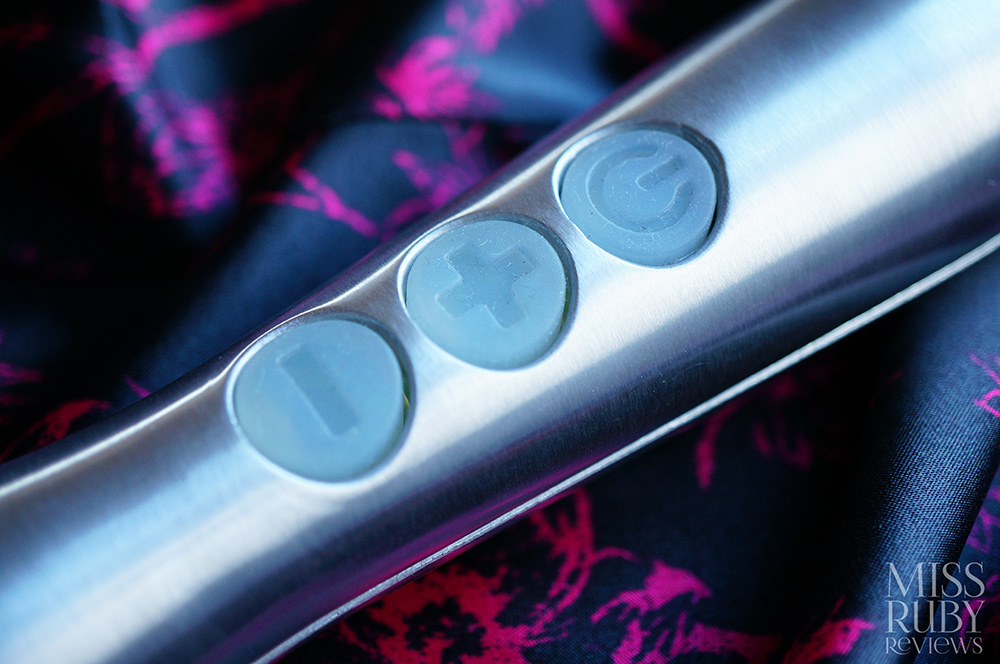 How to use the Doxy Number 3
Plug in the Doxy Number 3, making sure it's not near any water sources. To turn it on, press the power button. To increase or decrease speeds, hit the (+) and (–) buttons.
You can also activate the variable pulse setting by holding the power button. The Doxy Number 3 will begin to pulse. To increase or decrease the frequency of the pulse, press the (+) and (–) buttons.
To turn off, hit the power button again. Simplicity is bliss.
Packaging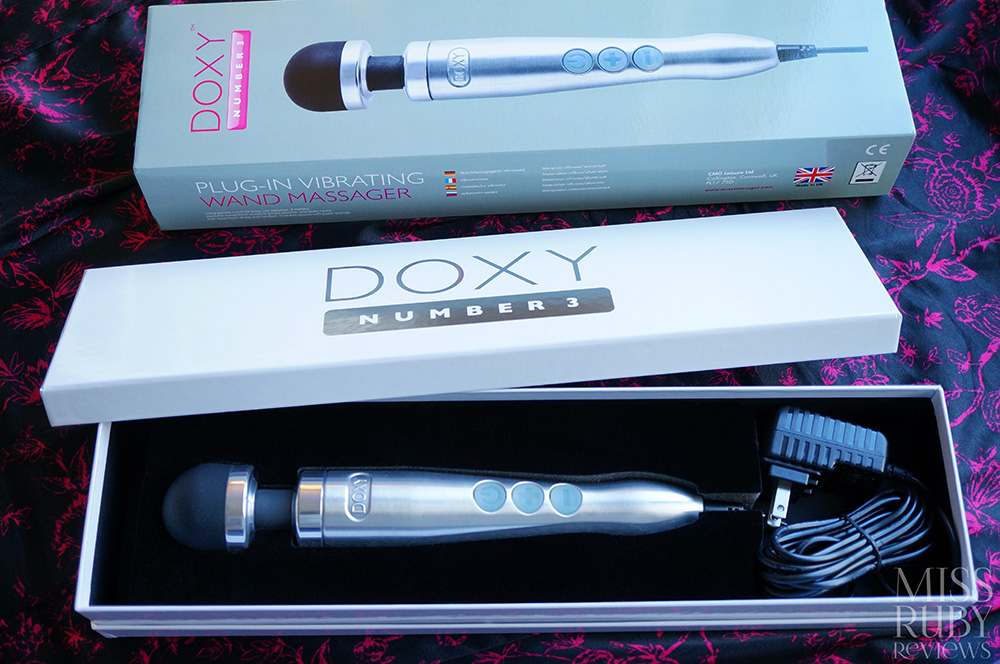 The Doxy Number 3 comes in simple packaging. There's a grey box sleeve with the pretty UK flag (yes, this is a UK brand). Inside, a sturdy white box houses the Doxy Number 3. You only get the wand itself – no instructions or anything else included.
Material and Care
The Doxy Number 3's head is made from silicone, making it non-porous and non-toxic. To clean, unscrew the black head; it will separate from the metal rim. Wash the separated head under warm, soapy water after each use.
If you want to clean up the body itself, I recommend wiping it down with a cloth. Don't get the body wet.
If you'd like to add lubricant, use a good water-based product like my favourite Sliquid H2O.
I haven't found a better storage solution for the Doxy Number 3 than the white box it stays in. It's a sturdy box, and small enough to fit at the back of a drawer.
Other:
Okay, I need to say that some Doxy Number 3 models (at least ones purchased in 2017) appear to be faulty. The first one I received had a strange issue where the body would vibrate more than the head. I was sent a replacement by the manufacturer, and the replacement works fine (yay!). Still, I was perturbed by the original defective one, and more so because I heard other rumors about varying defects. This is in sharp contrast to my experiences with the Doxy Original and Doxy Die Cast, which I never experienced any issues with. For this reason, wherever you purchase the Doxy Number 3 from, read their return policy. For example, Peepshow offers an exchange policy for defective items (details here) for peace of mind.
My Experience with the Doxy Number 3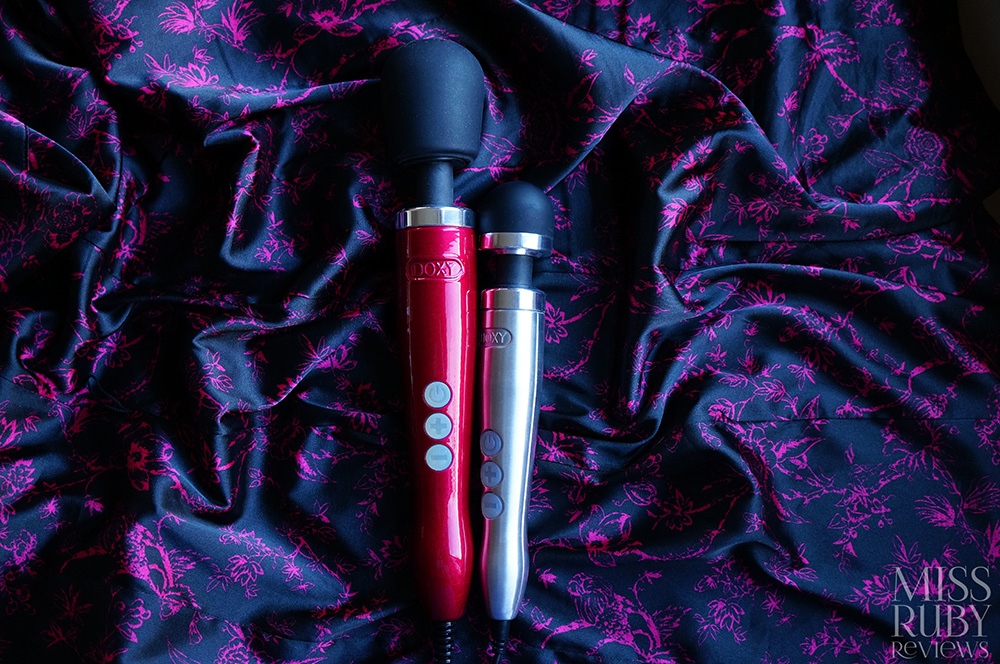 It's impossible to review the Doxy Number 3 without comparing it to its larger counterpart, the Die Cast. So, below, I'll go through my feelings on the Doxy Number 3 versus the Doxy Die Cast.
1. Both deliver fabulous orgasms
If I want an orgasm, I can't go wrong by picking up either the Doxy Number 3 or the Doxy Die Cast. Both deliver similar vibration strengths, with similar levels of rumbles.
Orgasm maker? Check. They arrive easily.
2. The Doxy Number 3 is more pin-point
If you err on the side of pin-point stimulation, you may enjoy the Number 3 more. That smaller head is much more focused than the Die Cast's long, magnificent, broad head. The Number 3 is, however, still a wand; it will not give the type of pin-point stimulation that a bullet will.
3. The Doxy Number 3 is smaller, and that expands options
Have mobility issues? Can't lug around the giant 680 gram Die Cast? At 340 grams, the Number 3 is much friendlier to those who can't lift heavy objects for long periods of time.
The small size also means that it's the better option if you like to use a vibrator during missionary PIV sex. It won't jab into your partner's belly as a bigger vibrator would.
4. The Doxy Number 3 is louder
This bugs me. It's smaller – why can't the Number 3 be softer too? I love the Die Cast's low, sexy rumble. I'm less thrilled with the Number 3's higher, noisier contribution to the bedroom.
5. The Doxy Number 3 is easier to clean
With that screw-off silicone head, the Number 3 is hand-down easier to clean than the Die Cast. Instead of awkwardly trying to wipe the head, I can just totally remove it from the body, wash it thoroughly under the tap, let it dry, and then screw it back on the body. Easy.
6. The Doxy Number 3 is compatible with PalmPower attachments
There are SO many PalmPower attachments out there, which will transform the Number 3's sensations. If you already have a tidy collection of PalmPower head attachments, you'll want to grab the Number 3.
7. The Doxy Number 3 is cheaper
At $159 USD, the Number 3 is $30 cheaper than its larger counterpart, the Die Cast.  Now, $159 USD is not cheap, but that extra $30 might just let this slip within your budget. (And remember, you can get 10% off your whole purchase from Peepshow Toys with coupon code RUBY)
8. The Doxy Number 3 only comes in one colour
The whole brushed stainless steel look is all you'll get here. On the other hand, the Die Cast comes in this brushed aluminum look, plus red, plus purple, plus black, plus white…
Overall – Doxy Number 3 review
Do I prefer the Doxy Number 3 over the Doxy Die Cast? Honestly… I can't decide.
For all practical purposes, the Doxy Number 3 is functionally better. Its smaller size makes it easier to handle and use in the bedroom. That screw-off silicone head makes cleaning a breeze. And it delivers those same mega-strong vibrations and orgasms.
But secretly, I wish it came in red. I know, I know: I'm fickle. But that glittery red body keeps drawing me back to the Doxy Die Cast, so I'm privately still on Team Die Cast.
To purchase the Doxy Number 3, head on over to Peepshow Toys.
My Doxy Number 3 review summary is below.
Doxy Number 3 review summary
Vibration Strength - 10
Quietness - 6
Ease of Use - 8
8
$159
PROS
Small
Strong
Easier to clean
Bodysafe silicone head
CONS
Noisier than the Die Cast
Only 1 colour
Shop Now