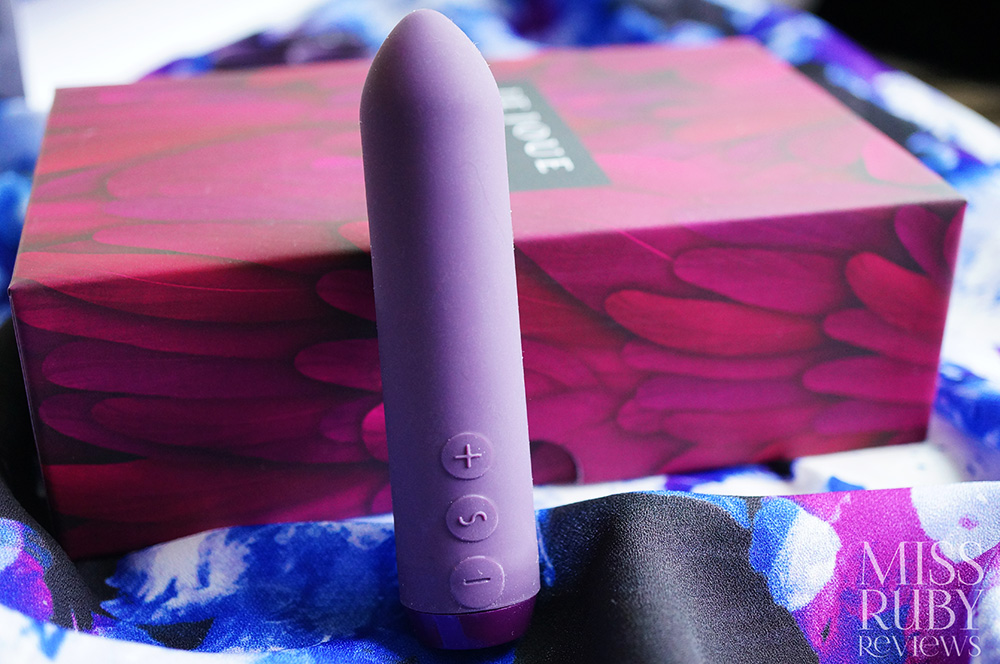 A solid, no-nonsense, classic little bullet vibe. Read on for my Je Joue Classic Bullet review!
Physical Details | Packaging | Material and Care | My Experience | Overall
Physical Details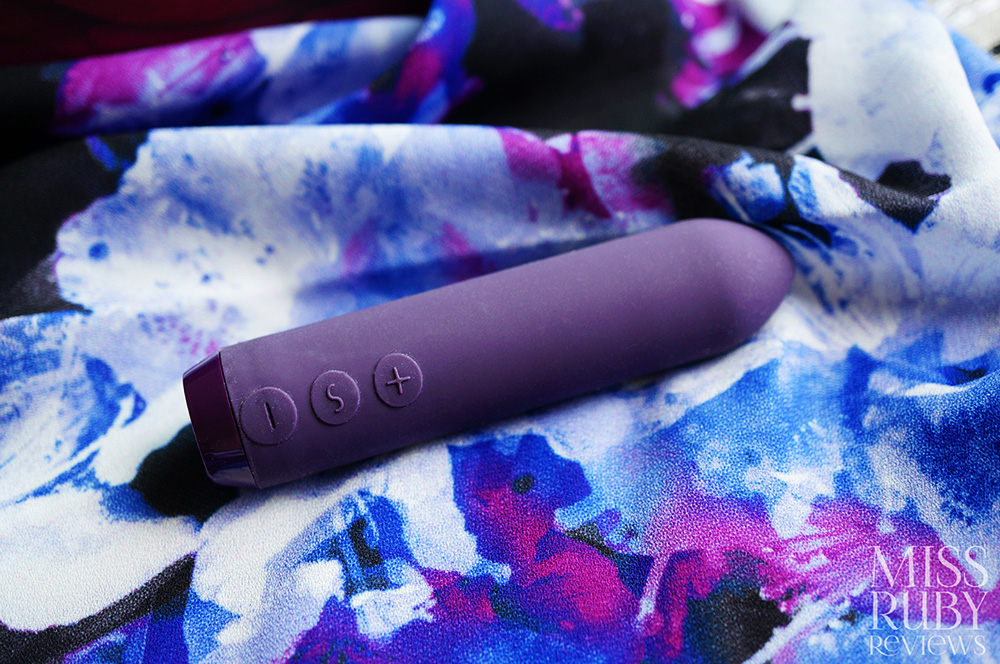 The Je Joue Classic Bullet (UK link here) is part of a new lower-cost line of vibrators from Je Joue. The other two new vibes are the Je Joue G-Spot Bullet (a small, bulbous mini vibe) and the Je Joue Rabbit Bullet (another small clitoral vibrator with two flexible rabbit ears for stimulation). Out of these three, I was drawn most to the Classic Bullet… I'm a sucker for firm, pin-point clitoral stimulation.
My last (and only) experience with Je Joue products was the Je Joue Mimi. I loved the Mimi, and I simply ADORED the deep shade of raspberry fuchsia it came in.  But Je Joue's new line of mini vibrators only come in this matte, dull (dull as in non-vibrant), conservative shade of purple. I wish the line could be expanded to include that pretty shade of fuchsia, but, still, I appreciate that this silicone is soft and silky to the touch.
Design
The Je Joue Classic Bullet is what I consider a simple, no-nonsense vibrator. Just 3.75″ long and 0.75″ wide, the Classic Bullet is a streamlined cylinder that comes to a pointed tip ("bullet" shaped). It's light and easy to hold.
The body is firm to grasp but, at the tapered tip, the Classic Bullet is deliciously squishy. I still consider this a firm toy, but that pillowy cushion at the top definitely provides some comfort when you press this against your skin.
Though it's designed for clitoral use, it can be used with any body parts (except anally, as there's no flared base).
Vibrations and Sound
The Je Joue Classic Bullet has 5 speeds and 7 patterns. At its strongest level, this toy is what I'd consider moderately strong (7.5/10). It's not as strong as the FemmeFunn Ultra Bullet, but the vibrations are much better contained and don't travel down into the handle (and into your hand) quite as much.
The vibrations themselves are moderately rumbly. There's definitely a buzzy undertone, but not so much that I find it interfering or numbing.
Sound-wise, the Je Joue Classic Bullet does well (9/10). It's quiet and has a moderately low pitch. It won't be heard through walls or a closed door.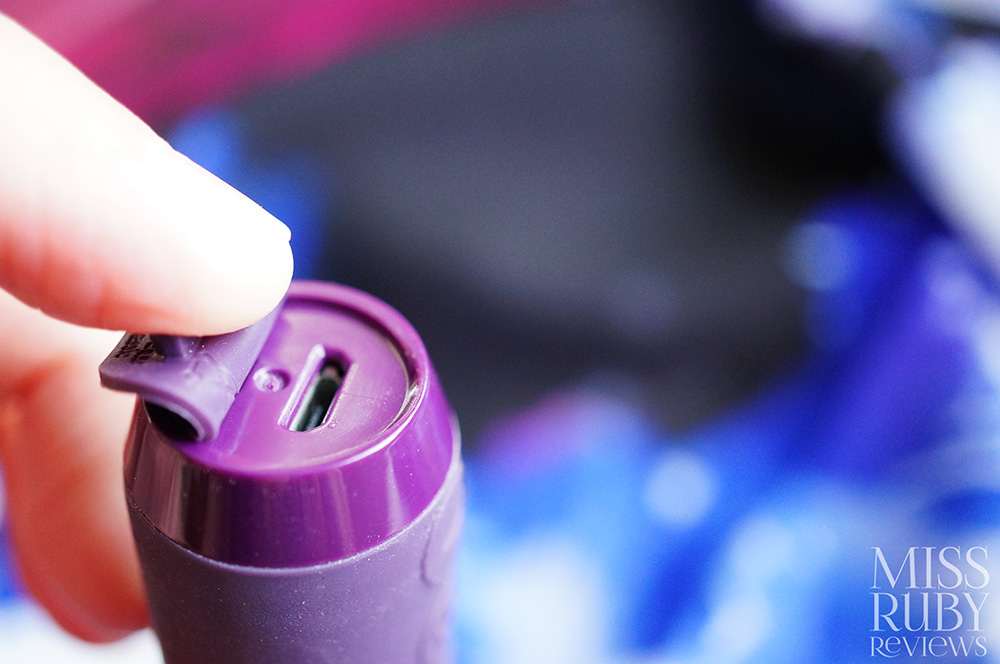 How to use the Je Joue Classic Bullet
To turn on, hold the (+) button until the unit turns on. Keep pressing the (+) button to cycle through the increasingly strong speeds. If you like patterns, hit the middle (~) button.  To turn off, hold the (–) button for a few seconds.
To charge, flip up the silicone cap at the base of the vibrator (pictured above). Insert the included USB cable and plug it into your computer (or into a USB wall adapter if you have one). 1 hour of charge provides ~ 1.5 hours of playtime.
Packaging

Je Joue's packaging is always gorgeous. The Je Joue Classic Bullet comes in a lovely good-quality box with magenta feather designs. Inside, the bullet lies in a black pillow cushion. All in all, you receive the Classic Bullet, a finger sleeve attachment (pictured in "My Experience" below), the USB charging cord, and the manual. There is no fabric storage pouch included.
Material and Care
The Je Joue Classic Bullet is coated with silicone, making it non-porous, non-toxic, and easy to clean. The silicone itself is matte and attracts dust, so you'll want to rinse before use. The base/cap is made from hard ABS plastic. These materials made the Je Joue Classic Bullet bodysafe.
This bullet is waterproof. To clean, wash the Je Joue bullet in warm, soapy water. If you'd like to add a lubricant, I recommend a high-quality water-based lube like my favourite Sliquid H2O.
There is a warranty included with this item. If there are any factory defects within 1 year, Je Joue will repair or replace it free of charge. See the Je Joue manual included in the box for details.
My Experience with the Je Joue Classic Bullet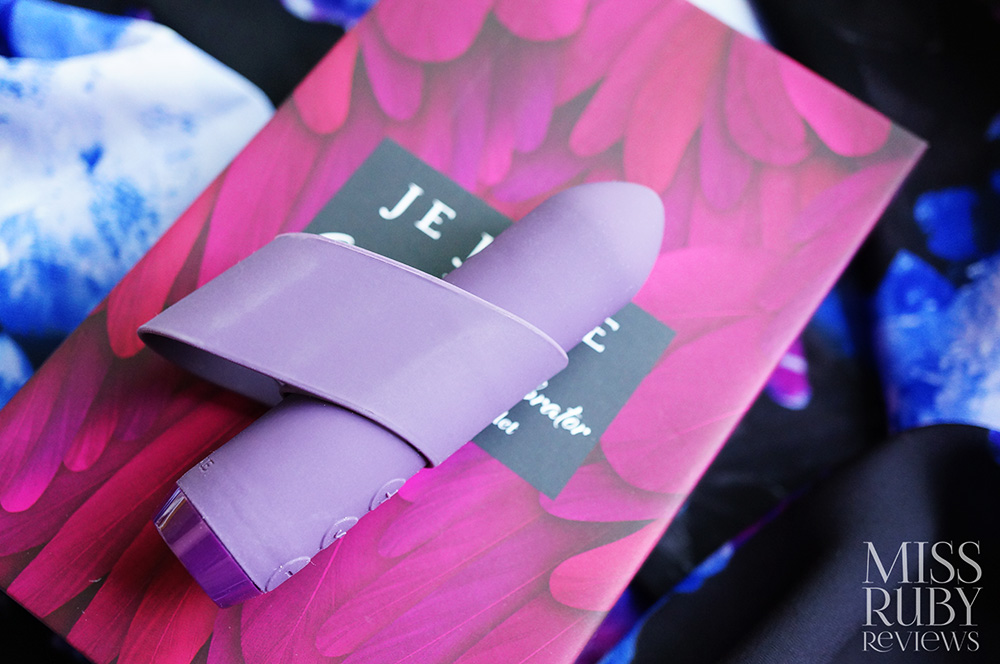 The Je Joue Classic Bullet is, for me, good enough to bring on an orgasm within 60 seconds.
It simply has the ingredients for a solid clitoral vibrator: it's powerful enough, has a firm body (but squishy tip, which makes it comfortable to apply firm pressure), and it's pin-point. The controls aren't confusing and don't get accidentally pressed when I don't want them to. The vibrations do travel down the handle a bit, but not as bad as I've experienced with other toys.
Because of this, if you enjoy pinpoint vibrators, I think the Je Joue Classic Bullet is a fairly safe purchase to make for yourself or a friend. However, if you know you prefer broad stimulation (think Magic Wand), you'll want to look elsewhere.
Versus the Tango?
Do I love it as much as the We-Vibe Tango? No — the Tango is much more rumbly. Still, the Je Joue Classic Bullet's battery levels seem more robust for the Tango, which always dies on me at the most inopportune time. And that squishy tip really is a nice finishing touch.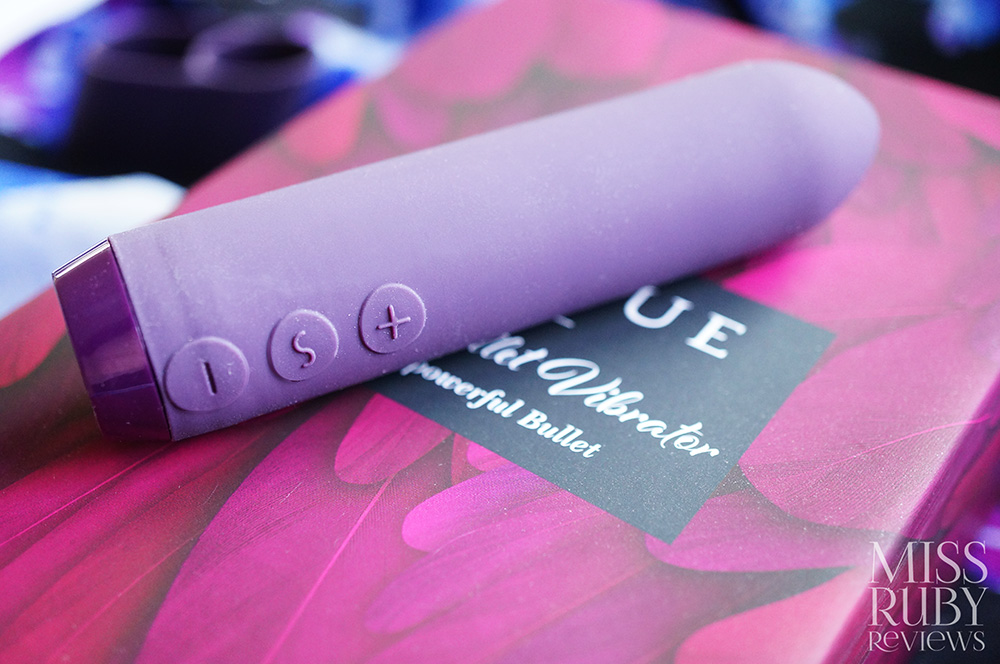 Criticisms? The finger sleeve attachment irritates me, so I don't use it (it functions well, but I don't like my whole finger being strapped to the length of the vibe). I also wish that this came in Je Joue's vibrant raspberry pink colour, rather than this dull shade of purple. Subjective much, I know.
Overall
The Je Joue Classic Bullet is a solid option if you're looking for a simple, streamlined clitoral vibrator. It's pretty strong, quiet, and easy to use.
If you're interested in purchasing, these are my recommended stores:
Last Updated on November 15, 2020 by Miss Ruby